Compare Amasty's Magento 2 Reward Points vs. Mirasvit's Reward Points
Discover the features of Magento 2 Reward Points by Amasty and Mirasvit. Compare them side-by-side through simple tables. Find out which toolkit is best suited for your store
Information about the extensions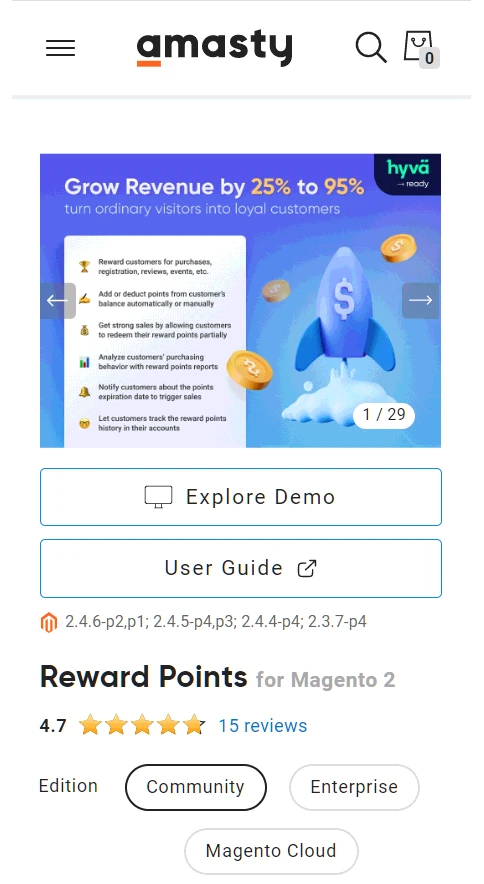 VS.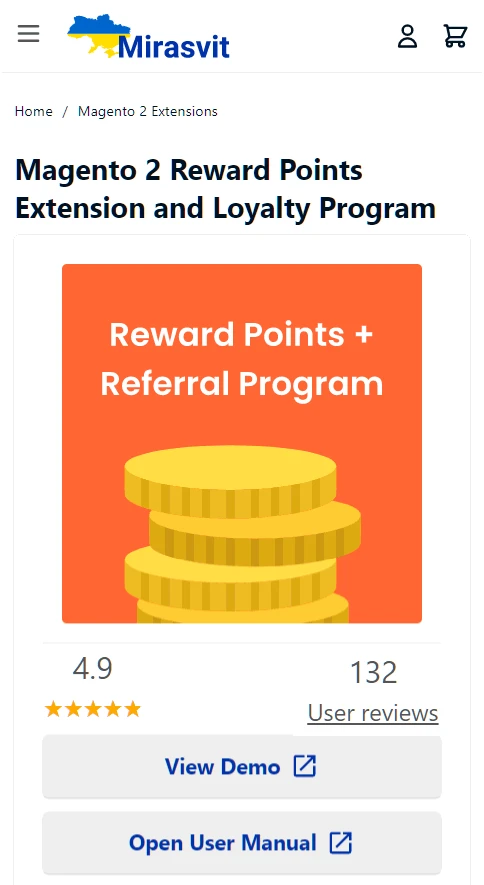 Details on compared extensions
Amasty's Magento Rewards Points
Amasty's Magento Rewards Points help you to encourage customers to buy more. The extension adds a reward points system and allows you to decide how users will earn them. Points can be gained by buying specific items, reaching a certain total order price, or other ways. Then, users can spend earned points to reduce the order's price.
You can define the conversion rate for the points to not lose revenue by allowing customers to use them. The minimum and maximum amount of points for spending also can be specified. Users can also redeem bonuses in parts. The built-in reports can bring you insight into the program's effectiveness. You can see total and average values for earned, spent, and expired Magento 2 reward points.
With the module's pro-version, you can import and export reward points data. This way, you can easily back up or transfer your settings.
Reward Point Magento 2 extension by Mirasvit
The Reward Point Magento 2 extension by Mirasvit helps you boost the loyalty of your customer base. Allow users to earn bonus points for performing different actions. You can even create custom behavioral conditions for the rewards. For example, give bonuses for changing the username. Then, customers can redeem the points to reduce the price of the orders.
You can limit how many points they need to use them or how many can be redeemed in one purchase. The expiry rate of the bonuses can also be modified. Reward users for sharing data about your store on social media. Create tiers of loyalty that will yield rewards for achieving them.
Allow customers to invite their friends to the shop with referral codes and links and reward them for sign-ups or placed orders. Give away bonuses through the admin panel. Spark new activity for any account of your choice with these random rewards. Fine-tune the notification to incentivize buyers to use the Magento reward points system.
Key Benefits of Mirasvit's Magento Rewards Program
The Magento 2 Reward Points module by Mirasvit adds a tiered loyalty program. You can divide the rewards program into multiple tiers. Customers can earn bonus points for different actions within each tier. These points can then be redeemed at differing rates for equivalent monetary value. You can also incorporate specific advantages for each tier by applying custom conditions, enhancing the appeal of higher tiers.
Magento Reward Points extension from Mirasvit supports social media integration. With this tool, you can incorporate "share" buttons for networks such as Pinterest, Twitter, and Facebook. If users share products or categories, they can receive reward points. You can also add custom buttons for any social network with the "AddThis" feature. These buttons, however, cannot give customers bonus points. They serve only for promotional purposes.
Feature Comparison
The Amasty's reward points Magento module allows you to import and export bonus points data from your store. The process can be curated – you can choose what information you want to transfer, adjust the data format, and change other settings. However, you will need the "pcntl" extension installed on the server. The extension also adds a built-in report to oversee the Magento 2 reward points extension. It shows total and average information about reward points.
The Mirasvit's Magento Reward Points extension adds a referral program for users to encourage promotion through clients. With this module, users can share information about your store on social media to earn bonus points. You can create custom events that will reward buyers for different actions. Notifications can also be tailored to fit your specific needs. The extension adds Magento loyalty programs to motivate users to return to the store. It also provides a built-in detailed report on the reward program's efficiency.
Key Features of Magento 2 Rewards Points
Amasty
Import Reward Points
Pro-version of the extension allows you to import data and settings of the reward system. This can only be done if the "pcntl" extension is installed on the store's server. You can choose what entities you want to import, if the process stops on errors, and specify the field map. This feature can help you quickly set up a new store using existing settings. The extension supports CSV and XML files for import.
Export Reward Points
With the pro-package of the extension, you can export data about reward points in the CSV or XML file to make a backup. You can specify what information will be exported via customizable filters. The module also allows merging rows into single cells and duplicate parent entity data. File with data can be stored on the server. However, this feature requires the "pcntl" extension for the store's server.
Built-in Reports
Pre-built reports will help you assess the general productivity of the reward points system. You can see the total and average of the earned and spent points. The report also shows how many points in total were expired. Information can be sorted via customer group, date, and store view.
Mirasvit
Loyalty Program
Make customers more engaged with your store by offering them loyalty rewards. Create multiple tiers for the Magento loyalty program, gained by earning reward points. Set up conditions, which determine leveling up in tiers. For each tier, you can give customer rewards, such as more spending points or an additional earning bonus. This way, customers will be incentivized to return to your store.
Referral Rewards
Allow customers who buy your goods to promote your store with referral links. This way, you gain free advertisement throughout your warm leads. You can make clients more inclined to bring in more customers by giving them reward points for each sign-up or placed order.
Reward Points Report
See a pre-built report to keep in touch with the effectiveness of your reward system. The report can show you total earnings and spending, expired and refunded points, bonuses earned through social media or referrals, and other data. You can sort the information by time period. Skilled users can also add custom columns inside the report.
Social Networks
Integrate your store with social networks to incentivize advertising. Add "share" buttons for social networks like Twitter and Facebook. Reward customers with points for sharing information about your store. This feature gives you free advertising opportunities.
Custom Events
If none of the default 18 behavioral events for earning bonuses satisfy you – create new custom ones. This way, you can reward users for any activity desired on your website. For example, give customers reward points for updating account information.
Notification Rules
The extension allows you to create rules that determine when customers will receive notifications, and what they will contain. For example, notify users about their bonus balance when they add items of a certain price to the cart.
Side-by-side features comparison
When you assess the features of each module side by side through a simple table, you can gain insight into their distinctions. This approach helps to form a clear understanding of modules' functionalities.
| | Amasty Points | Mirasvit Points |
| --- | --- | --- |
| Earning rules | | |
| Custom behavioral events | | |
| Spending rules | | |
| Spend points partially | | |
| Include tax in calculations | | |
| Include shipping in calculations | | |
| Direct rewards from admin panel | | |
| Tiered loyalty program | | |
| Referral reward program | | |
| Built-in report | | |
| Detailed report analytics | | |
| Customer activity monitoring | | |
| Email notifications | | |
| Notification rules | | |
| Social media integration | | |
| "AddThis" feature | | |
| Import/Export data | | |
Find the best module for your store
The Reward Points Extensions help you to retain customers engagement. The modules add rewards for buying products, motivating spending more, and returning to redeem bonuses. You can modify conversion rates and earning and spending rules for reward points. Send users notifications and random bonuses to keep them interested. And the pre-built reports will help you assess the reward program's productivity.
The core of the extensions can look similar. But each has unique features that can help you choose the one you want. The extension by Amasty allows you to transfer data about your reward points. This way, you can create a backup or import settings from another shop. The module by Mirasvit adds a tiered loyalty program. Users can share referral links and post about your shop on social networks for rewards. You can create custom rules for earning, spending, and delivering notifications. And the pre-built report adds more detailed statistics to analyze.
Compare the Amasty and Mirasvit modules and learn about their features. Discover their differences and decide which extension fits best with your shop.
Reasons to choose Mirasvit
Client focusing and satisfaction
These are our primary. A major portion of our new clients come from referrals from our existing clients. Our professional team of developers, marketers and support staff have invested the best knowledge and experience in the field into our work, so you know you can come back to us again and again.
Remarkable support
One year free and high quality support. We go to great lengths to provide maximum satisfaction with every module you have purchased in our store. By helping you with installation, configuration, answering your every question, we do all our best to eliminate any possible problems.
Risk-free Investment
30-days money back guarantee. If you are not satisfied with our extension performance for any reason, we provide a full refund.
Constant improvements and upgrades
We constantly add new features to all our modules, and are always interested in hearing your opinion and implementing your suggested features in our future developments.
Comprehensive Documentation
We provide an expanded user guide for every aspect of our extension, so you can find answers for all your burning questions.
Unencrypted source code of our products
You can customize extension according to your needs and requirements.
Usability and Performance
The Module is easy to install and upgrade, just follow our step-by-step user guide.
Safe Magento updates
No core modifications. Just use the composer or copy the extension files to the root directory of your store.