Compare Webkul's Magento 2 Reward Points vs. Mirasvit's Reward Points
See the comparison of the Magento 2 Reward Points by Webkul and Mirasvit. Compare their toolkits side-by-side through tables. Find out about their unique features and decide which extension suits your store best.
Information about the extensions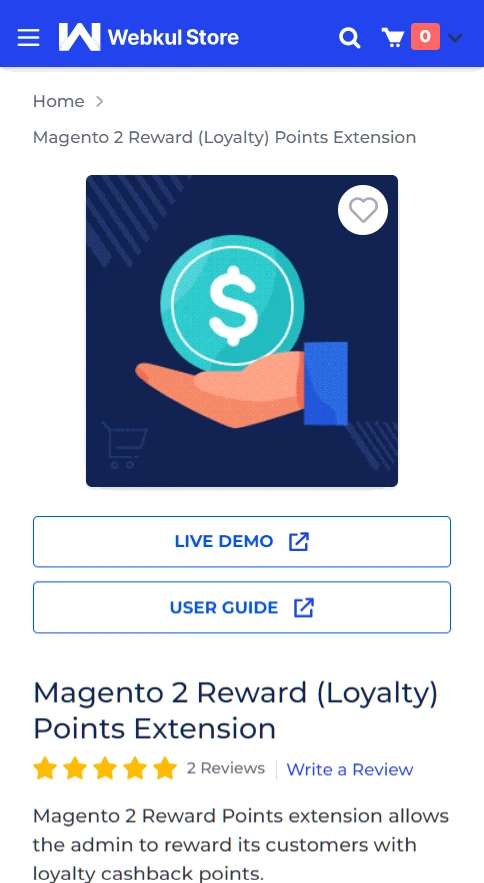 VS.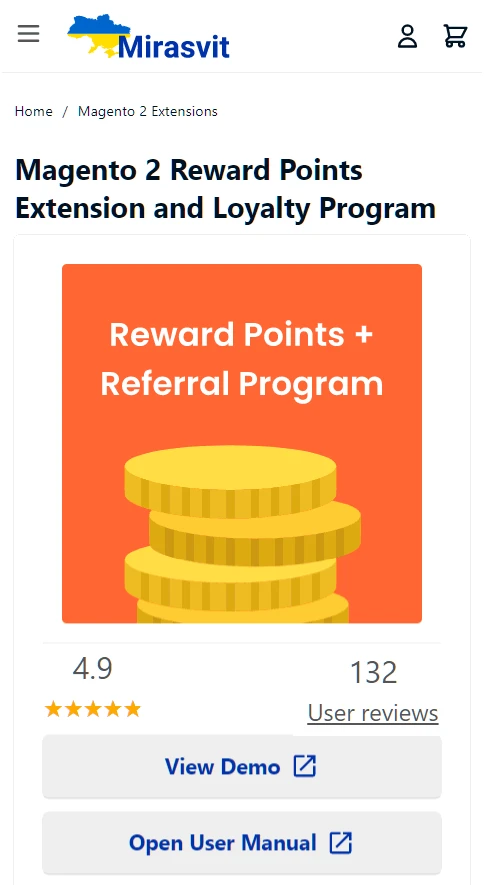 Details on compared extensions
Webkul's Rewards Points
The Magento 2 Reward Points extension from Webkul offers tools for retaining customers' loyalty to the shop. It allows you to create conditions for giving users reward points using behavioral patterns. For example, award newcomers for the registration. Or give a reward for buying times from specified categories. Then, you can define the value of bonuses and the amount buyers can use in one order.
Admin panel allows debit or credit points directly to any account for manual control. The extension allows clients to share referral links for certain bonuses, which serves as a free way to set up a passive promotional campaign.
Users can see how many friends they are invited to and how many points they earned through a mini-report in their accounts. You can also track the effectiveness of the program via a built-in report. It shows total and average data about earned, spent, and expired Magento 2 reward points.
Reward Points extension by Mirasvit
The Magento Rewards Program by Mirasvit helps you to attract new customers and create loyal relationships with them. Already existing users can share information about your shop through social media.
You can incentivize it by giving rewards for sharing. Users also have referral links and codes that will bring them bonuses for bringing new customers to the shop. Newcomers can be encouraged to engage with the shop by earning reward points for different actions. Custom rules for earning can motivate specific desired behavior.
Tiered loyalty program Magento system gives clients goals that can be achieved through earning more reward points. Reaching every new tier can also yield rewards. A detailed pre-built report can show you the effectiveness of the chosen strategy. It can display data such as points earned through different sources, redeemed, and expired bonuses.
You can also add custom columns of data to the report. For instance, add loyalty tiers of users into the report to see how they correspond with spent bonuses.
Key Benefits of Reward Points by Mirasvit
The Magento 2 Reward Points extension by Mirasvit allows you to create custom rules for earning and redeeming rewards. Using them, you can encourage any needed behavior in your client base. For example, if you want to remind old users about your shop, set up a rule to reward long inactive accounts and notify them about their bonuses. You can also decide whether reward points apply before or after taxes and shipping expenses. Or even create a rule that bonuses can only be spent on orders with free shipping.
The Magento 2 loyalty program extension from Mirasvit enables you to create user loyalty tiers. You can decide what conditions should be met to achieve each tier. Then, set up rewards for reaching tiers to motivate users to get to them. For instance, allow loyalty program Magento 2 users of higher tiers to spend more points at the checkout. Or award clients for achieving tiers with additional reward points.
Feature Comparison
The Reward Points Magento 2 extension by Webkul offers mostly standard features with additional tracking tools. Users can send referral links and see how many new clients they invited and how many points they earned through a mini-report in their profile. Customers can also see simple reports on their reward points usage.
The Mirasvit's Magento Reward Points extension allows users to gain rewards for sharing products from your store on social networks. It also enables the creation of loyalty tiers with bonuses for clients. The Magento 2 Rewards Points module by Mirasvit allows you to create custom rules for earning and spending points. You can also decide whether or not to count taxes and shipping before applying bonus discounts. The detailed report can help you to keep in touch with the performance of the reward system.
Key Features of Magento 2 Rewards Points
Webkul
Earning Points
Define how users will get their Magento rewards points. Use behavioral templates to determine actions that will yield points to the clients. Reward buying specific items or products in certain categories or with specific attributes. Give bonuses for orders placed at the specified time. Award points for registration or birthdays. However, custom rules cannot be created. Users can track statistics of earned and spent points from their accounts.
Referral Program
Allow clients to share referral links and give bonuses for bringing new customers to the shop. Referral links can be sent via email, manual sharing, or as a post on social media. Users can see a simple report on the Magento 2 loyalty program in their accounts. It shows how many referrals they brought and earned points for them through a chart.
Reward Statistics
Review the statistics of the Magento loyalty program through a built-in report. See the amount of earned and redeemed points throughout the user base. Discover how many bonuses have expired. Filter the report via date, customer group, or storefront. With this simple report, you can easily determine if clients use the system you set up.
Mirasvit
Custom Rules
Alongside template behaviors for earning points, you can create custom ones. This will help you fine-tune rewards and compel users to engage in necessary actions, such as writing reviews or buying certain brands. You can also define how many points can be earned and spent in one order.
Tiered Loyalty Program
Divide your Magento 2 loyalty program into tiers. This way, users will have tangible goals that can be achieved through shopping, increasing their interest. Set up requirements for each tier and rewards that clients will get. For example, you can increase the conversion rate of reward points for the most devoted buyers. Or allow them to spend more Magento reward points in one order.
Social Network Integration
Set up buttons for sharing products and categories from your store on social media. Specify the reward for sharing to incentivize action. This way, you can establish an additional promotional campaign run by your client base. With the help of the "AddThis" tool, you can also create a sharing button for any social network. However, users cannot gain rewards for using it.
Taxes and Shipping
Decide how your Magento 2 reward points relate to the shipping costs and taxes. This way, you can control users' spending with more precision. Bonuses can be applied before taxes and shipping or after. You can also create custom rules, for instance, to forbid the usage of reward points on items with high shipping prices.
Detailed Report
See detailed statistics about Magento loyalty programs via a pre-built report. Discover the amount of bonuses that different sources bring. Learn how many points are spent and how many are expired. Add new columns to the report to review more corresponding data, like the correlation between users' loyalty tiers and redeemed points. Create custom filters to gather specific statistics for analyses.
Side-by-side features comparison
Use a simple side-by-side comparison table to see all the differences between Magento 2 Reward Point modules. Learn what features are present or absent. Decide what exact toolkit you prefer for your online store.
| | Webkul Points | Mirasvit Points |
| --- | --- | --- |
| Earning rules | | |
| Custom behavioral events | | |
| Spending rules | | |
| Spend points partially | | |
| Set maximum\minimum points to earn\spend | | |
| Include tax in calculations | | |
| Include shipping in calculations | | |
| Direct rewards from admin panel | | |
| Tiered loyalty program | | |
| Referral reward program | | |
| Mini-reports inside users' profiles | | |
| Built-in report | | |
| Detailed custom statistics | | |
| Customer activity monitoring | | |
| Email notifications | | |
| Notification rules | | |
| Full social media integration | | |
| "AddThis" feature | | |
| Import/Export data | | |
| Conversion rates | | |
Find the best module for your store
The Magento Reward Point modules help you to attract and retain customers. Referral links and provided rewards for sharing them motivate users to promote your store. Getting bonuses for purchases, reviews, and certain cart prices encourages users to buy more and spend points back at the same marketplace.
The Reward Point Magento 2 extensions share some core functionality. But if you look closer at their toolkits, you can find unique features that differentiate them. The module by Webkul allows users to see simple statistics about their reward points inside their profiles. Mirasvit's extension brings in loyalty tiers and social media integration. It allows you to customize rules for earning and spending points in detail. The built-in report also shows detailed information and can be edited to add desired columns.
You can find the best Magento Loyalty Program module only through comparison. This way, you can find out what features they offer and how they differ.
Reasons to choose Mirasvit
Client focusing and satisfaction
These are our primary. A major portion of our new clients come from referrals from our existing clients. Our professional team of developers, marketers and support staff have invested the best knowledge and experience in the field into our work, so you know you can come back to us again and again.
Remarkable support
One year free and high quality support. We go to great lengths to provide maximum satisfaction with every module you have purchased in our store. By helping you with installation, configuration, answering your every question, we do all our best to eliminate any possible problems.
Risk-free Investment
30-days money back guarantee. If you are not satisfied with our extension performance for any reason, we provide a full refund.
Constant improvements and upgrades
We constantly add new features to all our modules, and are always interested in hearing your opinion and implementing your suggested features in our future developments.
Comprehensive Documentation
We provide an expanded user guide for every aspect of our extension, so you can find answers for all your burning questions.
Unencrypted source code of our products
You can customize extension according to your needs and requirements.
Usability and Performance
The Module is easy to install and upgrade, just follow our step-by-step user guide.
Safe Magento updates
No core modifications. Just use the composer or copy the extension files to the root directory of your store.