 Let your customers' wishes come true with the Gift Registry extension! Our solution makes your customers happier. They may share and refer friends to their Gift Registries, thus receiving all the desired gifts. Regardless of your store product mix, you can grow your conversion rate, since specified gifts from your store will probably turn to the fast orders!
Extension Demos
Pick a quick tutorial to learn about various aspects of this extension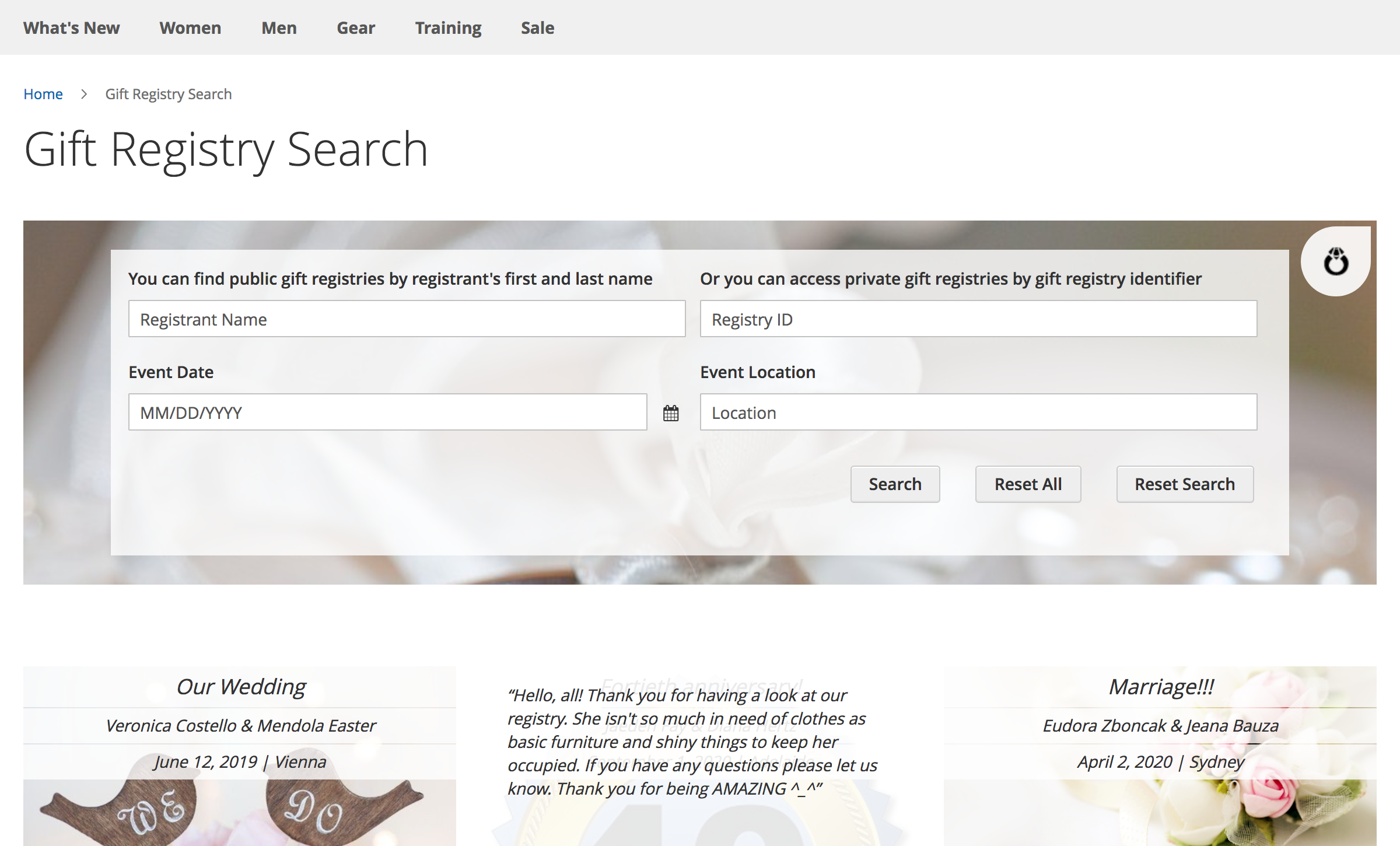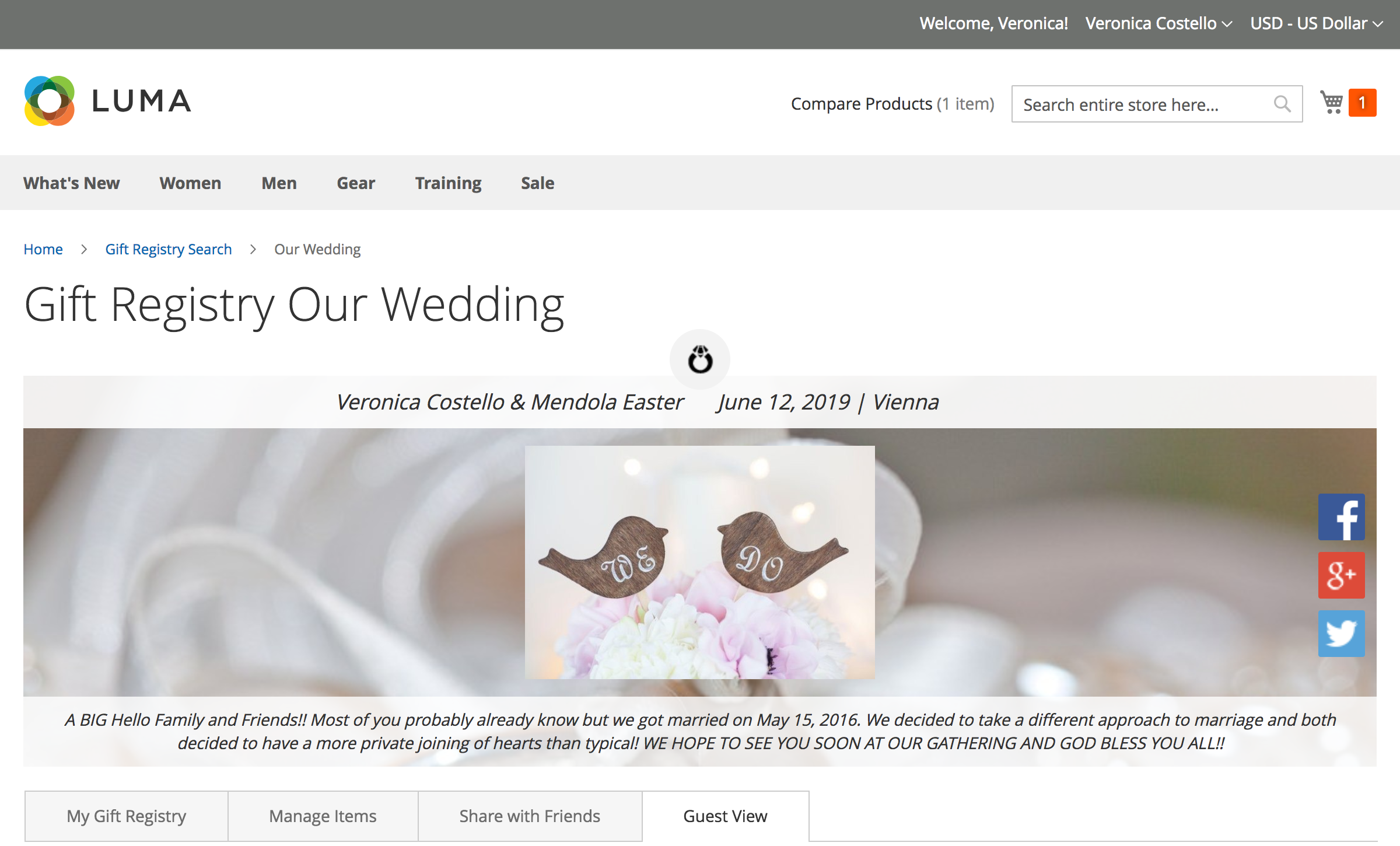 Flexible And Powerful Gift List Solution!
Gift Registry is a flexible and advanced extension for implementing a customer gift list. If your store specializes in toys, clothes, sporting goods etc. - this is the perfect solution for you!
Everyone wants something special for their important occasions (Baby Shower, Birthday, Wedding Anniversary etc.), but sometimes it is not easy or convenient to ask friends to give a specific gift.
Gift Registry helps your customers make their dreams come true in 3 easy steps:
create a gift registry
choose the desirable gifts and put them into the gift list
share the list with their friends!
It is the perfect decision for every shopper, who wants to give a polite tip about their own wishes to their friends!
Moreover, with Gift Registry your store Conversion Rate will grow, since friends or relatives are invited to buy gifts directly in your shop. Generally, they are the most feasible converters.
Grow your returning customers number and store conversion rate with our Gift Registry!
---
10 Advantages You Get With Gift Registry
Customers can select their wishes and manage them easily
Shoppers may share their Gift registries with friends or relatives to receive desired gifts from them
Customers can share their gift registries via Facebook, Twitter, Google+
Customers friends do not have to guess any more: everything is handled for them!
Add an unlimited number of events and occasions for your visitors gift registry.
Customers can add their own events and occasions
Add different gift priorities to help customers in ranking their gift importance
Customize your Gift Registry look easily
Get more new customers (friends and relatives are the best converters)
Drive more sales to your store!
Feature Highlights
Create Multiple Gift Registries For Different Occasions
Gift Registry allows your customers to create multiple gift lists for different events or even a few lists for the same occasion!
For instance, our extension lets your shoppers create several lists for a Birthday or Wedding Party. It could be useful if a customer wants to group all desired gifts on some specific characteristic:
It could be convenient for customers who do not like to group all gifts together.
Gift Registry extension lets every customer organize their wishes the way he/she wants!
---
Clear And Intuitive Customer Interface
Gift Registry's frontend interface is clear, intuitive and user-friendly. Every customer can easily manage all gift lists:
create new gift registry
manage items in each list
share with friends or relatives
view how friends / relatives / guests see the list
Our extension allows your customers to specify in their gift registries the following important details:
event type
occasion description
date and location of the event
registrant and co-registrant names (very convenient for weddings to specify bride and groom names, for instance)
shipping address (delivering gifts)
Gift Registry allows your customers to arrange their gift lists fast and easy!
---
Manage Gift Registry Item Properties
Gift Registry provides your customers with the ability to manage their gift list item features.
All your shopper has to do - just the mouse over each item and enter the desired characteristics:
select item priority
desired quantity
and some notes!
So your customer friends or relatives now can see, whether 1 or 2 items are wanted and how important each gift is.
---
Share Gift Registry in 1 Click
The most important Gift Registry feature is sharing gift lists with friends!
Your customers can share their gift registries in just 1 click, using the following ways:
share via Facebook (just click on FB icon)
post in Google+ (click on G+ icon)
tweet via Twitter (use Twitter logo)
enter direct emails of all friends to share via email message
All these sharing options a 1-click reach and common to every customer.
Gift Registry - excellent sharing features!
---
Add Products to the Gift Registry Easily
Gift Registry perfectly integrates to any Magento theme (including responsive ones) and allows your customers to add items to their gift list in just 1 click!
Every product card will contain the option of adding the current item to gift registry. All your customer need to do is just click on 'Gift Registry' and choose the list to add it (or create the a new one).
---
Simple and Fast Search Through Gift Registry
Gift Registry extension has a search feature. Two searching modes are available for your customers:
finding public gift registries by registrant's first and last name
access private gift registries by gift registry identifier
This might be useful if your customer has a lot of different (private and public) gift registries, but needs to find the specific one.
For example, a shopper wants to find some public registry. He or she should just enter the registrant's first and last name and receives the search results
Or, for instance, your customer wants to access some specific private registry. Thus he or she should enter into the search box a unique registry ID assigned while creating the gift list.
Gift Registry gives your customers a smoother shopping experience!
---
Simple Guest View Mode
Gift Registry provides your customers with a clear and transparent Guest view mode.
Guest view is supposed to present customer's friends or relatives with a specific occasion gift list. All 'Guests' receive the link on this view after a customer shares it publicly via social networks or by email.
So, every guest can buy customer's desired items right from this page! Just mouse over any gift and click Add to cart!
Gift Registry solution is convenient both for the customer, and for his/her friends. Not to mention, a customer's friends or relatives invited to buy gifts from your store are the highest converters.
Drive more sales to your shop with Gift Registry!
---
Manage Item Priorities Easily
Gift Registry allows you to manage all important gift list settings easily, using a clear and transparent backend interface.
One of the most remarkable features you can take control of is Item Priorities. You may create any number of them and name them as you wish. The standard solution suggests 3 optional priorities:
However, if your online store's corporate identity allows you to be less formal, you are free to rename priorities as you wish!
Gift Registry is a flexible solution for customizing your shoppers gift list!
---
Customize Gift Registry Frontend Grid
Gift Registry is flexible and powerful extension allowing you to customize the frontend gift list grid view.
Using a user-friendly backend interface you may activate/deactivate, add/delete fields for customer's gift list. Also you may set the sort order and mandatory fields.
Our Extension allows you to create different fields for each event. For example, you may include a section titled, Co-registrant for a 'Wedding' event, while for other occasions this section might be disabled.
Manage all important options easily and make your customer experience smoother with Gift Registry!
---
Create an Unlimited Number of Occasions
Gift Registry solution allows you to create any number of different events to fit your store's specialization.
You are free to extend the occasions list to fit your store needs. For instance, if your shop specializes in baby products you can add the following events:
Baby Shower
Diaper Shower
Sprinkles
Blessingways
NewBorn Party etc.
With Gift Registry you can customize and extend the event list to comply with your store product mix and prompt your customers to add more items to their gift lists!
---
Install Gift Registry extension and increase your store's Conversion Rate!
See it in action!
Pick a quick tutorial to learn about various aspects of this extension
Flexible And Powerful

An extremely useful application for the store administrator, boosts sales, adds customer loyalty. Thank you!

Great extension

Janaver

from Monterrey, Mexico

Works as expected and it is very useful, we´ve been using it on our site for a couple of years now and still very happy with it :)

Gifting

A

from Melbourne, Australia

Makes gifting easy and marketable function

Amazing Extension

Like all of Mirasvit extension, which they never disappoint. Great value for the price. Thanks.

Gift Registry

Allan

from Shepperton, United Kingdom

the support is first class. fully recommend

5-

I already have few extensions from mirasvit and added this one to my store.

First Class!

Ryan

from South Benfleet, United Kingdom

Excellent extension and support is first class. Highly recommended. Since I purchased, the developer has assisted in adding a few features that I thought would be handy and they have completed those very quickly.

Regards,

A happy customer.

Worked out of the box

Matthew

from Sydney, Australia

I had no problems installing or setting up this extension
I'd recommend it

Magento 1: Excellent, not other words can describe it

Simona

from Piešťany, Slovak Republic

Great extension. Works as described and a prompt support helped me with my theme integration. I fully recommend this extension. (Magento 1.9.2 and used the Gift Registry 1.0.4.561)

Magento 1: Must have!

Alex

from Erlangen, Germany

I got this extension few days back and it works as described with help of quick support.

They have done a wonderful job for this module.
Compatibility
The Gift Registry for Magento 2 is compatible with:
| | |
| --- | --- |
| Magento 2 Community Edition (CE) | 2.0.* - 2.3.* |
| Magento 2 Enterprise Edition (EE) | 2.0.* - 2.3.* |
| Magento 2 Cloud | + |
Have a question? Ask our support team
Need more help?
Save time by starting your support request online and we'll connect you to an expert.
Contact Us Now
Refund Policy
All customers can request a refund during 30 days after purchase of our software, if customer think that our software is not suitable for any reason. To request refund, customer must remove all copies of our software from its store, servers, computers, email, etc and confirm by email such removal. After receiving a request we will proceed refund within 3 business days.
If request for refund is received after 30 days after purchase, it will be rejected. Cost of installation and customization services are not refundable.
Support and bug fixing
Mirasvit offers free 90 days support of all software sold on this site. Customers can report all bugs, which were found in our software. We can solve only the bugs directly related to or caused by our extension. Those bugs must be reproduced on fresh Magento installation without any 3rd party plugins. We will solve that bugs in order of our development plan.
We don't do any type of custom work and we have a right to reject a support request if the issue is store-specific (cannot be reproduced on the fresh Magento installation without any 3rd party plugins).
Mirasvit will not be liable to you for any damages (including any loss of profits/saving, or incidental or consequential) related to our support service caused to you, your information and your business.
Software updates
Mirasvit offers free lifetime updates if they areavaliable. Updates are limited to the Magento version branch (1.x.x or 2.x.x). Customer can download an update and install it by himself. If support period is expired, Mirasvit.com can't solve any possible problems with our software during or after updating. Mirasvit does not guarantee that it will release updates for any product.