Advanced Sphinx Search Pro for Magento 2
The Advanced Sphinx Search Pro is the most adaptive Magento 2 search engine yet! It provides customers with relevant search results in a split second. Curb your store search issues with our solution and receive no more empty results! Get more orders with our extension and watch how your conversion rate grows!
The incredible relevance of search results
A search by multiple content types
Search results that are perfect for any language
A search by category name, custom options or associated products
Use of stopwords and synonyms
A search with hyphens, slashes.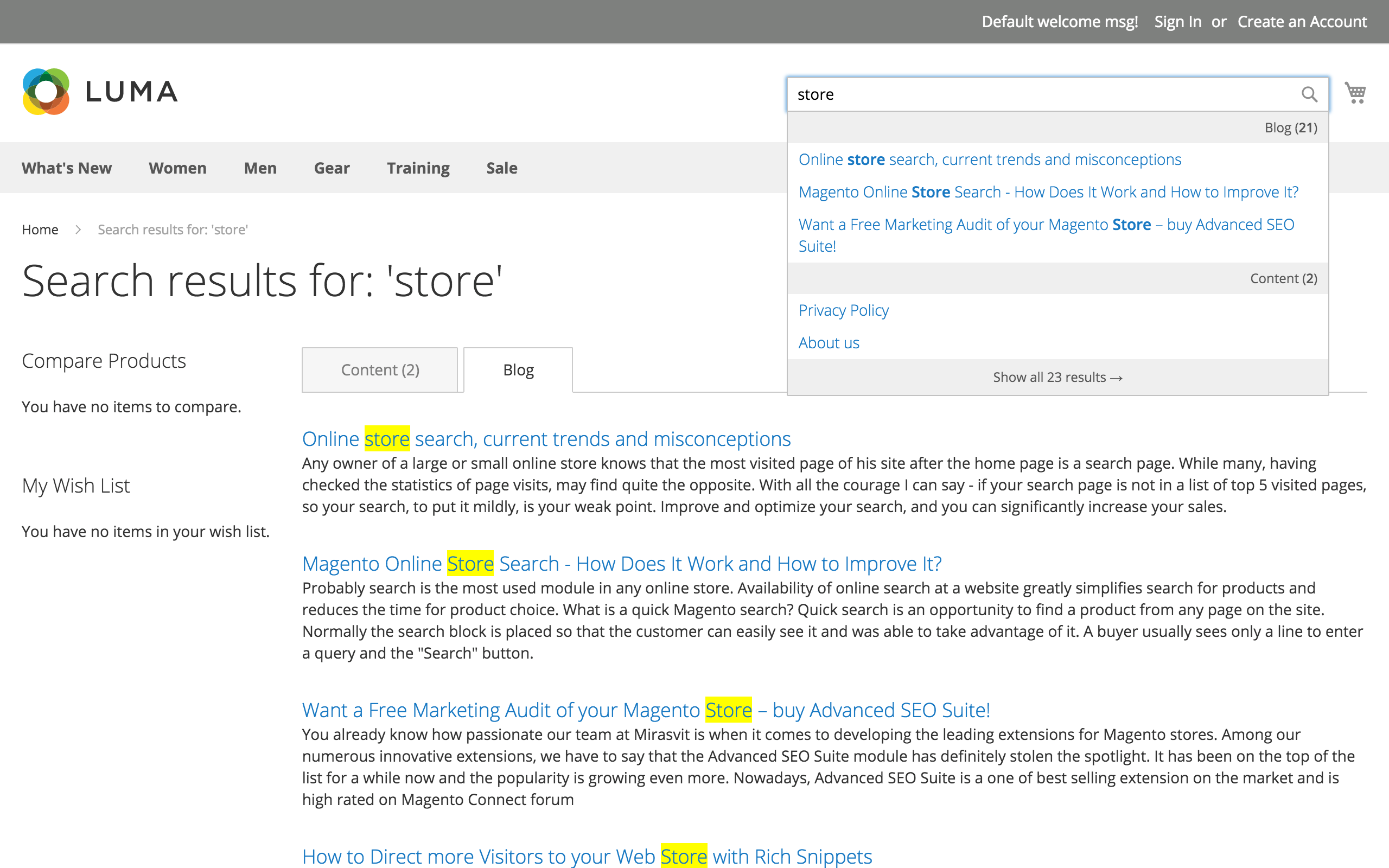 1/9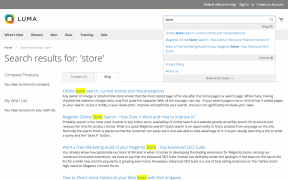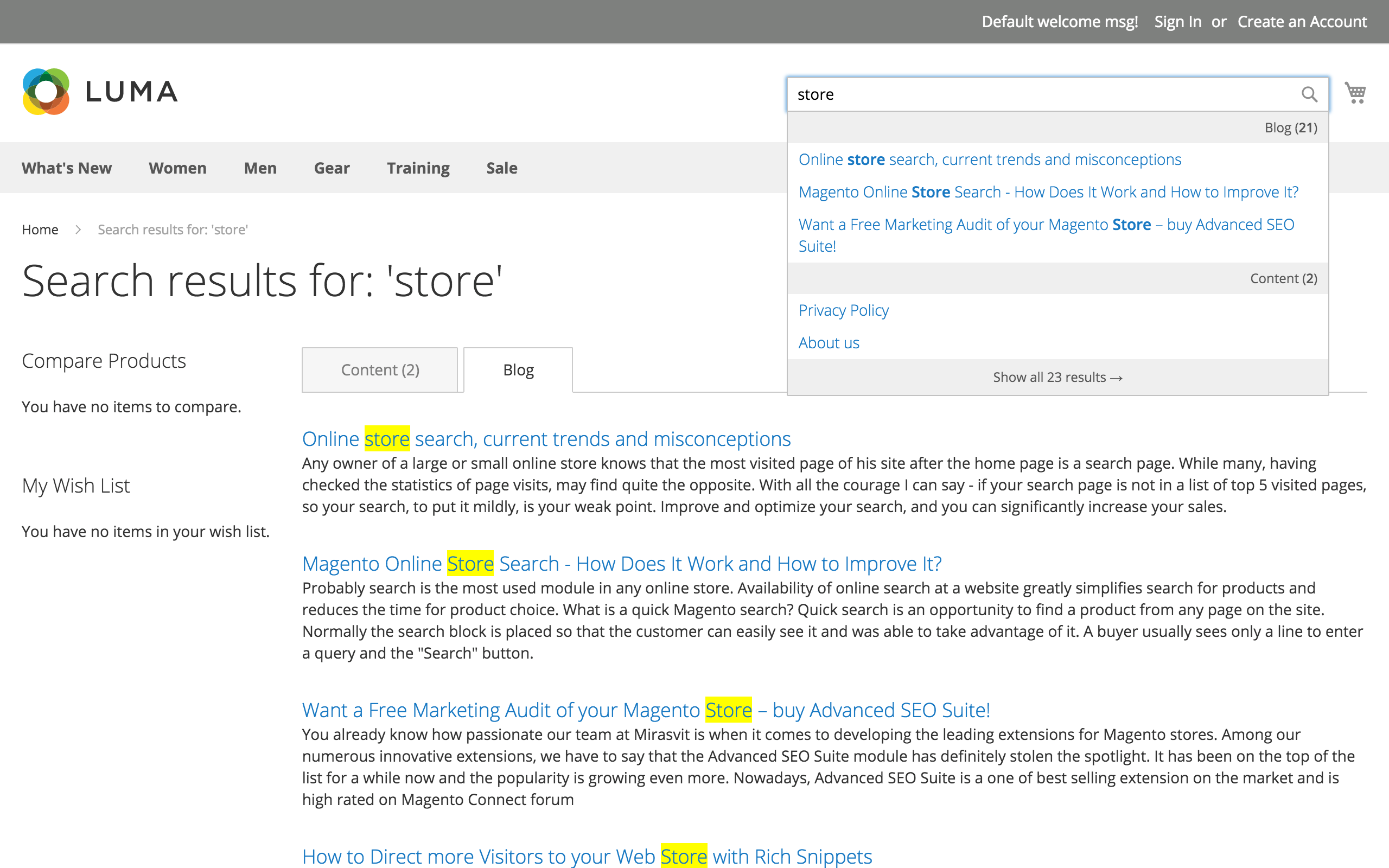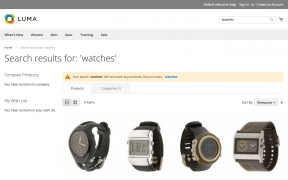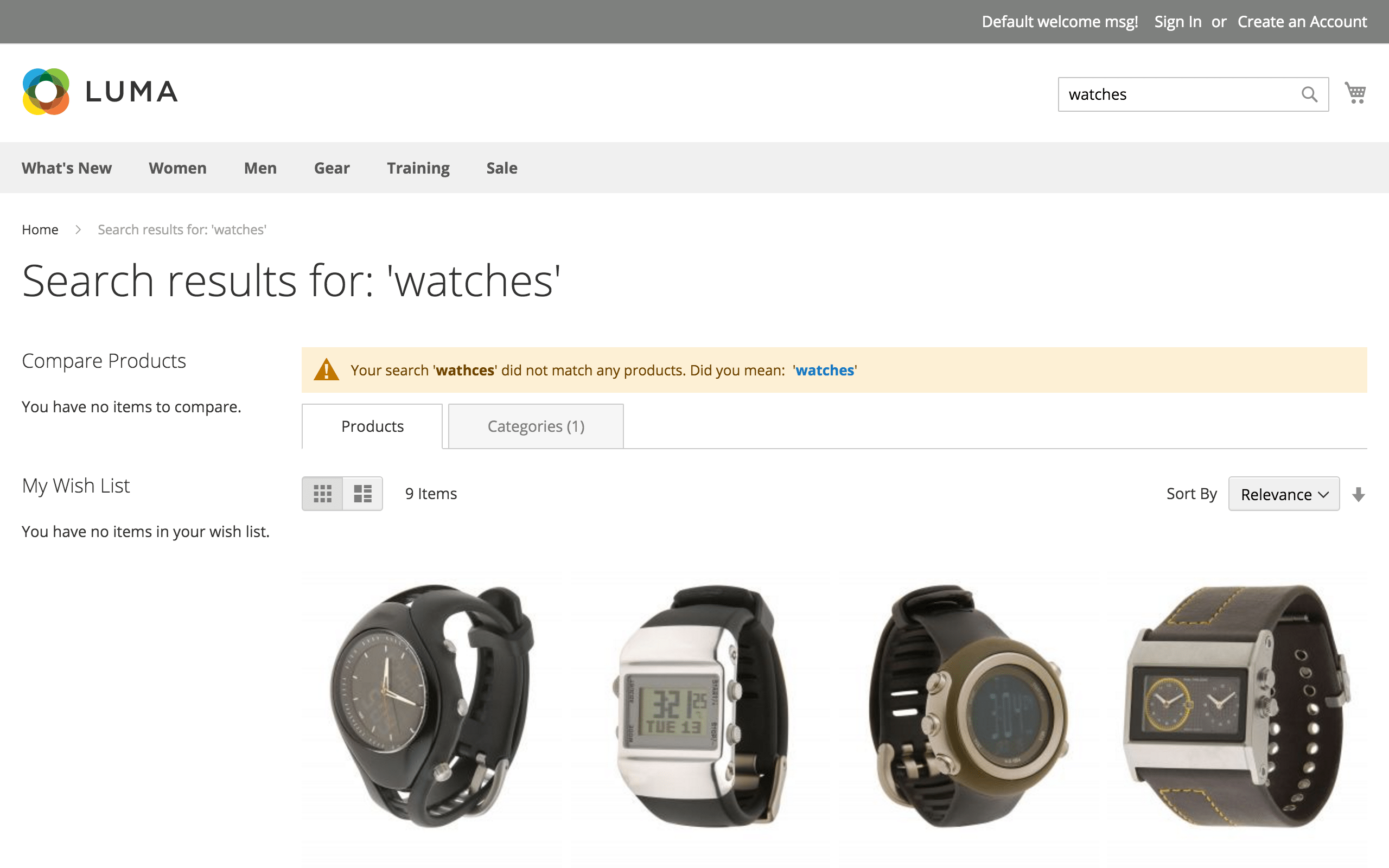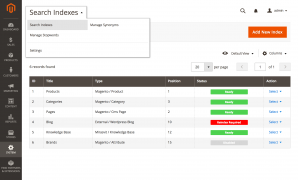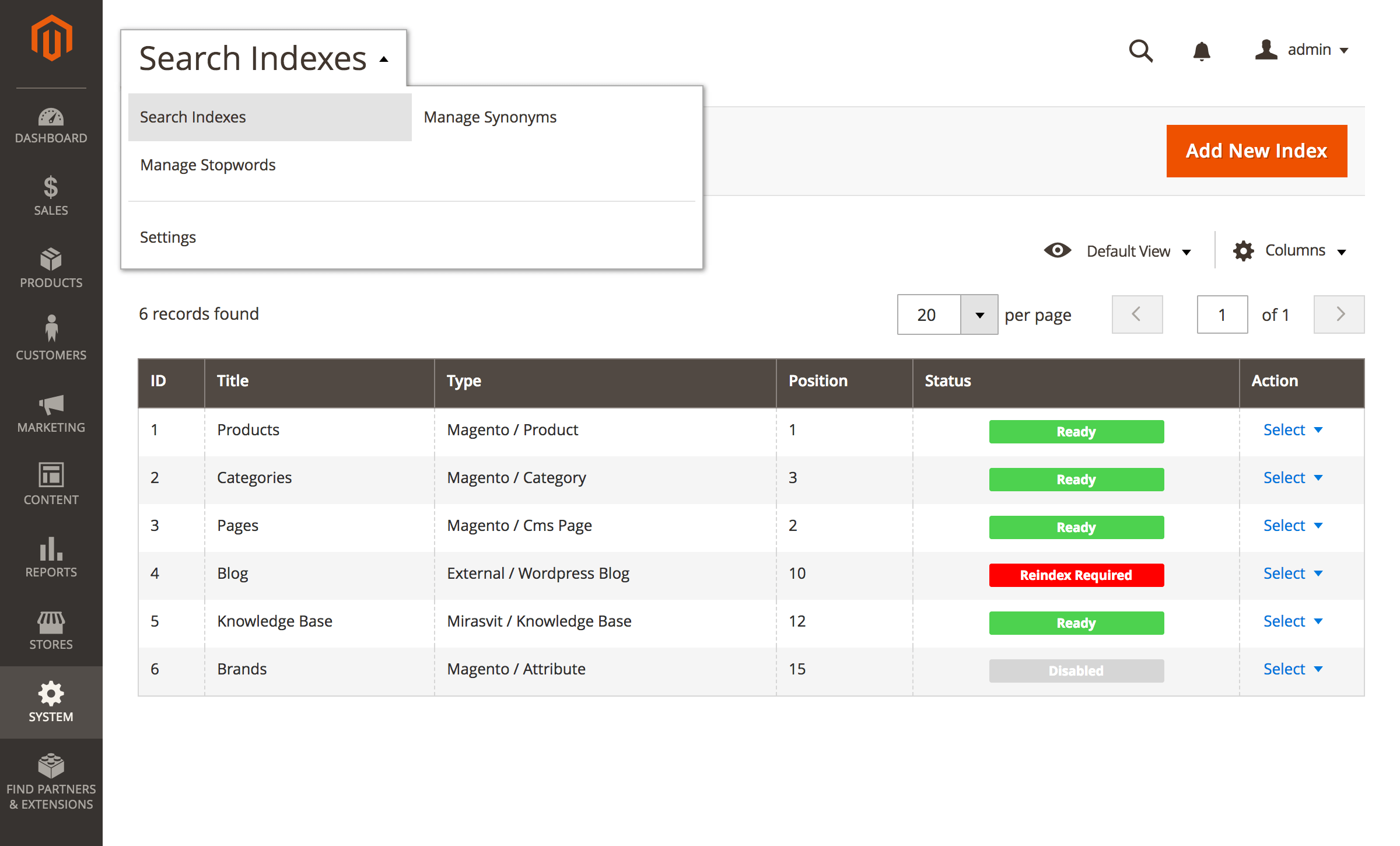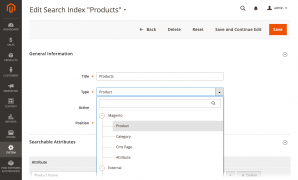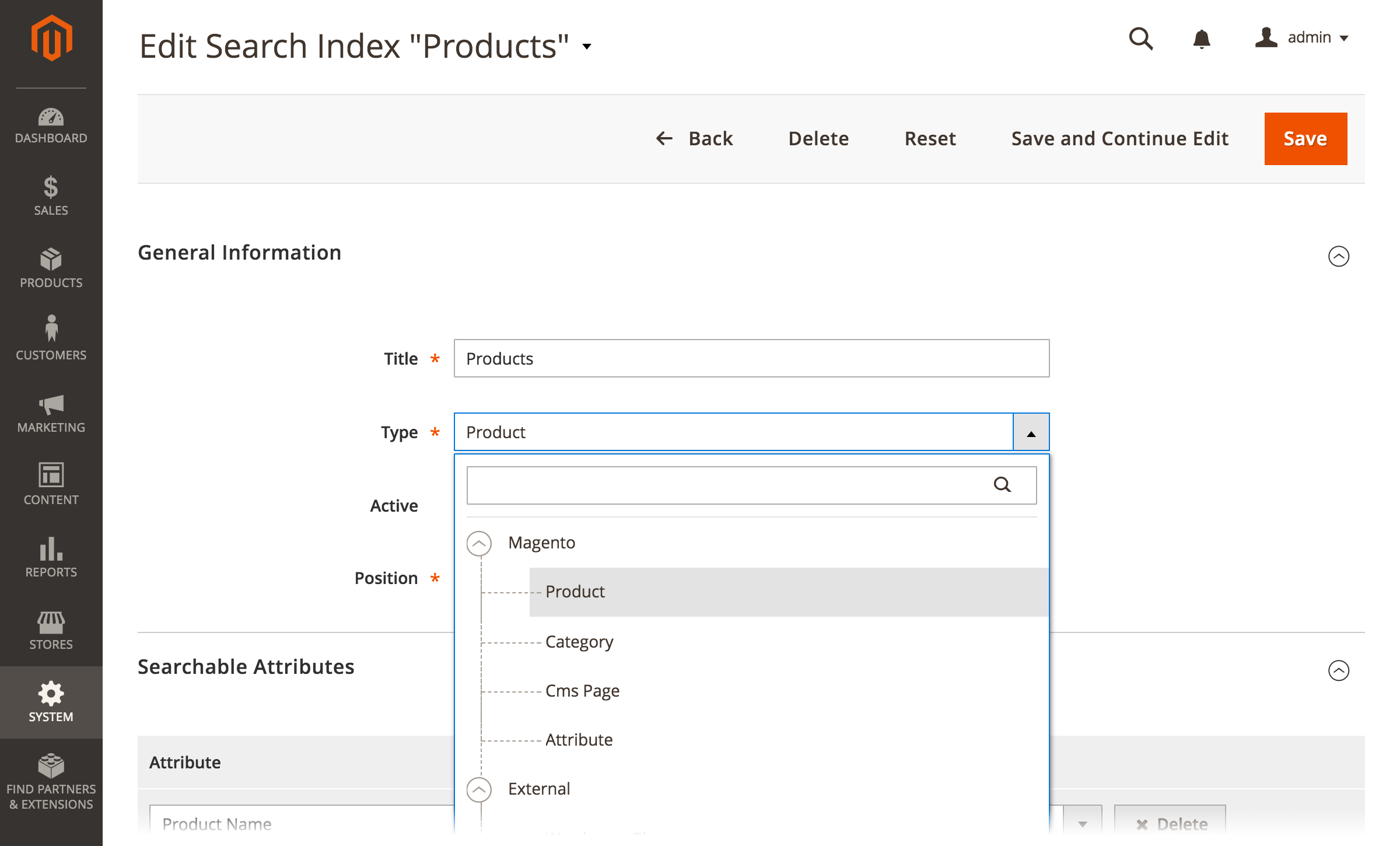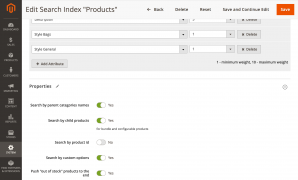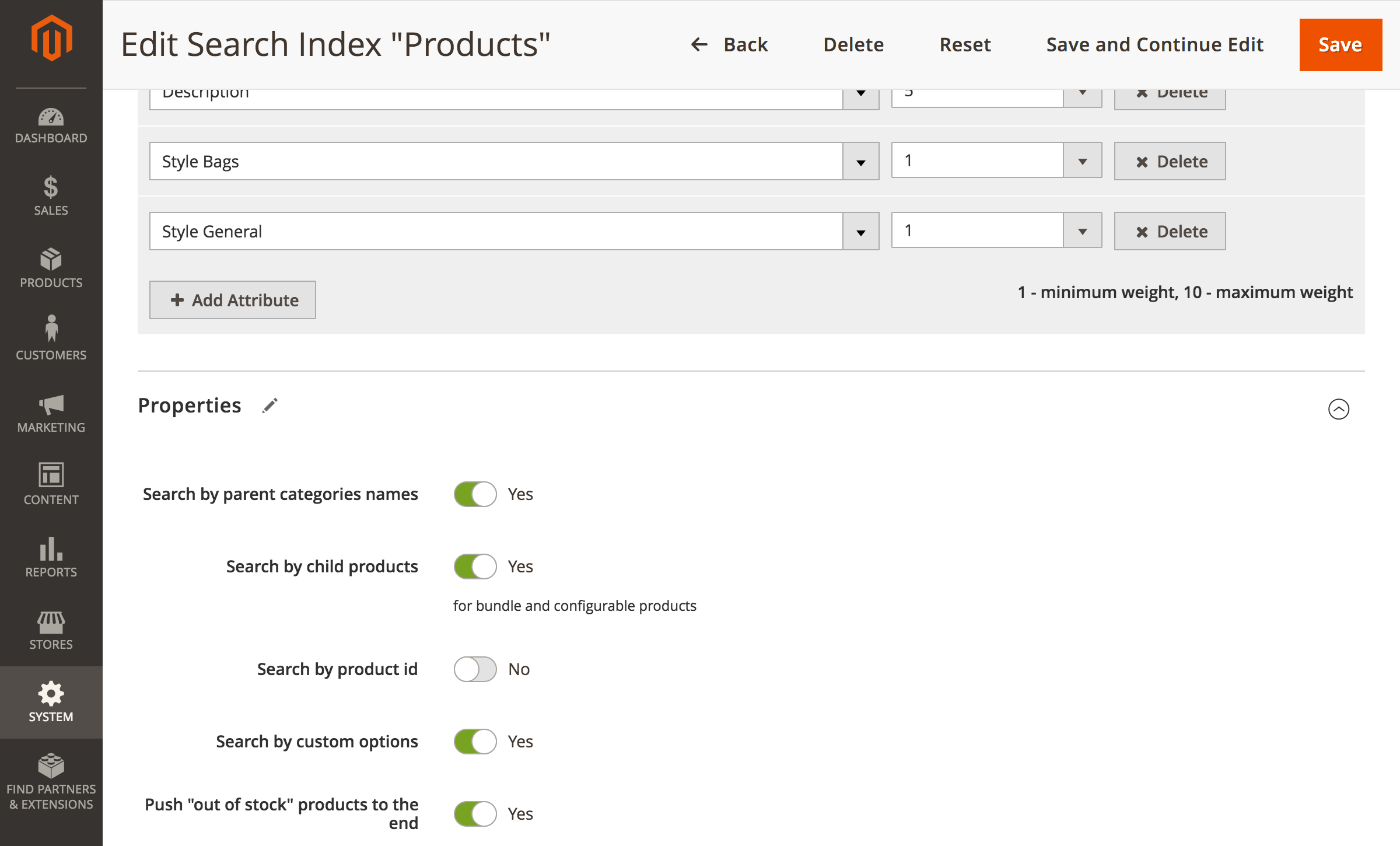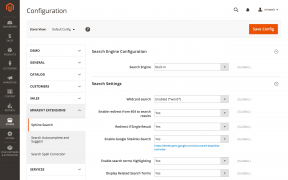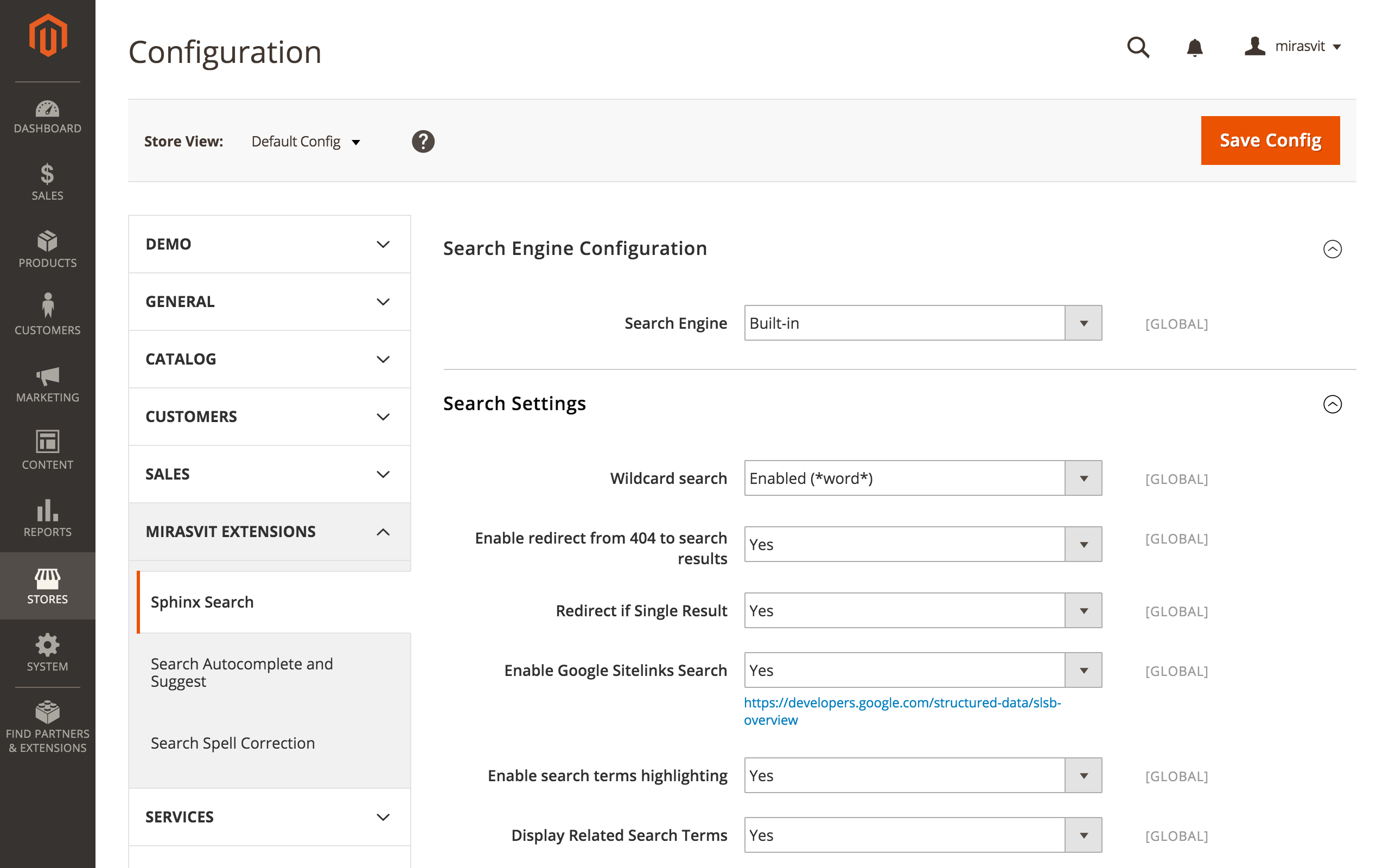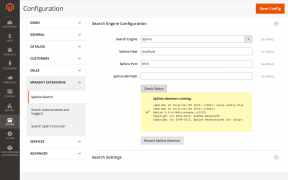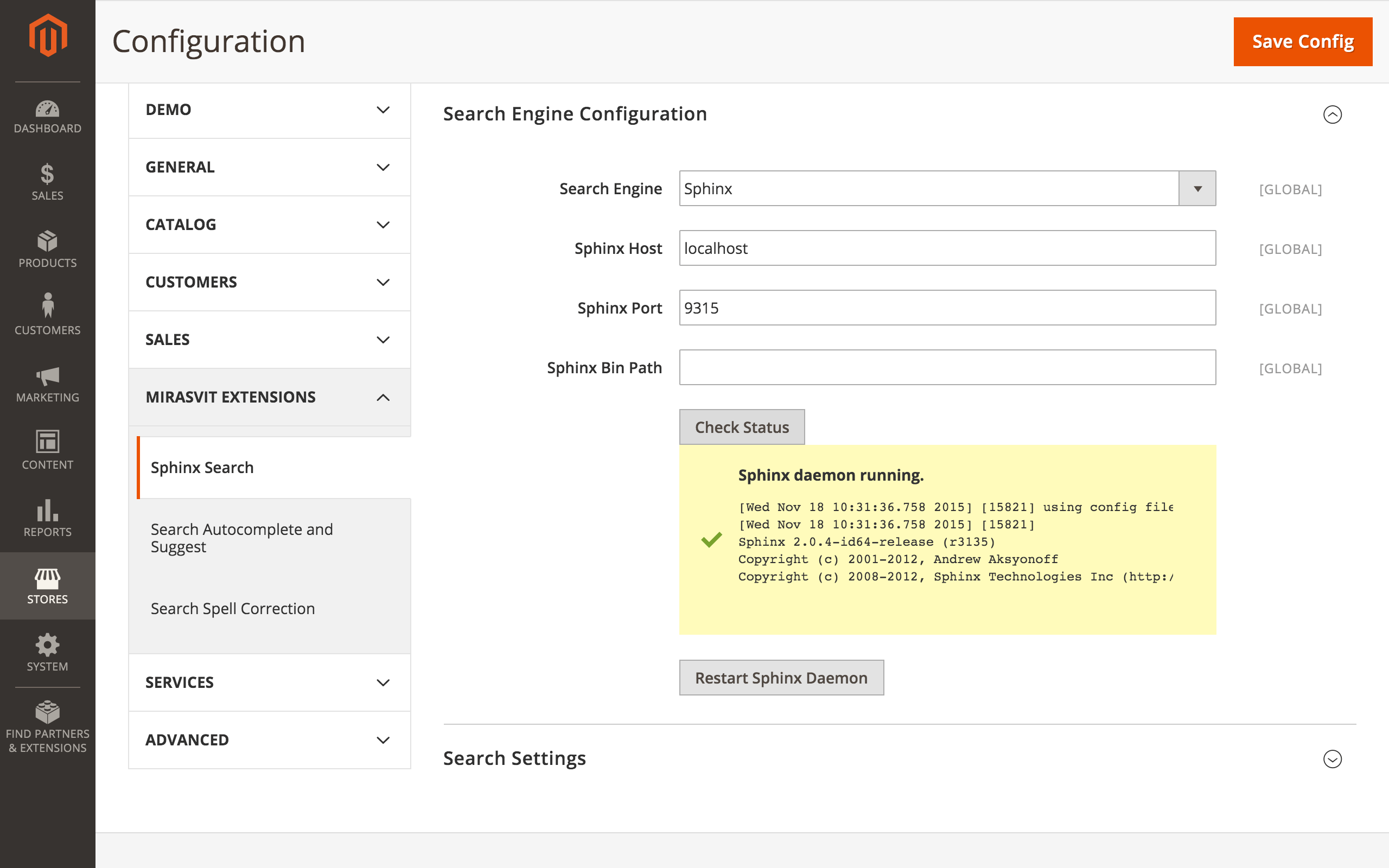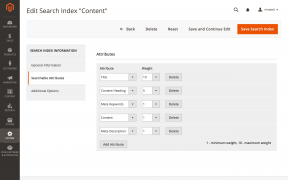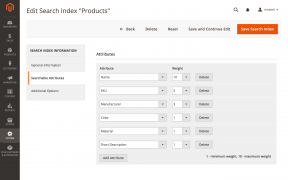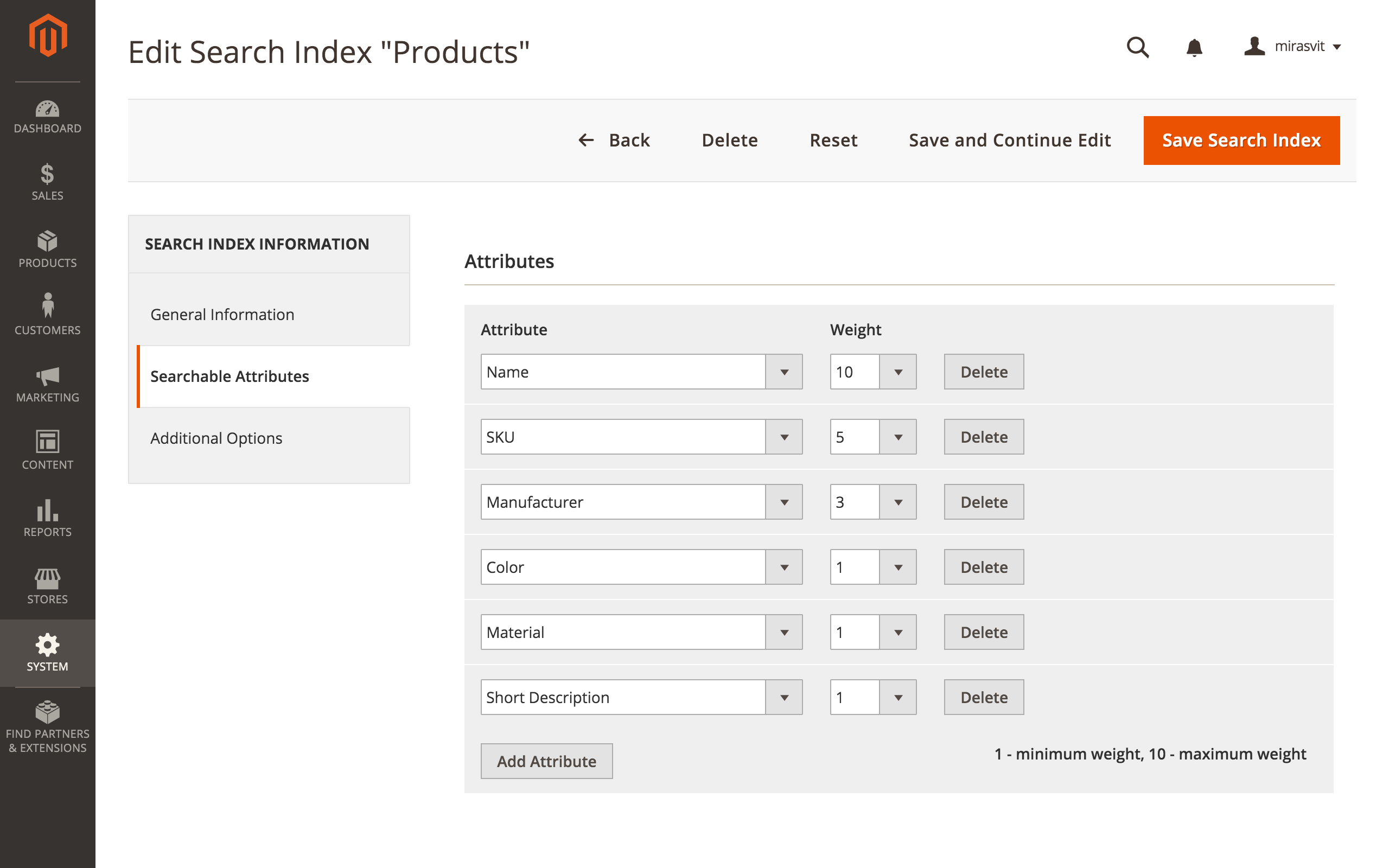 Feature Highlights
The Fastest and the Smartest Store Search Engine
Advanced Sphinx Search Pro is fast enough to perform searches and provide search results in a moment's notice: the search speed is over 500 queries/sec against 1,000,000 SKUs! At the same time, our Magento 2 Advanced Search extension is smart enough to turn all your customers' search queries into relevant results.
Advanced Search solution allows your store users to receive correct search results for words, containing dashes or any other non-alphabetic symbols, - called a Long-tail search.
Moreover, you may manage the order of products in the search results and set the desired items higher than others, using an attribute weighting feature.
The Advanced Search extension in Magento 2 also deals with words that appear useless in a search, like "a", "and", etc. These words will be removed from the search phrase!
Advanced Sphinx Search Pro allows you to manage synonyms: the in-built synonym dictionary already contains 60370 items (for the English language), and you can add additional words of your choice!
The more convenient the search, the more satisfied customers you'll get!
10 Advantages You Get With our Advanced Sphinx Search Pro
Highly relevant search results in no time!
Search by multiple content types
Long-tail search option
Easy synonym management
Extremely high indexing speed
Manage the order of search results to sell more products!
Automatically stops word skipping
Searching by product categories, IDs, child products, etc.
Wildcard search option
Excellent shoppers experience
Feature Highlights
Incredible relevant results
Advanced Sphinx Search Pro suggests a user-friendly search logic to your store customers.
They will be able to search by the entire key phrase or by separate words. Search results that are received by shoppers are highly relevant! It's almost as if our extension reads your customers' thoughts!
The more relevant the search results are, the more returning customers you'll get!
Let your customers feel cared for with our Advanced Sphinx Search Pro!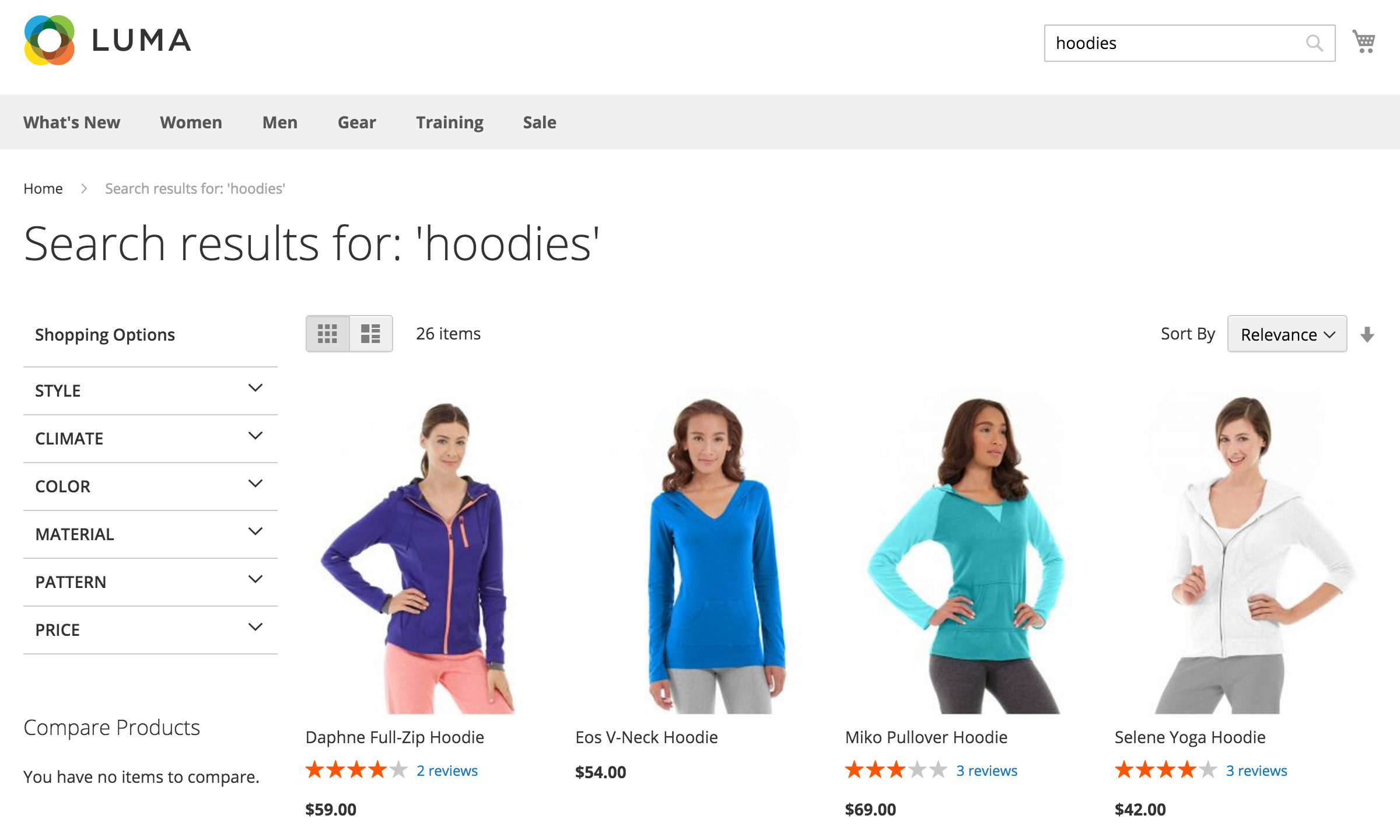 Multi-Search Feature
Advanced Sphinx Search Pro allows you to get results from multiple store entities!
Our extension is so smart that your customers will see the answers of their search queries from:
products
categories
WordPress blog
other content (policies, terms, etc.).
Give your customers in-depth search results and take them closer to their next purchase in your store!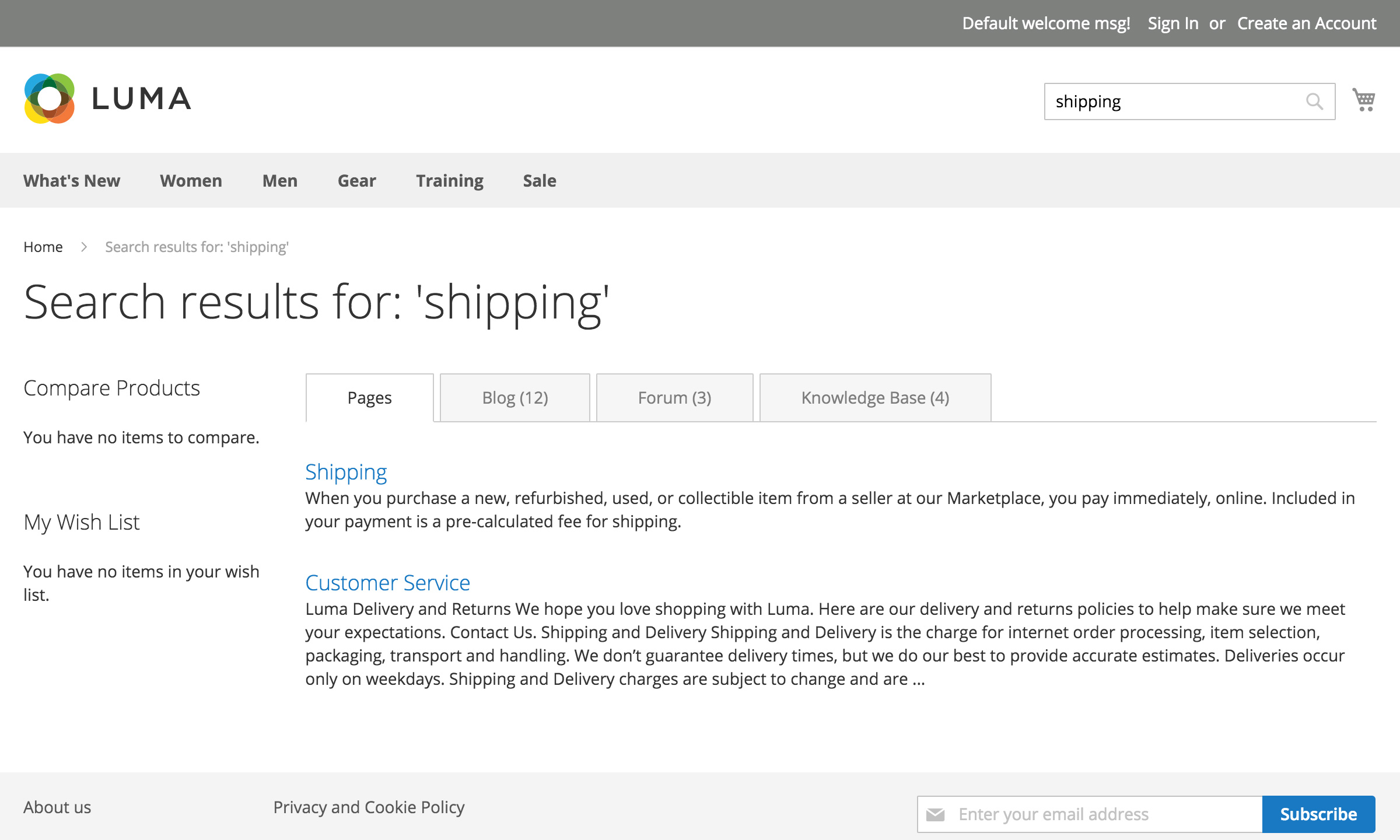 Clear Search Settings Interface
Advanced Sphinx Search Pro interface is quite clear and intuitive so that you can change any setting quickly and easily.
You can use the different types of search engines that we have:
built-in Sphinx engine;
external Sphinx engine;
MySQL.
Advanced Sphinx Search Pro is a fully-featured and flexible solution! Orchestrate all the necessary settings with ease and comfort!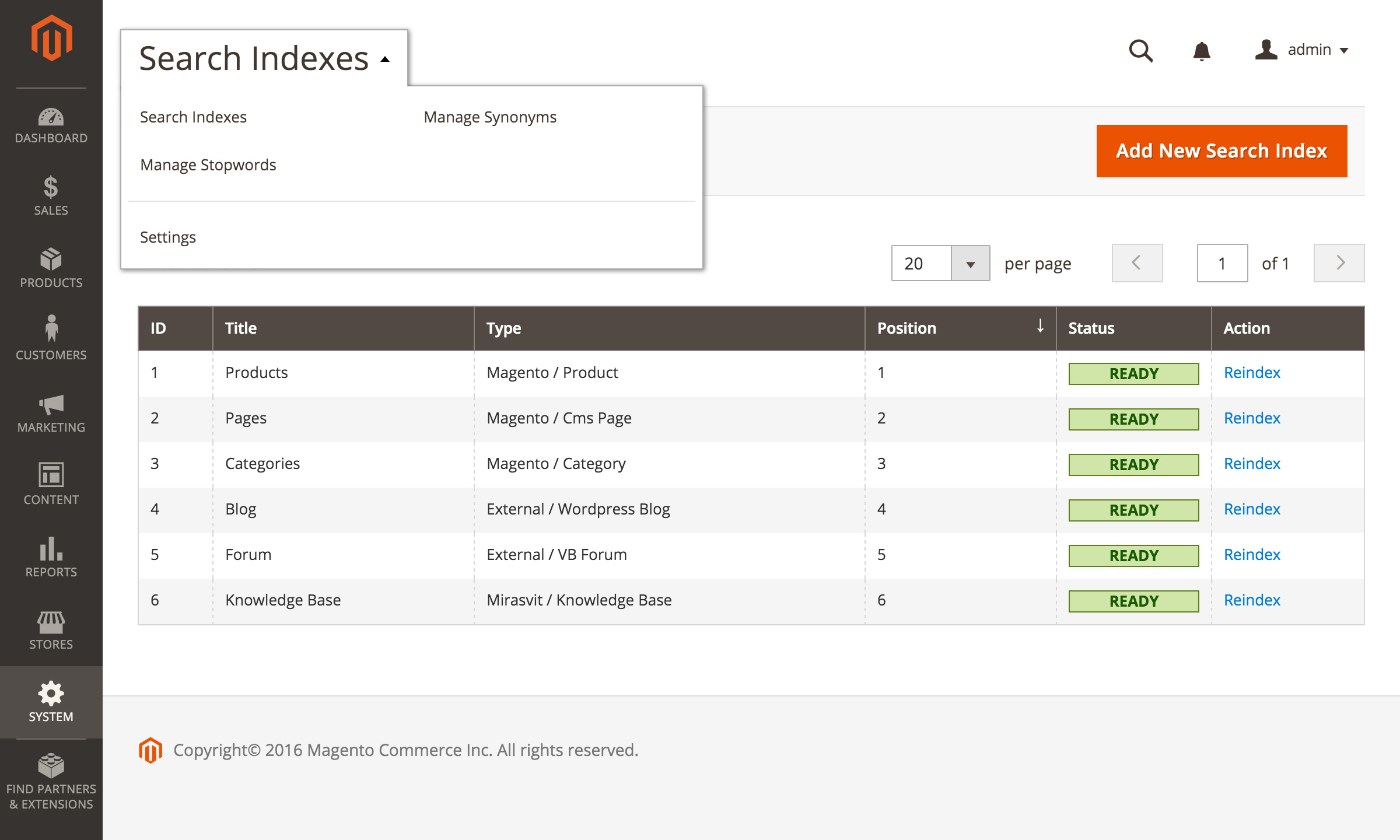 Flexible Search Index Options
Advanced Sphinx Search Pro allows you to enable or disable the following options in searching the indexes at any moment:
searching by parent category names
searching by child products (for bundle and configurable products)
searching by product ID
searching by custom options (if you created any)
pushing Out of Stock products to the end of the search results list.
Our solution lets you meet all your customers' needs and gives them the most relevant search results ever!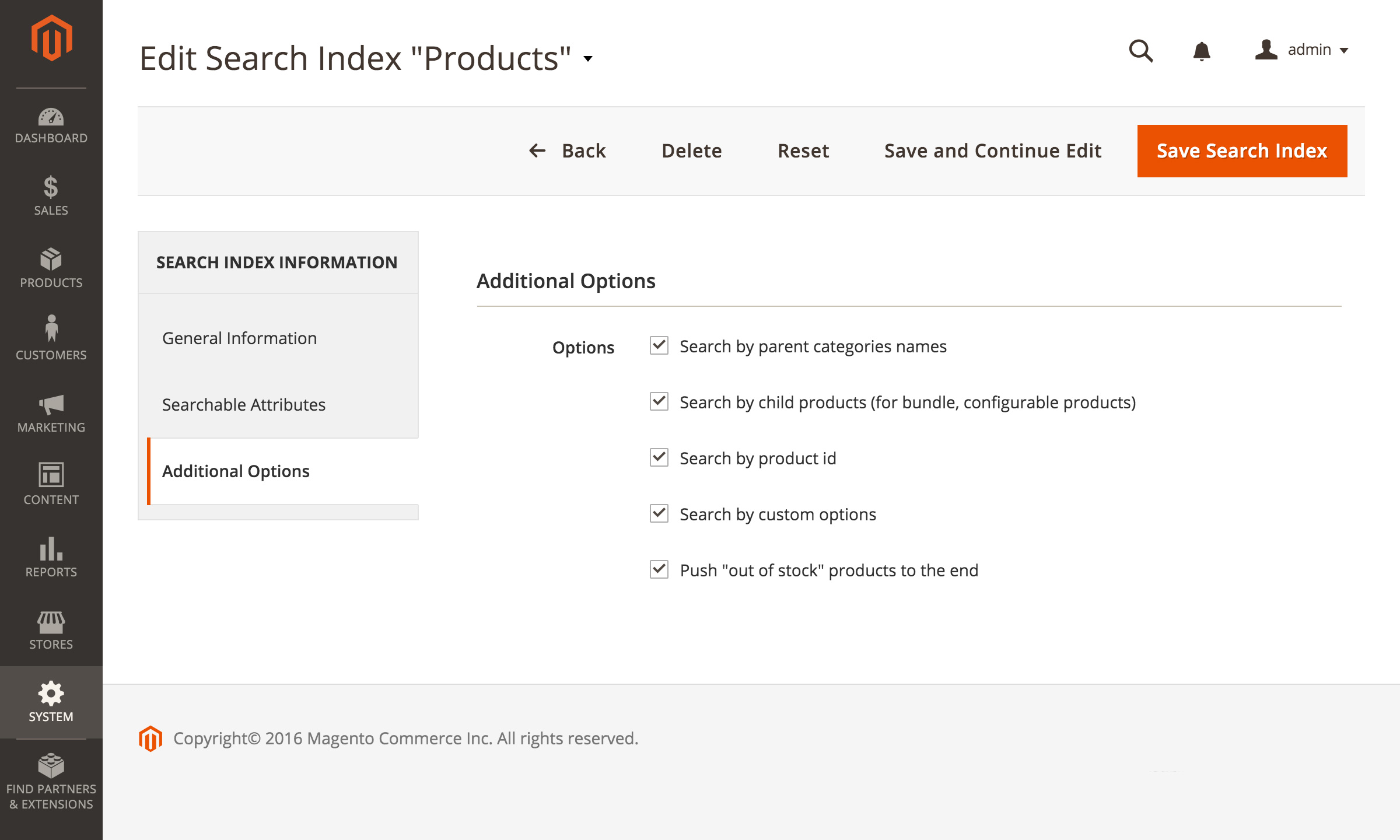 Separate Settings For Different Content Types
Advanced Sphinx Search Pro has an option for creating a separate search index for each type of store content.
You can create the following search index:
products
categories
blog
CMS pages
forum entries
catalog attributes
catalog search queries.
Or create your own unique search index!
Return the Most Important Attributes to The Top
Advanced Sphinx Search Pro allows you to manage not only the positions of search index in the search result, but also how to handle the order of their different attributes!
If you need some attributes to prevail over the others, just set a weight value from 1 to 10 to arrange their priorities in searching.
For example, you want the search engine to search by Product's Title first. Therefore, assign the Title's attribute Weight to 10 and enjoy your search results!
Take control of your search flows and provide your customers with a highly relevant result!
Singular and Plural Searches
Regardless of the key phrasal form (singular or plural), your customers will get the most relevant results!
Our Magento 2 Advanced Search module allows you to relax and be confident that your store's search engine will not let you down! Get the most out of your store's search results and ensure that your customers' shopping experience is smooth and refined!
Stemming Support
Advanced Sphinx Search Pro supports a stemming option!
This means our search engine will reduce (literally cut) the keyword entered to the search string to its base form and provide the results containing the root form of the words searched.
For example, if a customer searches for 'cats', he or she will get results containing 'catlike', 'catty', etc.) as based on the word 'cat'.
The advantage of this feature is that your customers will get to see the full list of results and most likely select some items!
Check Search Engine Status Within a Second
Advanced Sphinx Search Pro's backend interface allows you to easily check and see whether the engine is functioning correctly or not.
Click the Check Status, and you will get the results in a split second (feature available for External Sphinx Engine)!
If your engine is working properly, you will see a green checkmark and a detailed report in the same window.
Wildcard Support
Another useful feature is the Wildcard search: if you enable this option, your customers will be able to perform inquiries based on a character pattern, matching between the characters specified in a query and words in the store's content that contain those character patterns.
For example, if your customer enters 'sweat*', he or she may get results including all items beginning with the word 'sweat'.
This feature also covers singular and plural searches.
Provide your customers with a Magento 2 advanced search with category, products, WordPress blog, or other contents. Install the Advanced Sphinx Search Pro, and expand the search functions of your store, and boost your sales!
Stable and reliably search extension.
Felipe
from Gothenburg, Sweden
I had the extension for few years and it worked really well for me.

nutrisol
from Huthwaite, United Kingdom
The Advanced Sphinx Search Pro for Magento 2 gives great search results. It really helps customers find exactly what they are looking for. It provides results from your CMS pages and blogs as well as categories and products. This really enhances our store, our customers will love it.
we upgraded to the ultimate
Armand
from Omaha, United States
thanks
Very good and well done search extensions
Multon
from Tallinn, Estonia
And good customer service
Sathek
from Dubai, United Arab Emirates
I would recommend for all type of magento requirements
Qingyuan
from El Monte, United States
It's really good for Chinese search
Magento 1: Very good extension
Adrian
from Bucharest, Romania
I bought this extension for my magento website and it really improved my search results. Customers are now happy! Thank you!
Magento 1: Every magento is a must
turgay
from Istanbul, Turkey
I would definitely recommend it very handy
Every magento is a must
yuhuang
from Summerland, Canada
Recommend.I try 3 different extension,this is the best and good pricing
Magento 1: Good and accurate
Yuki
from Central, Hong Kong
Have a chat before purchase and happy to know I am eligible to get free magento 2 extensions for my future migration. Easy to install and no problem in my magento store ver. 1.9.3.4. Thank you so much!
Magento 1: Nice extension!
Laura
from Mažeikiai, Republic of Lithuania
Great extension, works really as we wanted!
Magento 1: Just go for the ultimate
Brian
from Fairport, United States
for an extra $50, the ultimate item they have is even better. https://mirasvit.com/magento-2-extensions/sphinx-search-ultimate.html
Magento 1: Fantastic Extension
Matt
from Malton, United Kingdom
We have found this extension to be a true asset to our website. Will definitely be purchasing it again for our other clients.
Denis
from Rostov-on-Don, Russia
Very fast seraching
Gabriel
from Central, Hong Kong
100% recommended.
Magento 1: Very efficient extension
Mantas
from Karlskrona, Sweden
Very efficient extension. Easy installation and a lot of options to tweek. We had some configuration doubts, but support sorted them out: connected to our test Environment and did re-configuration. Very much recommended!
Great product. I use since 3 years ago.
Paulo
from São Bernardo do Campo, Brazil
Fantastic features and very fast
Magento 1: We get an icredible CRO improvement
Lisandro
from Palma, Spain
This plugin improves magento search results very much. Clients get much better service and we sell more.
Magento 1: Excellent Product !
Srinivas
from Hyderabad, India
We have implemented for one of our client and they are very happy. Good Stuff guys.
Anne
from Amsterdam, Netherlands
Good module, does the job as requested; provides relevant search results. Easy to configure.
Tatiana
from Nurtingen, Germany
best search tool to improve results and adapt to user searches!
Magento 1: Great Extension
Philip
from Los Angeles, United States
By far the best extension for marketing feeds. Easily saves money over a 3rd party feed provider, and feature-rich enough to cover advanced store needs.

Continuous updates/development is great as well
Magento 1: Very good product
Mickael
from Les Martres-de-Veyre, France
A very good product !

Now, we have a real search function in our magento shop :)
Magento 1: Really improves search resaults
Robert
from Stabekk, Norway
The native Magento search engine is terrible. With this extension your search resaults is improved extremly. Truly recomended! And as always flawless support from Mirasvit team.
Magento 1: It makes a difference
Fabio
from Pavullo nel Frignano, Italy
The standard Magento search functionality is mediocre at best: with Sphinx Search we had a great improvement in the search results. Recommended.
Magento 1: Simply the best !
Adrian
from United States
I noticed lately the fact that people are so lazy to navigate for products and they prefer to input what they search for in the search bar.
And more than this, clients are not patient, even if they do mistakes while typing they get anxious and quit the shop.
This extension solves great the above mentioned problems, being so powerfull and having also grammar and sintax correction posibilities.
Congratulations !
Magento 1: Highly recommended
The reason we bought this module was Magento standard search results were irrelevant. Besides re-indexing was taking too much time and sometimes our MySQL server was brought to its knees. With Sphinx search we have perfect search results and no pain. And it is easy to configure too.
Andrey
from United States
Great module, search just cool, easy to configure and provides relevant search results!
Andrey
from United States
Module is the best!
Intelligent site search!
I advise everyone
Magento 1: Excellent package
We used to have Google Site Search in our webshop (www.toimistotuote.fi) and had some unsolvable problems with that.We started to use Sphinx Search Pro a month ago and it works like a dream! We have witnessed a remarkable improvement in search result relevance which has already raised our conversions. This extension is a must have product, if you need a smooth and affordable search function in your webshop.
Yaroslav
from United States
Really excellent extension and support. Thanks.
mariano
from United States
is the best search for magento.
THE BEST

great support and great people.

thanks
Magento 1: the best extension
mariano
from United States
this extension is the best search tool for magento, im loving it!

Thanks!
Magento 1: vast improvement and excellent support
This is what the default Magento shop should contain, customizable search functionality across catalog, blog and cms pages.
Alexander provided excellent support to work seamless with other customizations.
Fabrice
from United States
Really nice extension and the support team was very helpful ( it was a problem related to my website)
Magento 1: easy install, excellent support
extension works great, small issue with static blocks was solved within 1 day by Alexander.
Magento 1: Good extension
This is a good search extension for magento, thanks
Magento 1: Great support and plugin
Media_Lounge
from United States
Their support team were great at helping us get it working. We had a conflict with another plugin and required help installing Sphinx on our server. Plugin works well too.
Magento 1: Absolutely perfect
GreenW
from United States
Absolutely perfect. Just what I needed to fix the simple search that is standard on magento. This is a must have extension.
Magento 1: Wonderful extension!
diana_angel
from United States
Wonderful extension, a must for anyone who wants to make search better
Magento 1: Thank you and keep up the great work!
tduran007
from United States
This extension is working great! I've been looking for a reasonably priced search extension for a while now and finally found something solid. Great support and fast response behind the scenes too. Immediately helped me with making few tweaks and modifications. Thank you and keep up the great work!
Magento 1: Greatly improves the search function.
garrettperna
from United States
So far so good!! Greatly improves the search function. I completely agree with btd777. The consideration of categories is a must. If that were to be implemented, I would have nothing but good things to say. Thanks!
Magento 1: I use this extension on 2 of my sites, and it works very well
willsmt69
from United States
I use this extension on 2 of my sites, and it works very well, customers are very happy with this search.
Magento 1: Must-have in any webstore.
JaneAu
from United States
Hi, a great extension for the online stores that used default Magento Search. After installation the search quality raised substantially. Must-have in any webstore.
This extension is fantastic. It gives much better results and is very quick! Also the guys at Mirasvit are always happy to help and even guided us through a problem where results were not showing up. This turned out to be a setting in the admin and nothing to do with the extension but Alexander was still happy to help. Thanks a lot!
Magento 1: So far so good!!
garrettperna
from United States
So far so good!! Greatly improves the search function. I completely agree with Brent. The consideration of categories is a must. If that were to be implemented, I would have nothing but good things to say. Thanks!
Magento 1: Amazing results
We recently purchased this extension and are happy with the results. The only improvement that we suggested was that it integrated the category names as keywords for product results. They said that this feature will be in the next version. We will really be happy once that it finished. The support team for the extension has been really helpful in helping us configure the extension to meet our needs!
Manual & Support
Need more help?
Save time by starting your support request online and we'll connect you to an expert.
Contact Us Now
We found other products you might like!
Reasons to choose Mirasvit
Client focusing and satisfaction
These are our primary. A major portion of our new clients come from referrals from our existing clients. Our professional team of developers, marketers and support staff have invested the best knowledge and experience in the field into our work, so you know you can come back to us again and again.
Remarkable support
One year free and high quality support. We go to great lengths to provide maximum satisfaction with every module you have purchased in our store. By helping you with installation, configuration, answering your every question, we do all our best to eliminate any possible problems.
Risk-free Investment
30-days money back guarantee. If you are not satisfied with our extension's performance for any reason, we provide a full refund.
Constant improvements and upgrades
We constantly add new features to all our modules, and are always interested in hearing your opinion and implementing your suggested features in our future developments.
Comprehensive Documentation
We provide an expanded user guide for every aspect of our extension, so you can find answers for all your burning questions.
Unencrypted source code of our products
You can customize extensions according to your needs and requirements.
Usability and Performance
The Module is easy to install and upgrade, just follow our step-by-step user guide.
Safe Magento updates
No core modifications. Just use the composer or copy the extension's files to the root directory of your store.