 Misspellings and typos are the part of our digital activities. Your store customers may be in a hurry or busy and, can type their search queries inaccurately. Search Spell Correction is a new way to help them to find what they came for. Our extension will correct all the typos during search query typing and, will bring you more returning customers!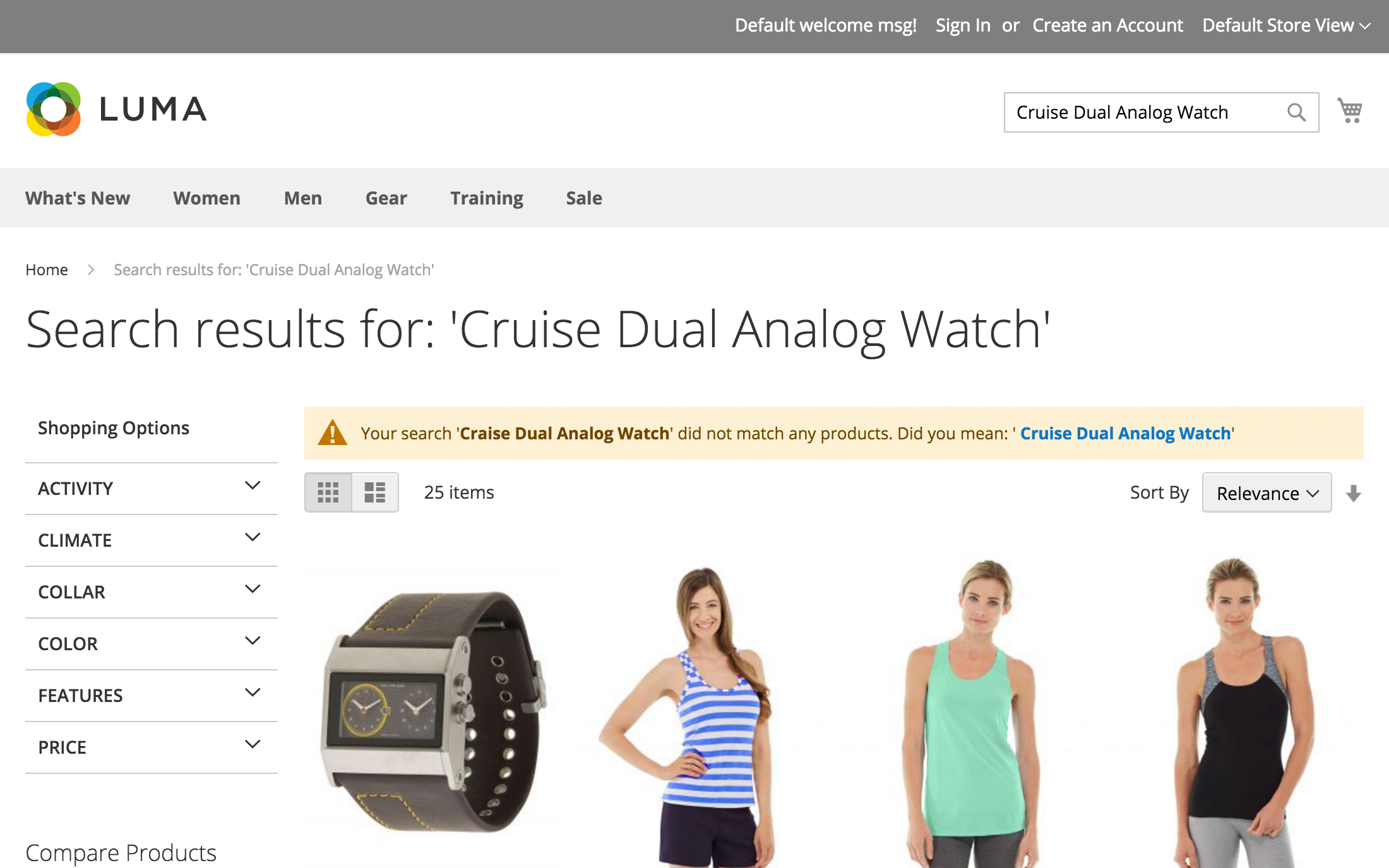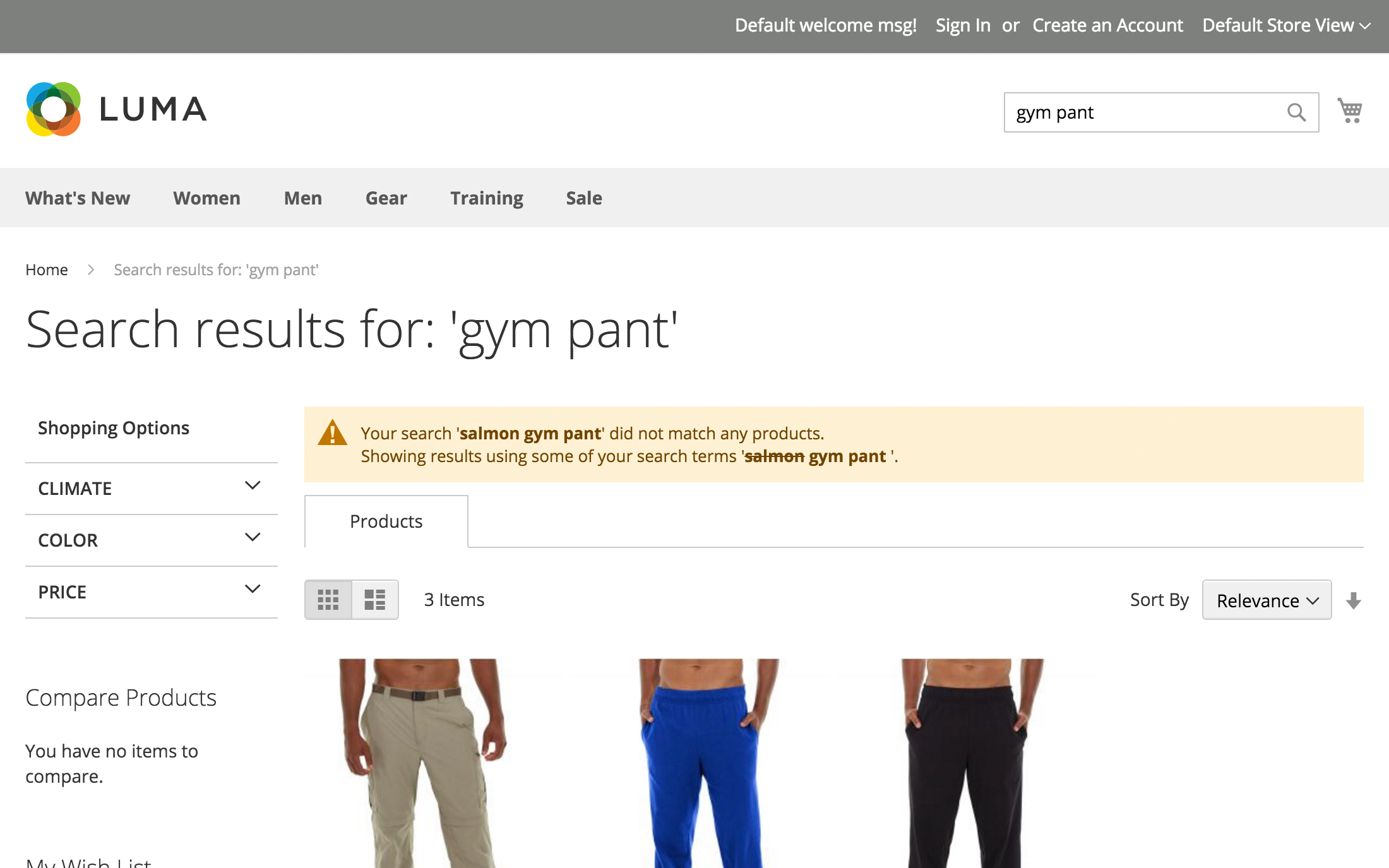 The Best Solution For Growing Store Order Numbers!
Search Spell Correction will target your misspelled search terms!
Your store customers may perform search queries with typos or misspellings. They probably are not sure how exactly the product they are searching for is spelled. Also, your shoppers could be in a huge hurry and missed a symbol trying to type on the run using their smartphone or tablet.
Search Spell Correction is the perfect solution for such situations! Our extension detects misspellings or typos in a split second, corrects them and provides your customer with the most relevant search results!
Moreover, our solution provides your customers with a fallback search feature.
Use Search Spell Correction to make your store visitors search experience better and watch them as they make more purchases!
10 Advantages You Get With Search Spell Correction
Corrects All Typos.
Detects and corrects most types of misspellings.
Provides your customers with the most relevant search results.
Fallback search feature available.
Clearly notifies your customers about corrected mistypes and alternative search results.
Extension does not require any additional software to install.
Supports any language!
Every time it returns search results apart from the native Magento search.
Analyzes your store content and memorizes all of it.
Improves your customers shopping experience!
Feature Highlights
Perfect Search Results For Typos/Misspelling Queries
Search Spell Correction provides your customers with highly relevant search results regardless of their queries.
Pretend your store customer enters the query with some misspelling, i.e. 'Craise Dual Analog Watch'. Our extension detects the typo in a split second and provides the shopper with:
the notification of the typo/misspelling that was made
the suggested alternative search query
search results for the alternative query.
So, the alternative search query for our example would be 'Cruise Dual Analog Watch', and therefore the customer will be able to explore the results for the corrected phrase.
The most logical result of our solution's actions will be the following: your store customer will appreciate it and most likely make a purchase!
Fallback Search Support
Search Spell Correction provides your customers with a Fallback search feature. Fallback search means no empty results ever!
Our extension returns results for all queries, including instances when the native Magento search engine suggests null results!
For example, your customer is searching for 'salmon gym pant', but apparently there is not a product in your store. The extension in the exchange shows the shopper's search results for the alternative search term 'gym pant' without the first word 'salmon'.
Most likely your customer will be glad to have a look at suggested results and pick out one of the items!
Search Spell Correction understands your shoppers' needs like never before!
The Simplest Backend Interface
Search Spell Correction has the simplest backend interface ever!
You may configure the extension in two easy steps. It will take you a couple of seconds!
Just choose if you want to enable Spell Correction and Fallback Search and that's it!
Enjoy your store's improved search results!
Install Search Spell Correction and provide your store customers a better shopping experience!
Great for common spelling mistakes

nutrisol

from Bodmin, United Kingdom

This extension is great for correcting frequently misspelled words enabling customers to find what they are looking for even if they don't know how to spell it.

Small extension, Big corrections :)

ads

from Lewes, United States

a very small extension makes your customers "wow"

Magento 1: Great extension

Robert

from Oppegard, Norway

Customers often misspell when searching. With this extension they will still find what the was really searching for. I was a bit sceptic about the accuracy when we installed the extension but i am really impressed. Recomended!

Magento 1: Very good extension

Robert_XC

from United States

Great extension that does just what it say.
Also perfect customer support

Magento 1: Thank you mirasvit

turgay

from United States

mirasvit assurance should be absolutely clean code module is fully compatible www.teleplus.com.tr

Magento 1: Great one!

XiShi.de

from United States

Purchase and Installation was done within minutes! And the Search Spell-Correction is just what we wanted for our often misspelled products on www.xishi.de

Magento 1: Very Good

Bernard_Dicor

from United States

Congratulations. This extension makes Magento search better than the original version. We recommend a lot.
Compatibility
The Search Spell-Correction for Magento 2 is compatible with:
| | |
| --- | --- |
| Magento 2 Community Edition (CE) | 2.0.* - 2.3.* |
| Magento 2 Enterprise Edition (EE) | 2.0.* - 2.3.* |
| Magento 2 Cloud | + |
Have a question? Ask our support team
Need more help?
Save time by starting your support request online and we'll connect you to an expert.
Contact Us Now
Refund Policy
All customers can request a refund during 30 days after purchase of our software, if customer think that our software is not suitable for any reason. To request refund, customer must remove all copies of our software from its store, servers, computers, email, etc and confirm by email such removal. After receiving a request we will proceed refund within 3 business days.
If request for refund is received after 30 days after purchase, it will be rejected. Cost of installation and customization services are not refundable.
Support and bug fixing
Mirasvit offers free 90 days support of all software sold on this site. Customers can report all bugs, which were found in our software. We can solve only the bugs directly related to or caused by our extension. Those bugs must be reproduced on fresh Magento installation without any 3rd party plugins. We will solve that bugs in order of our development plan.
We don't do any type of custom work and we have a right to reject a support request if the issue is store-specific (cannot be reproduced on the fresh Magento installation without any 3rd party plugins).
Mirasvit will not be liable to you for any damages (including any loss of profits/saving, or incidental or consequential) related to our support service caused to you, your information and your business.
Software updates
Mirasvit offers free lifetime updates if they areavaliable. Updates are limited to the Magento version branch (1.x.x or 2.x.x). Customer can download an update and install it by himself. If support period is expired, Mirasvit.com can't solve any possible problems with our software during or after updating. Mirasvit does not guarantee that it will release updates for any product.