Search Spelling Correction for Magento 2
Misspellings and typos are an unavoidable part of our digital activities. Your store customers may be in a hurry or preoccupied, and type their search queries inaccurately. Search Spell Correction is a new way to help them find what they are searching for. Our extension will correct all typos made during the typing of their search query and bring you more returning customers!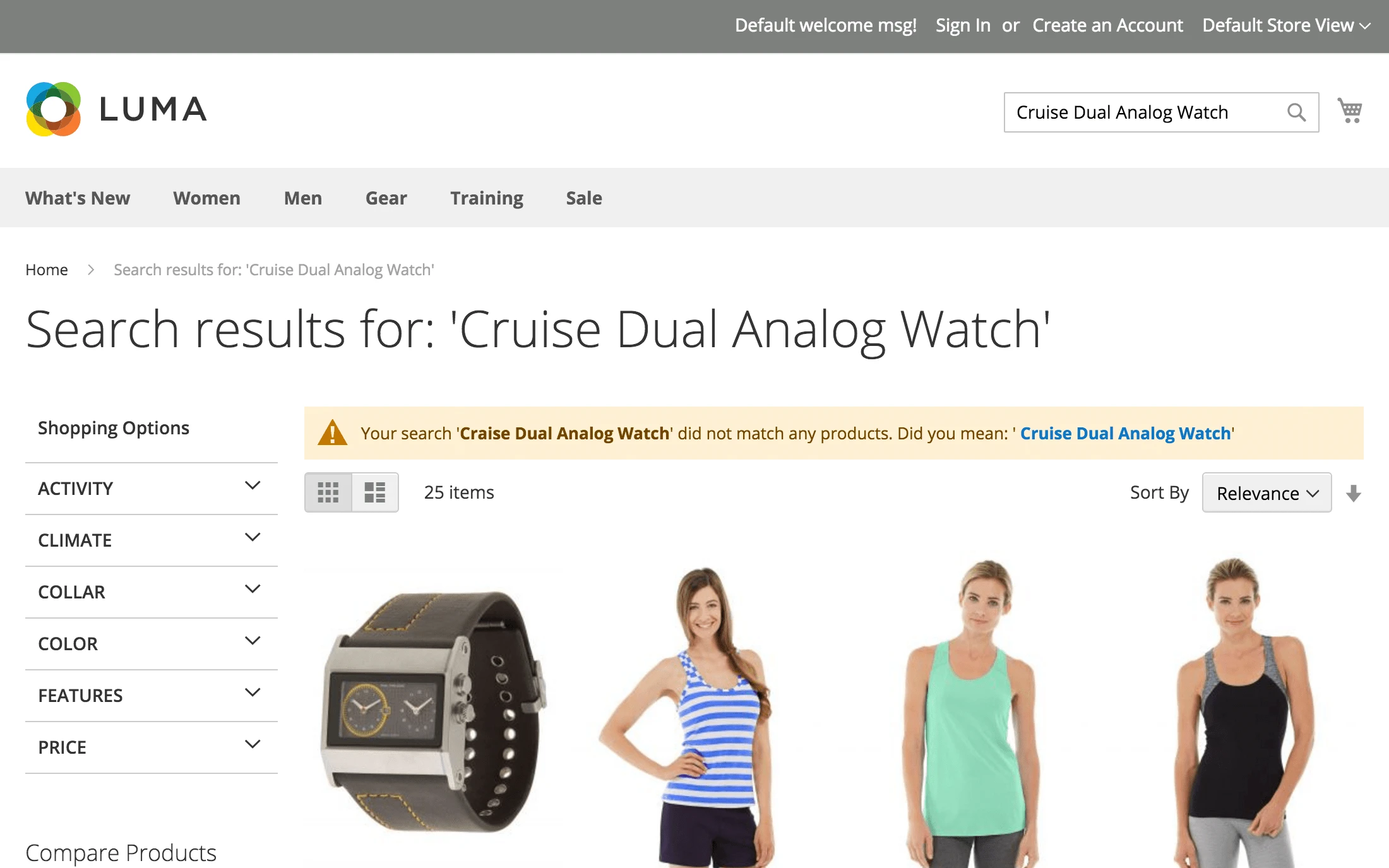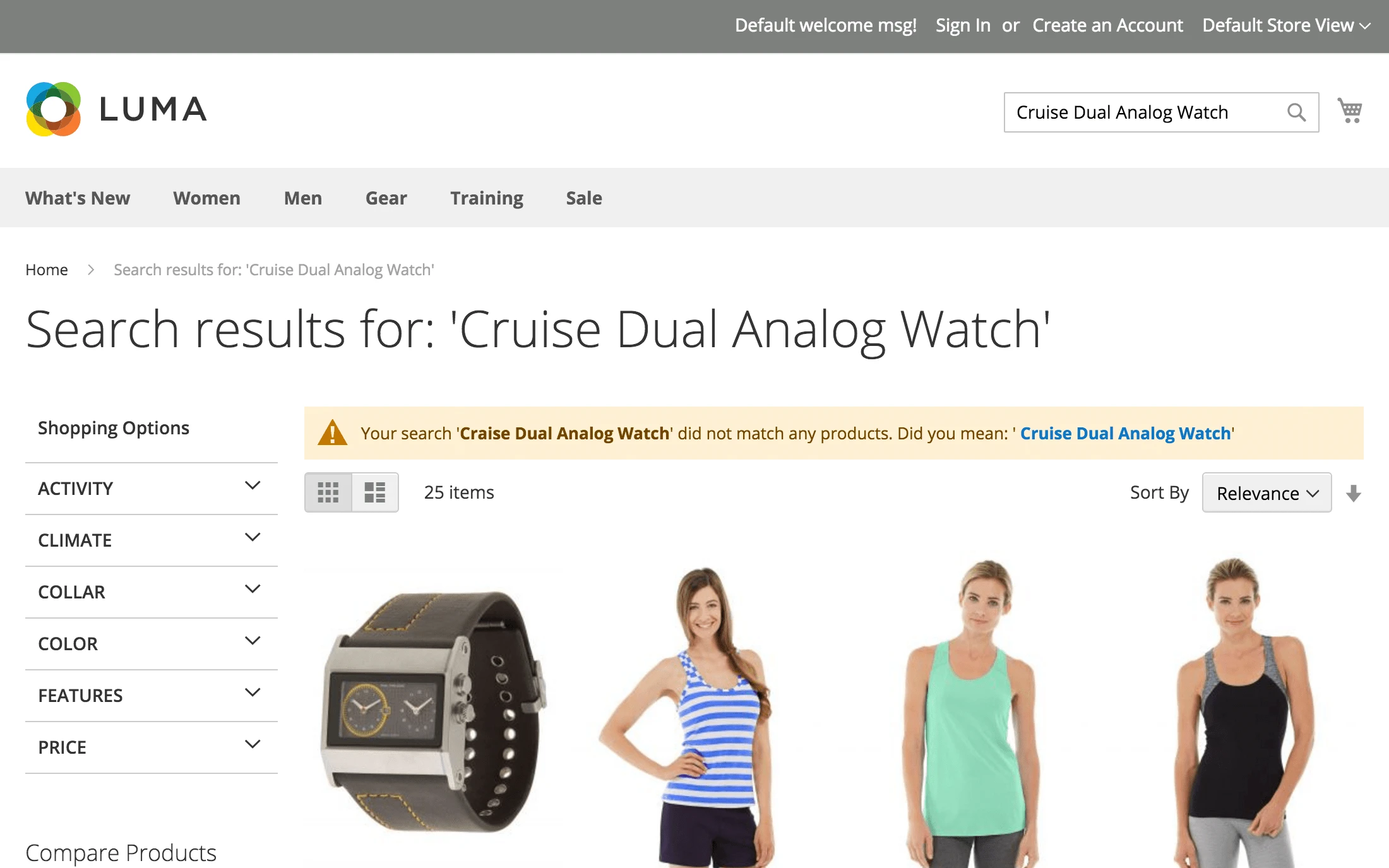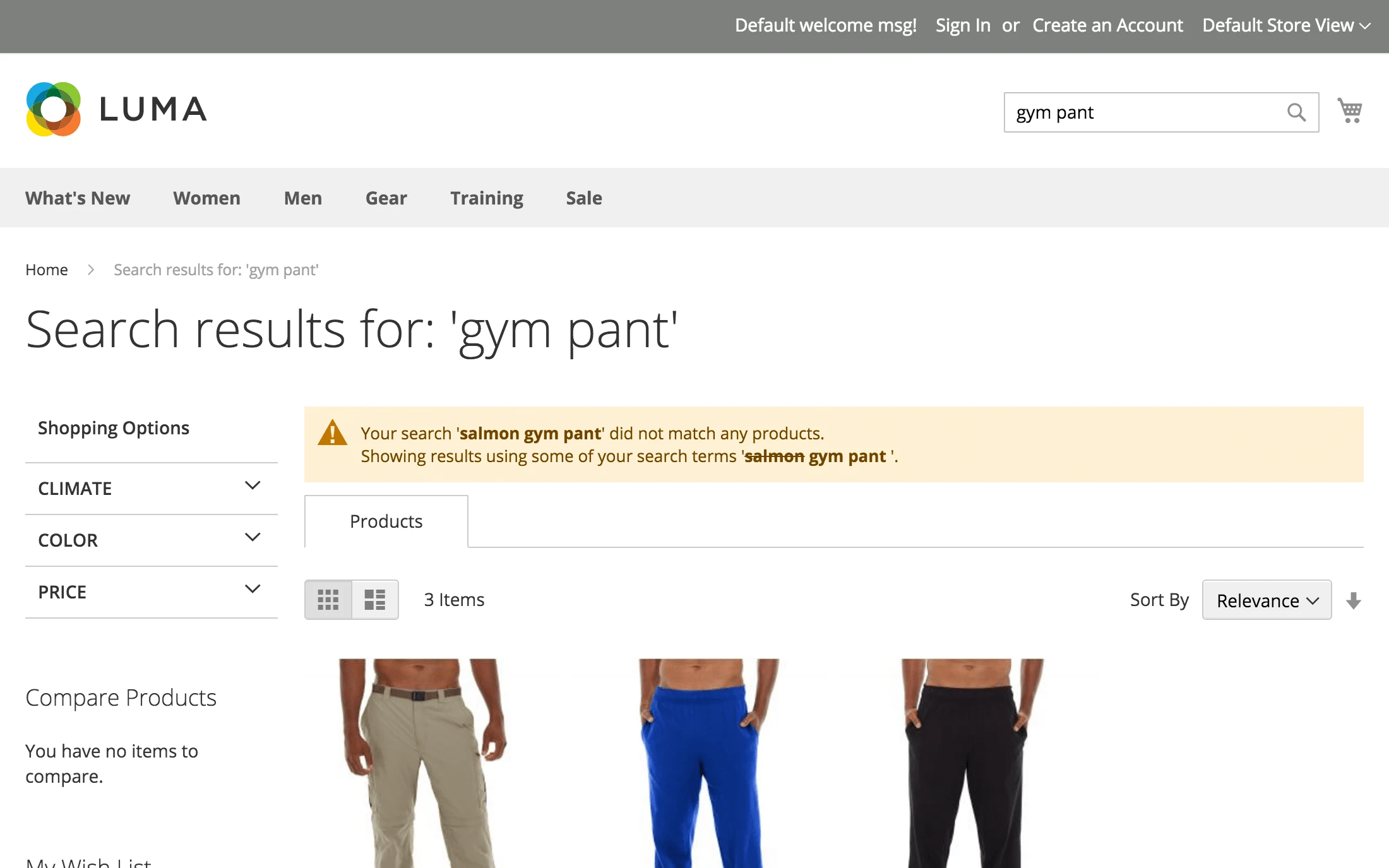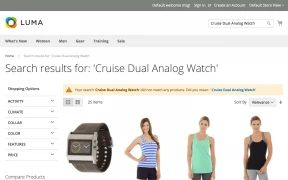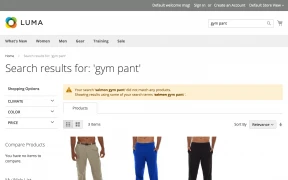 The Best Solution In Growing The Number Of Orders In Your Store!
Search Spell Correction will target your misspelled search terms!
Your store's customers can perform search queries that are full of typos or misspellings. They probably are not sure exactly how the product they are searching for is spelled. Also, your shoppers might be in a huge hurry and miss a symbol as they're trying to type on the run using their smartphone or tablet.
Search Spell Correction is the perfect solution for such situations! Our extension detects misspellings or typos in a split second, corrects them and provides your customers with the most relevant search results!
Moreover, our solution provides your customers with a fallback search feature.
Use Search Spell Correction to enhance your store visitors' search experience, and watch in wonder as they make more purchases!
10 Advantages You Get With Search Spell Correction
Corrects All Typos.
Detects and corrects most types of misspellings.
Provides your customers with the most relevant search results.
Provides your customers with a Fallback search feature.
Clearly notifies your customers about corrected mistypes and alternative search results.
Extension does not require any additional software to be installed.
Supports any language!
Every time it returns search results beyond the native Magento search.
Analyzes your store's content and memorizes all components.
Improves your customers' shopping experience!
Feature Highlights
Perfect Search Results For Typos or Misspelling Queries
Search Spelling Correction provides your customers with a highly relevant search result regardless of their queries.
Imagine your online store's customers enter the query with some misspelling, i.e. 'Craise Dual Analog Watch'. Our extension detects the typo in a split second and provides the shopper with:
the notification of the typo or misspelling that was made
the suggested alternative search query
search results for the alternative query.
Therefore, the alternative search query from our example above would be 'Cruise Dual Analog Watch', and the customer will be able to explore the results of the corrected phrase.
The most logical result of our solution's actions will be the following: your store customer will appreciate it and most likely make a purchase!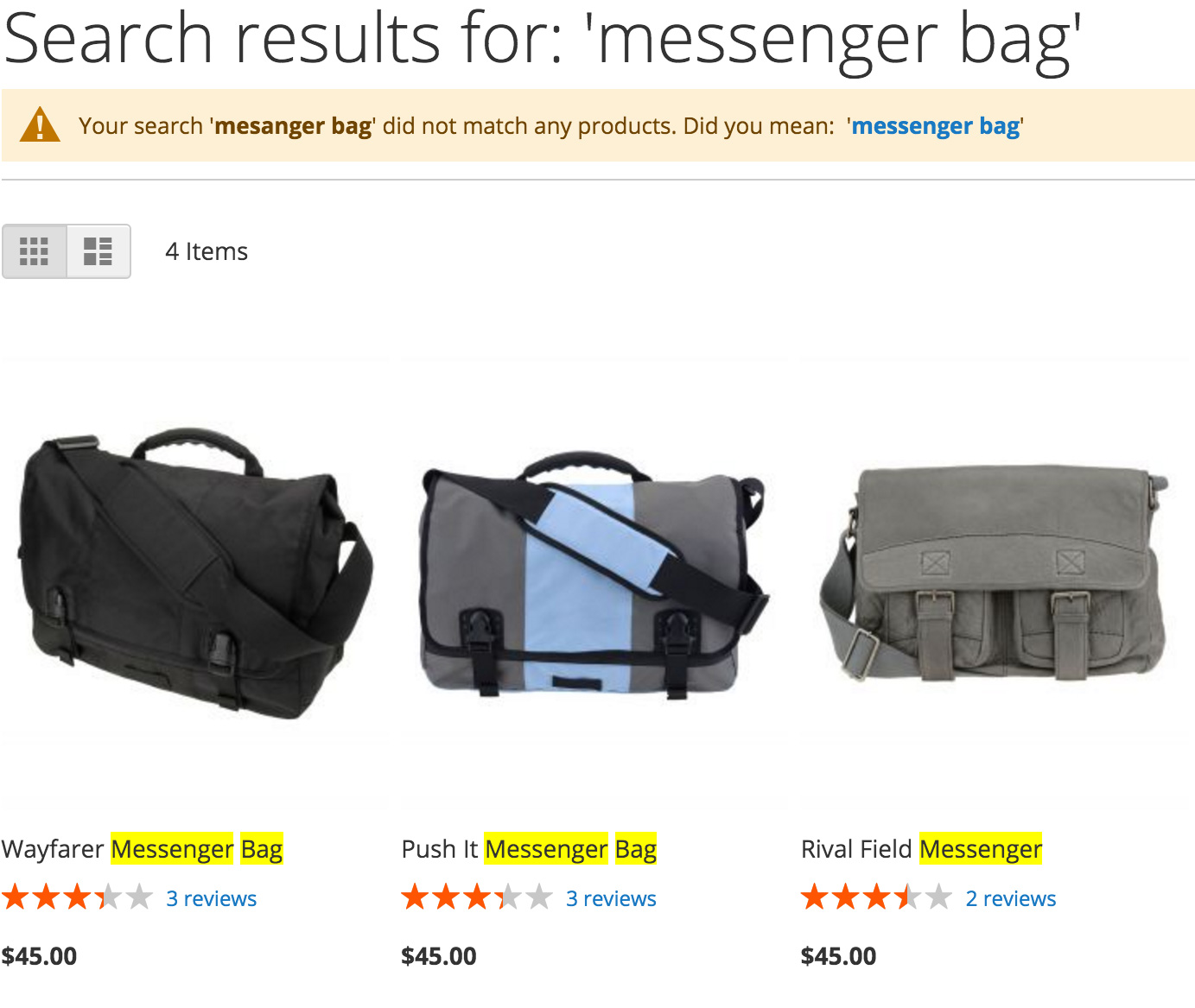 Fallback Search Support
Search Spell Correction provides your customers with a Fallback search feature. Fallback search means there are no empty results ever!
Our extension returns results for all queries, including instances when the native Magento search engine suggests null results!
For example, your customer is searching for 'salmon gym pants', but there is no such product in your store. The extension in exchange shows the shopper's search results with an alternative search term 'gym pants' without the first word 'salmon'.
Most likely your customer will be glad to have a look at the suggested results and pick out one of the items suggested!
Search Spell Correction shows an understanding of your shoppers' needs like never before!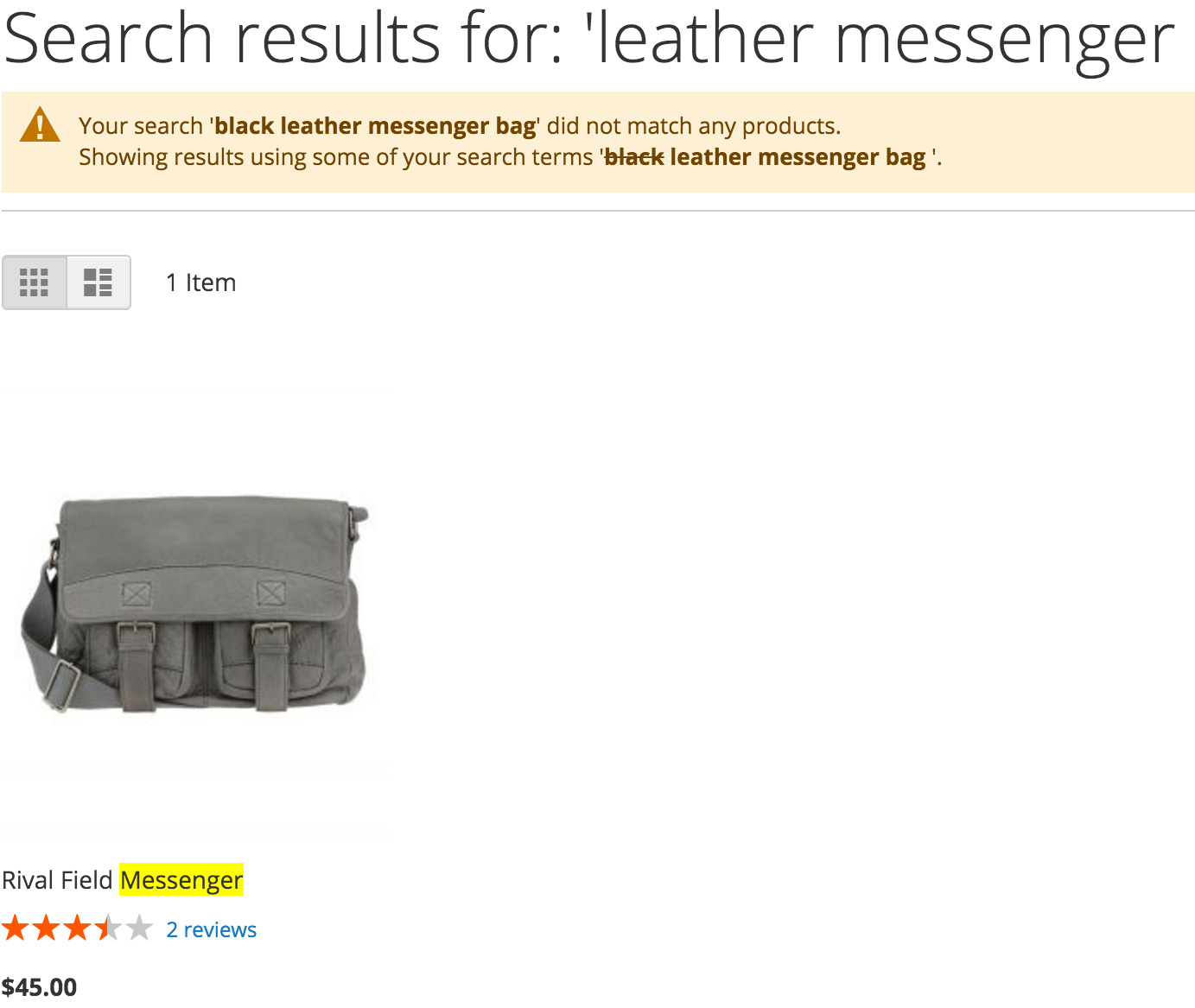 The Simplest Backend Interface
Search Spell Correction has the simplest backend interface ever!
You can configure the extension in two easy steps. It will only take you a couple of seconds to achieve!
You can either choose to enable Spell Correction or Fallback Search — that's all there is to it!
Enjoy your store's improved search results!
Install Search Spell Correction and provide your store customers the ultimate shopping experience!
Great for common spelling mistakes
Nutrisol
Verified Buyer
Huthwaite, United Kingdom
This extension is great for correcting frequently misspelled words enabling customers to find what they are looking for even if they don't know how to spell it.
Also installed: Help Desk MX, Affiliate, Reward Points
Small extension, Big corrections :)
a very small extension makes your customers "wow"
Also installed: Reward Points, Advanced Product Feeds, Follow Up Email, Help Desk MX, RMA, Affiliate, Advanced Reports and 9 more
Magento 1: Great extension
Customers often misspell when searching. With this extension they will still find what the was really searching for. I was a bit sceptic about the accuracy when we installed the extension but i am really impressed. Recomended!
Also installed: Health & Performance Monitoring Suite, Sphinx Search Ultimate, Advanced Reports, Advanced SEO Suite, RMA, Layered Navigation, Improved Asynchronous Reindexing and 12 more
Magento 1: Very good extension
Great extension that does just what it say.
Also perfect customer support
Magento 1: Thank you mirasvit
mirasvit assurance should be absolutely clean code module is fully compatible www.teleplus.com.tr
Manual & Support
Need more help?
Save time by starting your support request online and we'll connect you to an expert.
Contact Us Now
Changelog
Version
1.0.40
Dec 14, 2021
wrong event blocking advanced search
Version
1.0.39
Jun 30, 2021
Wrong store url in autocomplete results
Misspell corrects second search attempt
Fallback run out of memory
Version
1.0.38
Oct 15, 2020
Version
1.0.37
Jul 28, 2020
added comment for incompatibility with Fast Mode Autocomplete
Speedup spell correction
misspell run on every new query
improve misspell results
fallback functionality improvements
Version
#1.0.36
Mar 16, 2020
Code refactoring
## 1.0.35
*(2020-01-24)*
Improve perfomance with InnoDB tables
Reasons to choose Mirasvit
Client focusing and satisfaction
These are our primary. A major portion of our new clients come from referrals from our existing clients. Our professional team of developers, marketers and support staff have invested the best knowledge and experience in the field into our work, so you know you can come back to us again and again.
Remarkable support
One year free and high quality support. We go to great lengths to provide maximum satisfaction with every module you have purchased in our store. By helping you with installation, configuration, answering your every question, we do all our best to eliminate any possible problems.
Risk-free Investment
30-days money back guarantee. If you are not satisfied with our extension performance for any reason, we provide a full refund.
Constant improvements and upgrades
We constantly add new features to all our modules, and are always interested in hearing your opinion and implementing your suggested features in our future developments.
Comprehensive Documentation
We provide an expanded user guide for every aspect of our extension, so you can find answers for all your burning questions.
Unencrypted source code of our products
You can customize extension according to your needs and requirements.
Usability and Performance
The Module is easy to install and upgrade, just follow our step-by-step user guide.
Safe Magento updates
No core modifications. Just use the composer or copy the extension files to the root directory of your store.