GeoIP Redirect for Magento 2
Show your customers' related information based on their location.
This module automatically switches currency, language, store appearance based on the settings and the visitor's country.
Improve your store users' experience and grow your business worldwide.
set up some store rules for any country
get automatically displayed currency, language, store appearance
automatically redirect your users from specific countries or IP addresses to some particular pages
display a pop-up message with confirmation or permission
you can even ban users from some countries if you wish
the extension is compatible with Varnish Cache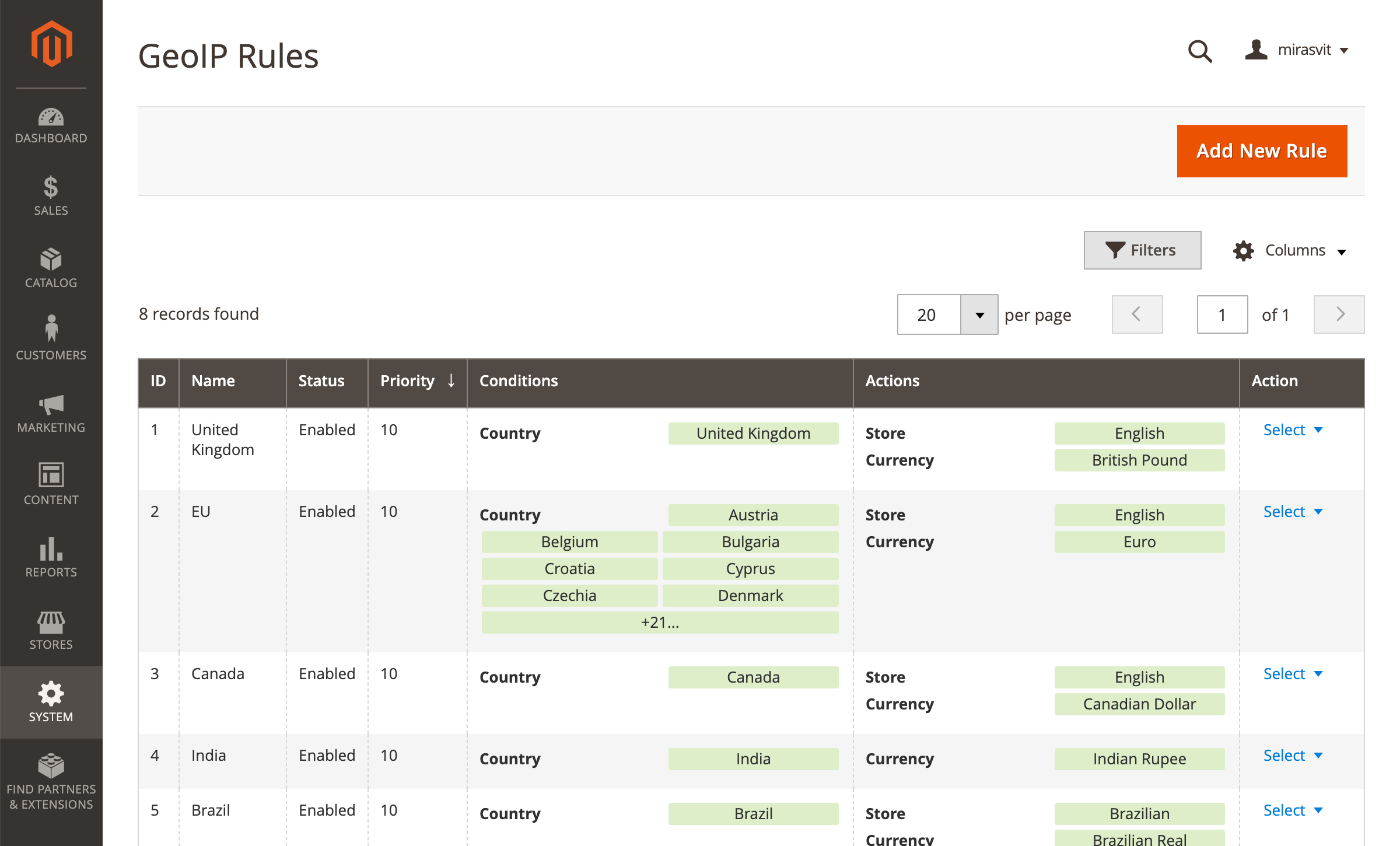 1/3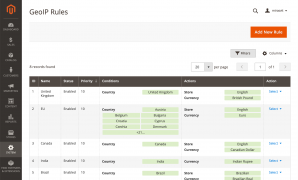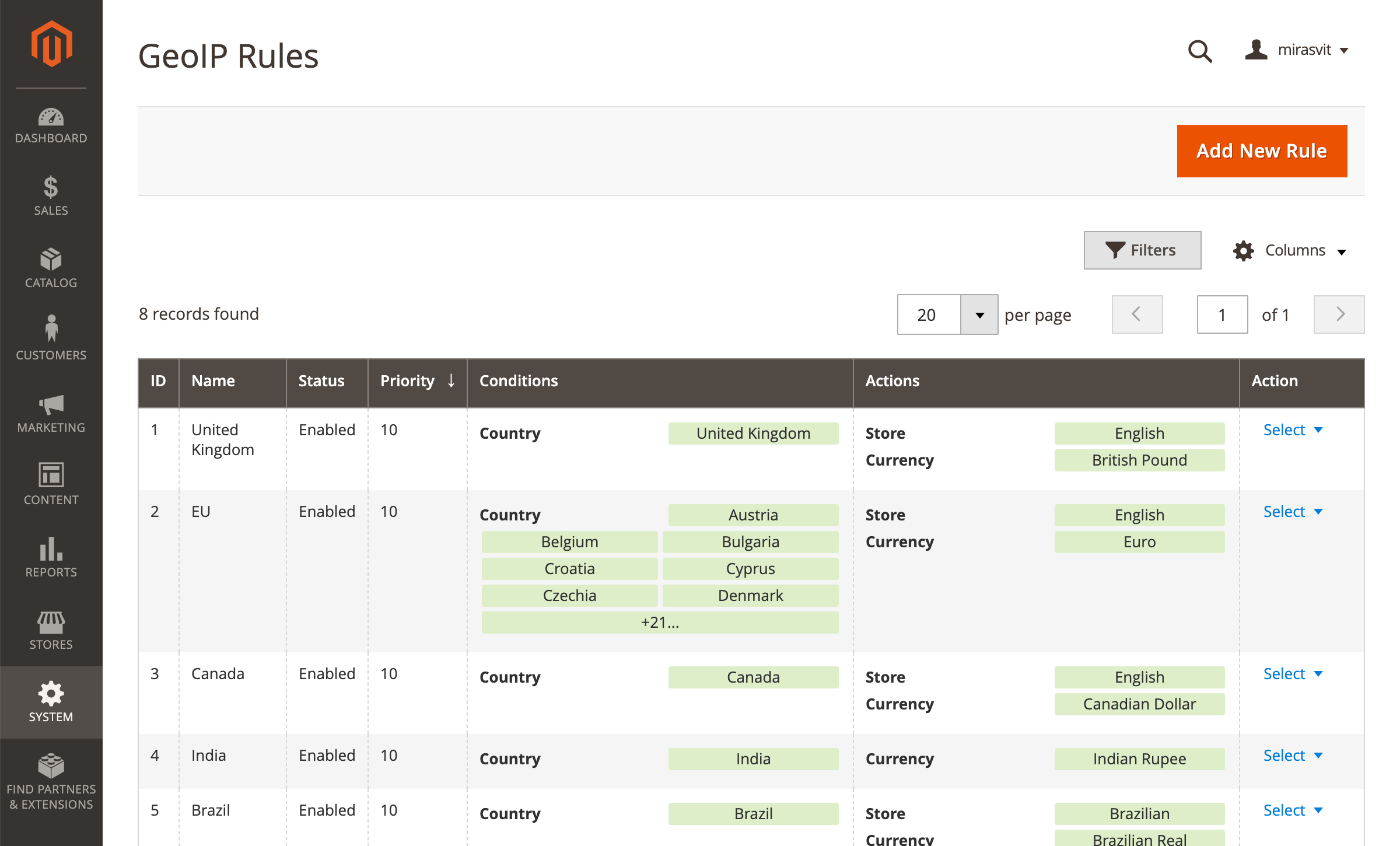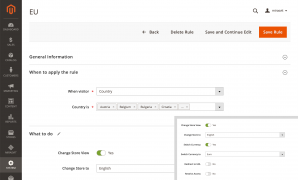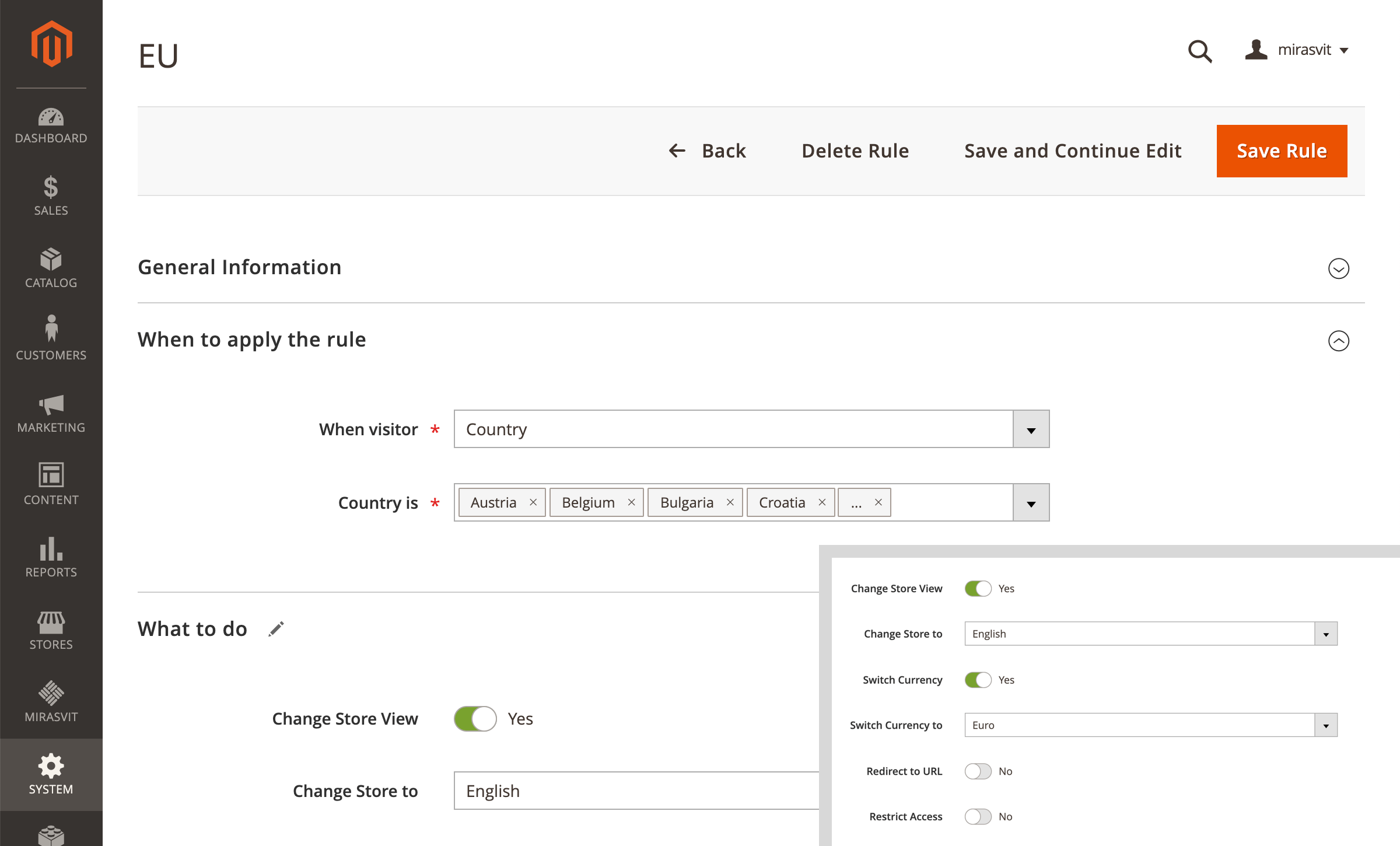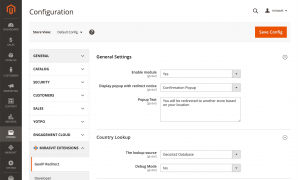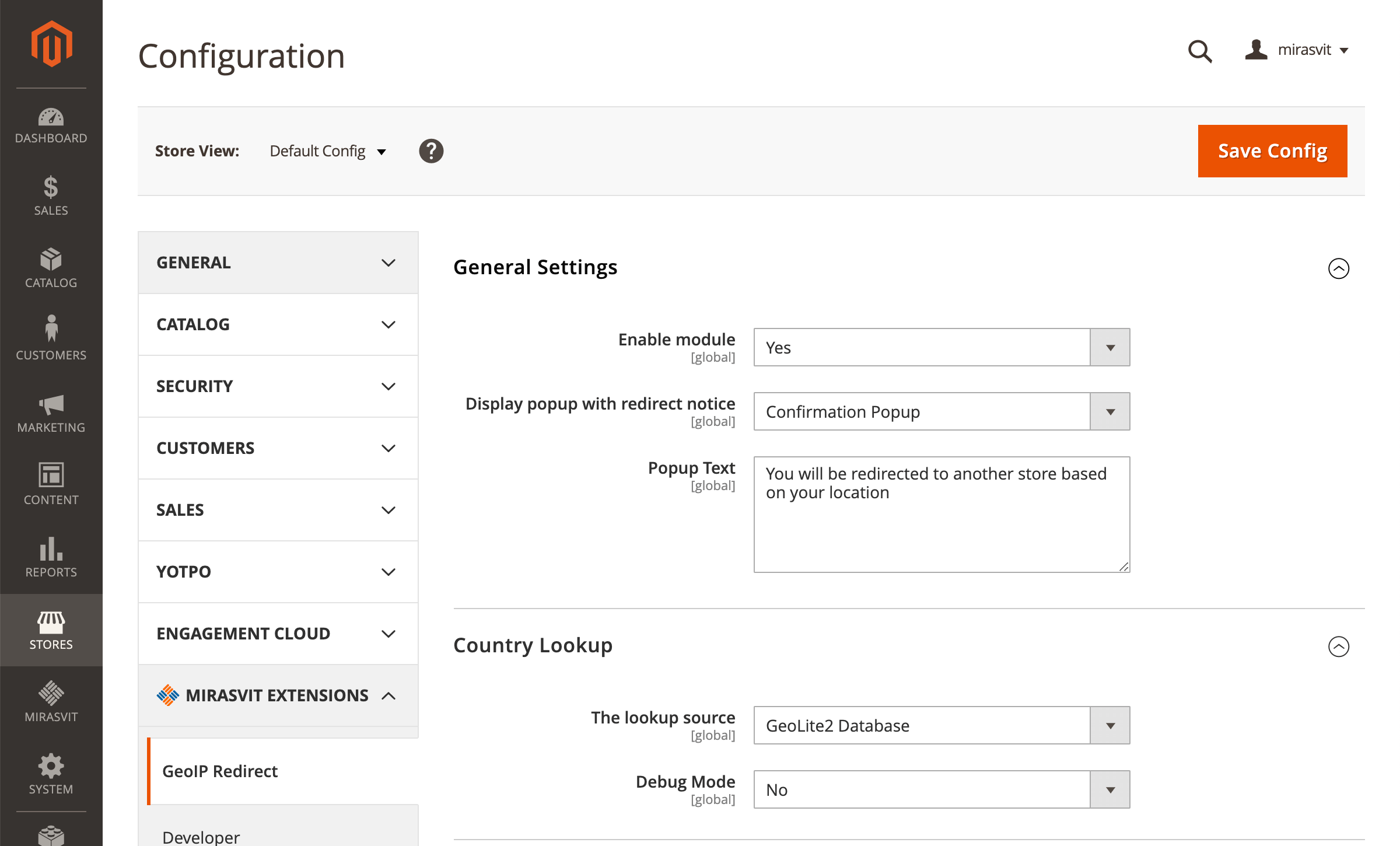 Feature Highlights
How can the Geo IP Redirect module enhance your customers' user experience?
Every store owner is happy to deal with customers from around the world. Thanks to the internet, it has become so easy to serve customers from everywhere.
The more international customers we have, the more problem with clarification and providing expected information to every visitor.
How much does it cost in my currency? Do they ship to my country? How long does it take? Are there other localizations? These and many other questions pop up from customers.
Sometimes customers can find essential information, but sometimes not. If there is any uncertainty, it is better to close the browser's window and find a more intelligible store. Isn't it a reason to cope with this issue and make your store as much understandable as possible?
The purpose of the GeoIP Magento 2 extension is to deal with this matter.
How does the Geo IP Redirect extension perform?
After the installation process, you have to tune in to your new module.
It's possible to use such criteria for rules:
visitors' country
visitors' browser locale
visitors' IP-address
Based on selected criteria, define rules:
which currency to use in displaying prices;
which language to use;
whether to show specific information;
redirect to a precise landing page;
display a message about changing a store view
or ban some users, if you have reasons for this.
GeoIP for Magento 2 will use your rules and redirect visitors according to your requirements.
What Experts Say?
I was surprised by the speed and precision of the extension. We used the Internal IP database in common with an external service. This approach allowed us to get the most accurate result of users' locations on the market.
Key features
Redirect users to a suitable store view
You can improve users' shopping experience by showing them a store in their local language with localized information. Advanced GeoIP redirect extension for Magento 2 will forward each customer to the most suitable store view.
Switch currencies based on customers' location
Depending on the users' country, currency, and language, the Advanced GeoIP redirect extension for Magento 2, can switch automatically. Making your store more friendly for customers without any single click.
Display confirmation message before changing a store view or redirection
It's great to show a confirmation message about changing the store's view or redirection to a particular page, to encourage easy communication between a customer and your shop.
Restrict access to your site from specific IP addresses
You can choose some special rules for visitors with particular IP addresses. Whether you can ban them, redirect to an assigned page, or display something funny. For example, it's an excellent opportunity to show your love to your competitors😆.
Ignore traffic from search engines and user agents
There is not a reason to redirect traffic from search spiders and user agents. You can decide which of them should be ignored. By default, the extension ignores traffic from the most popular search engines like Google, Bing, Yahoo, Yandex, etc.
Use the rule "The first time redirect only."
Sometimes it is needed to redirect a user to a specific page once only. Use the option "the first time redirect only" for this purpose.
Use GeoIP in Magento 2 store to manage your traffic flows with a set of rules. This module can be used as a smart solution to a wide range of tasks.
See it in action!
Pick a quick tutorial to learn about various aspects of this extension
Gokhan
from United States
I love mirasvit. All extension very useful
Good extension with nice UI
The extension works as expected. The first version I got block the POST request from the payment gateway so I reached out to the team. Mirasvit team fixed it quickly.

If the extension can support path exception, it will be perfect.
Great Geo IP module with a splendid admin interface.
Manual & Support
Need more help?
Save time by starting your support request online and we'll connect you to an expert.
Contact Us Now
Live customer feedback
Latest comments
Michael Sandström
Sep 24, 2020
Best support, keep up the good work!
Galeria LueLue
Sep 23, 2020
Thank you <3
See all comments
The real-time results of the satisfaction survey of our customers
for the last 100 responses
Reasons to choose Mirasvit
Client focusing and satisfaction
It is our main goal. A big part of our new clients come from referrals from our existing clients. Our professional team of developers, marketers and support invest the best knowledge and experience, so you could come back to us again and again.
Remarkable support
90-days free and high quality support. We make an effort to satisfy you with work of every module you have purchased in our store. Helping you with installation, configuration, answering your every question, we do all our best to eliminate any possible problems.
Risk-free Investment
30-days money back guarantee. If you are not satisfied with work of our extension for any reason we provide a full refund.
Constant improvements and upgrades
We provide you lifetime free updates. We constantly add new features to all our modules. We are absolutely interested to hear your opinion and to implement your suggested features in our future developments.
Comprehensive Documentation
We provide an expanded user guide for every our extension, so you can find answers for all your burning questions.
Unencrypted source code of our products
You can customize extensions according to your needs and requirements.
Usability and Performance
Module is easy to install and easy to upgrade, just follow step by step our user guide.
Safe Magento updates
No core modifications. Just copy extension files to store root directory.