GeoIP Redirect for Magento 2
Show your customers related information based on their location.
This module automatically switches currency, language, store appearance based on the settings and visitor's country.
Improve your store users' experience and grow your business worldwide.
set up store rules for any country
get automatically displayed currency, language, and store appearance
automatically redirect your users from specific countries or IP addresses to particular pages
display a pop-up message with confirmation or permission
you can even ban users from certain countries if you wish
the extension is compatible with Varnish Cache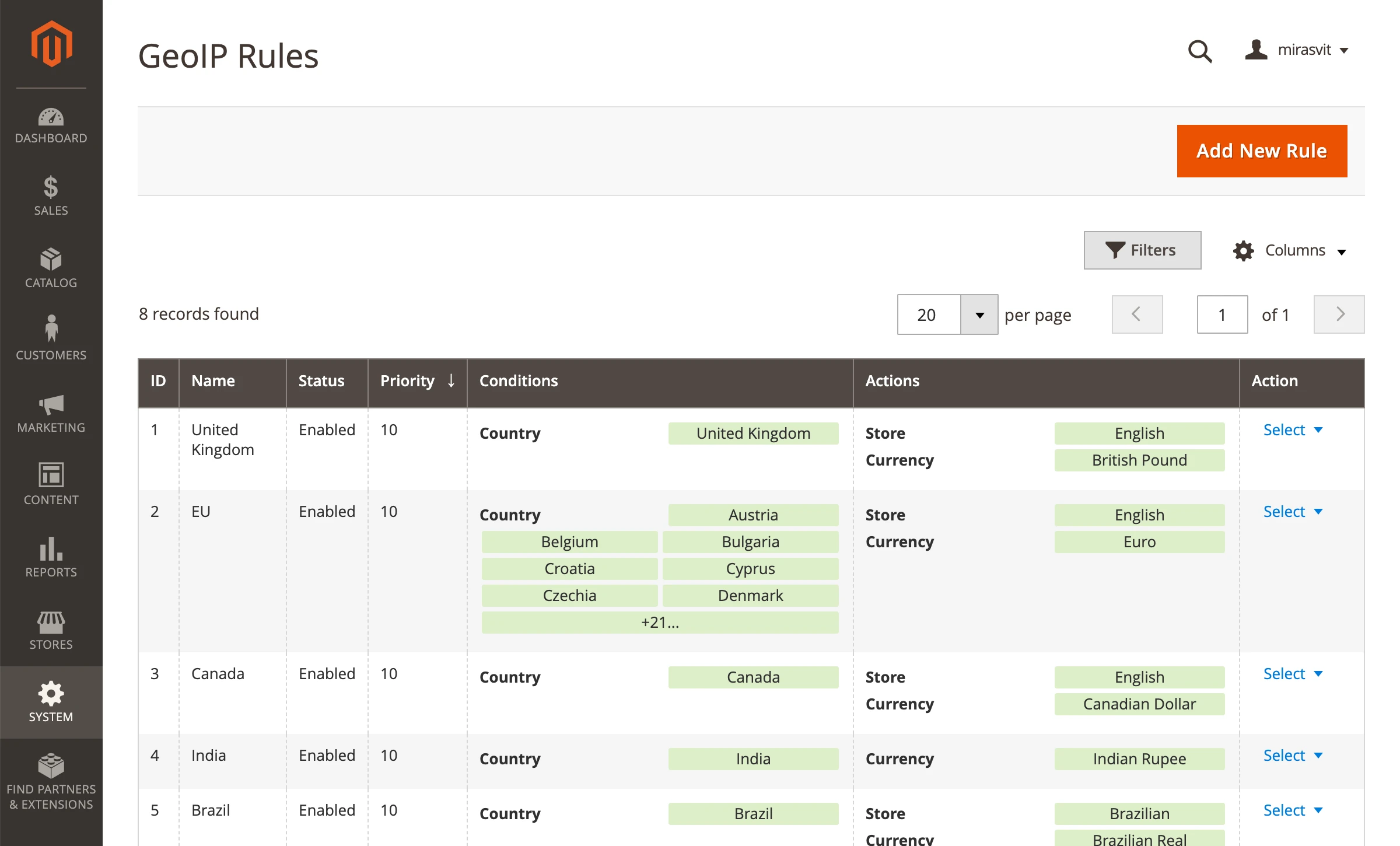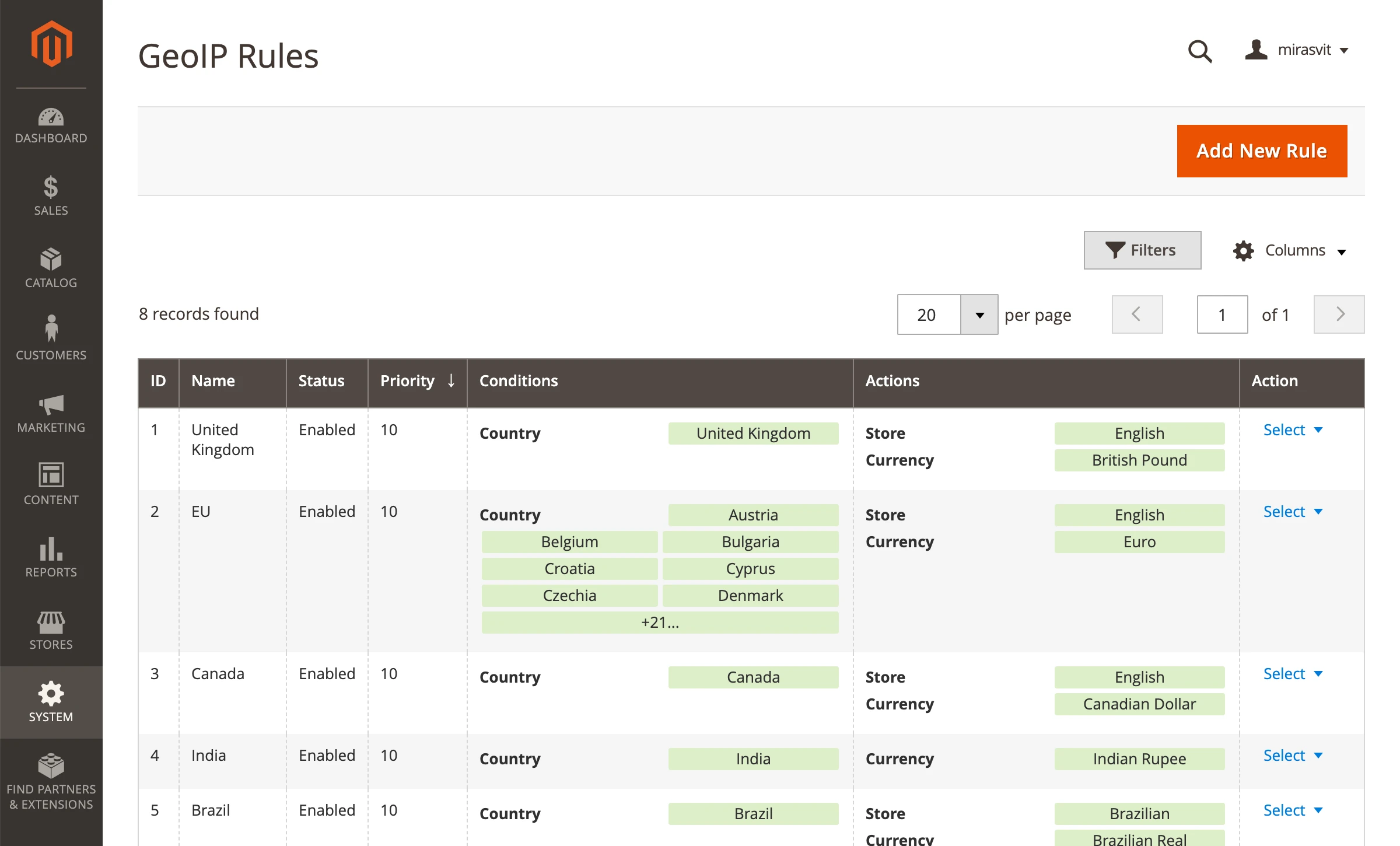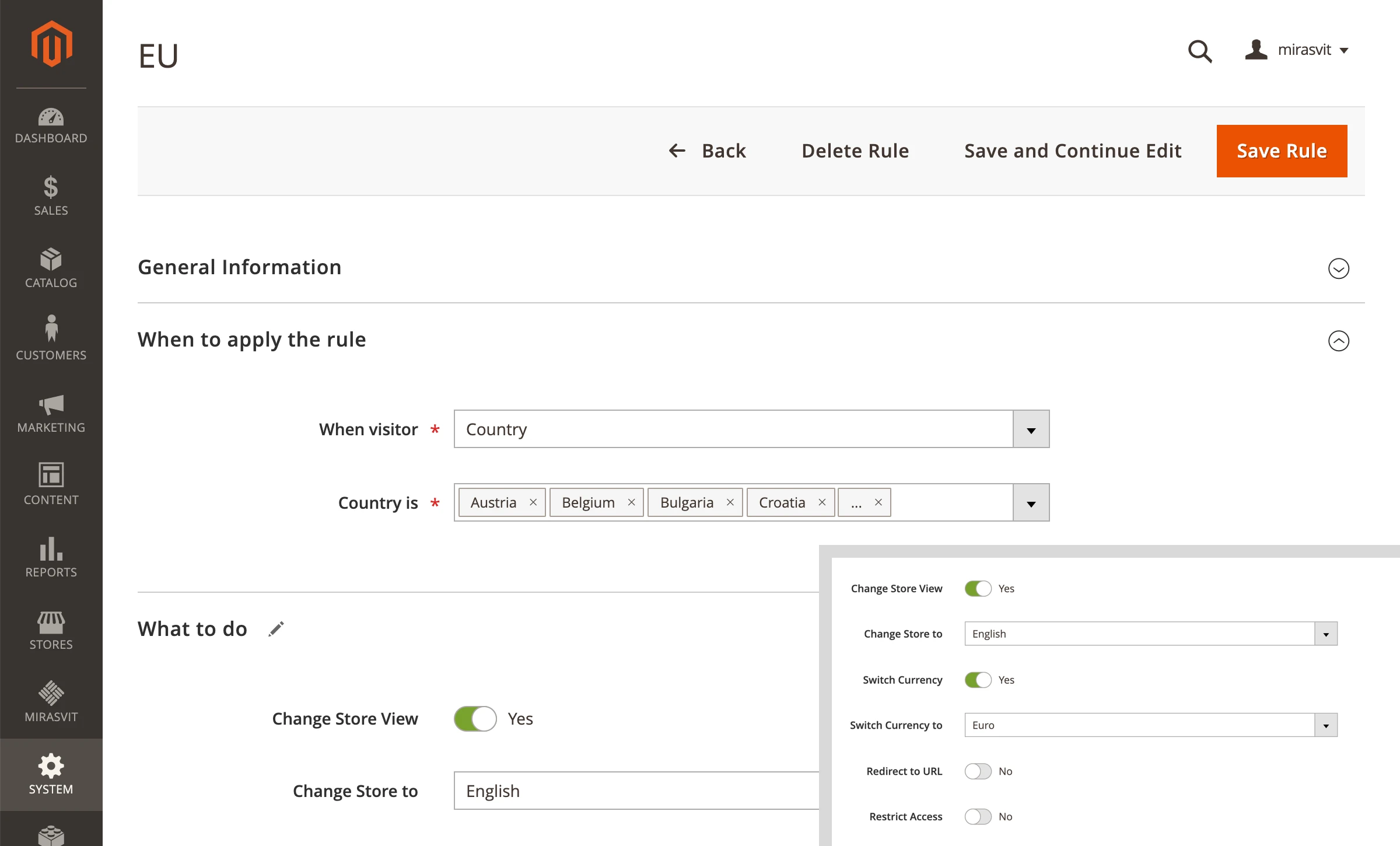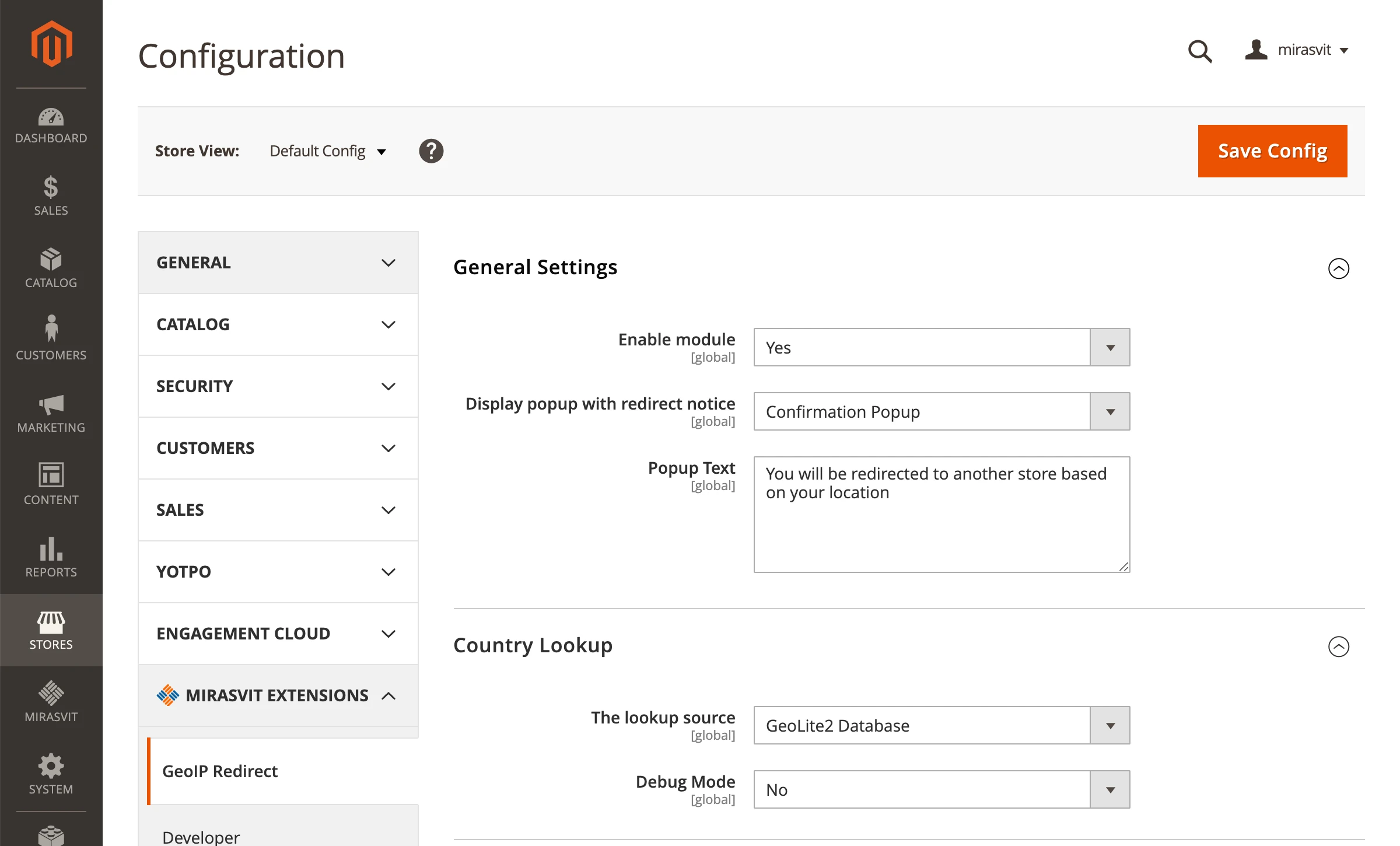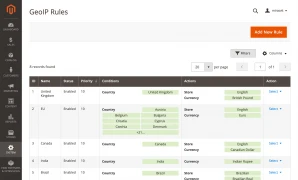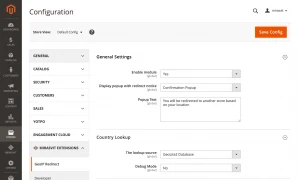 How can the Geo IP Redirect module enhance your customers' user experience?
Every store owner is eager to develop a fully global customer base. Thanks to the internet, it has become increasingly easy to serve customers from all over the globe.
The more international customers we have, however, the more problems arise with clarification and providing necessary information to every visitor we can expect.
How much does it cost in my currency? Do they ship to my country? How long does it take? Are there other localizations? These and many other questions often pop up from customers.
Sometimes customers can find essential information, but sometimes they can't. If there is any uncertainty, it is better to close the browser's window and find a more intelligible store. Isn't that a good reason to figure out how to manage this issue and make your store as easy to understand as possible?
The purpose of the GeoIP Magento 2 extension is to deal with this matter.
Each element comes with various custom options, and you can add, copy, or remove form fields.
Choose any type of question (open-ended questions, closed-ended questions, multiple-choice questions, etc.) to match your survey format.
How does the Geo IP Redirect extension perform?
After the installation process, you have to tune in to your new module.
It's possible to use the following criteria when constructing rules:
visitors' country
visitors' browser locale
visitors' IP-address
Based on selected criteria, define the rules:
which currency to use in displaying prices
which language to use
whether to show specific information
redirect to a precise landing page
display a message about changing a store view
or ban certain users, if you have reasons for this
GeoIP for Magento 2 will use your rules and redirect visitors according to your requirements.
What Experts Say?
I was surprised by the speed and precision of the extension. We used the Internal IP database in tandem with an external service. This approach allowed us to get the most accurate result of users' locations on the market.
Alex Drok, CTO at Mirasvit
Key features
Redirect users to a suitable store view
You can improve users' shopping experience by showing them a store in their local language with localized information. Advanced GeoIP redirect extension for Magento 2 will forward each customer to the most suitable store view.
Switch currencies based on customers' location
Depending on the users' country, currency, and language, the Advanced GeoIP redirect extension for Magento 2 can switch automatically. This makes your store more friendly for customers without any single click.
Display a confirmation message before changing a store view or redirection
It's great to show a confirmation message about changing the store's view or redirection to a particular page, to encourage easy communication between a customer and your shop.
Restrict access to your site from specific IP addresses
You can choose certain special rules for visitors with particular IP addresses, whether you choose to ban them, redirect to an assigned page, or display something funny. For example, it's an excellent opportunity to show your love to your competitors 😂
Ignore traffic from search engines and user agents
There's no reason to redirect traffic from search spiders and user agents. You can decide which of them should be ignored. By default, the extension ignores traffic from the most popular search engines like Google, Bing, Yahoo, Yandex, etc.
Use the rule "The first time redirect only"
Sometimes it is necessary to redirect a user to a specific page once only. Use the option "the first time redirect only" for this purpose.
Use GeoIP in Magento 2 store to manage your traffic flows with a set of rules. This module can be used as a smart solution to a wide range of tasks.
Boost your sales by showing customers information for their location with GeoIP Redirect for Magento 2!
See it in action!
Pick a quick tutorial to learn about various aspects of this extension
Simple integration of great feature
Again one of great modules from Mirasvit. Very easy to integrate on site.
Also installed: Follow Up Email, Improved Sorting, Push Notifications, Elastic Search Ultimate, Google Tag Manager
The extension works well as expected. And the support team are very helpful and will help you solve any issue that would arise!


Also installed: Automatic Related Products, Google Tag Manager, Advanced Product Feeds, Advanced SEO Suite, AI Assistant
I love mirasvit. All extension very useful
Also installed: Advanced Product Feeds, Elastic Search Ultimate, Follow Up Email, Help Desk MX, Reward Points, Sphinx Search Ultimate, Full Page Cache Warmer and 8 more
Good extension with nice UI
The extension works as expected. The first version I got block the POST request from the payment gateway so I reached out to the team. Mirasvit team fixed it quickly.

If the extension can support path exception, it will be perfect.
Great Geo IP module with a splendid admin interface.
Also installed: Sphinx Search Ultimate, Elastic Search Ultimate, Advanced Product Feeds, Advanced SEO Suite, Advanced Reports, Follow Up Email, Google PageSpeed Optimizer and 17 more
Manual & Support
Need more help?
Save time by starting your support request online and we'll connect you to an expert.
Contact Us Now
Frequently asked questions
What is geo IP redirection and why would a store want to use it?
The internet is a global medium, yet customers may find more benefits when shopping locally, or in stores that support their local peculiarities. The most prominent examples of such local features is the language of the store frontend and the currency used to display product prices, products available in the user's country, etc.
Redirection based on the customers' geographical location can become a big competitive advantage for a store since it helps to improve the browsing experience for visitors. Additionally, geo IP redirect can be beneficial for SEO optimization of the store since Google is locale aware and crawls websites from IP addresses from different countries.
The information on user's location is taken from his or her IP address, and additionally the language setup of his or her browser is used to determine the preferred locale. Using this data, the store redirects customers to the pages that have the most relevance for his or her location.
How does the GeoIP Redirect extension conduct the redirect?
The magento geoIP redirect module allows redirecting to the selected URL based on country, IP address and user's language setup in the browser. Simply specify the redirect IP address in the module's rules to activate the redirection. The module doesn't allow excluding countries from the selection, and all required countries should be added to the rule manually. You can try creating ip address redirect rules with the geoip demo.
The module allows for switching store views - they are not related to the URL. It is possible to change the store view without changing the URL. Choose the desired store view redirection from a drop-down list of available store views. This drop-down list becomes visible only when the option Change Store View is activated. Additionally, the module can automatically change the store's currency on redirection. After activating the control Switch Currency, the drop-down-menu of available currencies will be shown.
The redirect to the required store/currency/url can happen automatically on the basis of the backend rules. Alternatively, the user has an option of manually selecting the desired redirect on the store's frontend. They can separately select the store view and store currency.
Where can a user be redirected when the store uses GeoIP Redirect module?
Our module is designed for redirecting mainly inside a Magento store. The current version of this magento geoip extension allows for redirecting to another website only if this site is the instance of the current Magento installation.
The module allows redirecting and switching store-view/currency for the whole store, not on separate pages.
What are the GeoIP Redirect rules capable of?
The GeoIP Redirect provides a flexible system of redirecting users that is based on the rules. Each rule can be applied for a country, browser locale, or IP address. It can also take into account the store view the user visits.
Every redirection rule can do the following: change store view and redirect to URL, switch currency, restrict access
Each rule has a priority level that helps users avoid rule conflicts in the situation when several rules can be applied simultaneously.
Why might the GeoIP Redirect not work?
When adding new rules, they may not work as expected because of caching tools used in your Magento store, for example, Varnish. To overcome the issue, enable the Ajax Mode so the module can process geo-related data by AJAX and in that way, caching can be prevented.
Why might customers get redirection pop-ups even when they have already selected a preferred redirect during their firs visit?
The answer which the user gives to the redirect pop-up is stored in the current session. The session is a temporary entity, and once the session is destroyed - the extension has no source of information on the preferred redirect of the particular user so it will show a pop-up again.
By default Magento has the session time limit at around 15 minutes. This duration can be configured in the store's backend admin panel according to the requirements. Here is the detailed Magento guide on how to do it on the Magento Commerce User Guide
Is it necessary to buy a licence for a third-party service MaxMind, which is used by GeoIP Redirect?
The GeoIP Redirect extension uses an external database of IP addresses and their geographical locations from the third-party service MaxMind. Our module uses maxmind-db Reader to read the database, and it uses the current MaxMind DB. MaxMind has different types of databases: a free and a paid one. You can use the GeoIP Redirect module after installation without additional payment.
Since our module uses maxmind-db Reader to read the database, you may select the most suitable database according to your requirements - our module should work with it.
Changelog
Version
1.2.7
Apr 21, 2023
Ability to apply debugging to only one ip address
Version
1.2.6
Apr 10, 2023
Compatibility with Hyva theme
Issue with displaying popup with redirect notice
Version
1.2.5
Jan 31, 2023
Added support of Magento 2.4.6
Compatibility with php8.1
Version
1.2.4
Aug 19, 2022
Version
1.2.3
Aug 16, 2022
Ability to select location of remote ip address
Reasons to choose Mirasvit
Client focusing and satisfaction
These are our primary. A major portion of our new clients come from referrals from our existing clients. Our professional team of developers, marketers and support staff have invested the best knowledge and experience in the field into our work, so you know you can come back to us again and again.
Remarkable support
One year free and high quality support. We go to great lengths to provide maximum satisfaction with every module you have purchased in our store. By helping you with installation, configuration, answering your every question, we do all our best to eliminate any possible problems.
Risk-free Investment
30-days money back guarantee. If you are not satisfied with our extension performance for any reason, we provide a full refund.
Constant improvements and upgrades
We constantly add new features to all our modules, and are always interested in hearing your opinion and implementing your suggested features in our future developments.
Comprehensive Documentation
We provide an expanded user guide for every aspect of our extension, so you can find answers for all your burning questions.
Unencrypted source code of our products
You can customize extension according to your needs and requirements.
Usability and Performance
The Module is easy to install and upgrade, just follow our step-by-step user guide.
Safe Magento updates
No core modifications. Just use the composer or copy the extension files to the root directory of your store.