Magento 2 GPT Chatbot
GPT Chatbot uses the power of GPT-3.5/ChatGPT technology to bring round-the-clock customer support to your Magento store.
Provide your shoppers with what they value most - an immediate response to their questions - and advance your business with increased sales.
Provide 24/7 customer service while keeping costs low
Fulfill shoppers' requests for immediate answers
Reduce the workload for customer care team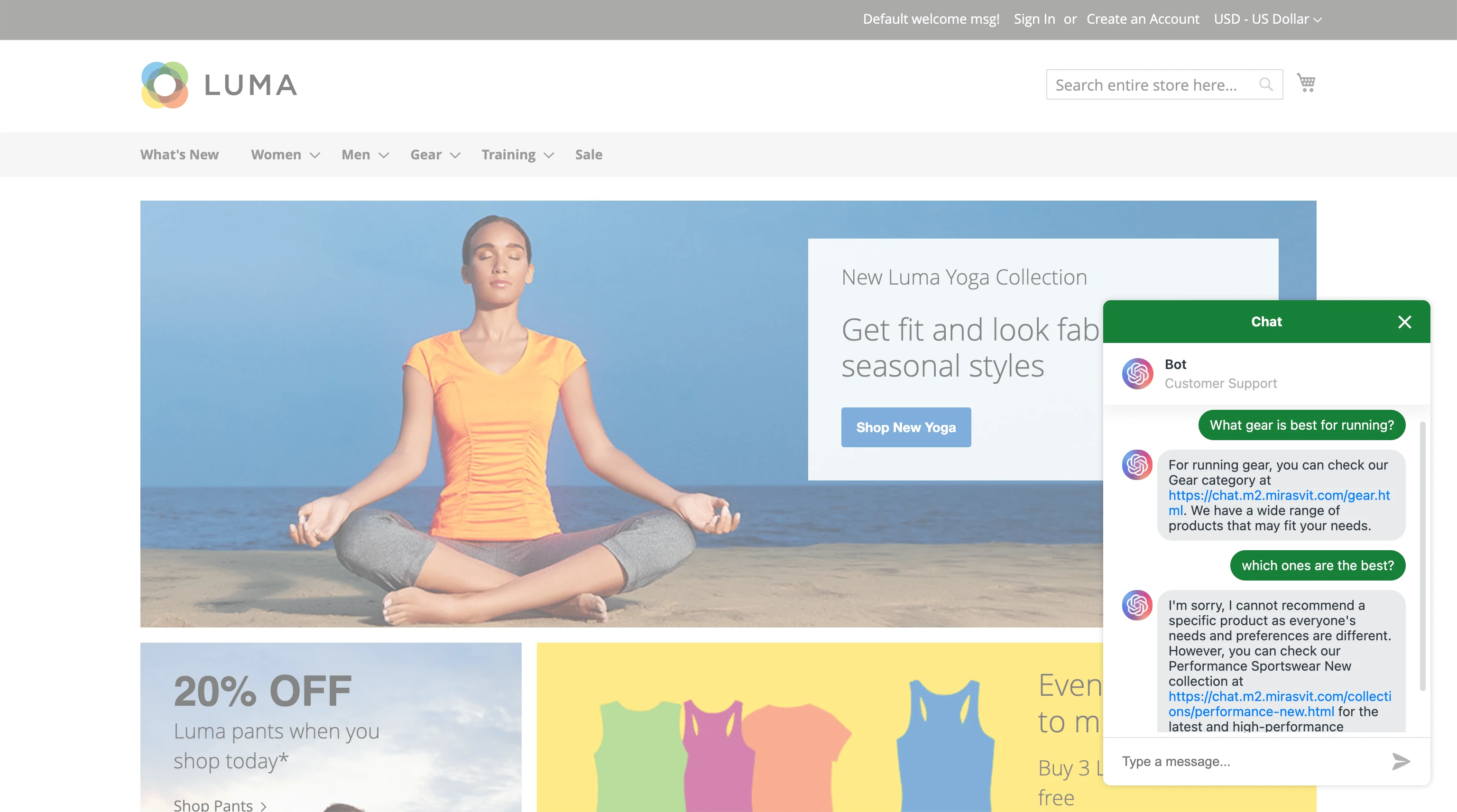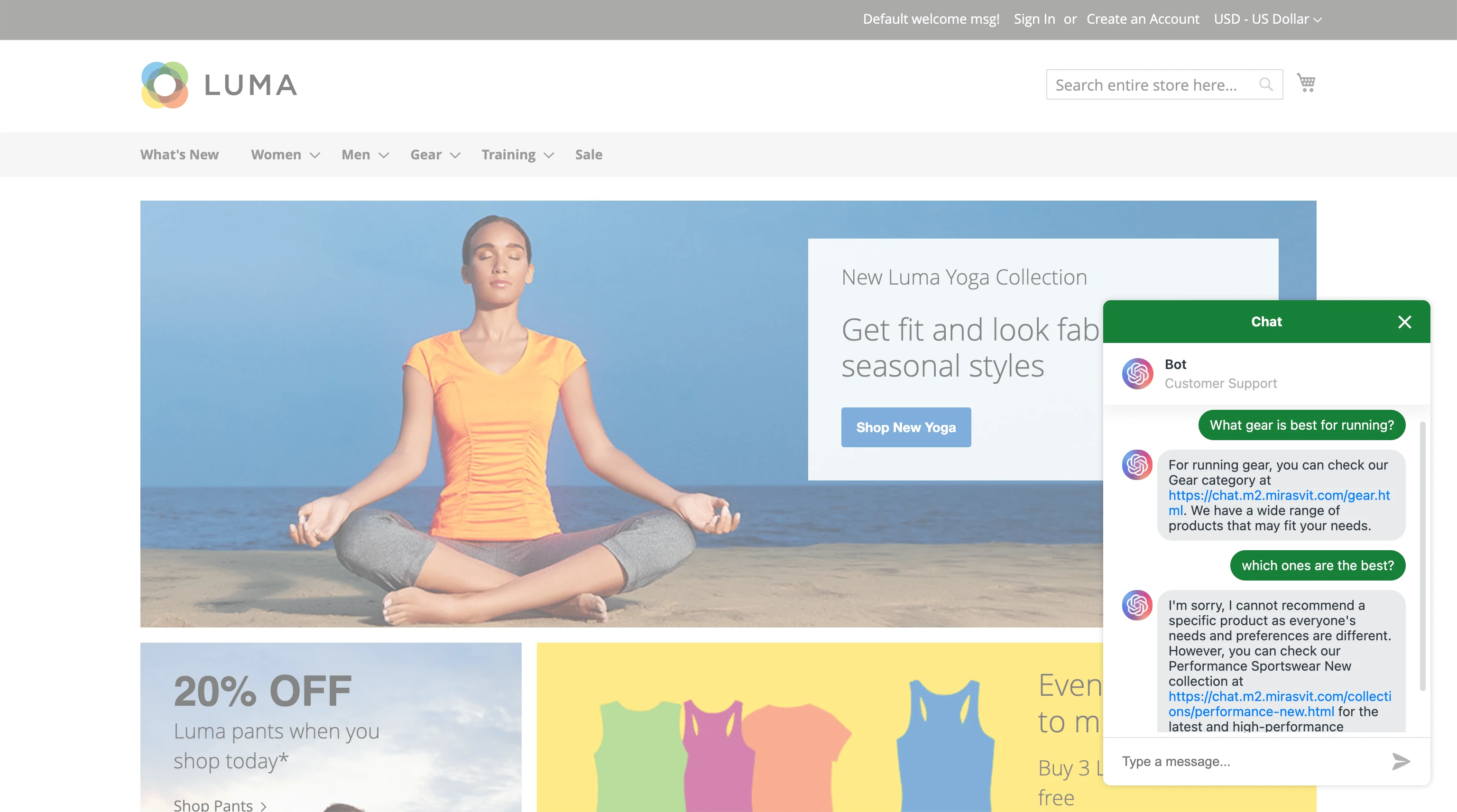 Advance your business with the power of AI
GPT Chatbot is an AI-powered tool to extend your customer service beyond usual business hours and provide instant answers to customers' queries. All of this while helping to keep your costs for customer support low.
24/7 customer service
Offer 24/7 customer support, ensuring that your clients can get assistance whenever they need it, even outside of regular business hours. Moreover, the chatbot's 24/7 availability means that fewer inquiries are left unanswered for a prolonged time in your store.
Increase customer engagement
Engage customers in conversations to help build relationships with your shop. The chatbot can make personalized recommendations and offers that are more likely to be relevant and appealing to the customer. A chatbot can help create a positive customer experience and increase the likelihood of repeat purchases.
Improve customer experience
Our GPT Chatbot provides instant responses to customers' queries, helping them find what they're looking for quickly and efficiently. Customers appreciate quick responses and are more likely to have a positive experience on your online store.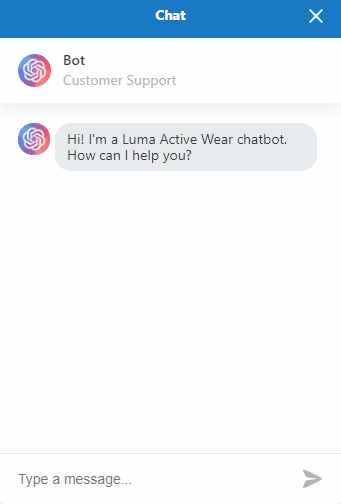 Trained on your Magento 2 content
The bot automatically studies all of your Magento content (products, categories, CMS pages) and answers customers' questions based on that context.
Multi language
Our bot is designed to detect the language used by the user when they type in their message, allowing it to provide answers in the user's language.
Customizable
With our user-friendly admin interface, you can easily customize various aspects of the bot, such as welcome messages, widget colors, logos, and more.
Continuous Self-Improvement
Based on customer ratings for each bot response, the bot adjusts its knowledge base to provide even more accurate answers in the future.
Reduce workload for your team
With our GPT Chatbot handling basic customer queries, your customer support team can focus on more complex issues, improving their productivity and efficiency. These complex issues may require personalized attention and problem-solving skills that only a human agent can provide. By freeing up the customer support team's time, the chatbot improves their productivity and efficiency, enabling them to provide better and faster solutions to customers.
See it in action!
Pick a quick tutorial to learn about various aspects of this extension
Manual & Support
Need more help?
Save time by starting your support request online and we'll connect you to an expert.
Contact Us Now
Reasons to choose Mirasvit
Client focusing and satisfaction
These are our primary. A major portion of our new clients come from referrals from our existing clients. Our professional team of developers, marketers and support staff have invested the best knowledge and experience in the field into our work, so you know you can come back to us again and again.
Remarkable support
One year free and high quality support. We go to great lengths to provide maximum satisfaction with every module you have purchased in our store. By helping you with installation, configuration, answering your every question, we do all our best to eliminate any possible problems.
Risk-free Investment
30-days money back guarantee. If you are not satisfied with our extension performance for any reason, we provide a full refund.
Constant improvements and upgrades
We constantly add new features to all our modules, and are always interested in hearing your opinion and implementing your suggested features in our future developments.
Comprehensive Documentation
We provide an expanded user guide for every aspect of our extension, so you can find answers for all your burning questions.
Unencrypted source code of our products
You can customize extension according to your needs and requirements.
Usability and Performance
The Module is easy to install and upgrade, just follow our step-by-step user guide.
Safe Magento updates
No core modifications. Just use the composer or copy the extension files to the root directory of your store.