Magento 2 Product Attachments
File attachments can make the store more informative, increase customer trust, improve self-service potential and boost authority.
With Magento 2 Product Attachments, you can set up your own file or URL attachments for product, category or CMS pages in no time.
Make your store more trustworthy and reliable
Increase self-service potential
Take advantage of the vast customization options
Use the icons to make each attachment stand out
Track any attachment's performance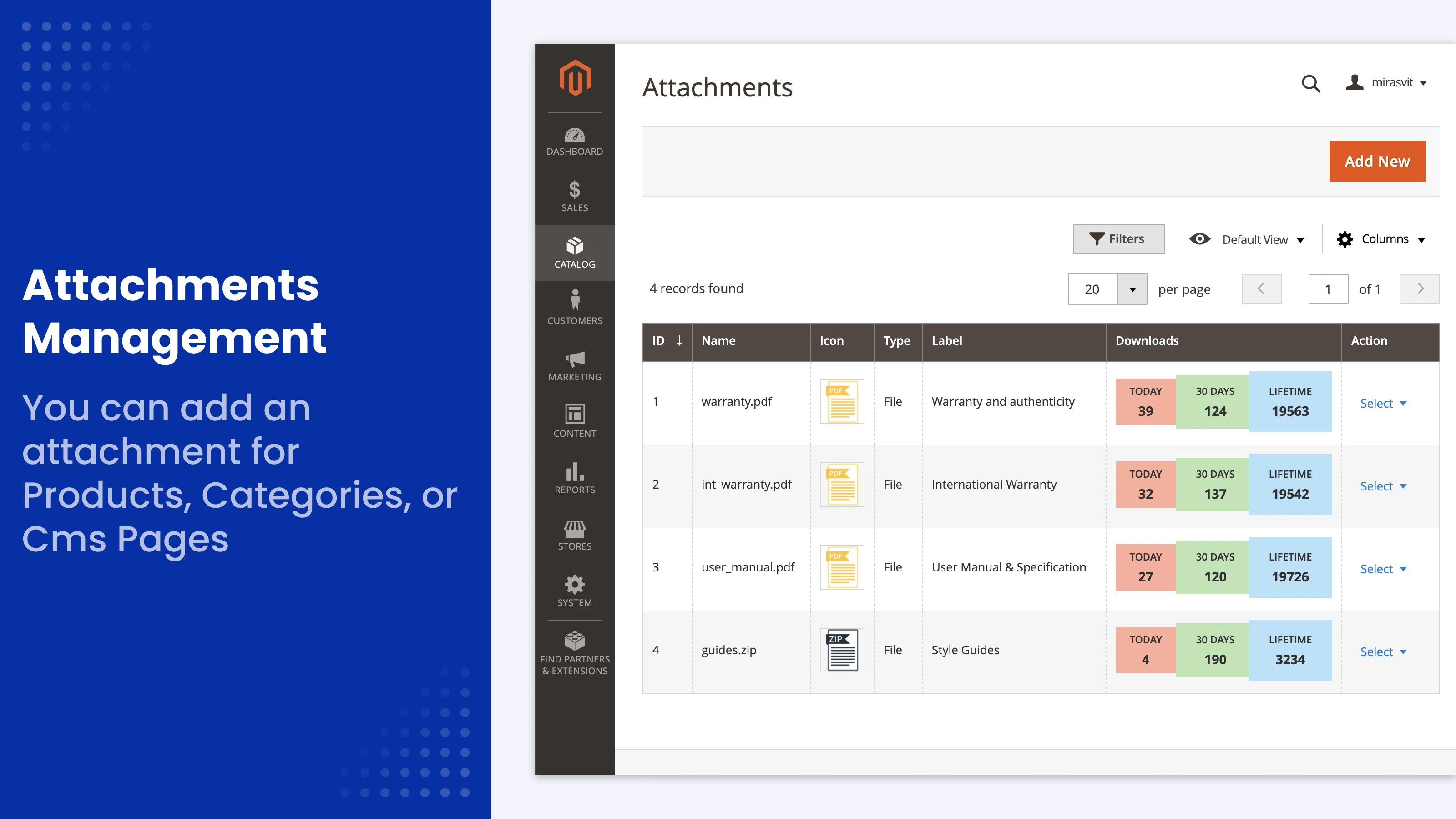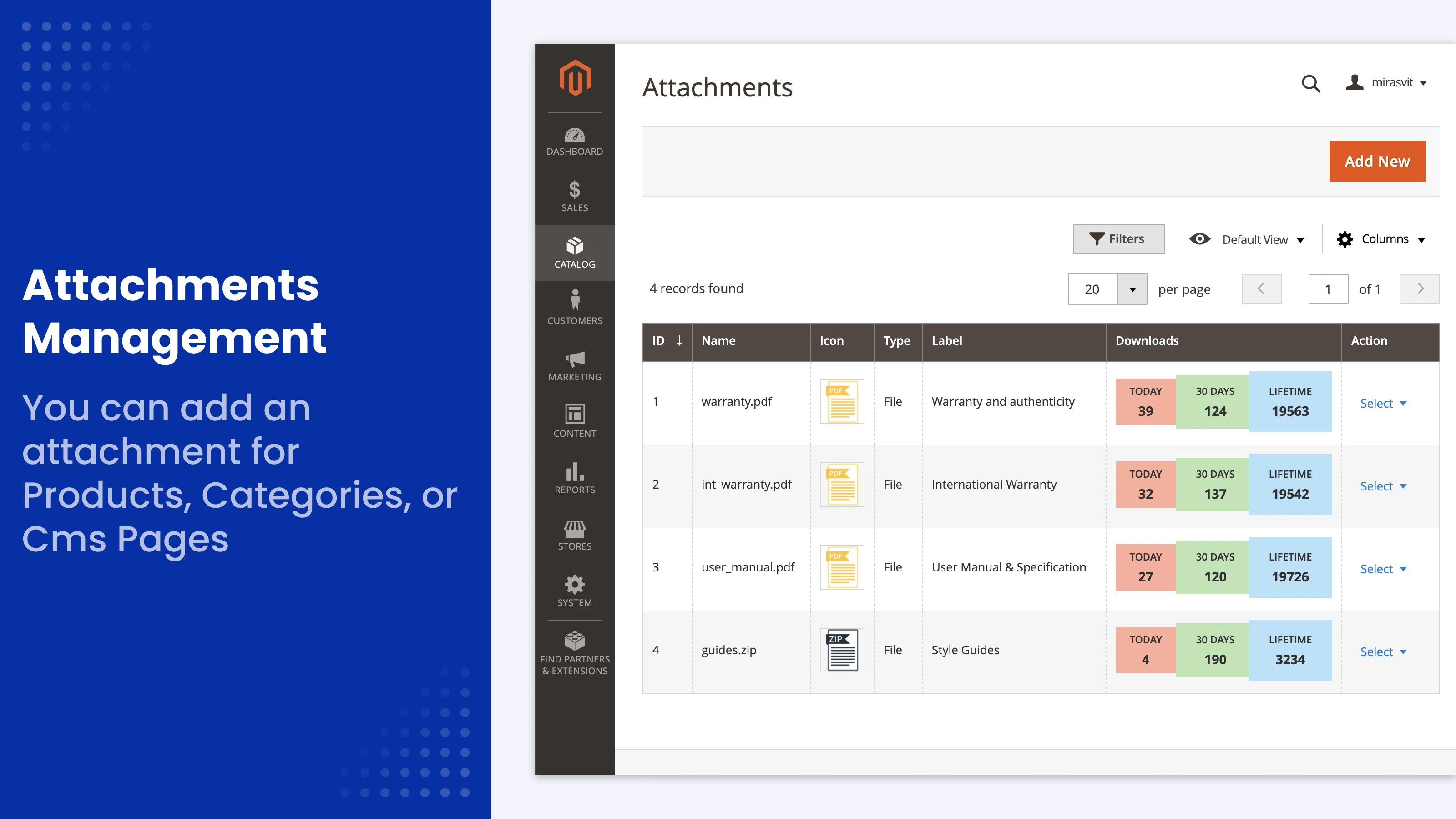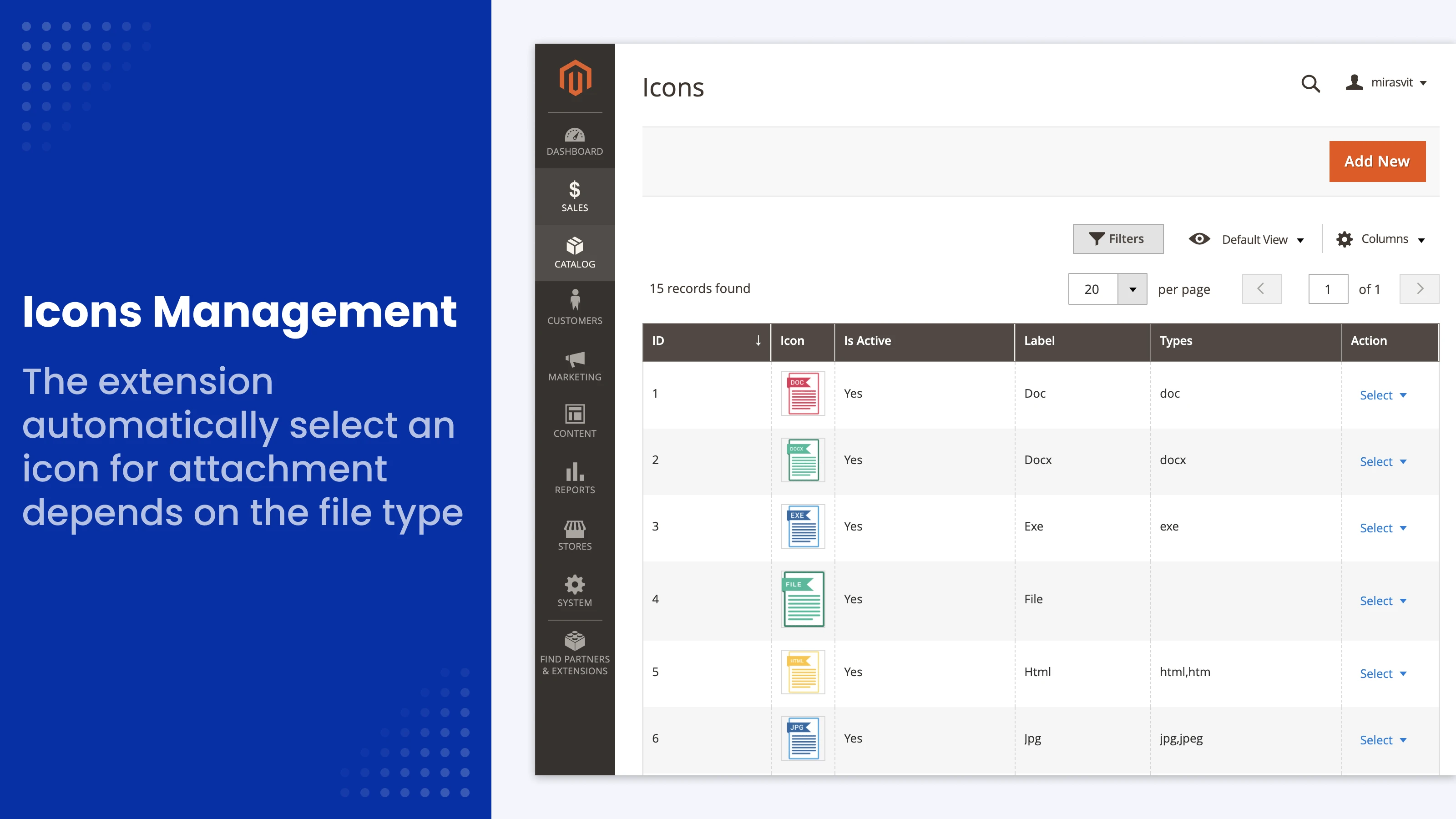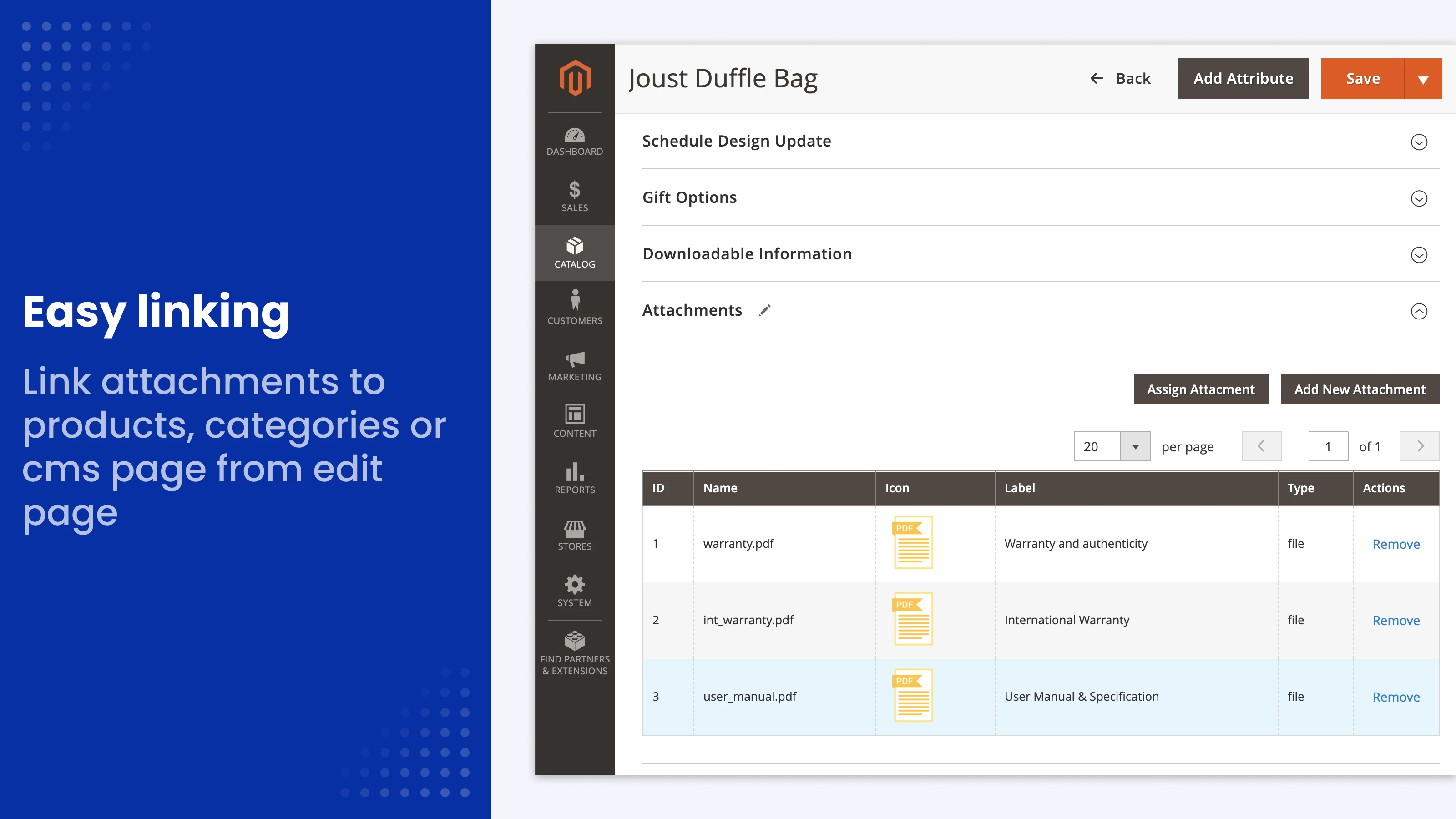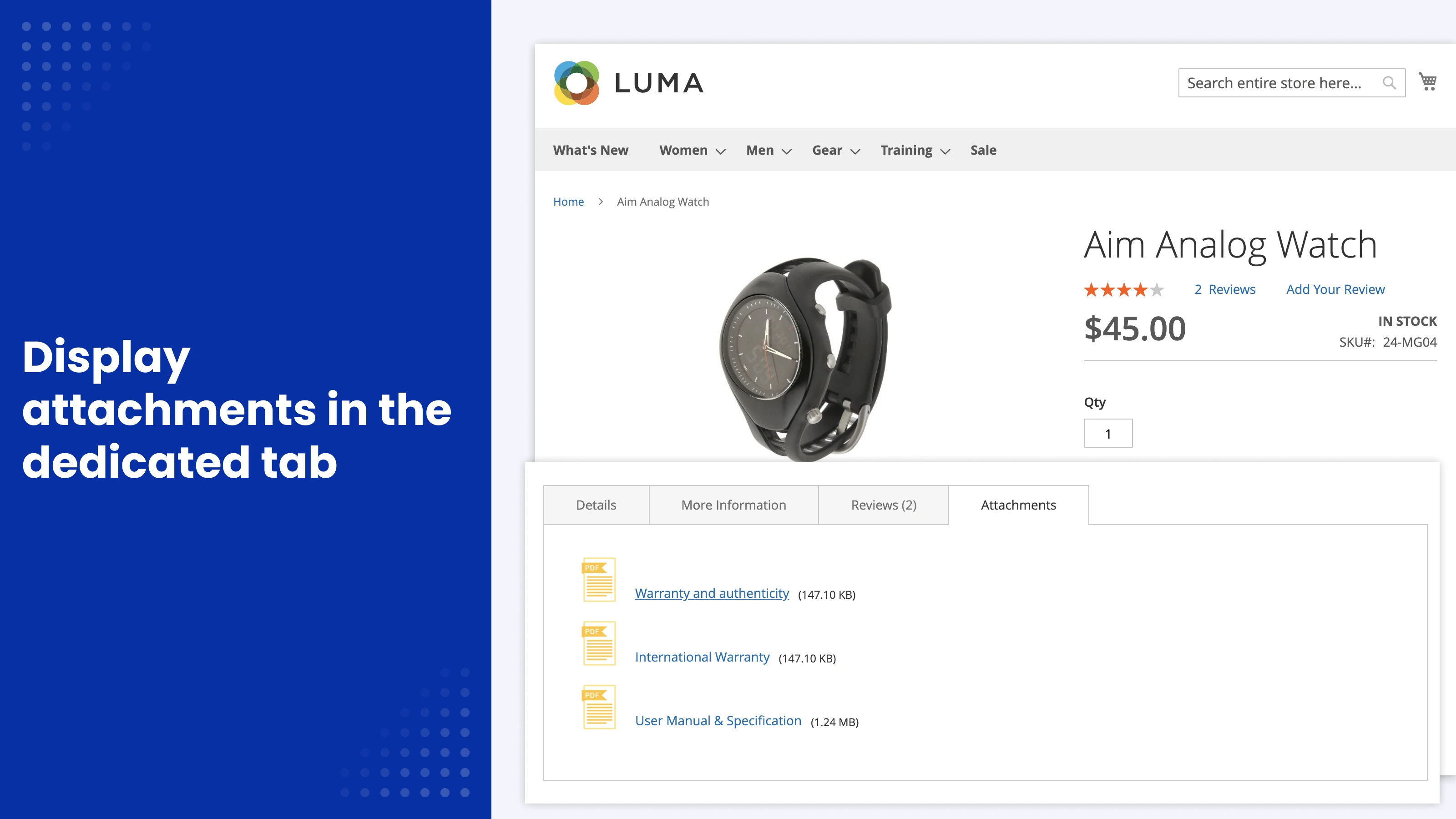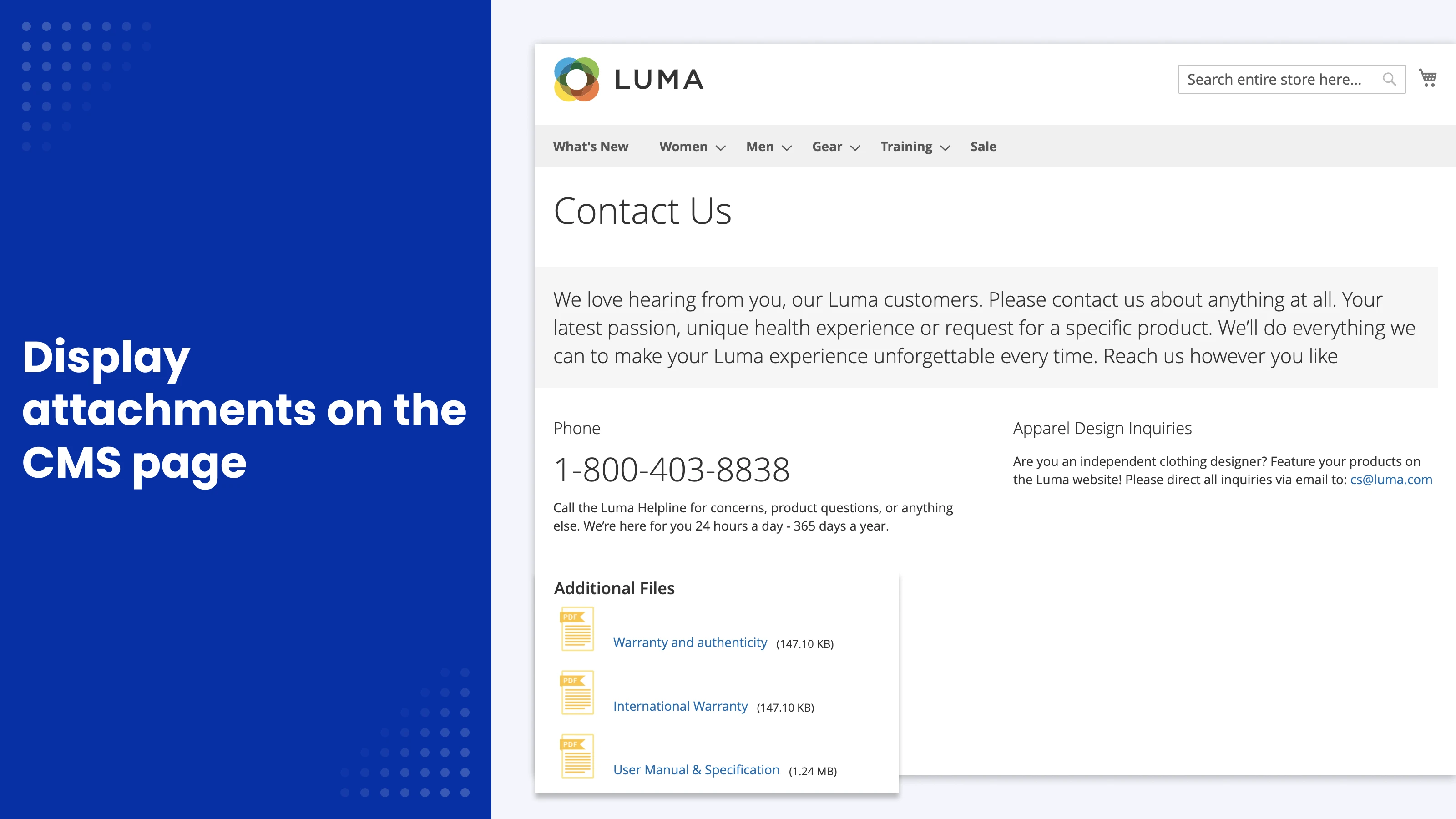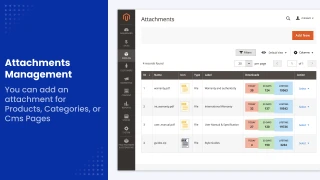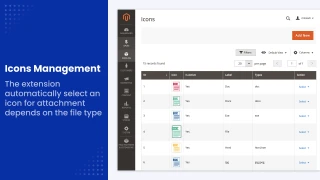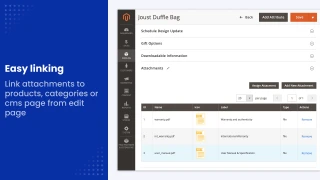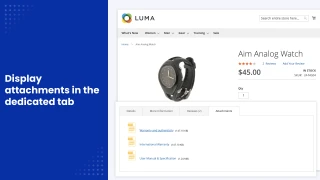 Business Value
Opportunity: If you attach valuable and relevant files to pages, you can make your store more informative, trustworthy and reliable to prospective users. Doing so can also boost self-service potential.
Problem: By default, Magento doesn't let you attach any files to pages besides product images or videos.
Solution: Magento 2 Product Attachments lets you set up file or URL attachments, thoroughly customize the way they appear on the page, use icons to make the attachments more eye-catching, and track their performance with built-in analytics.
Enhancements for Your Business
Detailed Products
Increased Trust
Great for Self-service
Store Authority Boost
Describe your goods thoroughly
Some products, like consumer electronics, are so advanced that selling them without additional documentation means confusing your visitors. You'll have to add product manuals or comparison tables. Our extension lets you do just that.
Show that you're a professional
If you have privacy and security certificates or are an authorized dealer, the customers don't simply have to take your word for it. Attach the proof to your site and show your customers that you're trustworthy.
Let visitors solve problems on their own
If you add more information about your products, your customers will be more likely to resolve issues by themselves instead of contacting you, speeding up their purchasing process.
It'll also reduce the load on your customer support, giving the agents more time to concentrate on more advanced problems.
Your files will give you more credibility
Content is still king. Hosting informative, relevant and easily accessible files on your site will make the visitors return more often. Search engines will certainly notice their attention, too.
Advanced Customization
No Placement Restrictions
Streamlined Editing
Eye-catching Icons
Display scores of attachments anywhere
You can place the product attachments anywhere on your site.
There's no limit to the number of attachments on a single page, either.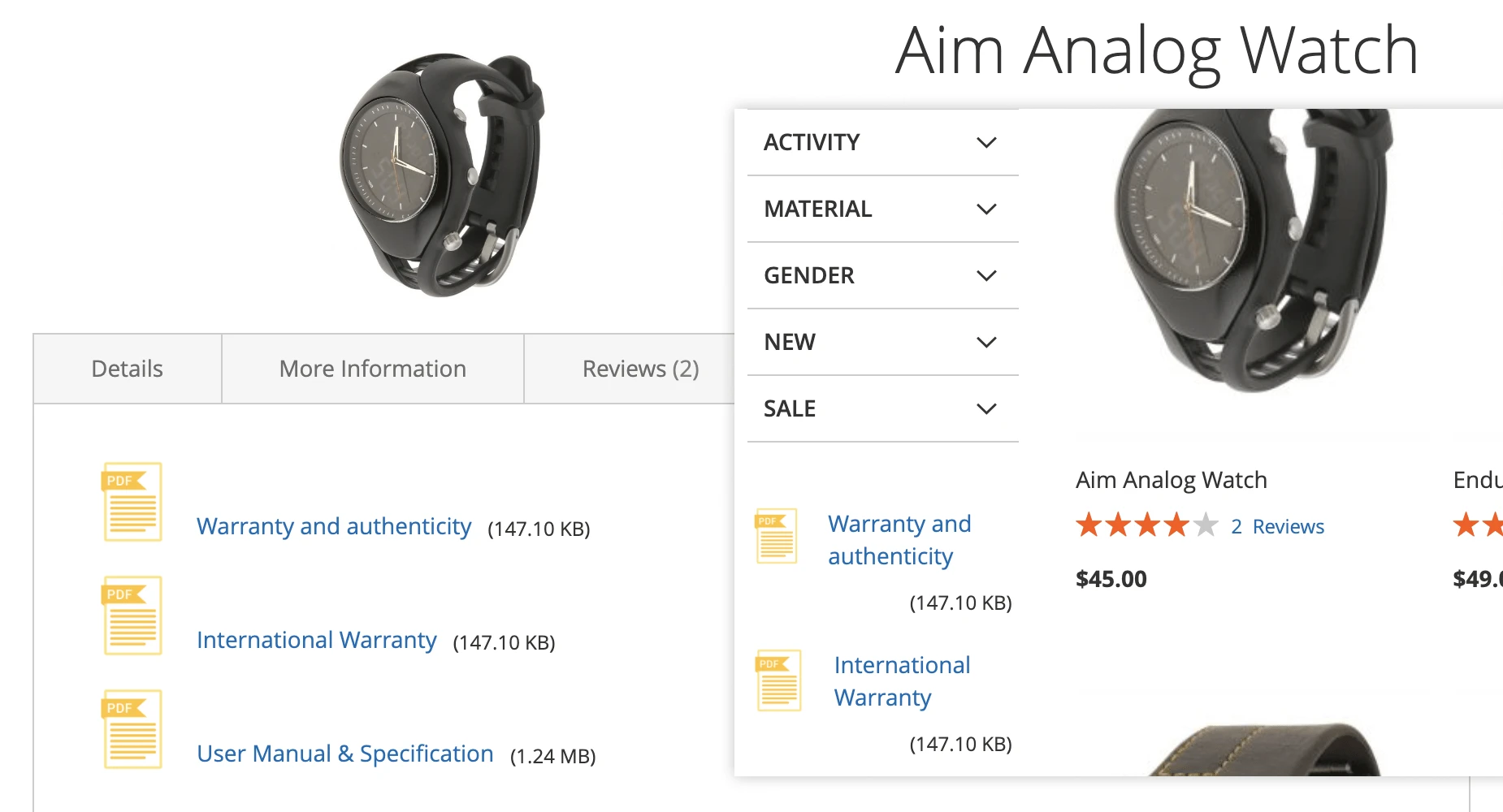 There's no need to jump through hoops
You can set up the attachments while editing the module, but you can also do it while updating product, category or CMS pages themselves. This will greatly speed up your content manager's workflow.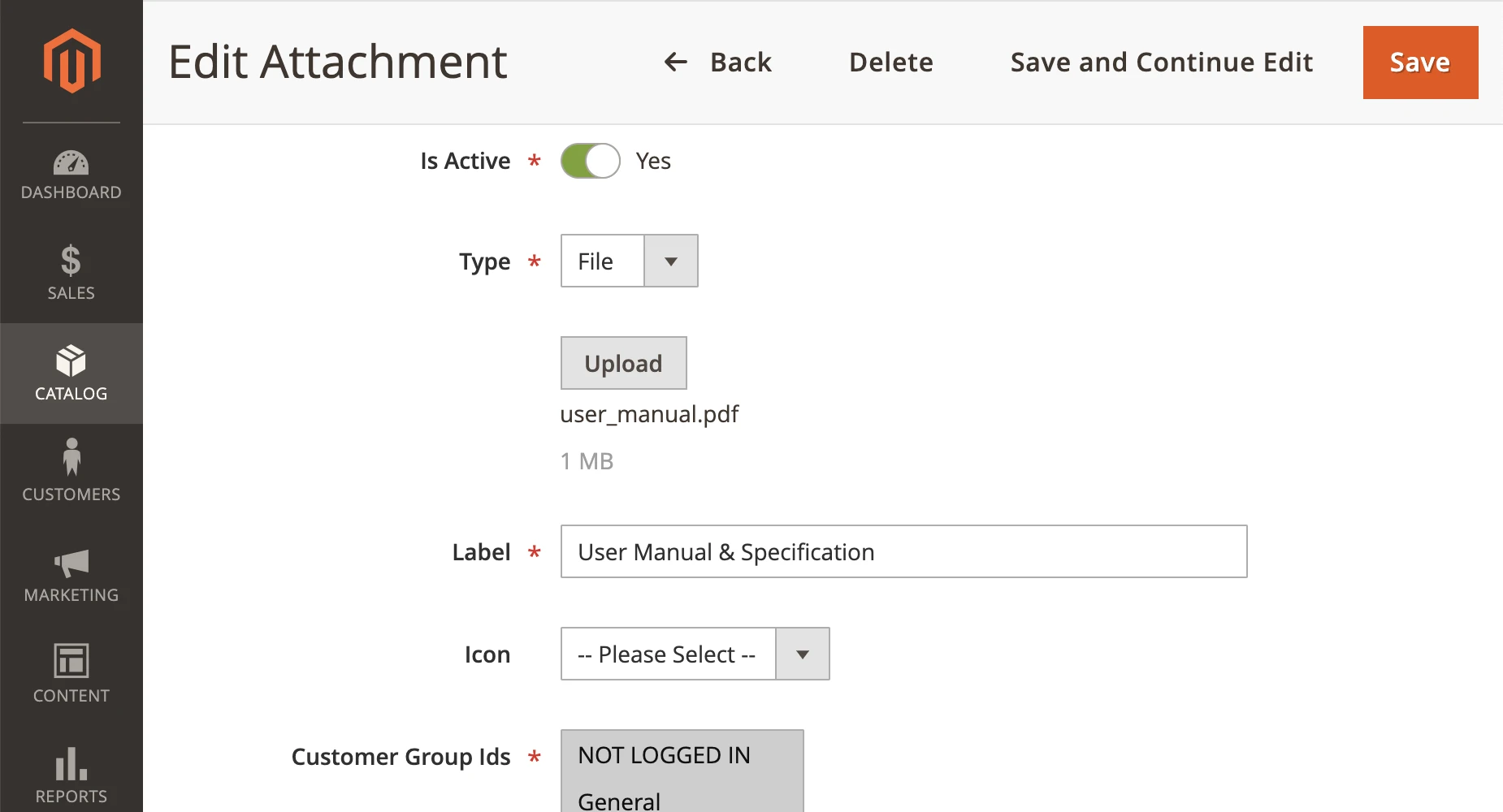 Your attachments will stand out
The module includes the icons for doc, docx, exe, html, jpg, mov, pdf, png, ppt, rar, txt, xlsx, and zip file extensions as well as generic file and URL icons.
You can also upload your own icon files.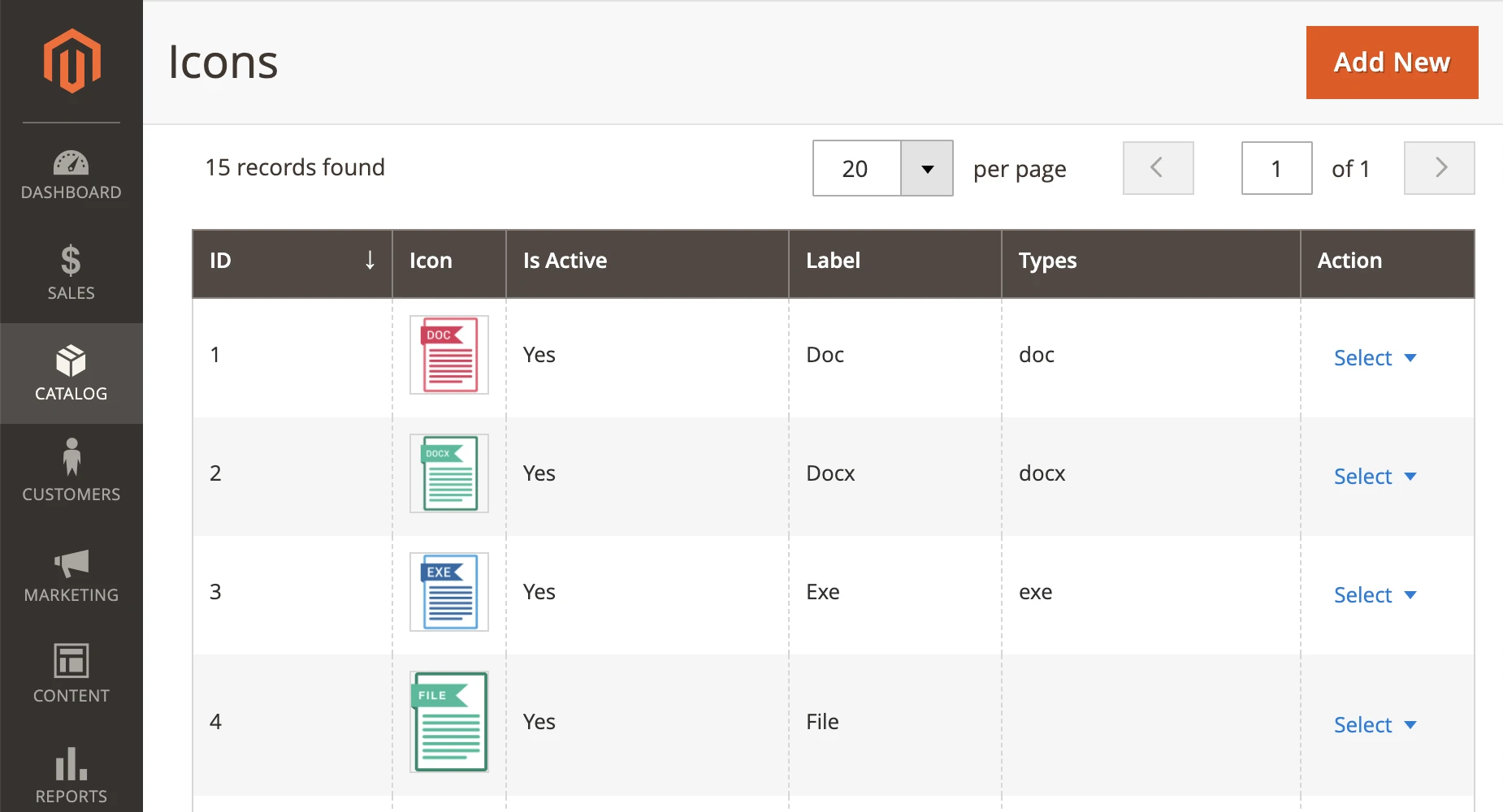 Performance Tracking
The extension shows how many times the visitors clicked on an attachment during the last 24 hours, last 30 days or throughout all time. This will help you make sure your customers are interested in it.

See it in action!
Pick a quick tutorial to learn about various aspects of this extension
Easy to use and did everything we needed, lots of nice features.
Also installed: Elastic Search Ultimate, Full Page Cache Warmer, Advanced Product Feeds, Dynamic Categories, Advanced SEO Suite, GDPR, Push Notifications and 21 more
Manual & Support
Need more help?
Save time by starting your support request online and we'll connect you to an expert.
Contact Us Now
Changelog
Version
1.1.6
Jul 24, 2023
Compatibility with php less than 7.4
Assign attachment to product on product edit page in Magento EE
Version
1.1.5
Mar 15, 2023
Error when adding a product if MSI is used
Version
1.1.3
Sep 30, 2022
Version
1.1.2
Sep 26, 2022
Reasons to choose Mirasvit
Client focusing and satisfaction
These are our primary. A major portion of our new clients come from referrals from our existing clients. Our professional team of developers, marketers and support staff have invested the best knowledge and experience in the field into our work, so you know you can come back to us again and again.
Remarkable support
One year free and high quality support. We go to great lengths to provide maximum satisfaction with every module you have purchased in our store. By helping you with installation, configuration, answering your every question, we do all our best to eliminate any possible problems.
Risk-free Investment
30-days money back guarantee. If you are not satisfied with our extension performance for any reason, we provide a full refund.
Constant improvements and upgrades
We constantly add new features to all our modules, and are always interested in hearing your opinion and implementing your suggested features in our future developments.
Comprehensive Documentation
We provide an expanded user guide for every aspect of our extension, so you can find answers for all your burning questions.
Unencrypted source code of our products
You can customize extension according to your needs and requirements.
Usability and Performance
The Module is easy to install and upgrade, just follow our step-by-step user guide.
Safe Magento updates
No core modifications. Just use the composer or copy the extension files to the root directory of your store.