Why Offer a Registry?
When you offer a gift registry on your site, you are harnessing a serious captive audience.
You will spend very little money to get this extension, but the returns will be vast. Your customers are telling their friends and family that they specifically want this item from your site. These are very high conversion requests, as it's very uncommon for the buyer to go elsewhere to find the item.
Ultimate Flexibility for Customers and Admin
Above all, Mirasvit's Gift Registry extension excels in features and quality compared to any similar extensions found on the market.
Customer can add any product of any type to the registry (Simple, Bundle, Configurable, Group Virtual)

Customer can choose whether to pre-specify options of complex products, or to let the buyer choose the options.

If choosing the latter option, the notes section on each item lets the registrant loosely specify the preferred options. Either way the sale is tracked and marked appropriately. No other extension offers this dynamic functionality.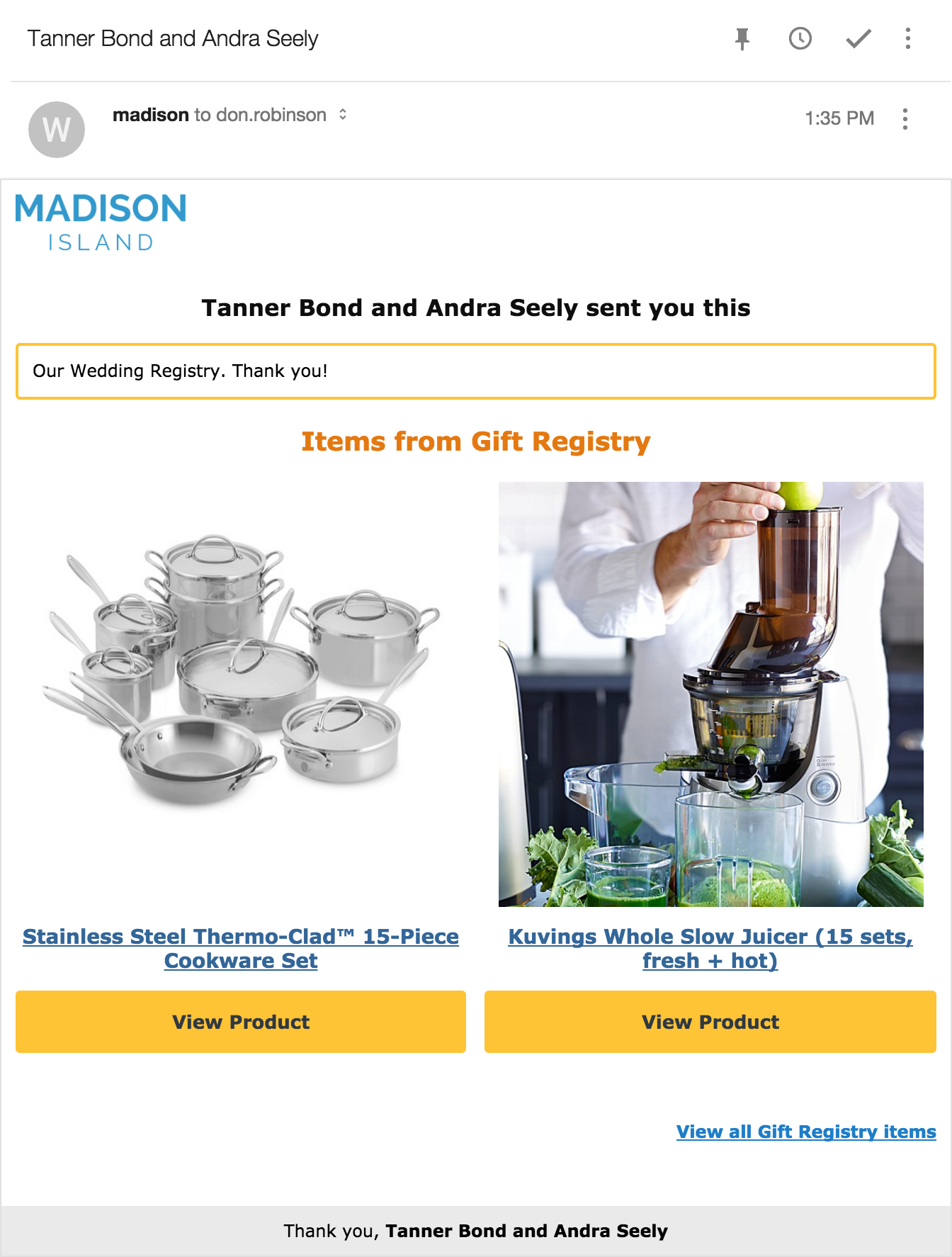 Customers can add all relevant data to their registries such as date, time, photographs, etc.

Further, the administrator of the extension can add custom fields to best suit their store.

Add/edit items from admin. Mark items as purchased, etc.

Additionally admin can use notes section in admin to make any necessary notes about the purchase. For example if the sale happens by phone or through a non-connected POS, you could reference the external system's receipt number.

Integrations with 3rd party payment solutions such as PayPal Express and Amazon Payments, let's customer purchases remain tracked. As well, this extension will provide the recipient's shipping address to these different checkout streams.
Shopping Cart shows which items are being purchased from the Registry, so the buyer is confident that their purchase will be accounted for correctly.
Features for a customer
Customer can create multiple gift registries

Customer can add product of any type to registry

Set priority, additional information for each gift

Share gift registry via email or via Twitter, Facebook or Google+

Track gift status

Manually change number of received gifts

Set event date

Set visibility for registry (Public or Private)

Add co-registrant

Set different shipping addresses for different registries
Features for an administrator
Manage the list of available event types and priorities

Add custom fields for customer registries

View the list of registries

View details for each registry: customer, gift, related orders etc

Create new registry from the backend