Gift Registry
| | | |
| --- | --- | --- |
| Compatible with: | Community: | 1.4.1 - 1.9.3 |
| | Enterprise: | 1.11 - 1.14.2 |
Magento Gift Registry is the cornerstone to a successful site for stores specializing in baby products, wedding gifts, clothing, or any online shop which wants to offer customers the ability to specify to friends and family exactly what gifts/items they want. Whether you are a merchant large or small, if you are in a market that specializes in gifts, this extension is for you.
Why Offer a Registry?
When you offer a gift registry on your site, you are harnessing a serious captive audience.
You will spend very little money to get this extension, but the returns will be vast. Your customers are telling their friends and family that they specifically want this item from your site. These are very high conversion requests, as it's very uncommon for the buyer to go elsewhere to find the item.
Ultimate Flexibility for Customers and Admin
Above all, Mirasvit's Gift Registry extension excels in features and quality compared to any similar extensions found on the market.
Customer can add any product of any type to the registry (Simple, Bundle, Configurable, Group Virtual)

Customer can choose whether to pre-specify options of complex products, or to let the buyer choose the options.

If choosing the latter option, the notes section on each item lets the registrant loosely specify the preferred options. Either way the sale is tracked and marked appropriately. No other extension offers this dynamic functionality.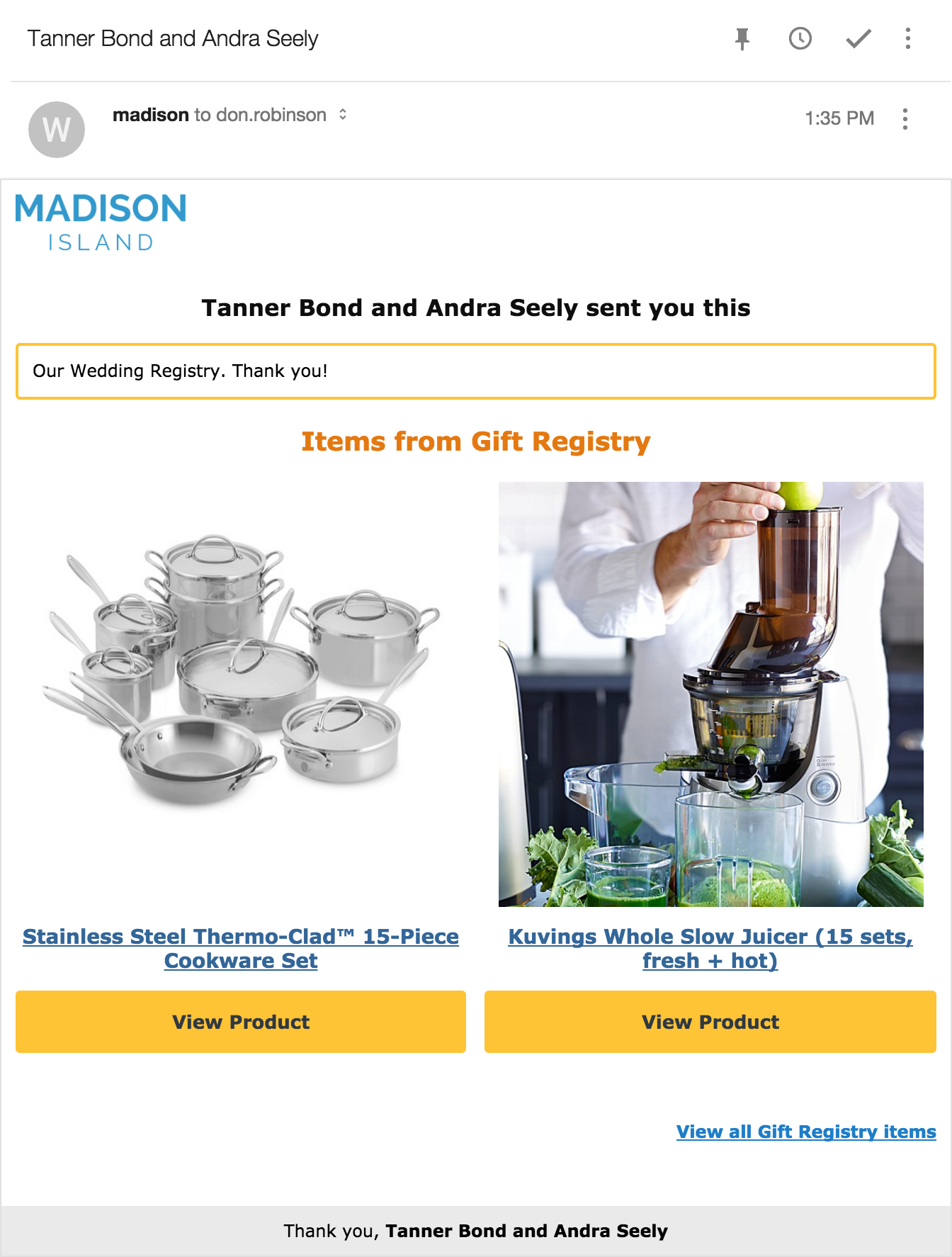 Customers can add all relevant data to their registries such as date, time, photographs, etc.

Further, the administrator of the extension can add custom fields to best suit their store.

Add/edit items from admin. Mark items as purchased, etc.

Additionally admin can use notes section in admin to make any necessary notes about the purchase. For example if the sale happens by phone or through a non-connected POS, you could reference the external system's receipt number.

Integrations with 3rd party payment solutions such as PayPal Express and Amazon Payments, let's customer purchases remain tracked. As well, this extension will provide the recipient's shipping address to these different checkout streams.
Shopping Cart shows which items are being purchased from the Registry, so the buyer is confident that their purchase will be accounted for correctly.
Features for a customer
Customer can create multiple gift registries

Customer can add product of any type to registry

Set priority, additional information for each gift

Share gift registry via email or via Twitter, Facebook or Google+

Track gift status

Manually change number of received gifts

Set event date

Set visibility for registry (Public or Private)

Add co-registrant

Set different shipping addresses for different registries
Features for an administrator
Manage the list of available event types and priorities

Add custom fields for customer registries

View the list of registries

View details for each registry: customer, gift, related orders etc

Create new registry from the backend
1.1.26
(2017-10-27)
Improvements
free shipping for concrete events
---
1.1.25
(2017-05-08)
Improvements
display qty of a product as desired qty minus ordered qty
---
1.1.24
(2017-02-21)
Improvements
Display Gift Registry products details in the grid of products at the admin panel
---
1.1.23
(2017-02-15)
Bugfixes
Fix problem with adding product to registry if 'addto' block placed outside of product form
---
1.1.22
(2017-02-08)
Bugfixes
Fixed the error which occurred while creating a Gift Registry from the admin panel
---
1.1.21
(2017-02-01)
Bugfixes
Correctly save registry image name
---
1.1.20
(2017-01-27)
Improvements
Compatibility with AheadWorks extension 'Afptc'
---
1.1.19
(2017-01-17)
Features
Ability to add products to Gift Registry from admin panel
Bugfixes
Set registry website id to current store, instead of customer's store
Improvements
Redirect to the last active tab after saving registry in admin panel
---
1.1.18
(2016-11-29)
Improvements
Display child product image for configured products
---
1.1.17
(2016-11-03)
Bugfixes
Adjust z-index for the dialog window at product page
Improvements
Sort gift registries by created at field in descending order within admin panel by default
---
Changelog
1.1.16
(2016-10-13)
Improvements
#10 Hide not configured gift registry items from guest view
---
1.1.15
(2016-10-07)
Bugfixes
Process registries without address as simple orders
Remove required field for massaction
Improvements
Hide empty registry fields
---
1.1.14
(2016-08-08)
Improvements
#8 - Associate the purchased product shared via email with the Gift Registry
---
1.1.13
(2016-08-03)
Bugfixes
Fixed an error which appears in different php versions
---
1.1.12
(2016-08-03)
Improvements
Ability to use free shipping for orders placed for Gift Registries
---
1.1.11
(2016-08-01)
Bugfixes
Improvements
Ignore cases when 'order_save_after' event is repeated few times
Retrieve store specific url for registry guest view
Tests
Validate extension's CRC values
---
1.1.10
(2016-07-07)
Improvements
Ability to purchase items in mass action
---
1.1.9
(2016-06-24)
Improvements
Refactoring, added search service
---
1.1.8
(2016-06-24)
Bugfixes
Correctly count number of Gift Registry orders
Display all registries in grid
Improvements
Integration with AW Onestepcheckout
Display default gift registry title, if its title is not specified
---
1.1.7
(2016-06-15)
Bugfixes
GRY-41 - Improved process of handling grouped products
Improvements
Improve workflow of adding registry item to the shopping cart
---
1.1.6
(2016-06-10)
Improvements
Integration with Magecheckout SecuredCheckout
---
1.1.5
(2016-06-08)
Bugfixes
Fix typo in the method name dispatched when emptying cart
---
1.1.4
(2016-06-07)
Improvements
---
1.1.3
(2016-06-01)
Features
Ability to show/hide public registries from search results by default
Bugfixes
bug: GRY2-29 - Process gift registries per website
---
1.1.2
(2016-04-26)
Features
GRY-38 Ability to set placeholder for new gift registries
Improvements
Ability to translate options for field of type 'select'
---
1.1.1
(2016-04-12)
Improvements
Add order to gift registry purchase
Compatibility with the checkout "Ideasa_IdeCheckoutvm"
Checkout validation
---
1.1.0
(2016-04-08)
Features
GRY-26 Update minicart using AJAX
Bugfixes
Fix issue with searching registries by registrant name in admin panel
Documentation
Description of general settings
Improvements
GRY-13 Improved workflow with registry types, sections and fields
GRY-29 Change template for creating/editing registry
GRY-33 Change AJAX loader
GRY-32 Add button 'Add to Gift Registry' using layout
GRY-28 Data script for installation fields/sections
GRY-31 Change schema for table related with registry's sections
Small adjustments for templates
UI improvements
---
1.0.5
(2016-03-04)
Reasons to choose Mirasvit
Client focusing and satisfaction
It is our main goal. A big part of our new clients come from referrals from our existing clients. Our professional team of developers, marketers and support invest the best knowledge and experience, so you could come back to us again and again.
Remarkable support
90-days free and high quality support. We make an effort to satisfy you with work of every module you have purchased in our store. Helping you with installation, configuration, answering your every question, we do all our best to eliminate any possible problems.
Risk-free Investment
30-days money back guarantee. If you are not satisfied with work of our extension for any reason we provide a full refund.
Constant improvements and upgrades
We provide you lifetime free updates. We constantly add new features to all our modules. We are absolutely interested to hear your opinion and to implement your suggested features in our future developments.
Comprehensive Documentation
We provide an expanded user guide for every our extension, so you can find answers for all your burning questions.
Unencrypted source code of our products
You can customize extensions according to your needs and requirements.
Usability and Performance
Module is easy to install and easy to upgrade, just follow step by step our user guide.
Safe Magento updates
No core modifications. Just copy extension files to store root directory.