 This extension improves navigation in your store considerably and increases conversion. Now you will not be constrained within the frameworks of the tree structure of your catalog categories. You can arrange the menu so that your buyer can find the category, brand or page necessary for them quickly. Just look at the demo version and see how cool it is!
Extension Demos
Pick a quick tutorial to learn about various aspects of this extension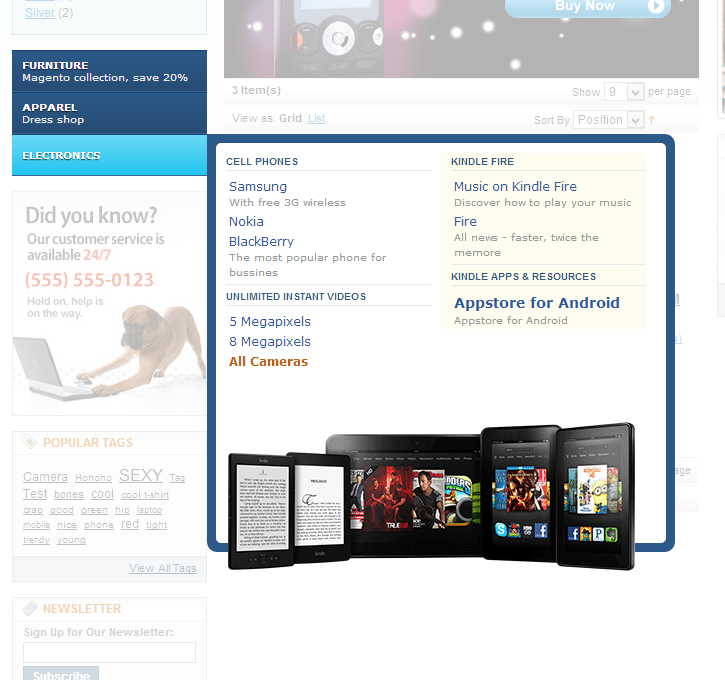 The menu is the most popular element in any online store. It is used by all visitors of the store. The more comfortable the navigation is in the online store, the quicker a user can find the products of interest, and the more sales an online store will have.
Key Features
Ability to create and manage an unlimited number of diverse menu
The extension has two themes for the menus
The ability to change the location of each menu in the online store
The ability to divide the menu into columns
The ability to add an image in the menu (banners)
Menu links can point to:

category
product
cms page
any store internal page
to an external page

Drag&Drop in the admin interface for easy menu control
Ability to control style options: size, color, background color
See it in action!
Pick a quick tutorial to learn about various aspects of this extension
good

turgay

from Istanbul, Turkey

I would definitely recommend it very handy

Excellent Menu Manager Pro!!!

Paulo

from Uberlândia, Brazil

Module Manager Pro Menu very well programmed, Developers and Mirasvit support are very competent. We are Customer Mirasvit from 2 years ago. Congratulations, Mirasvit is excellent.

Amazon like Menus

Mayank

from Bengaluru, India

Very good extension for managing the Magento top menu. allows multiple styling formats and you can get the Amazon menu look on the site.

knowledge base / articles

We needed a way to organize our articles and this worked great for our needs.

Cronob...

Henry

from Phoenix, United States

I purchased it but have yet to access it because of the cronjob...I installed it no problem.

Very nice and easy to use

You can do anything you want with this menu, it can look as great as menu on Amazon!

Excellent

Paulo

from Limeira, Brazil

The best menu plugin I have tested. Really ease to use and the final result is amazing.

Great menu manager

This is a great extension that is super easy to manage in the backend. After some small modifications and help with some settings it works great. I am satisfied with the product and also the support of Mirasvit.

Works well

This is something we really needed to give our customers a better visual understanding of the category products we listed on palletforks.com.
The support was extremely helpful in answering any and every question we had without hesitation.

Overall 100% satisfied!

Excellent

Laurent

from United States

We are very happy about the extension and we couldn't have achieve this level of user experience without the extension and the help of the support.

Great extension

Nicolae

from United States

This extension solved some structure issues I had, especially because I use a multi-store magento installation.
I would love to see one feature at the next update:
- a way to link the breadcrumbs with the menu.

I bought also the search and a few other extensions and now I can tell you about these guys:
The support is awesome. Very professional team. They seem not to stop until the customer is fully satisfied.

Big fan of Mirasvit!

This is a must have extension!

filipmaxim

from United States

We recently purchased this extension and are happy with the results. I had a small css issue after installing but the support was immediate. This is a must have extension

Incredible Product!

Kristi

from United States

We struggled with several purchased menu extensions, all which we eventually had to abandon due to bugs, limitations, conflicts, etc. I was getting very discouraged thinking that what we were looking for didn't actually exist. Lo and behold, I found this extension while on their site researching their Sphinx search extension, and it looked too good to be true. Finally, a menu extension that is full-featured and gives you COMPLETE control over every single thing displayed in the menu, but also with a very easy and intuitive configuration. It has worked beautifully since day one and we are happy, happy, happy!

Очень гибкое меню

Arthur

from United States

Модуль позволяет создать меню любой сложности. Поддержка на высоте 5+, настроили все под дизайн нашего сайта

Very good

Exceptional-AV

from United States

Excellent flexibility and great support from Igor and his crew. It's a little bit confusing at first but once you get to grips with it it's brilliant. Recommended.

Absolutely amazing extension

HarrisA

from United States

This is the best one out there. Thank you for fixing all my problems even though nothing is wrong in your extension. ...5 star support...

Great module! Great Support!

Anonymous

from United States

Great module! Great Support!
The menu really transforms my store and makes navigation that much easier!
I am running a custom theme and installation was easy with Alexander quick and efficient help.
Cheers.

Extension is perfect!

hotmonitor

from United States

Extension is perfect and I test very carefully Banner Manager. It is flexible and you can solve very hard problem with extension. support is 10x Congratulations

Works Well

Menu is highly customizable. Works well, great support from developer! :)

Dumbs up!
Compatibility
The Menu Manager Pro is compatible with:
| | |
| --- | --- |
| Magento Community Edition (CE) | 1.4.1 - 1.9.4 |
| Magento Enterprise Edition (EE) | 1.11 - 1.14.2 |
Refund Policy
All customers can request a refund during 30 days after purchase of our software, if customer think that our software is not suitable for any reason. To request refund, customer must remove all copies of our software from its store, servers, computers, email, etc and confirm by email such removal. After receiving a request we will proceed refund within 3 business days.
If request for refund is received after 30 days after purchase, it will be rejected. Cost of installation and customization services are not refundable.
Support and bug fixing
Mirasvit offers free 90 days support of all software sold on this site. Customers can report all bugs, which were found in our software. We can solve only the bugs directly related to or caused by our extension. Those bugs must be reproduced on fresh Magento installation without any 3rd party plugins. We will solve that bugs in order of our development plan.
We don't do any type of custom work and we have a right to reject a support request if the issue is store-specific (cannot be reproduced on the fresh Magento installation without any 3rd party plugins).
Mirasvit will not be liable to you for any damages (including any loss of profits/saving, or incidental or consequential) related to our support service caused to you, your information and your business.
Software updates
Mirasvit offers free lifetime updates if they areavaliable. Updates are limited to the Magento version branch (1.x.x or 2.x.x). Customer can download an update and install it by himself. If support period is expired, Mirasvit.com can't solve any possible problems with our software during or after updating. Mirasvit does not guarantee that it will release updates for any product.