 Create professional newsletters in a few clicks, right now. Subscribers segmentation, integration with MailChimp, reporting system, and mailing scheduler all in one module.
Extension Demos
Pick a quick tutorial to learn about various aspects of this extension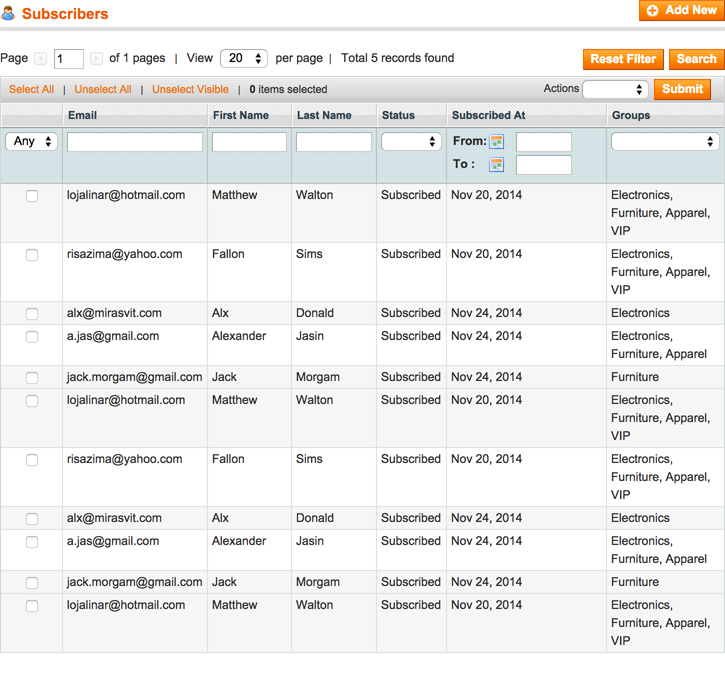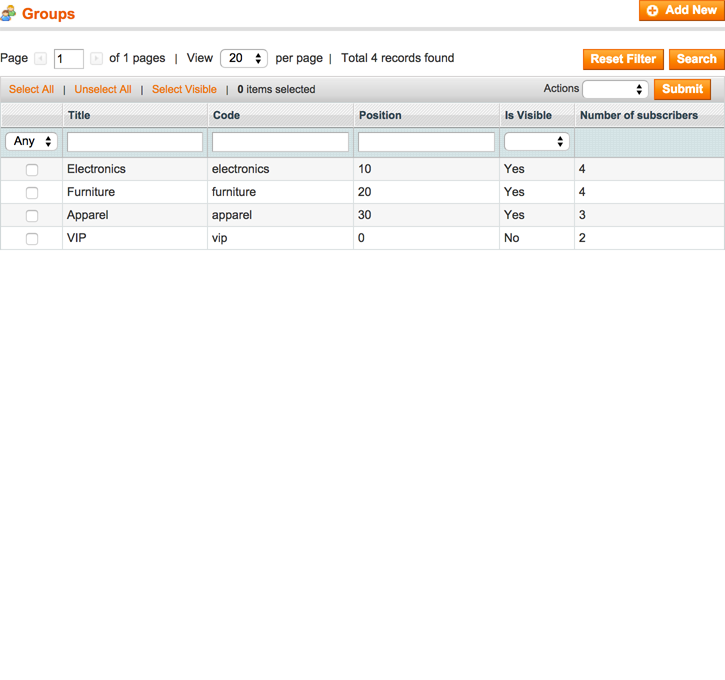 Emailing has become one of the most important tools in bringing in and retaining customers. Mailings help to quickly establish constant communication with customers. Emailing efficiency depends not only on the letter itself, but also on the following factors:
The way in which the emails are collected.
The way in which the subscribers base is segmented.
How personalized the emailing is (what we know about the customer except for the email address).
How well the letters are delivered to the recipients.
Possibility to analyze key efficiency parameters.
All these problems are successfully solved by our module.
Organize emailing in a proper way
(define the place for subscription and create a call for action)
Advanced Newsletter provides an opportunity to subscribe to the store's newsletter. It can be done during registration, placing an order or on any other page of the store.
Module allows you to insert the subscription form, as CMS block, at any page of the store.
When filling out subscription forms, the user has an option to choose categories that he/she is interested in.
The subscription form contains the user's name, so it can be used in your emails. Using a person's name in the beginning of the letter or as the topic of an email, decreases the chances of it being seen as spam and increases the open rate.
Split the users into groups
(segment your users and work with narrow niches)
Module allows to create groups in a flexible way and in any number needed.
Module allows mailing for any number of groups.
Each letter can be set up to be sent at a certain date and time.
There is a possibility to send a test newsletter.
When being registered in the store, the user automatically goes to the group needed.
Based on certain rules (purchased products, groups of users, amount of orders etc.) module can dynamically change the groups for subscribers.
The users can be added to the groups manually.
The ability to import subscribers from default magento subscription list.
Create letter design
(make the letters nice to look at)
In order to make a letter have the targeted effect, it needs to be properly designed. Our module allows you to create attractive letter designs using templates. You can choose a template for every event (New Year, Christmas, sale, promotional activity etc.) and not waste time on letter design anymore.
Module allows to use global letter templates and unique templates for every email. This way it will take a minimum of your time to make the design of the next email.
Admin panel has a convenient visual editing interface which allows you to modify templates.
Every store can create a unique style of their newsletter design.
Statistics and reports
(Control is a problem, no control is two problems)
Module allows to control key indices of emailing efficiency, so you could improve them in the future.
Module is easily connected to Google Analytics to trace clicks and follow purchases.
There is a built-in statistics program which provides the following information about every emailing:

Number of opened emails.
Number of website's visits.
Number of orders.
Integration with Mailchimp
Advanced Newsletter allows you to contact subscribers groups within a module with groups already existing in MailChimp. It is very convenient if you already have MailChimp or are planning to use it, integration will take less than a minute.
Complete integration with MailChimp allows to make export/import of subscribers from/into MailChimp.
Bi-directional synchronization of subscribers.
Two ways to synchronize: automatically and manually.
You can connect groups of subscribers in advanced newsletter with groups in mailchimp and synchronize subscribers into groups automatically.
Synchronization of names of subscribers and subscription statuses.
Use any SMTP server
In order to increase the number of delivered letters and reduce the number of letters going to spam we recommend to use aligned SMTP server. If for some reason your local mailing software is not good, we recommend to connect to the external SMTP server.
You are not limited to local mailing software anymore. Mailing can be done using any quality SMTP server (for example Mandrill).
SMTP options are easy and clear. The connection can be tested.
See it in action!
Pick a quick tutorial to learn about various aspects of this extension
An absolute must-have

Far better than Magento standard reporting this tool is really everything you need in regards of reports of any kind. The user interface is perfect.

Excellent Advanced Newsletter!!!

Paulo

from Uberlândia, Brazil

Advanced Newsletter very well programmed and easy to set up, Developers and Mirasvit support are very competent. We are Customer Mirasvit from 2 years ago. Congratulations, Mirasvit is excellent.

Great extension and excelent support!

Nanette

from Roodeschool, Netherlands

Great extension and excelent support! had some problems with migration, but all solved!

Solid extension

Alex

from Blanchardstown, Ireland

Very straightforward to install with clear easy to follow installation instructions. The extension is rammed for a excellent features.
Compatibility
The Advanced Newsletter is compatible with:
| | |
| --- | --- |
| Magento Community Edition (CE) | 1.5.0 - 1.9.4 |
| Magento Enterprise Edition (EE) | 1.10 - 1.14.2 |
Refund Policy
All customers can request a refund during 30 days after purchase of our software, if customer think that our software is not suitable for any reason. To request refund, customer must remove all copies of our software from its store, servers, computers, email, etc and confirm by email such removal. After receiving a request we will proceed refund within 3 business days.
If request for refund is received after 30 days after purchase, it will be rejected. Cost of installation and customization services are not refundable.
Support and bug fixing
Mirasvit offers free 90 days support of all software sold on this site. Customers can report all bugs, which were found in our software. We can solve only the bugs directly related to or caused by our extension. Those bugs must be reproduced on fresh Magento installation without any 3rd party plugins. We will solve that bugs in order of our development plan.
We don't do any type of custom work and we have a right to reject a support request if the issue is store-specific (cannot be reproduced on the fresh Magento installation without any 3rd party plugins).
Mirasvit will not be liable to you for any damages (including any loss of profits/saving, or incidental or consequential) related to our support service caused to you, your information and your business.
Software updates
Mirasvit offers free lifetime updates if they areavaliable. Updates are limited to the Magento version branch (1.x.x or 2.x.x). Customer can download an update and install it by himself. If support period is expired, Mirasvit.com can't solve any possible problems with our software during or after updating. Mirasvit does not guarantee that it will release updates for any product.