Product Questions
You are currently looking at the extension for Magento 1,
to switch to Magento 2
click here
An absolutely brilliant way to establish reliable relations with your potential customers providing them the possibility to ask questions about any product in your store.
Screenshots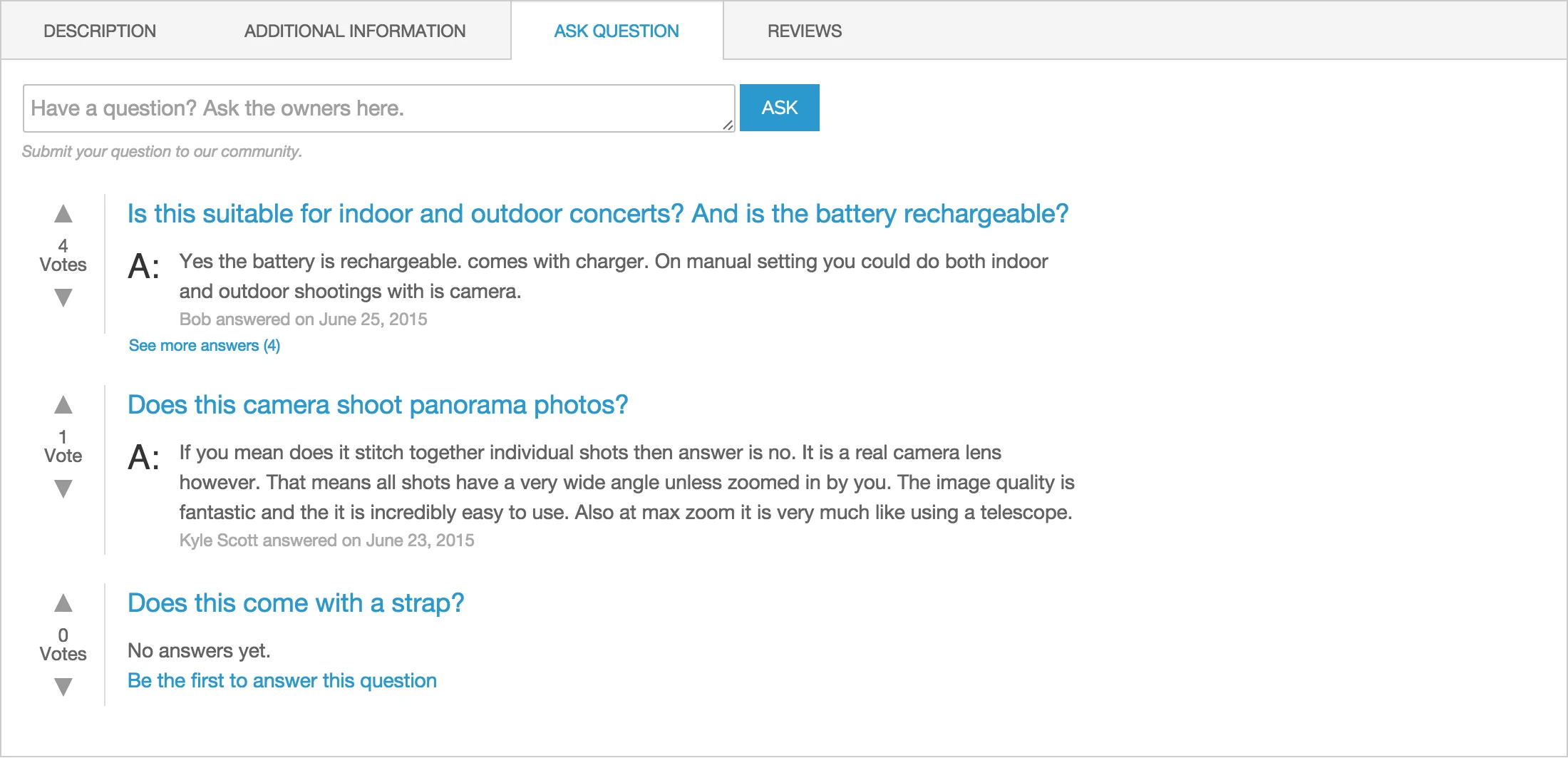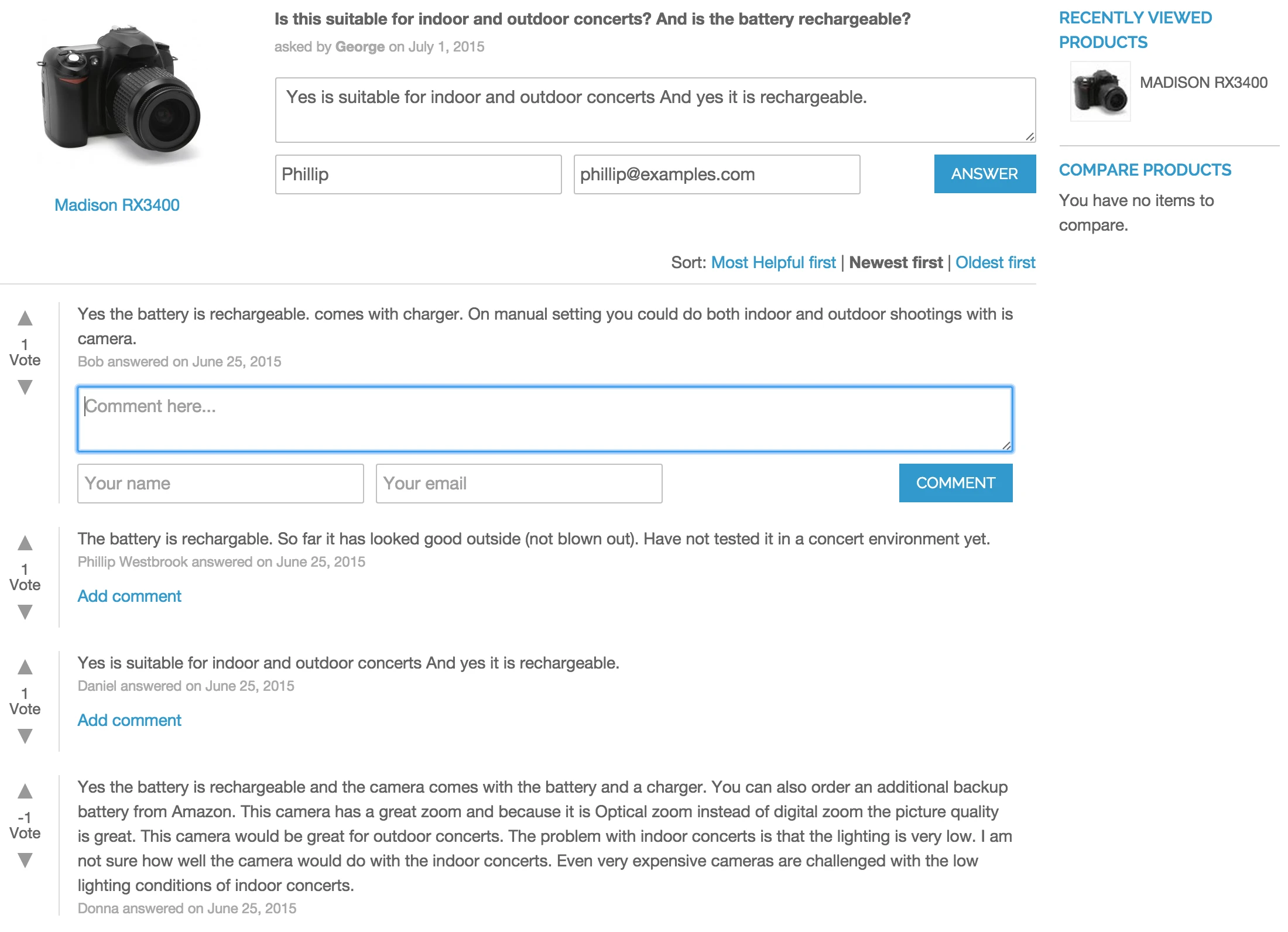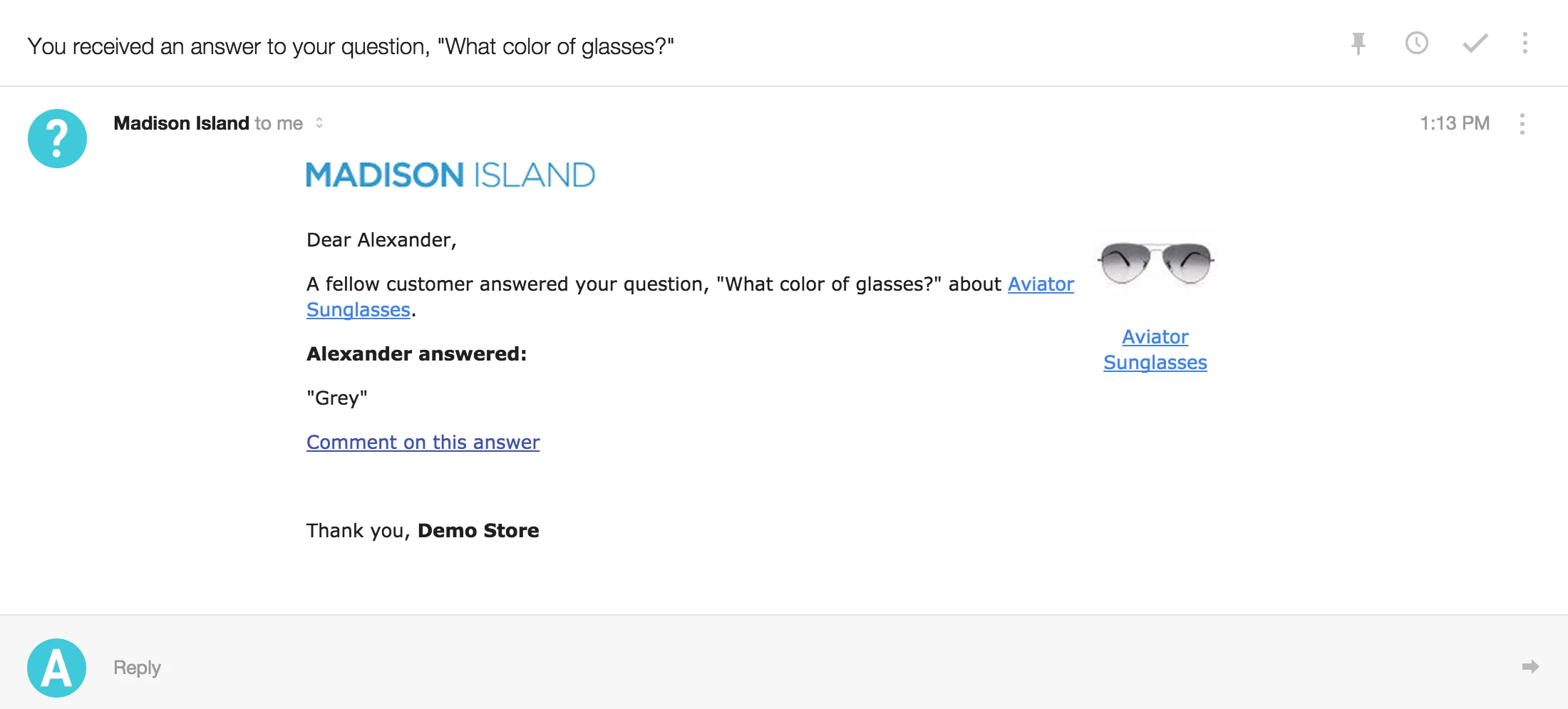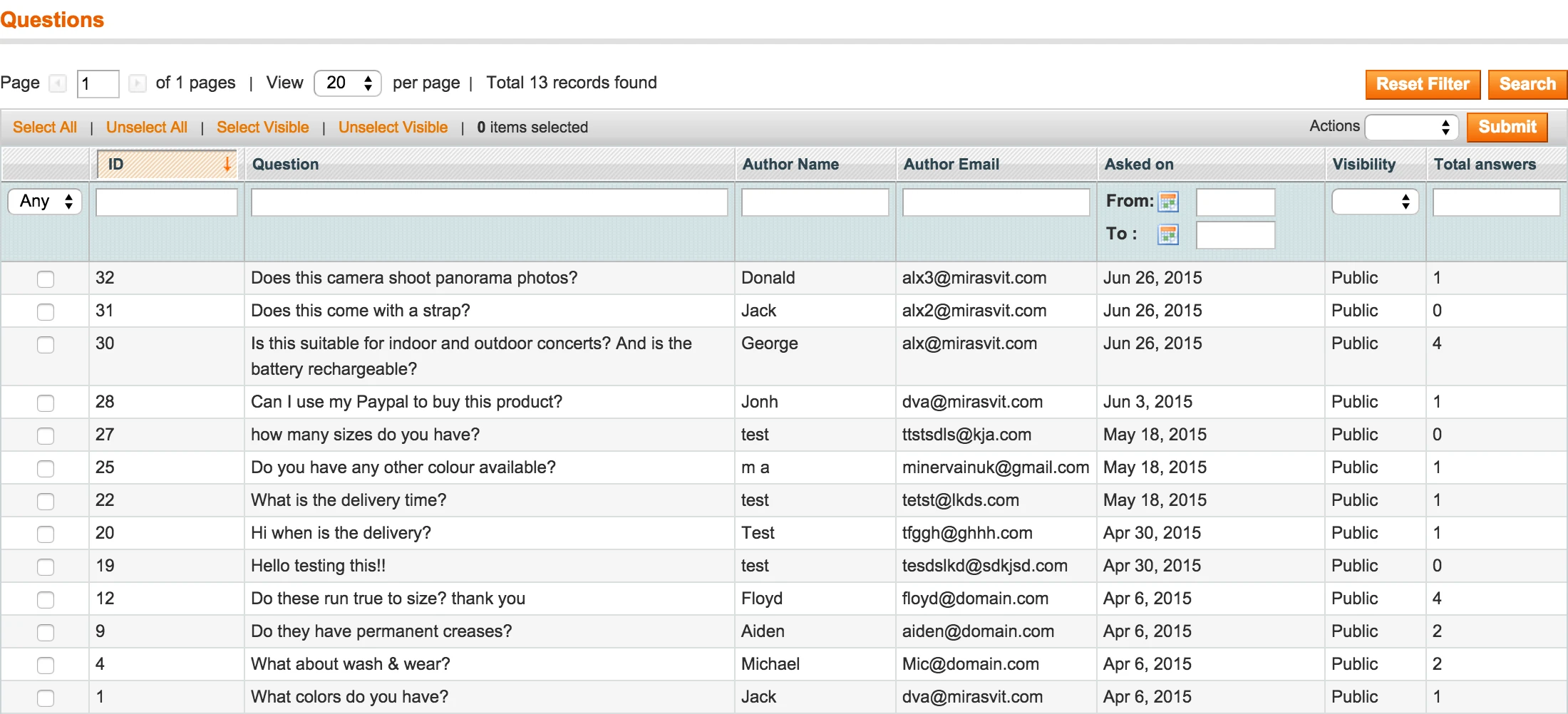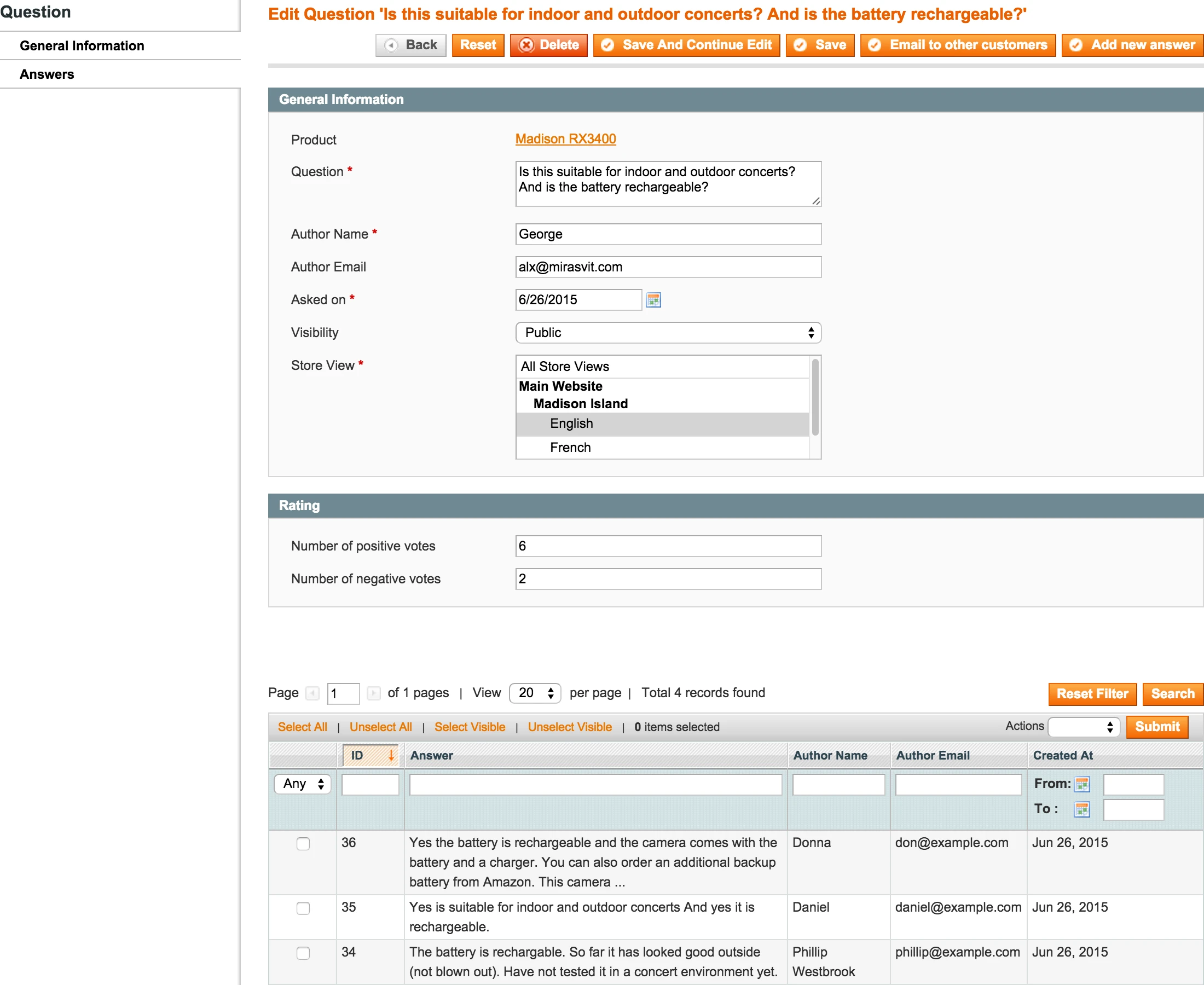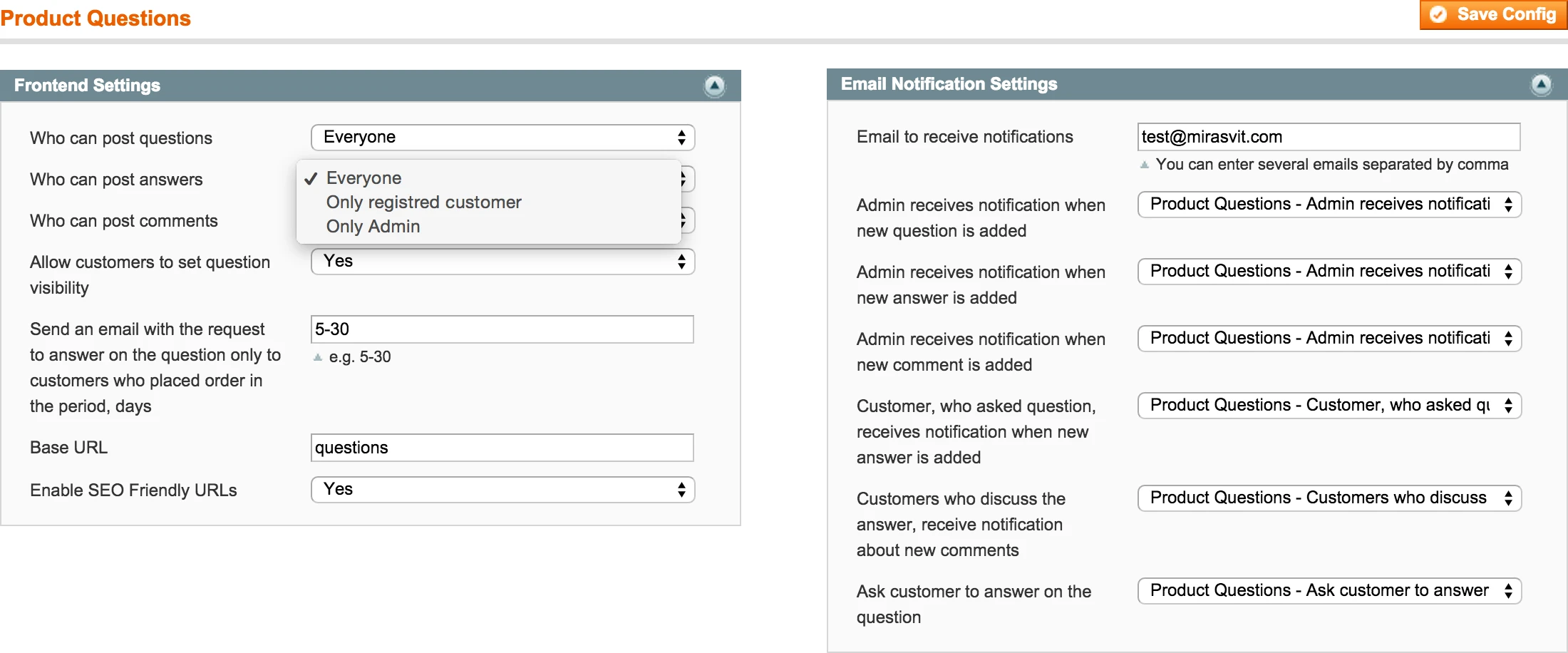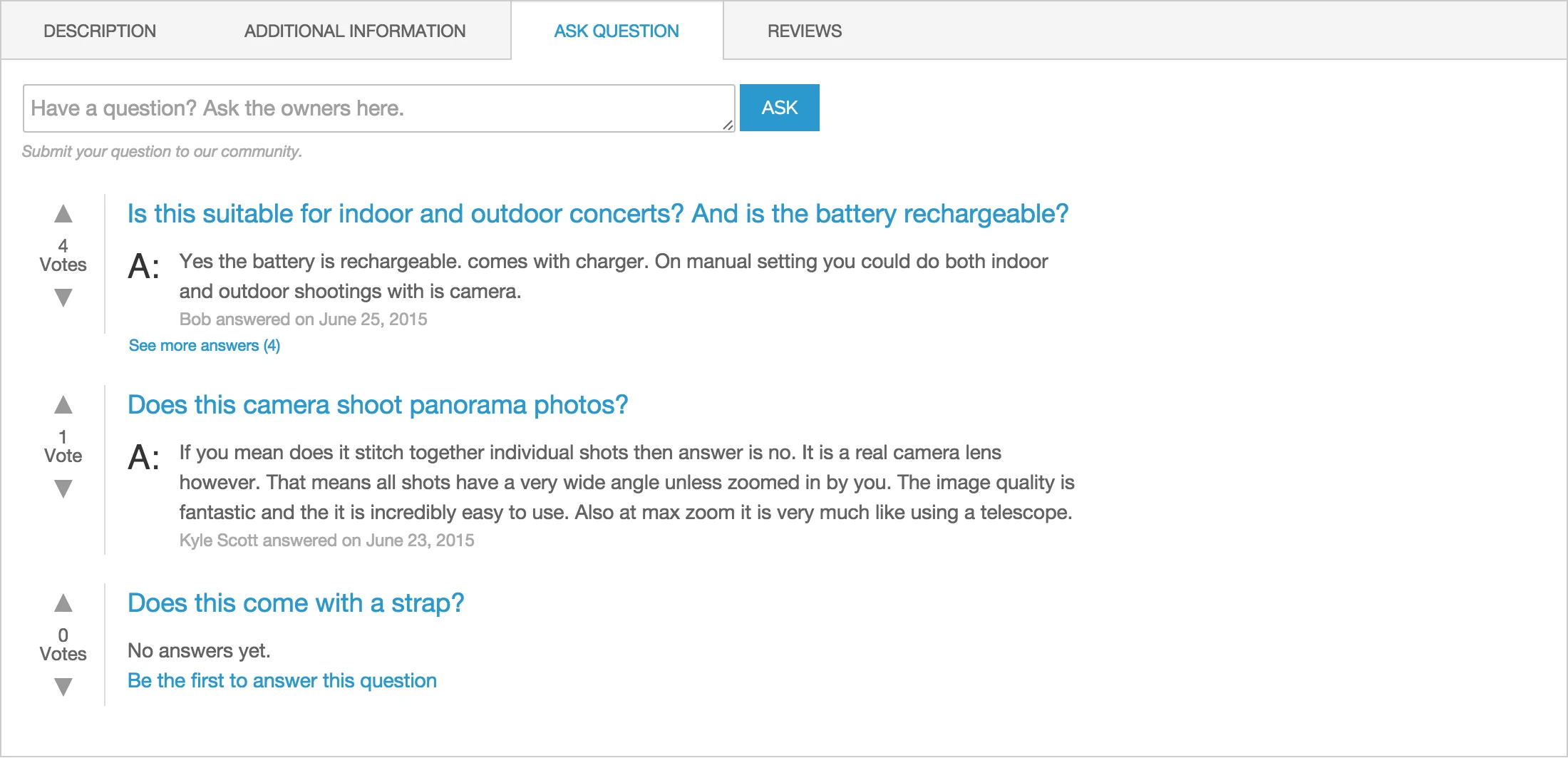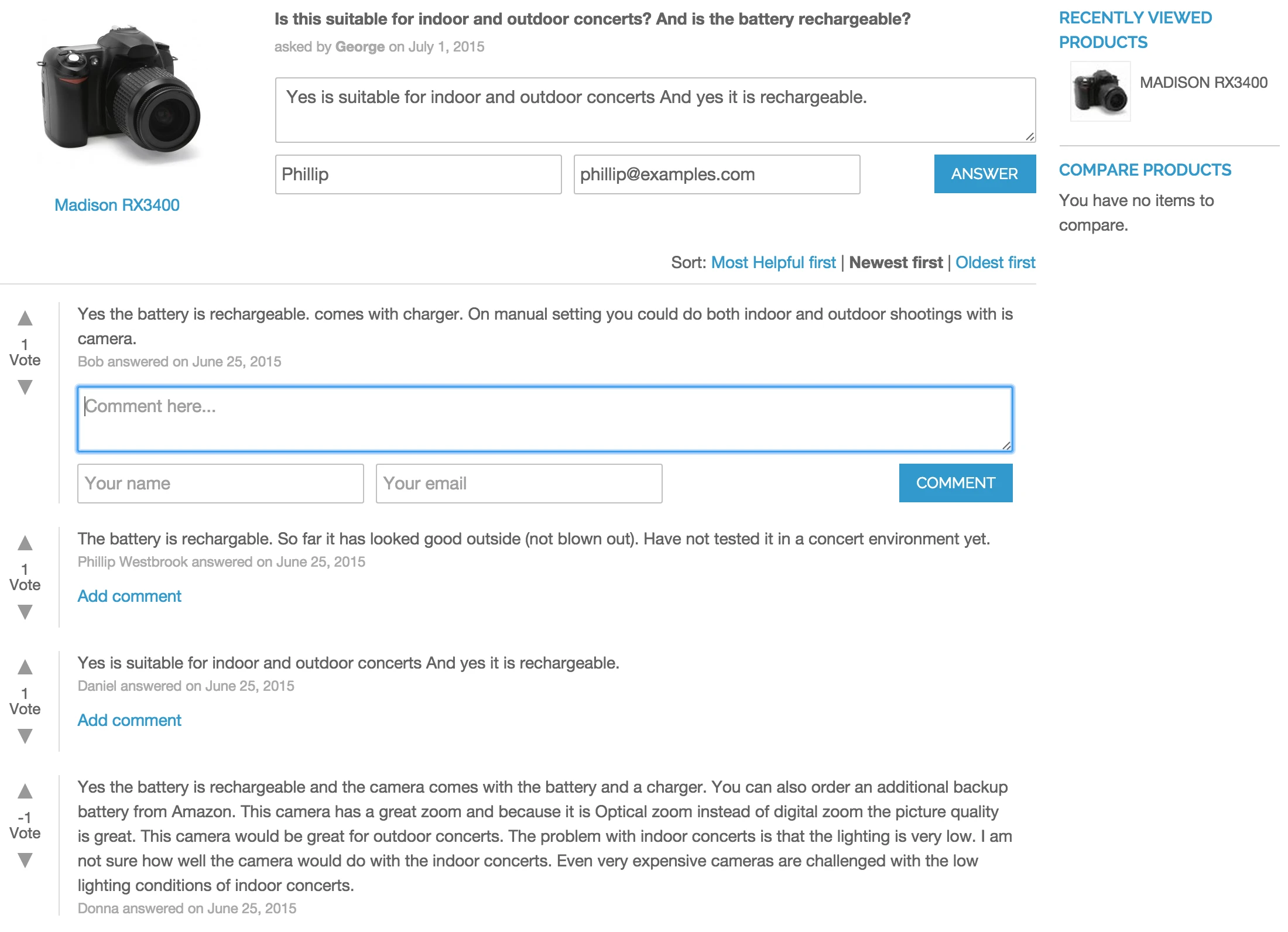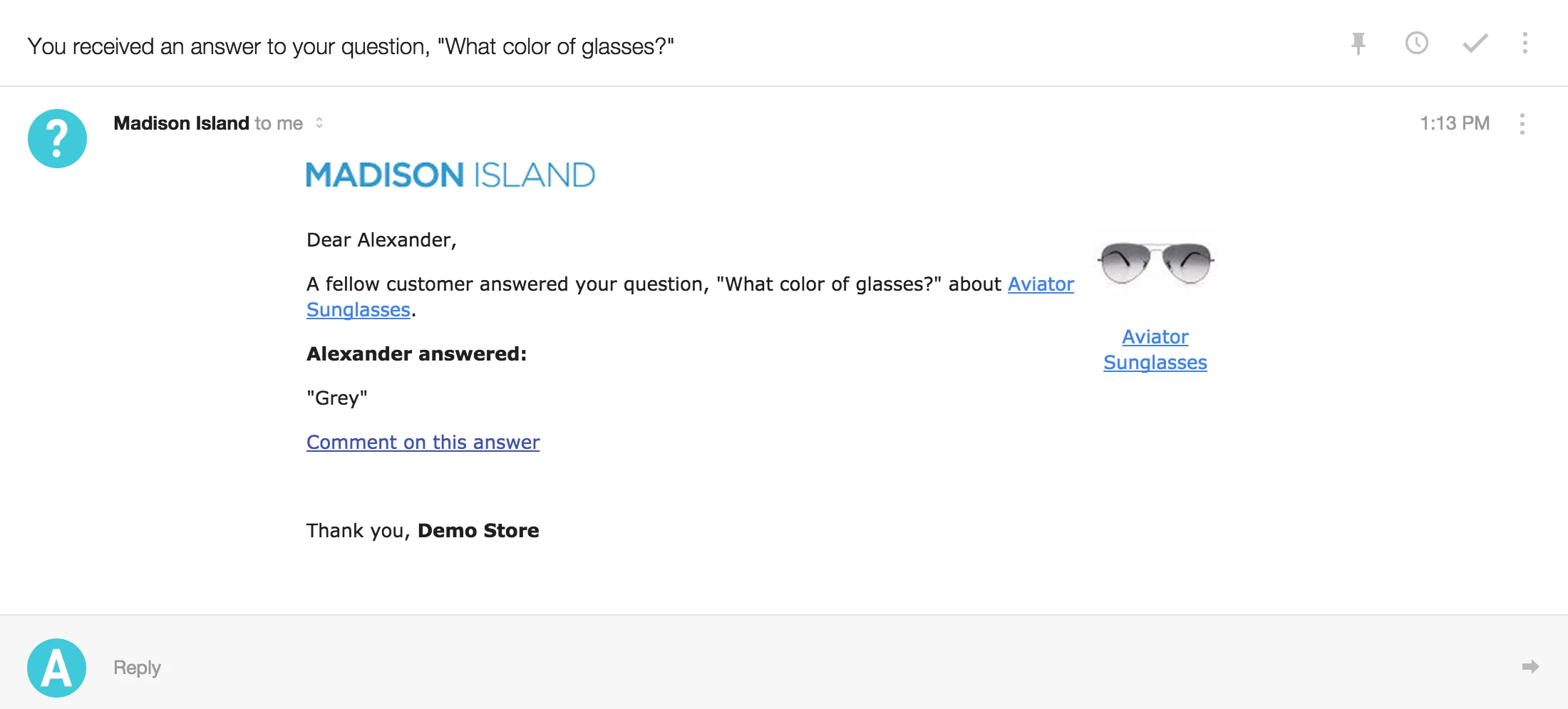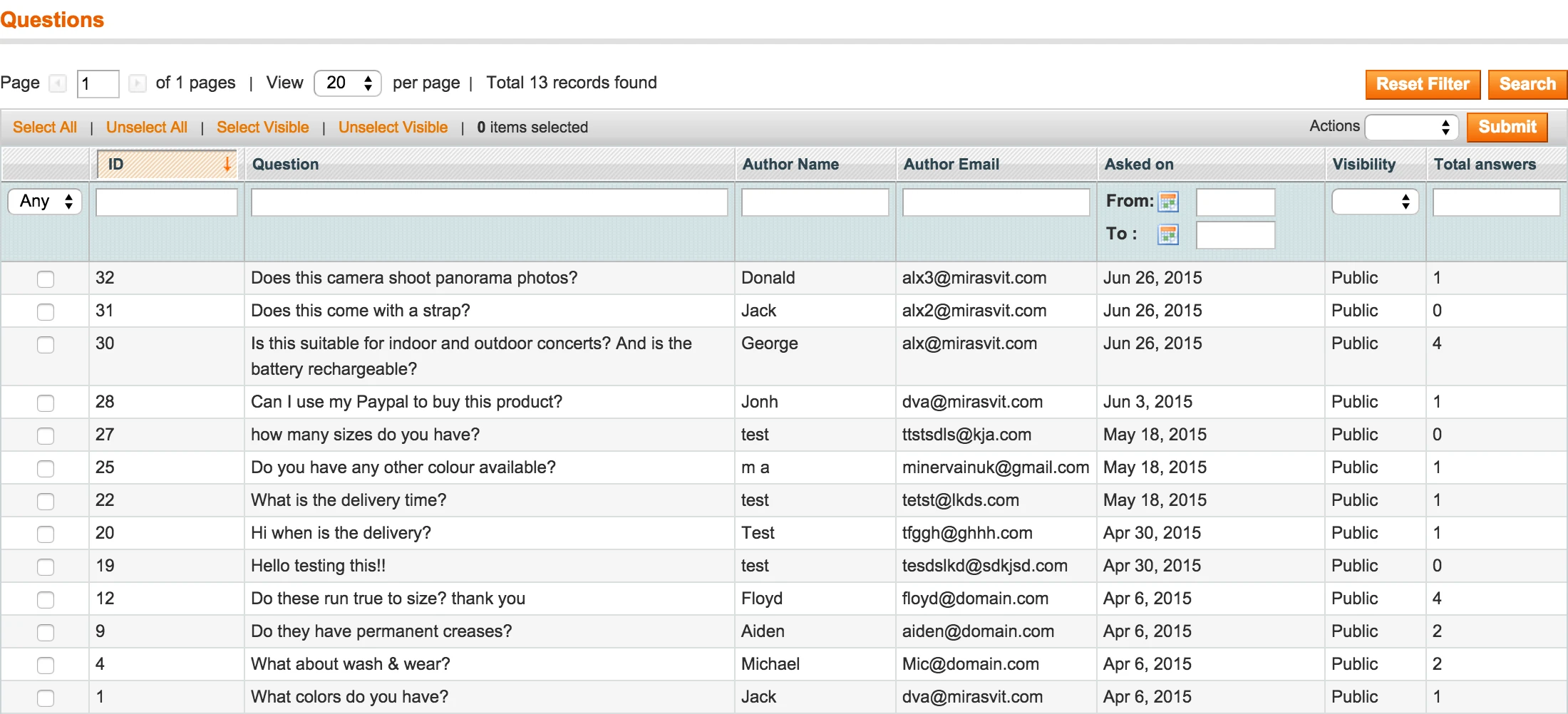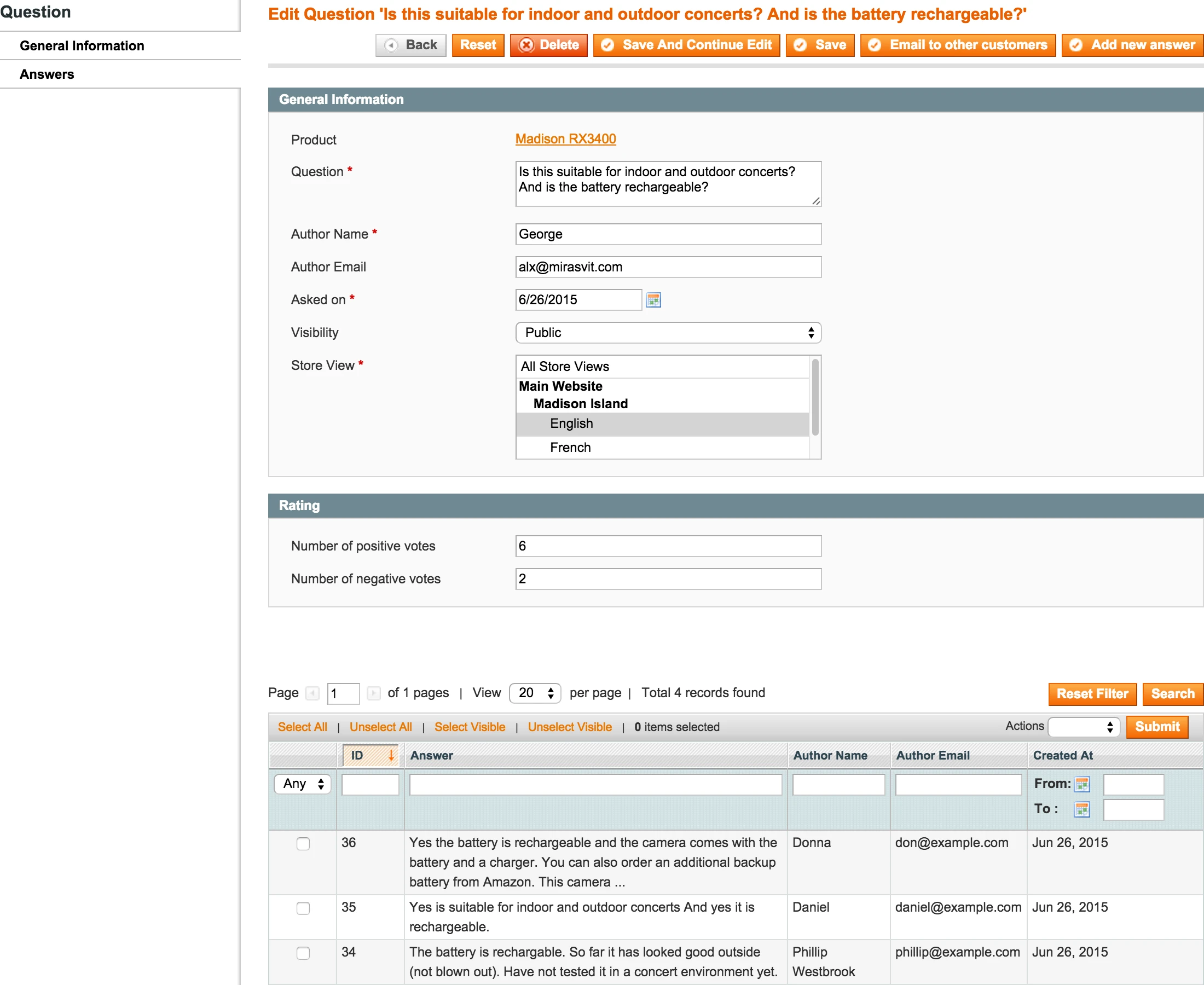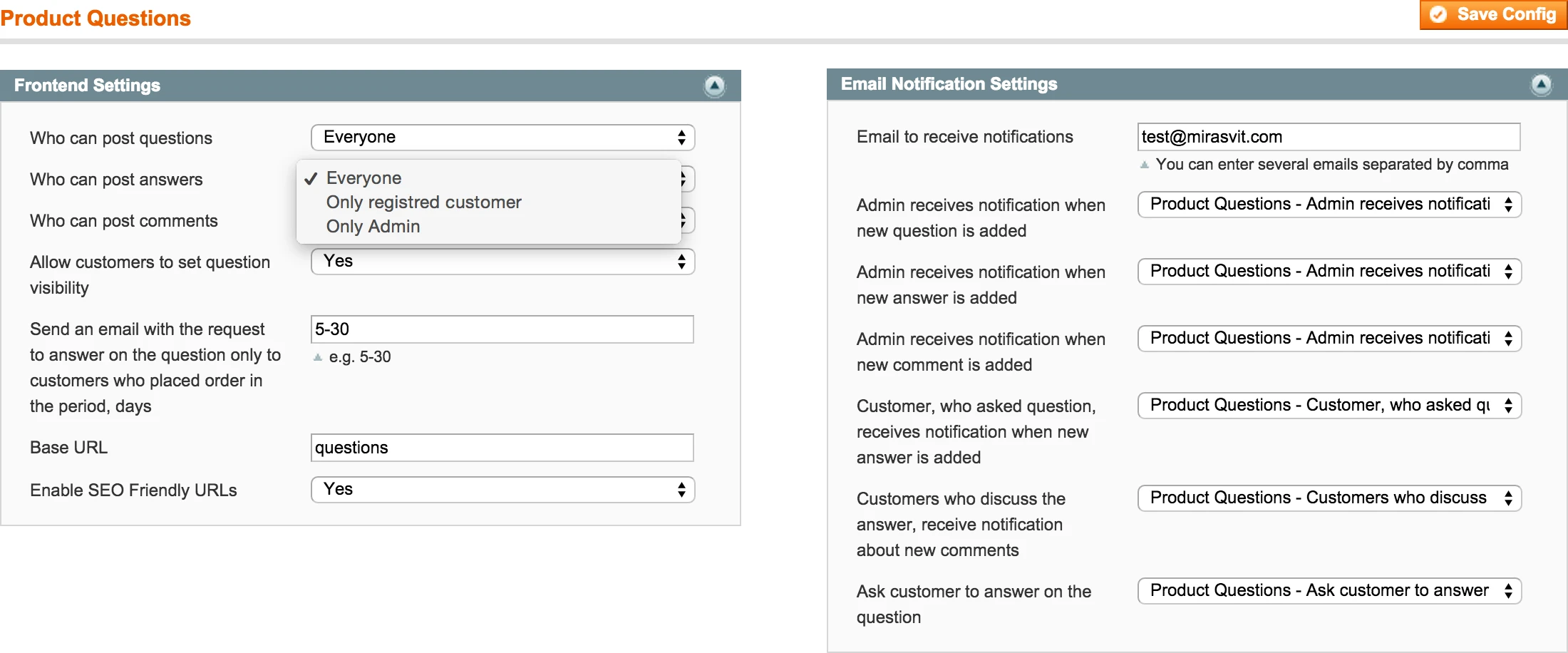 An absolutely brilliant way to establish reliable relations with your potential customers providing them the possibility to ask questions about any product in your store.
Product Questions completely fits any Magento website. With great features and performance it will perfectly complement your store.
Product Questions is an easy set-up module that allows your customers to ask any kind of question about the products in your store. Visitors can rate questions and answers and set up the permission to view them. Now you can easily provide answers for all questions, saving time! Product Questions is a simple component that greatly affects the conversion in a positive way.
The questions you receive from your customers indicate interest in products in your store. Why not use this great advantage and turn it into a simple way to establish a long lasting relationship with your potential clients, therefore increasing the conversion. Encourage your website visitors to interact with you and find out more details about your products.
This extension offers the following features for customers
Possibility for visitors and customers to ask questions about any product.
Visibility - the perfect ability to set up the permission to view questions (privately or give the permission to display them for everyone). This ability allows your customers to ask questions privately, therefore, the question and the answer will be visible only to that person who asked the question.
Ranking system. Every customer can rate the usefulness of the question or answer.
Ability to sort questions by date or rating
As only your customer will ask the question, they will receive the confirmation via email that it was received. As only the answer will be provided to your customer, they will be notified through their personal email. Therefore, every customer can be sure that he will not miss the respond to his question.
An extension offers the following features for store owners
Ability to add questions and answers via backend.
Easy notification system. You will receive the notification by email as only a new question will appear, therefore any question will be responded to promptly.
The store which has a page with questions and answers about products has a great channel to increase the loyalty of their potential customers. By giving expanded information on every product to your customer, your store will gain their trust and will become a reliable shopping resource for them. Your store visitors can ask more questions before making a confident purchase in your store. This simple component that greatly affects the conversion in a positive way.
Create user-generated content. A page with questions about the products will be constantly refreshed with new questions and answers, therefore, the search engines will be indexing and ranking those pages much better than static content. The questions and answers page can attract a big number of visitors to your store via organic search, as many of your potential customers are looking for answers for their questions regarding a specific product. Those visitors are your potential customers because they are interested in a specific product and looking for a better deal.
SEO-friendly URL pages with answers.
The ability to set up dynamic titles and Meta titles, descriptions, and H1 title templates using variables.
The powerful ability to set up and customize email template messages via backend.
Ability to set up permissions to add questions by other guests.
Ability to disable private question postings and permissions to post only public questions. Ability to disable questions ratings.
Ability to send auto-reply answers. As only the visitor has left a question, they will receive a confirmation email acknowledging that the question has been received. In this confirmation email, you have an expanded ability to provide any kind of additional information, for instance: specify an estimated time to respond etc.
Great for SEO and Customer Experience
Topher
Verified Buyer
Gainesville, United States
Customers can ask questions and get answers just like Amazon.
Great extension that lets you manage customer questions. As your answered questions populates your products it saves you time answering support requests. A must have!
Also installed: Health & Performance Monitoring Suite, Sphinx Search Ultimate, Advanced Reports, Advanced SEO Suite, RMA, Layered Navigation, Improved Asynchronous Reindexing and 12 more
HappyMagento
Verified Buyer
sadly discontinued for magento 2
Also installed: Follow Up Email, Help Desk MX, Push Notifications, Customer Segmentation Suite, Knowledge Base, Reward Points, Affiliate and 18 more
One of the great extension...
A must have for all the stores. Many times there are so many customers with only a single type questions. So with the help of this extension, we can put that time in other work instead of answering the same question to so many customers....
loads very well easy to install and customize.
Also installed: Full Page Cache Warmer
Reasons to choose Mirasvit
Client focusing and satisfaction
These are our primary. A major portion of our new clients come from referrals from our existing clients. Our professional team of developers, marketers and support staff have invested the best knowledge and experience in the field into our work, so you know you can come back to us again and again.
Remarkable support
One year free and high quality support. We go to great lengths to provide maximum satisfaction with every module you have purchased in our store. By helping you with installation, configuration, answering your every question, we do all our best to eliminate any possible problems.
Risk-free Investment
30-days money back guarantee. If you are not satisfied with our extension performance for any reason, we provide a full refund.
Constant improvements and upgrades
We constantly add new features to all our modules, and are always interested in hearing your opinion and implementing your suggested features in our future developments.
Comprehensive Documentation
We provide an expanded user guide for every aspect of our extension, so you can find answers for all your burning questions.
Unencrypted source code of our products
You can customize extension according to your needs and requirements.
Usability and Performance
The Module is easy to install and upgrade, just follow our step-by-step user guide.
Safe Magento updates
No core modifications. Just use the composer or copy the extension files to the root directory of your store.