 An absolutely brilliant way to establish reliable relations with your potential customers providing them the possibility to ask questions about any product in your store.
Extension Demos
Pick a quick tutorial to learn about various aspects of this extension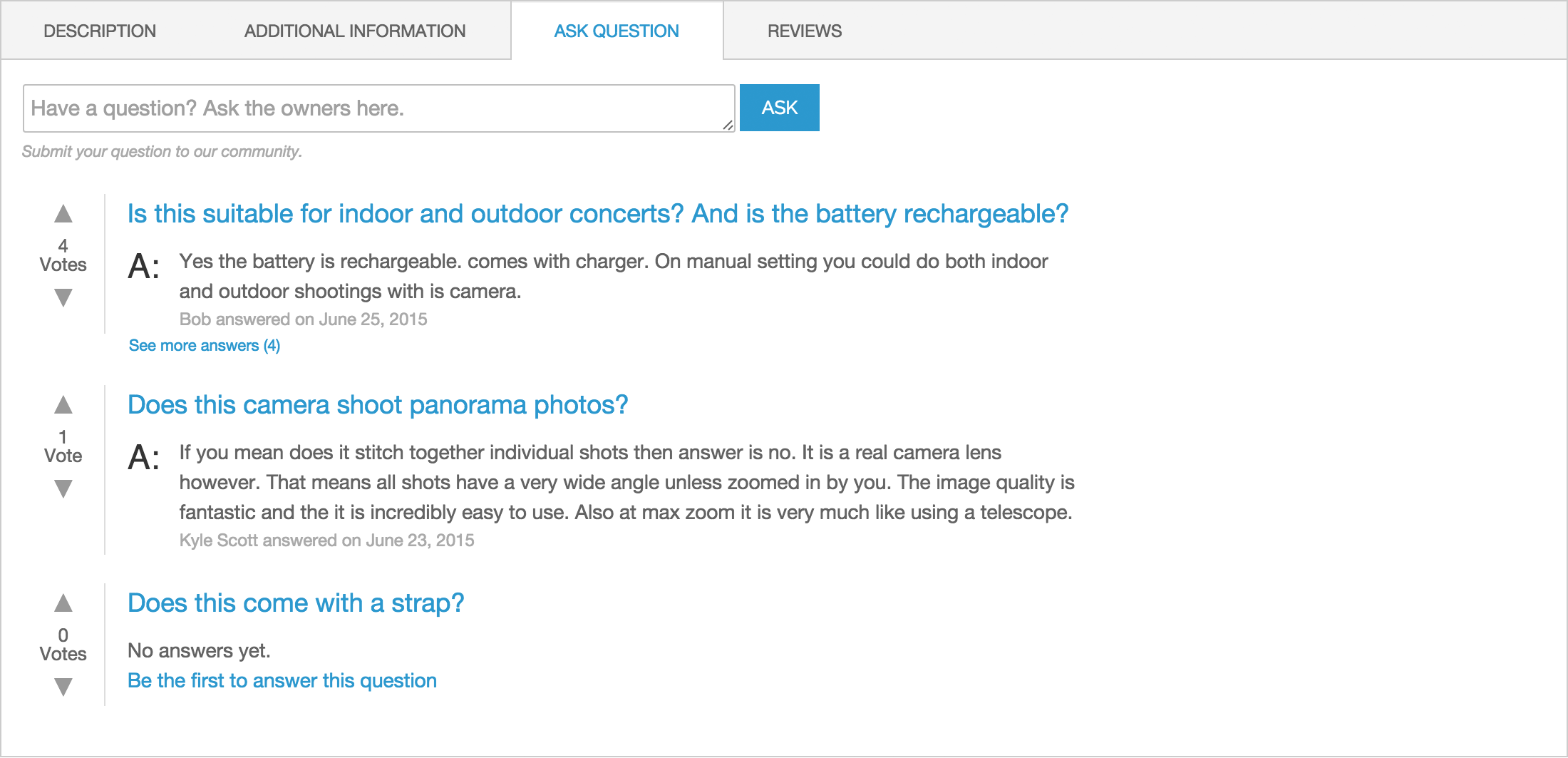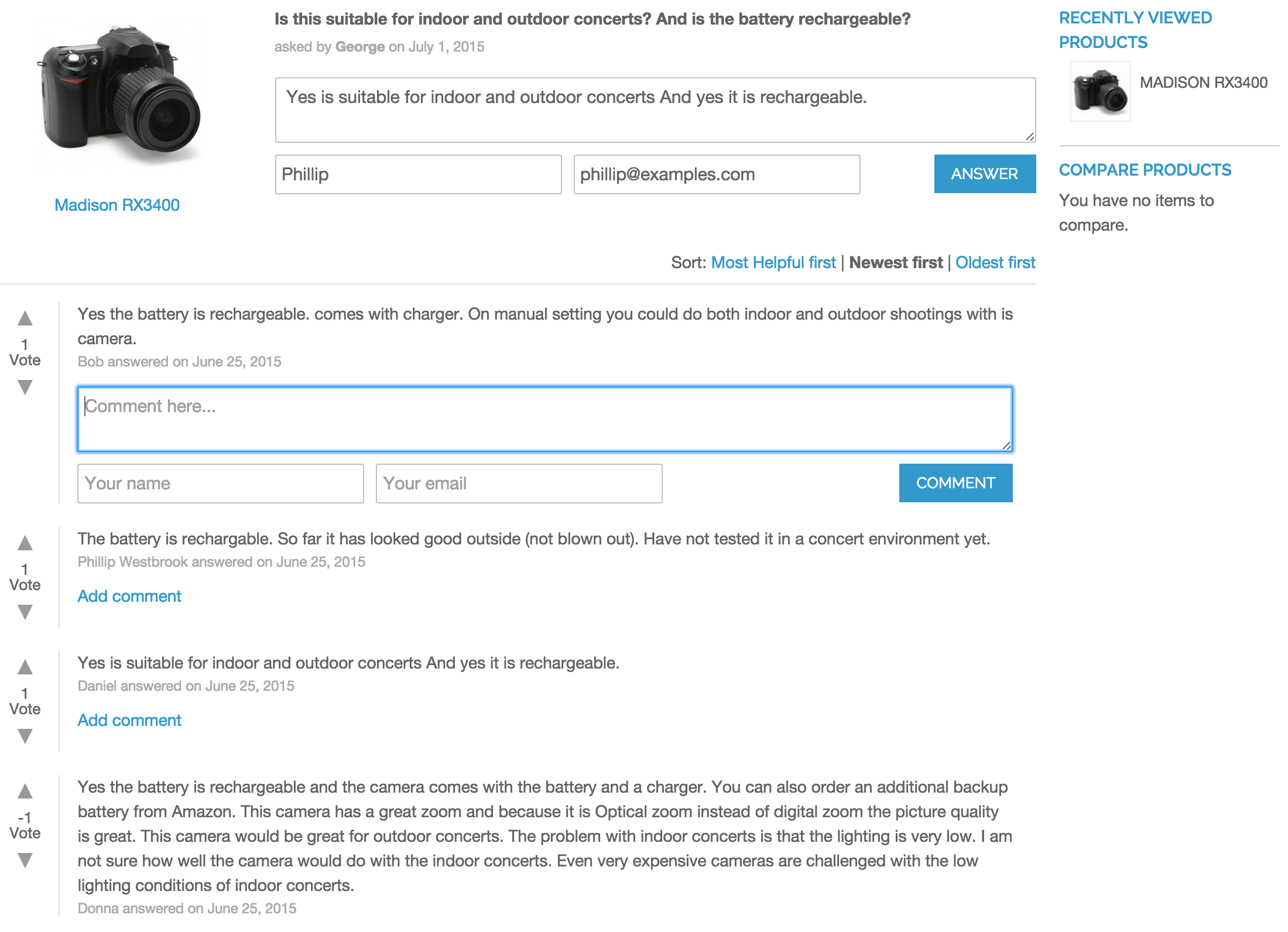 An absolutely brilliant way to establish reliable relations with your potential customers providing them the possibility to ask questions about any product in your store.
Product Questions completely fits any Magento website. With great features and performance it will perfectly complement your store.
Product Questions is an easy set-up module that allows your customers to ask any kind of question about the products in your store. Visitors can rate questions and answers and set up the permission to view them. Now you can easily provide answers for all questions, saving time! Product Questions is a simple component that greatly affects the conversion in a positive way.
The questions you receive from your customers indicate interest in products in your store. Why not use this great advantage and turn it into a simple way to establish a long lasting relationship with your potential clients, therefore increasing the conversion. Encourage your website visitors to interact with you and find out more details about your products.
This extension offers the following features for customers
Possibility for visitors and customers to ask questions about any product.
Visibility - the perfect ability to set up the permission to view questions (privately or give the permission to display them for everyone). This ability allows your customers to ask questions privately, therefore, the question and the answer will be visible only to that person who asked the question.
Ranking system. Every customer can rate the usefulness of the question or answer.
Ability to sort questions by date or rating
As only your customer will ask the question, they will receive the confirmation via email that it was received. As only the answer will be provided to your customer, they will be notified through their personal email. Therefore, every customer can be sure that he will not miss the respond to his question.
An extension offers the following features for store owners
Ability to add questions and answers via backend.
Easy notification system. You will receive the notification by email as only a new question will appear, therefore any question will be responded to promptly.
The store which has a page with questions and answers about products has a great channel to increase the loyalty of their potential customers. By giving expanded information on every product to your customer, your store will gain their trust and will become a reliable shopping resource for them. Your store visitors can ask more questions before making a confident purchase in your store. This simple component that greatly affects the conversion in a positive way.
Create user-generated content. A page with questions about the products will be constantly refreshed with new questions and answers, therefore, the search engines will be indexing and ranking those pages much better than static content. The questions and answers page can attract a big number of visitors to your store via organic search, as many of your potential customers are looking for answers for their questions regarding a specific product. Those visitors are your potential customers because they are interested in a specific product and looking for a better deal.
SEO-friendly URL pages with answers.
The ability to set up dynamic titles and Meta titles, descriptions, and H1 title templates using variables.
The powerful ability to set up and customize email template messages via backend.
Ability to set up permissions to add questions by other guests.
Ability to disable private question postings and permissions to post only public questions. Ability to disable questions ratings.
Ability to send auto-reply answers. As only the visitor has left a question, they will receive a confirmation email acknowledging that the question has been received. In this confirmation email, you have an expanded ability to provide any kind of additional information, for instance: specify an estimated time to respond etc.
See it in action!
Pick a quick tutorial to learn about various aspects of this extension
Great for SEO and Customer Experience

Topher

from United States

Customers can ask questions and get answers just like Amazon.

Perfect extension

Robert

from Oppegard, Norway

Great extension that lets you manage customer questions. As your answered questions populates your products it saves you time answering support requests. A must have!

was a great extension

HappyMagento

from Nairobi, Kenya

sadly discontinued for magento 2

One of the great extension...

Abhishek

from Gwalior, India

A must have for all the stores. Many times there are so many customers with only a single type questions. So with the help of this extension, we can put that time in other work instead of answering the same question to so many customers....

Great quality code

Dean

from Seoul, Republic of Korea

loads very well easy to install and customize.

Great extension

James

from Manchester, United Kingdom

We installed this on our development site before our live and in both cases it just worked. There was some work to do to make it fit in with out theme, i.e: moving the tab so it wasn't the first one active on the product page and then removing a link to the tab.
Overall a great extension with no issues at all.

Perfect

Jakub

from Bratislava, Slovak Republic

Good value for money!

Support is very good

turgay

from Istanbul, Turkey

I would definitely recommend it very handy
Every magento is a must
Support is very good

Our customers ask, we answer = sales

Jose

from Mexico City, Mexico

Every customer likes to ask about products. This extension helped us to solve customer questions in an easy way, so they don't have to call by phone :)

Works like a charm

H0bby

from Bandung, Indonesia

Worked as described, no errors

It's really great

Michaela

from la Torre de Fontaubella, Spain

Mirasvit is one of the best developer for Magento.

Working good, after fixing some bugs

Abhishek

from Ahirka, India

I get the things working as expected with this extension after fixing some bugs on our end.. could be with our theme only.

Works as Described Good Support

krishnendu

from Guwahati, India

This product works as described. There was a small issue which was well taken care of by the support team. Nice Product & Good Support.

Awesome Support

Crystal

from United States

The support for all of their products is some of the best I have seen. I wish they had more extensions I needed, because it is a delight to work with them

Great

Flavio

from Presidente Prudente, Brazil

Very useful to allow user interaction and eliminate pre-sales questions.

Perfecto!

Tim

from Collierville, United States

We love this plug-in - paid for customized installation, worth every cent! Thank you to all the devs that put the time into developing these tools and thanks to the patience that the devs have for us end-users.

does what it says!

installs easy
does what it says it will do
prices are within market standards
and the service is fast and competent!
all in all a good deal and when a module is available with similar functionality I chose Mirasvit..

Must have

Don

from Blanchardstown, Ireland

This product is very easy to install. Really impressed. Very high level of support. Fast & skilled. Perfect.
Compatibility
The Product Questions is compatible with:
| | |
| --- | --- |
| Magento Community Edition (CE) | 1.4.1 - 1.9.4 |
| Magento Enterprise Edition (EE) | 1.10 - 1.14.2 |
Refund Policy
All customers can request a refund during 30 days after purchase of our software, if customer think that our software is not suitable for any reason. To request refund, customer must remove all copies of our software from its store, servers, computers, email, etc and confirm by email such removal. After receiving a request we will proceed refund within 3 business days.
If request for refund is received after 30 days after purchase, it will be rejected. Cost of installation and customization services are not refundable.
Support and bug fixing
Mirasvit offers free 90 days support of all software sold on this site. Customers can report all bugs, which were found in our software. We can solve only the bugs directly related to or caused by our extension. Those bugs must be reproduced on fresh Magento installation without any 3rd party plugins. We will solve that bugs in order of our development plan.
We don't do any type of custom work and we have a right to reject a support request if the issue is store-specific (cannot be reproduced on the fresh Magento installation without any 3rd party plugins).
Mirasvit will not be liable to you for any damages (including any loss of profits/saving, or incidental or consequential) related to our support service caused to you, your information and your business.
Software updates
Mirasvit offers free lifetime updates if they areavaliable. Updates are limited to the Magento version branch (1.x.x or 2.x.x). Customer can download an update and install it by himself. If support period is expired, Mirasvit.com can't solve any possible problems with our software during or after updating. Mirasvit does not guarantee that it will release updates for any product.