Banner Management System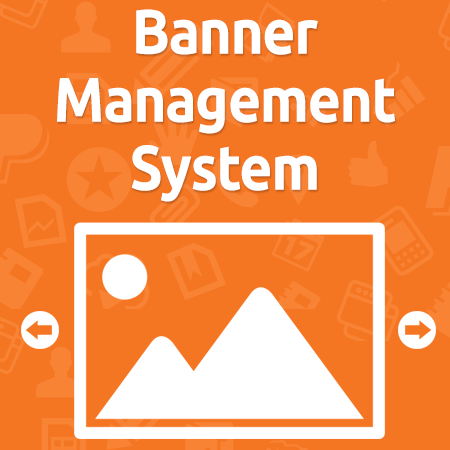 Banner Management System allows you to manage banners in your online store and analyze their effectiveness.
Buy this extension now and upgrade to Magento 2 for Free later!
Feature Highlights
Introduction
Banner Management System is an extension that allows you to manage banners in your online store and analyze their effectiveness. The aim of this module is to allow the site administrator to have an organized, robust, and efficient method to manage media and advertising spaces in the store.
You can place a banner of any type, in any location of the page, on any pages. You may show a banner to certain groups of customers during a certain period of time. Banner system allows to get analytics and at its basis, continually improve the effectiveness of banner ads.
Banners are a very strong channel of communication with your customers. With the help of them, you can bring information about your special offers, promos, discounts, sales, etc. Therefore, this extension is a must have for any online store.
Key Features:
4 different templates to display banners:

Default
Carousel
Tabbed Carousel
Carousel with Side block

Show Image banners, Flash banners, HTML banners
Show third-party (external) banners on your site
You can limit the displaying of banners by:

Catalog categories
CMS pages
Any other store page where you can show or hide the banner
Stores
User groups
Show only for new visitors of the store
Start date and end date of display

Included banner placeholders:

Page Header
Page Left Side
Page Right Side
Page Center
Page Footer

Ability to add any number of custom placeholders
Reports on banner performance in the form of tables and graphs within a given period:
See it in action!
Pick a quick tutorial to learn about various aspects of this extension
Robert
from Oppegard, Norway
Easily add custom banners in your store wherever you want. Good quality extension both in use and coding quality.
Excellent Banner Management!!!
Paulo
from Uberlândia, Brazil
Banner Management Module well programmed, Developers and Mirasvit support are very competent. We are Customer Mirasvit from 2 years ago. Congratulations, Mirasvit is excellent.
Sincerely very good MIRASVIT for long long time!
Sjoerd
from United States
That works like a charm. Thank you!
We found other products you might like!
Live customer feedback
Latest comments
Michael Sandström
Sep 24, 2020
Best support, keep up the good work!
Galeria LueLue
Sep 23, 2020
Thank you <3
See all comments
The real-time results of the satisfaction survey of our customers
for the last 100 responses
Reasons to choose Mirasvit
Client focusing and satisfaction
It is our main goal. A big part of our new clients come from referrals from our existing clients. Our professional team of developers, marketers and support invest the best knowledge and experience, so you could come back to us again and again.
Remarkable support
90-days free and high quality support. We make an effort to satisfy you with work of every module you have purchased in our store. Helping you with installation, configuration, answering your every question, we do all our best to eliminate any possible problems.
Risk-free Investment
30-days money back guarantee. If you are not satisfied with work of our extension for any reason we provide a full refund.
Constant improvements and upgrades
We provide you lifetime free updates. We constantly add new features to all our modules. We are absolutely interested to hear your opinion and to implement your suggested features in our future developments.
Comprehensive Documentation
We provide an expanded user guide for every our extension, so you can find answers for all your burning questions.
Unencrypted source code of our products
You can customize extensions according to your needs and requirements.
Usability and Performance
Module is easy to install and easy to upgrade, just follow step by step our user guide.
Safe Magento updates
No core modifications. Just copy extension files to store root directory.