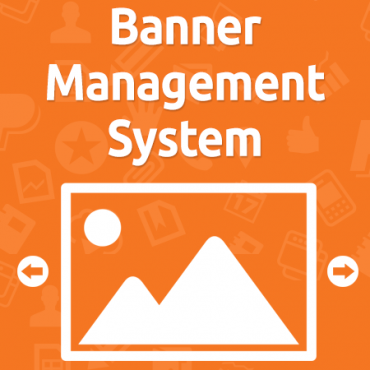 Banner Management System allows you to manage banners in your online store and analyze their effectiveness.
Extension Demos
Pick a quick tutorial to learn about various aspects of this extension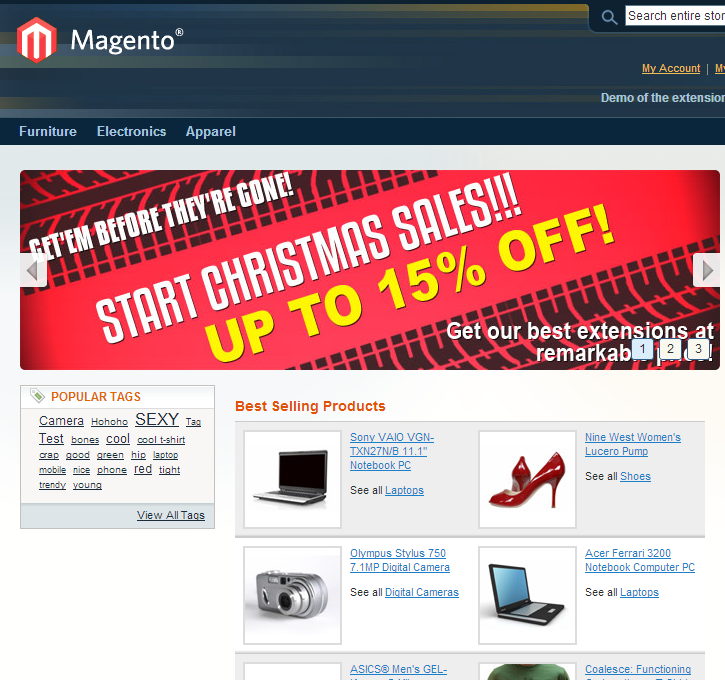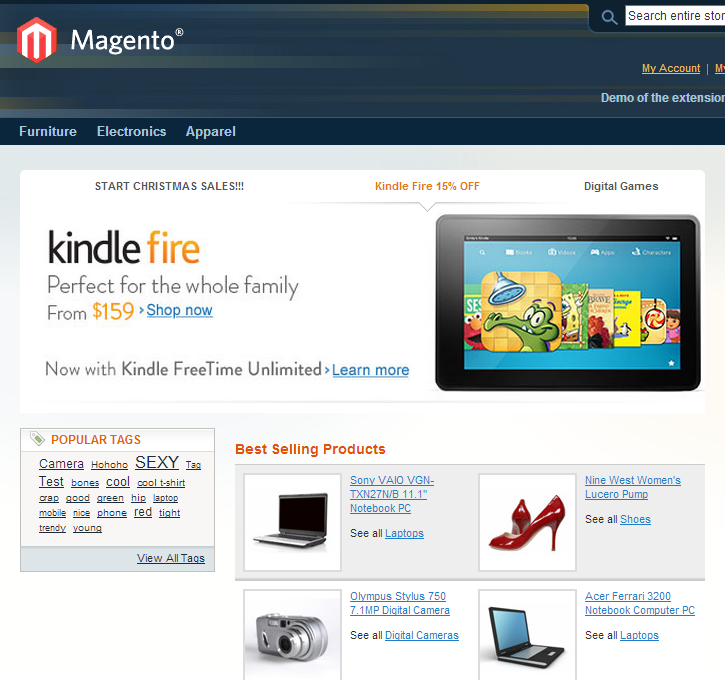 Introduction
Banner Management System is an extension that allows you to manage banners in your online store and analyze their effectiveness. The aim of this module is to allow the site administrator to have an organized, robust, and efficient method to manage media and advertising spaces in the store.
You can place a banner of any type, in any location of the page, on any pages. You may show a banner to certain groups of customers during a certain period of time. Banner system allows to get analytics and at its basis, continually improve the effectiveness of banner ads.
Banners are a very strong channel of communication with your customers. With the help of them, you can bring information about your special offers, promos, discounts, sales, etc. Therefore, this extension is a must have for any online store.
Key Features:
4 different templates to display banners:

Default
Carousel
Tabbed Carousel
Carousel with Side block

Show Image banners, Flash banners, HTML banners
Show third-party (external) banners on your site
You can limit the displaying of banners by:

Catalog categories
CMS pages
Any other store page where you can show or hide the banner
Stores
User groups
Show only for new visitors of the store
Start date and end date of display

Included banner placeholders:

Page Header
Page Left Side
Page Right Side
Page Center
Page Footer

Ability to add any number of custom placeholders
Reports on banner performance in the form of tables and graphs within a given period:
See it in action!
Pick a quick tutorial to learn about various aspects of this extension
Great banner system

Robert

from Oppegard, Norway

Easily add custom banners in your store wherever you want. Good quality extension both in use and coding quality.

Excellent Banner Management!!!

Paulo

from Uberlândia, Brazil

Banner Management Module well programmed, Developers and Mirasvit support are very competent. We are Customer Mirasvit from 2 years ago. Congratulations, Mirasvit is excellent.

Brilliant support!

Sincerely very good MIRASVIT for long long time!

Yes!

Sjoerd

from United States

That works like a charm. Thank you!
Compatibility
The Banner Management System is compatible with:
| | |
| --- | --- |
| Magento Community Edition (CE) | 1.4.2 - 1.9.4 |
| Magento Enterprise Edition (EE) | 1.11 - 1.14.2 |
Refund Policy
All customers can request a refund during 30 days after purchase of our software, if customer think that our software is not suitable for any reason. To request refund, customer must remove all copies of our software from its store, servers, computers, email, etc and confirm by email such removal. After receiving a request we will proceed refund within 3 business days.
If request for refund is received after 30 days after purchase, it will be rejected. Cost of installation and customization services are not refundable.
Support and bug fixing
Mirasvit offers free 90 days support of all software sold on this site. Customers can report all bugs, which were found in our software. We can solve only the bugs directly related to or caused by our extension. Those bugs must be reproduced on fresh Magento installation without any 3rd party plugins. We will solve that bugs in order of our development plan.
We don't do any type of custom work and we have a right to reject a support request if the issue is store-specific (cannot be reproduced on the fresh Magento installation without any 3rd party plugins).
Mirasvit will not be liable to you for any damages (including any loss of profits/saving, or incidental or consequential) related to our support service caused to you, your information and your business.
Software updates
Mirasvit offers free lifetime updates if they areavaliable. Updates are limited to the Magento version branch (1.x.x or 2.x.x). Customer can download an update and install it by himself. If support period is expired, Mirasvit.com can't solve any possible problems with our software during or after updating. Mirasvit does not guarantee that it will release updates for any product.