 Show attractive banners to your site visitors on every page you want. Inform them about sales, discounts, special conditions. Stimulate them to impulse purchase. Convert visitors to customers. Increase the order price.
show banners on category or product pages, and the cart
use a lot of settings to manage banners showing rules
use images, text or combined banners
set any position for every banner
use triggers to display your banners in a particular situation
Extension Demos
Pick a quick tutorial to learn about various aspects of this extension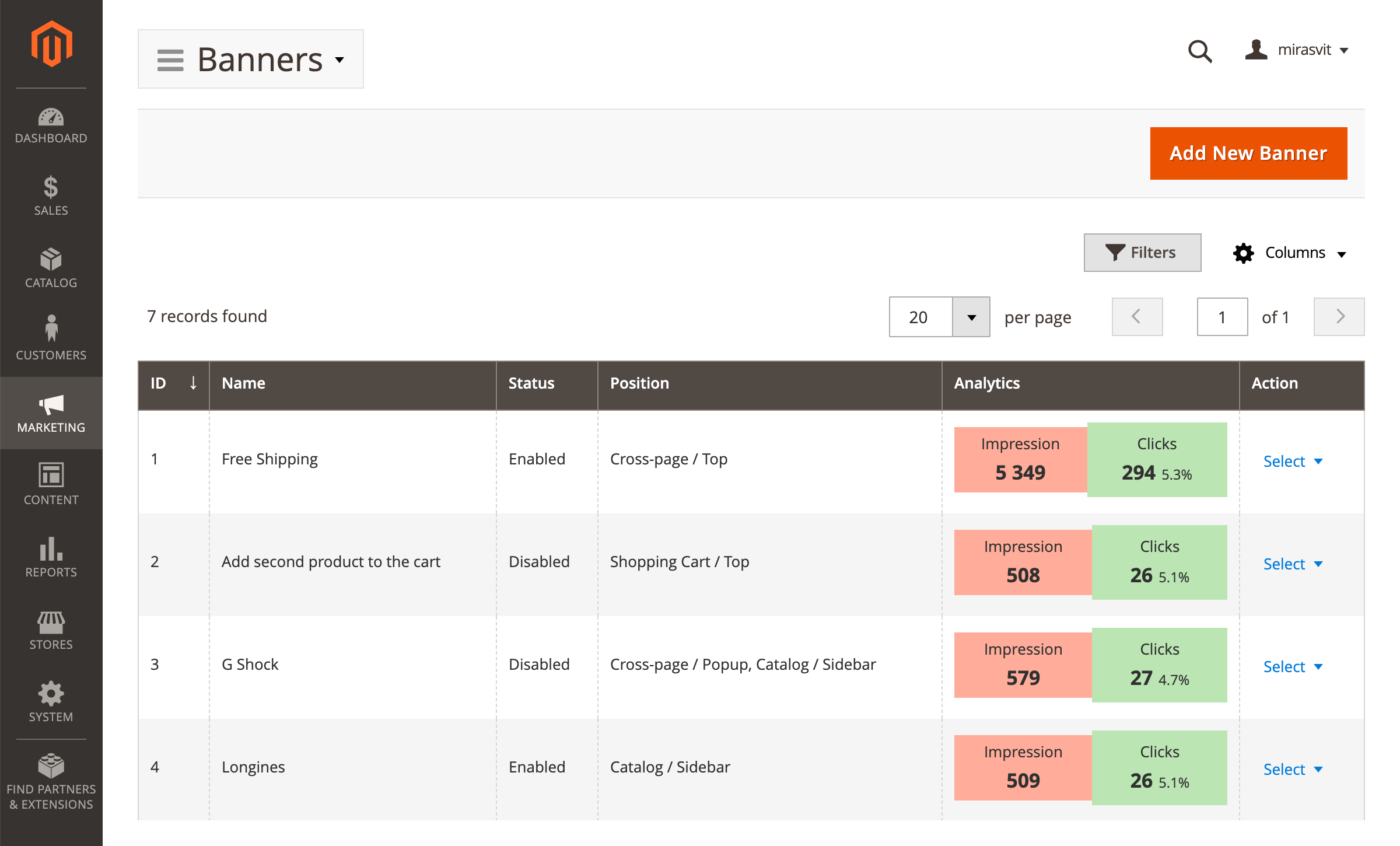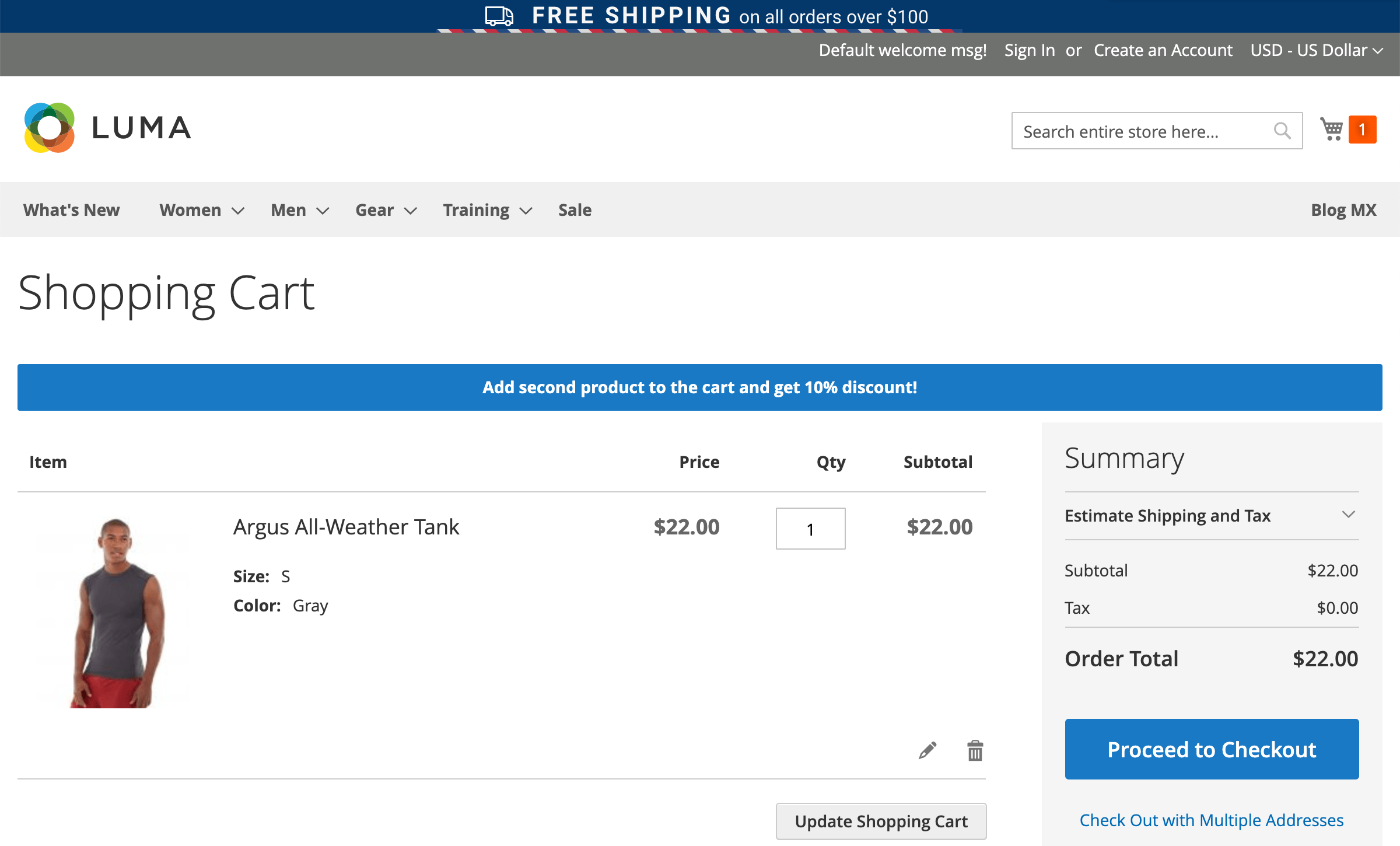 How can the Banner Module extension boost your sales?
Banners on any e-commerce site are a potent tool for catching potential users' attention, direct them to the "right page" and cost-effectively boost your sales.
Unfortunately, default Magento functionality doesn't allow store owners to shows banners based on unique conditions and collect analytics data for making the right decisions. Our Banner module aims to help merchants level up their stores, and dramatically expand default functionality.
What are the key features?
Place your banner in any place on any page
Show banner depending on the user group, search queries, or shopping cart items
Set time range for every banner (dates and time)
Select available pages, products, or products categories for every banner
Analyze and improve marketing effectiveness by learning analytics reports
How does the Banner module perform?
Use different banner types
Sometimes picture banners work better, sometimes text. In particular cases, you would combine an image and a text. No problem, the module has no limits. Feel free to use any creative ideas.
Analyze it
Get to known how well your campaigns perform by analyzing CTR (Click-Through-Rate). This indicator shows how many customers have seen your banner, and have many of them clicked on it.
Choose a position
It's essential to place a banner in the "right place" to catch as much customers' attention as possible. Fortunately, the module has a variety of options for placing banners. Try different places for the same banners. Sometimes you will notice a tremendous difference.
Define the time range
It's essential to start and finish your promo campaign on time. Just set a period on the banner page and be sure everything will work as expected.
Add banners to any page
In some instances, it's necessary to promo specific items, or i.e., certain new shipping rules. Why not use pages like contacts, about us, or delivery page?
Use a search query
There is an option to show individual banners to those customers who use a particular search query. At first, specify the terms in an admin panel, and the module will show selected banners on a page with search results.
Show banners accordingly their priorities
The module uses every banners priority to select, which should be displayed if one or more banners meet requirements for showing.
What Experts Say?
We used a lot of banners system on our site. Thanks to experience, we designed the extension that works perfectly, and has no unnecessary functionality.
Don't forget periodically look through reports and slightly change module settings if necessary.
See it in action!
Pick a quick tutorial to learn about various aspects of this extension
Compatibility
The Promo Banners for Magento 2 is compatible with:
| | |
| --- | --- |
| Magento 2 Community Edition (CE) | 2.1.* - 2.3.* |
| Magento 2 Enterprise Edition (EE) | 2.1.* - 2.3.* |
| Magento 2 Cloud | + |
Have a question? Ask our support team
Need more help?
Save time by starting your support request online and we'll connect you to an expert.
Contact Us Now
Refund Policy
All customers can request a refund during 30 days after purchase of our software, if customer think that our software is not suitable for any reason. To request refund, customer must remove all copies of our software from its store, servers, computers, email, etc and confirm by email such removal. After receiving a request we will proceed refund within 3 business days.
If request for refund is received after 30 days after purchase, it will be rejected. Cost of installation and customization services are not refundable.
Support and bug fixing
Mirasvit offers free 90 days support of all software sold on this site. Customers can report all bugs, which were found in our software. We can solve only the bugs directly related to or caused by our extension. Those bugs must be reproduced on fresh Magento installation without any 3rd party plugins. We will solve that bugs in order of our development plan.
We don't do any type of custom work and we have a right to reject a support request if the issue is store-specific (cannot be reproduced on the fresh Magento installation without any 3rd party plugins).
Mirasvit will not be liable to you for any damages (including any loss of profits/saving, or incidental or consequential) related to our support service caused to you, your information and your business.
Software updates
Mirasvit offers free lifetime updates if they areavaliable. Updates are limited to the Magento version branch (1.x.x or 2.x.x). Customer can download an update and install it by himself. If support period is expired, Mirasvit.com can't solve any possible problems with our software during or after updating. Mirasvit does not guarantee that it will release updates for any product.