Magento 2 Banner Slider Extension
Showcase attractive banners to your site visitors on every page you want. By using these banners, you can inform them about sales, discounts, and other special conditions that are up for grabs in your store. Inspire them to make an impulsive purchase, convert your store's visitors to customers, and increase your order price.
show banners on category or product pages, and the cart
use a lot of settings to manage banners displaying rules
use images, text or combined banners
set any position for every banner
use triggers to display your banners in a particular situation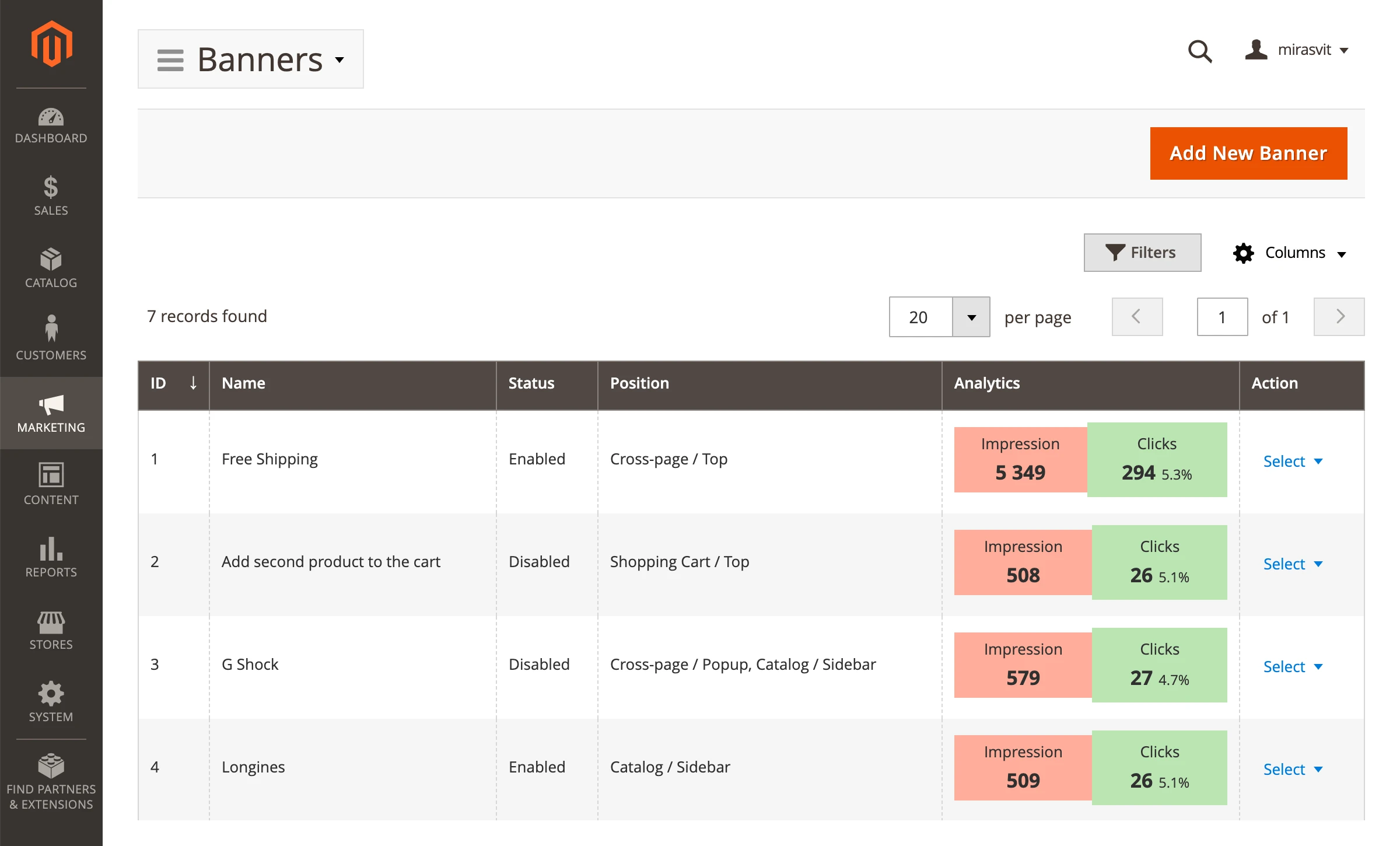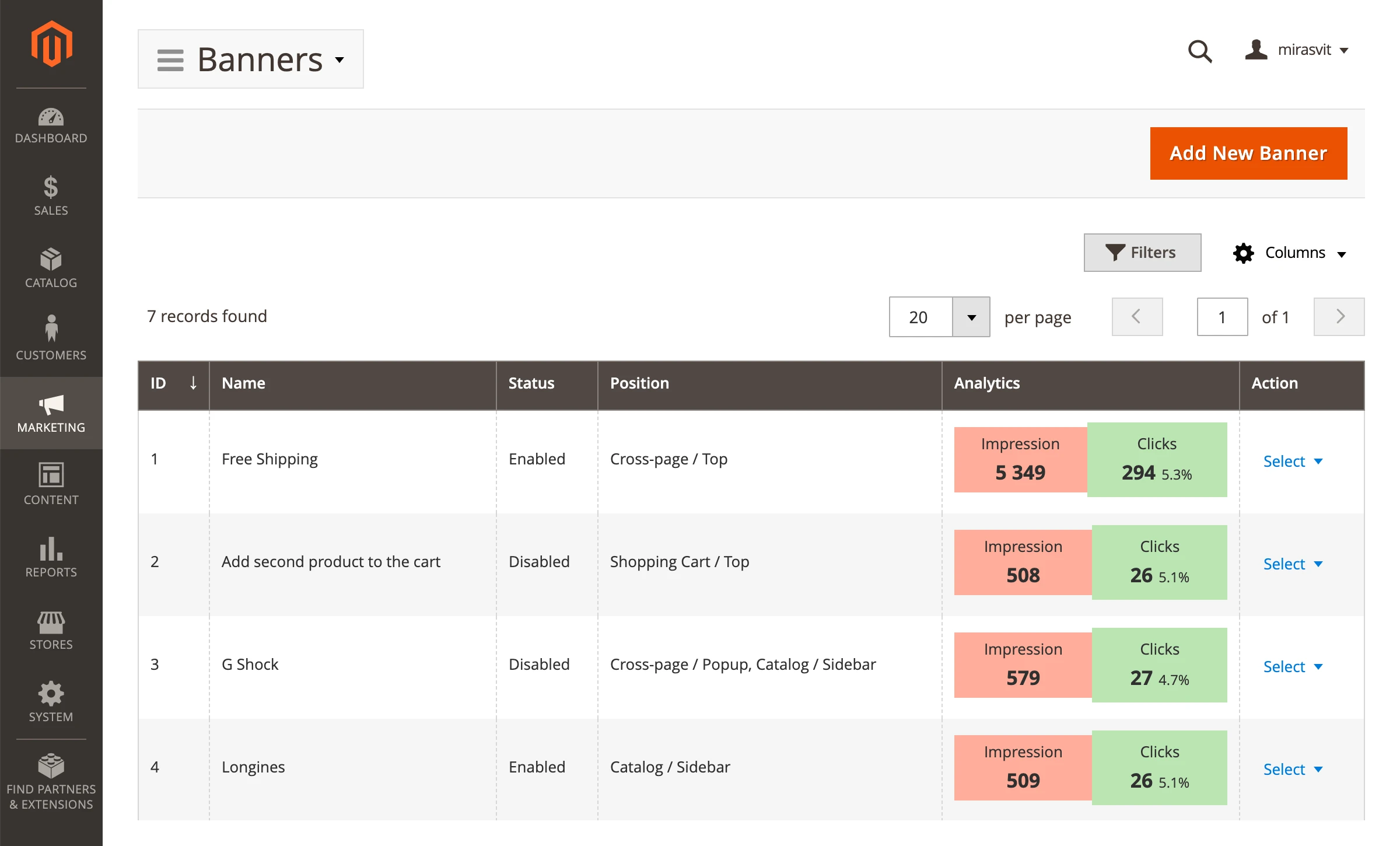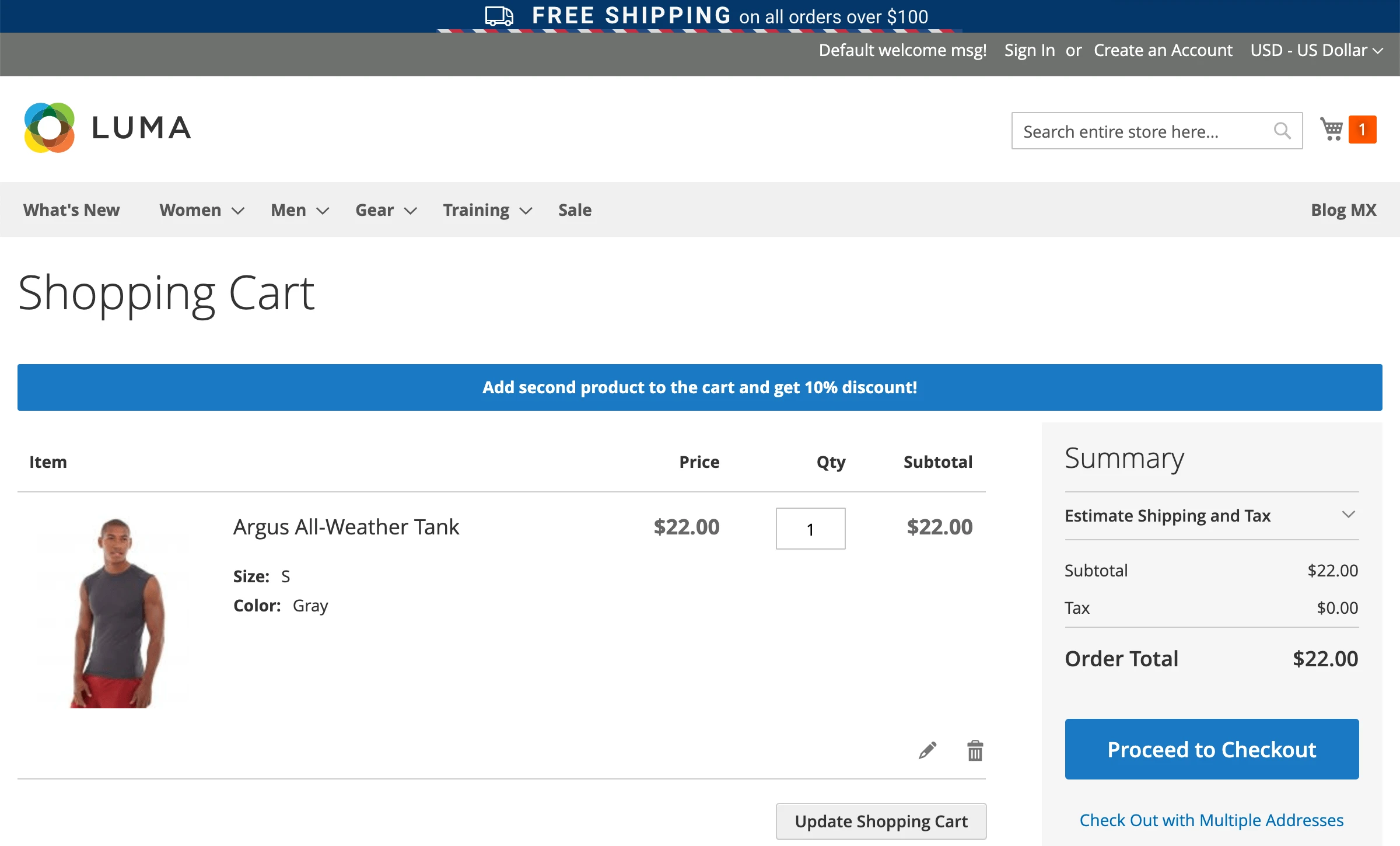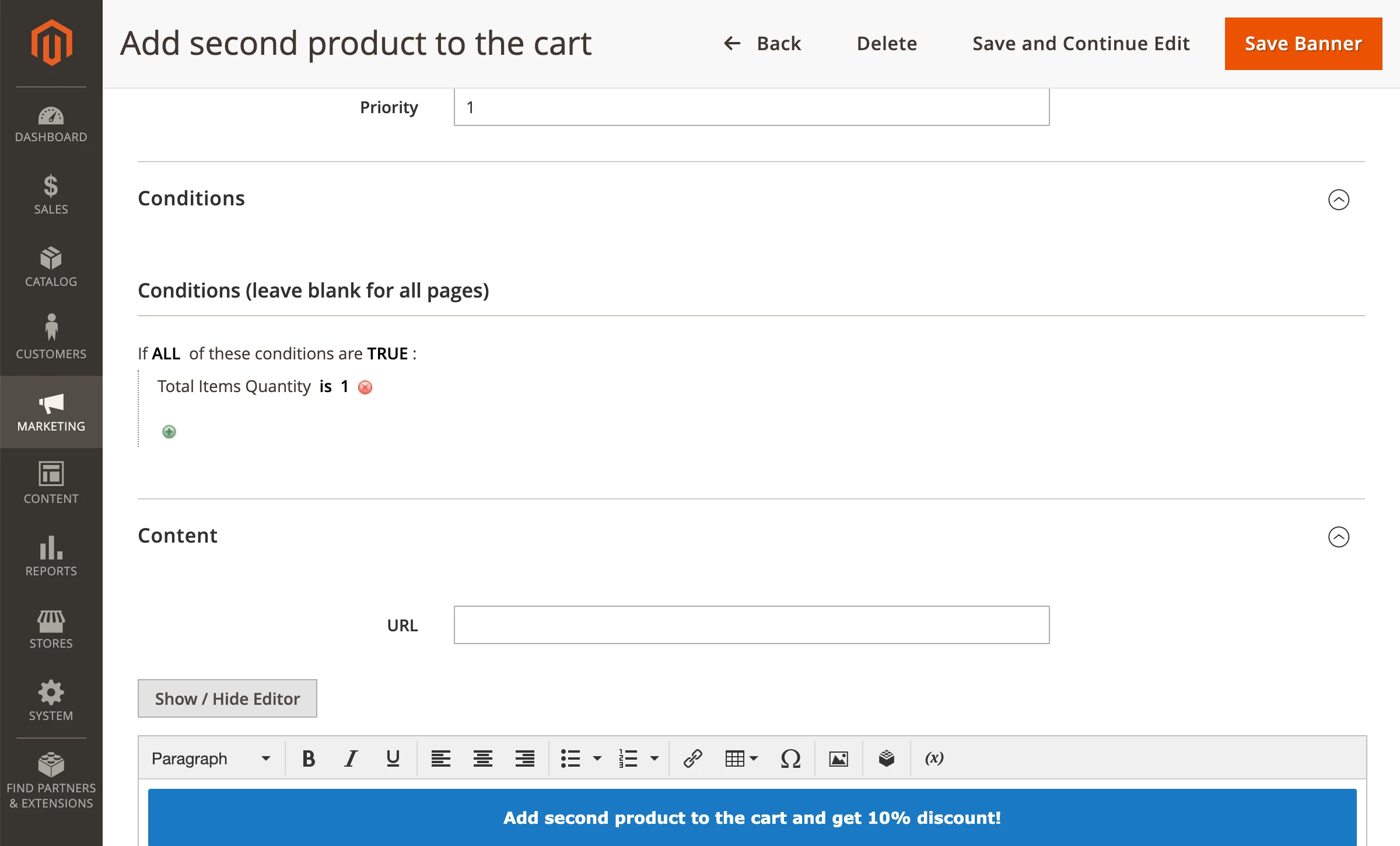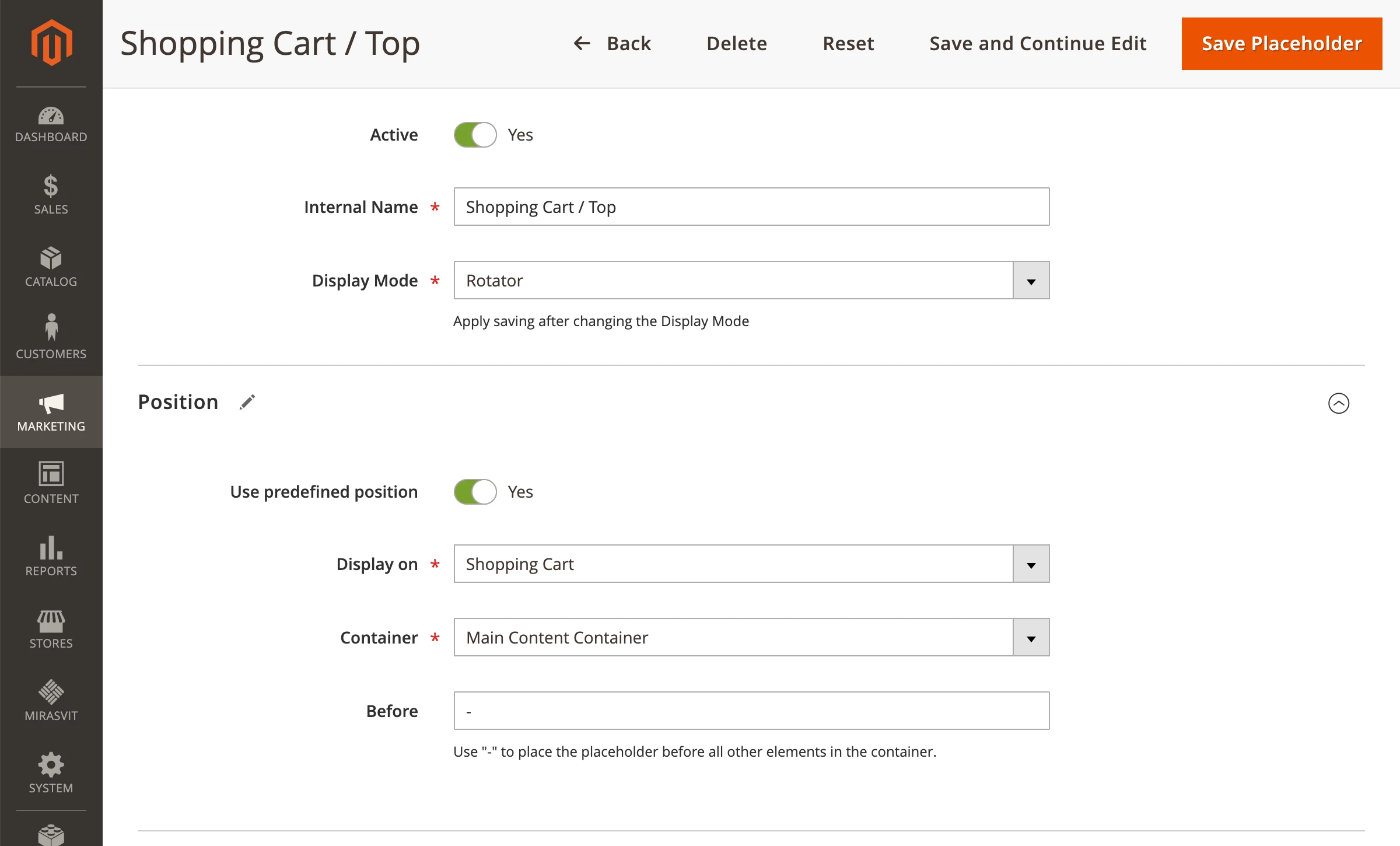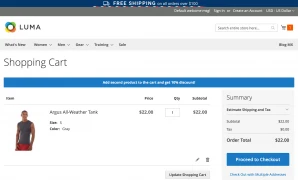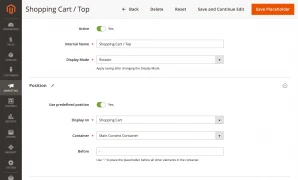 Business Value
Realize the full potential of your web pages' real estate!
Opportunity: Banners on e-commerce sites are a robust tool for catching potential users' attention, directing them to the "right page" and giving a cost-effective boost to your sales.
Problem: Unfortunately, the default Magento 2 functionality doesn't allow store owners to shows banners based on unique conditions and collect the analytics data necessary for making the right decisions.
Solution: Our Banner module aims to help merchants level up their stores, and dramatically expand their default functionality. The real estate of a store's web pages gets used more effectively, boosting products' and services' promotions in your store.
Boost sales with banners
Promote products and services by placing them wherever you thinks is best
The magento banner extension is a powerful tool that can help you to attract customers and boost sales by increasing the effectiveness of your store pages.
Our magento banner module achieves this with several key features that it provides to your store:
Place your banner at any spot on a page
Show a banner depending on the user group, search queries, or shopping cart items
Set the time range for every banner (dates and time)
Select the available pages, products, or product categories for every banner
Analyze and improve the effectiveness of marketing by evaluating the analytics reports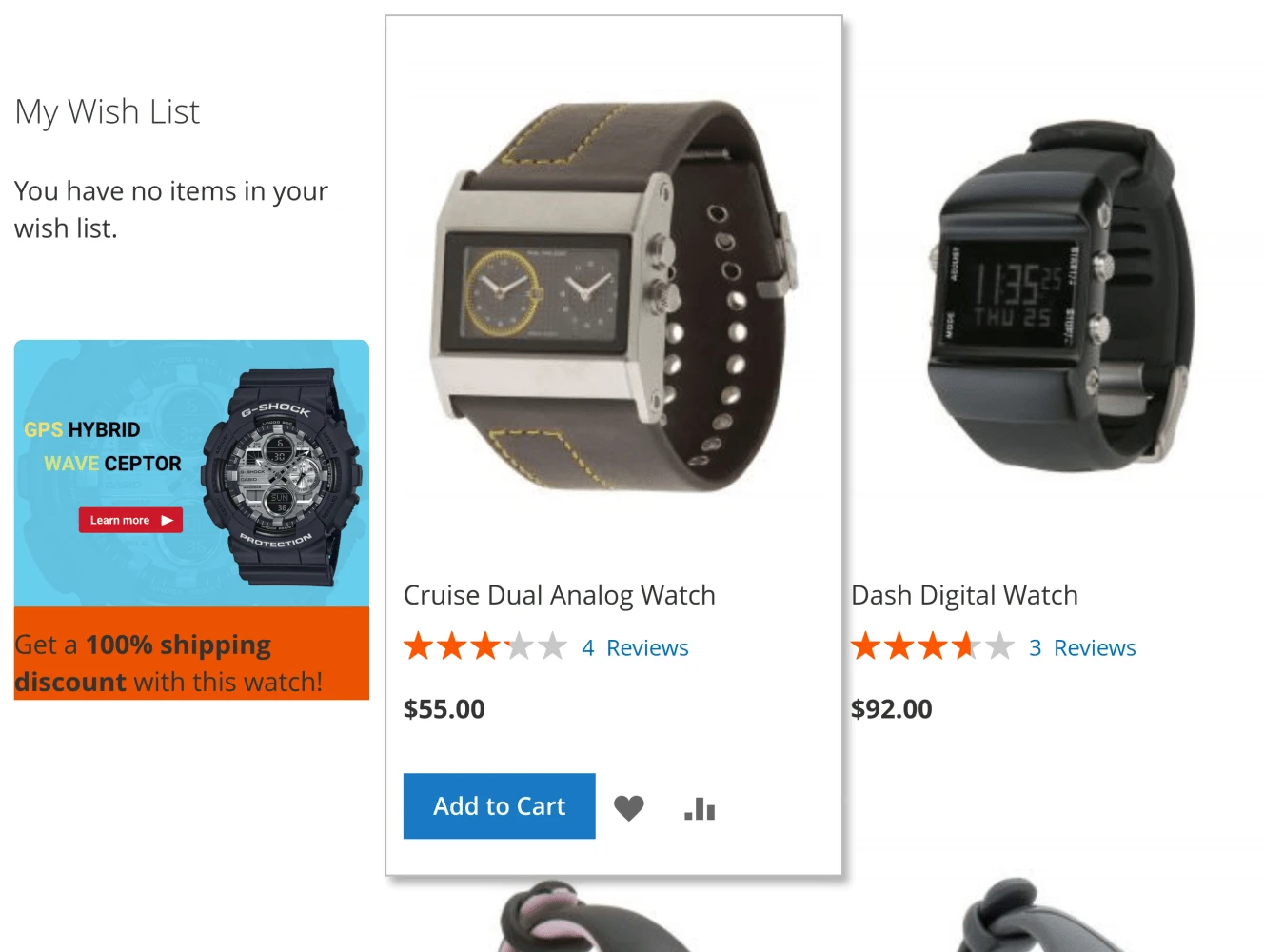 Every banner can be perfect
Use different types of banners available to make the most appropriate banners for your store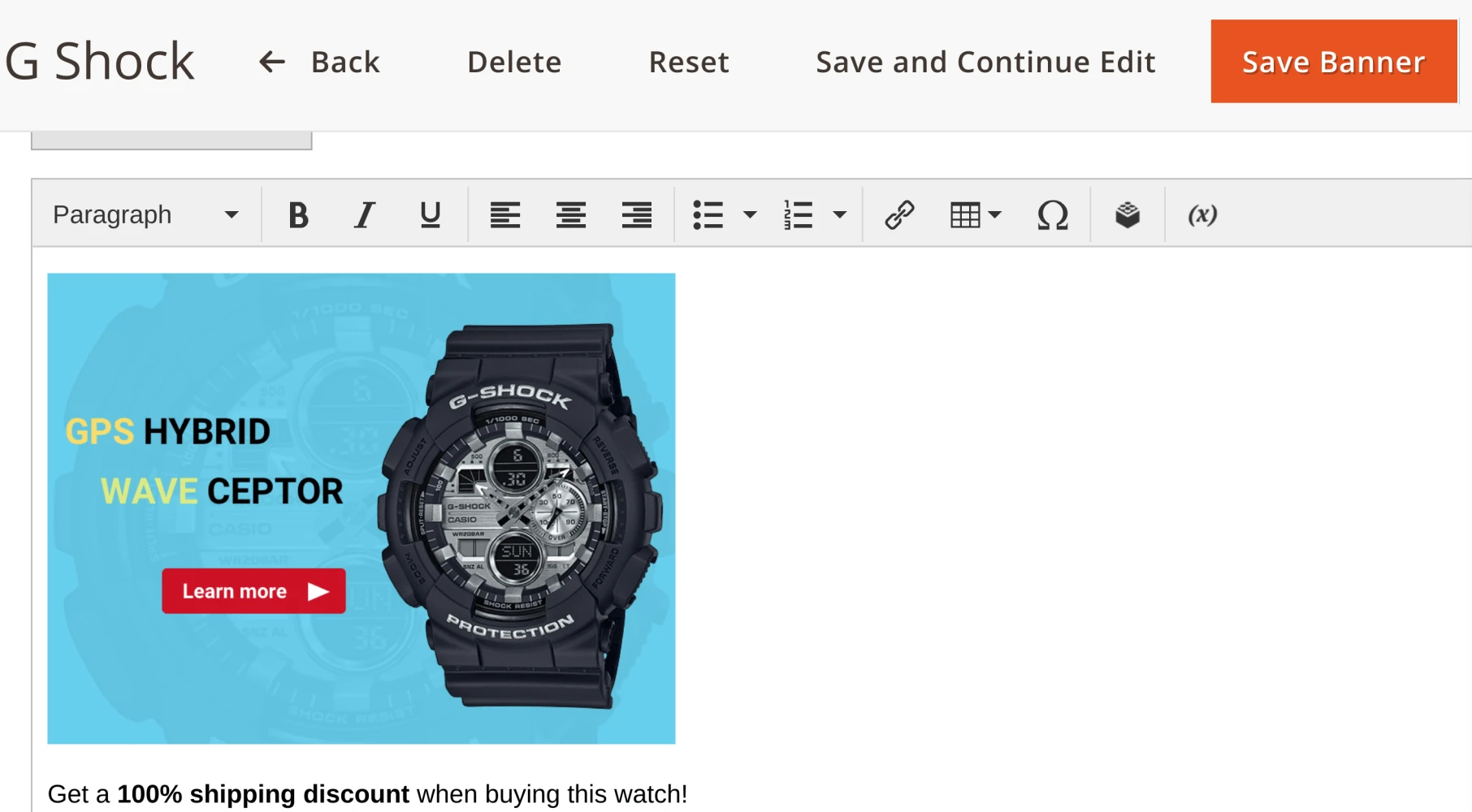 Sometimes graphic banners work better, sometimes it's text banner that catches most attention.
Use graphic and text as a separate banners or consolidate them so as to craft a perfect poster for your particular needs.
Our module allows you to combine different types of content with the simple user interface of default Magento content editor. Feel free to try out creative ideas with magento 2 banner extension.
See banner's success
Get actual information on the effectiveness of your banners
Discover how well your banner campaigns are working by analyzing their CTR (Click-Through-Rate) with built-in analytics.
Our module provides an indicator that shows how many unique customers have seen your banner, and how many of them clicked on it. The analytics is updated almost in real time so you can get the latest data.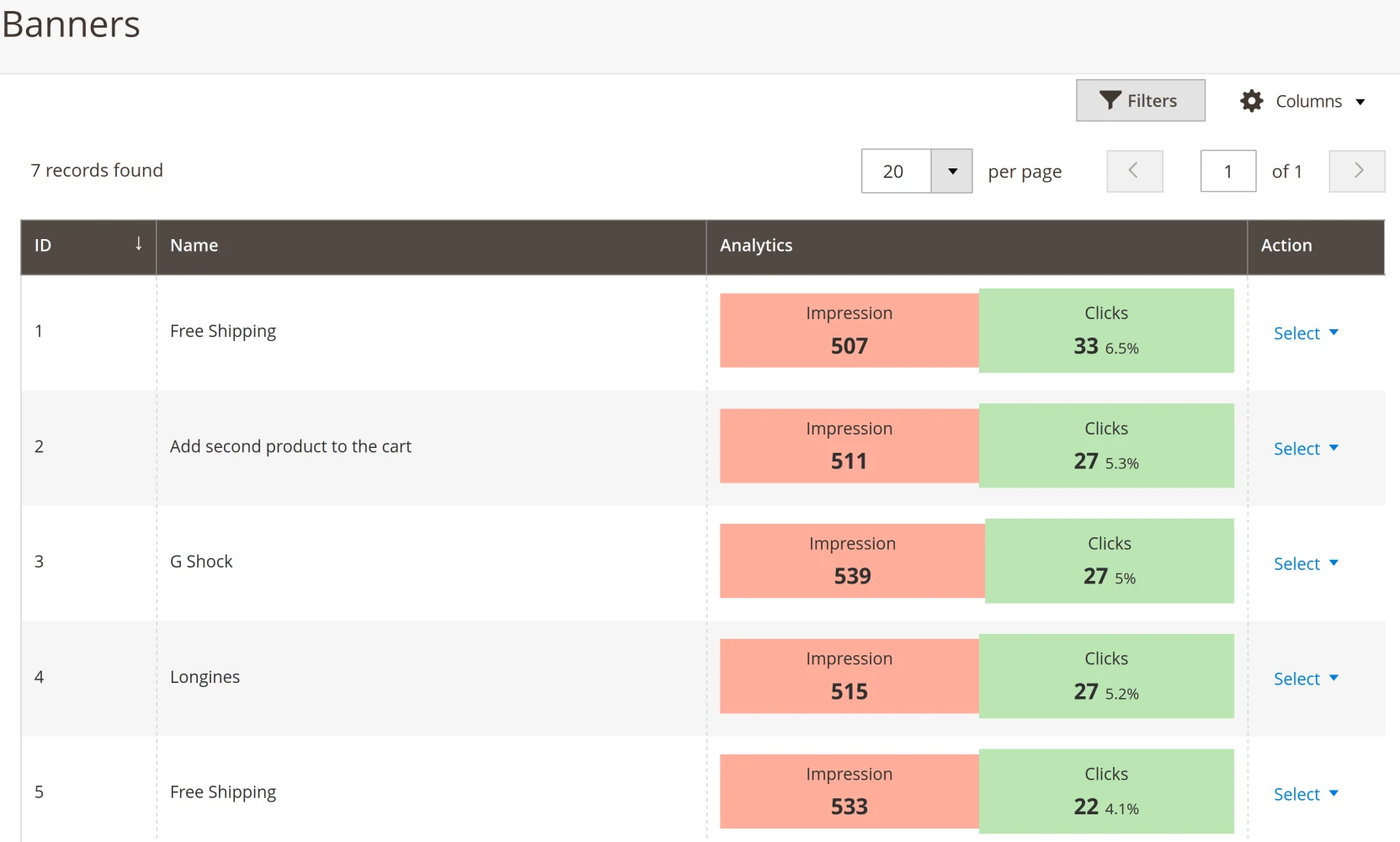 Most effective banner placement
Choose any position for your banner that suits it best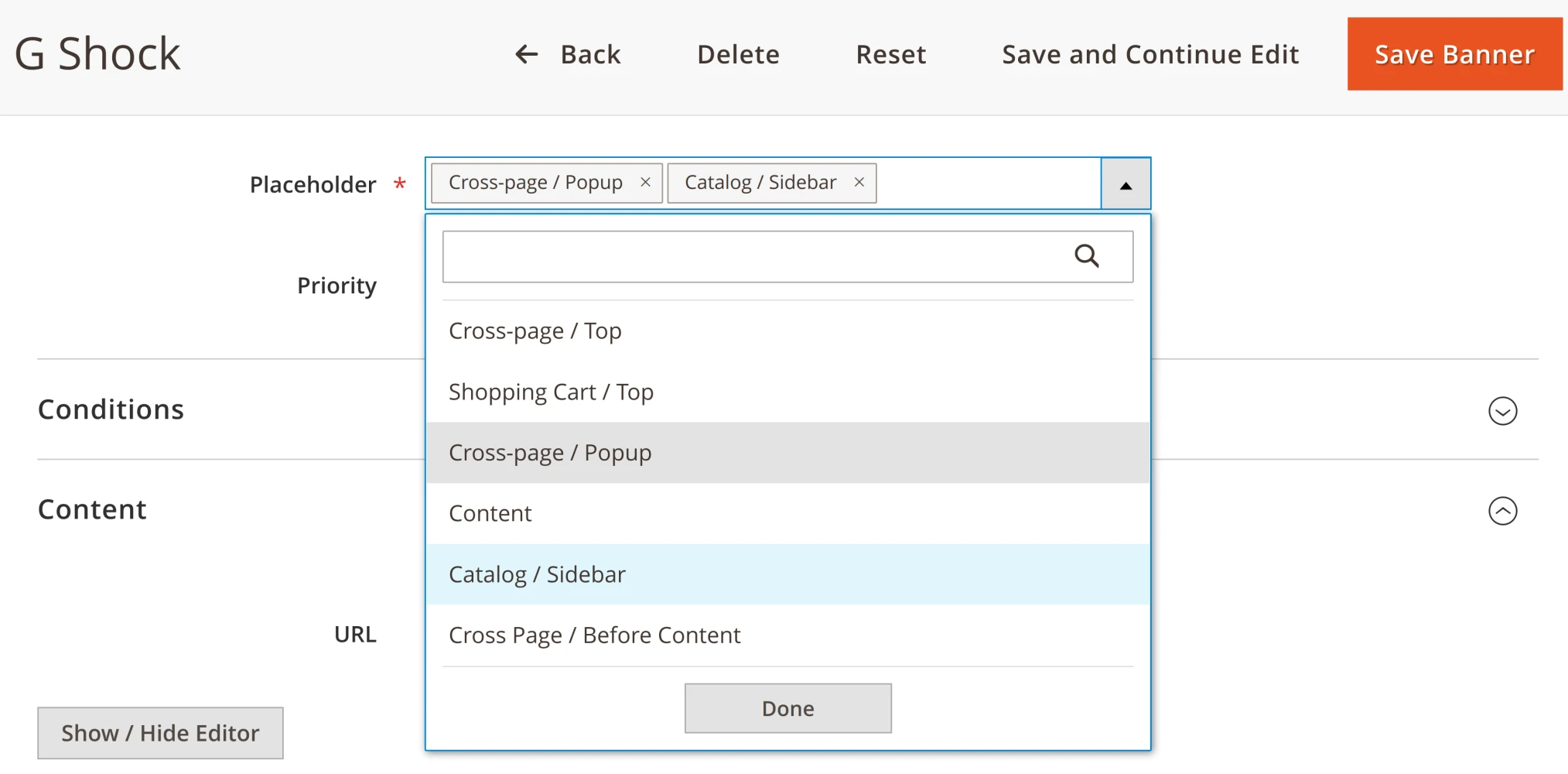 It's essential to place a Magento 2 promo banner in the "right place" to catch as many customers' attention as possible.
Fortunately, the magento product banners module has a variety of options for placing banners.
Our extension allows you to create additional placeholders so you can put banners in almost any place of your store. It proposes dozens of locations for poster placing.
With this module, customers can see promo banners even before they log in to their account - it will be displayed in the login form. Alternatively, you can place banners on the logout page, or on the account password recovery form. That's in addition to such common places for banners as shopping cart, shop's home page, catalog category, etc.
Try different places for the same banners, and you may notice a tremendous difference.
Control banner time
Define the time range for your banners to be actively displayed
It is essential that you start and finish your promo campaign on time.
Using our magento 2 banners module, you can easily control the time period when posters are actively displayed for shoppers.
Just set a time frame on the magento banner manager page and you can be sure that everything works as expected.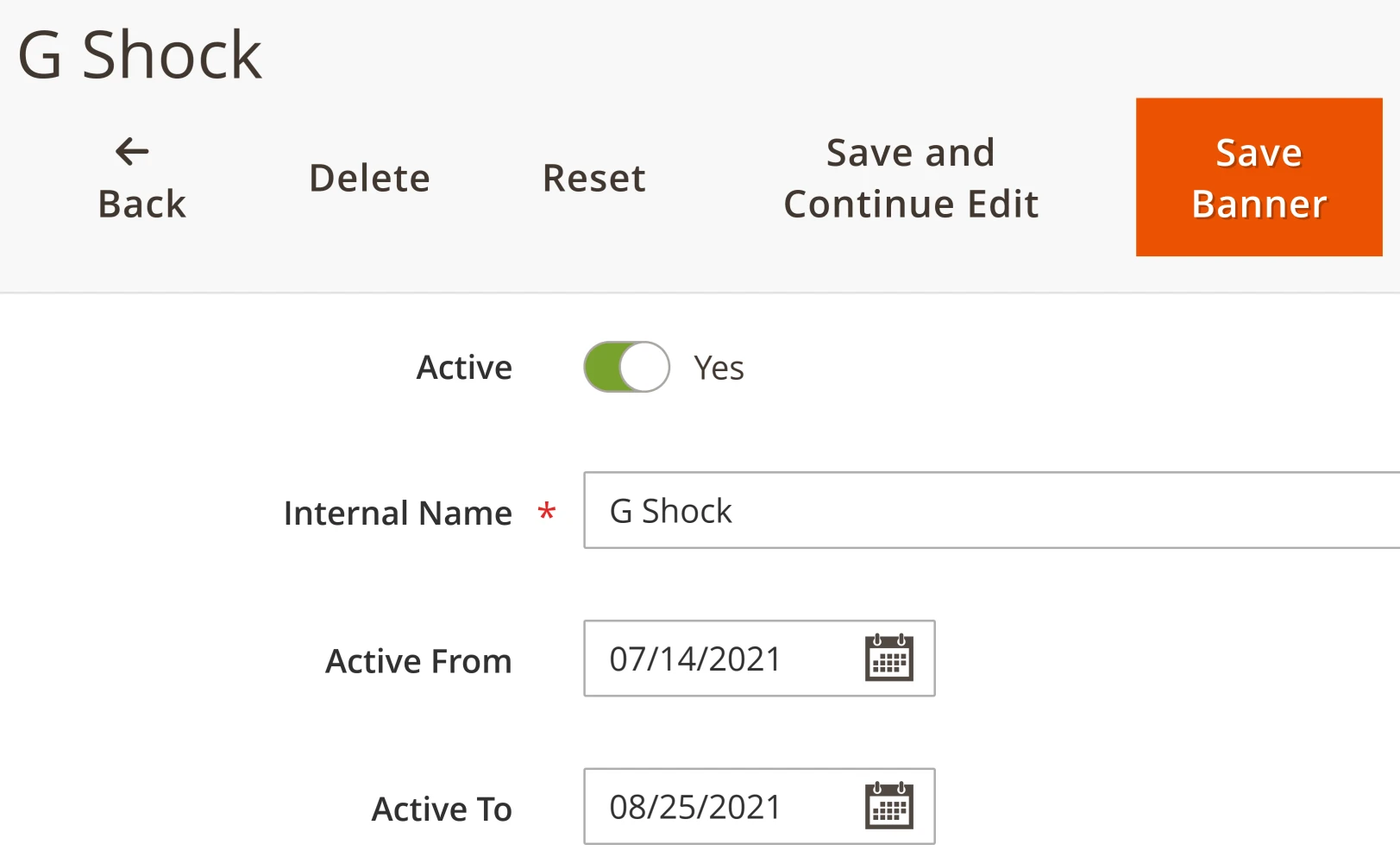 Control who sees your banners
Set up the banner visibility to get the most of your promo campaign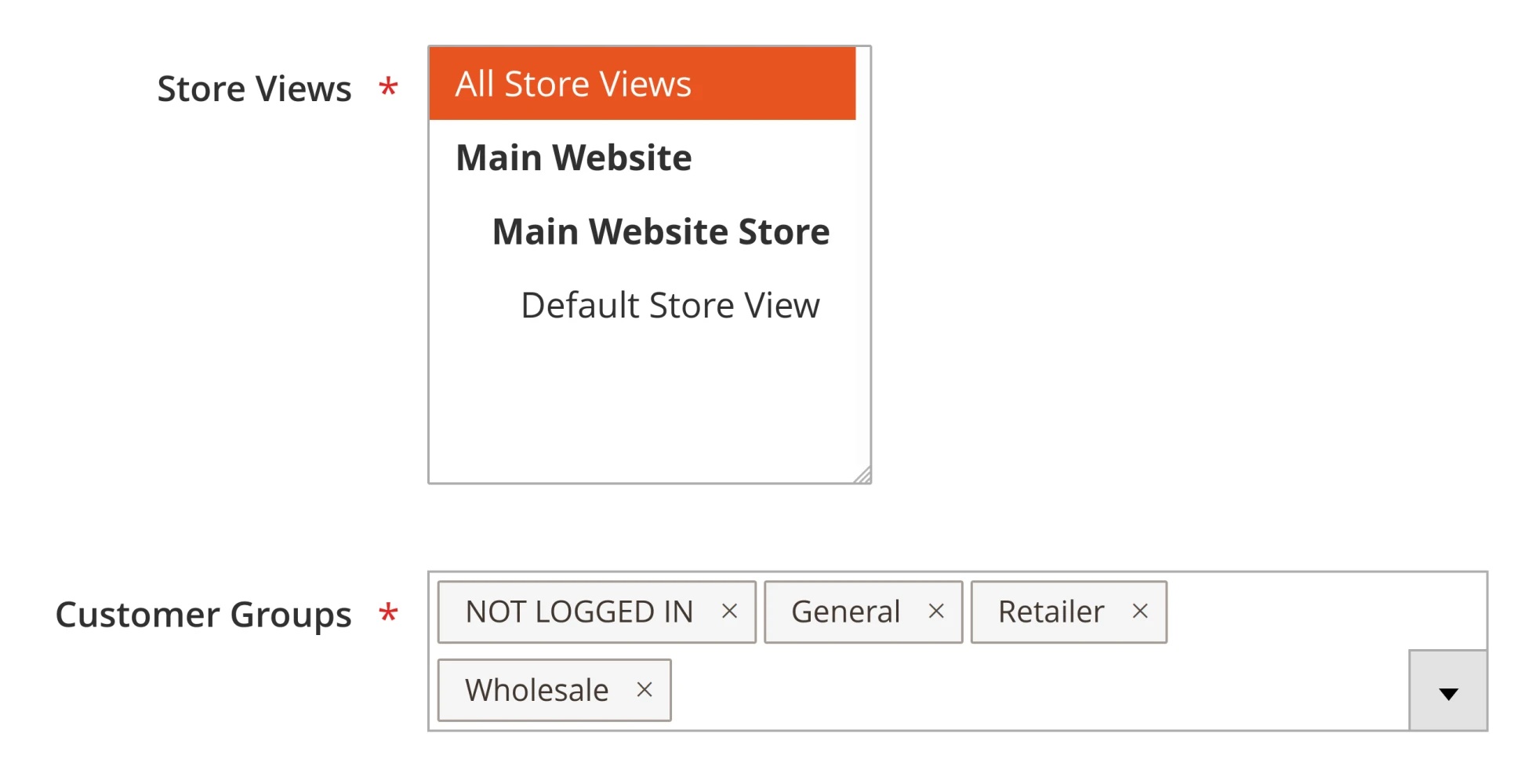 Enhance the effectiveness of your promo campaign by carefully controlling the banner audience.
Show magento banners only to those customers who may find their proposition valuable.
Use the option to select store views and customer groups to control the visibility of banners in your store.
Conduct promo campaigns for different regions and store languages with the help of this functionality.
Display mode for every banner
Chose the most suitable presentation style for every banner
You can choose an individual display mode for every banner to present them in a form that makes the most effect. Choose from two different options:
In the Rotator mode, the banner ads that are seen by users are shown randomly when a page is loaded. Each time the site is visited or refreshed, a different banner ad will appear.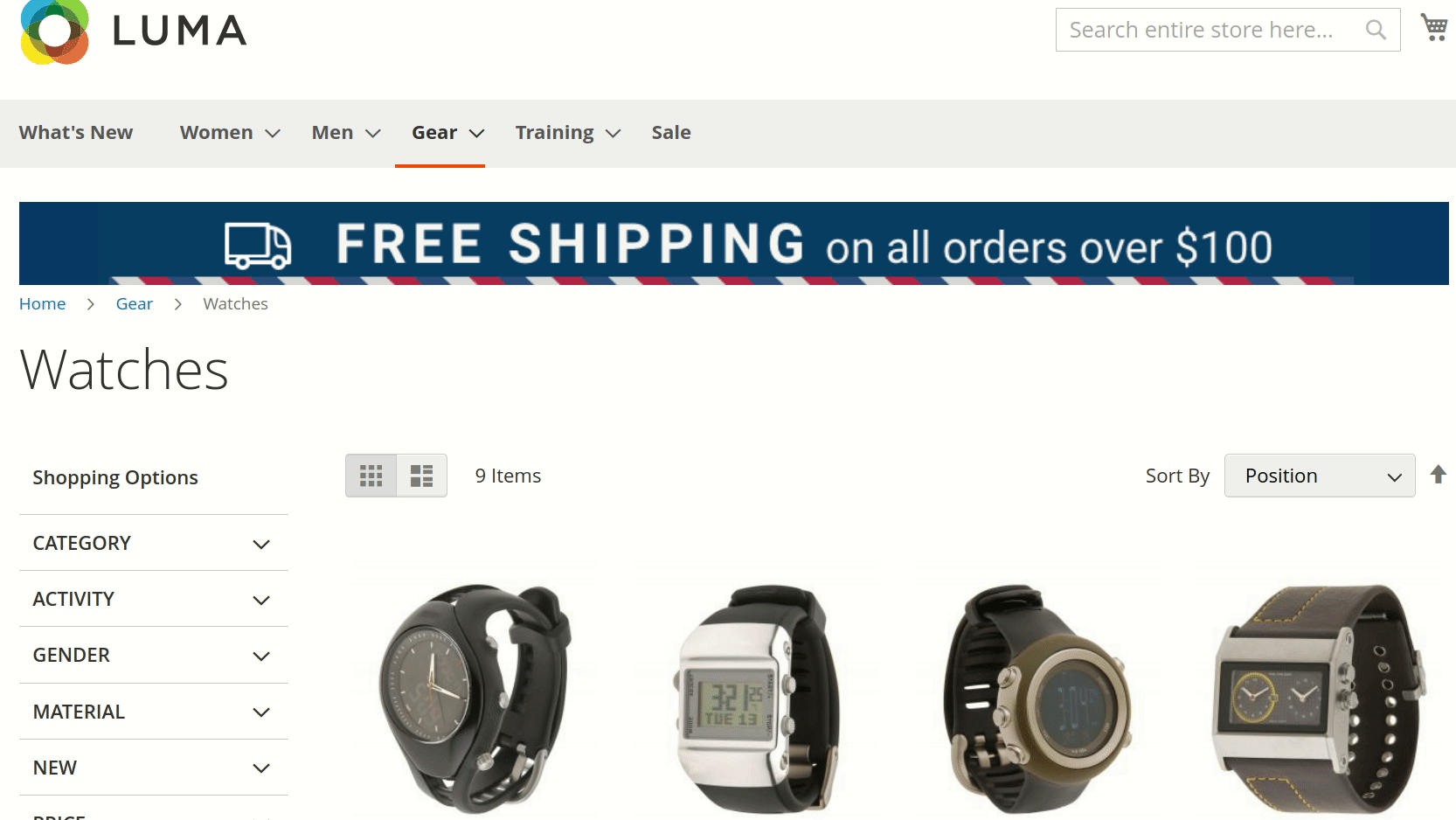 In Pop-up mode, the banner is displayed on top of site content after page loading. It attracts maximum attention and requires users to click the close button to dismiss it.
In this example, the images for two display modes are visible. The free shipping banner is displayed as a rotator, and the watch banner is a pop-up.
Most important banners go first
Decide what customers should see first and show banners according to their priorities
You can decide which banner customers will see first in a situation when several promo posters have claim for an identical spot and time.
The module allows you to set a priority for every banner, which it uses in selecting which promo poster should be displayed ahead of others if one or more banners meet the identical requirements.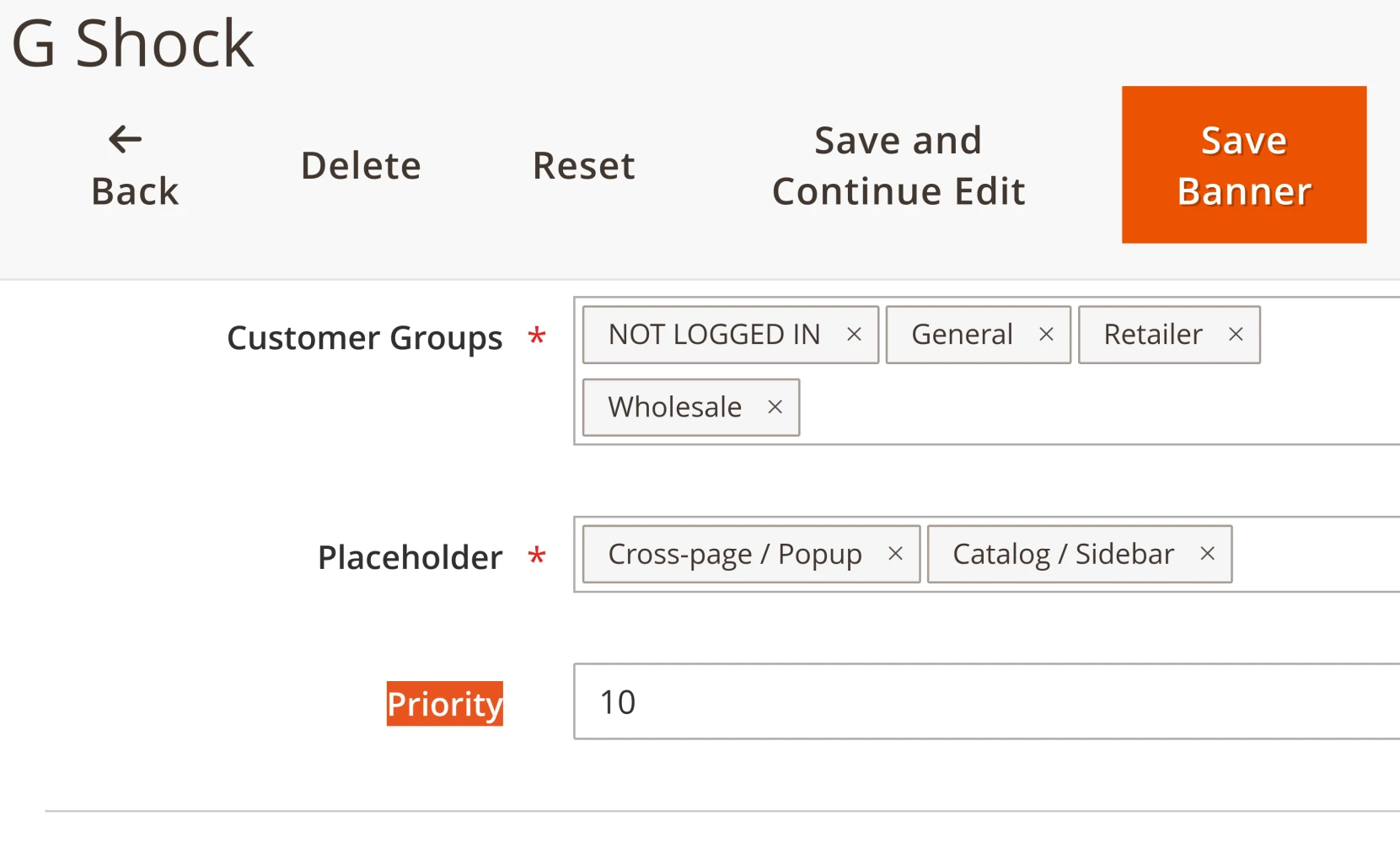 Add banners to any page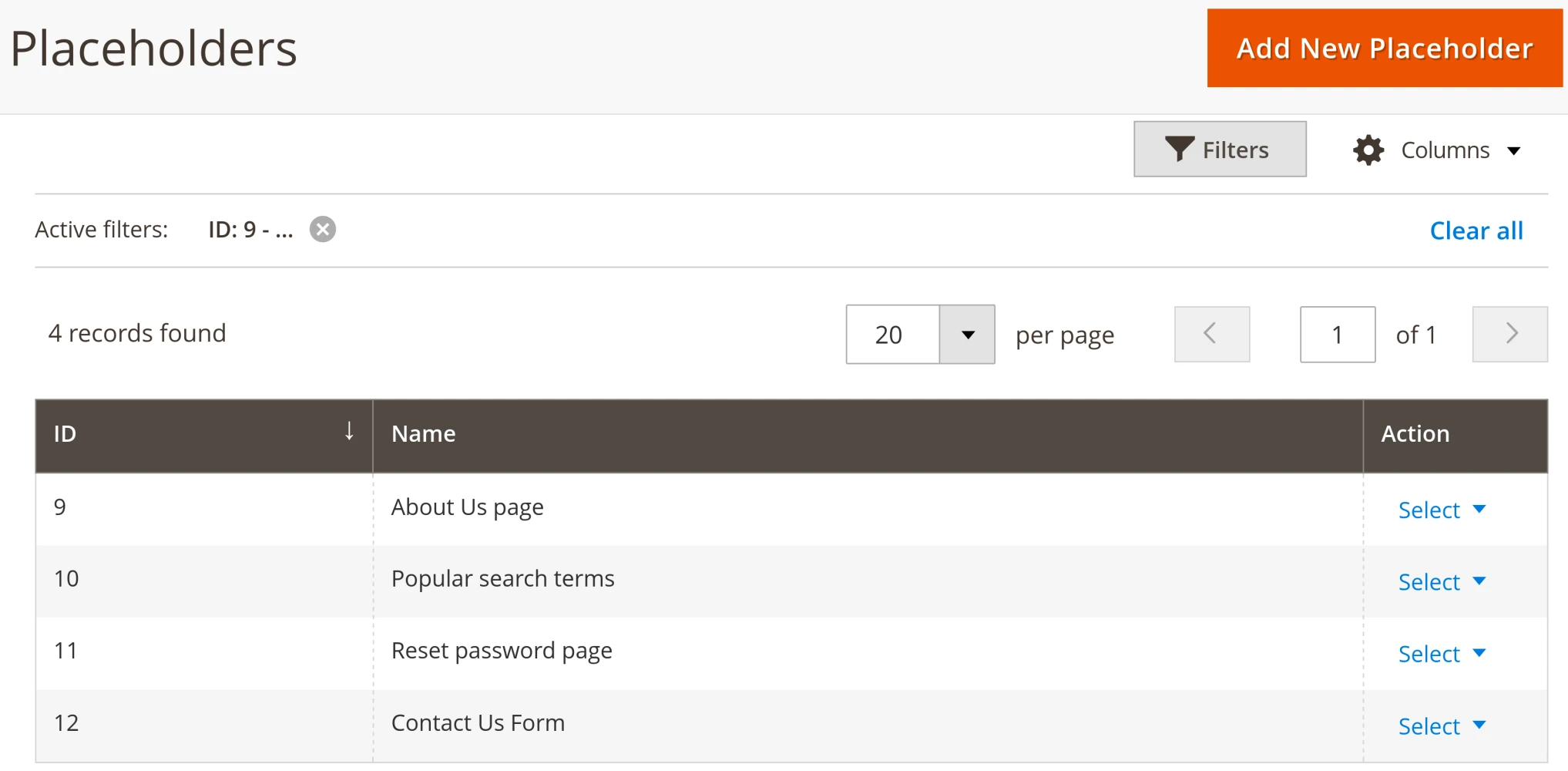 You are free to place banners anywhere on the webpages of your store and on any webpage.
Just create a placeholder with corresponding placing and assign a banner to it.
Use conditions so that the promo poster will be displayed at the right time and for the particular customers who may be interested in the proposition.
In some instances, it is necessary to give a promo for some specific items, i.e., some particular shipping rules. Why not use pages like contacts, about us, or delivery page?
Additionally, you can use a search query to display banners. This option is useful for showing individual banners to those customers who use a particular search query. At first, specify the terms on the admin panel, and the module will show the selected banners on a page with the search results.
Attract customers' attention and boost your sales with Promo Banners for Magento 2!
See it in action!
Pick a quick tutorial to learn about various aspects of this extension
I didn't give 5 stars because it have to have delay option.
Also installed: Improved Sorting, Sphinx Search Ultimate, Google Tag Manager, Reward Points
I didn't give 5 stars because it have to have delay option.
Also installed: Improved Sorting, Sphinx Search Ultimate, Google Tag Manager, Reward Points
Flexible product but need more placeholder.
Promo Banner is flexible to schedule banner on or off. Very flexible to add your own placeholder (position).
It would be great if it can builtin more placeholder instead of need customer to add by themselves.
Not every user have experience to add placeholder by their own.
It's even better if scheduler add date of time instead of date only.
Also installed: RMA, Improved Sorting, Follow Up Email, Automatic Related Products, Layered Navigation, Reward Points, Affiliate and 8 more
very cool magento 2 module
we have used 3 modules from mirasvit, everything is fine, product and service
Also installed: Full Page Cache Warmer, Advanced Product Feeds, Improved Asynchronous Reindexing, Follow Up Email, Google Tag Manager, Reward Points, Elastic Search Ultimate and 7 more
Great for quick promotions or news
Brightbrain.com
Verified Buyer
Carol Stream, United States
We use this for promotions, news, or informative pop ups throughout our store.

I look forward to more customization for where a banner can be placed, such as the account menu drop down or quick cart menu, but overall this is very effective.
Also installed: Help Desk MX, Knowledge Base, Full Page Cache Warmer, Advanced Product Feeds, Follow Up Email, Reward Points, Elastic Search Ultimate and 14 more
Manual & Support
Need more help?
Save time by starting your support request online and we'll connect you to an expert.
Contact Us Now
Frequently asked questions
Is is possible to use HTML when configuring a banner?
The extension Promo Banners supports a variety of content for banners, and it allows you to style this content with HTML.
In order to customize the banner with HTML or CSS, simply hide the default Magento editor and activate the direct code editing by clicking "Show/Hide Editor".
Improve banner visual output by adding any HTML lines you consider necessary. Activate the editor to preview the result.
Is it possible to show a banner on a product pages of specific category?
Our Promo Banners module provides a flexible system for displaying banners with specific conditions. It is possible to show the banner on product pages in a given category by using the "Conditions" tab of the module settings. For this type of banner, simply create a condition "Category is one of" and then specify the IDs of the categories where this banner should be displayed.
>Is it possible to add a banner to a mini cart?
The mini cart is a pop-up menu that displays a summary of items in the cart, which appears when a shopper clicks the Cart link that is located at the top of the page.
It is possible to add a banner to mini cart without the Promo Banners extension. To achieve this goal, use Extended Shopping Cart Rules for Magento 2 module.
Does the Promo Banners module support responsive webpages (say desktop, tablet and mobile)?
The approach of a responsive web design allows a website to automatically adjust its content for different screen sizes, like desktop and mobile devices. Default Magento design theme uses a mobile first responsive design approach, which is mostly ensured by means of CSS and JavaScript.
Promo Banners can support responsive design themes. Each time the banner is created, the image/html and code/etc should be set at the banner "Content" field. All HTML and CSS code of the responsive pages of your stores should be configured in this Content field.
Does Promo Banners support GraphQl queries?
Our extension is fully configured to work through GraphQl query language. By default, the GraphQl functionality is disabled in this extension. In order to enable use of GraphQl, you are required to install an additional extension. This additional GraphQl extension is available free of charge to existing users of the Promo Banners module.
When using GraphQl with Promo Banners, it is necessary to create an individual placeholder for each banner. GraphQl returns query exclusively for one banner in the placeholder. This can cause an incorrect output when several banners are assigned to one placeholder.
Can Promo Banners be integrated with the GeoIP extension?
Your Magento store can become even more personalized by showing customers the information related to their geographical location. Using GeoIP module, a shop can automatically switch its currency, language, design theme, etc. based on the country the visitor is from.
Integrating GeoIP and Promo Banners can bring significant benefits to a store's promo banner campaigns. Our development team is working on implementing such integration. However, currently these two modules can not be integrated.
Changelog
Version
1.1.11
Dec 5, 2023
Active From and Active To columns in Banners grid
Version
1.1.10
Oct 12, 2023
Fixed the issue with Re-appear in (hours) = 0
Version
1.1.9
Sep 12, 2023
Version
1.1.8
May 11, 2023
TypeError: Unsupported operand types: string int (PHP8.*)
Issue with unexpected banners behavior when banners have their own display conditions
Lightbox Popup banner
Slider banner
Additional settings for banners
Reasons to choose Mirasvit
Client focusing and satisfaction
These are our primary. A major portion of our new clients come from referrals from our existing clients. Our professional team of developers, marketers and support staff have invested the best knowledge and experience in the field into our work, so you know you can come back to us again and again.
Remarkable support
One year free and high quality support. We go to great lengths to provide maximum satisfaction with every module you have purchased in our store. By helping you with installation, configuration, answering your every question, we do all our best to eliminate any possible problems.
Risk-free Investment
30-days money back guarantee. If you are not satisfied with our extension performance for any reason, we provide a full refund.
Constant improvements and upgrades
We constantly add new features to all our modules, and are always interested in hearing your opinion and implementing your suggested features in our future developments.
Comprehensive Documentation
We provide an expanded user guide for every aspect of our extension, so you can find answers for all your burning questions.
Unencrypted source code of our products
You can customize extension according to your needs and requirements.
Usability and Performance
The Module is easy to install and upgrade, just follow our step-by-step user guide.
Ready for Magento Cloud
No core modifications. The extension has been tested in a Magento Cloud environment and is fully compatible with it.