Magento 2 Special Promotions and Extended Shopping Cart Rules
Giving your clients unique discount offers is a very effective way both to increase average order value and to motivate your customers for the next purchase in your store.
Magento 2 Shopping Cart Rules extension provides you with this possibility. It has several types of new special promotion rules, shopping cart conditions, and what is also important is that it has a smart notification system for possible discounts.
Motivate your customers with new promotion rules
Use an extended list of attributes as shopping rule conditions
Promote discounts with flexible notifications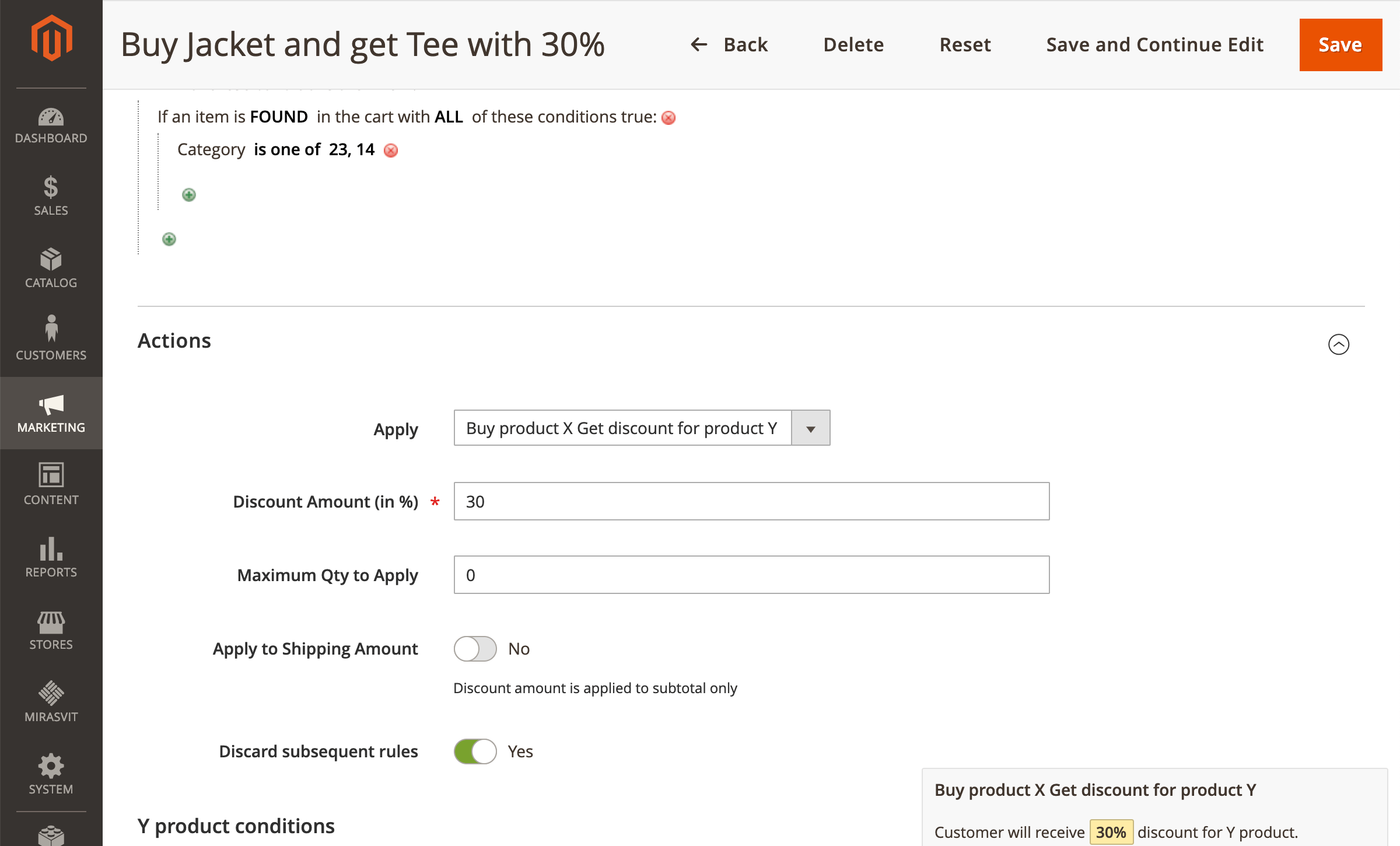 1/5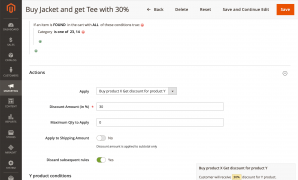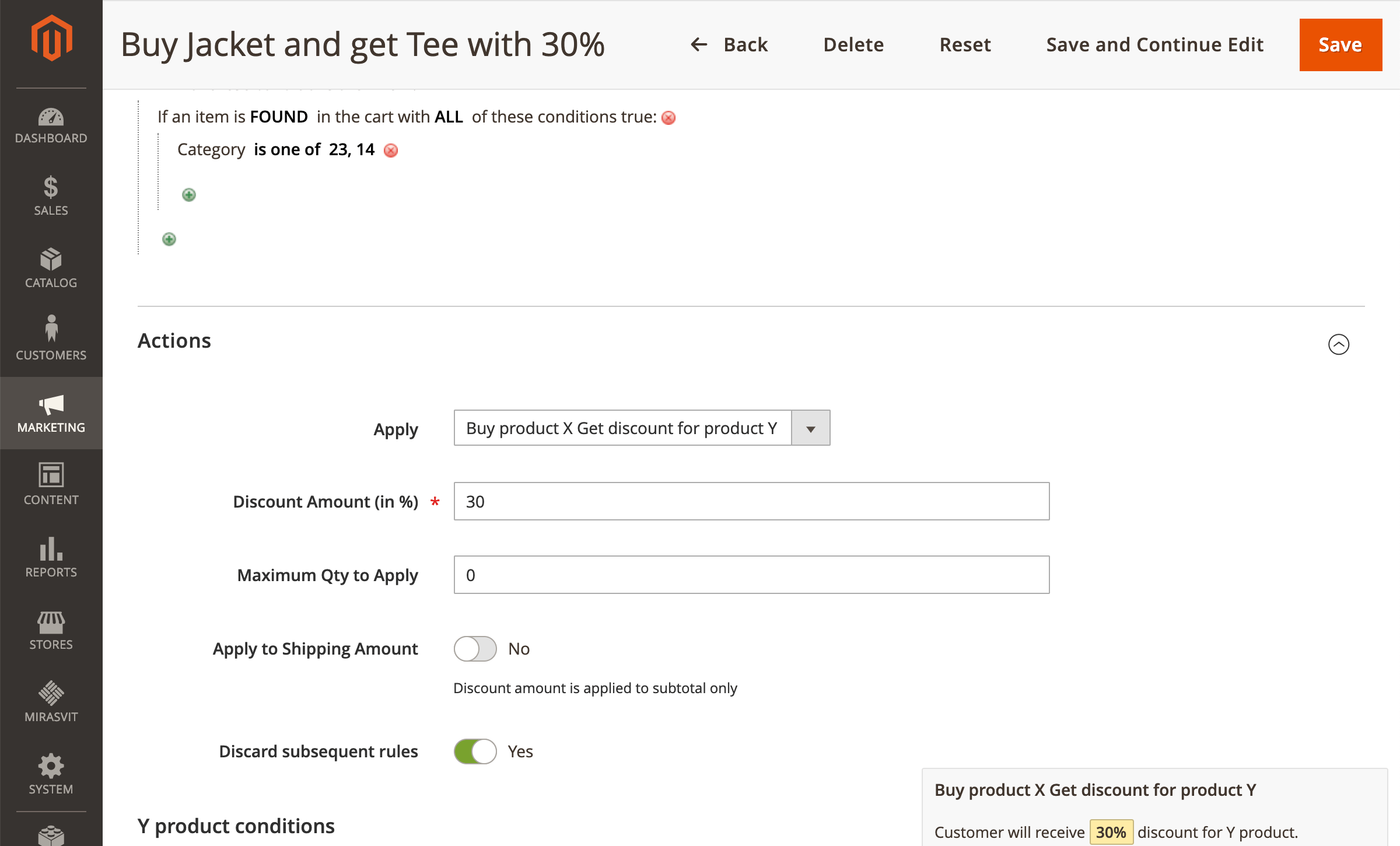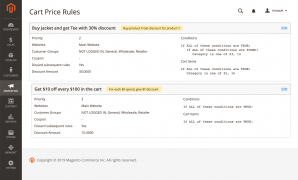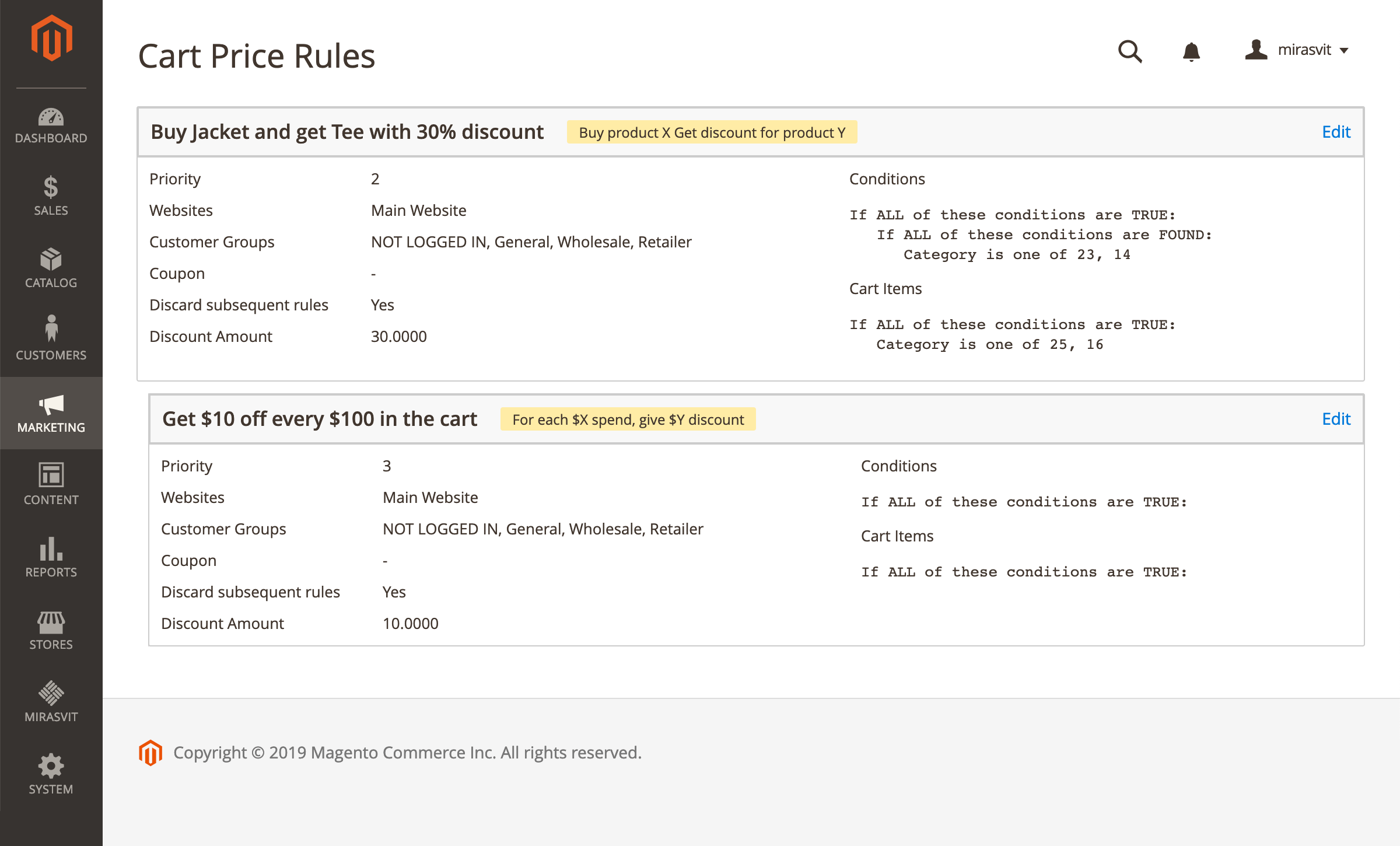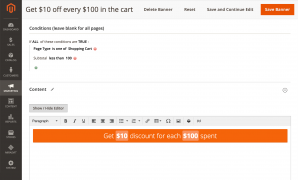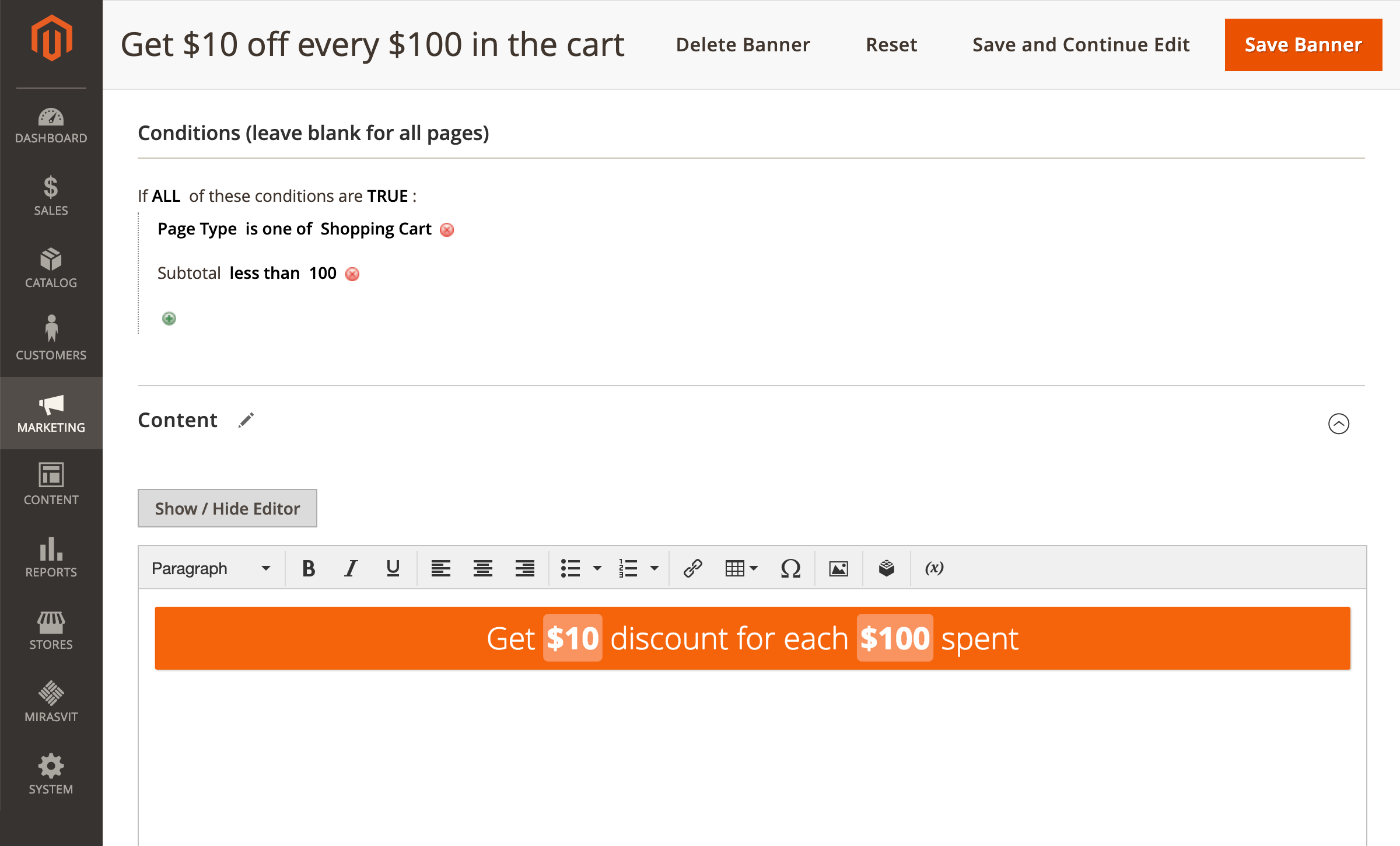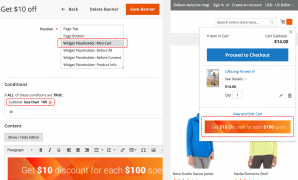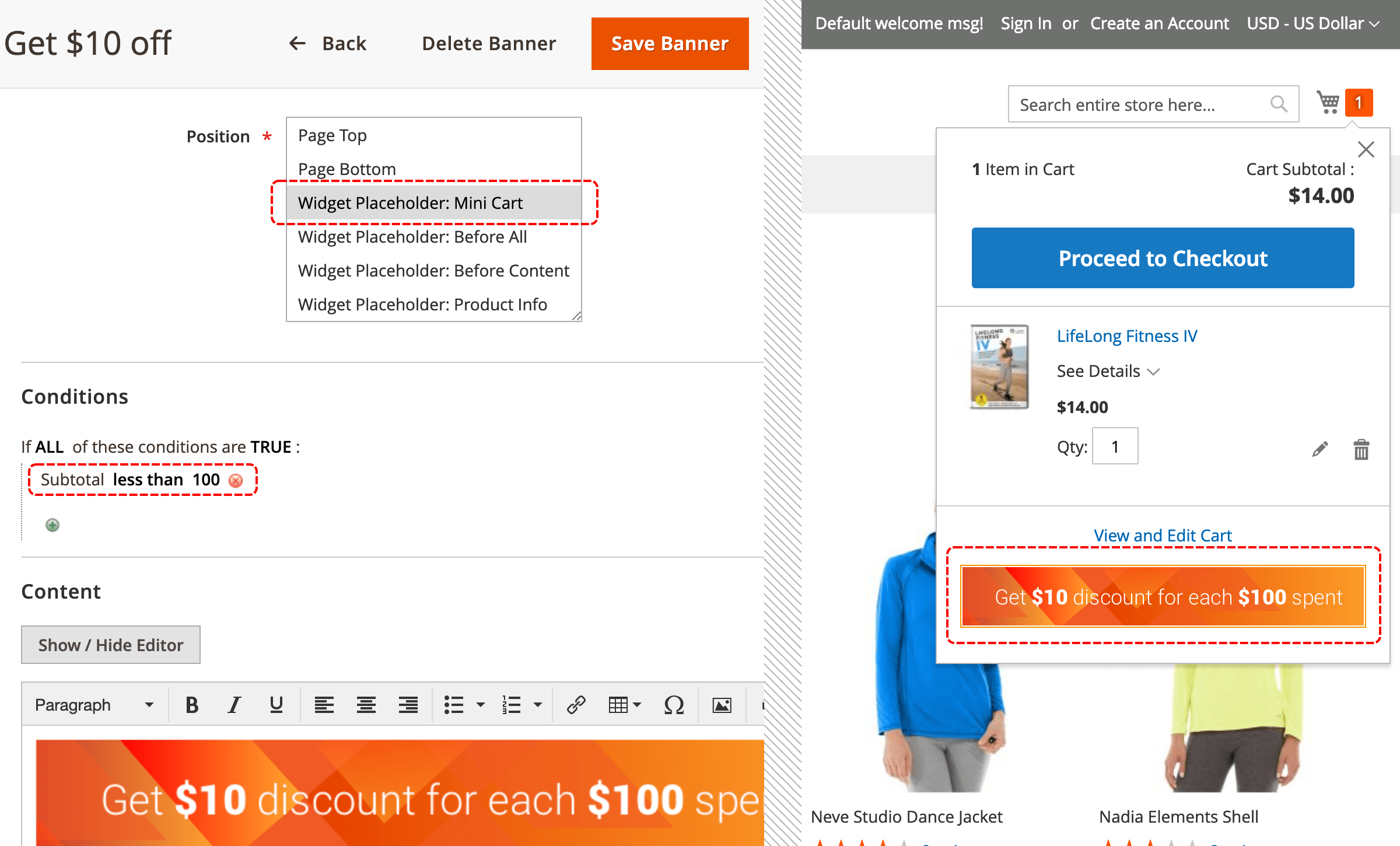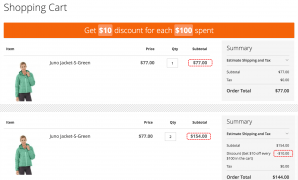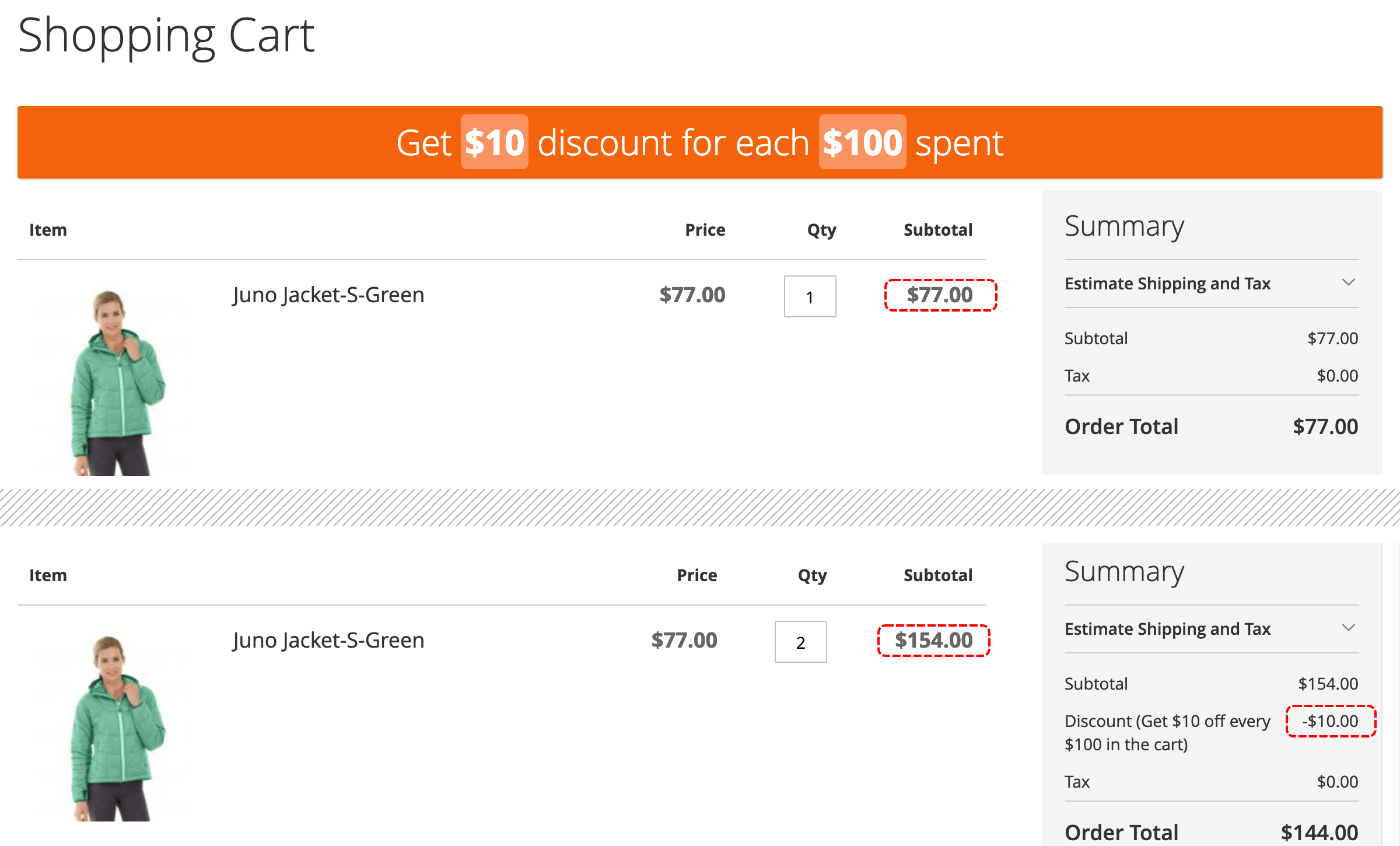 Feature Highlights
Giving your customers a unique discount offer is an effective way to increase average order value and motivate your customers for the next purchases exactly in your store.
Additional discounts, represented to your customers during their purchasing process, allow you to significantly reduce an abandoned cart rate and greatly increase your store's sales volume.
Moreover, a smart, organized motivation policy will influence a customer's choice of discount opportunities and advantages on the cart or the checkout pages in the form of a discount notification system.
Shopping Cart Rules
Buy Product X, get Product Y with a discount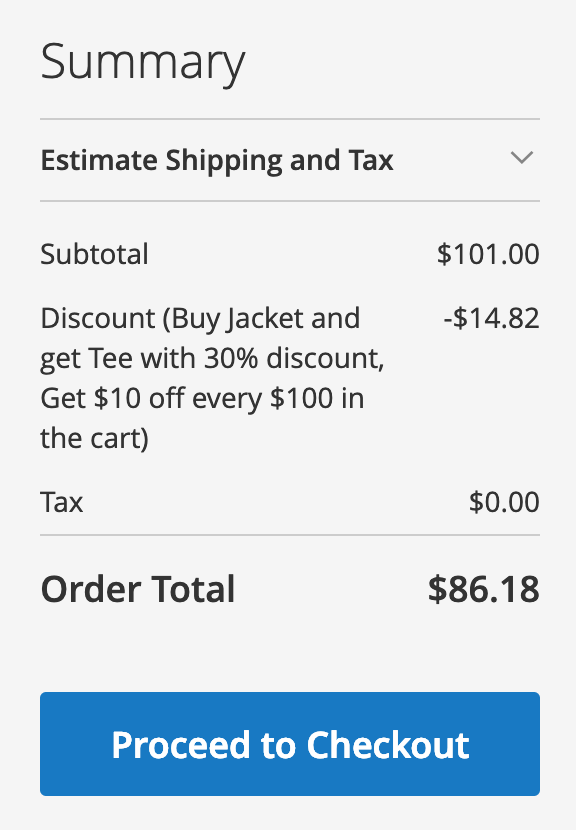 It is one of the most effective and requested promo rule: a customer buys Product X and receives Product Y either for free or with some discount (fixed or %), depending on your store's settings.
For example, if a customer adds a phone to his or her cart, you can offer him or her to buy accessories (a case, headphones) with a discount. Or ask a customer to buy a phone and receive a case for free.
This rule can also be a key influence on highly-marginal or unpopular products' sales.
---
Get $Y discount for each $X spent
The simplest and clearest type of the promo rule: the more products you add to your cart, the more discount you receive.
For instance, for every $100 in the cart, your customer receives a $10 discount.
You can also set some distinct conditions to trigger such discounts application (e.g., a required product category or the minimal cart amount, etc.).
The significant advantage of this rule type is the transparency of its operation to a customer and a significant impact on the abandoned cart rate decreasing.
---
Get $Y discount for the Cheapest (or Most Expensive) product in the cart
It is a simple and effective rule' type for a wide range of products. A customer receives a discount for the cheapest (or the most expensive) product in the cart.
It motivates customers to add the second product to the cart, increasing the average order value.
---
Get $Y discount for each N products in the cart
A customer receives a discount for every fixed number of products added to the cart.
This rule can significantly increase the average order value.
Shopping Cart Conditions
The extension adds new sets of shopping cart conditions, based on:
Customers' attributes (Name, Gender, etc.)

Customer' purchase history (Total number of orders, Total sales amount)
Also, the extension adds additional attributes for cart items:
Has Special Price - allows don't apply a discount for products with special prices
Is Discounted - allows don't apply an additional discount for already discounted items (by another shopping rule)
Custom Coupon Message
The extension has an option to enter a custom error message for each coupon.

For example, if you create a coupon that can only apply to NIKE products priced at $100 & up, you can add a custom error message * "This coupon is only valid for NIKE products priced at $100 or more "*.
When a customer sees this, he will know what is wrong and how to be able to use the coupon.
Promotions Notification System

Besides the possibility of applying the promo rules in predefined conditions, it is really important to inform your clients about the probable discount and the conditions to it.
To solve this task, we have created a special notification system that explains to your customers what they need to do to receive a discount. Without such knowledge, your promotions will be useless.
You can create texts or image banners, which describe the promo and the rules in our extension. It allows you to manage where and when this notification should be shown to a customer.
For example, you can show a message "Add one more item to the cart and get an additional 5% discount" if the customer already has two products in the cart. Or "Get $10 discount for every $100 spent" if the shopping cart amount is less than $100.
See it in action!
Pick a quick tutorial to learn about various aspects of this extension
HappyMagento
from Nairobi, Kenya
to the regular shopping cart and discount rules in magento.
Especially nice that its possible to set discounts on the gender which is very useful for special day promotions.
A
from Melbourne, Australia
Makes your cart more unique
Γίαννης
from Athens, Greece
Exselent support and exselent extension!!!
Steve
from Gurgaon, India
Overall implementation is pretty nice and the extension worked fine with our custom theme. The support was exceptional, I'll recommend Mirasvit. Thank you team!
If you have a Magento website, you need this extension. Worked as described.
I think Mirasvit Team, the best in the extension world.
Isaac
from Flushing, United States
I truly believe that the "Extended Shopping Cart Rules" extension is a required extension for any Magento website. It has many great features that any website needs. Here is just a few example:

1. Ability to show custom error messages for coupons: Magento has one generic error message for all coupons that can't apply "the coupon code is not valid". With this extension you can specify error message (such as minimum order is $100 or Nike is excluded from this coupon etc.). Instead of having a frustrated customer, the customer understands what needs to be done to use the coupon.

2. Ability to give product X for free with a purchase of product Y: Magento lack this option, but now I can provide a small gift as an incentive for customers to buy expensive items.

3. Show messages on cart to encourage customers to spend more: Imagine if the customer has a cart with a total of $90, and he sees a banner on cart informing that by spending $10 more he/she will get $15 discount. This is very helpfully for site that usually sell single item per order, and want to increase orders to multiple items.
Allan
from Shepperton, United Kingdom
Overall implementation is pretty nice and the extension worked fine with our custom theme. The support was exceptional, I'll recommend Mirasvit. Thank you team!
Manual & Support
Need more help?
Save time by starting your support request online and we'll connect you to an expert.
Contact Us Now
Live customer feedback
Latest comments
Good and kind response. Thanks!
Jacques Cardinal
Sep 30, 2020
Excellent support in general and for Advanced Reporting in particular. Many thanks
Michael Sandström
Sep 24, 2020
Best support, keep up the good work!
See all comments
The real-time results of the satisfaction survey of our customers
for the last 100 responses
Reasons to choose Mirasvit
Client focusing and satisfaction
It is our main goal. A big part of our new clients come from referrals from our existing clients. Our professional team of developers, marketers and support invest the best knowledge and experience, so you could come back to us again and again.
Remarkable support
90-days free and high quality support. We make an effort to satisfy you with work of every module you have purchased in our store. Helping you with installation, configuration, answering your every question, we do all our best to eliminate any possible problems.
Risk-free Investment
30-days money back guarantee. If you are not satisfied with work of our extension for any reason we provide a full refund.
Constant improvements and upgrades
We provide you lifetime free updates. We constantly add new features to all our modules. We are absolutely interested to hear your opinion and to implement your suggested features in our future developments.
Comprehensive Documentation
We provide an expanded user guide for every our extension, so you can find answers for all your burning questions.
Unencrypted source code of our products
You can customize extensions according to your needs and requirements.
Usability and Performance
Module is easy to install and easy to upgrade, just follow step by step our user guide.
Safe Magento updates
No core modifications. Just copy extension files to store root directory.