How to change the Magento Base Url
If you transfer your e-store to another domain your URL needs to be ?changed properly in Magento. To do that please follow the instructions.
Before you start, make sure, that domain you need to use as Magento Base Url?already pointing to the server IP-address of your e-store. To be sure about this please open a terminal and mount ping ?your domain new name?. While you pinging, you ?will see an IP-address of your server.
To change the Magento Base URL go to Admin Panel in your old e-store follow next steps: go to Admin Panel > System > Configuration > General > Web > Unsecure. In Base URL field to enter a new address. This field contains the address of unprotected URL connection without http sequrity certificate (for instance, your email address was http://www.oldstore.com, became http://www.newstore.com)

Next, in Tab Secure in Base URL enter a new adress. In this tab, you specify the address of a secure connection URL - https. ?If you dont have SSL sertificate, than in ??Secure? field you need to appoint adress with http.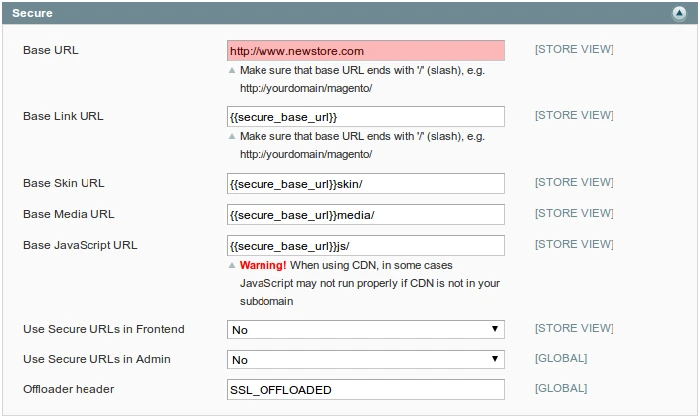 ?Secure? and ?Unsecure? fields must be filled in, otherwise Magento will not allow you to save all the changes you have done. All the rest fields leave with no changes.
After you finished, clear the cache. You can do this by following the path: Admin Panel> Cache Management in the pop-up window, click "Select All", then press the "Flush Cache Storage".
If you followed all the instructions your Magento Base Url?will be changed.
As only you have your Magento Base Url? setup ready, and ?you would like to set up friendly URL for all the products in your e-store and filters you need to use an additional extensions - Advanced SEO Suite.