 The extension performs monitoring of various events that occur on the store (sales, reviews, code errors, etc) and automatically notifies the responsible employees via convenient for them communication channels (slack, email, messenger)
20+ ready events and triggers
Multi channel notifications
Slack notifications
Flexible notification rules
Custom events
Instant Notifications
Stay informed with instant notifications about important events in your store
Extension Demos
Pick a quick tutorial to learn about various aspects of this extension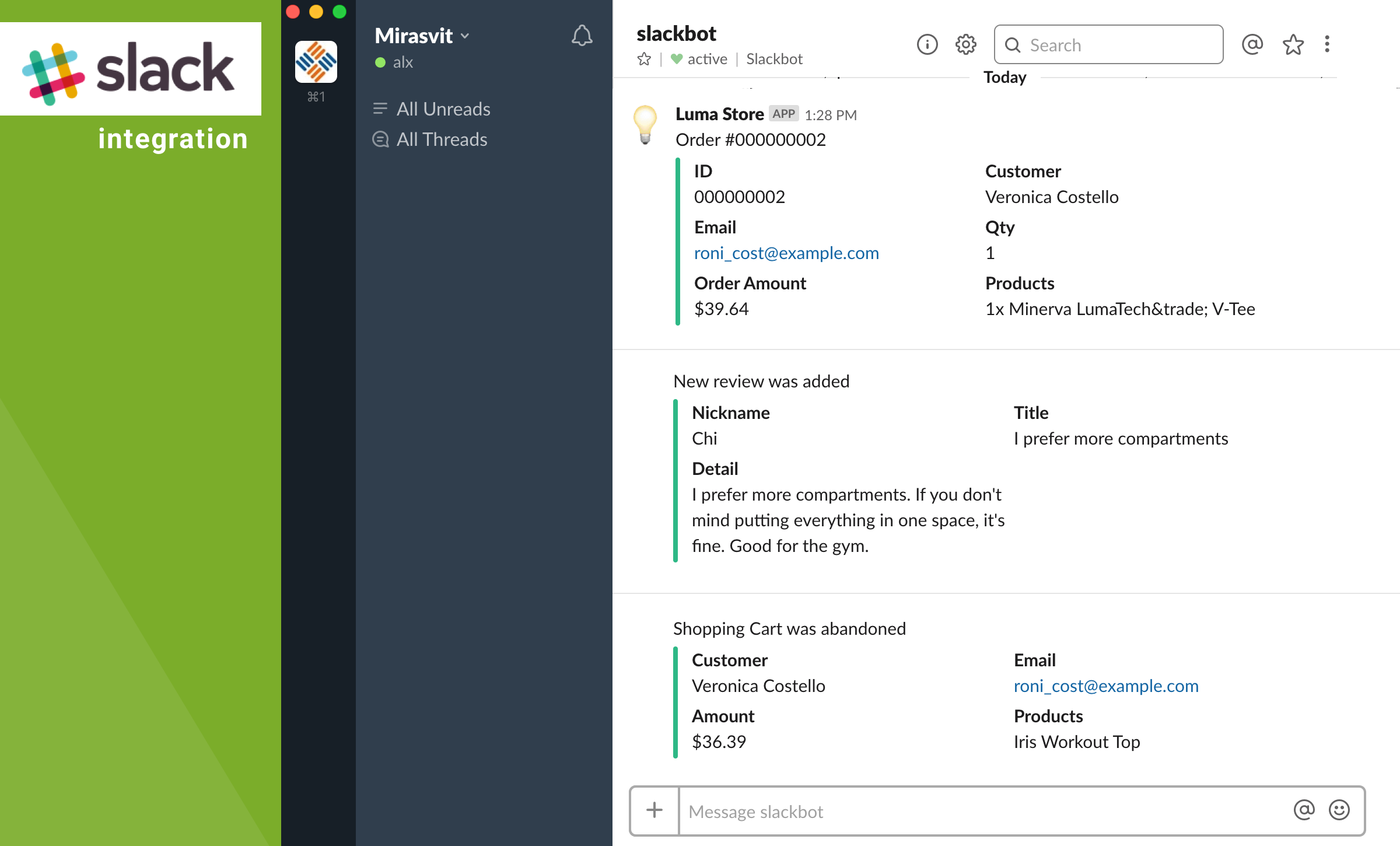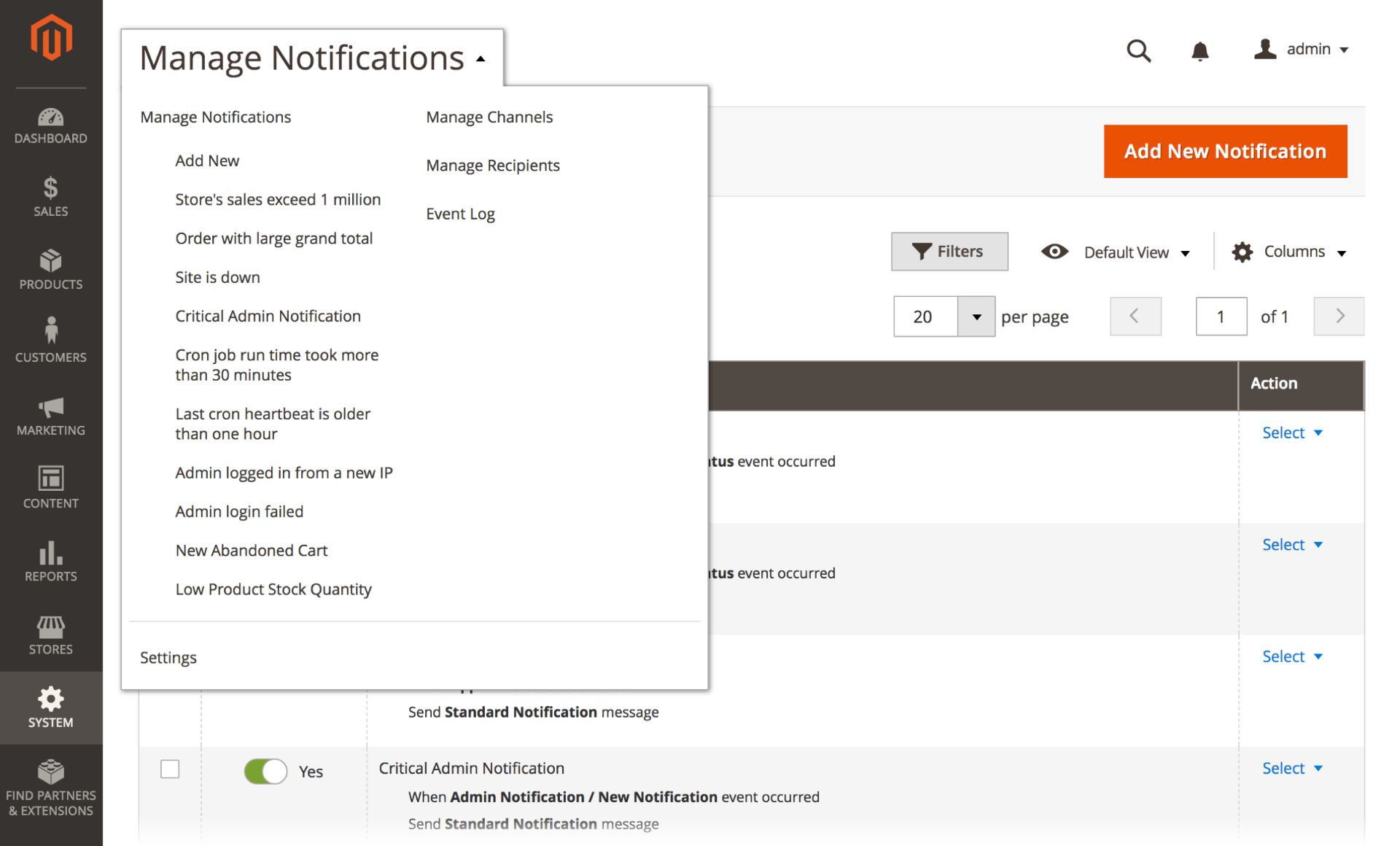 The extension performs monitoring of various events that occur on the store (sales, reviews, software errors, etc). Depend on configuration, the extension automatically notifies the responsible employees via convenient for them communication channels (slack, email, messenger).
The extension allows you to configure independently events you want to monitor and adjust responses to them. You create rules once and the entire monitoring system operates automatically day and night.
Feature Highlights
Automated Notifications and Triggers
Extension can track huge number of different events and actions and notify you about this. You can create rules, when triggered the notifications are sent.
You can edit notification text templates. Dynamic variables are used on the templates.
Depending on the critical level and the responsibility area, notifications can be sent to different people via different communication channels. Also extension can send notifications to slack channels (slack integration is implemented).
Instant Slack notifications
Extension allows to track and notify about following events:
Sales notifications
New order notification
Order status was changed
Order obtained "xxx" status
Site operations
These events allows to detect online store issues in the early stages without waiting until your customers tell you about them.
It minimizes possible losses, increases store operation stability and informs of warning situation occurrence.
PHP errors notifications
Database errors notifications
Cronjob errors notifications
Cronjob execution time reached threshold
Admin activity notifications
Admin user logged in
Failed login notifications
User activity notifications
Customer logged in
Customer logged out
Customer birthday
New registration
Reviews notifications (New review was added)
Customer was subscribed/unsubscribed to newsletter
Catalog notifications
Out of stock notifications
Product qty changes
Stock notifications
---
Multi channel notifications
The module allows to send notifications via following channels:
Slack
Telegram
Email
possible adding of other channels
---
Event log
Extension tracks all events, so you can check the archive with all the tracked events of your store.
Notifier extension will not bother on non-urgent issue. But it can wake your programmer up in the middle of the night if a critical error occurs and customers can not get an access to the store or can not place an order.
There are constant changes in a modern online store. New features are added, new modules are installed. Just think about how many orders you possibly lose, due to the fact that you can not timely detect php errors caused by code changes. Also many problems could be eliminated if you were informed about problematic situations before their formation.
See it in action!
Pick a quick tutorial to learn about various aspects of this extension
nice addition to every M2 store

HappyMagento

from Nairobi, Kenya

I do recommend to purchase this extension together with the Health Report extension. Maybe mirasvit should consider to create a bundle of these two extensions.

Event Watcher

Obinna

from Lagos, Nigeria

Very lovely extension and fast support with speed of light. Kudos to Mirasvit Team, you guys rocks.
I recommend 100.00000000000%

Must have!!

if you want to be aware of everything, must have Event watcher & notification :)
Failed login notifications and error notifications are most important for store owners.
So, again Mirasvit, again fantastic extension :)


Event watcher & notification

Allan

from Shepperton, United Kingdom

it work well and must have extension

Awesome Extension

Scott

from Wilmington, United States

This is extremely underrated. Not sure if people aren't aware of how powerful this extension is or not. You will get notified for everything you setup by either email, slack, or telegram. Errors, orders, new customer reviews, any event you want notified for. Sync certain events to slack channels to keep your whole team in the know.

Slack integration

I'm pretty happy with this extension.

Essential extension

Adrien

from United States

100% recommended. We use it for track payment errors and general php errors. Great Job!
Compatibility
The Event watcher & notification for Magento 2 is compatible with:
| | |
| --- | --- |
| Magento 2 Community Edition (CE) | 2.1.* - 2.3.* |
| Magento 2 Enterprise Edition (EE) | 2.1.* - 2.3.* |
| Magento 2 Cloud | + |
Have a question? Ask our support team
Need more help?
Save time by starting your support request online and we'll connect you to an expert.
Contact Us Now
Refund Policy
All customers can request a refund during 30 days after purchase of our software, if customer think that our software is not suitable for any reason. To request refund, customer must remove all copies of our software from its store, servers, computers, email, etc and confirm by email such removal. After receiving a request we will proceed refund within 3 business days.
If request for refund is received after 30 days after purchase, it will be rejected. Cost of installation and customization services are not refundable.
Support and bug fixing
Mirasvit offers free 90 days support of all software sold on this site. Customers can report all bugs, which were found in our software. We can solve only the bugs directly related to or caused by our extension. Those bugs must be reproduced on fresh Magento installation without any 3rd party plugins. We will solve that bugs in order of our development plan.
We don't do any type of custom work and we have a right to reject a support request if the issue is store-specific (cannot be reproduced on the fresh Magento installation without any 3rd party plugins).
Mirasvit will not be liable to you for any damages (including any loss of profits/saving, or incidental or consequential) related to our support service caused to you, your information and your business.
Software updates
Mirasvit offers free lifetime updates if they areavaliable. Updates are limited to the Magento version branch (1.x.x or 2.x.x). Customer can download an update and install it by himself. If support period is expired, Mirasvit.com can't solve any possible problems with our software during or after updating. Mirasvit does not guarantee that it will release updates for any product.