 Let your potential and existed customers sign in/ sign up quickly using social network login options. Improve users' experience and collect visitors' data in one click.
works with Amazon, Facebook, Google, Instagram, LinkedIn, PayPal, Twitter, Yahoo
choose the desired place on a page to display authorization form
analyze the statistics of how often users use the social login option
set destination URL to forward a user after authorization
set one of the two display options - buttons or icons
Extension Demos
Pick a quick tutorial to learn about various aspects of this extension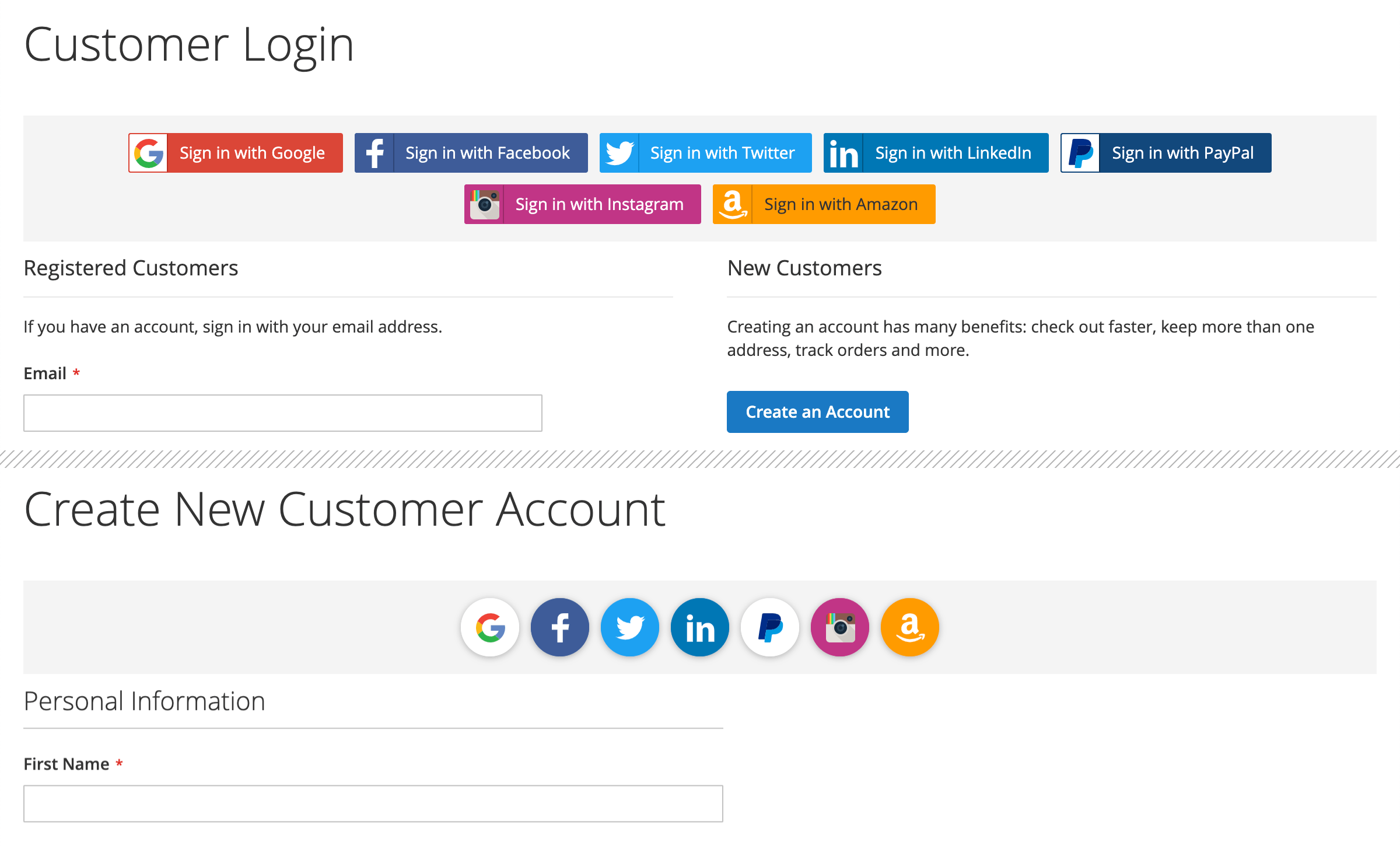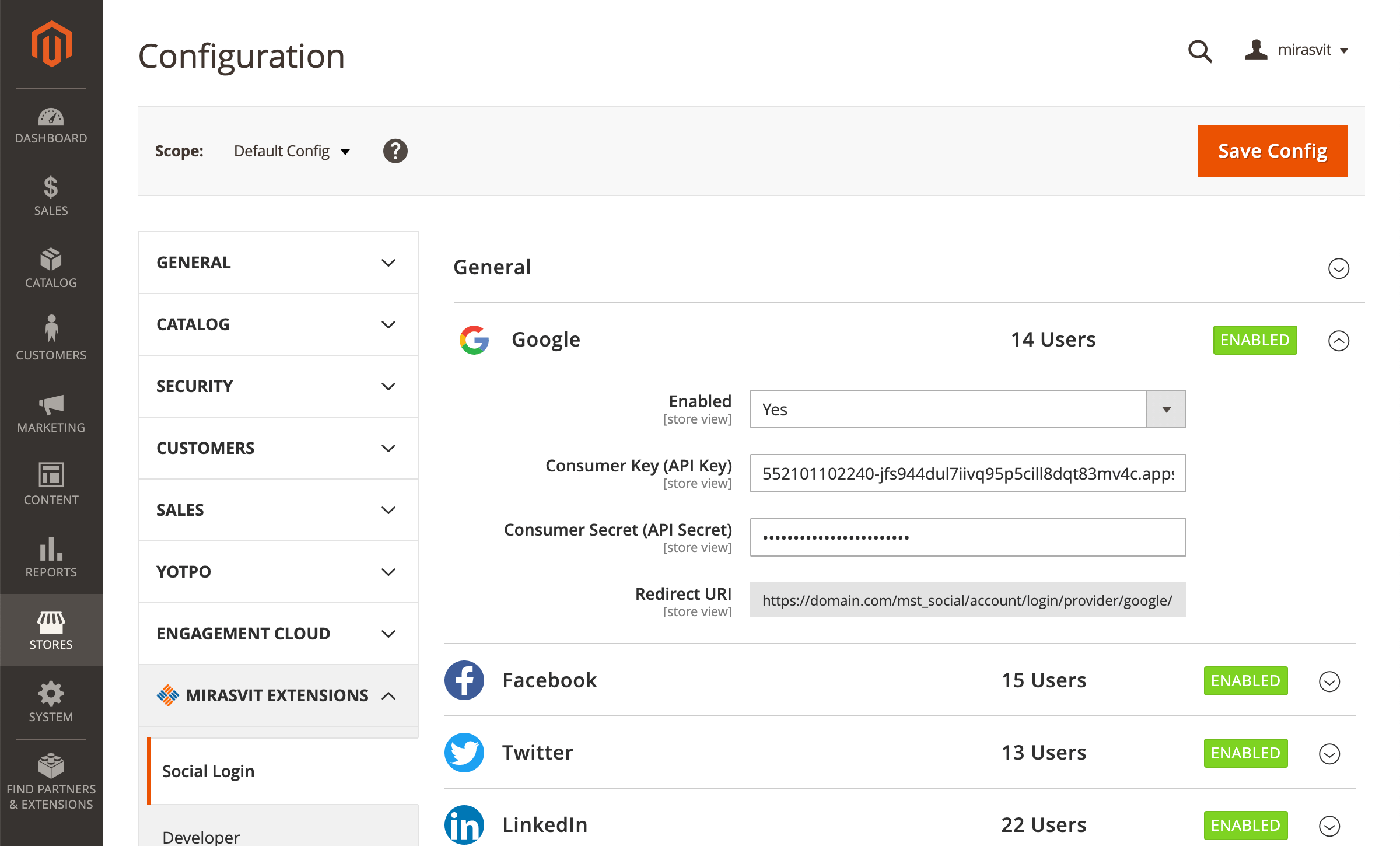 What does Social Login for Magento 2 do?
Every experienced internet user knows how it is annoying to signing up or signing in on every site.
Sometimes users do this, but sometimes not. What a pity, we just lost an 'almost our' customer. Is there any solution to deal with this issue?
We want to say 'yes.' What if the authorization process was more comfortable? Could it help to increase the number of authorized users? Studies show that more than eighty percent of visitors more likely to sign up/in if there is an option for authorization via social networks.
This module aims to provide a comfortable and straightforward way to transform your visitors into your customers. The extension it ready-to-use. Just select desired options after the installation process and improve your customers' experience instantly.
There are two options to understand how well the module works. Try to deep into internal module statistics. It shows how many times users use this or that social network. Second, learn the statistic provided by Google Analytics. How has it changed the bounce rate and abandoned carts? Promise, you will be pleasantly surprised.
Full features lists
Diversity of supported services (Amazon, Facebook, Google, Instagram, LinkedIn, PayPal, Twitter, Yahoo)
Internal statistics
Forwarding to a particular page after authorization
Two display options - buttons or icons
Display the social on the shopping cart or whenever you want
Wrapping up
This module is the must-have solution for merchants who are looking for ways to improve the users' experience and willing to boost sales in their stores.
See it in action!
Pick a quick tutorial to learn about various aspects of this extension
Must have

Brandon

from United States

Amazing extension with all essential features.
Compatibility
The Social Login for Magento 2 is compatible with:
| | |
| --- | --- |
| Magento 2 Community Edition (CE) | 2.1.* - 2.3.* |
| Magento 2 Enterprise Edition (EE) | 2.1.* - 2.3.* |
| Magento 2 Cloud | + |
Have a question? Ask our support team
Need more help?
Save time by starting your support request online and we'll connect you to an expert.
Contact Us Now
Refund Policy
All customers can request a refund during 30 days after purchase of our software, if customer think that our software is not suitable for any reason. To request refund, customer must remove all copies of our software from its store, servers, computers, email, etc and confirm by email such removal. After receiving a request we will proceed refund within 3 business days.
If request for refund is received after 30 days after purchase, it will be rejected. Cost of installation and customization services are not refundable.
Support and bug fixing
Mirasvit offers free 90 days support of all software sold on this site. Customers can report all bugs, which were found in our software. We can solve only the bugs directly related to or caused by our extension. Those bugs must be reproduced on fresh Magento installation without any 3rd party plugins. We will solve that bugs in order of our development plan.
We don't do any type of custom work and we have a right to reject a support request if the issue is store-specific (cannot be reproduced on the fresh Magento installation without any 3rd party plugins).
Mirasvit will not be liable to you for any damages (including any loss of profits/saving, or incidental or consequential) related to our support service caused to you, your information and your business.
Software updates
Mirasvit offers free lifetime updates if they areavaliable. Updates are limited to the Magento version branch (1.x.x or 2.x.x). Customer can download an update and install it by himself. If support period is expired, Mirasvit.com can't solve any possible problems with our software during or after updating. Mirasvit does not guarantee that it will release updates for any product.