Help Desk MX
| | | |
| --- | --- | --- |
| Compatible with: | Community: | 1.4.1 - 1.9.3 |
| | Enterprise: | 1.10 - 1.14.2 |
Help Desk MX - is an essential and must have extension for every Magento store, that allows you to provide a complete customer care service and excellent support attendance. It allows every customer to submit support requests in the most suitable manner.
Features for Customers
Create a ticket via a Contact Us Tab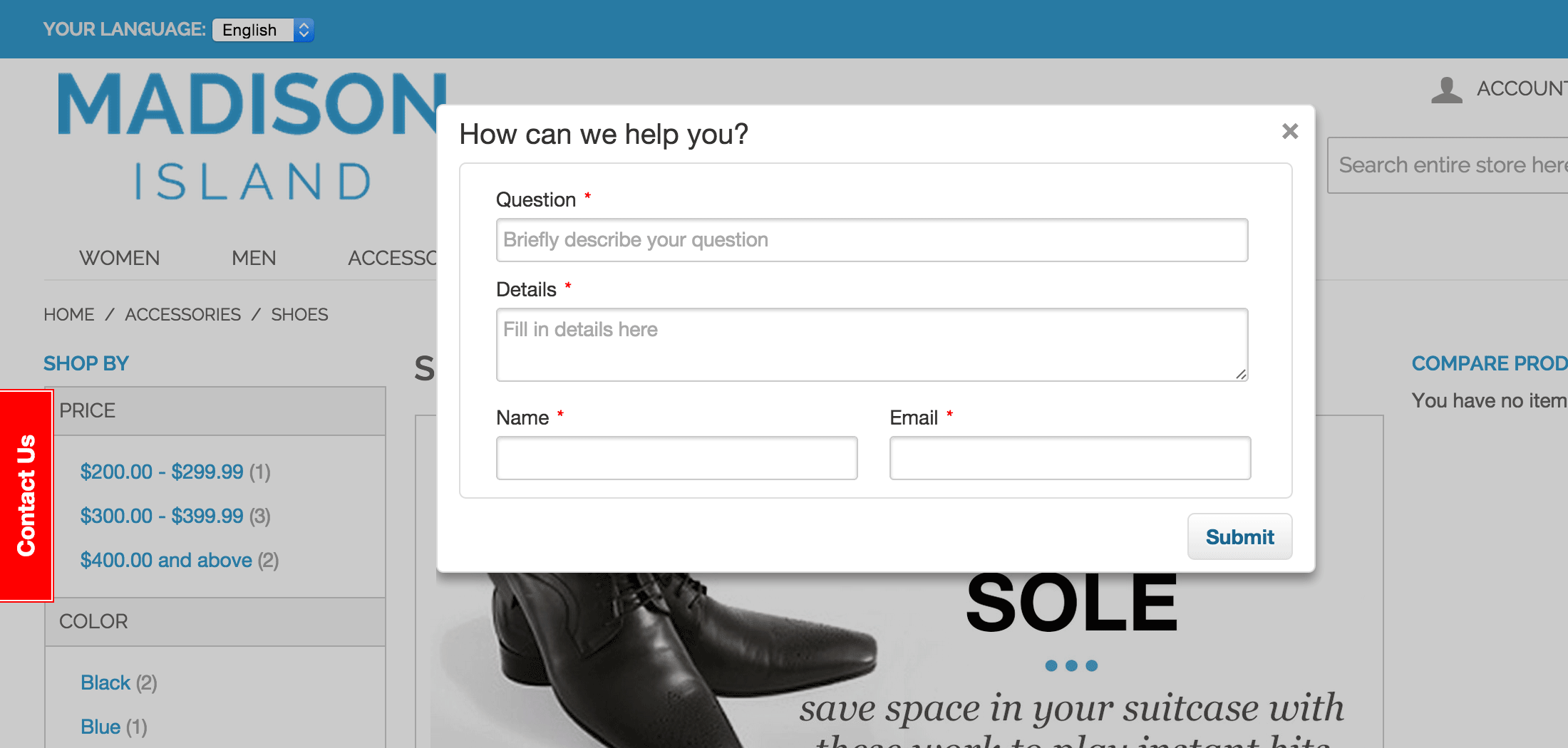 This feature allows to create tickets using a Contact Us tab, which is shown in the left or right side of each store page. When a customer clicks on the tab, the help desk shows a popup window containing the Contact Us form.
You can allow a customer to select a department and priority of a ticket in the form.
Customer can attach files.
You can add your own custom fields to the form (text, dropdown list, calendar, etc).

You can enable integration with the Mirasvit Knowledge Base extension.

If integration is enabled, customer will perform search in the knowledge base before opening a ticket. Otherwise, the customer will open a new ticket.
Create a ticket via a Contact form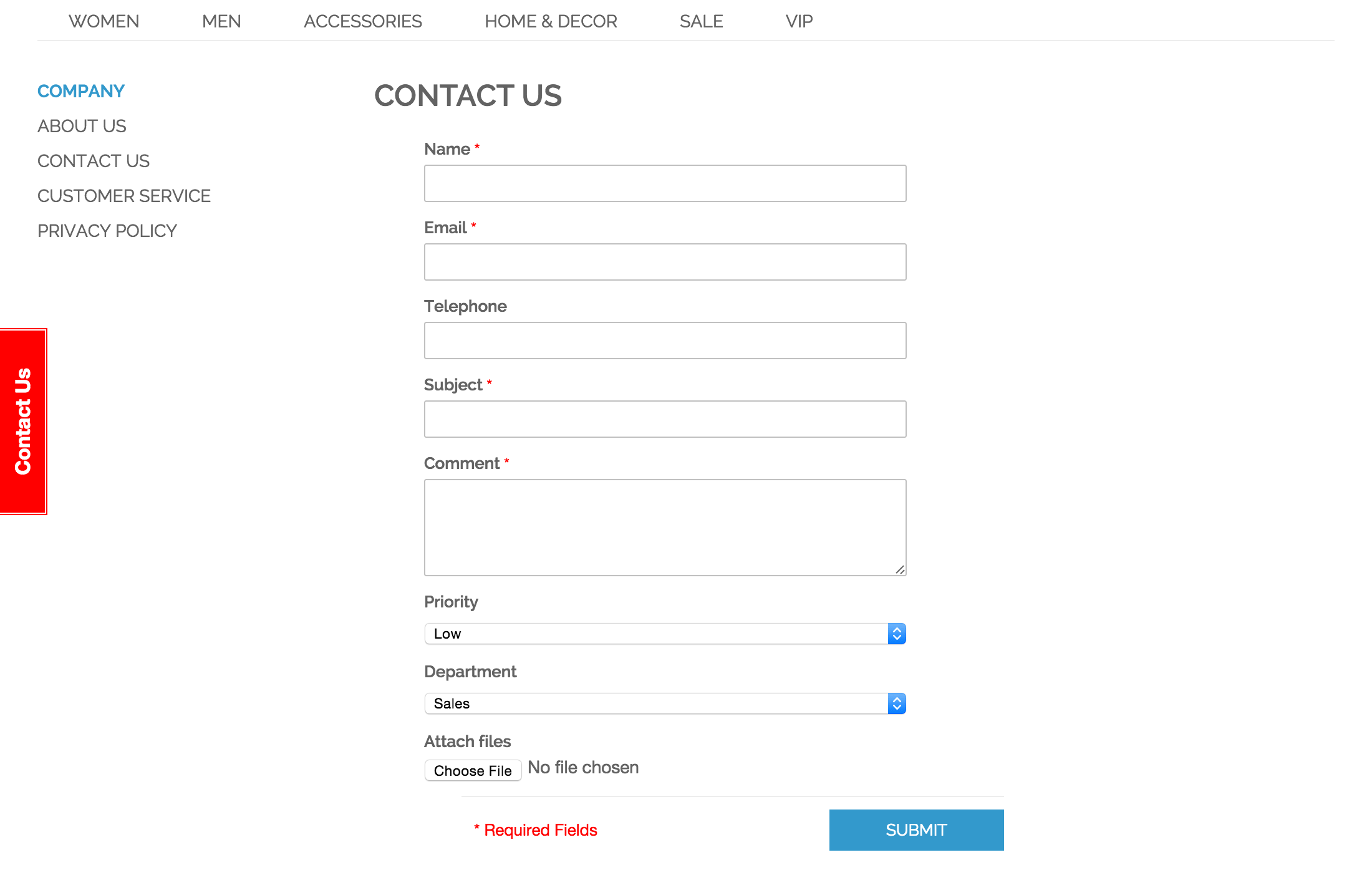 This feature allows you to create tickets using the Magento Contact form.
You can allow a customer to select the department and priority of a ticket.
Customer can attach files.
You can add your own custom fields to the form (text, dropdown list, calendar, etc).
Create a ticket from chat (Zopim, Olark, Livezilla, etc)
If chat is in offline mode, Help Desk MX can create tickets from the offline messages. Thus, you will not lose these messages. Your team will reply to every message.
Widget with a form for the ticket creation
This feature allows you to add the ticket creation form into any CMS page or block. You can add different types of custom fields into the form.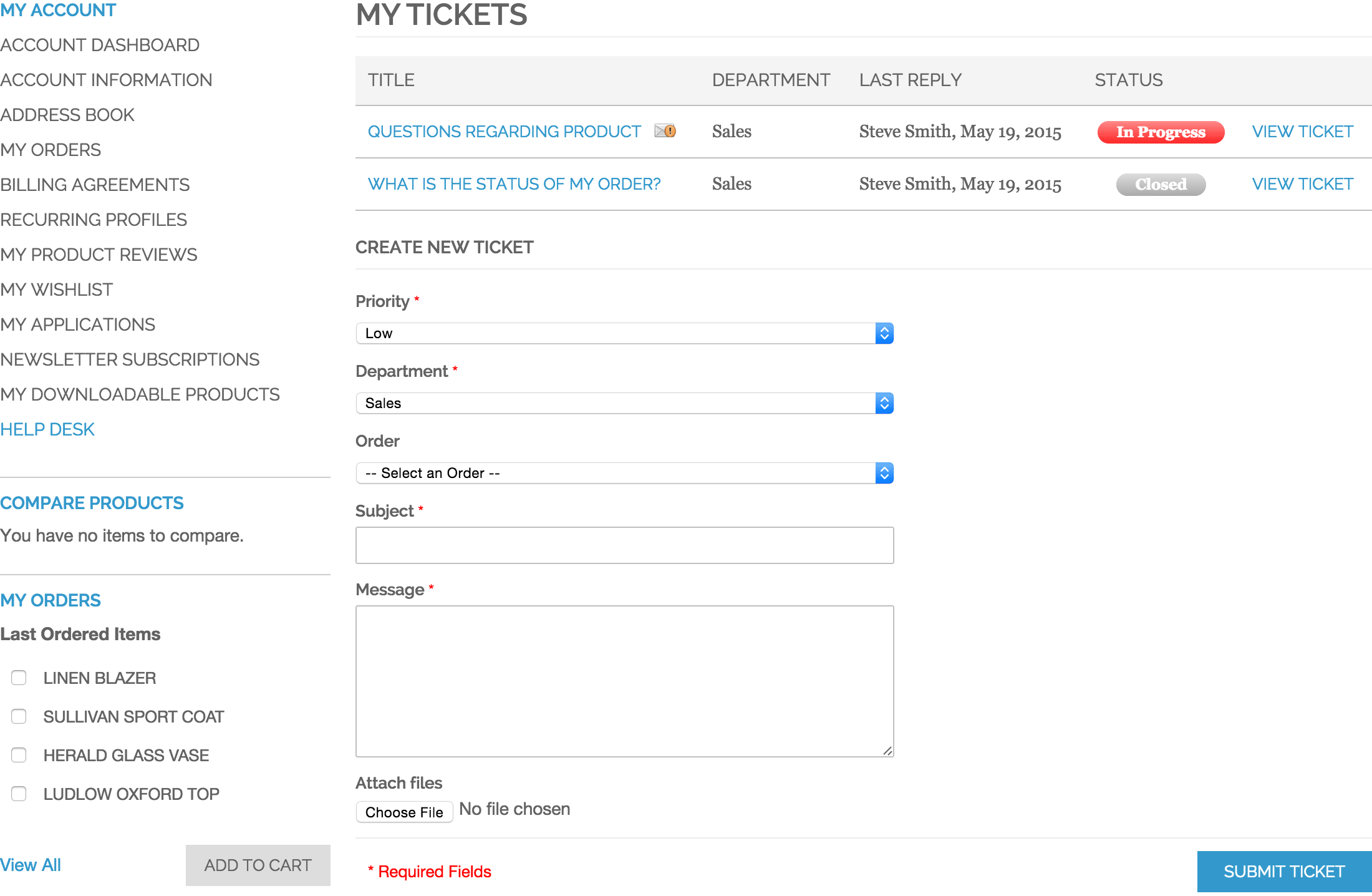 Customer Account
Customer account contains a section named Help Desk. By visiting this section, a customer can do the following things:
create a ticket or reply to a ticket.
see the list of tickets.
check his/her message history for any ticket.
check the highlighted tickets with new messages in the list.
Features for Support Agents
List of Tickets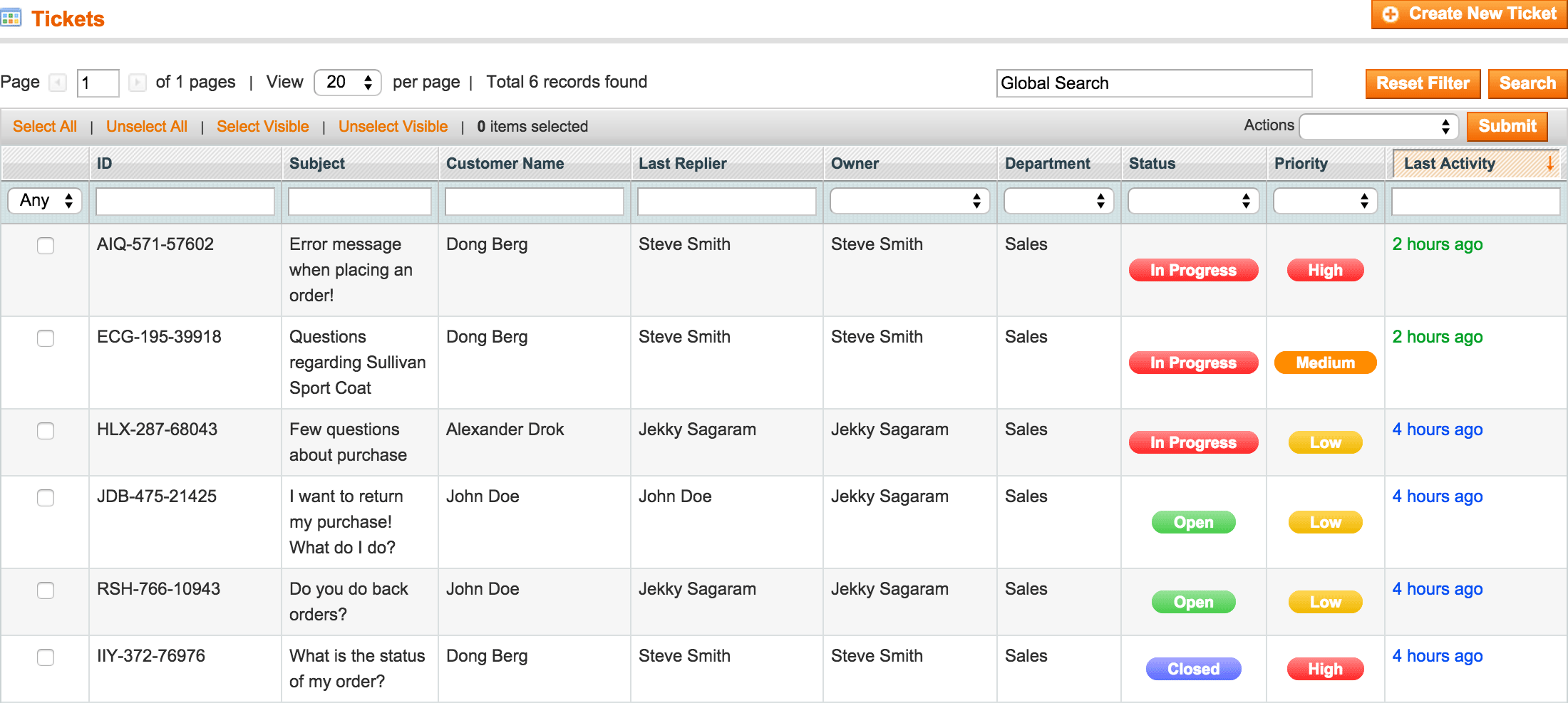 You are able to configure a list of the columns which are displayed in the tickets table.

You can perform mass actions with the tickets as follows:

perform a change of Status, Priority, Owner.
move tickets to Archive.
move tickets to Spam.
merge tickets.

New

delete tickets.

You can perform a global search of the tickets.

Efficient search algorithm. Search within all the fields of the tickets. Results are sorted by relevance.
Archive of Tickets
Tickets which do not require any actions from the agents (such as waiting for an answer from a customer or are closed), can be easily moved to the archive. Hence, you'll be only left with the tickets which are located in the main list of the tickets and require answers from agents.
You can adjust extension settings in order to specify status under which your ticket will be automatically moved into the archive. Also you can set up the workflow rules in order to enable automatic redirection of a ticket to or from the archive.
Working with Tickets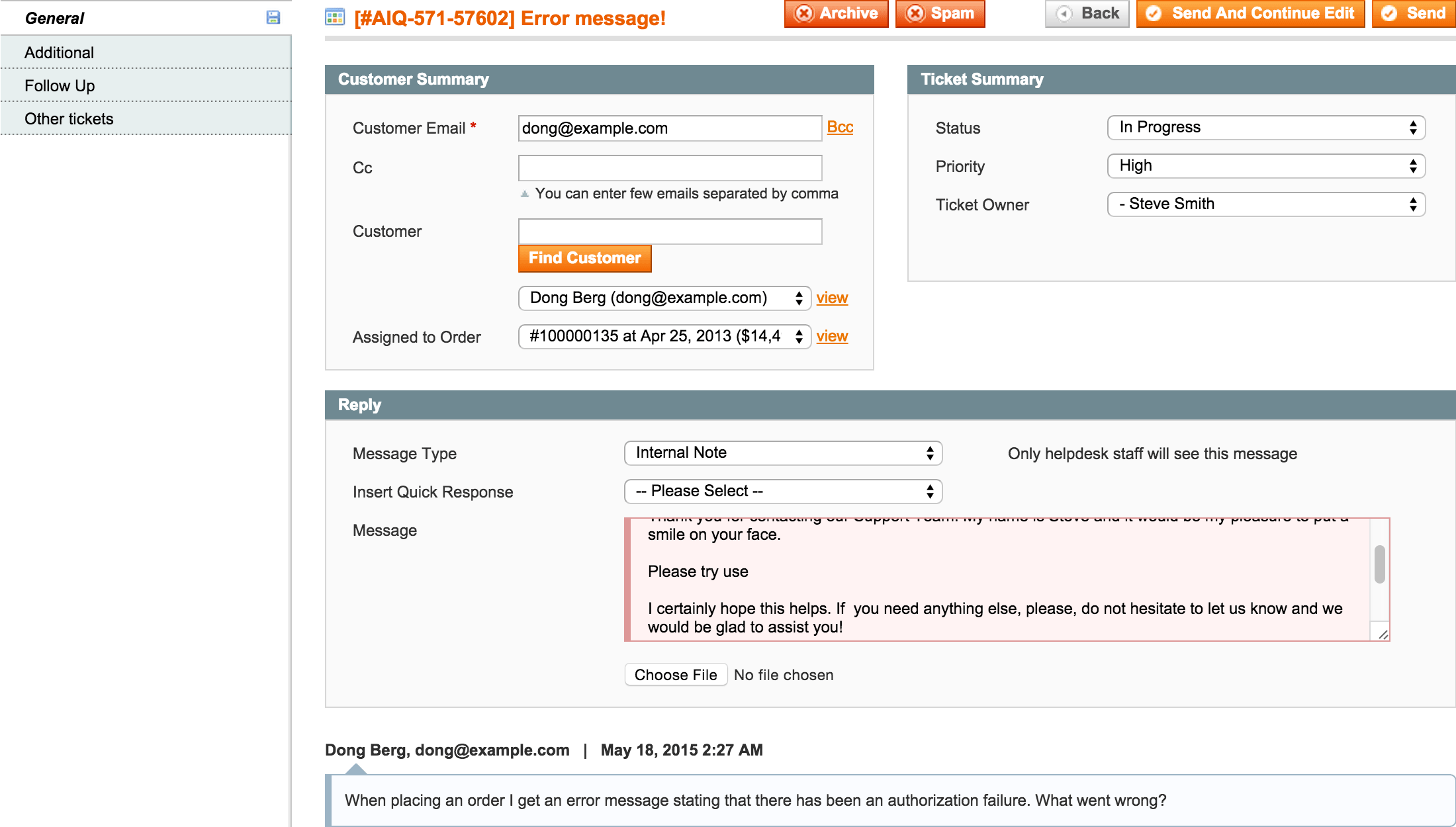 Agent can link a ticket with a customer and his order. This feature works for registered and non-registered customers.
Agent can use quick responses (predefined templates of answers)
Agent can use CC, BCC for ticket emails

New

Agent can see a source of ticket.
Agent is able to add tags to ticket.
Agent can add an internal comment (customer won't be able to see it).
Agent can see/edit values of the custom fields.
Agent can setup the Follow Up feature. This feature enables automatic sending of an email notification to Agent as well as a change of status, priority, owner of the ticket after some specified period of time.
Agent is able to check the list of other tickets for this customer.
Agent is able to see whether another agent is responding to a current ticket.

New

Every agent can setup own their signature for emails. Signature can include html tags and images.

New
Conversation with Third Parties
Must Have
Agent can send emails to third parties and receive the answers from them on the ticket page. These messages can contain a conversation with the suppliers, shipping company, etc. Conversations can be public or private. Customers will see public conversations in the ticket history. Private conversations will be visible only for agents.
List of tickets in the customer/order edit page
Agent can open the customer page in the backend and check all the tickets available for their customer.
He can also open the order page in the backend and check all the tickets which are connected with the current order.
Satisfaction Surveys
Must Have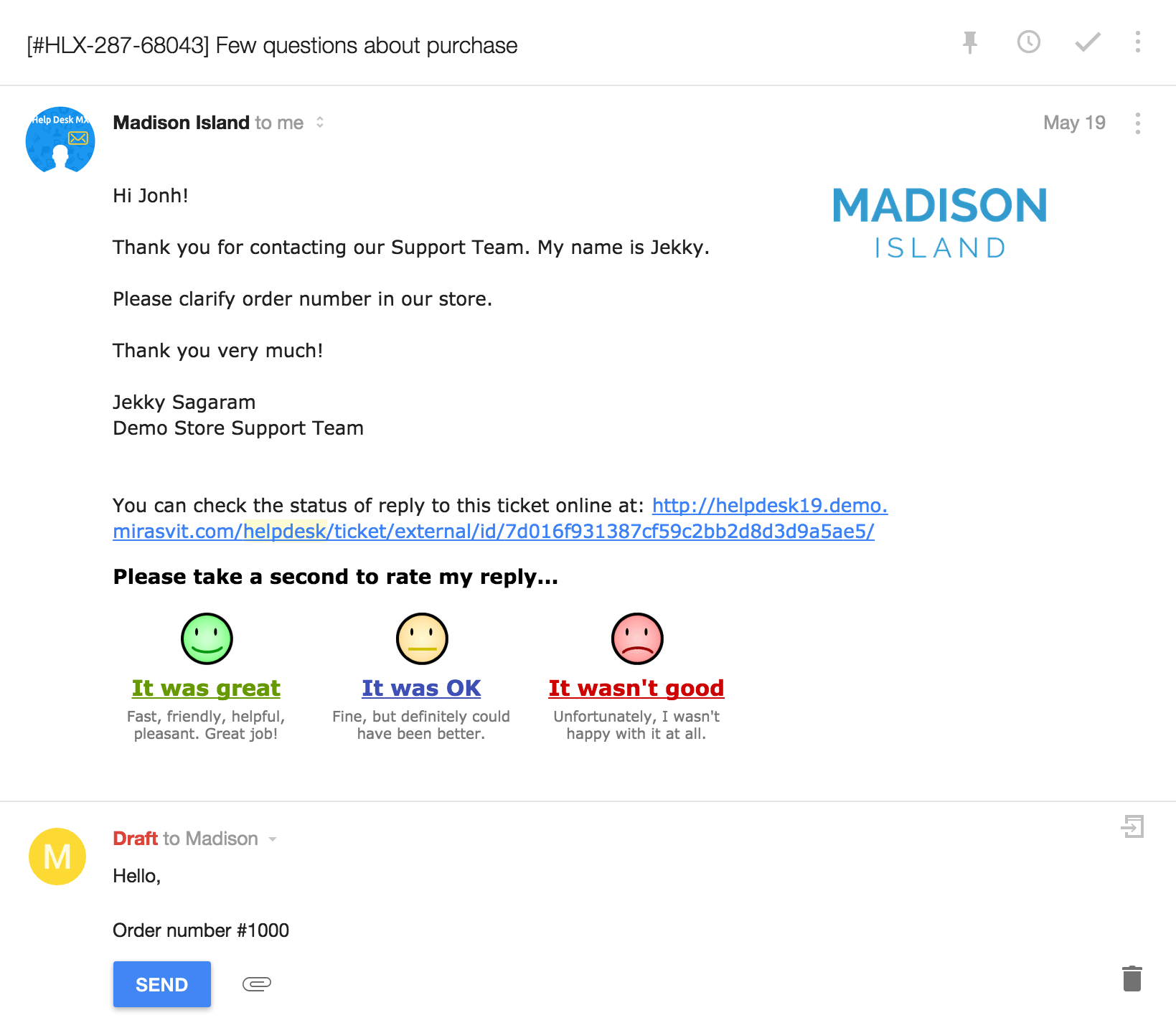 Help Desk MX allows you to insert a block with the satisfaction survey into an email with the agent reply. Customers will be able to evaluate the reply quality by clicking the smiley upon receiving such an email. They will also be able to add a comment in addition to the chosen smiley.
The agent will receive an email containing the customer feedback. He will be able to improve the quality of his work based on this feedback.
There will be collective list of all customer feedbacks in the backend. Therefore, you will be able to draft a customer satisfaction report.
Features for Administrator
Mailboxes
Must Have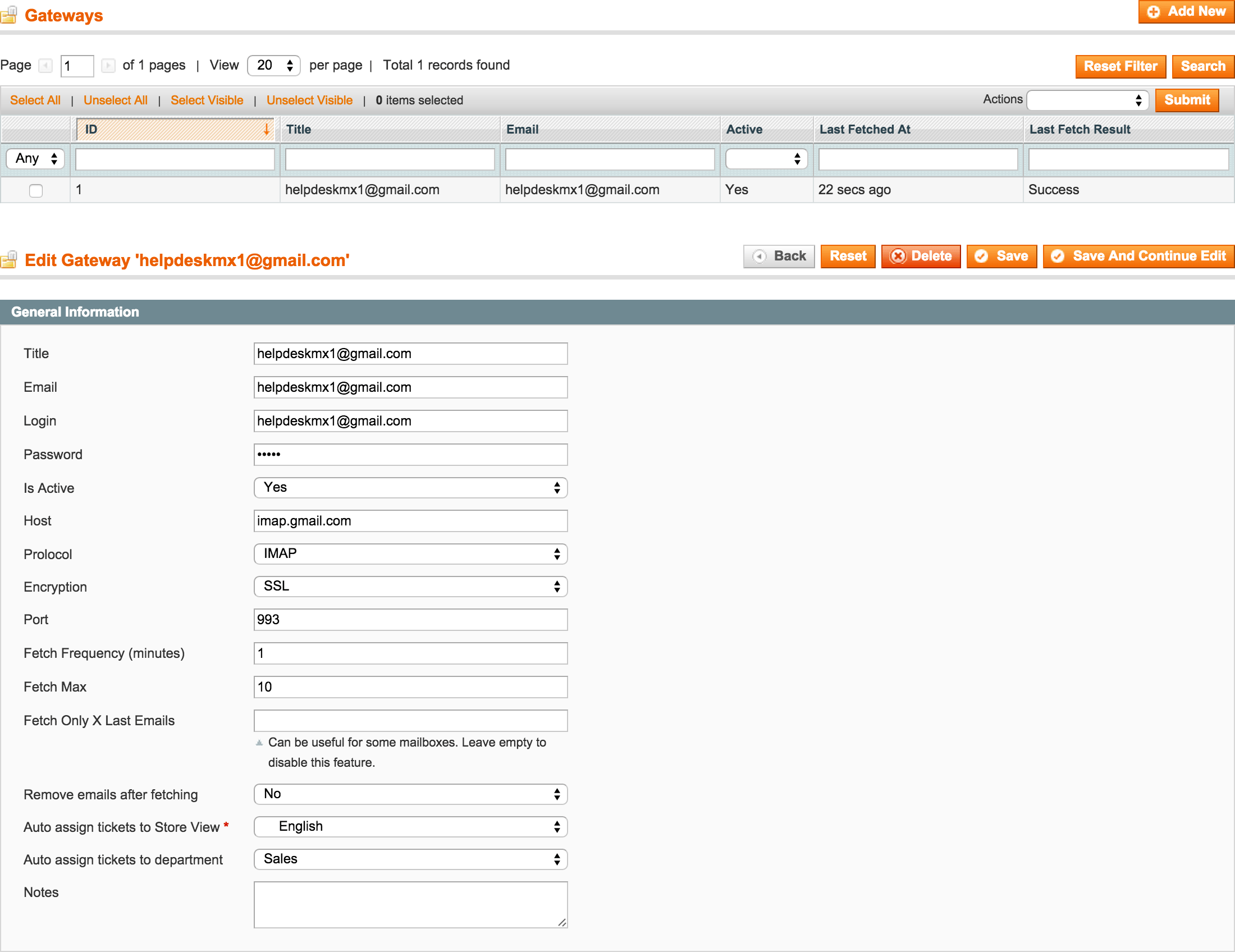 You can connect your mailboxes to the help desk (e.g. sales@store.com, return@store.com, support@store.com). Help Desk will regularly check them and fetch the emails. Emails will be converted to new tickets or answers will be added to the existing tickets.
Your employees will be able to fully correspond with customers through the Help Desk, therefore they will be able to work in a more efficient way.
You can connect any number of mailboxes.
Emails from different mailboxes can be automatically assigned to the different departments and store views.

2-way email parsing

A customer or agent can answer the ticket without needing to visit the store, because providing a response to the email via the email client will suffice. Help desk will receive the email with an answer, attach it to the right ticket, and forward it further on.

Support of IMAP/POP3, SSL
Departments
Every ticket can be assigned to a department. The customer can select a department for the new ticket.
Ability to add/edit/remove departments.
Every department has assigned agents.
Ability to send an email notification about a new ticket to all the department agents.
Ability to translate the department's name into different languages (for multilingual stores).
Statuses/Priorities
Ability to add/edit/remove statuses/priorities.
Ability to assign unique color for any status/priority.
Ability to translate the name of status/priority into different languages (for multilingual stores).
Quick Responses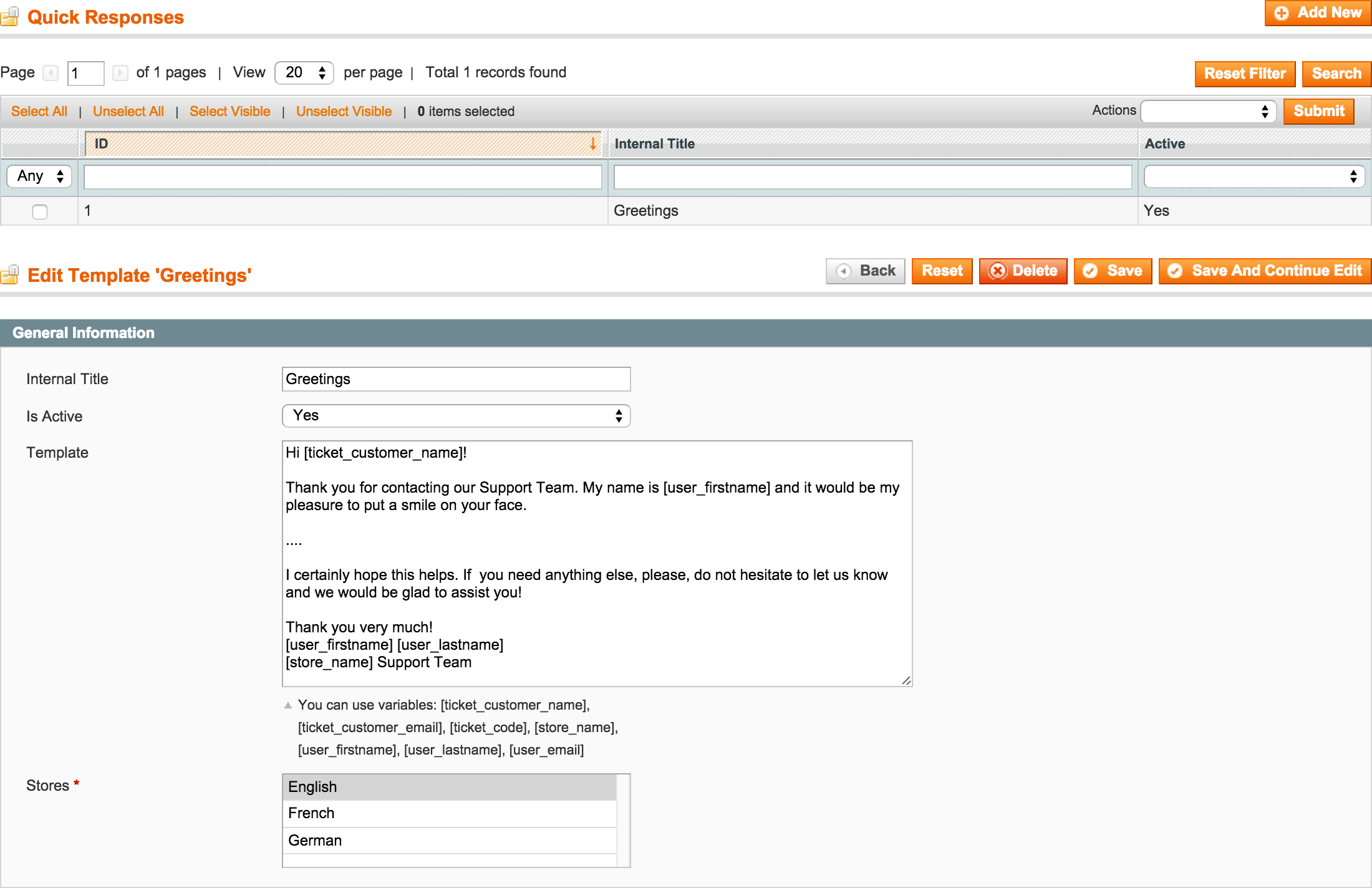 Quick Responses represent the templates of frequent answers, which can be used to reply a ticket.
It is possible to add/edit/remove quick responses.
They can be assigned to the store views.
It is possible to use different ticket's variables in the template.
Signatures for Email
You can setup a signature for each agent and help desk will automatically add the signature to the outgoing emails. Signatures can include HTML tags (e.g. you can add a photo of your agent).
Custom Fields
Must Have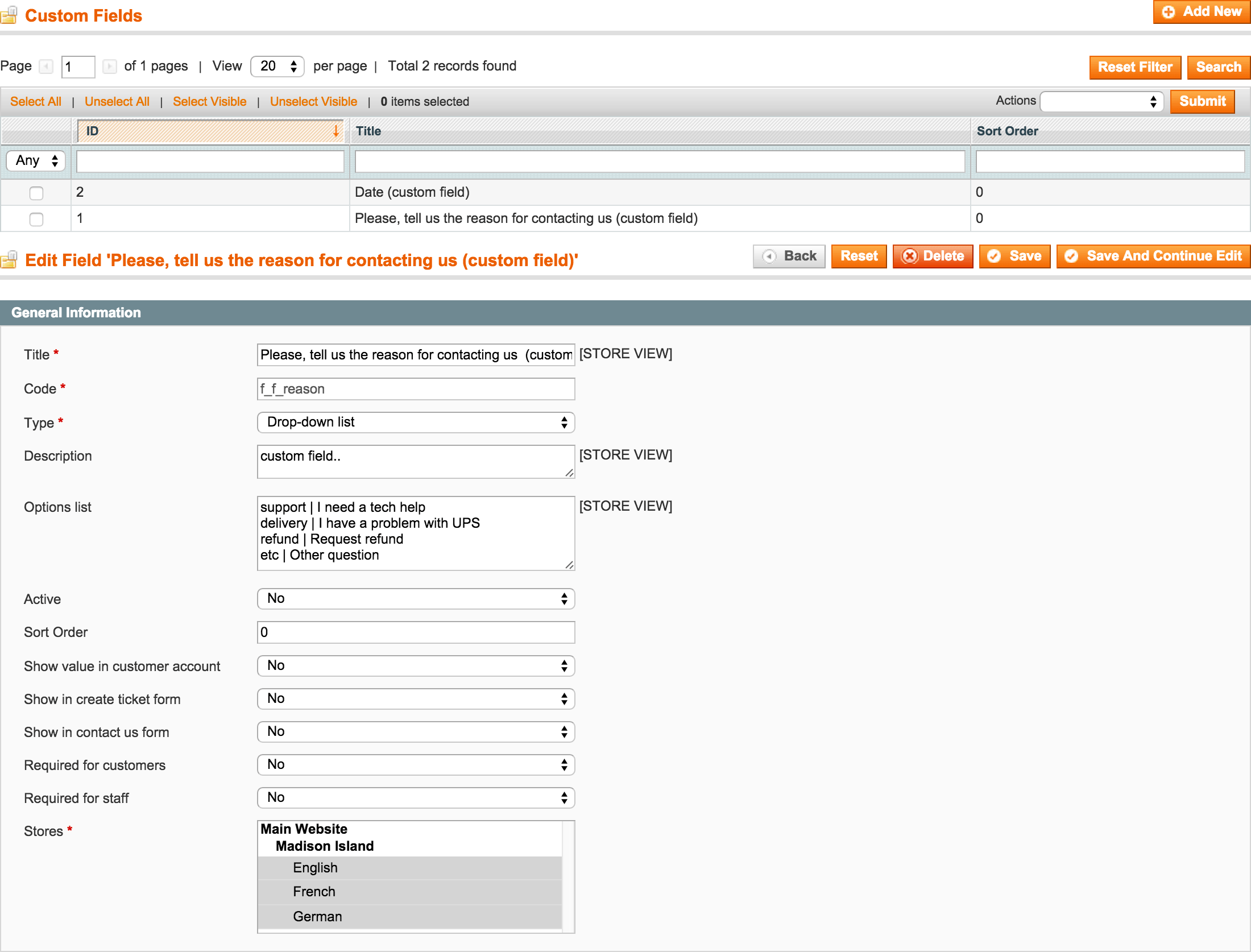 Custom Fields allow to customize the help desk as required. You can create any number of fields for storing all the ticket-related information.
Different types of custom fields (text, dropdown list, checkbox, calendar).

Fields can be displayed in the following places:

Customer account.
Ticket creation form.
Contact us form.
Contact us popup.

Customer or agent may be required to fill in the field.
Multilingual support
Access Permissions
The extension allows to configure the different access permissions for the agents from different departments.
Workflow Rules
Must Have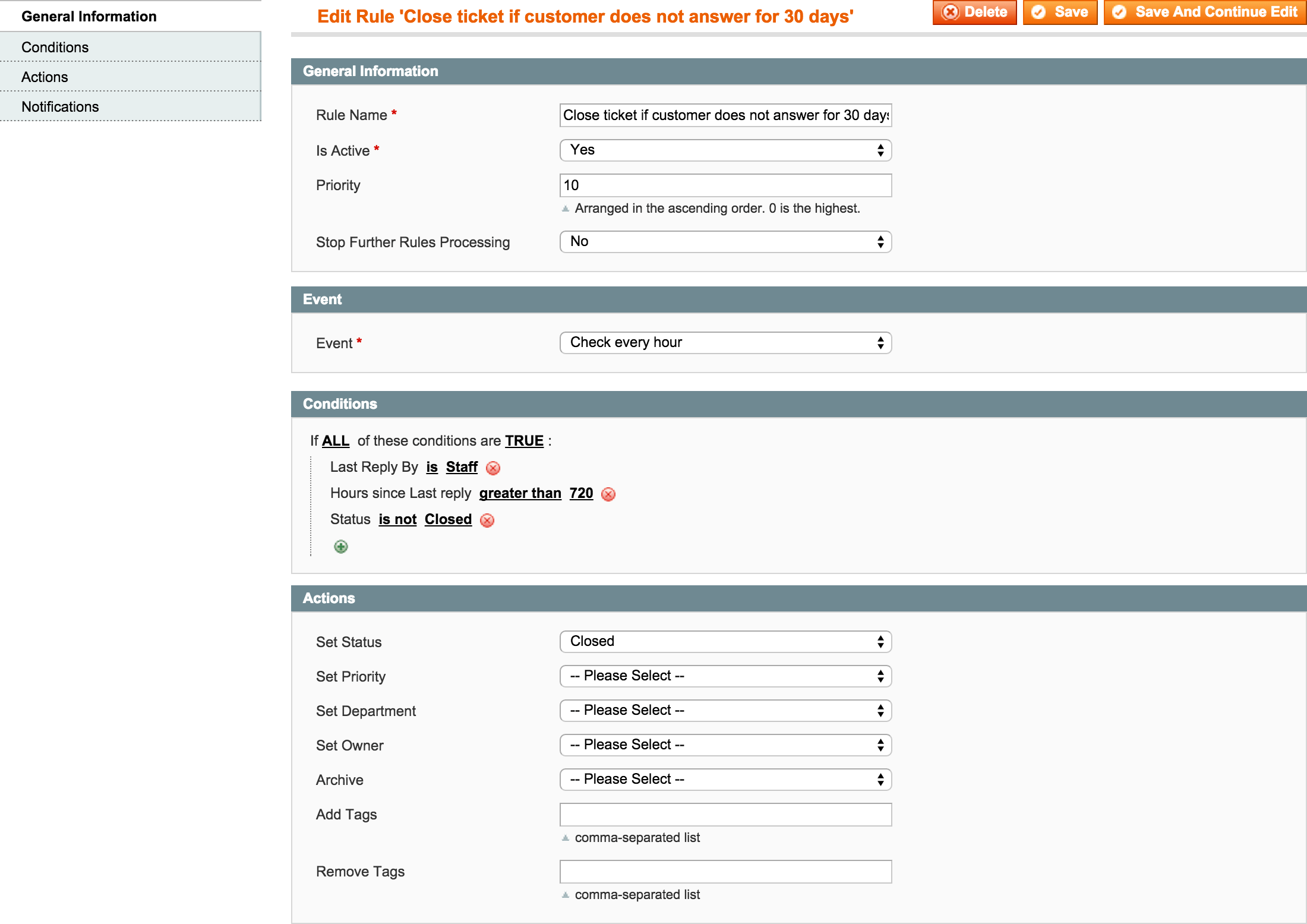 Workflow rules allow you to configure the Help Desk algorithm in a unique way. You create the rule which will be executed once a certain event is initiated. When the rule is executed, it will check out whether certain conditions are fulfilled, and then it will run the execution of specified actions granting a positive outcome of such an operation.
Workflow rules can be executed when one of the following events is initiated:

New ticket has been created.
New reply from a customer has come in.
New reply from staff has come in.
New reply from a third party has come in.
Ticket has been assigned to the agent.
Ticket has been changed.
Every hour checked by cron.

Workflow rules can check the fulfillment of the ticket fields with regard to the completion of certain conditions.

If conditions are fulfilled, then workflow rules will run the execution of specified actions such as:

Status change of a ticket
Priority change of a ticket
Department change of a ticket
Change of an owner of the ticket
Change of the ticket tags
Move the ticket to the archive.

Workflow rules can send notification emails to the owner of the ticket/all department's agents/customer.
Examples of Usage
Notifies the store owner if a ticket has not been answered for 3 days
Set status to 'In Progress' upon receipt of the first reply from the support team
Close ticket and send notification in case of not getting reply from a customer within 30 days.
Reports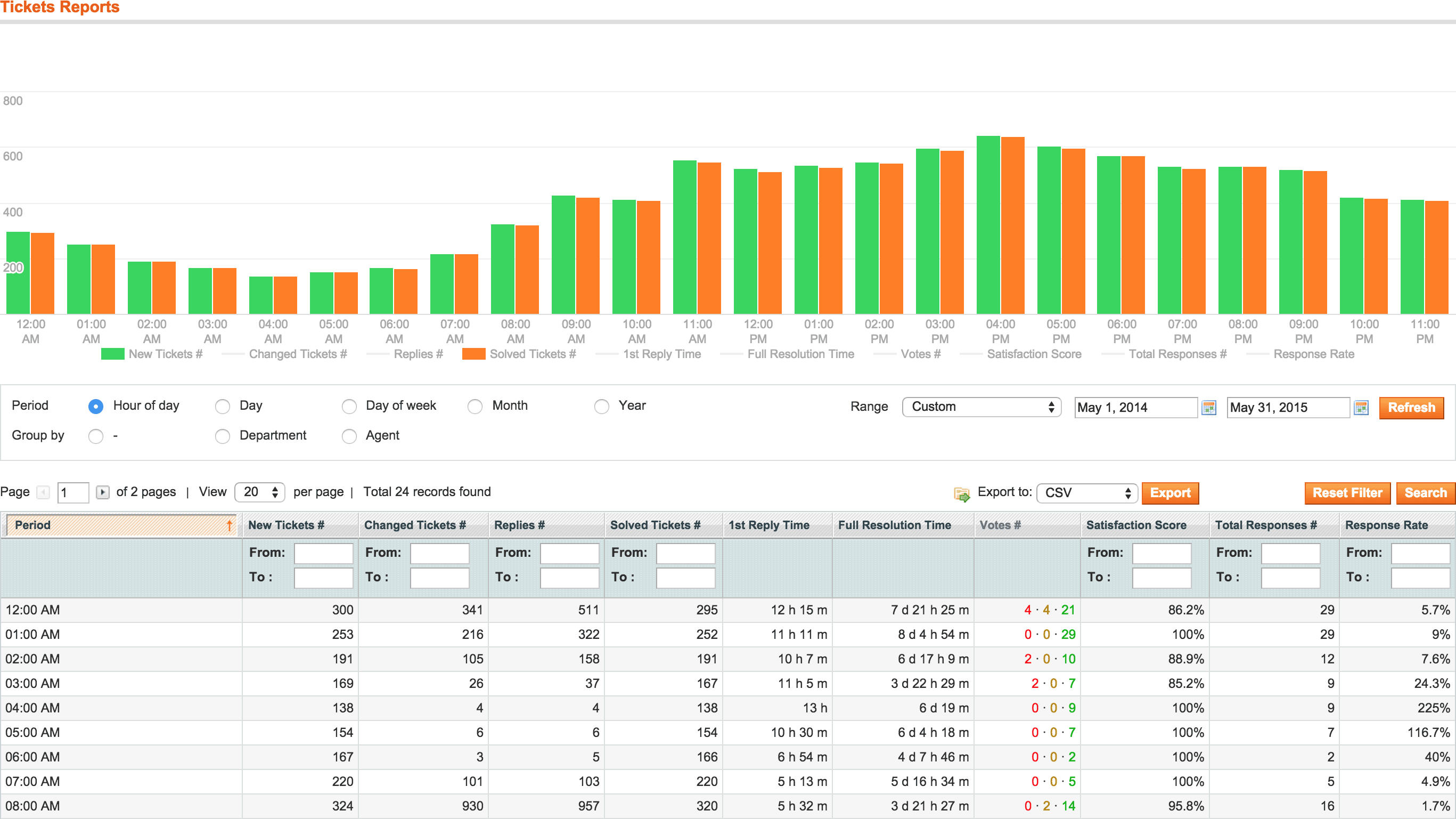 This feature allows you to analyze the following data:
Number of New Tickets.
Number of Changed Tickets.
Number of Replies.
Number of Solved Tickets.
Time of the 1st Reply.
Full Resolution Time.
Number of Received Votes (Great/OK/Bad).
Number of Responses.
Satisfaction Score.
Response Rate.
All reports will enable full analysis of the information. In particular, you will be able to process and sort information by every store department or every member of the support team. Reports also include graphics, which can be used to analyze the dynamics of changes in a very convenient way.
Integration with Mirasvit RMA Extension
This feature allows you to convert the tickets into RMA requests. Let us assume that a customer sends an email to the address: returns@store.com. Help Desk receives this email and converts it into a ticket. The agent can convert this ticket into the RMA request by clicking the button named Convert to RMA. After converting to RMA all further emails for this ticket will be automatically forwarded to the RMA extension and all communication will go there.
Additional Features
The ability to customize the email templates through the admin interface messages
Effective spam protection
Protection from a hanging helpdesk due to recursive email fetching

New
Comparison with Cloud Services
| Feature | Help Desk MX | Cloud service (Zendesk, Kayako, Help Scout, etc). |
| --- | --- | --- |
| Terms of Use | You pay for an extension only once. No monthly or annually fees. Unlimited amount of the tickets or agents. | You have to pay every month. Your functionality is limited by a chosen subscription plan. Your expenses will increase as the size of your company grows. |
| Integration with Magento | Extension is fully integrated with Magento. Customers and orders are linked to the tickets. All the information is at your disposal at the backend of your store. | You need to constantly switch between Magento backend and the cloud service interface. There is no convenient link between customers, orders and tickets. |
| Data Protection | All information is stored on your server. You do not pass your private information to third parties. | Information about your customers or emails is passed to third parties. |
| Customization Ability | You receive an extension along with an open source code. You can change extension logic in accordance with your requirements, or add new features. | There is no access to the source code. It's not possible to change anything. |
Comparison with Extensions of Other Providers
| Feature | Help Desk MX | Other help desk extension |
| --- | --- | --- |
| Workflow rules | + | - |
| Satisfaction surveys | + | - |
| Conversation with third parties | + | - |
| Ability to create a ticket using a contact us tab | + | - |
| Archive of tickets | + | - |
| Widget with a ticket creation form | + | - |
| Custom fields | + | - |
| Integration with RMA extension | + | - |
| Integration with Knowledge base extension | + | - |
1.5.4
(2017-09-19)
Fixed
Resolved issue with high CPU load due to Desktop Notifications
Fixed ticket saving issue when store and database have different timezones
1.5.3
(2017-09-13)
Features
Added ability to filter uploaded files
Fixed
---
1.5.2
(2017-07-21)
Features
Fixed
---
1.5.1
(2017-02-02)
Fixed
HDMX-64 - Fixed event firing issue, made internal post generate proper event (#65)
Features
---
1.5.0
(2016-11-29)
Fixed
New Message template preview crush at Transaction Emails
Incorrect department save when answering staff has no department
Customer Email column issue and Order Number condition check issue
Mirasvit_Helpdesk_Model_Observer_CheckSessionLifetime::execute method creates the early session issue in magento admin
Features
Added new rules to email parser
---
1.4.9
(2016-09-27)
Fixed
Fixed incorrect display of statuses with extended colors in Frontend
Fixed active tickets calculation for ticket statistic
Fixed search by Last Message column
Fixed error log messages
Features
Added possibility to display tags in admin grid
Added email variables for last customer and staff messages
---
1.4.7
(2016-08-23)
Fixed
Fixed an issue when user with the same email as gateway organized loop of answers (#32)
---
1.4.6
(2016-08-15)
Fixed
Fixed incorrect Hours since rule validation and notification corrected (#25)
Fixed an issue when incorrect email encoding makes fetch fail (#29)
Fixed an issue when wrong tickets url in "Customer -> Help Desk Tickets" tab (#27)
Improvements
Added mass action Restore tickets (#23)
---
1.4.5
(2016-07-28)
Fixed
Fixed an issue when satisfaction form does not display on ticket external view (#20)
---
1.4.4
(2016-07-27)
Fixed
Fixed an issue when in some cases 'uid' parameter cut from $_REQUEST (#19)
---
1.4.3
(2016-07-02)
Fixed
Added to Validator missing tables for Third-Party Dict… (#12)
Fixed issue with Fetch Max counting also auto-submitted emails (#14)
Added check for gateways address on Fetch (Mandrill compatibility issue) (#8)
Fixed incorrect visibility for agent's respond as thirdparty (#10)
Fixed long URIs breaking outside message div (#6)
Added missed source options to the conditions of workflow rules
---
1.4.2
(2016-06-15)
Fixed
If session cookie lifetime is not set in config, extension may autologout user
---
1.4.1
(2016-06-13)
Improvements
Close merged ticket after tickets merge
Fixed
Possible js conflict with 3rd party layred navigation
---
1.4.0
(2016-06-08)
Features
HDMX-276 - Added ability to rate support answers via frontend
Added loader to feedback tab
---
1.3.4
(2016-06-03)
Features
HDMX-285 - Added customer Cross-comments
Fixed
HDMX-290 - Fixed order sorting in frontend ticket submission form
---
1.3.3
(2016-05-18)
Features
HDMX-278 - Added email preheader. Emails of helpdesk will be more nice in the mailbox.
HDMX-271 - Don't allow to send Cc and Bcc of emails to own gateways
---
1.3.2
(2016-05-13)
Fixed
HDMX-284 - Fixed an issue of Session Lifetime
HDMX-282 - Fixed incorrect Unread flag assigning for Internal messages
---
1.3.1
(2016-05-10)
Improvements
HDMX2-22 - Improved ticket answers' parser
Fixed
HDMX-279 - Fixed ticket history

HDMX-281 - Fixed store-based filtering of Custom Fields at List page in Customer Account
1.3.0
(2016-05-03)
Features
HDMX-274 - Added dictionary for Third Party Emails
---
1.2.7
(2016-04-21)
Features
HDMX-272 - Added Tickets Autosave section to the Help Desk Settings and check period settings
HDMX-267 - Added separate permission for Reports refresh recent and lifetime
HDMX-270 - Added eBay identification reference number to emails
---
1.2.6
(2016-04-12)
Fixed
HDMX-269 - Fixed bug, that allowed Internal Note to be send to the CC and BCC
---
1.2.5
(2016-04-06)
Fixed
HDMX-268 - Adjusted validator to current database structure
---
1.2.4
(2016-04-01)
Improvements
Notification about ticket opened by another manager
Fixed
HDMX-266 - Fixed email variable check
HDMX-266 - Fixed incorrect display of assigned order and incorrect data saving if ticket was dropped
HDMX-265 - Fixed incorrect display of custom fields with drop-lists in Workflow Rule Conditions
HDMX-264 - Fixed incorrect display and download of files with extended characters
Fix possible problem when we receive a huge email
---
1.2.3
(2016-03-02)
Fixed
Incorrect validator check of department assigned to gateway
Add additional validator checks
---
1.2.1
(2016-02-25)
Fixed
HDMX-261 - Possible error when switch storeview in backend (affects only 1.2.0)
---
1.2.0
(2016-02-25)
Features
HDMX-228 - Show desktop notification about new tickets and new messages
HDMX-229 - Allow managers to edit/delete a message from the ticket history
HDMX-243 - Added Customer Email and Order columns to the Tickets Grid
Fixed
HDMX-240 - Fixed misformed link in Satisfaction Grid
HDMX-238 - Added additional check for external tinyMCE to prevent Quick Responses always translated as HTML
HDMX-224 - Solve the problem with possible ticket loop
---
1.1.8
(2016-01-29)
Features
RMA-122 - Add RMA tab inside the ticket page of Help Desk
HDMX-100 - Added to Workflow Rules new conditions - customer email, cc email, bcc email, order number and channel
HDMX-210 - Added quick responses migration from MW to HDMX
Bugfixes
HDMX-222 - Added button text change to have consistent dialog
HDMX-222 - Fixed issue with button Create Ticket change when WYSIWYG enabled
HDMX-211 - Possible error during fetch: "Notice: iconv(): Wrong charset, conversation from ..". Affects from 1.0.3.532.
Improvements
HDMX-216 - Field Sender Email in Departements must be required and validated by email pattern
HDMX-218 - improve docs and help message of gateways
HDMX-217 - Add help note in configuration
HDMX-161 - Gateway note message
Documentation
HDMX-195 - Add to manual method to insert our Contact Form as block in CMS page
HDMX-100 - Added description of conditions
HDMX-215 - Added descriptions of email variables in workflow rules
---
1.1.7.2022
---
1.1.7.2019
---
1.1.7.2017
---
1.1.7.2012
---
1.1.7.2010
fix: HDMX-204: If enabled WYSIWYG, ticket history shows html tags
HDMX-201
HDMX-200
HDMX-199
---
1.1.5.1738
Add additional changes for HDMX-170
---
1.1.5.1704
---
1.1.5.1701
HDMX-153
HDMX-153
HDMX-149
HDMX-151
HDMX-150
---
1.1.5.1699
---
1.1.5.1692
---
1.1.5.1688
---
1.1.5.1683
---
1.1.5.1680
---
1.1.4.1634
---
1.1.4.1630
HDMX-135 -- If i do search in the main grid, search is applied to the ticket list in the Order Tickets Tab
HDMX-133 -- If order have only billing address, ticket creation from that order fails
---
1.1.4.1615
HDMX-130 -- When notificator has to be delivered to multiple recipients, sending email fails
---
1.1.4.1613
HDMX-125 -- When javascripts merged, adminhtml.js fails (affects releases from 1.1.3.1449)
---
1.1.3.1577
HDMX-109 -- Automatically sets default value "Internal Note" for the "Message Type" at the Reply field
---
1.1.3.1447
HDMX-101 -- Undefined index: customer_email in ../Helpdesk/Helper/Customer.php on line 43
---
1.1.3.1446
HDMX-98 -- When in contact form credentials differs from account data, ticket created with credentials from account
HDMX-92 -- Allow automatic assigning order to a ticket from email subject
---
1.1.2.1417
HDMX-90 -- When Mandrill is active, fatal error raises on sending CC
---
1.1.2.1410
HDMX-89 -- In contact form all departments are displayed, including inactive
HDMX-88 -- Backend: When i open an edit customer page, Tickets tab, ticket sorting is not working correctly
---
1.1.1.1343
HDMX-85 -- Option for enabling/disabling accepting tickets from other helpdesks
HDMX-84 -- When deleting a department, assigned to a gateway, reference in m_helpdesk_gateway persists
---
1.1.0.1296
HDMX-81 -- Kill helpdesk process if it has been stuck
---
1.1.0.1288
HDMX-77 -- Allow storing attachments in local file system
---
1.1.0.1285
HDMX-70 -- Ability to merge tickets
---
1.0.1.0.1251
HDMX-69 -- Signature for each agent
HDMX-68 -- Insert Quick response not working if WYSIWYG editor is enabled.
HDMX-61 -- Block send button to prevent sending twice
HDMX-67 -- When we open a ticket, filter of main tickets grid is applied to the "Other tickets" list
HDMX-62 -- Protect helpdesk from hanging with recursive fetching of emails
HDMX-66 -- Backend: After creating a new ticket, forward agent to the tickets list
HDMX-63 -- Allow to hide all agent names from the frontend
---
Reasons to choose Mirasvit
Client focusing and satisfaction
It is our main goal. A big part of our new clients come from referrals from our existing clients. Our professional team of developers, marketers and support invest the best knowledge and experience, so you could come back to us again and again.
Remarkable support
90-days free and high quality support. We make an effort to satisfy you with work of every module you have purchased in our store. Helping you with installation, configuration, answering your every question, we do all our best to eliminate any possible problems.
Risk-free Investment
30-days money back guarantee. If you are not satisfied with work of our extension for any reason we provide a full refund.
Constant improvements and upgrades
We provide you lifetime free updates. We constantly add new features to all our modules. We are absolutely interested to hear your opinion and to implement your suggested features in our future developments.
Comprehensive Documentation
We provide an expanded user guide for every our extension, so you can find answers for all your burning questions.
Unencrypted source code of our products
You can customize extensions according to your needs and requirements.
Usability and Performance
Module is easy to install and easy to upgrade, just follow step by step our user guide.
Safe Magento updates
No core modifications. Just copy extension files to store root directory.
We found other products you might like!
RMA

Special Price

$95.20

Regular Price

$119.00