Help Desk MX for Magento 2
Provide your online store customers with outstanding support. Collect and process all inquiries, emails, and offline chats in one place! No piece of information will be lost. Every message will be assigned to the right department and an appointed agent.
Connect all your mailboxes
Automate your business process using workflow rules
Contact third parties with a ticket
Receive instant push notifications
Browse the full history of a ticket
Create custom fields
Manage access permissions
Evaluate customers' satisfaction using post support surveys
Check the operational efficiency using helpdesk reports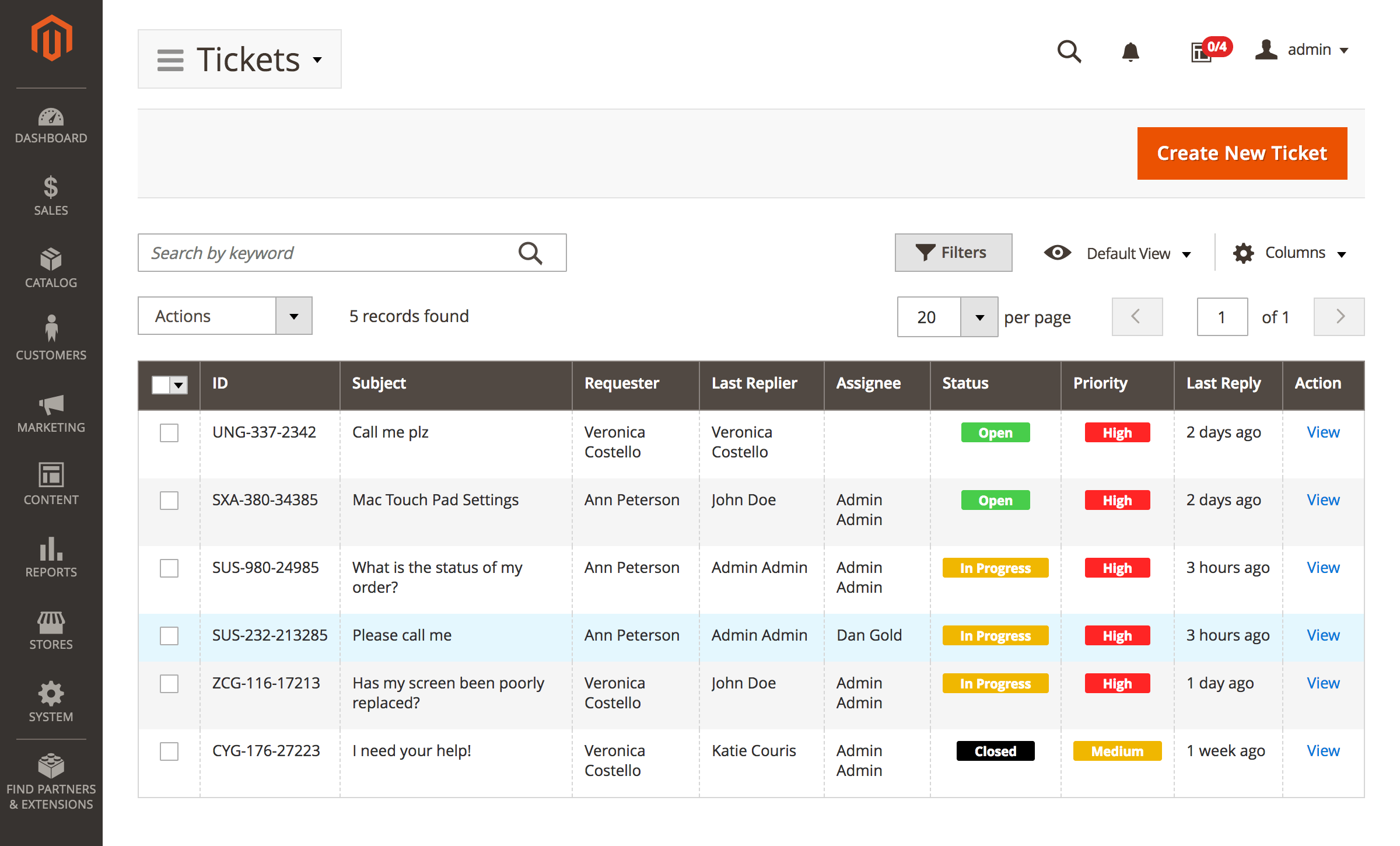 1/9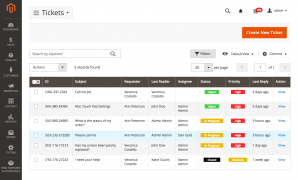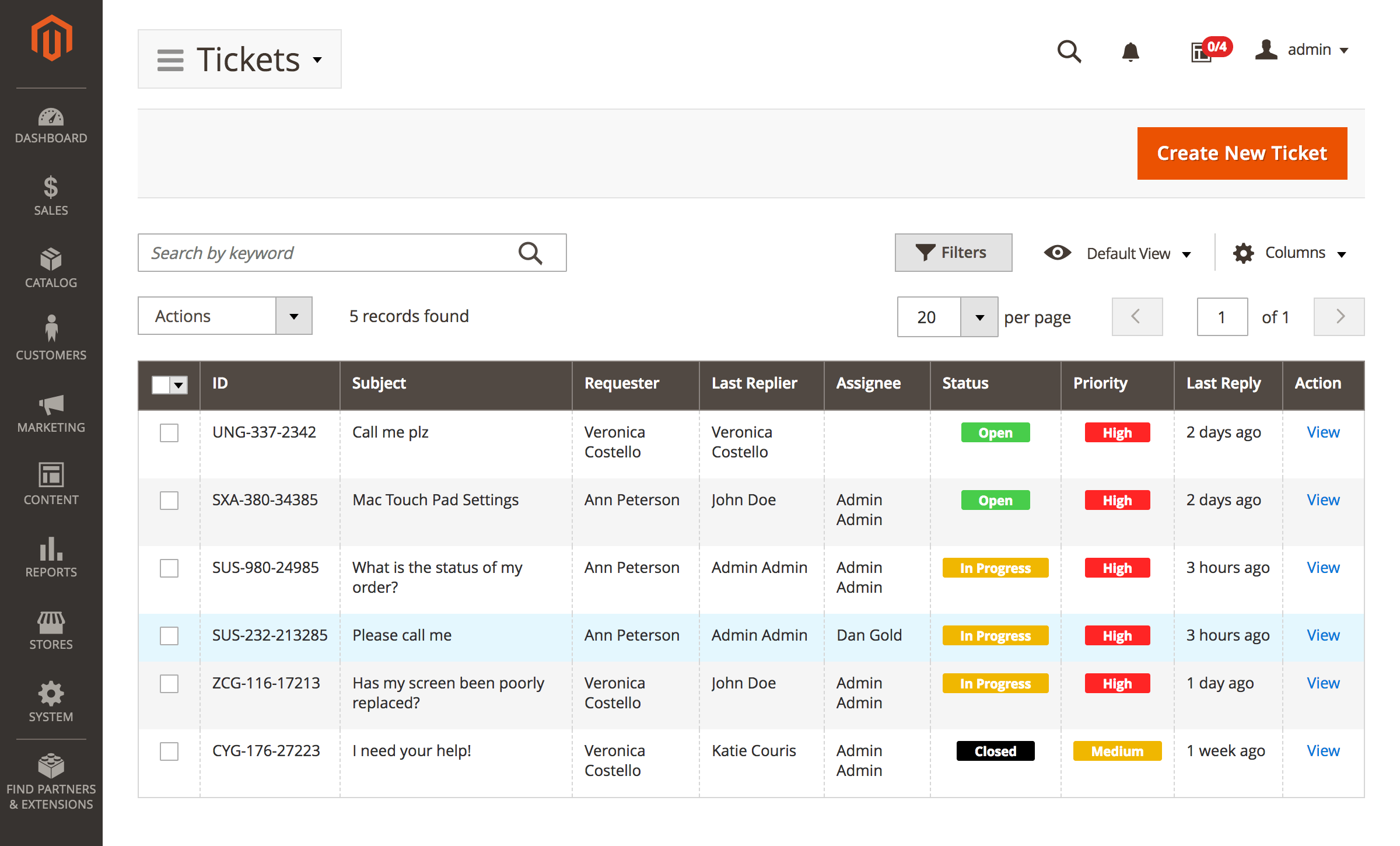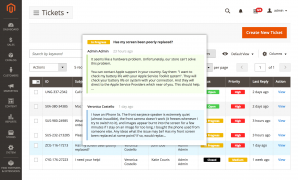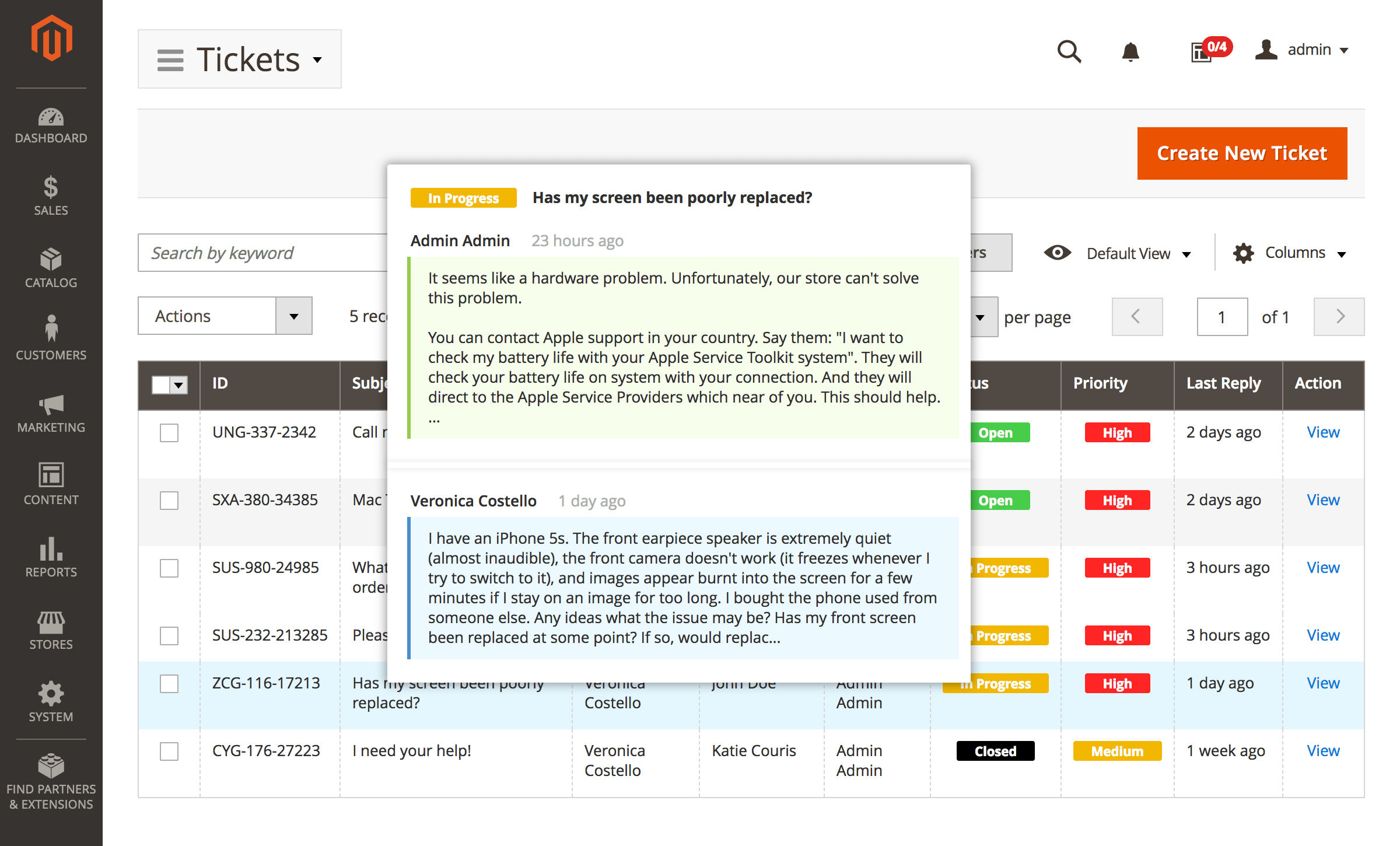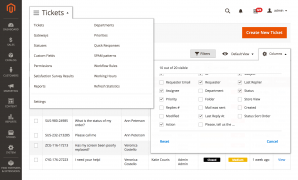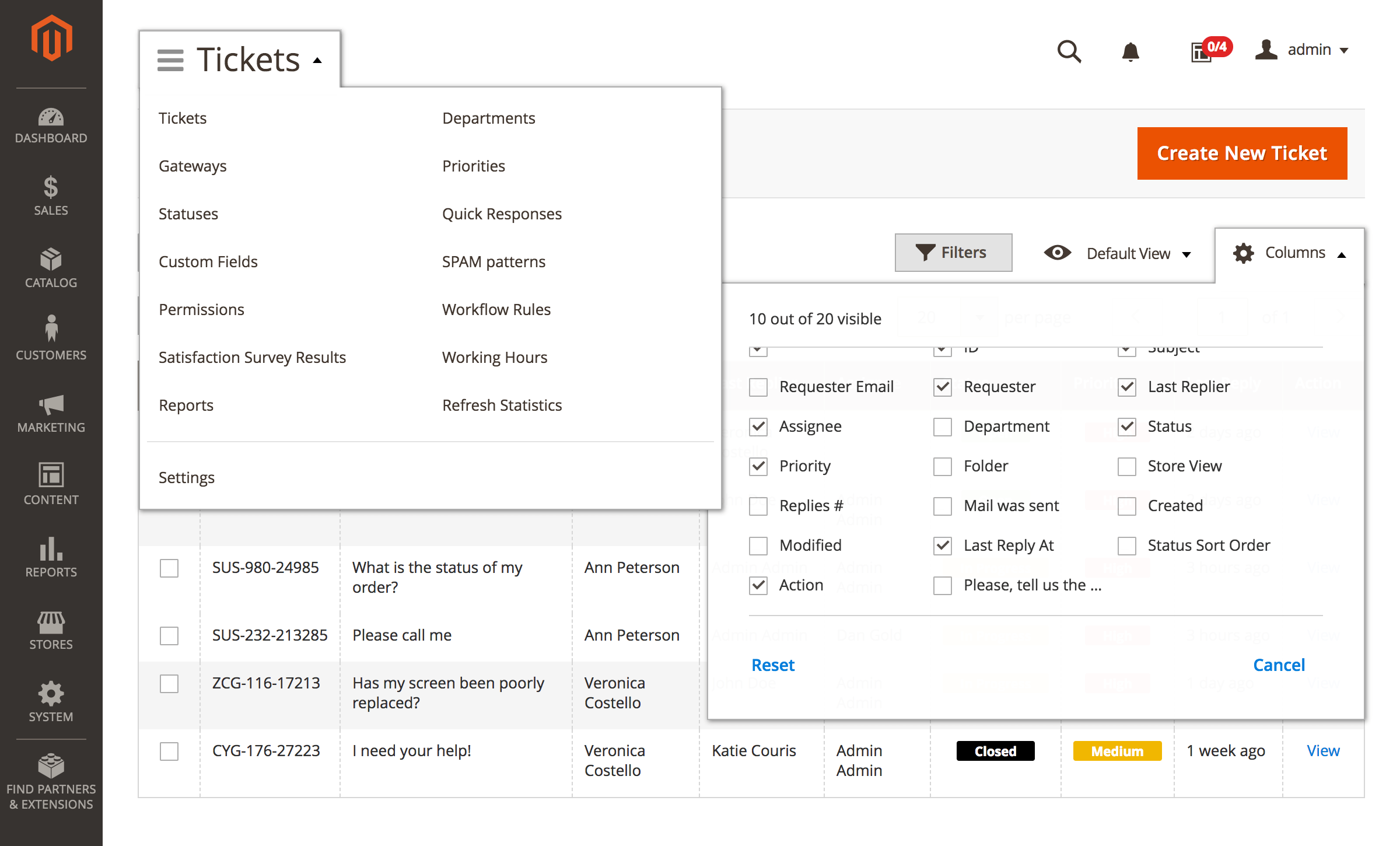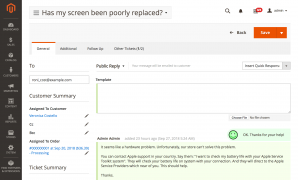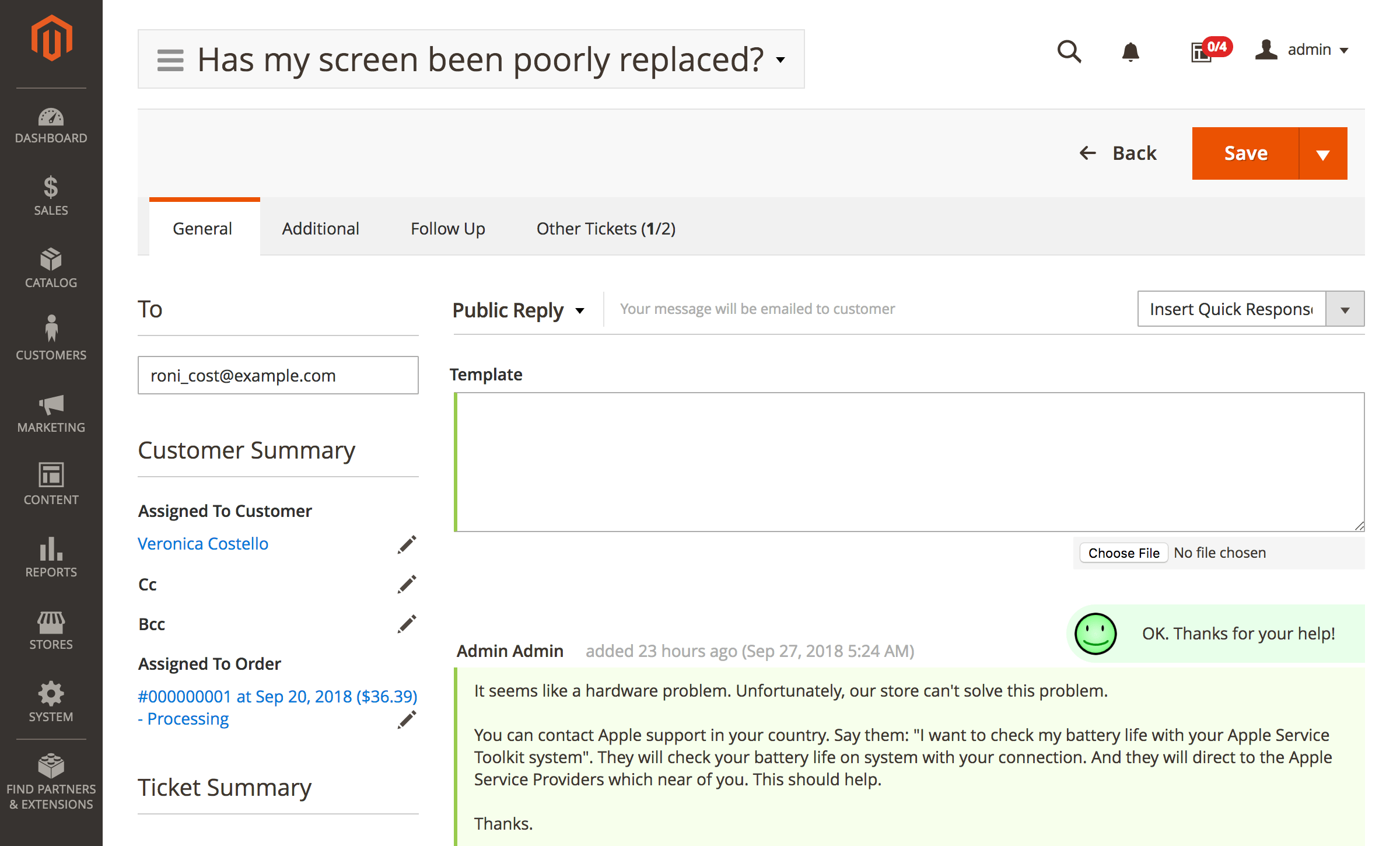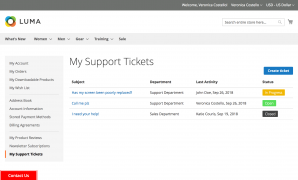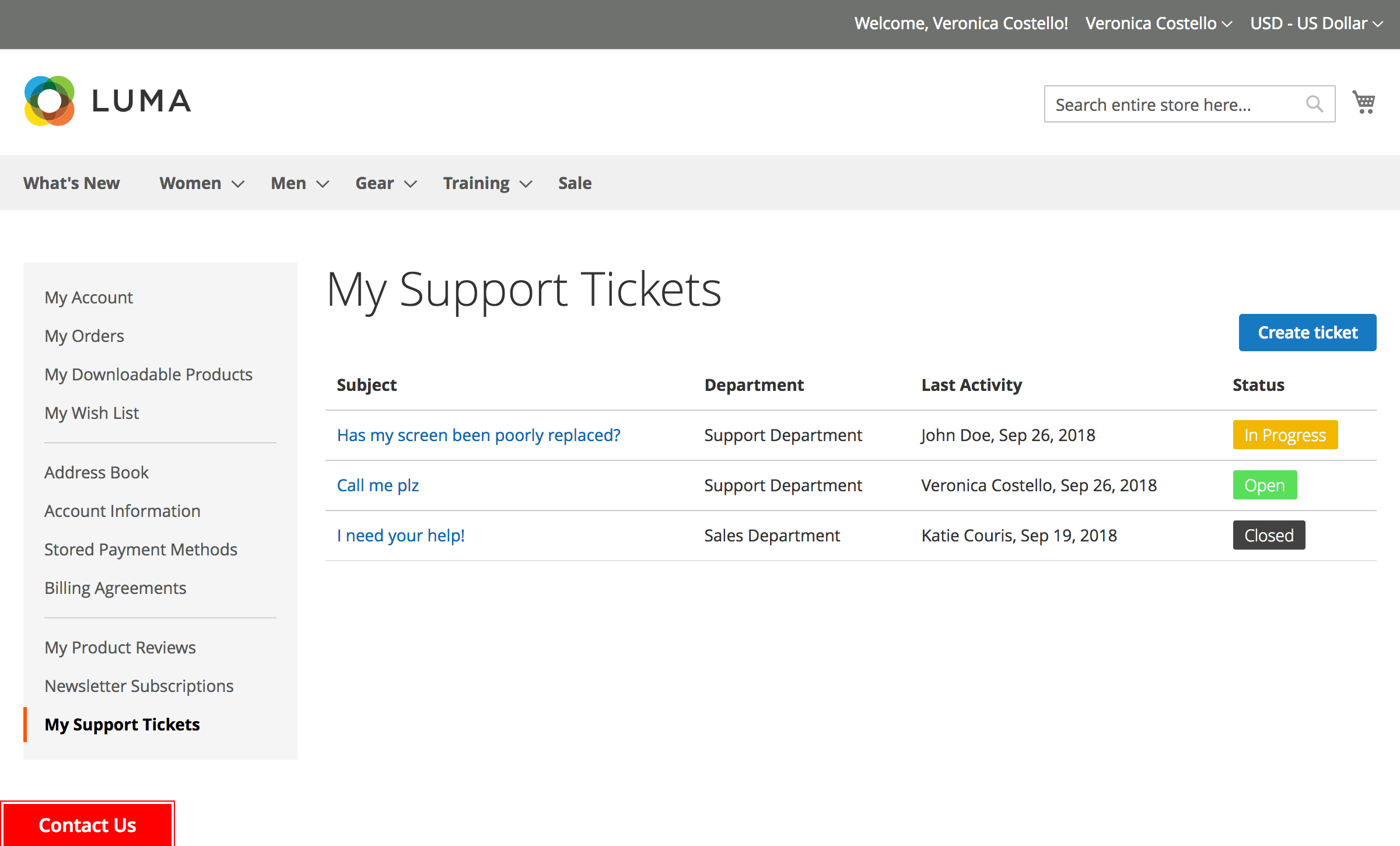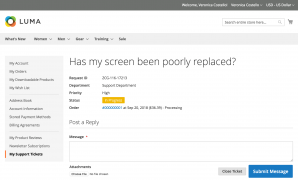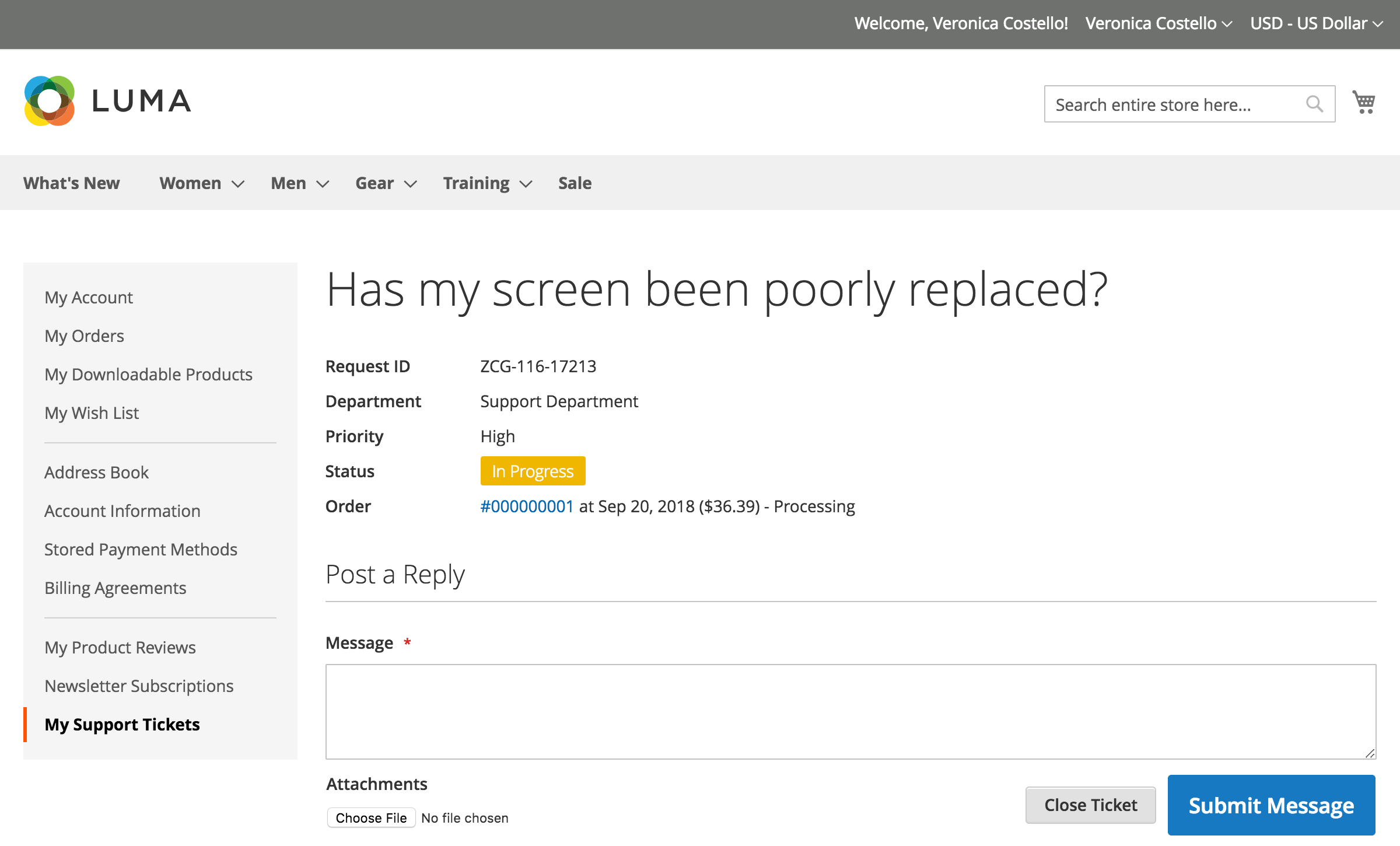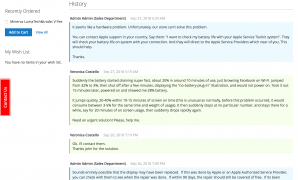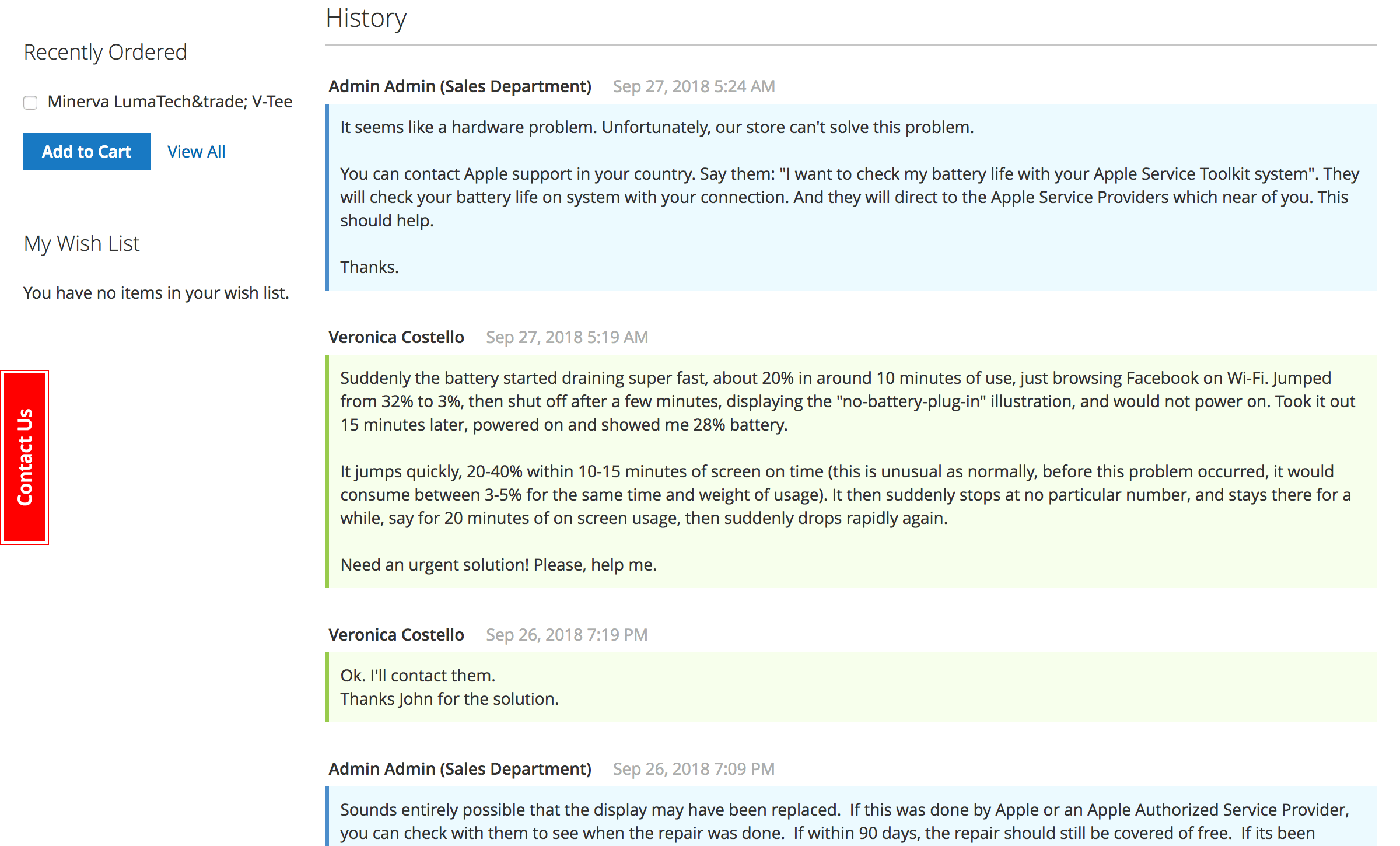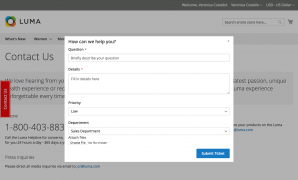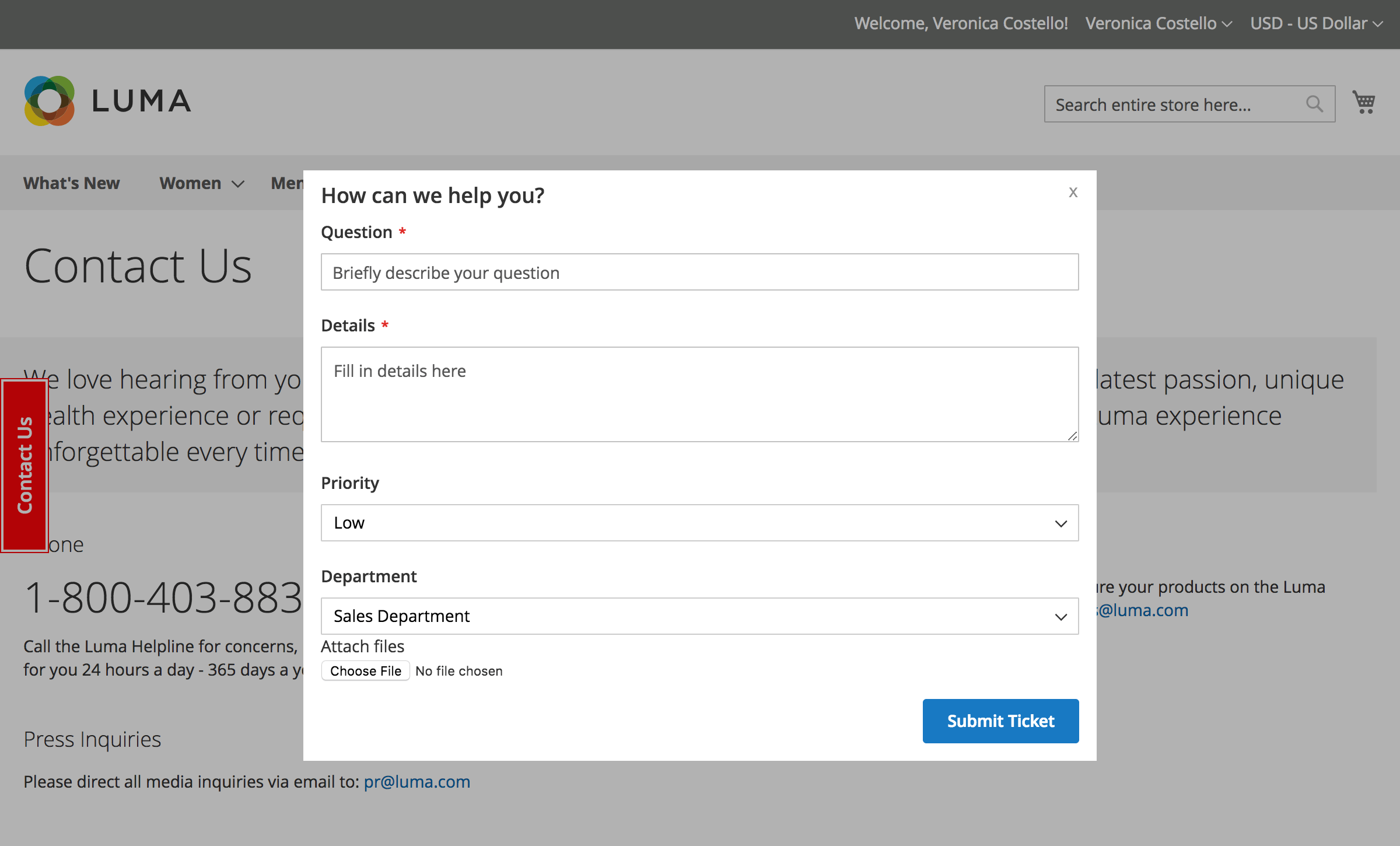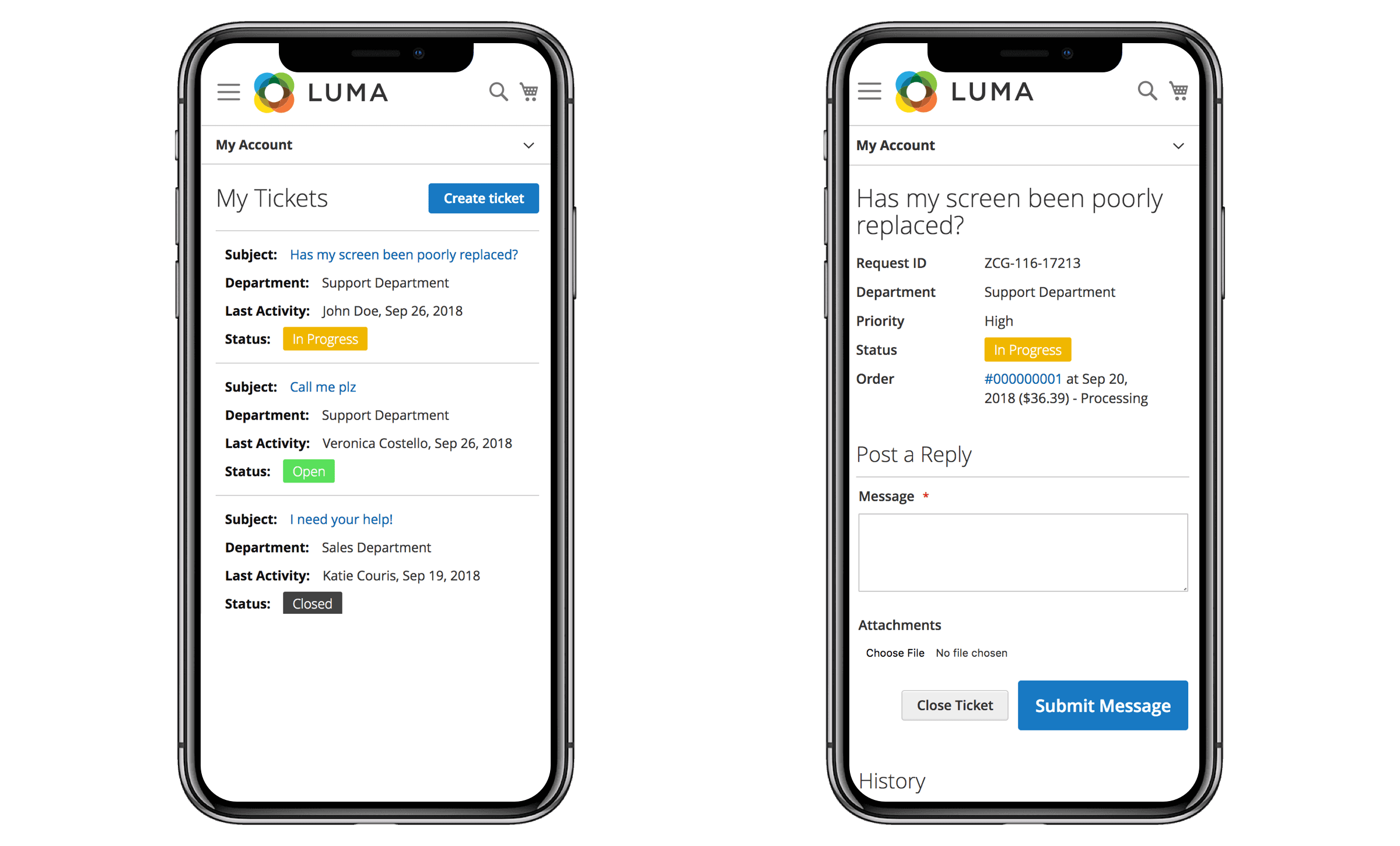 Feature Highlights
Powerful and Flexible solution for Store Support!
Help Desk MX is a must-have extension for your store!
Support service is one of the three pillars your online shop leans on. The better support you provide, the more returning customers you get.
Our Magento 2 help desk extension is the most powerful and flexible solution for your store! It allows you to organize your support team's work in the most efficient and convenient way ever.
Help Desk MX lets you get closer and more friendly with your customers using the following features:
create and use quick replies (save agent's time!);
use a WYSIWYG editor to create personalized replies (be different, think of your client!);
resolve issues ASAP, using the multi-department feature and assigning tickets to the right manager at once (be fast, your customers need you now!);
use smart workflow rules to manage auto-resolving tickets and optimize your support team's time;
make post support surveys for your customers to help your service stand out;
view advanced reports to evaluate your team's achievements.
Help Desk MX allows you not only to help your customers with their current issues but also to make their customer experience better. Win more returning customers with our powerful solution!
Support for Guest Users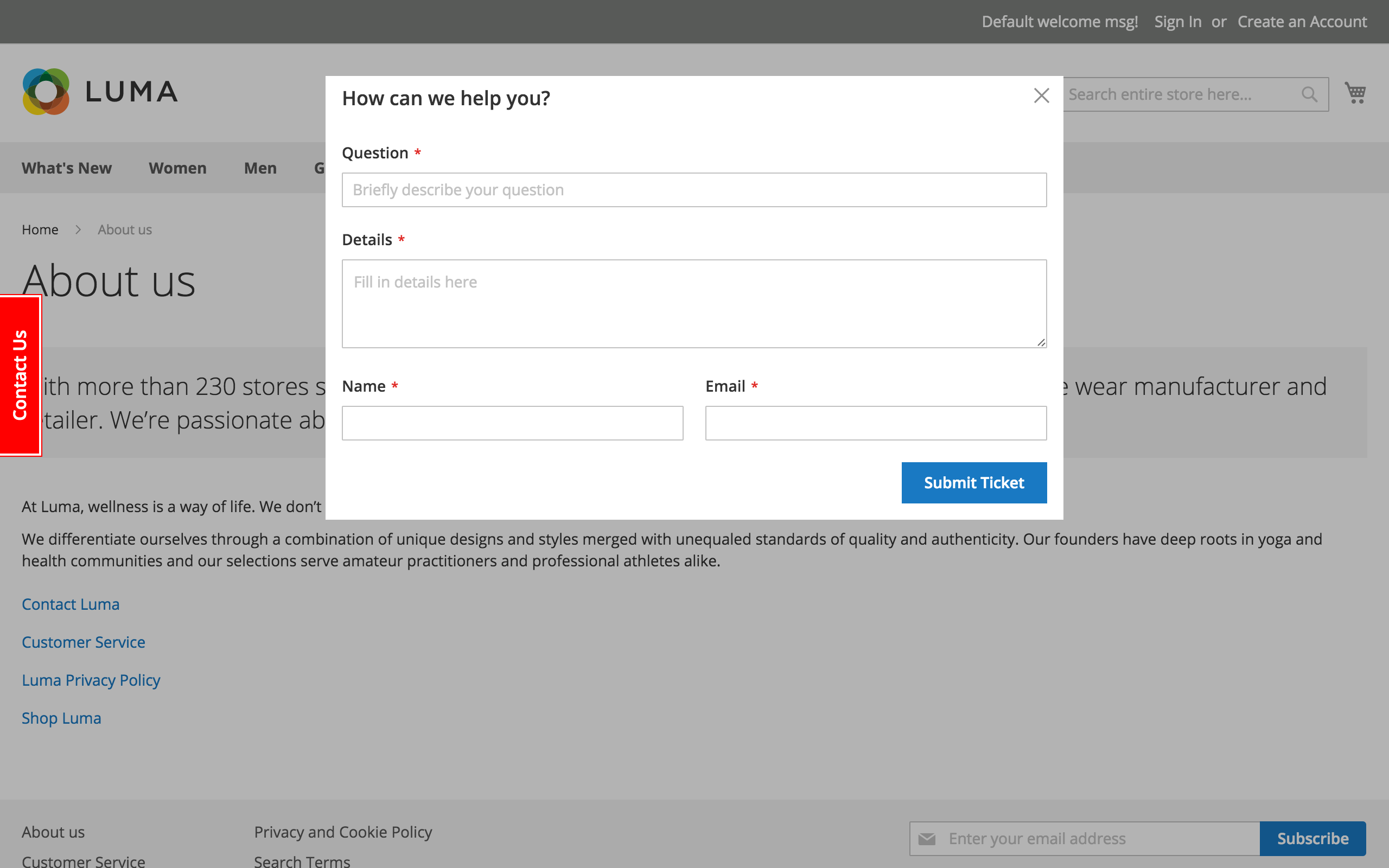 Let all users and customers be heard in your online store!
Every user can contact your support team even if he/she is not a registered/authorized store customer.
There are four easy ways for any shopper to get help:
Use the Contact Us Tab on the left.
Go to the Contact Us menu item and fill out the form.
Log in or register and create a ticket in the Help Desk tab in the user account interface.
Email the support team's address.
Stay connected with your customers using the Help Desk solution!
---
Easy-to-Use User Interface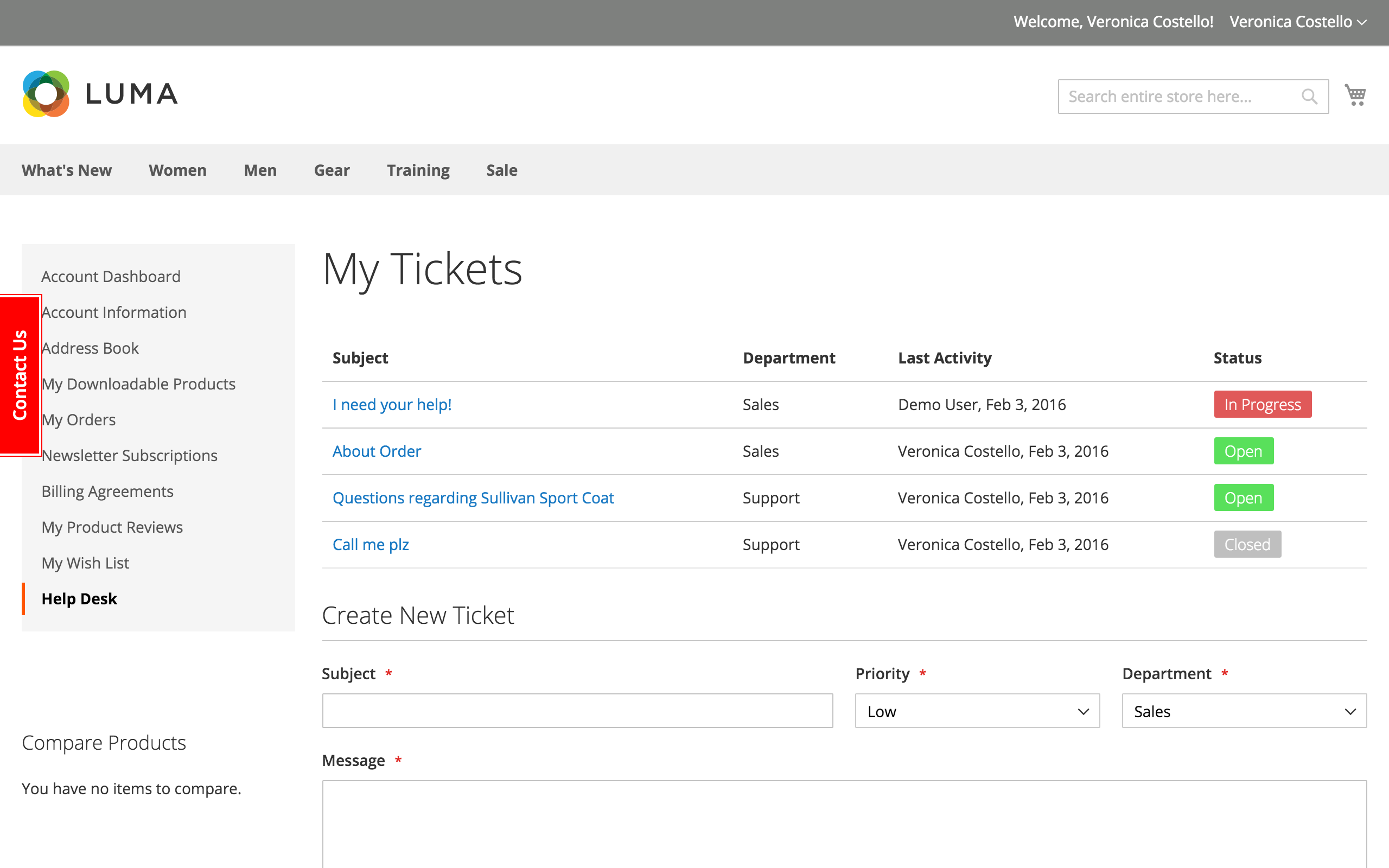 Provide your customers with easy-to-reach support using Help Desk MX extension!
Our solution's clear and intuitive user interface allows your customers to save time by filling out only necessary fields in just a minute.
Customers can choose Priority and Department for the new ticket if you turn these options on while setting up the extension.
There is a possibility of adding attachments to tickets. It is an extremely useful feature if a customer wants to show your support team the issue on a screenshot, for instance.
Save your customers' time with Magento 2 customer support extension!
---
Simple Tickets Management for Customers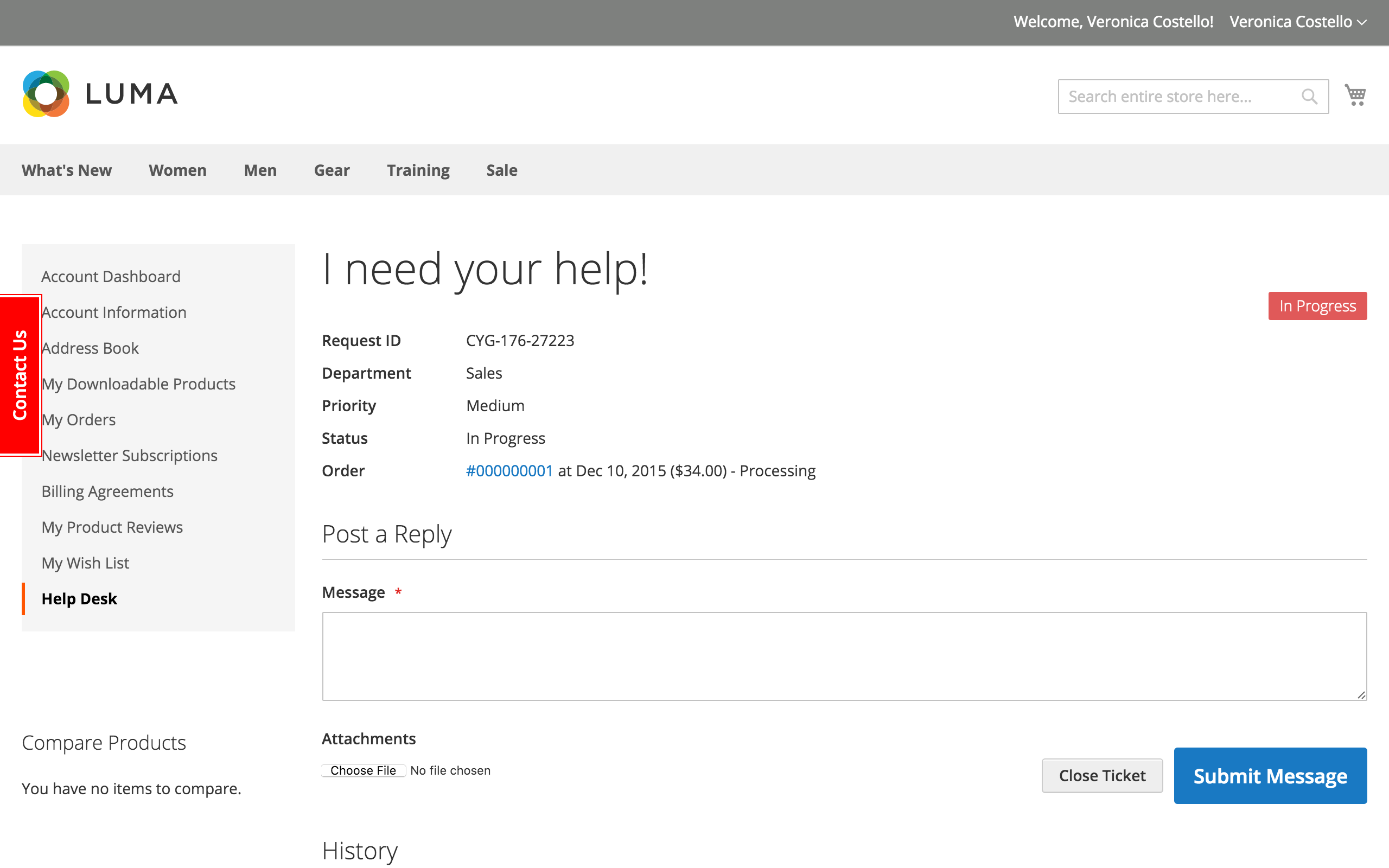 Using Help Desk MX lets your customers manage all tickets fast and easy!
Quick reply or closing a ticket if it's resolved - just a second of their time!
It is also very convenient to look at all ticket history on the same screen at a glance in the help desk extension for Magento 2.
Your customers will appreciate your thinking about them!
---
Connect your Mailboxes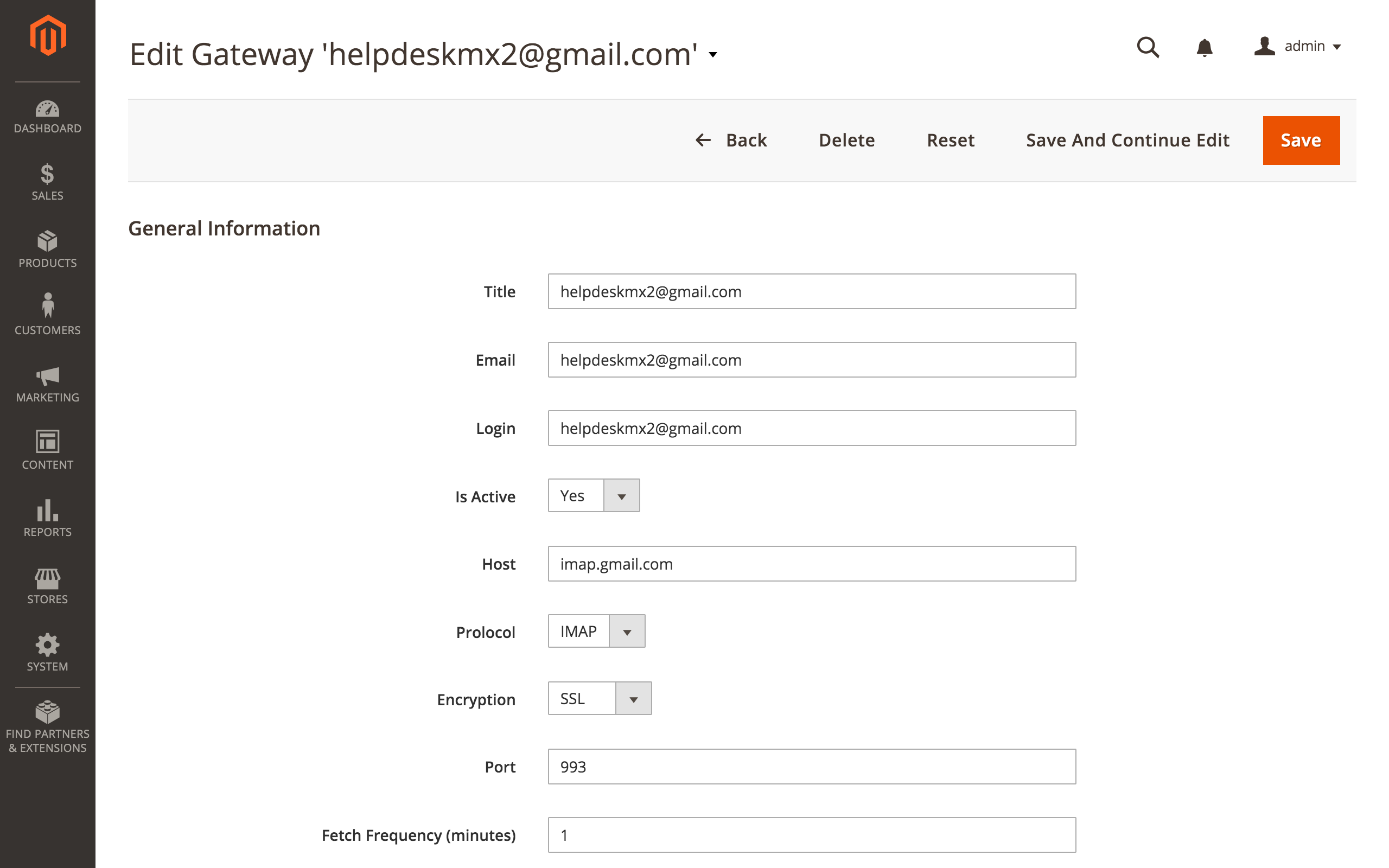 Connect your support team email boxes to Help Desk and convert emails from your customers into tickets automatically!
Help Desk MX extension is so smart that it regularly checks all connected mailboxes, fetches emails and converts them into Tickets! All further answers will be added to those tickets.
For example, you have several support departments in your online store: Sales, Billing, Returns, and a Technical Department. Each department has its own email box for inbound inquiries. Using the gateways connection feature of the Help Desk MX extension, you may automatically redirect all of the requests flow of the specific department and convert them into support tickets for that department.
Now you and your customer do not have to log in to the store account to reply to the ticket! Just reply via your email client, and Help Desk MX will redirect your message to the defined ticket!
---
Clear Back End Interface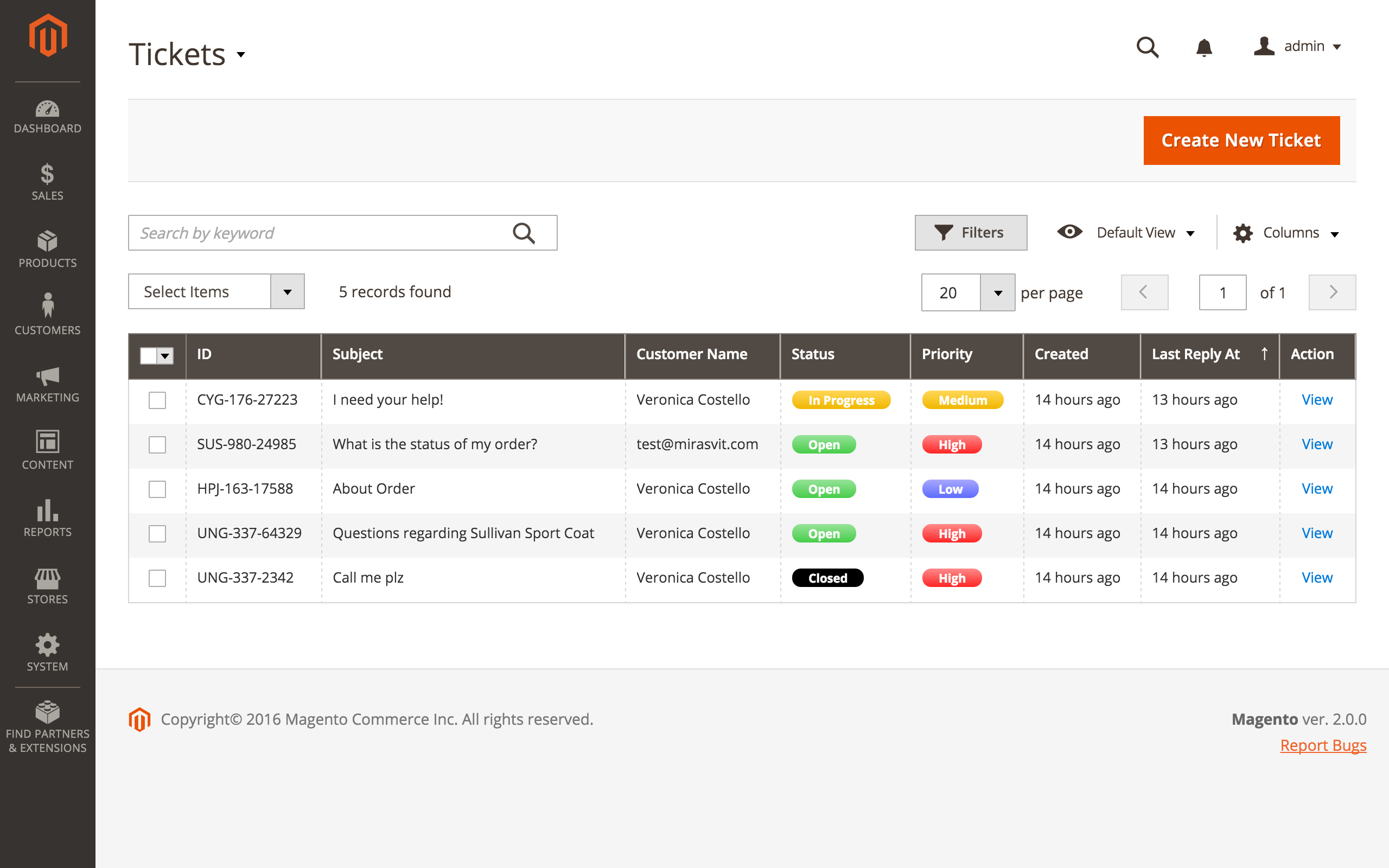 Manage customer tickets fast and easy with the Help Desk MX interface for administration!
Manage tickets in a minute!
Our Magento 2 customer service extension allows your store administrator to see all the important details at once.
Use internal filters for fast and easy organizing of all tickets. The extension allows you to filter tickets by any field (for example, by date created, status, priority, store view, user, etc.).
Also, you may use an internal search field for finding tickets by any keyword or key phrase.
Arrange your support team's work process using all features of the Help Desk MX administration interface!
---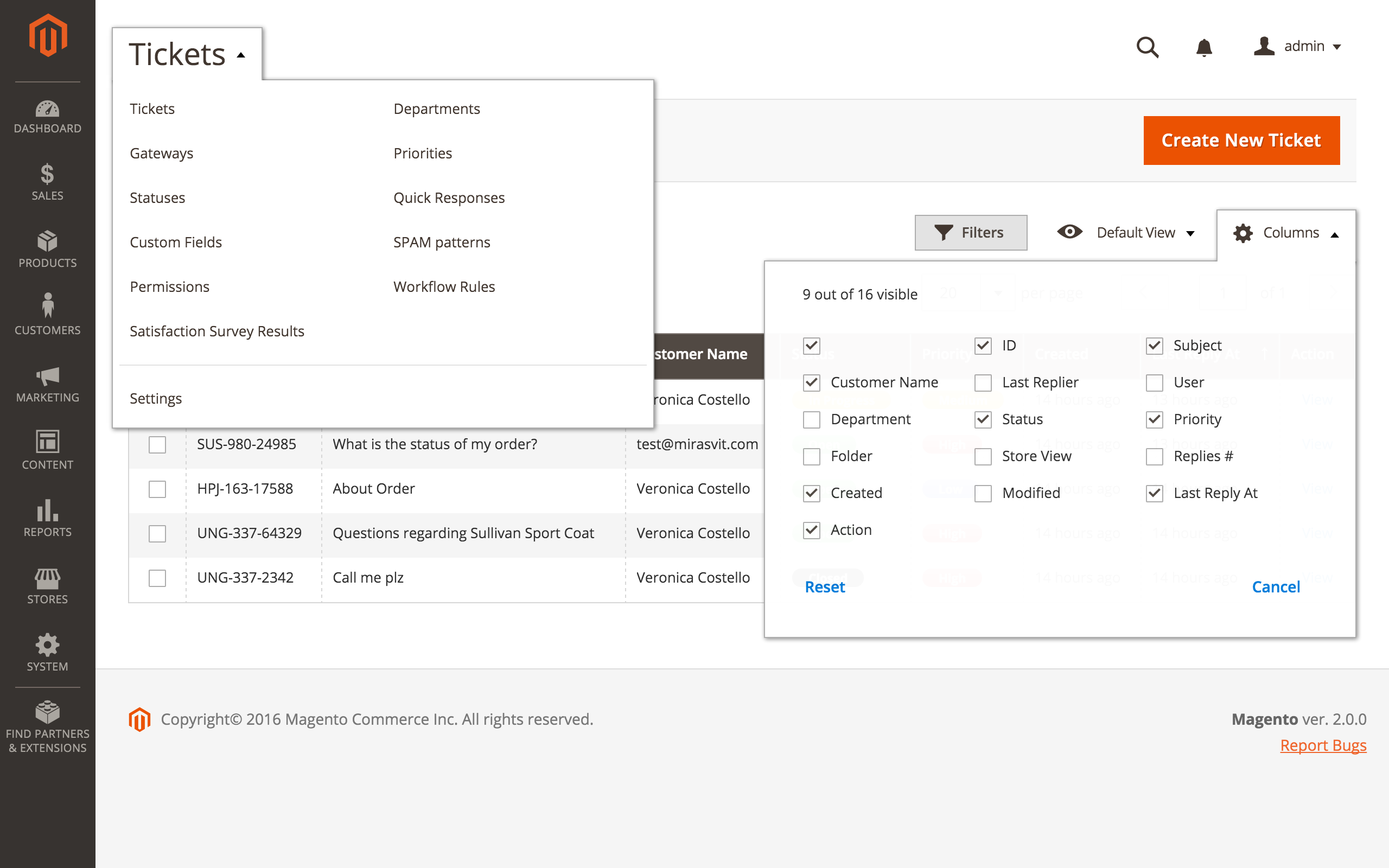 Help Desk MX's back end interface is flexible, and you may set the main table columns to meet your preferences.
The following grid settings are available: Customer name, Department, Folder, Created, Action, ID, Last Replier, Status, Store View, Modified, Subject, User, Priority, Replies number, Last Reply at.
---
Fully Featured Ticket Cards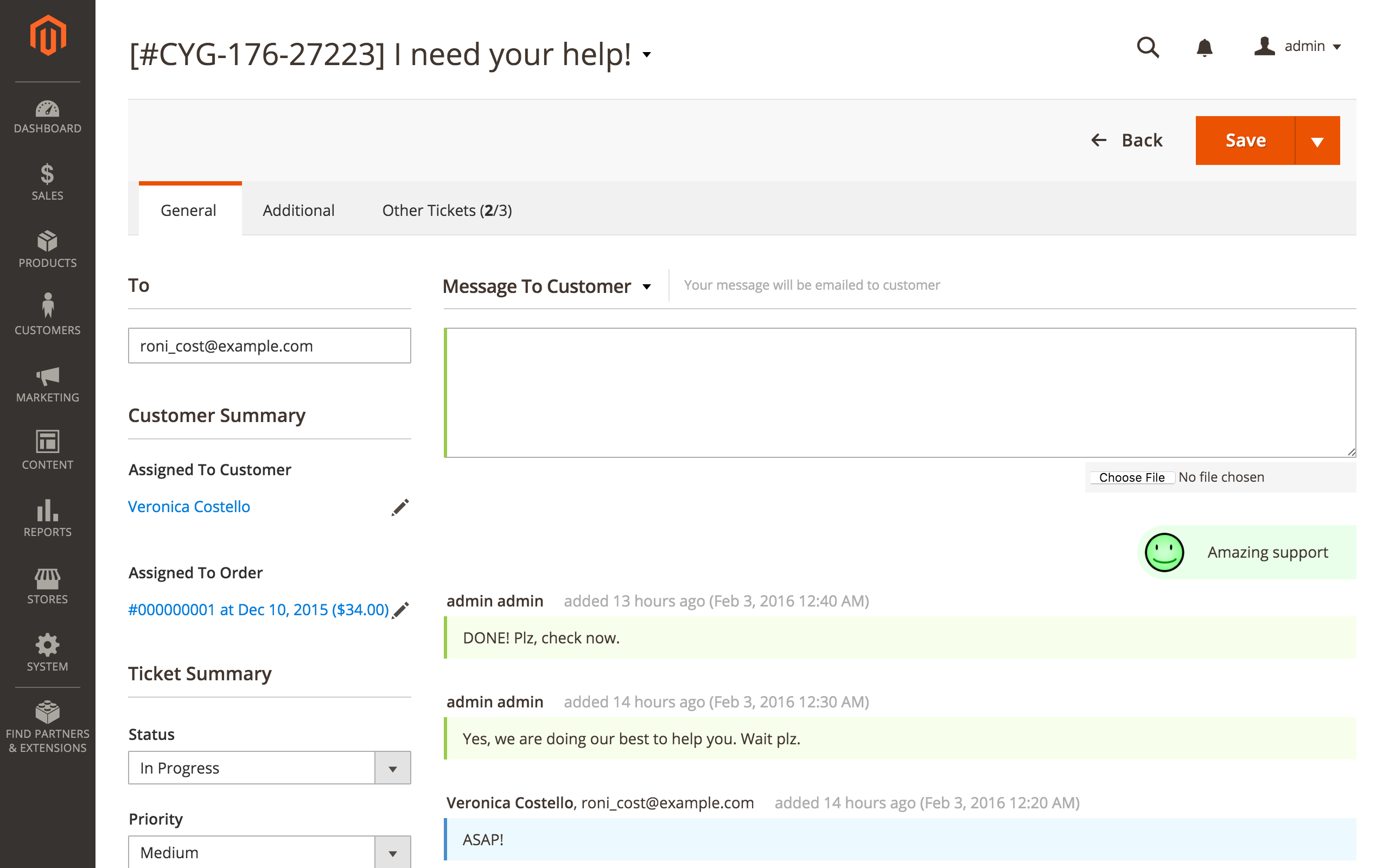 Help Desk MX allows your store support team members to manage every ticket hands-down!
General Tab indicates the most important information on every ticket and lets a manager take several immediate actions:
reply to a customer;
set ticket status and priority;
assign current inquiry to a proper department.
The default message recipient is, of course, the customer. However, the support manager may choose the third party as a recipient. For example, it is necessary to clarify the delivery options with the specific shipping company. Help Desk MX allows you to exchange messages with any third party in private or public mode.
Another example: you need to send a message to your colleague. By choosing an Internal Message option, the customer will not see your correspondence. This is useful in case you have to exchange some technical details regarding the ticket subject.
If you need to observe all tickets from the customer, use the Other Tickets Tab. It indicates all tickets the current user has ever created, regardless of their statuses.
Resolve customers' inquiries even more effectively with Help Desk MX!
---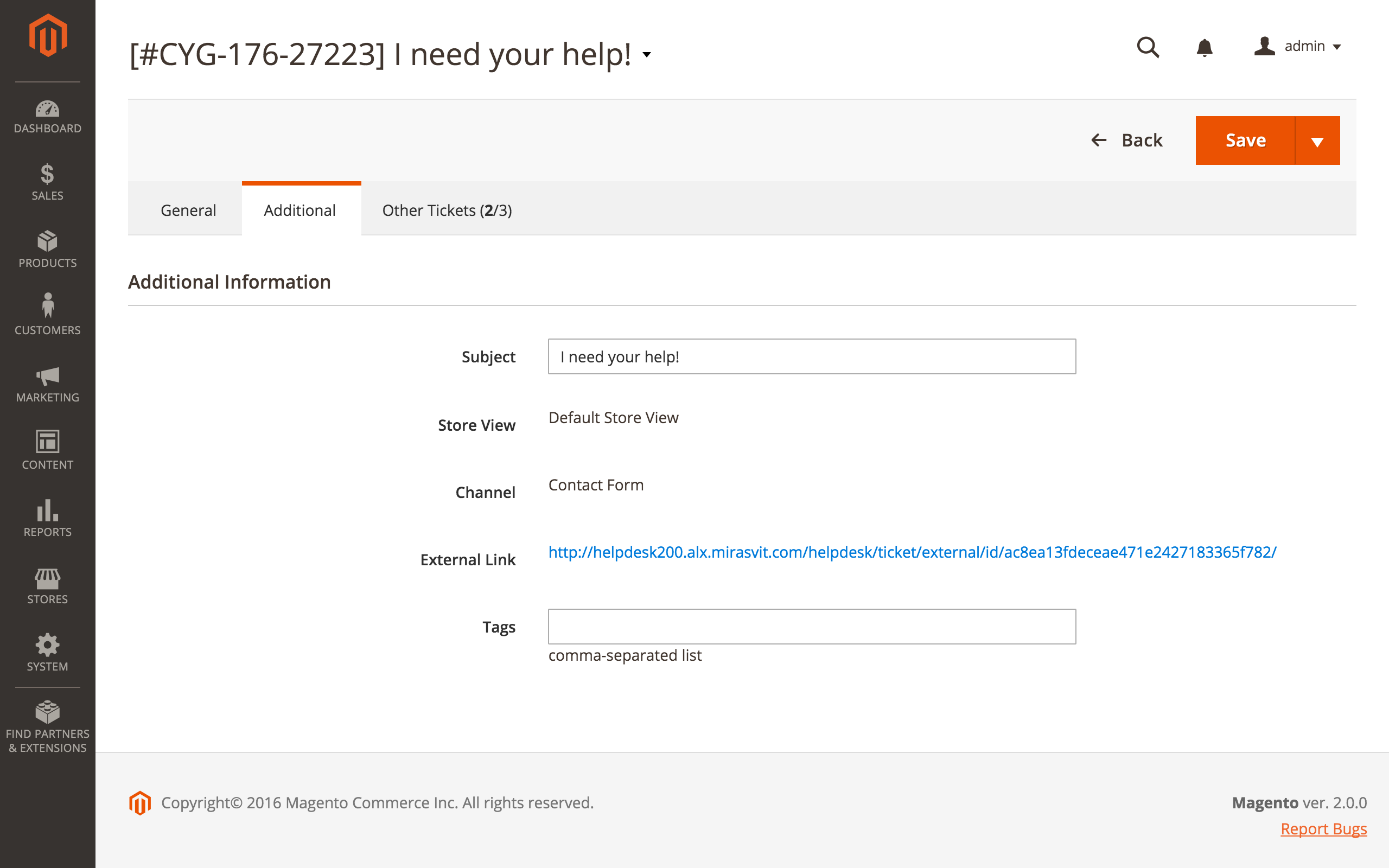 The Additional tab shows the ticket history and other important details, like a ticket channel. This might be useful if you measure and analyze the results of every channel for creating inquiries.
For example, you may surprisingly find out that the largest amount of tickets in your shop were created via a native contact form. However, you thought customers use the Contact us tab often. This conclusion might be a reason to revise your store processes.
Also, an assigned manager can change the ticket subject and create several comma-separated tags to find this ticket fast next time.
Organize your support tickets in the most convenient way to save your team time and efforts!
---
Satisfaction Surveys
Arrange post-service satisfaction surveys and be on the same wavelength as your customers!
Help Desk MX allows you to insert satisfaction surveys into an email's notifications footer.
This short poll lets your customers rate the quality of your support team members.
So, the extension allows you to evaluate each employee's performance.
Over and above, our solution makes your store shoppers feel heard and valued. They will return for the next purchase!
---
Advanced Reports
Get key ticket indicators within seconds and analyze Reports data to boost performance and improve the relationship with your customers!
Help Desk MX built-in reports allow you to explore the following data:
new and changed tickets number
number of replies and solved tickets
the first reply time and the full resolution time
satisfaction scores and response rates.
Our solution can help you in evaluating your support team performance!
---
Custom fields
Add any custom field to your ticket form. If you want to get more details about your customer issue, ask him/her to fill in the additional fields.
For example, you may add a Date field or ask your client to choose one of the Reasons he/she contacts you.
This option is available in the:
native contact form
contact tab
ticket creating interface
popup contact form.
Help Desk MX extension gives your customers an option to fill in their inquiry easily; therefore, providing you with the necessary issue-related information!
---
Workflow rules
Workflow rules allow you to arrange your support team's work processes to meet your needs and goals.
One of the most useful examples of a workflow rules application is creating a rule that automatically closes the ticket if the customer who issued this ticket has not replied for 30 days.
Other useful applications of workflow rules might be the following:
the ticket's status to 'In Progress' upon receiving the first reply from the support team
notify the ticket owner if a ticket has not been answered for three days
---
Access Permissions
Manage your support team permissions right into the administration interface of Help Desk MX!
You may set different permissions to access and manage departments and tickets.
This feature is useful if you need to separate the roles for your support divisions. For example, you have three support departments in your store: Sales, Billing, and Technical, and each division needs to manage only tickets related to their responsibilities and duties.
---
SPAM Protection
Create SPAM patterns in the Help Desk MX administration interface, and you will not receive any junk inquiries!
Our solution allows you to set any amount of SPAM filters. You may specify the scope for each pattern: header, subject, or body.
Avoid spammy tickets thanks to spam patterns in Help Desk MX!
---
Email Notifications / Follow Up messages
Add Follow Up notifications for each ticket to remind a customer of important information.
Help Desk MX tickets managing interface allows a manager to add some notes related to a customer's issue. Therefore, your customers are always awarded for their inquiry status.
---
Integration with RMA
Help Desk MX extension allows you to convert the tickets into RMA requests.
Let's pretend that a customer sends an email to returns@store.com. Help Desk MX Extension receives this email and converts it into a ticket automatically.
The support manager can now convert this ticket into the RMA request by clicking the Convert to RMA. After converting to RMA, the inquiry all further emails related to the ticket will be automatically forwarded to the RMA extension, and all correspondence will be carried out there.
---
Integration with Knowledge Base
Help Desk MX extension can be successfully integrated with the Mirasvit Knowledge Base extension.
In the case that you activate this feature, your store customers will search for the answer to their question right in the feedback popup window using your store's knowledge base before creating a ticket.
Then, if there is no relevant answer, they will be suggested to create a new ticket in the same popup.
If integration is disabled, all customers will open tickets first, instead of reading the FAQ.
Install Help Desk MX and win more satisfied and returning customers!
See it in action!
Pick a quick tutorial to learn about various aspects of this extension
Manual & Support
Need more help?
Save time by starting your support request online and we'll connect you to an expert.
Contact Us Now
We found other products you might like!
Live customer feedback
Latest comments
Michael Sandström
Sep 24, 2020
Best support, keep up the good work!
Galeria LueLue
Sep 23, 2020
Thank you <3
See all comments
The real-time results of the satisfaction survey of our customers
for the last 100 responses
Reasons to choose Mirasvit
Client focusing and satisfaction
It is our main goal. A big part of our new clients come from referrals from our existing clients. Our professional team of developers, marketers and support invest the best knowledge and experience, so you could come back to us again and again.
Remarkable support
90-days free and high quality support. We make an effort to satisfy you with work of every module you have purchased in our store. Helping you with installation, configuration, answering your every question, we do all our best to eliminate any possible problems.
Risk-free Investment
30-days money back guarantee. If you are not satisfied with work of our extension for any reason we provide a full refund.
Constant improvements and upgrades
We provide you lifetime free updates. We constantly add new features to all our modules. We are absolutely interested to hear your opinion and to implement your suggested features in our future developments.
Comprehensive Documentation
We provide an expanded user guide for every our extension, so you can find answers for all your burning questions.
Unencrypted source code of our products
You can customize extensions according to your needs and requirements.
Usability and Performance
Module is easy to install and easy to upgrade, just follow step by step our user guide.
Safe Magento updates
No core modifications. Just copy extension files to store root directory.