RMA for Magento 2
Return Merchandise Authorization (RMA) is a powerful tool in managing the returns or exchange of goods.
This extension is important if you wish to build a strong relationship with your customers and win their trust and loyalty.
Let your customers create a return or exchange request quickly and easily for online or offline orders
Reduce the load on your managers
Manage an intuitive and a step-by-step frontend interface
Support of guests and registered customers RMA
Create RMA from the backend
Add your RMA statuses, reasons, resolutions
Analyze RMAs with powerful reports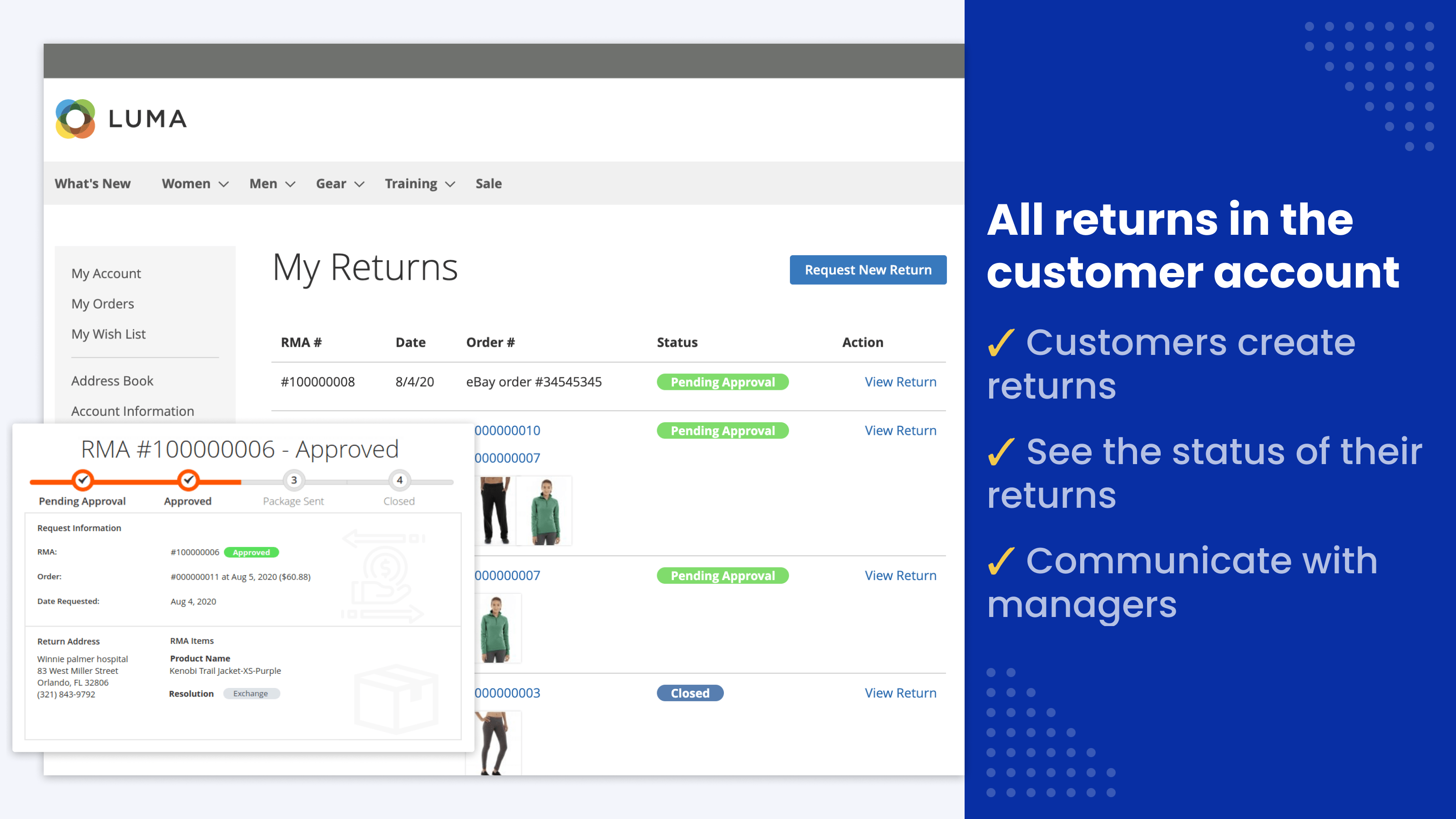 1/10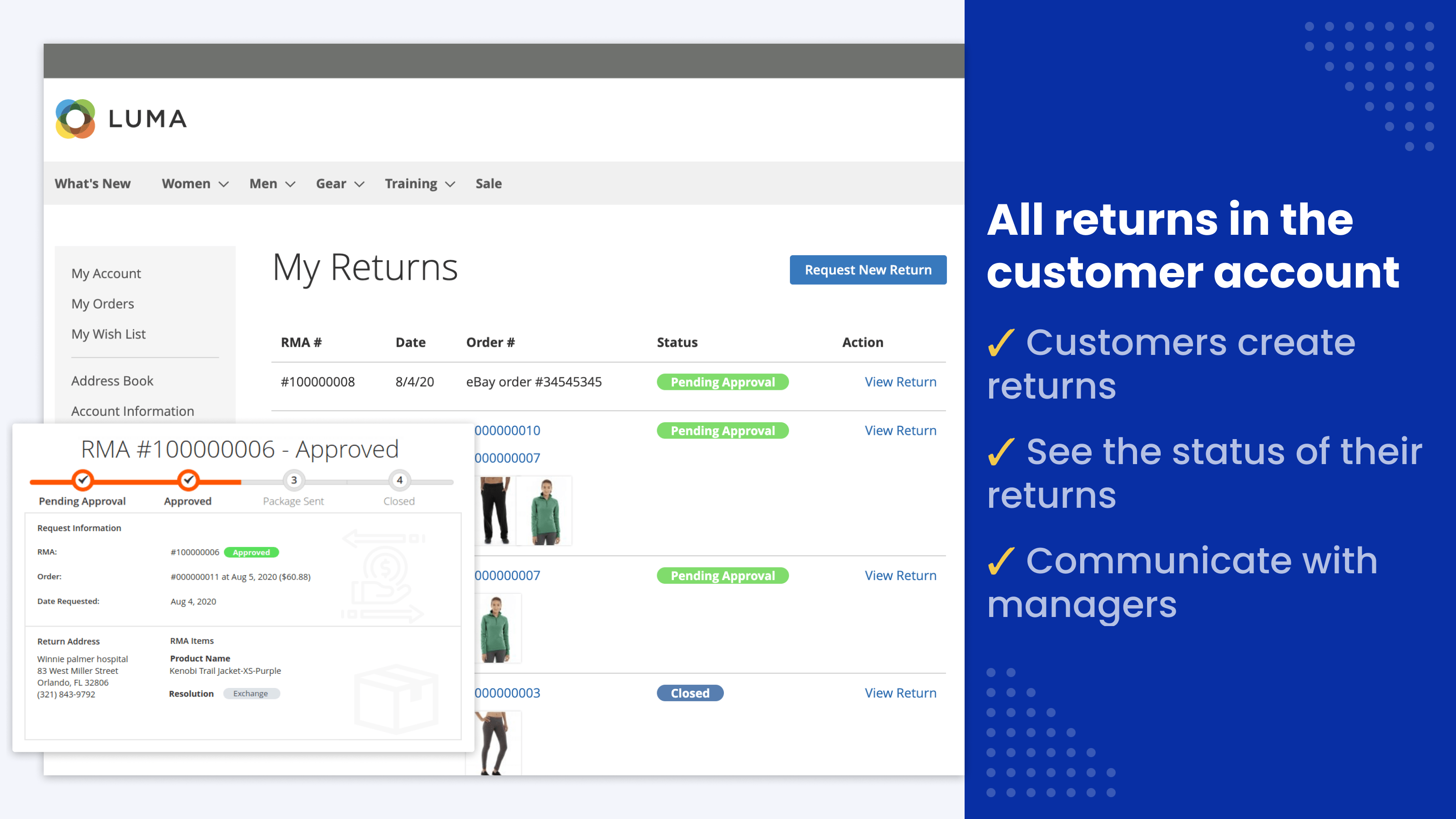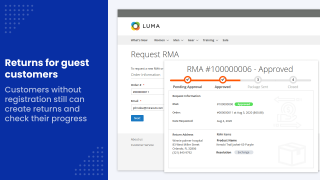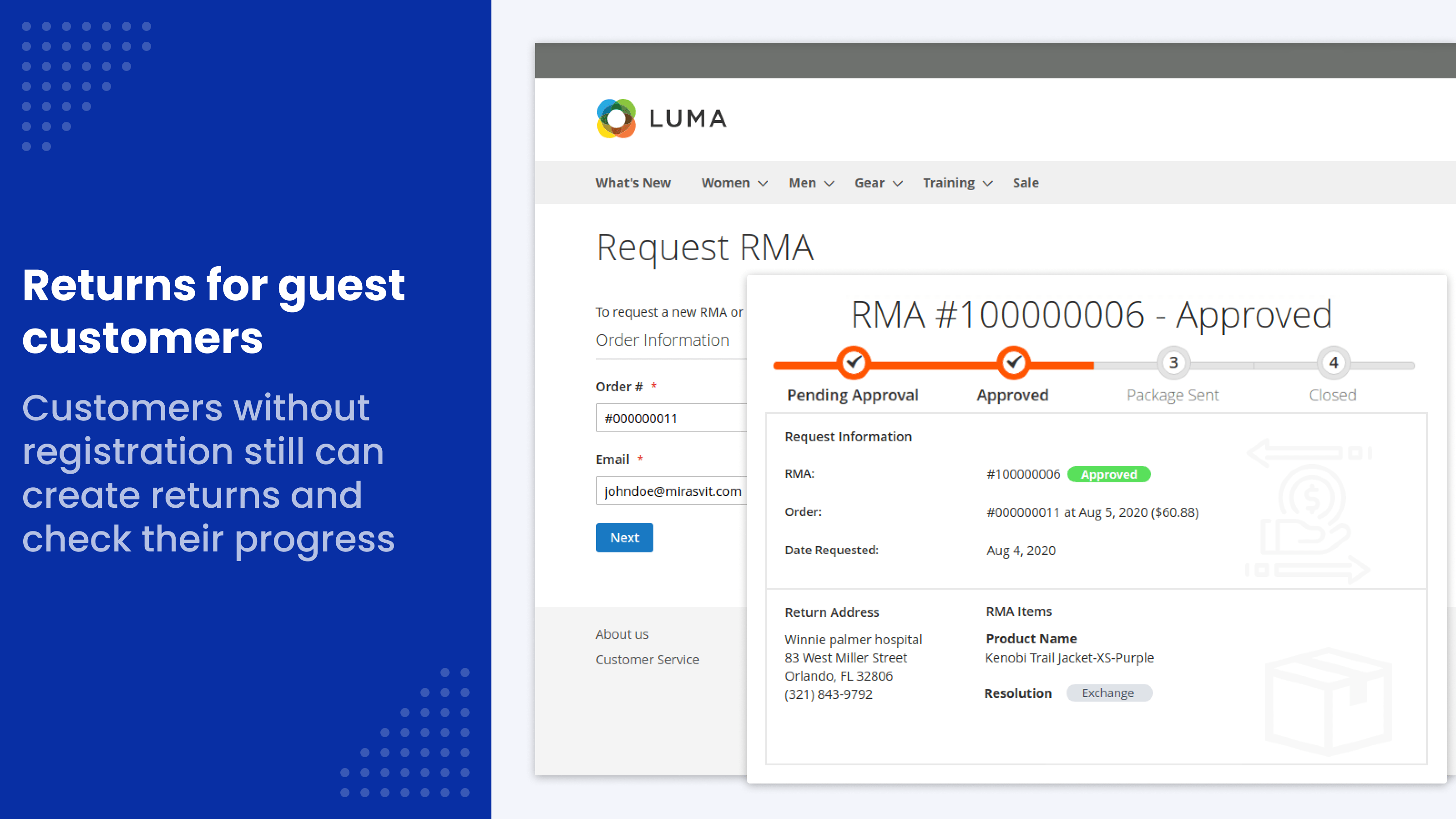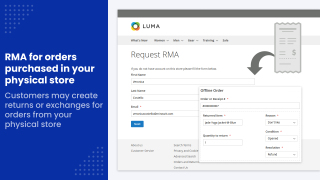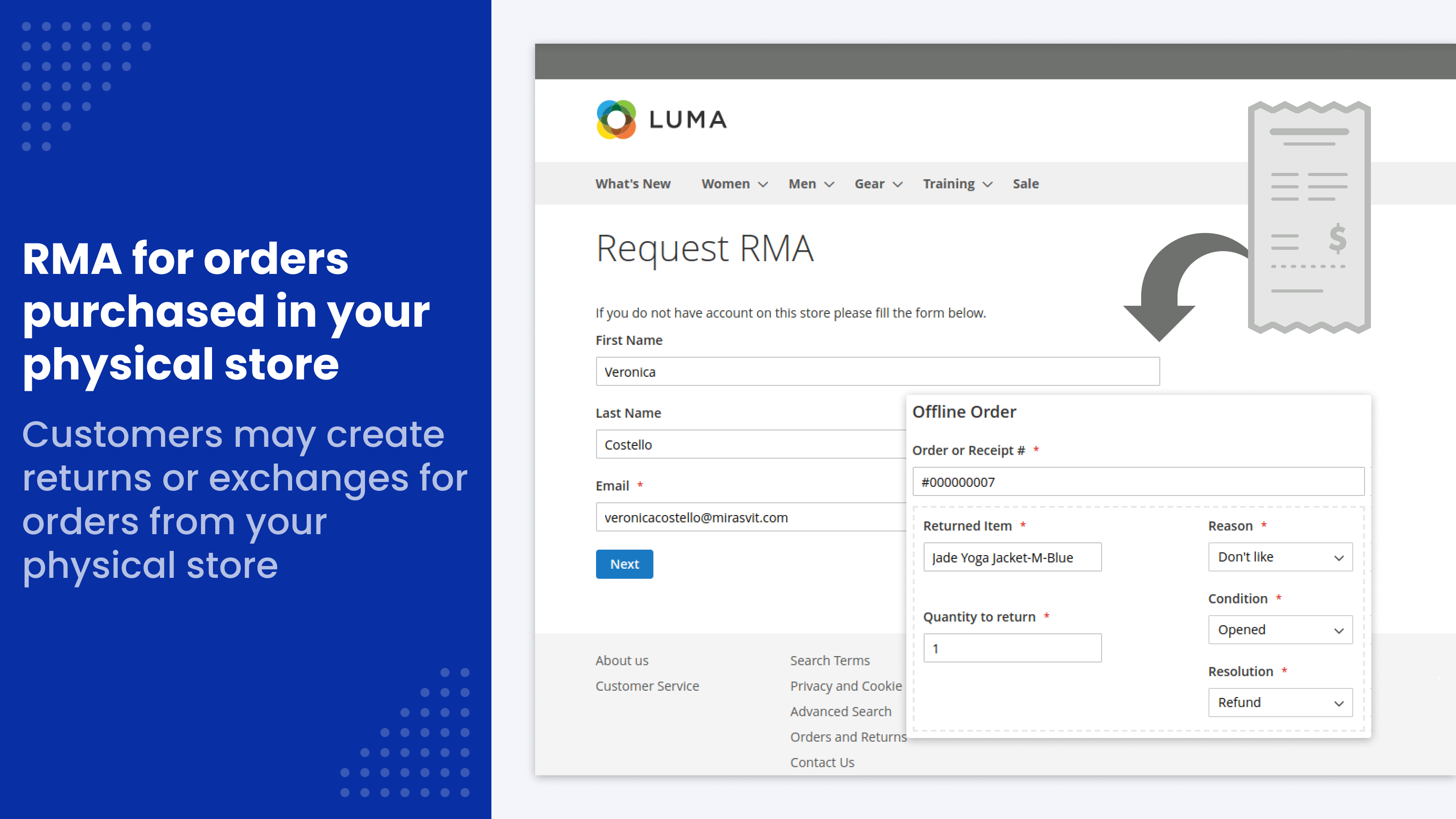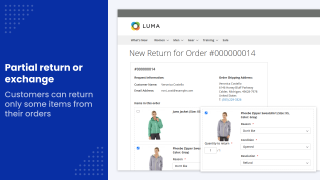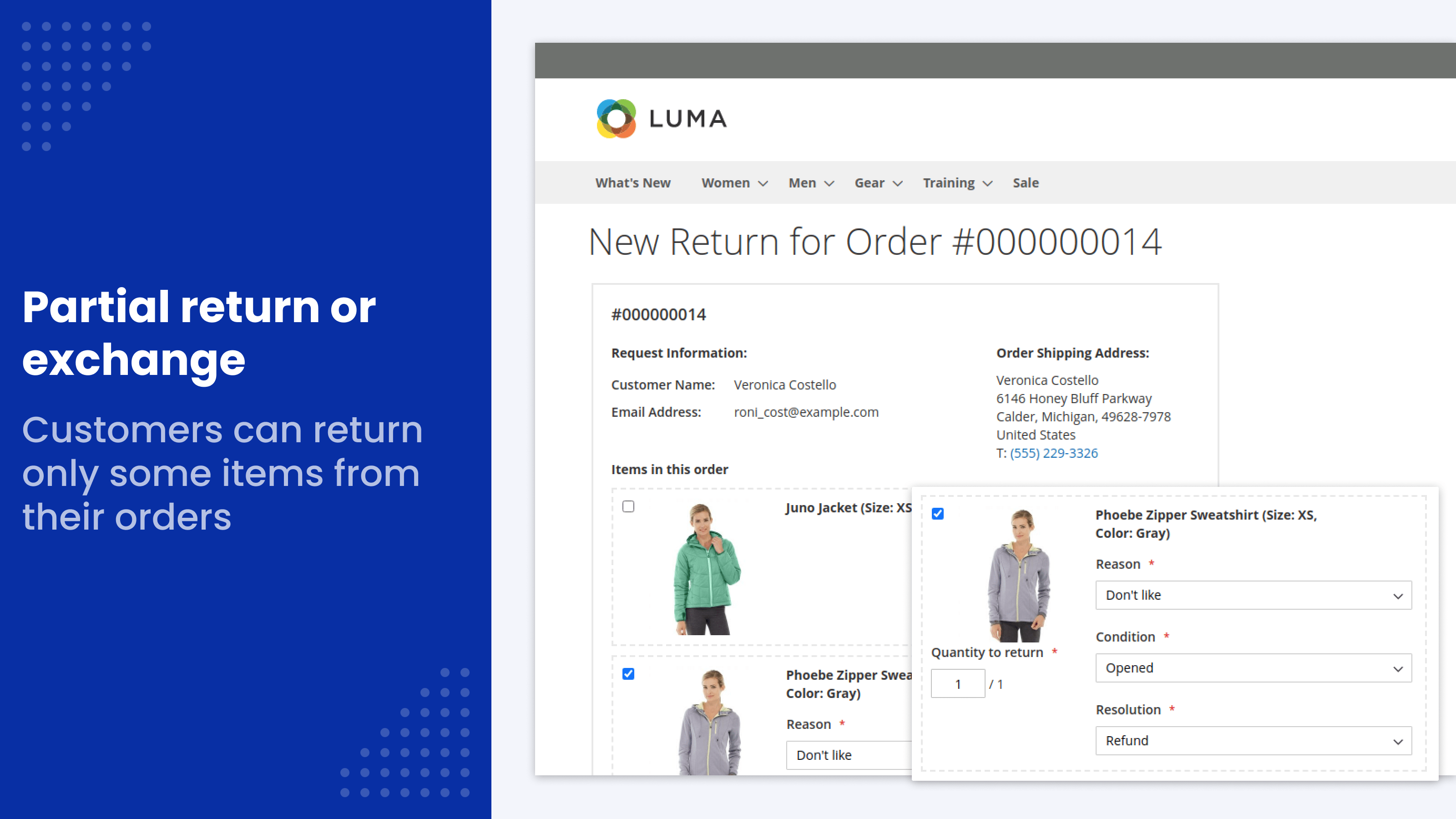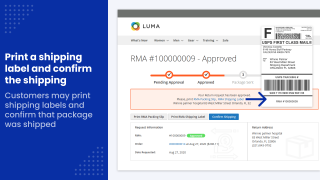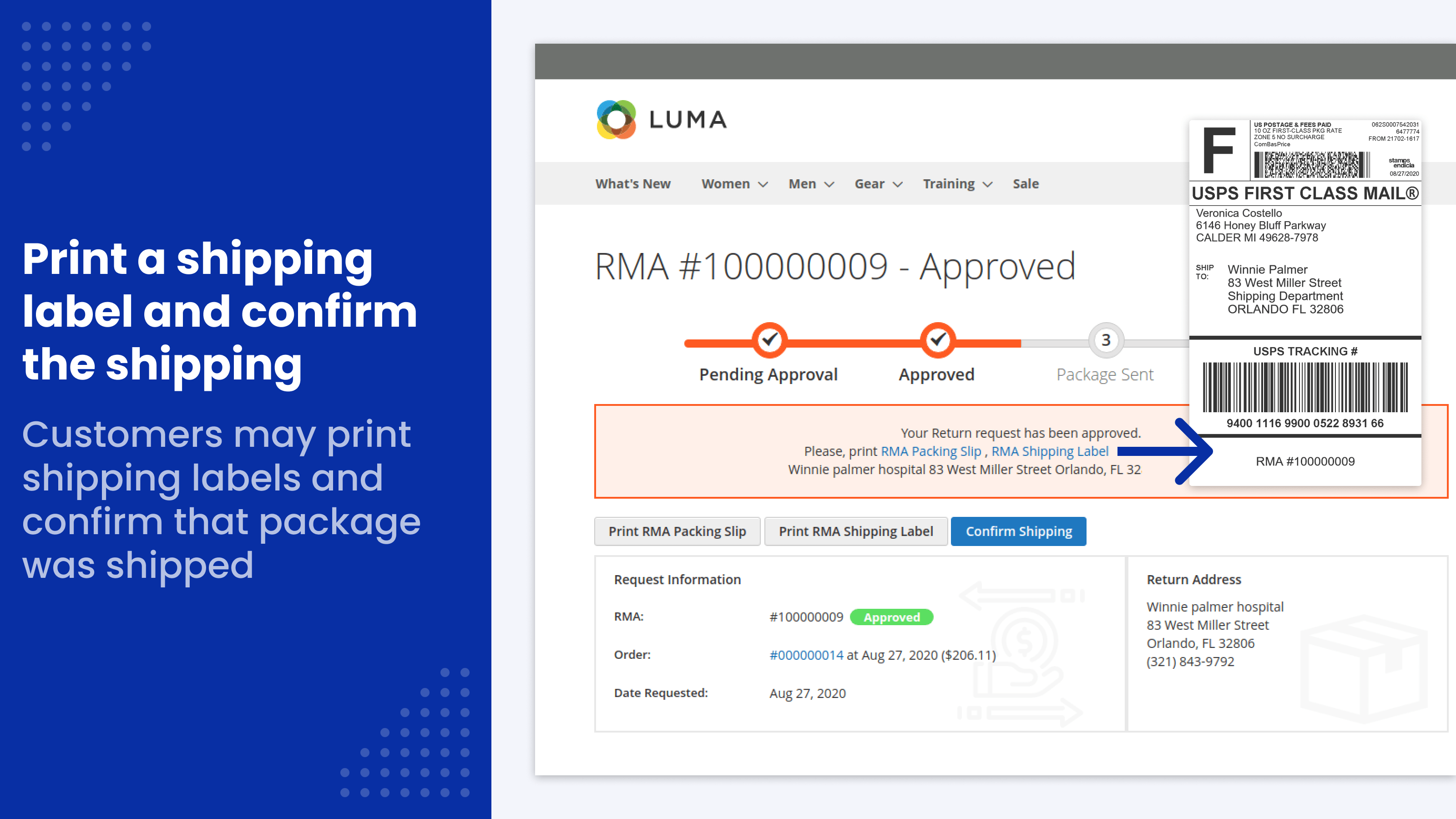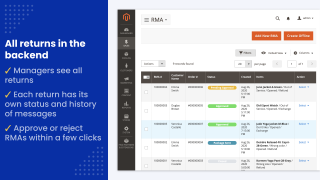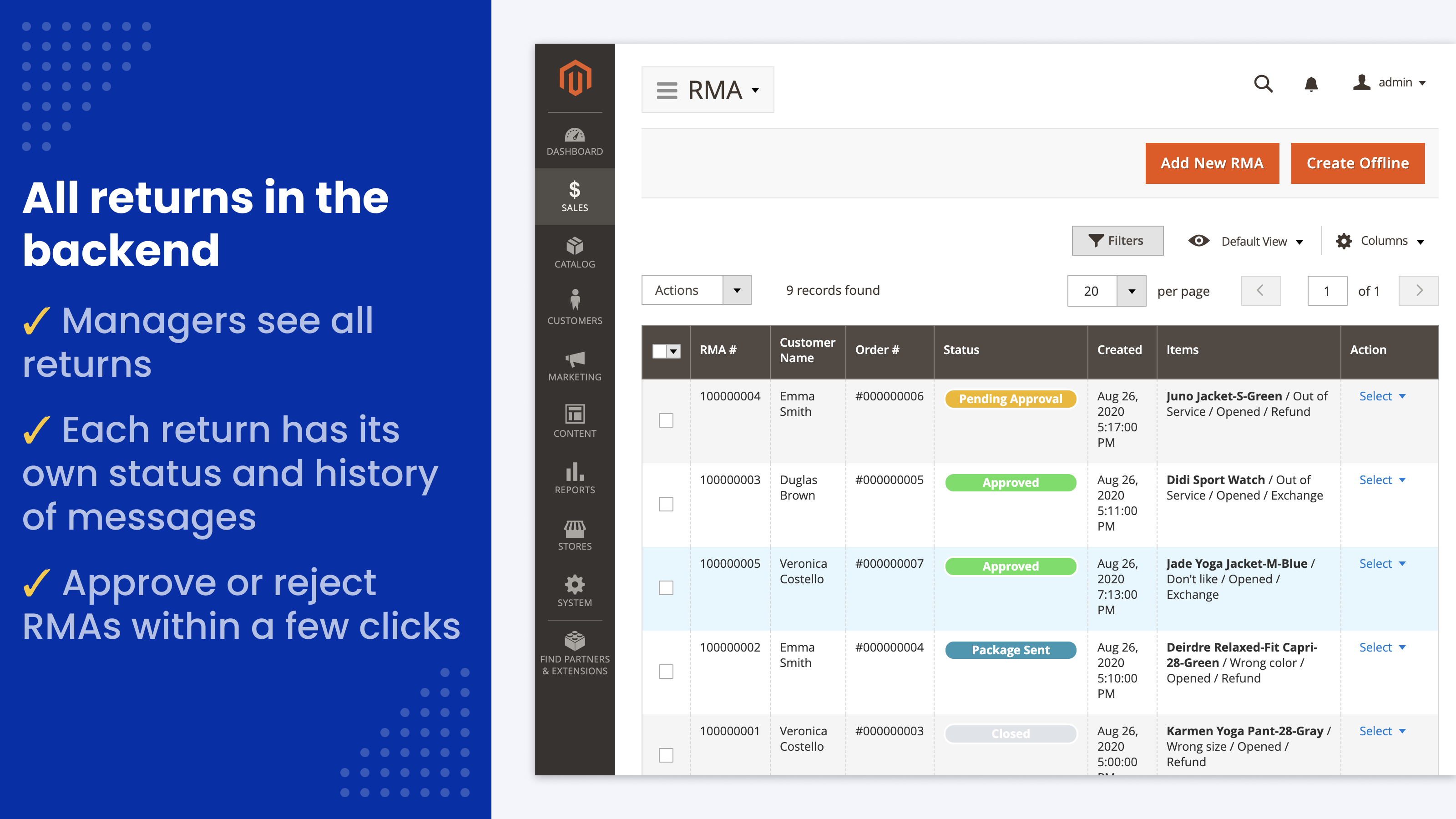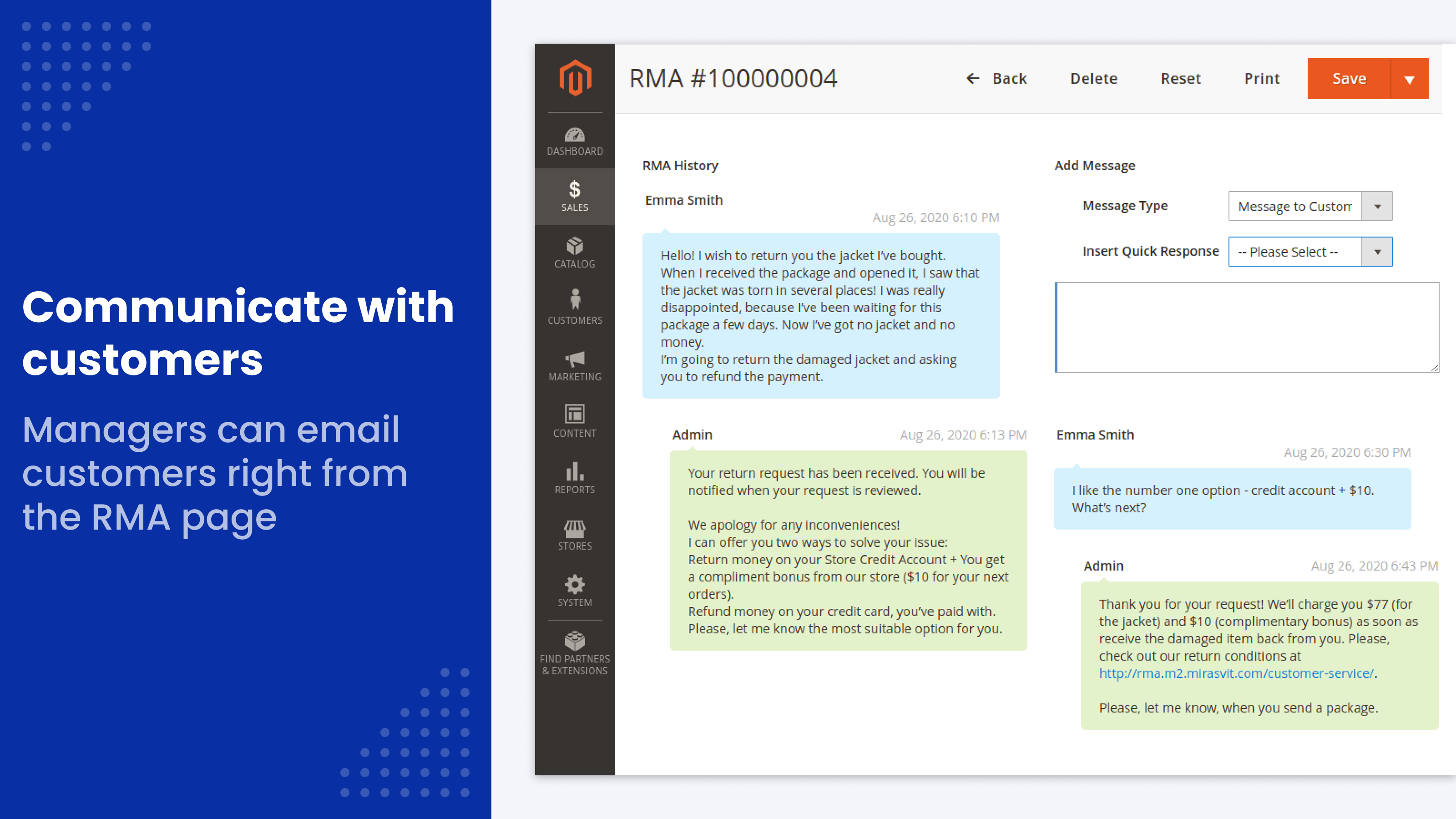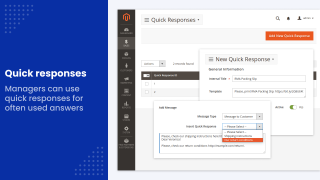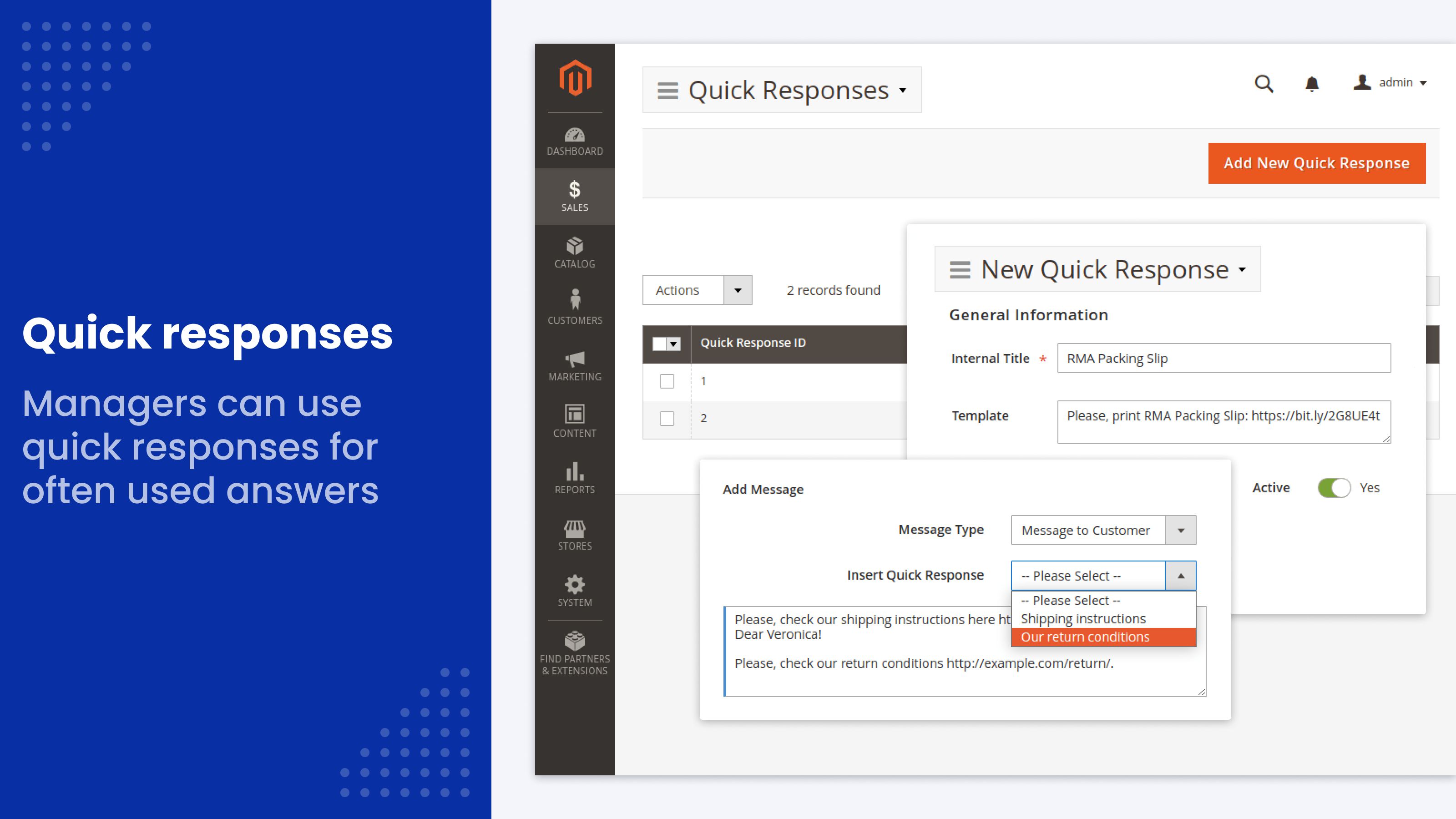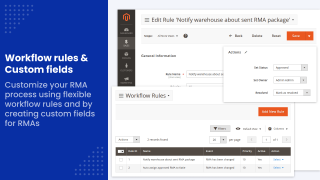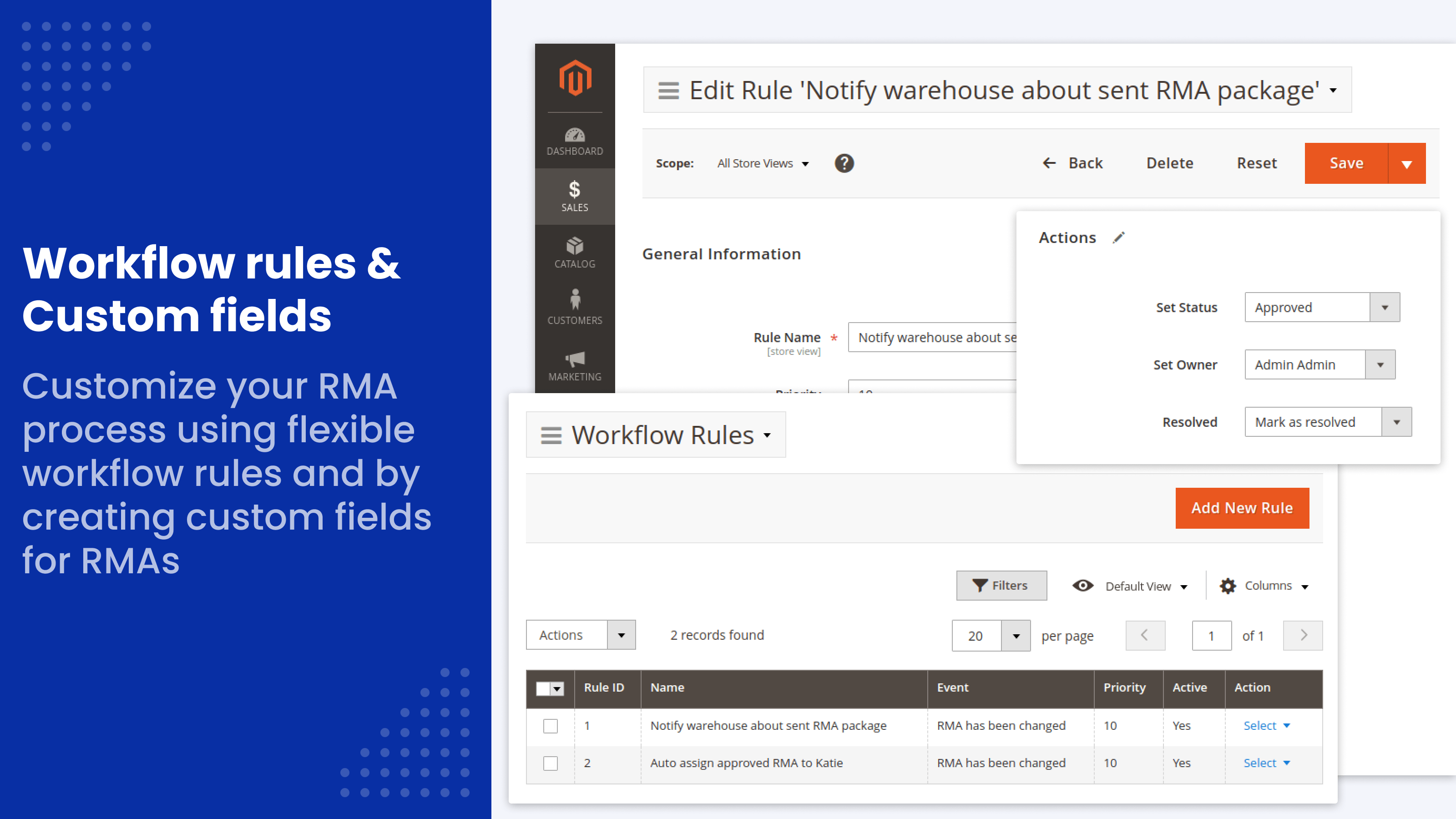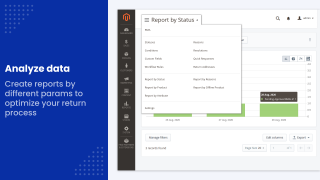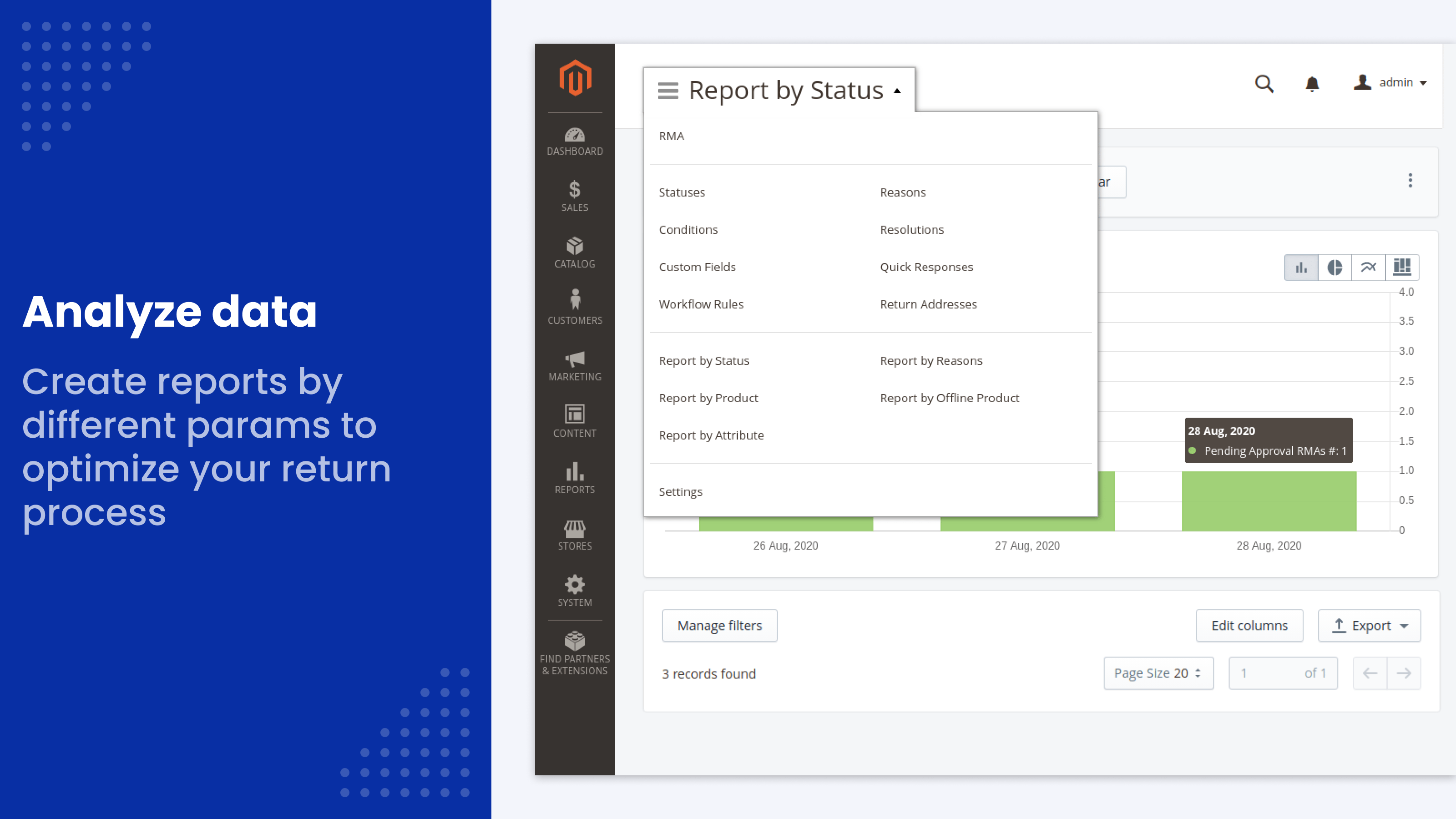 Feature Highlights
The most flexible and powerful
Return Merchandise Authorization (RMA) is the ultimate tool in building relationships with your online store customers. It is very important to consider the convenience of the returning and exchanging process in your store. RMA gives you and your customers the power of full control over their returns or exchanges of goods they purchased.
Our Magento 2 RMA module is flexible enough to cover all the possible situations in this field. To resolve the issues with returns or exchanges, the extension has two types of user interfaces: for store customers and for administrators. This allows you to take care of both sides: on the one hand, every customer can manage the return or exchange of any product bought in the store, but on the other hand, your store administrator can help with this at any moment, using the backend.
Customers can easily create requests for partial or full product return/exchange. I.e., there is a possibility to return just one or two items of five bought. So, there is no need to send back all products purchased in the store.
10 advantages you get with RMA
Customers may manage and discuss with helpdesk their exchange/replacement orders at any time via emails.
Even guest users can discuss and add comments to their requests (no need to log in to a user account to look at an RMA inquiry).
Your customers can return or exchange the number of items they need, instead of returning all purchased products.
A refund option is also available for store customers.
Customers may print shipping labels of various carriers (DHL, FedEx, etc.) and confirm that the package has been sent via a user interface, preventing fraud.
Administrators can help customers any time in creating an RMA order from the backend interface.
Customize messages to clients' requested RMA.
Use quick responses and create your own templates for this feature.
Add custom fields to RMA orders.
Analyze advanced flexible RMA reports by statuses and reasons.
Flexible Configuration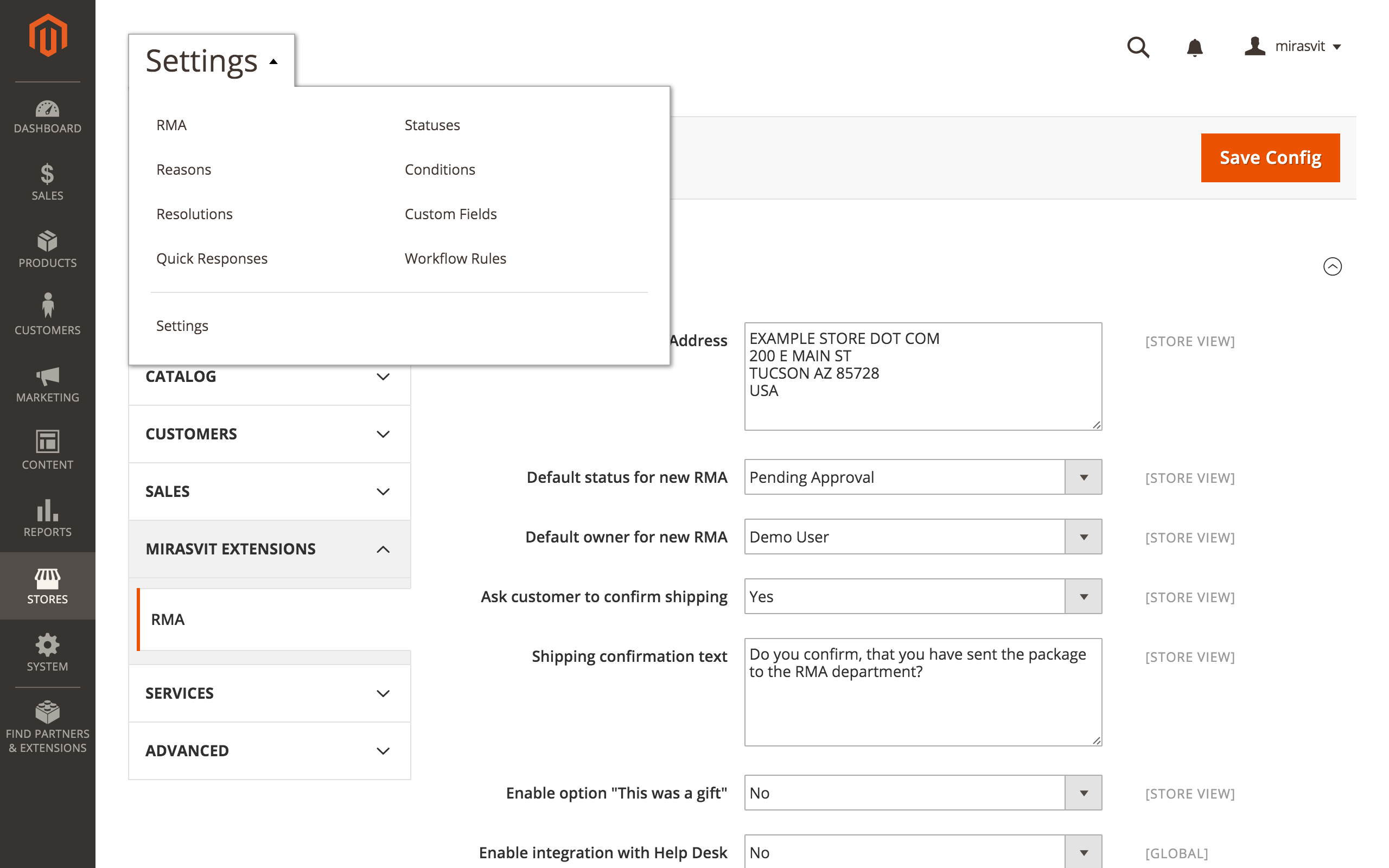 Configure Magento 2 RMA extension template according to the needs of your online store:
allow attachment file types
limit the size of any attachment
customize the RMA appearance in a Grid - choose the columns which are suitable and useful for your administrative needs (RMA and Order numbers, Customer email, name, RMA status, etc.)
Clear and Fast Communication with Workflow Rules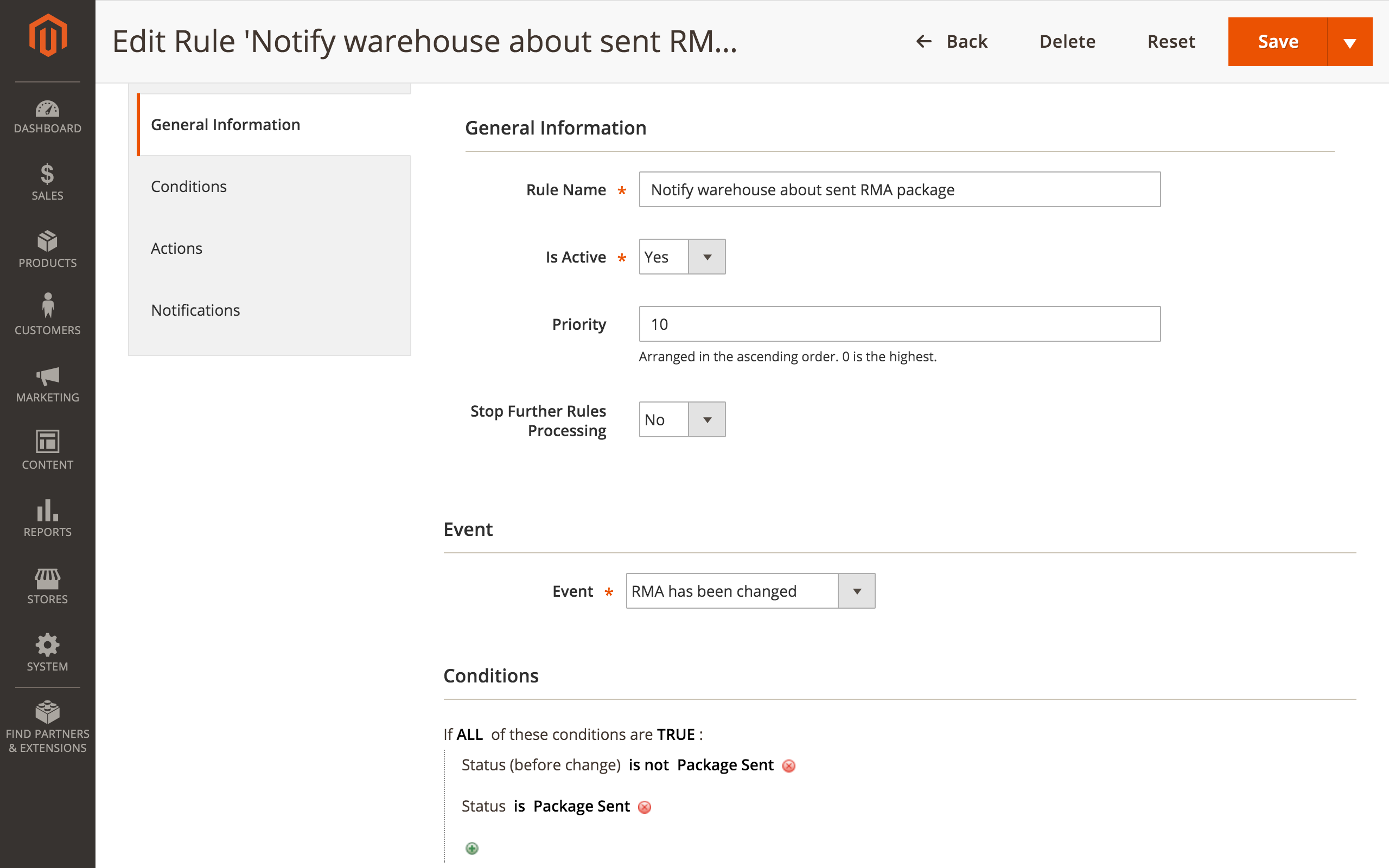 Customize your RMA processes in accordance with your store business model using flexible Workflow Rules.
The extension can fit any business model and any processes due to Workflow Rules.
While creating rules, you may tune into every step of the returns and exchanges, making this process comfortable both for customers and administrators.
Whether you create new RMA or receive a new message from a customer regarding RMA, you are able to manage the Conditions (even combinations of conditions) that you wish, set Statuses and create Notification templates.
Win your customers' loyalty using Workflow Rules!
Custom Email Notifications
Customized Email notifications allow you to make your communication process clearer, better, and simpler than ever.
Create your own templates for emails and make your online store stand out above standards!
RMA for orders purchased in offline store
You can allow your customers to create RMA for any products purchased in an offline store. In this way, you'll reduce the load on your team.
Shipping Labels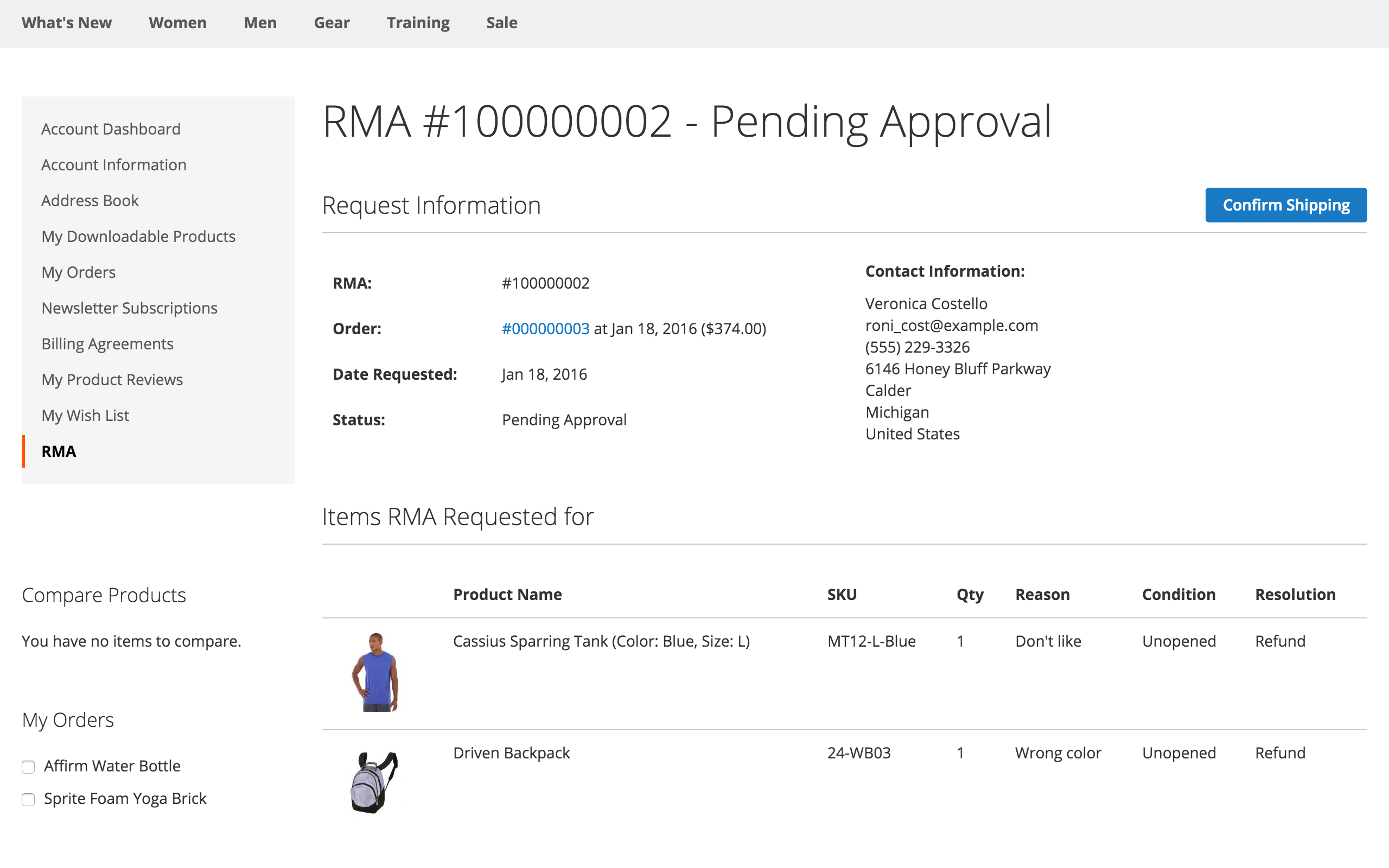 Prevent fraud in your store - use Shipping Labels!
Upload and print PDF shipping labels for various post carriers (DHL, FedEx, etc.). Both store customers and backend admins can manage labels and set return shipping statuses.
It is a really useful feature to avoid fraud in the process of sending back products. You will be able to track every delivery and every returned product.
Easy RMA discussion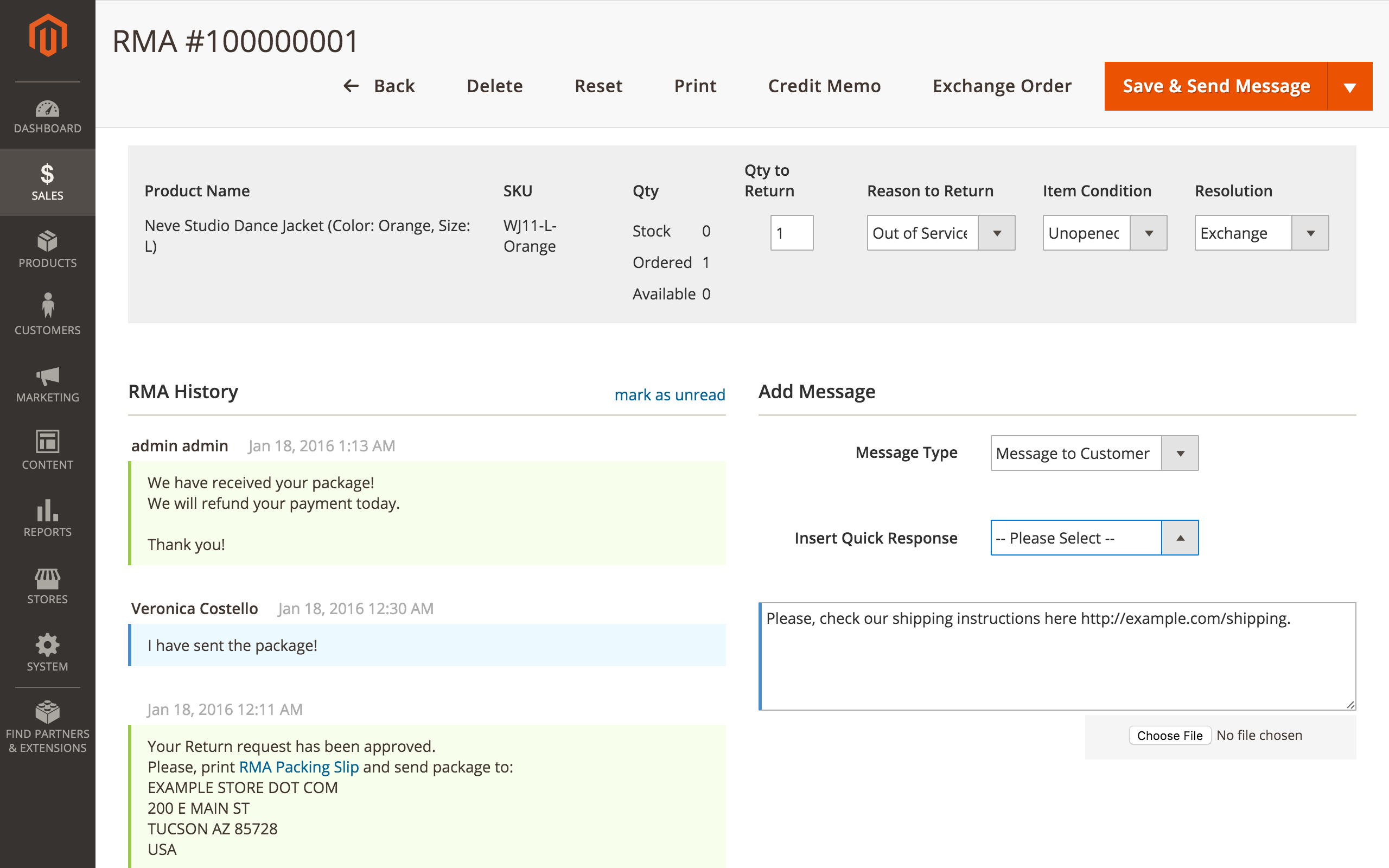 Discuss RMA with a customer and give quick replies even without logging into your account!
Then see the RMA messages history inside RMA history to be up to date with every client situation.
Manage Reasons, Condition and Resolutions for customers' RMA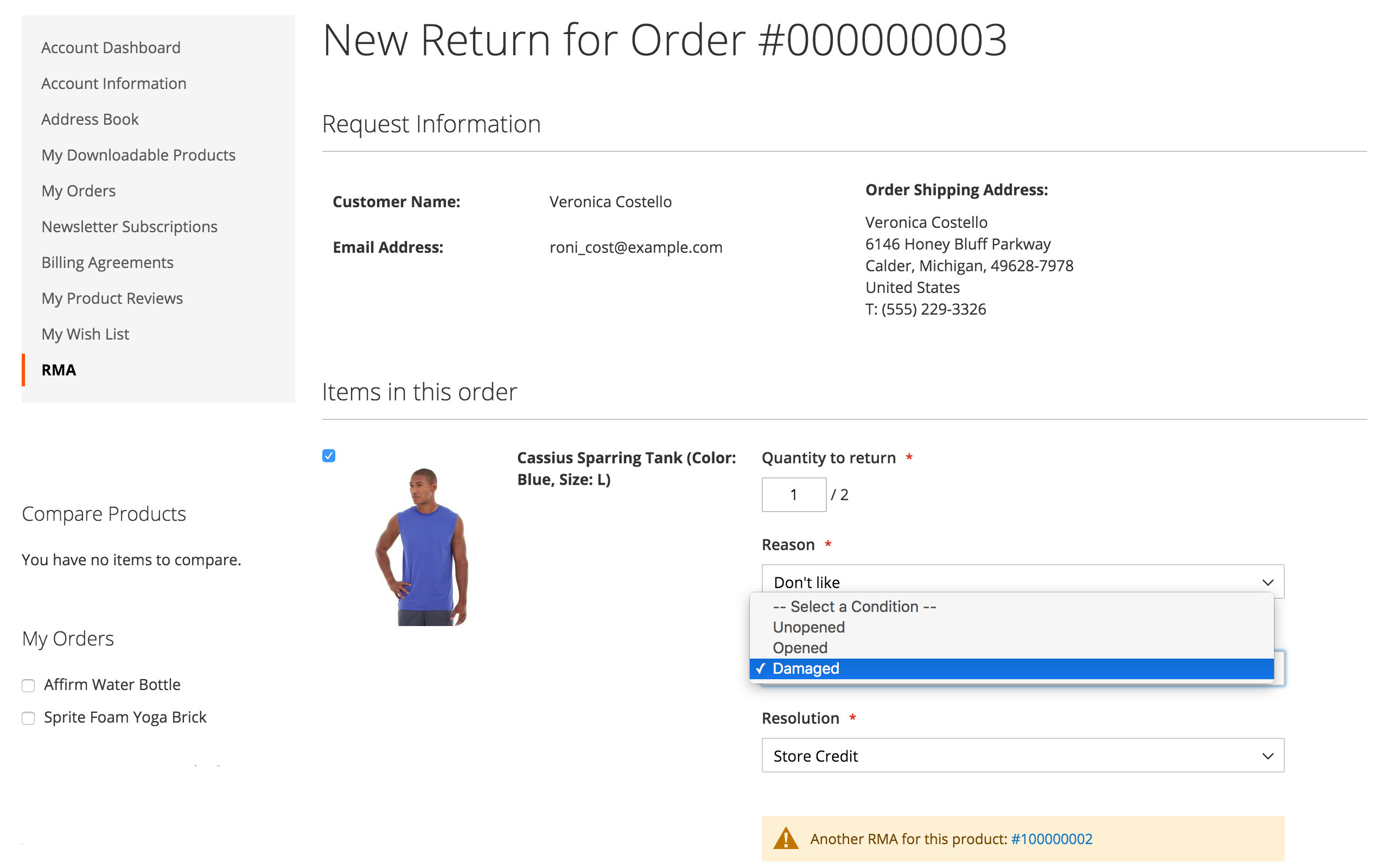 Give your customers the option to choose among different conditions, reasons and resolutions. Our RMA extension lets you create your own option for these fields according to your products characteristics.
Quick Responses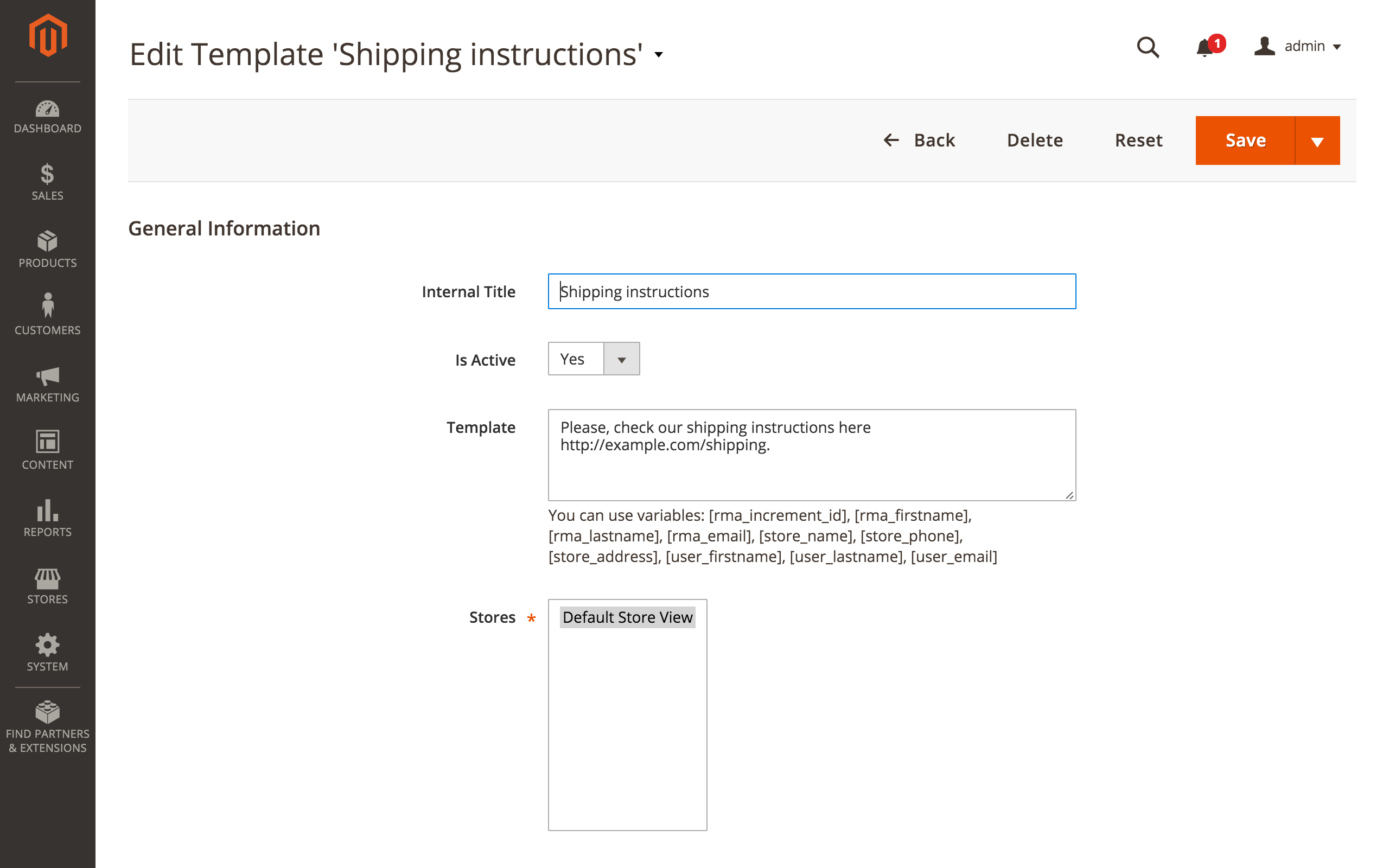 The quicker you reply to your customers, the more satisfied customers you get!
Use the Quick Responses template to automate different steps in the communication process. You may create your own templates for immediate replies and use them while discussing RMA with a customer.
Powerful Reports
Analyzing results is one of the most important parts of improving the communication process. RMA reports show you everything at a glance.
Watch the following:
RMAs by status numbers
period
number of total products returned
number of total RMAs
etc.
Also, generate reports for RMAs by SKU and RMAs by brand.
Awareness is the key!
Custom Fields
Our Magento RMA plugin gives you unlimited customizing options and lets you create additional custom fields.
You can use them to store some additional information about RMA in Magento 2 admin. For example, you could create a custom field to store information about shipping carriers or track numbers of returned products.
Install RMA extension and enjoy customer loyalty growth!
See it in action!
Pick a quick tutorial to learn about various aspects of this extension
Manual & Support
Need more help?
Save time by starting your support request online and we'll connect you to an expert.
Contact Us Now
We found other products you might like!
Live customer feedback
Latest comments
Michael Sandström
Sep 24, 2020
Best support, keep up the good work!
Galeria LueLue
Sep 23, 2020
Thank you <3
See all comments
The real-time results of the satisfaction survey of our customers
for the last 100 responses
Reasons to choose Mirasvit
Client focusing and satisfaction
It is our main goal. A big part of our new clients come from referrals from our existing clients. Our professional team of developers, marketers and support invest the best knowledge and experience, so you could come back to us again and again.
Remarkable support
90-days free and high quality support. We make an effort to satisfy you with work of every module you have purchased in our store. Helping you with installation, configuration, answering your every question, we do all our best to eliminate any possible problems.
Risk-free Investment
30-days money back guarantee. If you are not satisfied with work of our extension for any reason we provide a full refund.
Constant improvements and upgrades
We provide you lifetime free updates. We constantly add new features to all our modules. We are absolutely interested to hear your opinion and to implement your suggested features in our future developments.
Comprehensive Documentation
We provide an expanded user guide for every our extension, so you can find answers for all your burning questions.
Unencrypted source code of our products
You can customize extensions according to your needs and requirements.
Usability and Performance
Module is easy to install and easy to upgrade, just follow step by step our user guide.
Safe Magento updates
No core modifications. Just copy extension files to store root directory.