Overview
Reward Points module allows you to create a unique loyalty program in your store. Customers can earn reward points for orders in your store and then spend them for new orders. Customers can refer friends and recieve points for friend's orders. Customers can ean points for certain actions (e.g. reviews, likes in social media, sign up for newsletter, etc).
The extension will easily help you to convert your visitors into a loyal and profitable customers who will become your brand advocates in a short period of time, brining you more and more potential customers.
Administration Interface
Product Earning Rules
Allows to receive points for certain products. On the product page customer can see the number of points which he will earn, if he buys this product.
Cart Earning Rules
Allows to recieve points for total sum in the cart. You can give different number of points for achieving of certain conditions.
Interesting usage examples
Earn 10 points for each spent $10
Buy N products from the category A and receive double points!
Pay via the payment system A and recieve X points as bonus!
Behavior Earning Rules
Must Have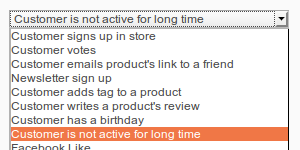 Allows customer to earn points for doing certain actions:
Customer signs up in store
Customer votes
Customer emails product's link to a friend
Newsletter sign up
Customer adds a tag to a product
Customer writes a product's review
Customer has a birthday
Customer is not active for long time
Facebook Like
Twitter Tweet
Google+ Like
Pinterest Pin
Referred customer signs up in store
Order from referred customer
Interesting usage examples
If customer has not visited the store during N days, extension automatically gives X points and sends an email with invite to use points.
When N invited friends place at least one order each, customer receives a bonus X% from sum of their orders.
Invite a friend and recieve 15% bonus for his first order, 10% for the second order and 5% for the third order!
Spending Rules
Allows to manage how customers can spend the points. For example, for each 10 points we give discount $1.
Has ability to limit the number of points, which customer can use per one order. For example, using points customer can pay not more then 20% of the order total.
Notification Rules
Allows to manage the rules for displaying notification messages for customers. Those messages can inform customer about ability to earn points. Messages can be shown on the following pages:
Customer Account > My Reward Points
Customer Account > My Referrals
Cart Page
Checkout Page
You can setup different conditions to show the messages.
Frontend
Extension displays the social buttons block on the product and categories pages. Customer can like the page and earn points.

On the cart page we show the block Use Reward Points.

Customer can enter any number of points, which he would like to spend and recieve discount. Sum of earned and spent points will be shown in the cart totals.

Section Reward Points in the customer account

Customer can check the number of points on his balance, his transactions, information about conditions to earn/spend points.
Integration with other extensions
Extension is integrated with Mirasvit Advanced Newsletter

This integration allows to earn points for newsletter signup.
Advantages over other solutions
You pay for extension only once. No monthly or annual payments. No limits for number of transactions, products or customers.
Extension is integrated with Onepage Checkout extensions of different vendors. This allows your customers to spend points on the checkout page. This is a very convenient way for customer. Other solutions don't have this advantage.
Extension has very flexible Earning/Spending/Notification Rules. This allows you to configure extension for your own unique requirements.