Magento 2 Store Credit & Refund Extension
Store Credit & Refund Extension covers and automates most of your store activities, related to Credits and Refunds of customers. This is a simple, but an incredibly powerful solution thet allows you to get more loyal and satisfied clients. Turn returns and exchanges into Credits and save your time and money!
Launch credit programs in your store
Convert returns into new purchases
Save time and money by skipping several steps in the refunding process
Use the extension during an exchange process
PWA Ready / GraphQL Support
Free Installation
We will install the extension in your store and configure for your requirements
Feature Highlights
Simply the most powerful solution for Credits & Refunds!
Magento 2 Store Credit & Refund Extension gives you an opportunity to make your customers more satisfied, and, therefore, receive more orders in your online shop.
Our solution lets you convert customer returns into store Credits. For example, a customer wants to return the items he/she bought and receive money back. This process can take some time: your employee should spend some time to register the refund, then a customer should wait for some (usually undefined) time to get their money back, pay transaction commission, etc. So, everybody loses in this situation. But time is money!
Use Magento 2 Store Credit & Refund Extension and open a Credit program for your store! With our solution you get an option to turn all returns or exchanges into Credits within seconds and save your company money.
For example, your customer wants money refunded and you are able to deposit that money into the customer's account from your store! Fast, easy, brilliant! Satisfied customer may use their credit to pay for the next purchase.
One of the most outstanding extension features is that you can give the customer any amount of Credit (as a gift, for example), and he/she can use all credit at one time. So, if a client makes a purchase for $100 and they have $100 Credit they, therefore, are able to use their credit to pay for the order! All credits will be debited in just one click!
Launch Credit programs for your online shop using Store Credit & Refund Extension!
---
10 advantages you get with Store Credit & Refund Extension
Launch Credit programs for your store and make your store stand out among competitors.
Save your time and money by skipping several steps in the process of money refund.
Convert returns into new purchase processes using our solution.
Get an intuitive customer interface and a simple interface for administration.
Create custom Credits manually.
Keep returning customers satisfied with our extension by saving their time and money.
Showing care for your customers by saving their time.
Use the extension during an exchange process. Customers can pay the price difference using their credit account in your store.
Appreciate your customers giving by them thank-you Credits.
Give your customers the freedom to manage their returns and exchanges using our extensions RMA + Store Credit & Refund!
Transparent History for Customers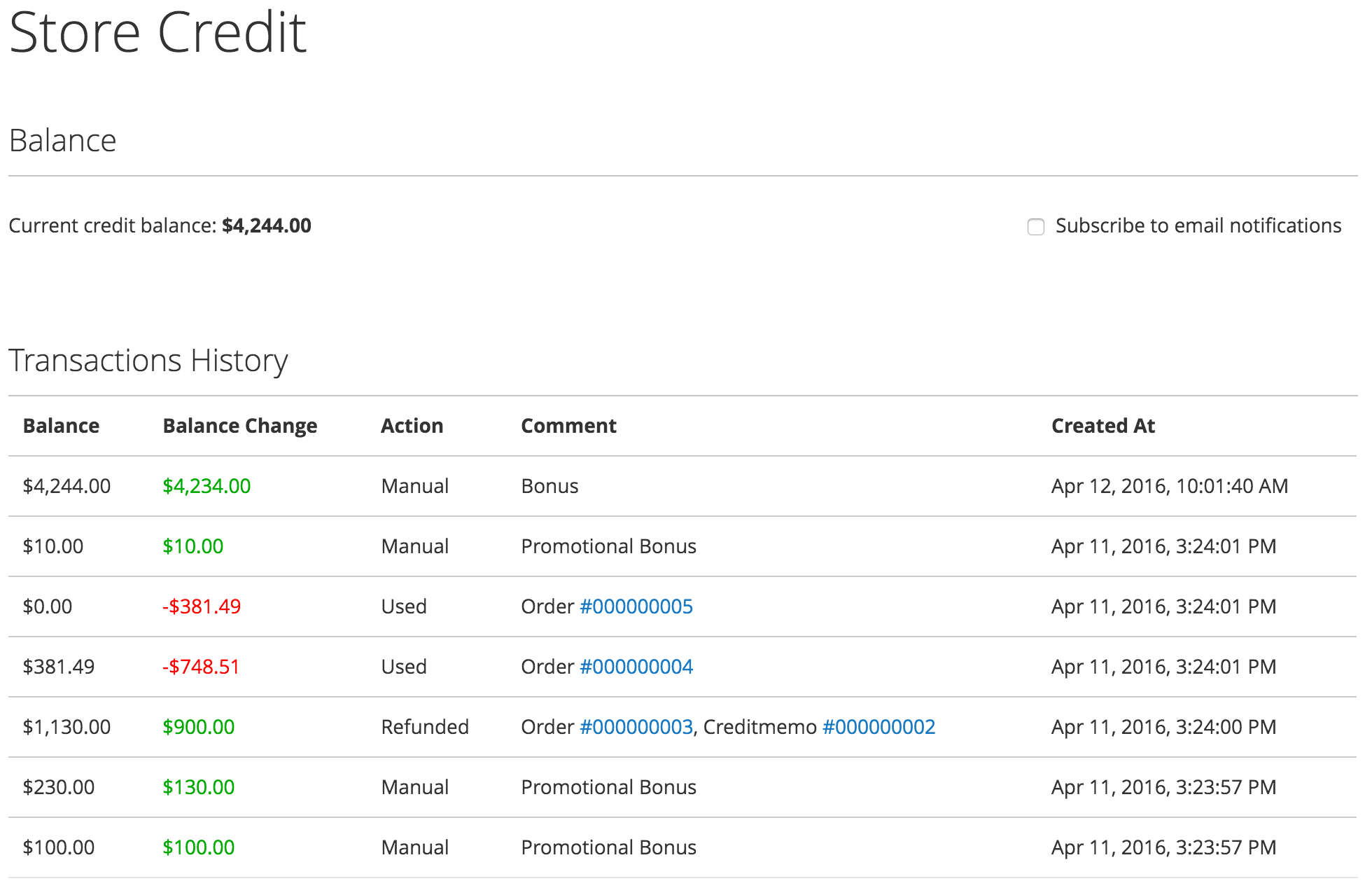 Your customer can check their Credit Transactions history in the Store Credit menu in their personal account.
Every transaction, either debit or credit is displayed with short comments to remind them of details.
Customers also can receive email notification about credit transactions, in case they subscribe.
---
Easy way to use Store Credits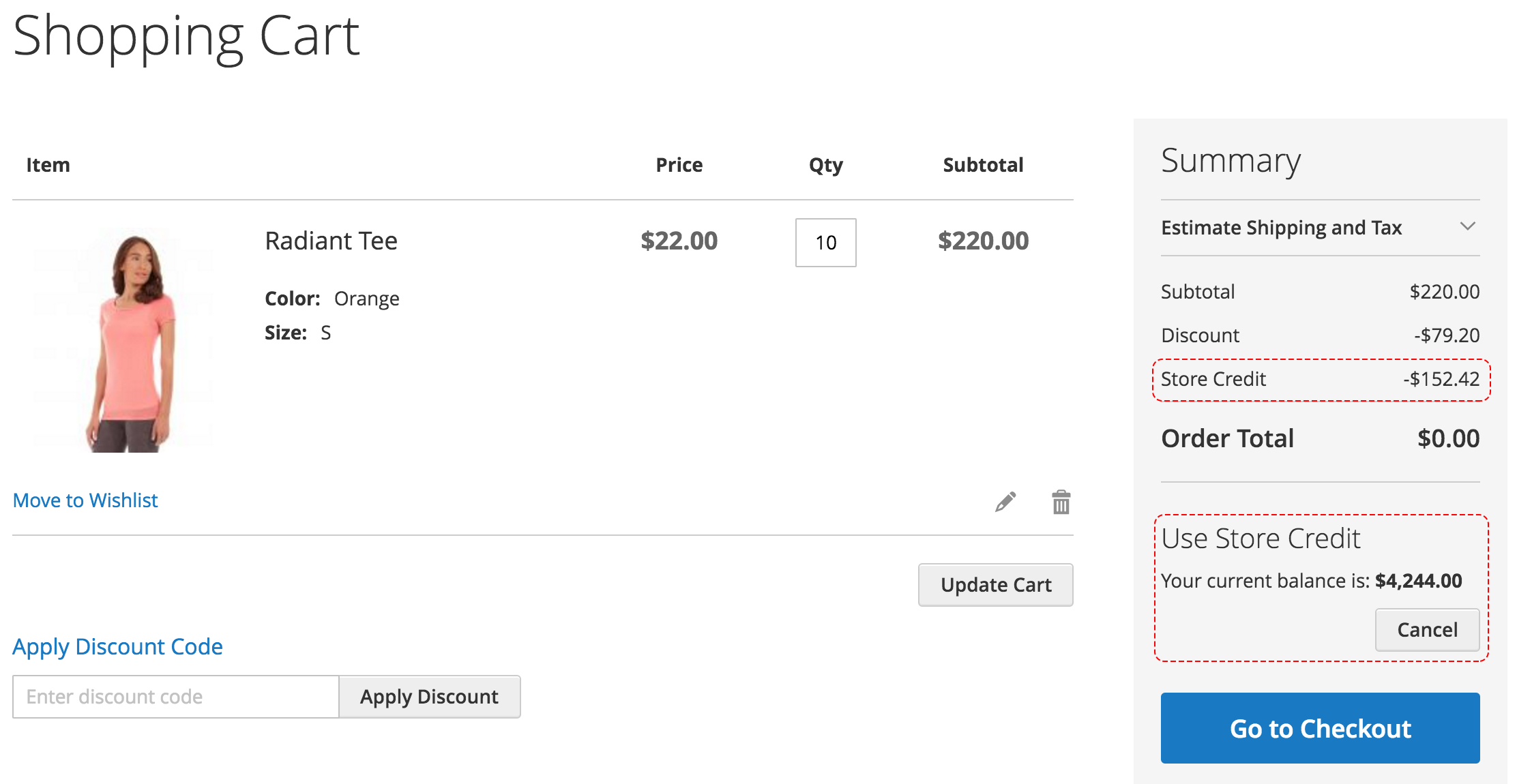 Every customer can use credits to pay for purchases.
If a customer has some credit in their Store Credit account, the credit amount can be taken off during checkout. All the customer needs to do is just click "Use Store Credit"!
The full amount of credit will be debited at once. Therefore, the Total of the current purchase will be reduced (including all taxes and shipping fees).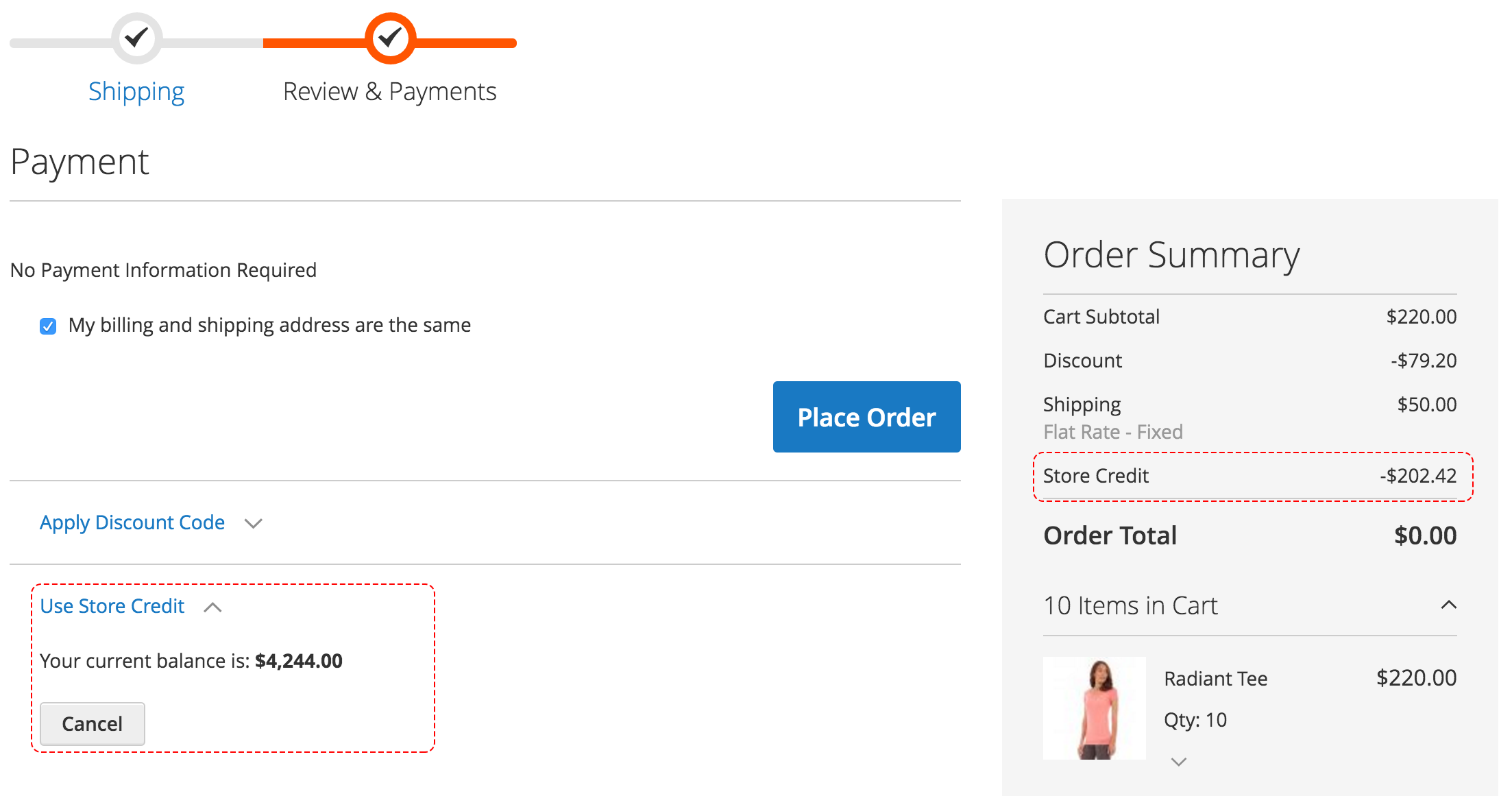 ---
Simple credits managing interface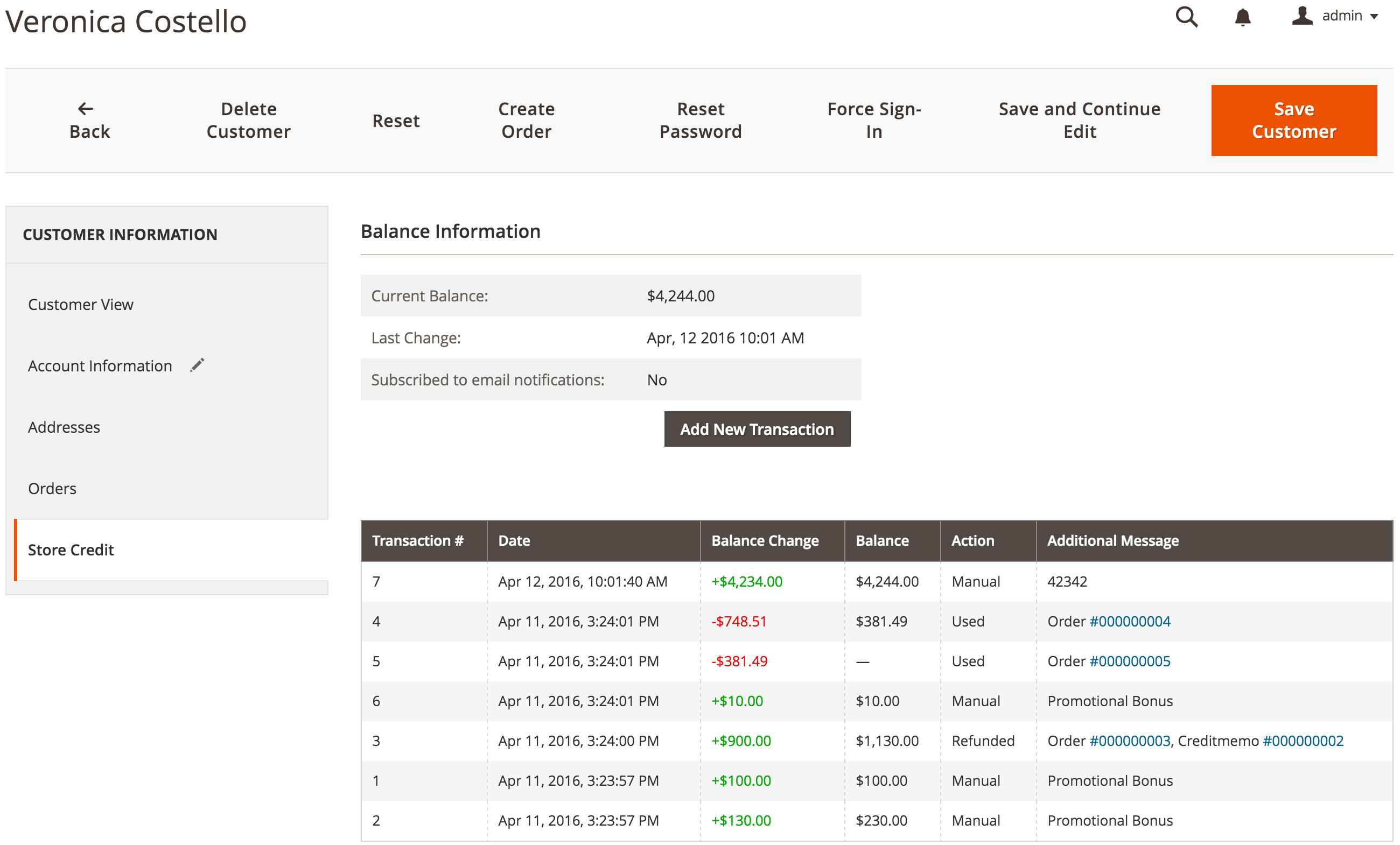 You can reward, appreciate or even offer an apology to your customers using our Store Credit & Refund solutions.
A simple back-end interface allows you to manually add new credit transactions whenever you need it.
For example, you created a lottery or contest in your store. So, there are some winners which you have to reward. Simply add a new transaction in the back-end and give the winners their gift certificates represented in credits.
Satisfied customers bring more sales!
---
Refund Credits in Credit Memo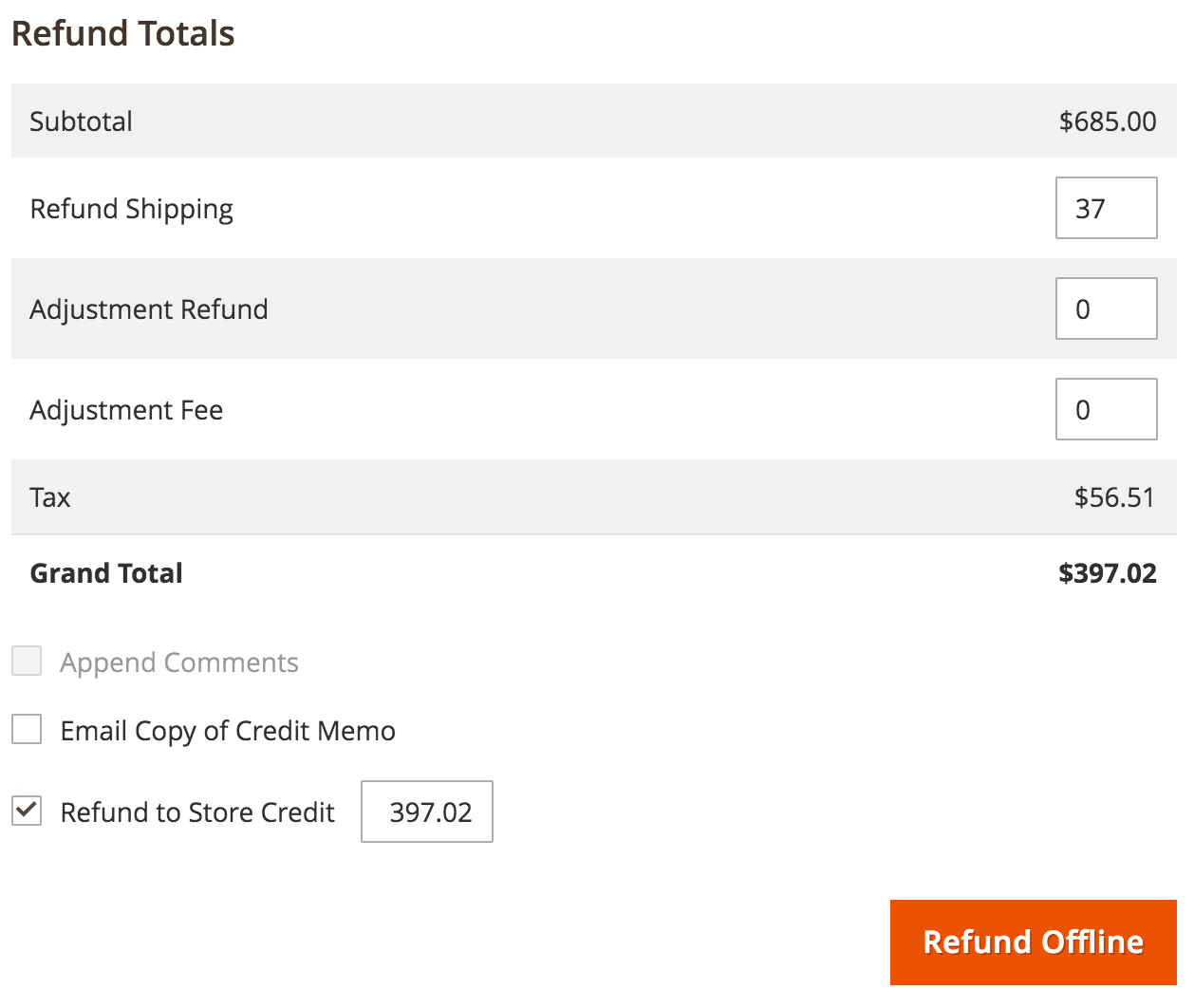 Store Credit Magento extension allows you (as a store administrator) to set the amount of credit to refund to Store Credit right in the Credit Memo.
For example, a customer made a purchase for $500. Then, he wanted to return all items and get their money back. Our solution provides you with the option of a partial refund to Store Credit: creating a Credit Memo you can refund the desired amount to the customer's store credit, if you agreed so.
Besides, it is very convenient to discuss any transaction changes in the interface of our extension's RMA (Return Merchandise Authorization) or Helpdesk.
---
Add Funds to Store Credit
The Store Credit & Refund extension allows your customers to add funds to their Store Credit Account.
This awesome feature lets your store's returning clients save their time and money by purchasing Credit ahead.
For example, a customer purchases some Credit. Then they search for some items in your store, but then decide to come back a bit later to order. But! They already have money for their future order in the Store Credit. So the next time, this customer saves some time during checkout using the Credits directly from their account.
Take care of your customers and save their time and money with Store Credit!
---
Flexibility with managing options
Store Credit & Refund Extension gives you a Enterprise set of flexible options for editing every customer's card.
For example, you can:
add credits for certain users
view customer balance and transactions of each customer
turn email notifications about credit balance changing on
use credit while creating an order in the administration panel
add credit while creating a credit memo in the administration panel
use global balances or separated balance for each store currency
set store credit apply order for order (before/after taxes, shipping etc)
---
Send Credits to a Friend
Store Credit & Refund solution allows your customers to send any amount of credit he owns to a friend. Another client-oriented feature.
All your client needs to do is to fill out the simple form with 3 obligatory fields:
friend's email address
amount of credit to share with their friend (can not exceed the amount on the account)
a short message to let a friend know the purpose of those credits
See it in action!
Pick a quick tutorial to learn about various aspects of this extension
Manual & Support
Need more help?
Save time by starting your support request online and we'll connect you to an expert.
Contact Us Now
We found other products you might like!
Reasons to choose Mirasvit
Client focusing and satisfaction
It is our main goal. A big part of our new clients come from referrals from our existing clients. Our professional team of developers, marketers and support invest the best knowledge and experience, so you could come back to us again and again.
Remarkable support
90-days free and high quality support. We make an effort to satisfy you with work of every module you have purchased in our store. Helping you with installation, configuration, answering your every question, we do all our best to eliminate any possible problems.
Risk-free Investment
30-days money back guarantee. If you are not satisfied with work of our extension for any reason we provide a full refund.
Constant improvements and upgrades
We provide you lifetime free updates. We constantly add new features to all our modules. We are absolutely interested to hear your opinion and to implement your suggested features in our future developments.
Comprehensive Documentation
We provide an expanded user guide for every our extension, so you can find answers for all your burning questions.
Unencrypted source code of our products
You can customize extensions according to your needs and requirements.
Usability and Performance
Module is easy to install and easy to upgrade, just follow step by step our user guide.
Safe Magento updates
No core modifications. Just copy extension files to store root directory.