 Store Credit & Refund Extension covers and automates most of your store activities, related to Credits and Refunds of customers. This is a simple, but an incredibly powerful solution thet allows you to get more loyal and satisfied clients. Turn returns and exchanges into Credits and save your time and money!
Launch credit programs in your store
Convert returns into new purchases
Save time and money by skipping several steps in the refunding process
Use the extension during an exchange process
PWA Ready / GraphQL Support
Free Installation
We will install the extension in your store and configure for your requirements
Extension Demos
Pick a quick tutorial to learn about various aspects of this extension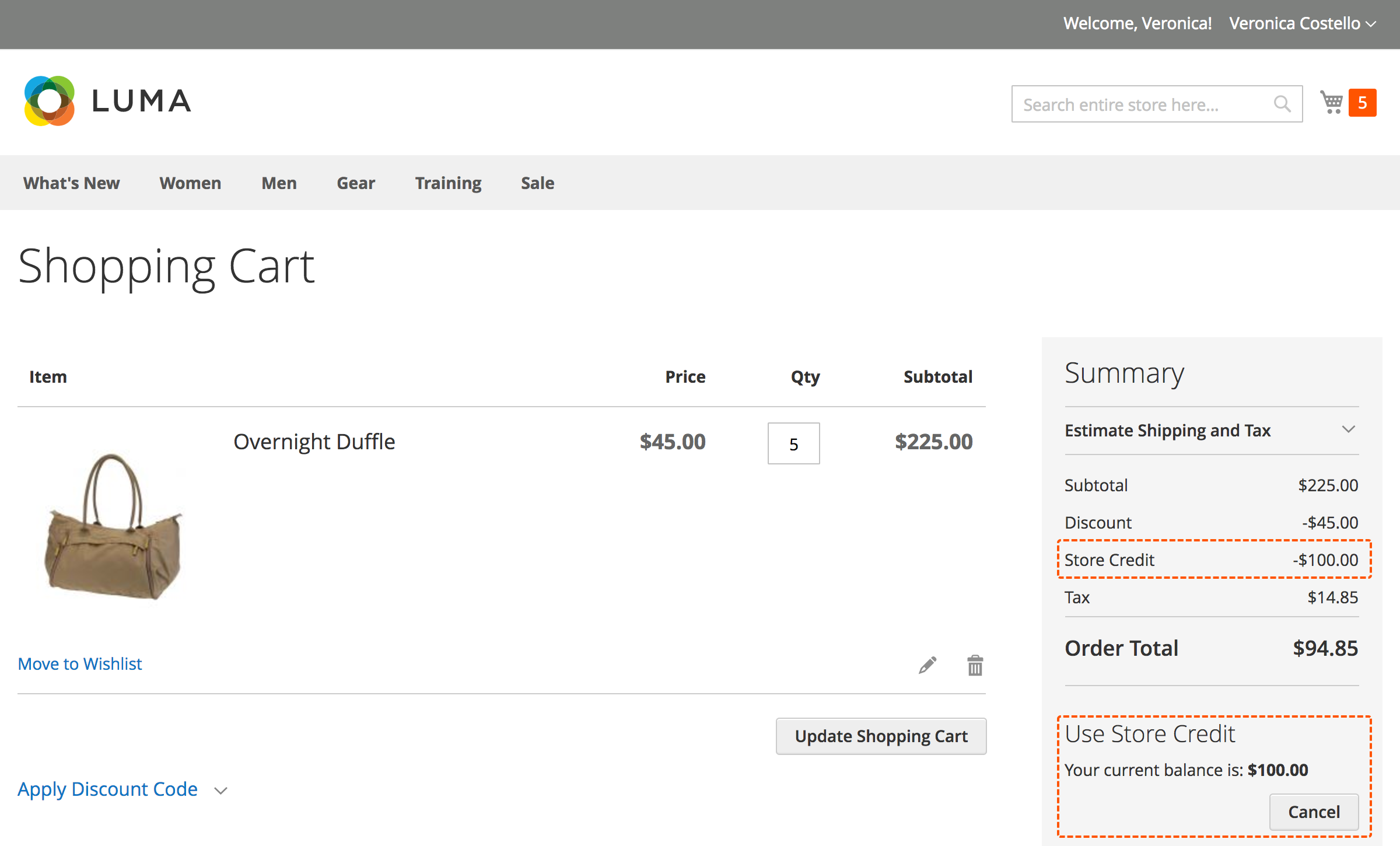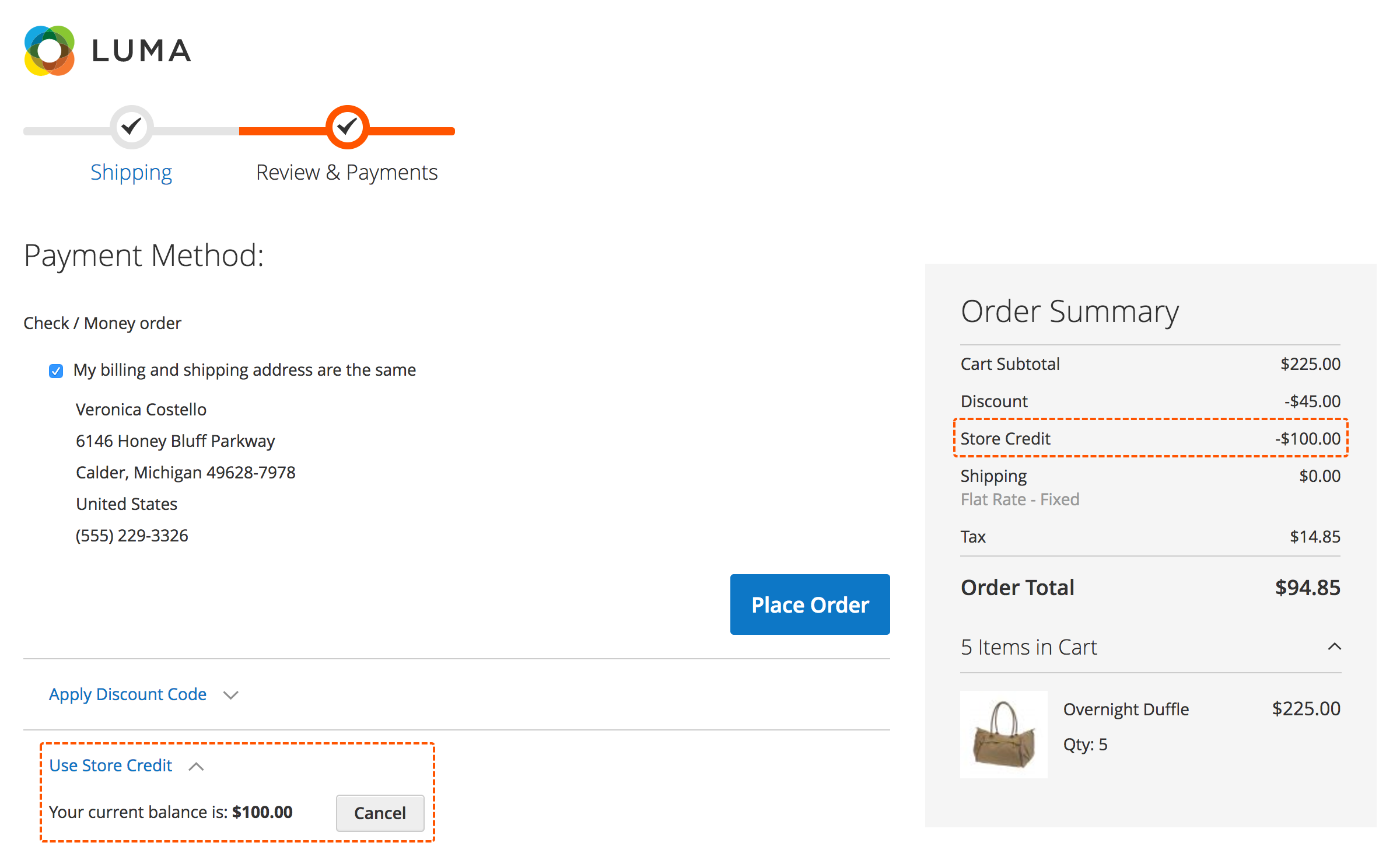 Simply the most powerful solution for Credits & Refunds!
Magento 2 Store Credit & Refund Extension gives you an opportunity to make your customers more satisfied, and, therefore, receive more orders in your online shop.
Our solution lets you convert customer returns into store Credits. For example, a customer wants to return the items he/she bought and receive money back. This process can take some time: your employee should spend some time to register the refund, then a customer should wait for some (usually undefined) time to get their money back, pay transaction commission, etc. So, everybody loses in this situation. But time is money!
Use Magento 2 Store Credit & Refund Extension and open a Credit program for your store! With our solution you get an option to turn all returns or exchanges into Credits within seconds and save your company money.
For example, your customer wants money refunded and you are able to deposit that money into the customer's account from your store! Fast, easy, brilliant! Satisfied customer may use their credit to pay for the next purchase.
One of the most outstanding extension features is that you can give the customer any amount of Credit (as a gift, for example), and he/she can use all credit at one time. So, if a client makes a purchase for $100 and they have $100 Credit they, therefore, are able to use their credit to pay for the order! All credits will be debited in just one click!
Launch Credit programs for your online shop using Store Credit & Refund Extension!
---
10 advantages you get with Store Credit & Refund Extension
Launch Credit programs for your store and make your store stand out among competitors.
Save your time and money by skipping several steps in the process of money refund.
Convert returns into new purchase processes using our solution.
Get an intuitive customer interface and a simple interface for administration.
Create custom Credits manually.
Keep returning customers satisfied with our extension by saving their time and money.
Showing care for your customers by saving their time.
Use the extension during an exchange process. Customers can pay the price difference using their credit account in your store.
Appreciate your customers giving by them thank-you Credits.
Give your customers the freedom to manage their returns and exchanges using our extensions RMA + Store Credit & Refund!
Feature Highlights
Transparent History for Customers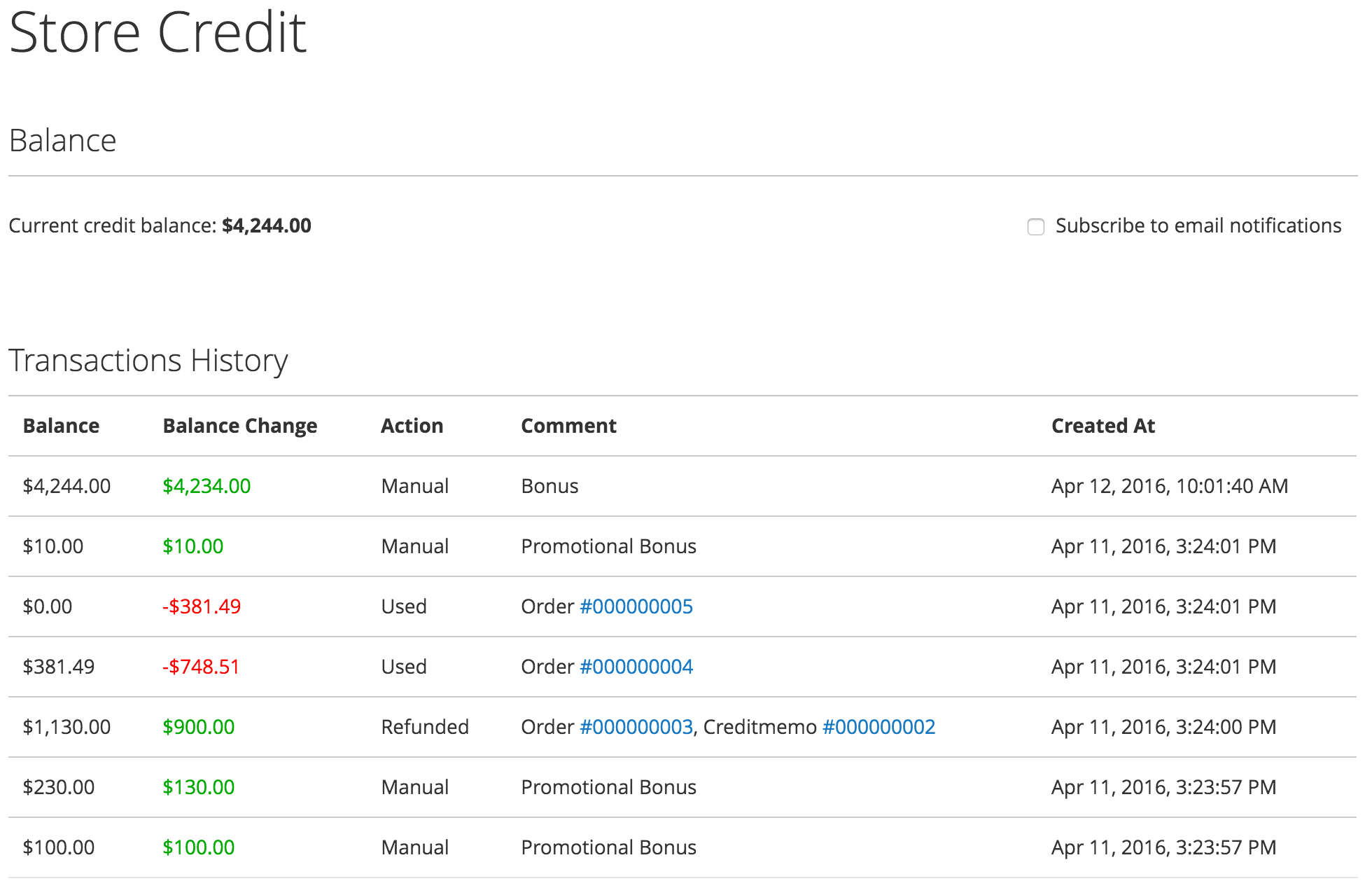 Your customer can check their Credit Transactions history in the Store Credit menu in their personal account.
Every transaction, either debit or credit is displayed with short comments to remind them of details.
Customers also can receive email notification about credit transactions, in case they subscribe.
---
Easy way to use Store Credits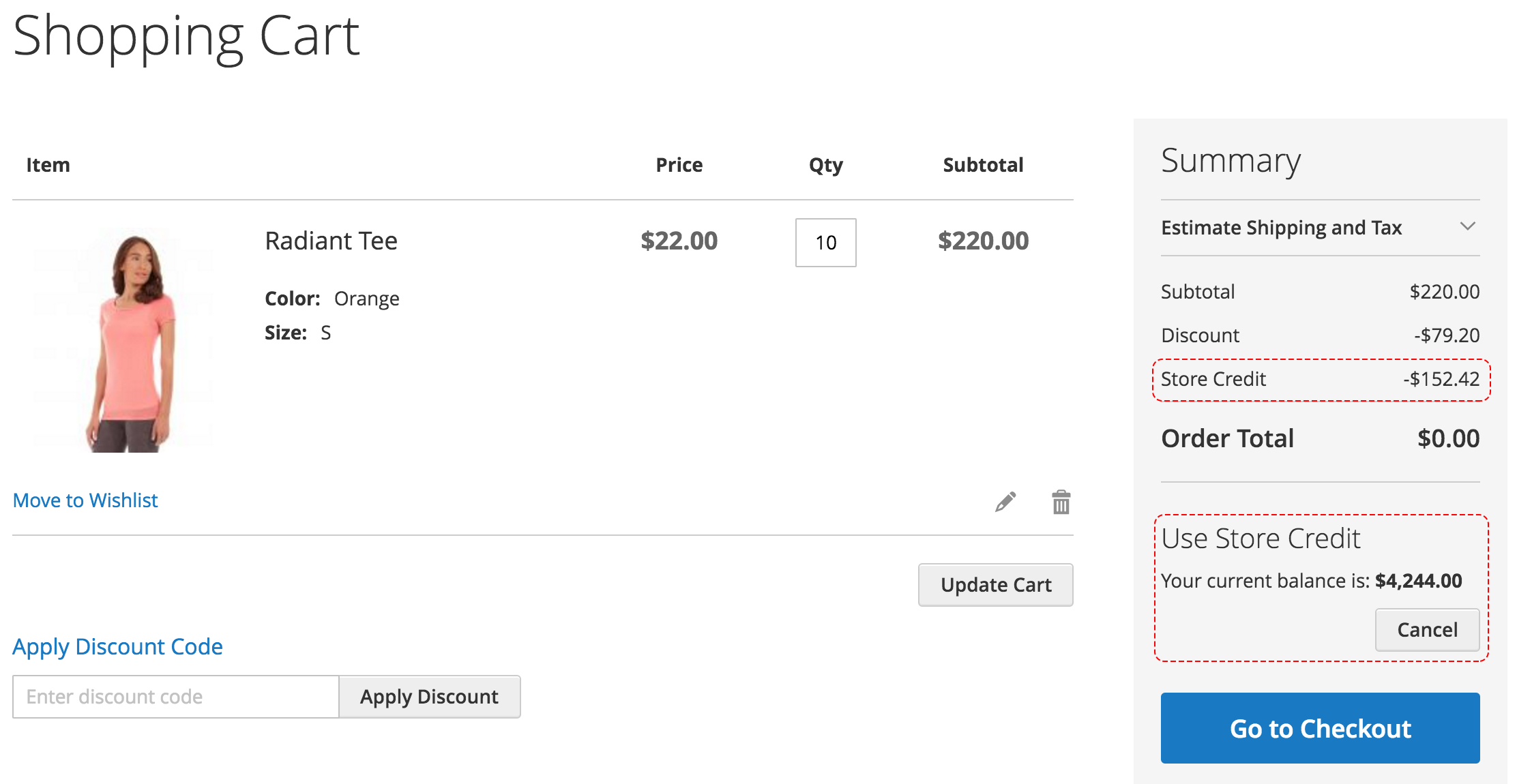 Every customer can use credits to pay for purchases.
If a customer has some credit in their Store Credit account, the credit amount can be taken off during checkout. All the customer needs to do is just click "Use Store Credit"!
The full amount of credit will be debited at once. Therefore, the Total of the current purchase will be reduced (including all taxes and shipping fees).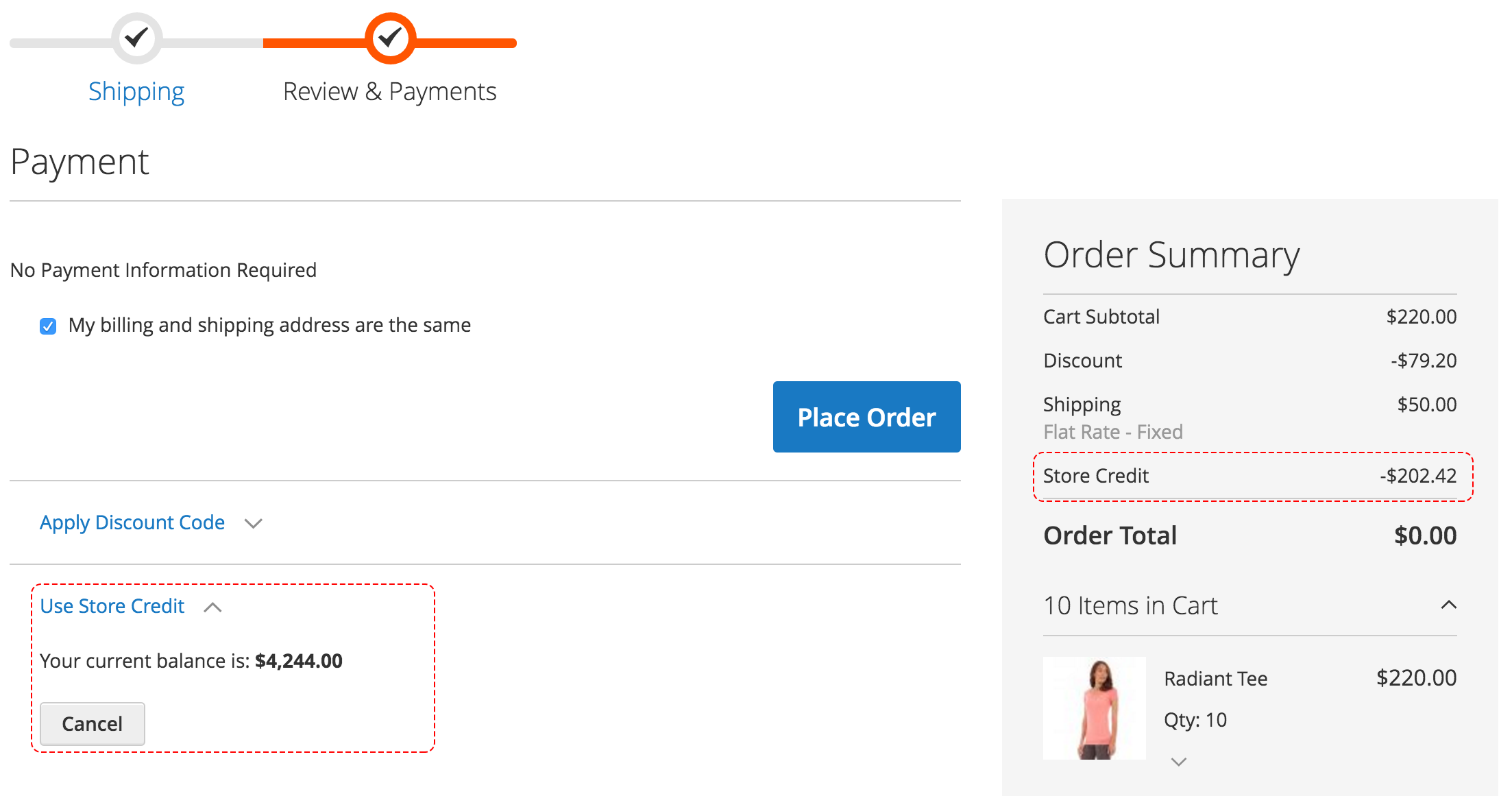 ---
Simple credits managing interface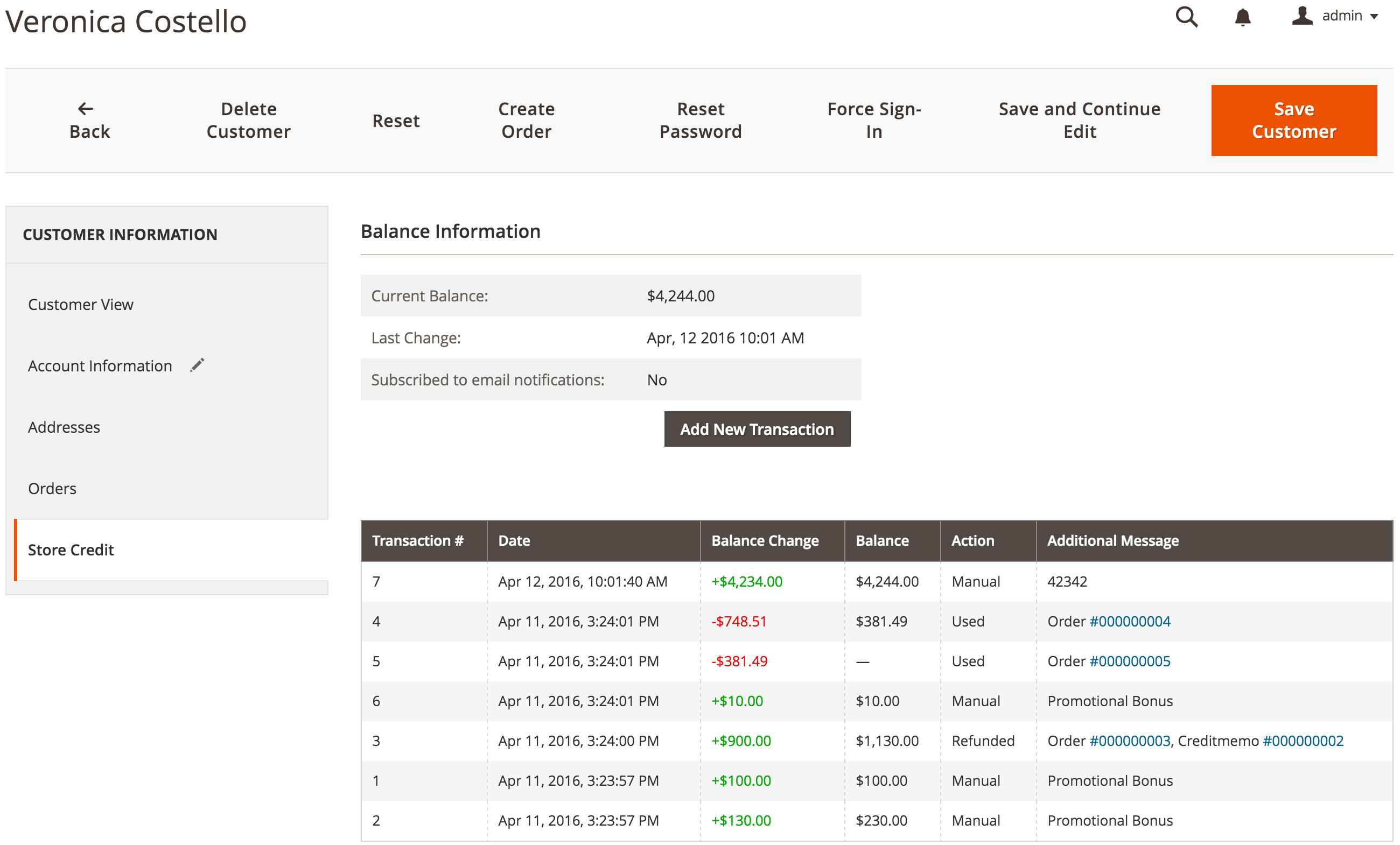 You can reward, appreciate or even offer an apology to your customers using our Store Credit & Refund solutions.
A simple back-end interface allows you to manually add new credit transactions whenever you need it.
For example, you created a lottery or contest in your store. So, there are some winners which you have to reward. Simply add a new transaction in the back-end and give the winners their gift certificates represented in credits.
Satisfied customers bring more sales!
---
Refund Credits in Credit Memo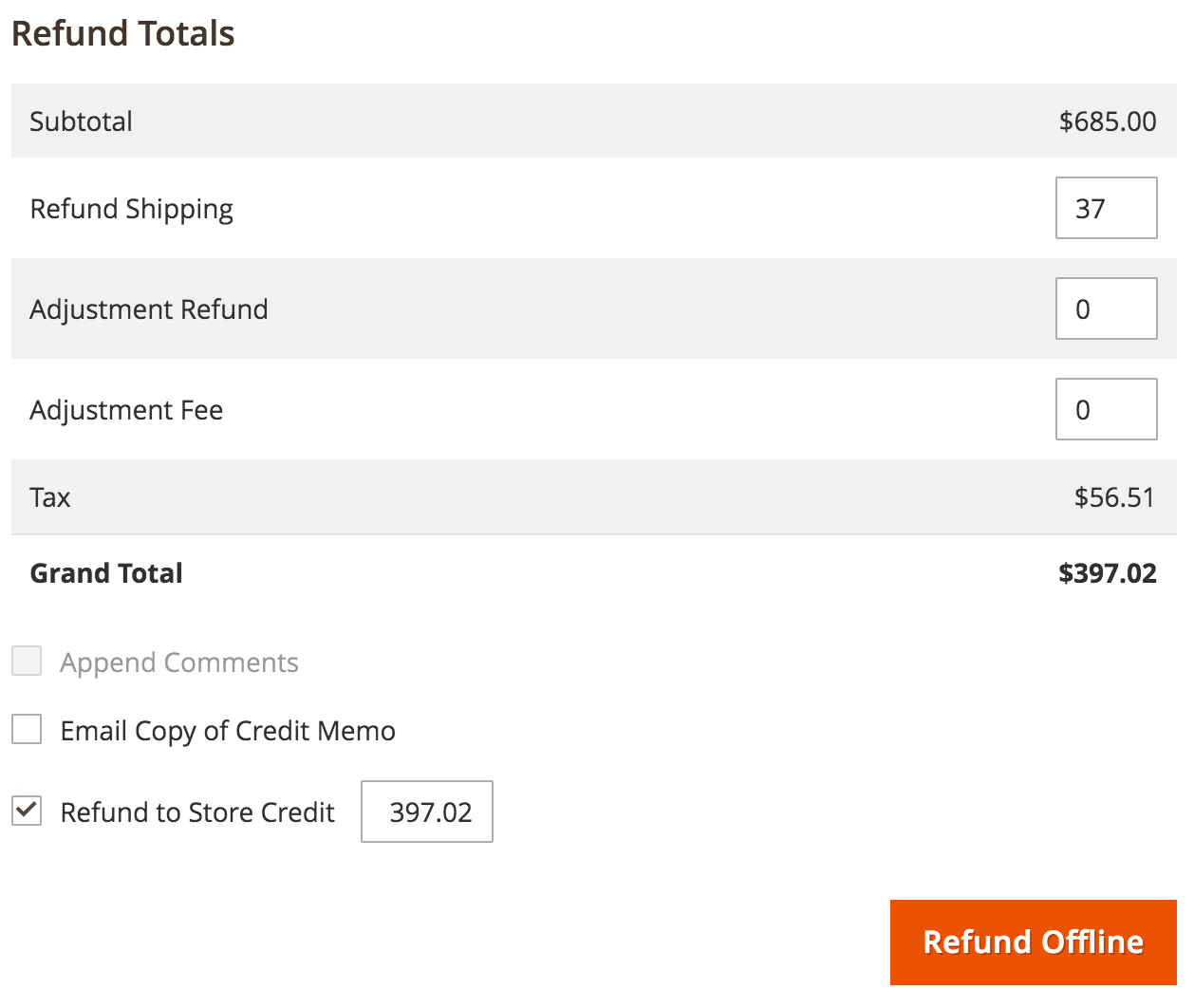 Store Credit Magento extension allows you (as a store administrator) to set the amount of credit to refund to Store Credit right in the Credit Memo.
For example, a customer made a purchase for $500. Then, he wanted to return all items and get their money back. Our solution provides you with the option of a partial refund to Store Credit: creating a Credit Memo you can refund the desired amount to the customer's store credit, if you agreed so.
Besides, it is very convenient to discuss any transaction changes in the interface of our extension's RMA (Return Merchandise Authorization) or Helpdesk.
---
Add Funds to Store Credit
The Store Credit & Refund extension allows your customers to add funds to their Store Credit Account.
This awesome feature lets your store's returning clients save their time and money by purchasing Credit ahead.
For example, a customer purchases some Credit. Then they search for some items in your store, but then decide to come back a bit later to order. But! They already have money for their future order in the Store Credit. So the next time, this customer saves some time during checkout using the Credits directly from their account.
Take care of your customers and save their time and money with Store Credit!
---
Flexibility with managing options
Store Credit & Refund Extension gives you a Enterprise set of flexible options for editing every customer's card.
For example, you can:
add credits for certain users
view customer balance and transactions of each customer
turn email notifications about credit balance changing on
use credit while creating an order in the administration panel
add credit while creating a credit memo in the administration panel
use global balances or separated balance for each store currency
set store credit apply order for order (before/after taxes, shipping etc)
---
Send Credits to a Friend
Store Credit & Refund solution allows your customers to send any amount of credit he owns to a friend. Another client-oriented feature.
All your client needs to do is to fill out the simple form with 3 obligatory fields:
friend's email address
amount of credit to share with their friend (can not exceed the amount on the account)
a short message to let a friend know the purpose of those credits
See it in action!
Pick a quick tutorial to learn about various aspects of this extension
Works for most part

Have trouble getting the credit calculation correct initially. Support helped and it works for most part.

Great Extension!

Great extension great support and features. So far all works very well.
Thank you Mirasvit!

Finally good store credit

A

from Melbourne, Australia

Good extension for store credit with full refund option and buying store credit.

Perfect for Order Changes

K730

from Melbourne, Australia

We have a lot of repeat and return customers, some of them may order 12 line items in different quantities, if we are missing any or they need to change an order this make the whole process much simpler. You can now simply modify the original order by returning selected items to store credit, generate a new order with different items and apply the existing credit against that order. This extensions is super useful.

Alternative to refund

Sam

from Portsmouth, United Kingdom

Having the ability to offer a customer store credit rather than a refund has been a really good option for us. We will often go above and beyond when it comes to things like returns, and when a return is requested outside our normal returns policy we often offer a store credit as a way to please the customer. We also give a small credit on customers birthdays as a thank you and customers have appreciated that. Highly configurable extension and worth the money.

Easy to use, work like a charm!

LamboPlace

from Kuala Lumpur, Malaysia

As always, Mirasvit gives us peace of mind when coming to features and stability. We use it as the wallet in our marketplace to offer customers to keep and use their store credit.



Store Credit & Refund

Allan

from Shepperton, United Kingdom

great extension great support and features. So far all works very well.

Great One

JD

from Colombo, Sri Lanka

Sort out the issues with Refunds and credits easily.

Great extension

Tom

from Kenosha, United States

Another great extension from these guys. Works as it should. Their extension always work great out of the box. Works as it should when you refund the customer which some other companies that make this extension doesn't do so well with. Thanks!

Magento 1: Works perfect without breaking the website

RTC

from Auckland, New Zealand

We are based in New Zealand and purchased couple of extensions from these guys. So many great reasons to purchase any extensions from them.

1) Top notch customer service and technical support
2) Extensions work without breaking

We will buy more extensions from Mirasvit. 100% recommended.

Magento 1: True moneymaker

Gzim

from Vejen Municipality, Denmark

We extended our return policy to more days, but after 14 they could only get store credit, combined with the plugin RMA from them, it's a piece of take. What took us 10 minutes per order before, we spend 1/6 of the time now.



Magento 1: Great Extension

Yanev

from Far Rockaway, United States

Great extension. but wish there was a way to delete credits or modify amounts of credits issued.

Awesome

Stephen

from United Kingdom

Very helpful plugin, did exactly what I thought it would do based on the description. It has saved me a lot of development time! Thanks

Great but missing one great thing

Henry

from Longwood, United States

This overall is a must have M2 extension IMO and has great support and features. So far all works very well. Only thing missing and I requested was to make credit units a virtual priduct to buy to add to your account. Competitors already have this a long time and so if Mirisvit adds...they can move to a 5 :)

Magento 1: Easy to understand credit extension

Joelle

from Shipley, United Kingdom

It works fine and my query about disabling emails (while I did an initial set up through customers with known credit) was quickly answered with an option added

Also, quite easy to customise on checkout to make it more visible and understandable to customers (withough showing if people have no credit)

The solidity of the extensions, flexible support and the "free access to Magento 2" offer - when others reissue their extensions at 3x costs of the magento1 one! - makes me all the more likely to pick mirasvit in priority in the future

Magento 1: Good

Bert

from Cipayung, Indonesia

Some issues with the tax calculation. But that was quickly fix by Mirasvit Team.

Magento 1: Good Stuff!

Milosz

from East Rutherford, United States

Nothing can beat Mirasvit - simply the best.

The whole refund process got much easier and simpler thanks to this extension!

Awesome Features along with outstanding Customer Service!

Viktor

from Steinbach, Canada

What can be felt, not always can be expressed in words, but I will try my best!

1. I bought almost all existing extensions for M2, while offered a very generous discount from a Sales Rep. Then, as all of us know, all the miracles stop right there, but not with these guys.

2. Installed the extensions, and as it usually happens, problems did not wait so long to arise on my horizon.

3. No fear, help is near... that is my personal Slogan... and found out the same attitude from Mirasvit guys. I asked for help, and it was near. I reported PHP7 and other compatibility issues, and a fix was ready in a blink of an eye. I asked for features improvements and suggested new features, and these came in a matter of a few days.

4. Features pack on the extensions is very reach, and these guys are always open to any sound improvements on their extensions.

5. Extensions updates are done via composer, so no manual uploads and unzips on every update release. That makes all my updates as easy like a snap of a finger,.. 10 seconds and I am all set.

P.S. In the end of the day I feel happy to be a respected customer of Mirasvit. I am hooked on this valuable M2 Solutions Provider. My $$$ spent on the extensions are secure... I feel like a part of the Team. I highly recommend Mirasvit to anyone who is seeking peace of mind and stable future for his/her Online Business.

Magento 1: Great Solution For Saving The Sale!

Josh

from St. Augustine, United States

We get a lot of returns in our industry.. Needed a fix for saving sales and better managing exchanges. This was a perfect fit. This allows us to have the leverage over clients by providing store credit instead of refund, keeping the money in our account is what it is all about:-)@!!!

Magento 1: This was the one thing...

...missing in Magento CE that kept it from being perfect - with the Store Credit Extension it really is. Thank you guys!

Magento 1: Simple to use

ethan

from Savannah, United States

great extension that covers a lot of scenarios. Had some compatibility issue with Rewards extension. Support team was able to resolve it quickly. The extension is very easy to use.

Magento 1: Great extension with excellent support

Alexander

from Kazincbarcika, Hungary

Great extension that fills a gap in Magento's CE functionality.
Compatibility
The Store Credit & Refund for Magento 2 is compatible with:
| | |
| --- | --- |
| Magento 2 Community Edition (CE) | 2.0.* - 2.3.* |
| Magento 2 Enterprise Edition (EE) | 2.0.* - 2.3.* |
| Magento 2 Cloud | + |
Have a question? Ask our support team
Need more help?
Save time by starting your support request online and we'll connect you to an expert.
Contact Us Now
Refund Policy
All customers can request a refund during 30 days after purchase of our software, if customer think that our software is not suitable for any reason. To request refund, customer must remove all copies of our software from its store, servers, computers, email, etc and confirm by email such removal. After receiving a request we will proceed refund within 3 business days.
If request for refund is received after 30 days after purchase, it will be rejected. Cost of installation and customization services are not refundable.
Support and bug fixing
Mirasvit offers free 90 days support of all software sold on this site. Customers can report all bugs, which were found in our software. We can solve only the bugs directly related to or caused by our extension. Those bugs must be reproduced on fresh Magento installation without any 3rd party plugins. We will solve that bugs in order of our development plan.
We don't do any type of custom work and we have a right to reject a support request if the issue is store-specific (cannot be reproduced on the fresh Magento installation without any 3rd party plugins).
Mirasvit will not be liable to you for any damages (including any loss of profits/saving, or incidental or consequential) related to our support service caused to you, your information and your business.
Software updates
Mirasvit offers free lifetime updates if they areavaliable. Updates are limited to the Magento version branch (1.x.x or 2.x.x). Customer can download an update and install it by himself. If support period is expired, Mirasvit.com can't solve any possible problems with our software during or after updating. Mirasvit does not guarantee that it will release updates for any product.