Magento 2 Improved Sorting Extension
An extension is an effective tool for managing the sequence of products sorting on category pages, search results pages, and catalog widgets.
With the help of flexible ranking factors, you can easily determine if products should be shown at the product list end or beginning.
Manage products sorting globally
Push out-of-stock and without image products to the end
Promote products (seasonal, high margin or with a discount)
Manage sorting options available to clients
Manage products sorting in widgets
Change default sorting for Catalog and Search Results
Free Installation
We will install the extension in your store and configure for your requirements
Feature Highlights
The better products on the list top meet clients' expectations, the higher the store sales are.
At the same time, if products at the list beginning are not interesting to clients, most probably these clients will not keep on looking at the rest of store products.
Improved Sorting extension performs products sorting on catalog meeting the key criteria of the best products choosing and internal rules as well (sale, brand, the latest)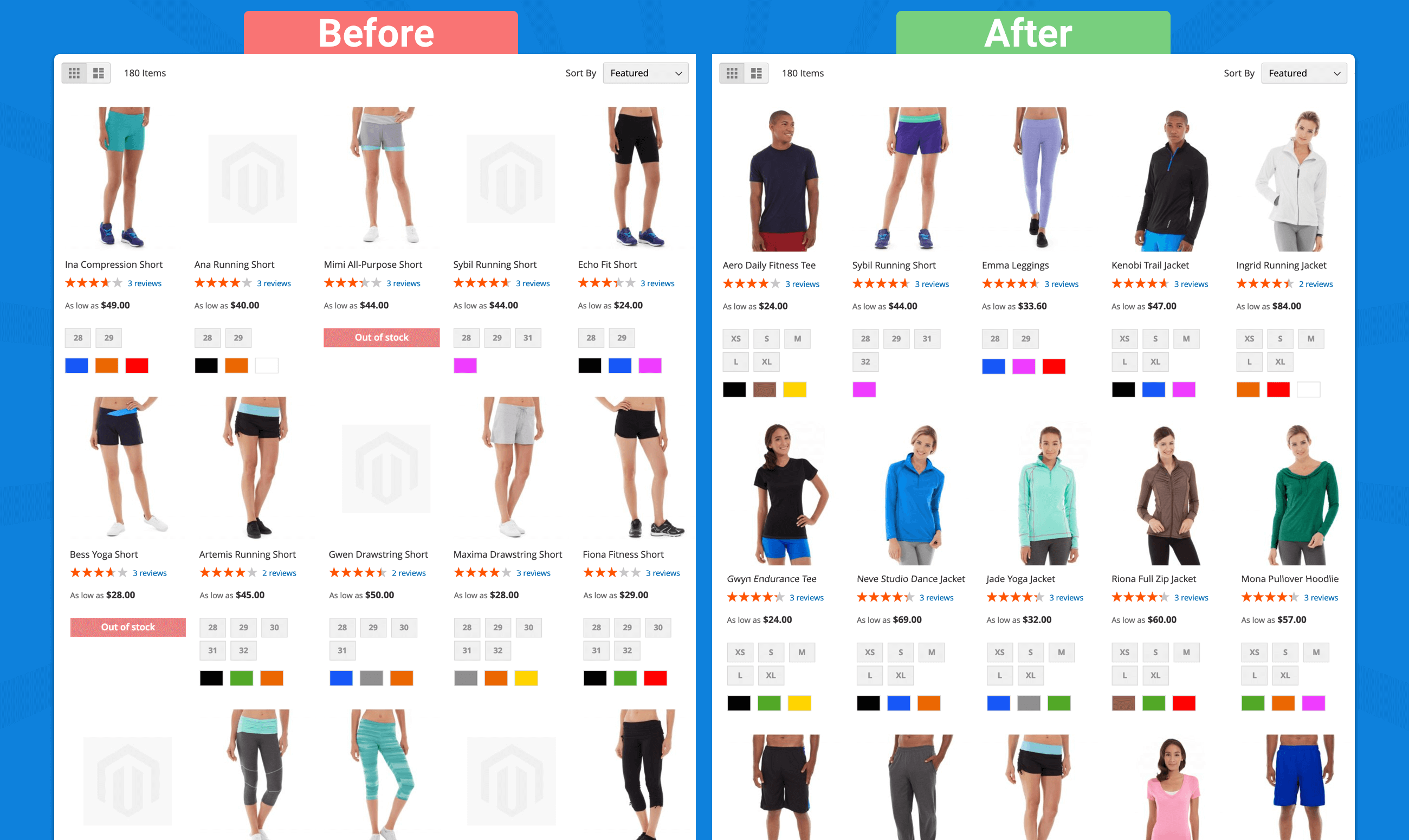 New Sorting Options
A client can change product sorting on catalog. The extension allows you to manage sorting options that are available to a customer on the front-end. You can also add an unlimited number of sorting options, as well as to determine the default sorting option for the product list or search results page.
Sort By Attribute or Ranking Factors
You can provide your customers with a possibility to sort products using any attribute or any set of ranking factors.
Depending on the configuration, the extension can apply ranging rules both in series (Sort by …, then sort by …) and as a sum of factors weights.
Default Sorting Option
Default sorting is critically important, as long as, the more relevant products are at the list beginning, the better the store sales are. That is a reason for sufficiency to place "the best" products at the list beginning.
You can create the best product list using different ranging rules combinations, for example, the latest added products (within last 30 days) and, in addition, bestsellers with the best rating.
Frequently used sorting options:
Featured
Sort by Biggest Saving
Cheapest
Most Expensive
Top Rated
Sort by Reviews Count
Sort by Now In Wishlist
Sort by Most Viewed
Sort by Options
Sort by Created Date
Sort by Price
Sort by Size
Sort by Position
Sort by Newest
Sort by Date
Sort by Reviews
Sort by Discount
Sort by Stock Availability
Sort by Name
Sort by SKU
Sort by Best Seller
Sort by Rating
Sort by Category
Sort by Popularity
Ranking Factors
The Improved Sorting extension allows you to effectively manage the products sorting on the catalog. You can set rules for the sorting of different product groups. In addition, you can manage sorting options that are available to store clients.
To set up catalog sorting, use the rules for ranging factors determination(sorting rules).
The extension includes a wide set of configurable rules, on the basis of which you can effectively range products according to different criteria.
Adding Date Factor
Usage of the Date Factor allows you to sort products in accordance with the date the products were added to your store (Magento 2 sort products by newest). You can set time frames of a rule being applied.
For example, you can display products that were added during the last week first, and ,then to show other products with all the other rules after them.
Attribute Factor
Attribute Ranking Factor allows you to manage product position on the list, basing on the attribute values or attributes set.
For example, you can move seasonal products to the top of the list or temporarily boost certain brands to a higher position.
Product Rating Factor
The Product Rating Factor ranges the products on the basis of a number of reviews and product rating (Magento 2 sort by rating).
Additionally, it is possible to determine the period of time for reviews to be taken into consideration. For example, products with greater number of recent review should get higher priority.
Stock Status / Image Factor
Stock Status and Image Factors allow sorting in-stock products or products with images.
If you set these factors as global ones, out-of-stock products, and products without images will be always shown at the end of the list (both in catalog and search results pages).
Bestsellers Factor
Bestsellers Factor ranges products on the basis of number of bought items within a certain period or lifetime (magento 2 sort by best seller).
Profit Factor
Profit factor provides you with a possibility to range products depending on the product marge (the difference between cost and price).
This factor is the most effectively used together with other, more obvious rules.
Rule Factor
This is one of the most flexible rules. It allows managing products order on the basis of the set of rules (SKU, price, any attribute, category, etc)
For example, you can promote a Christmas product during the winter times or move all the 2019 year models to the top of the list.
Additional Factors
Popularity Factor (magento 2 sort by popularity)
SPV (Sales Per View) Factor
Discount (Biggest Saving) Factor
Additional Features
Products sorting in widgets
The extension allows you also sort products in Magento Catalog Products Listing Widget.
This widget can be used to display various different offers on the pages of your store (Bestsellers, New Products, Most Popular etc).
Preview
To make the configuration process easier and for your better understanding of different factors influencing the sorting order, there is an option of sorted products Preview in terms of extension. This option works both for sorting criteria and for ranking factors.
See it in action!
Pick a quick tutorial to learn about various aspects of this extension
mitzy1981
from Otopeni, Romania
great extension, it works very good..was some issues after installed it but mirasvit solved them all very fast. I will sure buy from you guys again!
Thanks!
webaldo
from United Kingdom
Perfect module, perfect team. They are the best
Good extension, works well.
Paul
from Enter, Netherlands
Very important module for shops with a lot of dynamic information. Product sorting is probably one of the most important parts of a webshop, getting it right is really useful.

Being able to fine-tune the sorting for a page without having to manually sort the page is really valuable.
This extension is very useful and very powerful.
"You can create the best product list using different ranging rules combinations, for example, the latest added products (within last 30 days) and, in addition, bestsellers with the best rating."
This point most important for me. Thank you Mirasvit!
Reasonably price and powerful tool
Great extension and support service. I will buy more extensions.

5+ stars from me )
Comparison
Feature
Improved Sorting
Other Extensions
Sorting Options
Customizable options
+
-possible sorting options are predefined
By price
+
+
Best sellers
+
+
Most Viewed / Most Popular
+
+
Top Rated
+
+
New / Recently added
+
+
Biggest Saving / Discount
+
+
Now in Wishlist
+
+
Extended Features
Out-of-stock to the end
+
+/-
Without image to the end
+
-
Preview Mode
+
-
Ranking Factors
By Profit
+
-
SPV (sales per view)
+
-
By Attribute Set
+
-
By Custom Rule
+
-
Manual & Support
Need more help?
Save time by starting your support request online and we'll connect you to an expert.
Contact Us Now
Frequently asked questions
Can I set a different default sorting for particular category?
Yes. By default, Magento 2 uses global default sorting for all categories, but on the category edit page, you can change the default sorting for this category.
For example sort 'Sale' category by the discount amount and 'New Products' category by products' adding date.
Can I display 2 bestseller products, 3 recently added products and then all other products by rating?
Yes, for each sorting criteria you can add few sorting conditions and limit the number of products for each condition.
Example of conditions:
Sort by Bestseller/limit 2
Then Sort by Date/limit 3
Then Sort by Rating
How to display out of stock products at the end of the catalog?
To display out of stock products at the end, you need to create a new global ranking factor for stock status.
The extension will apply a new ranking factor on all products list pages (categories and search results) and also in product listing widgets.
Can I sort products by best seller?
Yes, sort by a best seller is one of the essential sorting options.
Along with other sorting criteria, you can also sort products by a number of orders during a configurable period of time (for example within the last 60 days)
Reasons to choose Mirasvit
Client focusing and satisfaction
It is our main goal. A big part of our new clients come from referrals from our existing clients. Our professional team of developers, marketers and support invest the best knowledge and experience, so you could come back to us again and again.
Remarkable support
90-days free and high quality support. We make an effort to satisfy you with work of every module you have purchased in our store. Helping you with installation, configuration, answering your every question, we do all our best to eliminate any possible problems.
Risk-free Investment
30-days money back guarantee. If you are not satisfied with work of our extension for any reason we provide a full refund.
Constant improvements and upgrades
We provide you lifetime free updates. We constantly add new features to all our modules. We are absolutely interested to hear your opinion and to implement your suggested features in our future developments.
Comprehensive Documentation
We provide an expanded user guide for every our extension, so you can find answers for all your burning questions.
Unencrypted source code of our products
You can customize extensions according to your needs and requirements.
Usability and Performance
Module is easy to install and easy to upgrade, just follow step by step our user guide.
Safe Magento updates
No core modifications. Just copy extension files to store root directory.