Magento 2 Product Mass Action
If you update your products regularly, you know how time-consuming these changes can get. Streamlining them is in your best interest.
Magento 2 Product Mass Action adds essential bulk update options to the product grid, boosting your efficiency.
The module will improve your daily routine so much you won't know how you got by without it!
Optimize your product update workflow
Change categories and related products in bulk
Copy product images and custom options
Edit attributes and make price changes easier to enact
Set up cronjobs for particularly large updates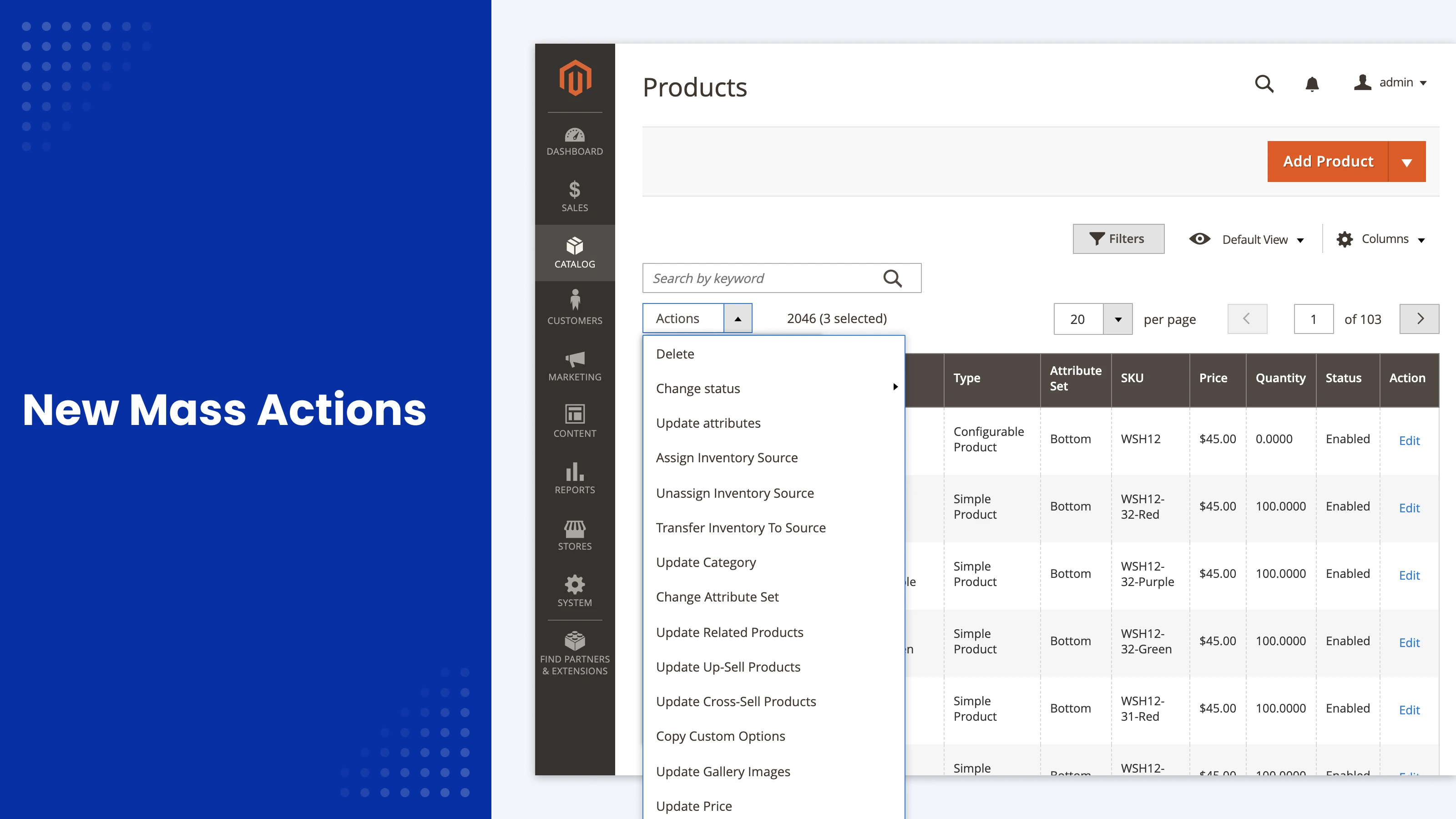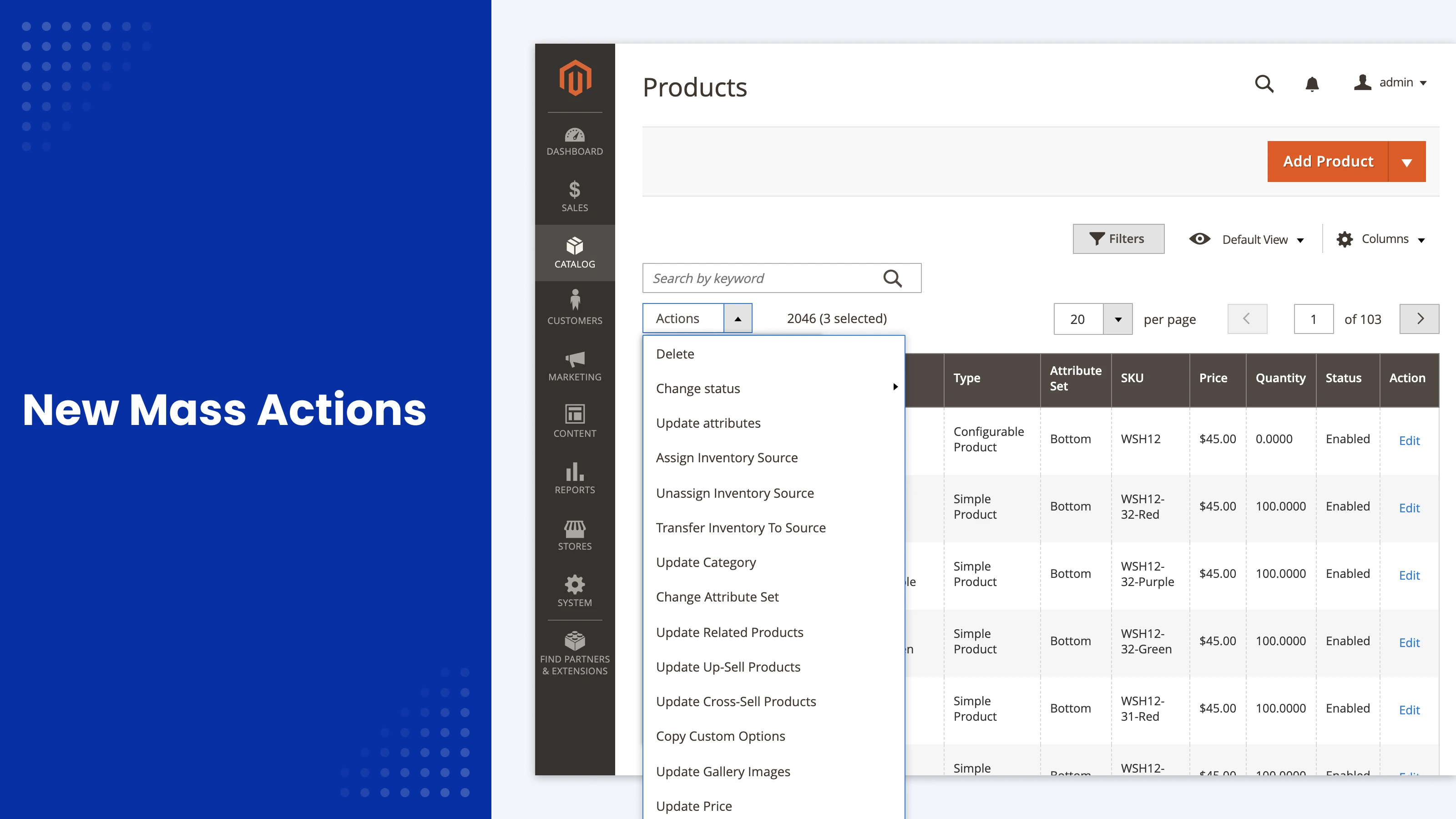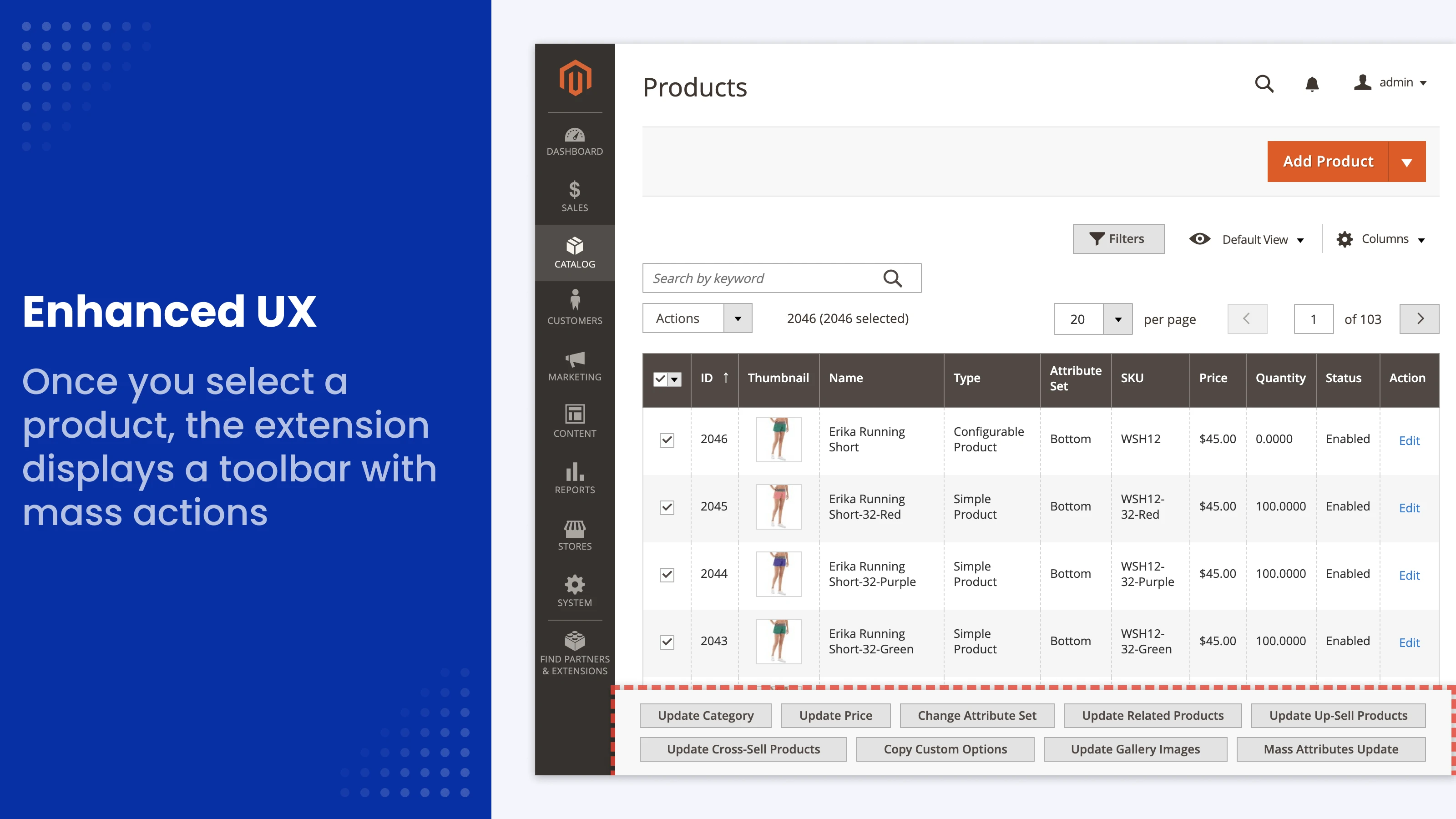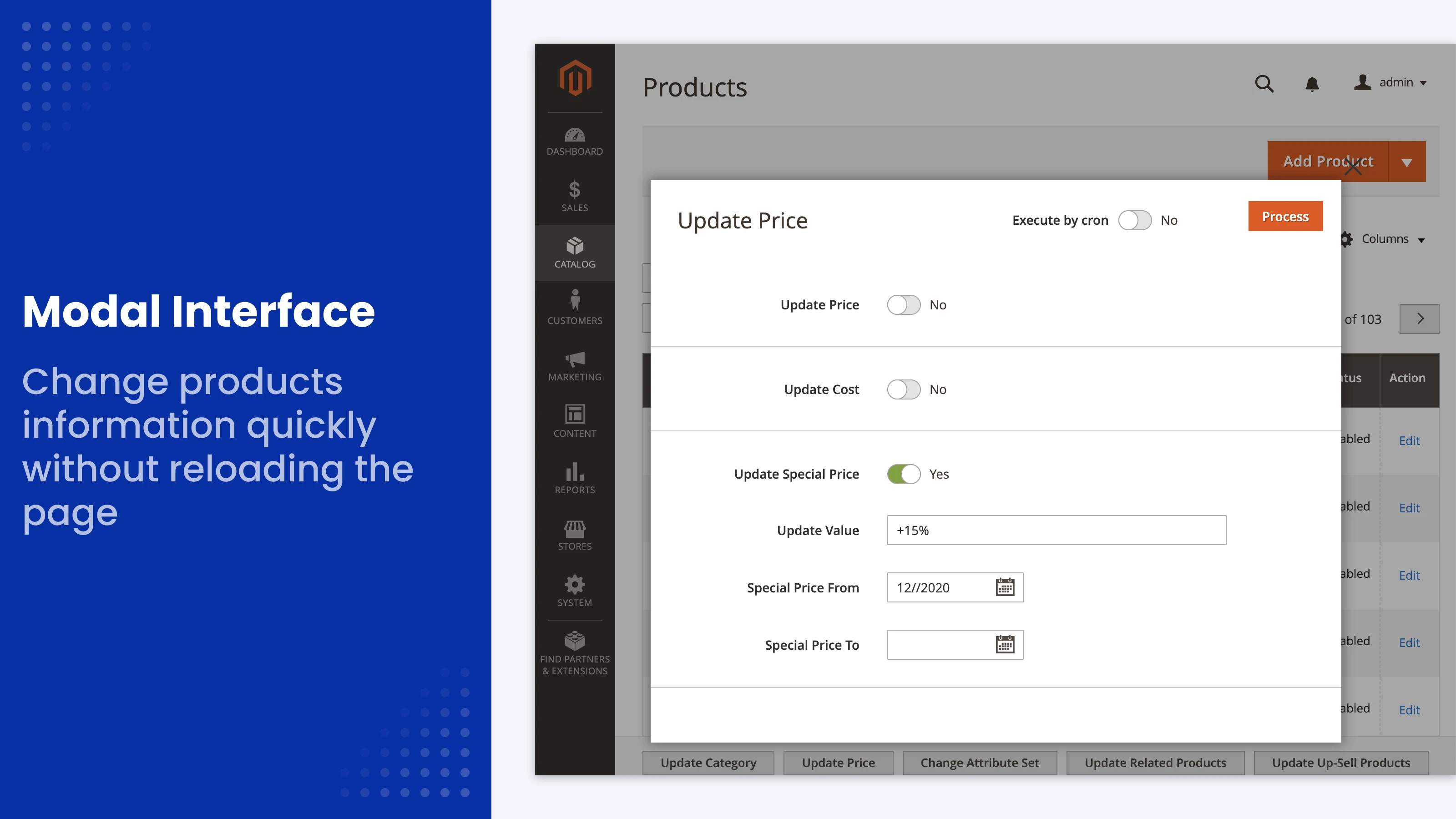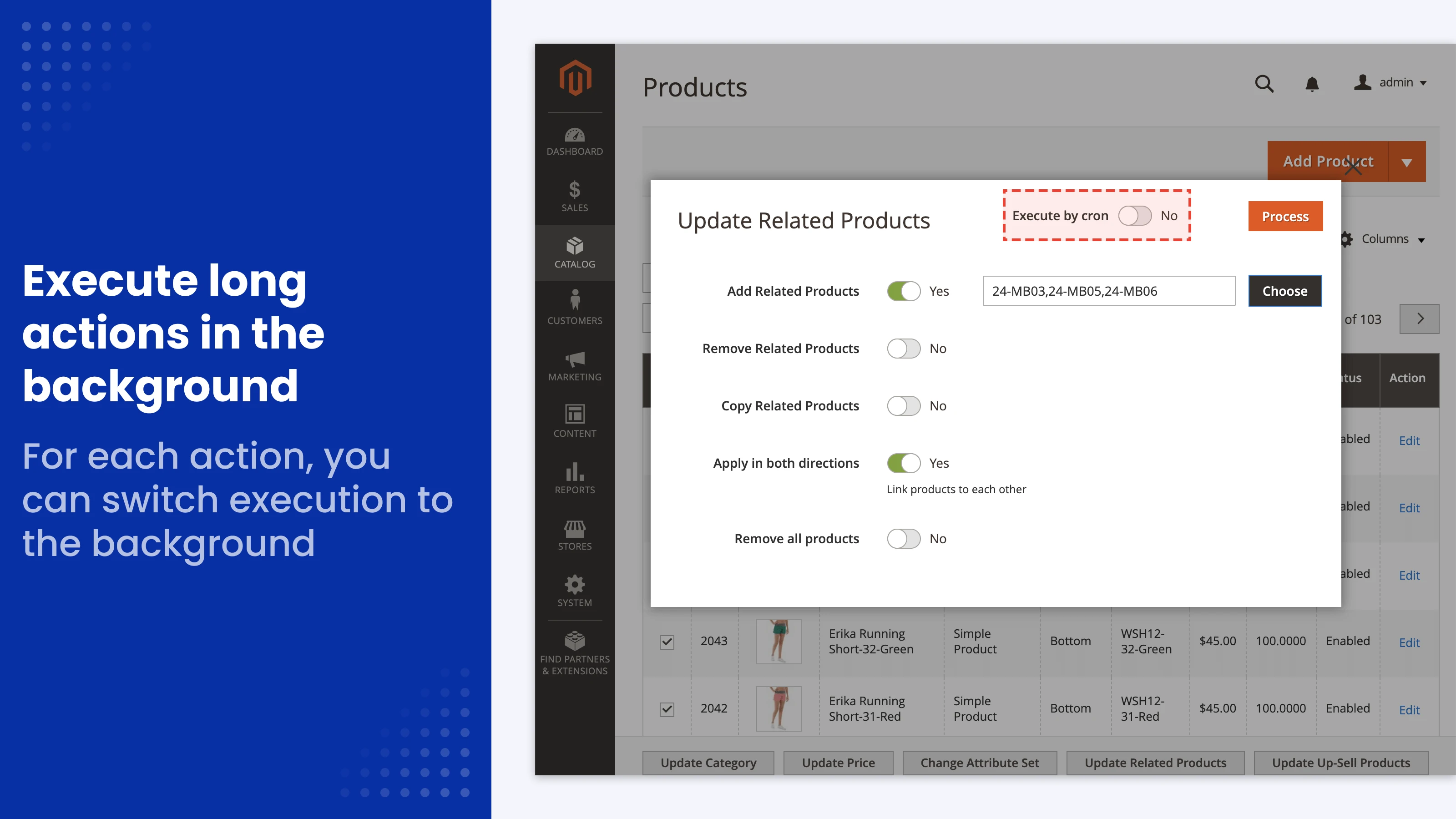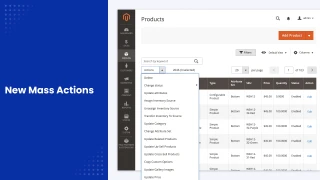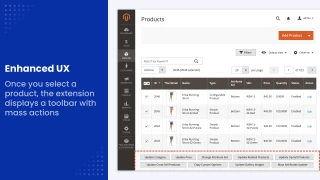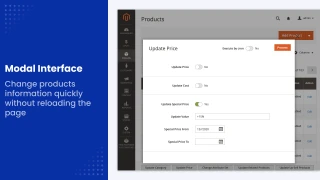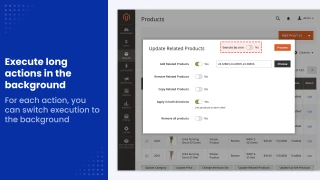 Business Value
Opportunity: If you have to update your products regularly, these routine changes can add up and take too much of your time. You'd be wise to optimize them. Updating the most important product variables in bulk is the best optimization strategy.
Problem: Magento's bulk update options are restricted to product removal, enabling/disabling the products, changing their attributes, and managing inventory sources. They're too limited to be efficient: you can't even assign products to categories in bulk!
Solution: Magento 2 Product Mass Action adds many crucial options to the product grid. With this extension, you can assign products to categories, edit related products, copy product images and custom product options, update product attributes, and make price changes far easier in bulk. Last but not least, you can set up cronjobs to let the store handle larger tasks by itself!
With this module, product updates will be a breeze!
Excellent UX
Work Comfortably
Use Button-based UI
Save Time
Say goodbye to redundant clicking
We made sure every change requires as little clicking, scrolling and page loading as possible. These minor steps add up, especially with something as frequently occurring as product updates.
We know how annoying dropdowns can be
Magento 2 Product Mass Action adds clickable buttons to the bottom of the grid. You can just click them instead of scrolling through the dropdown bar every time you'd like to change something.
Time saved is money saved
The faster can you and your team deal with remedial work, the more time will you have to spend on growing your business and increasing your profits.
New Product Actions
Product Categories
Product Images
Custom Options
Related Products
Category assignment doesn't have to be daunting
You can add products to categories or remove them with just a couple of clicks.
Implementing the perfect category structure for your site will be a piece of cake.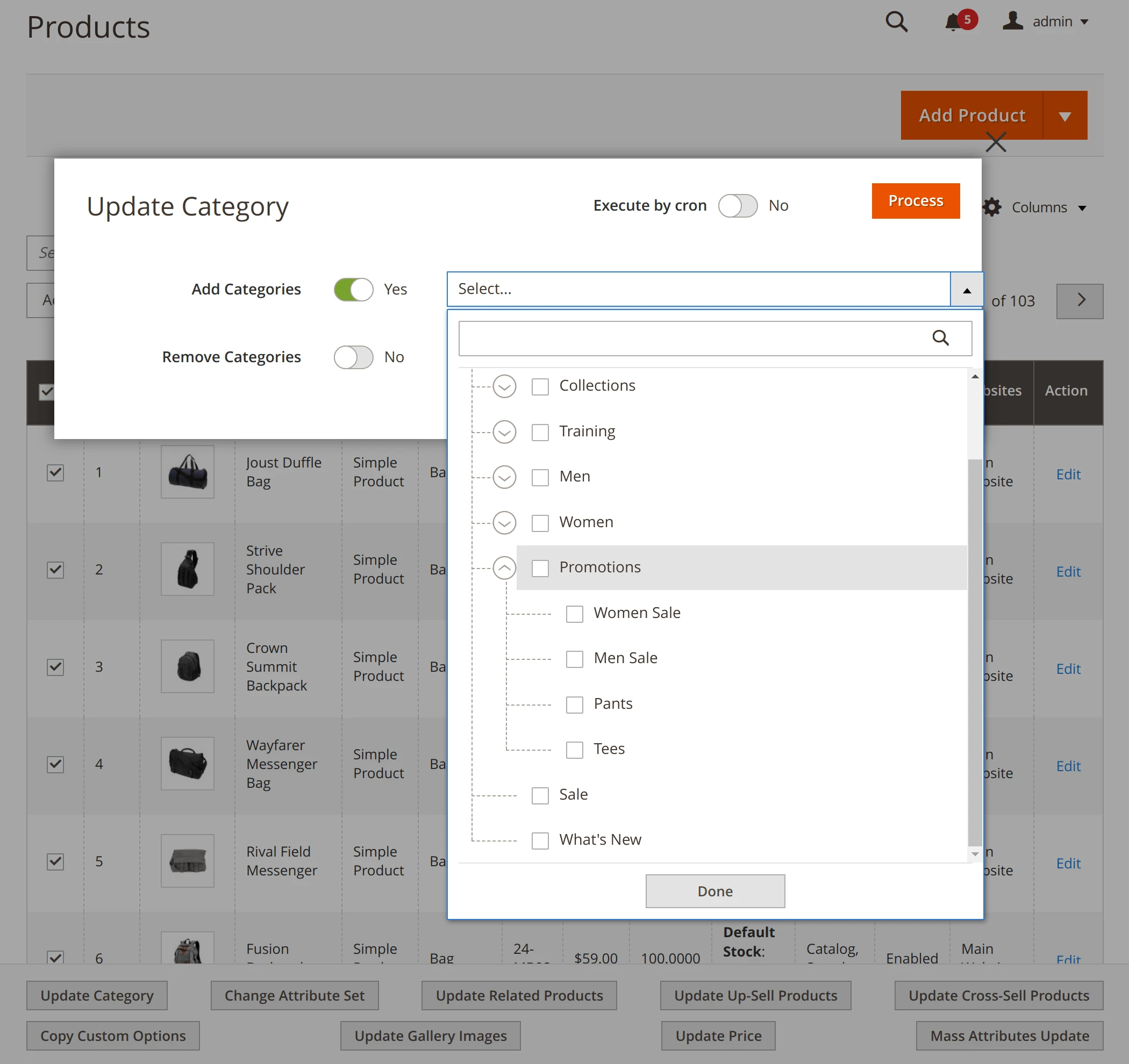 Make child products look great
Get a Magento mass import product image from several existing products in your store or mass remove images.
This is great for setting up configurable, grouped or bundled products.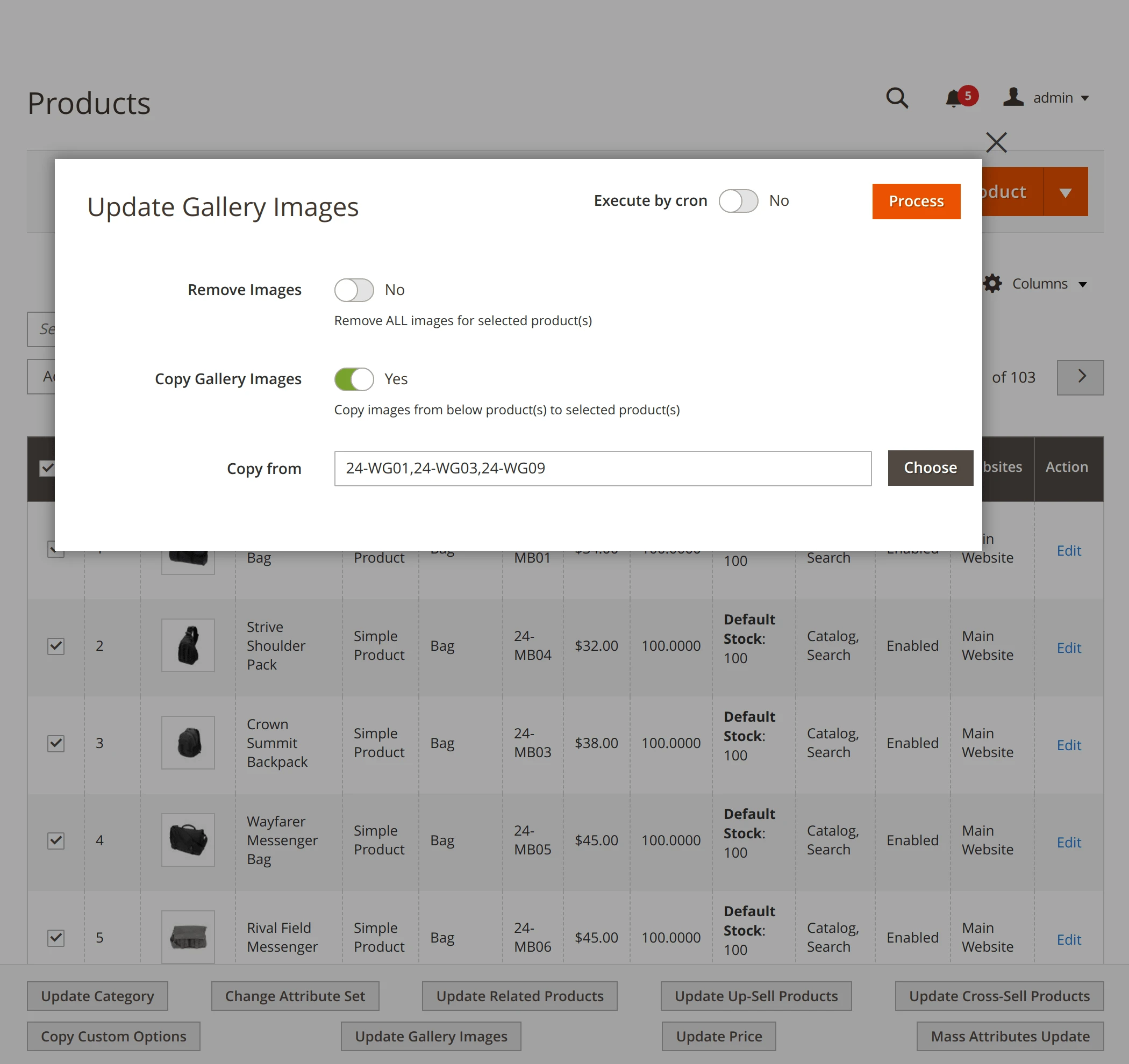 They'll work for multiple products
You can copy the custom options from different products.
It'll be as simple as copying a template!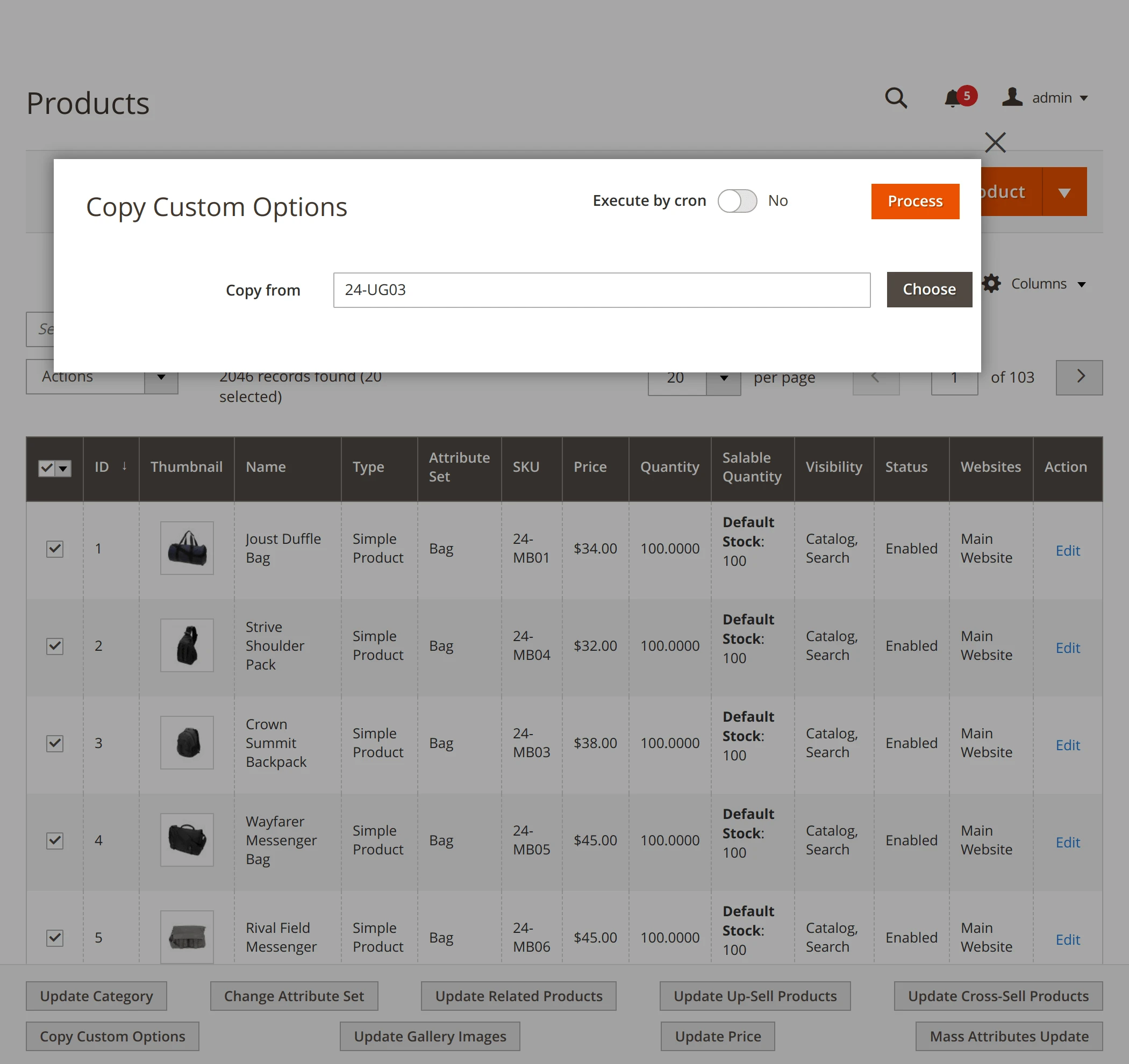 Secure the higher average order value
Magento 2 Mass Product Update makes setting up related/up-sell/cross-sell product sections much more straightforward. You can:
Add or remove specific products
Copy the related products from a different SKU
Cross-link the products you add and the products you select
Remove all products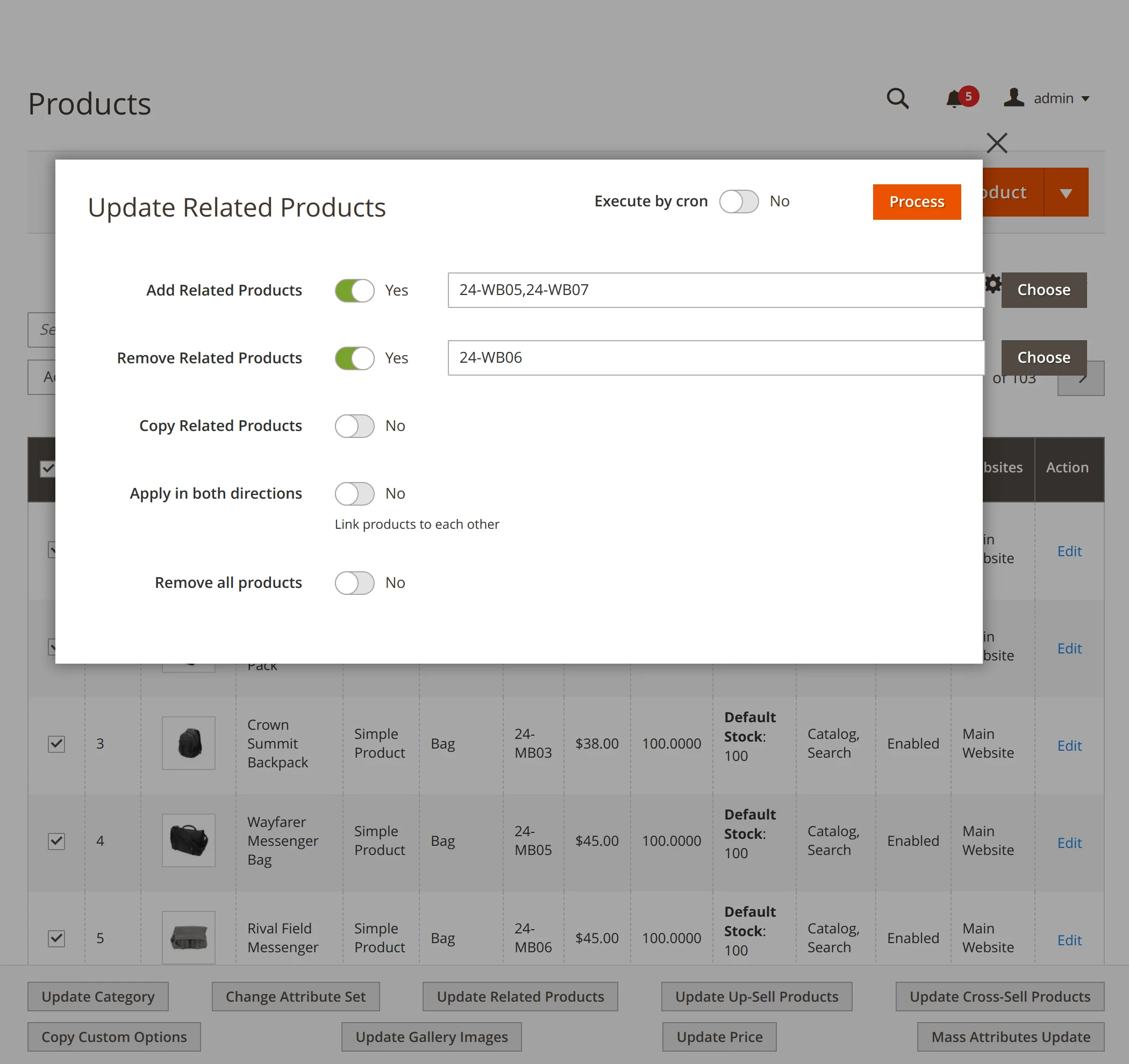 Improved Product Actions
Individual Attributes
Attribute Sets
Price Change
Stop moving back and forth
With this extension, you can update attributes in bulk far more easily. You'll be able to select only the attributes you need and alter them in a pop-up.
There's no need to load a new page or scroll through a long attribute list anymore.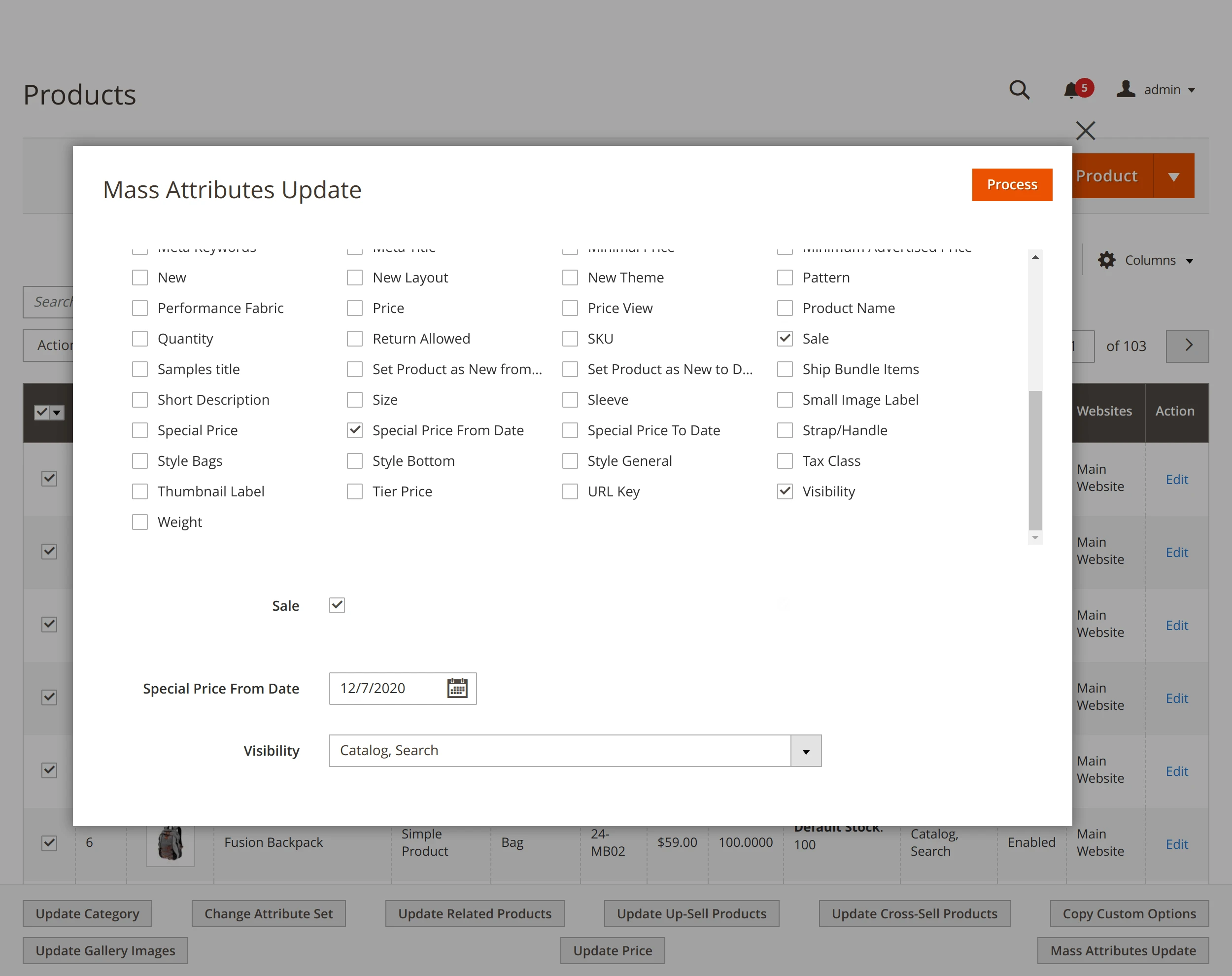 Reclassify the products instantly
Magento 2 Mass Update Attribute lets you change product attribute sets, too.
That will help you establish a more elaborate product taxonomy in no time.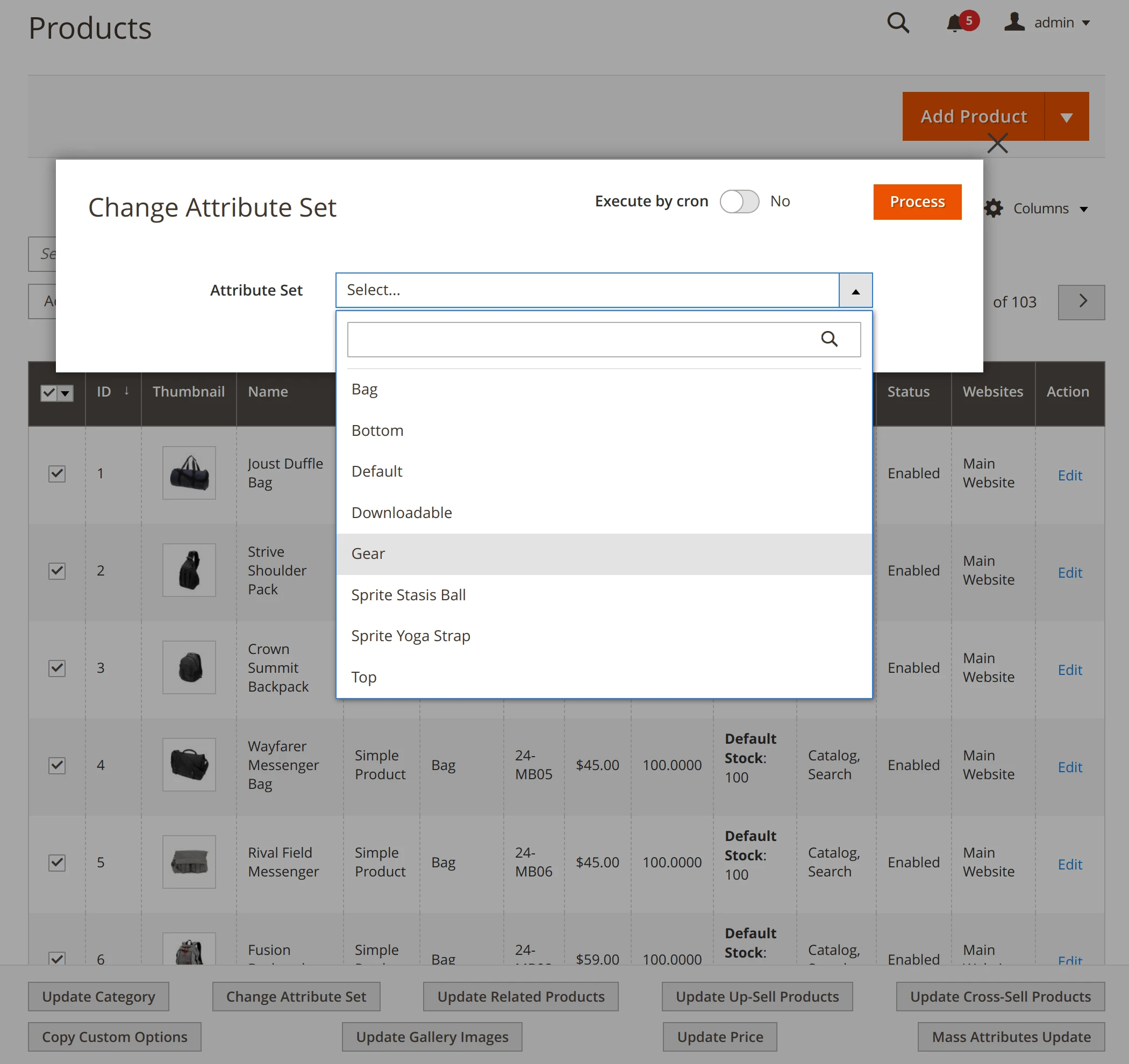 Fewer clicks, more control
Get a Magento 2 updated product price in mass . With this module, you will be able to change costs and special prices by adding a different value, adding or subtracting a fixed sum, or adding or subtracting a percentage of the total.
This is particularly great for sales or seasonal goods.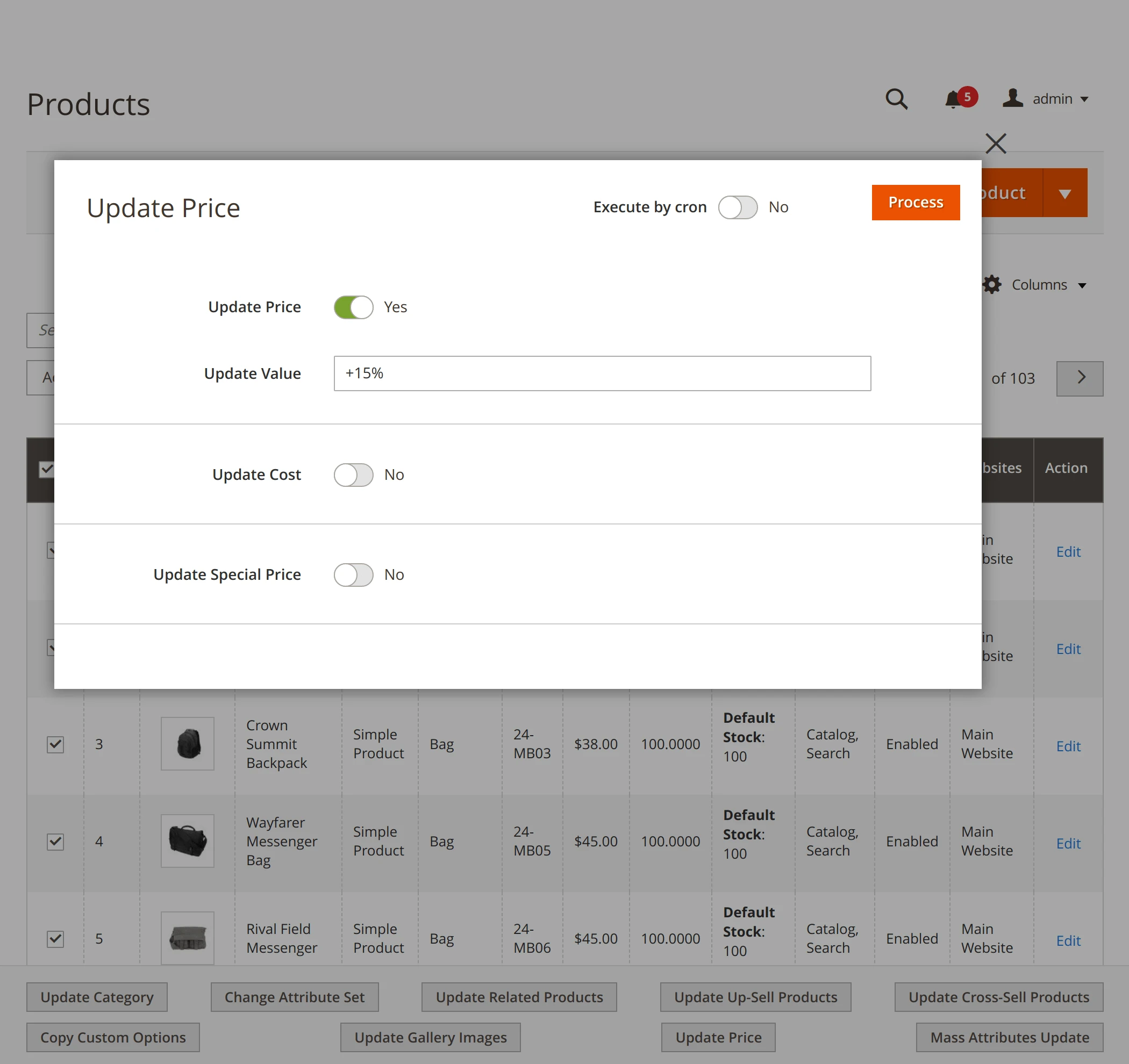 Easy Updates
Real-time Changes
Cron Support
Make the updates right here, right now
The module processes all pre-constructed Magento mass product actions right after you click the Process button. You don't have to wait until Magento completes the task via Cron. Still, you have the option of planning out a Magento mass product options update by Cron so as to lower the load on your server and conduct an update when the load is minimal.
Queue particularly large changes
Making a bulk update of several thousands products can take a lot of time. You can offload these jobs to cron so that they don't lock you out of the other backend tasks.
Boost your productivity with Magento 2 Mass Product Action right now!
See it in action!
Pick a quick tutorial to learn about various aspects of this extension
I currently use it to manage all mass updates. Very useful and a must for those who have hundreds of items
Also installed: Advanced Reports, Improved Sorting, Customer Segmentation Suite, Order Management
Help me adjust prices faster
Also installed: Improved Sorting, Automatic Related Products, Advanced SEO Suite, Custom Form Builder , RMA, Follow Up Email, Affiliate and 10 more
Great module and easy to install. Saves me a lot of time adding related and upsell products in mass. Thanks again!
Also installed: Product Finder, RMA, Help Desk MX, Full Page Cache Warmer, Google PageSpeed Optimizer, Advanced SEO Suite, Layered Navigation and 10 more
Great extension & support!!!
Rob
Verified Buyer
Nottingham, United Kingdom
Great extension & support!!! We have a few of Misravit extensions installed by their team and are very pleased!
Thank you.
Also installed: Advanced SEO Suite, Promo Banners, Full Page Cache Warmer
if you want to save time / make administration easier...
Cangura.com
Verified Buyer
then this ext. is "must have". Bringing you ROI from day one.
Also installed: Reward Points, Advanced SEO Suite, Extended Shopping Cart Rules, Follow Up Email, Push Notifications, Layered Navigation
Manual & Support
Need more help?
Save time by starting your support request online and we'll connect you to an expert.
Contact Us Now
Frequently asked questions
Can Mass Product Actions be used simultaneously with multivendor marketplace modules for Magento 2?
The Mass Product Actions module provides functionality for a Magento site to assign and reassign attributes, sources, product prices, etc. For example, our extension allows mass assigning of manufacturers to products, or other product attributes on a marketplace with multiple sellers and their products.
Our module is compatible with the default Magento tools. If the marketplace module which was used to convert a Magento 2 into a marketplace also follows the standard practices and recommendations of Magento - it should be compatible with a Mass Product Actions extension.
How can I configure the Mass Product Actions module before using it?
Our Module is ready to serve your needs right after its installation in your Magento 2 store. It doesn't require any prior configuration before use. This module also provides no parameters configurable by the end user that can be adjusted during its usage within the Magento 2 interface.
The Mass Product Actions provides a simple and intuitive interface for mass product actions which is available over the default Magento interface of the product catalog page. Check the documentation manual to learn about how to use the extension and get acquainted with its interface.
What is the maximum product catalog size a Mass Product Actions module can handle?
Our extension directly works with the database of your store. You have the full freedom to use the Mass Product Actions for updating attributes of one or multiple products at once.
The work speed of the module depends on the speed of your server and its current load. To reduce the load on the server, our module offers a functionality to plan a mass update job by Cron schedule. The mass update of hundreds or thousands of products can be planned by Cron to lower the server load, and updates of small product batches can be done instantly.
Can the Mass Product Actions plugin mass update the fields by product properties?
Using Mass Product Action to update products, it is possible to modify only the product attributes. Some product parameters, like the Search Weight parameter of the product attribute, may seem like its own attribute, yet is actually a field. Such parameters can be updated individually for each product on the product edit page.
Can products in the store catalog be made related using this module?
It is possible with our extension to make a mass connection between products, such as related, up-sell or cross-sell items.
Our module provides several variant of how products can connect to each other. The sser has the option to simply specify the SKUs for products to connect to, or the list of such connected products can be copied from a pre-existing list for some product. A list of connected products can also be copied in both directions - from the source product to the product being updated and from this updated product to the source.
Additionally, Mass Product Actions offers functionality for removing all upp-sell, cross-sell and related products for the specified items in the store product catalog.
How does Mass Product Actions handle custom options of the products?
In addition to the standard product attributes, Magento 2 offers a functionality for adding a custom option. As an example of such a custom option, a personalized engraving with the name of the buyer on a ring can be specified.
Mass Product Actions provides the functionality to copy the existing custom option from any SKU to the selected products. Since the product may already have a custom option, our extension allows you to replace it with a new one or add a new one to the existing one.
Does Mass Product Actions provide a rounding option for mass price updates?
The Mass Product Actions provides several variants for mass price updating. It is a replacement of the current price for chosen products, adding or subtracting from the current price and percentage of the current price.
Regardless of the chosen variant, the final updated price value is calculated with rounding to the second decimal number. For example, if the price is 10.274 - it will be rounded to 10.27, and for the price 10.275 it will be rounded to 10.28. If the price is 10, and it must be corrected as 1.156%, the result price will not be 0.1156, but it will be rounded to 0.12.
The Mass Product Actions does not let the user interface change the rounding parameters via the Magento backend admin panel.
Can Mass Product Actions update the product attributes for an individual website or customer group?
Default Magento 2 configuration allows you to set the product visibility for specific websites related to a store. Product visibility for the customer group can be set up using the third-party extension.
The Mass Product Action module does not provide a functionality for assigning products to the store view or customer group. These parameters of product visibility can be changed individually on the product editing page.
Still, it is possible to mass-edit product attributes for the specified store view by using a filtering option. Filter out items that belong to the particular website, and then update their attributes as usual.
Changelog
Version
1.0.22
Jul 13, 2023
Action "Update Gallery Image" for m2.4.6
Version
1.0.20
May 30, 2023
Class "Magento\Framework\Filter\FilterInput" not found when save rule in admin
Action "Update Gallery Image" does not remove images
Version
1.0.19
Feb 1, 2023
Added ability to calculate special price based on price
Version
1.0.18
Jan 4, 2023
Action "Update Gallery Images"
Version
1.0.17
May 30, 2022
Action "Copy Custom Options" cache
Reasons to choose Mirasvit
Client focusing and satisfaction
These are our primary. A major portion of our new clients come from referrals from our existing clients. Our professional team of developers, marketers and support staff have invested the best knowledge and experience in the field into our work, so you know you can come back to us again and again.
Remarkable support
One year free and high quality support. We go to great lengths to provide maximum satisfaction with every module you have purchased in our store. By helping you with installation, configuration, answering your every question, we do all our best to eliminate any possible problems.
Risk-free Investment
30-days money back guarantee. If you are not satisfied with our extension performance for any reason, we provide a full refund.
Constant improvements and upgrades
We constantly add new features to all our modules, and are always interested in hearing your opinion and implementing your suggested features in our future developments.
Comprehensive Documentation
We provide an expanded user guide for every aspect of our extension, so you can find answers for all your burning questions.
Unencrypted source code of our products
You can customize extension according to your needs and requirements.
Usability and Performance
The Module is easy to install and upgrade, just follow our step-by-step user guide.
Safe Magento updates
No core modifications. Just use the composer or copy the extension files to the root directory of your store.