 Often in Magento strores, products, categories, and sets of attributes are saving in the admin panel very slowly. This may be due to the fact that finding and deleting the cache files of these items requires a lot of time.
The plugin solves this problem by cleaning the cache in the background mode, which can significantly speed up the work in the backend of the store.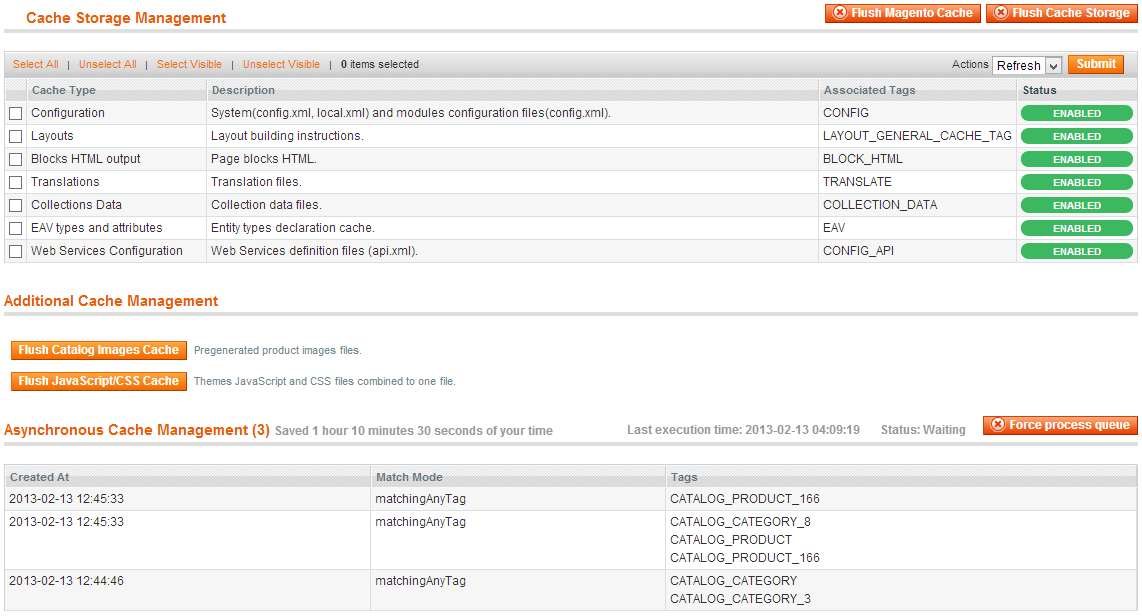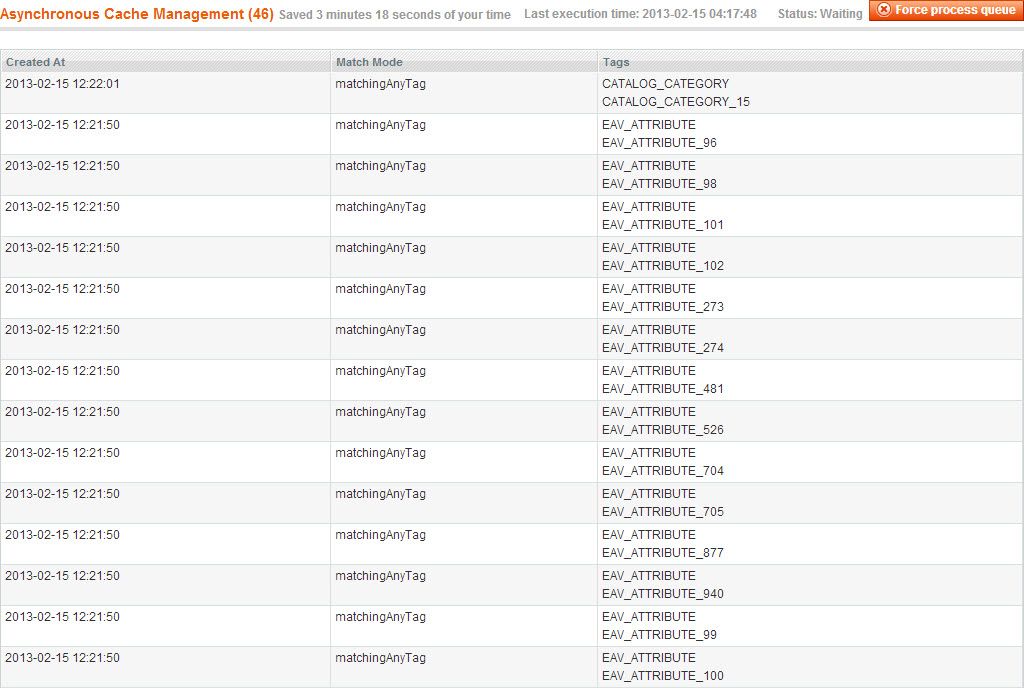 Overview
Each time the catalog items (products, categories, sets of attributes) are saved, Magento searches and deletes the cache files associated with a saved item. When the size of the catalogue is small, these operations are relatively fast. However, when increasing the number of items, the number of cache files increases significantly and the searching time for the cache files to be deleted can be up to 30 seconds.
This is especially noticeable if the server of your store has a slow hard drive. As a result, the work with the admin panel becomes very uncomfortable. Before proceeding to the next step, you need to wait until the data of the catalog will be saved and the cache will be cleaned.
How does the module work?
After the shop manager adds the new product (category) or changes the existing product, the necessary requirement to clean the cache of the product or category is saved in the queue table. The product is saved quickly and the manager proceeds to editing the new product.
Simultaneously, the background crown process is working, which reviews the queue table continuously. When the new tasks appear, it treats them consequently and cleans the cache.
Thus, even if the catalog is very large, with which several managers working simultaneously, they will not wait until the cache is cleaned after each saving. They will work and the cron process will clean the cache in the background mode.
This module can work successfully together with the module Fast Asynchronous Reindex. Although they have the similar principle of operation, each of them is responsible for its own field.
Features
Speeds up work with the catalogue

saving products
saving categories
moving categories in the tree
application of mass actions for the products
saving sets of attributes

Full cache control in the background mode
Must-Have Extension and Terrific Customer Support

GreenGlasses

from New York, United States

Excellent extension with first-rate customer support

Great improvement of performance

The performance especially related to admin panel is increased

Speeds things up!

TLW

from Springtown, United States

Really helps speed things up with a large catalog.

This Plugin Can Really Load Shed Your Store

krishnendu

from Guwahati, India

If you have a large magento catalog, this plugin incredibly helps take off good amount of load from your store/ server.....

Helpfull extension to make more performanct

We are using this extension for almost a month : It works pretty well and saved us quite a lot of time while saving products in the magento backend

Saves time refreshing cache

David

from Saint Paul, United States

Saves time refreshing cache. Does what is promised.

Real timesaver

Robert

from Oppegard, Norway

Really speeds up adding new products. Over the past 3 months the extension has saved us over 13 hours of waiting in Magento backend. Recomended!
Compatibility
The Asynchronous Cache is compatible with:
| | |
| --- | --- |
| Magento Community Edition (CE) | 1.4.0 - 1.9.4 |
| Magento Enterprise Edition (EE) | 1.11 - 1.14.2 |
Refund Policy
All customers can request a refund during 30 days after purchase of our software, if customer think that our software is not suitable for any reason. To request refund, customer must remove all copies of our software from its store, servers, computers, email, etc and confirm by email such removal. After receiving a request we will proceed refund within 3 business days.
If request for refund is received after 30 days after purchase, it will be rejected. Cost of installation and customization services are not refundable.
Support and bug fixing
Mirasvit offers free 90 days support of all software sold on this site. Customers can report all bugs, which were found in our software. We can solve only the bugs directly related to or caused by our extension. Those bugs must be reproduced on fresh Magento installation without any 3rd party plugins. We will solve that bugs in order of our development plan.
We don't do any type of custom work and we have a right to reject a support request if the issue is store-specific (cannot be reproduced on the fresh Magento installation without any 3rd party plugins).
Mirasvit will not be liable to you for any damages (including any loss of profits/saving, or incidental or consequential) related to our support service caused to you, your information and your business.
Software updates
Mirasvit offers free lifetime updates if they areavaliable. Updates are limited to the Magento version branch (1.x.x or 2.x.x). Customer can download an update and install it by himself. If support period is expired, Mirasvit.com can't solve any possible problems with our software during or after updating. Mirasvit does not guarantee that it will release updates for any product.