 This extension allows you to launch your own Store Credit program. It simplifies work with exchanges and returns as well as increases customer loyalty. Turn returns into new customer purchases!
Buy this extension now and upgrade to Magento 2 for Free later!
Extension Demos
Pick a quick tutorial to learn about various aspects of this extension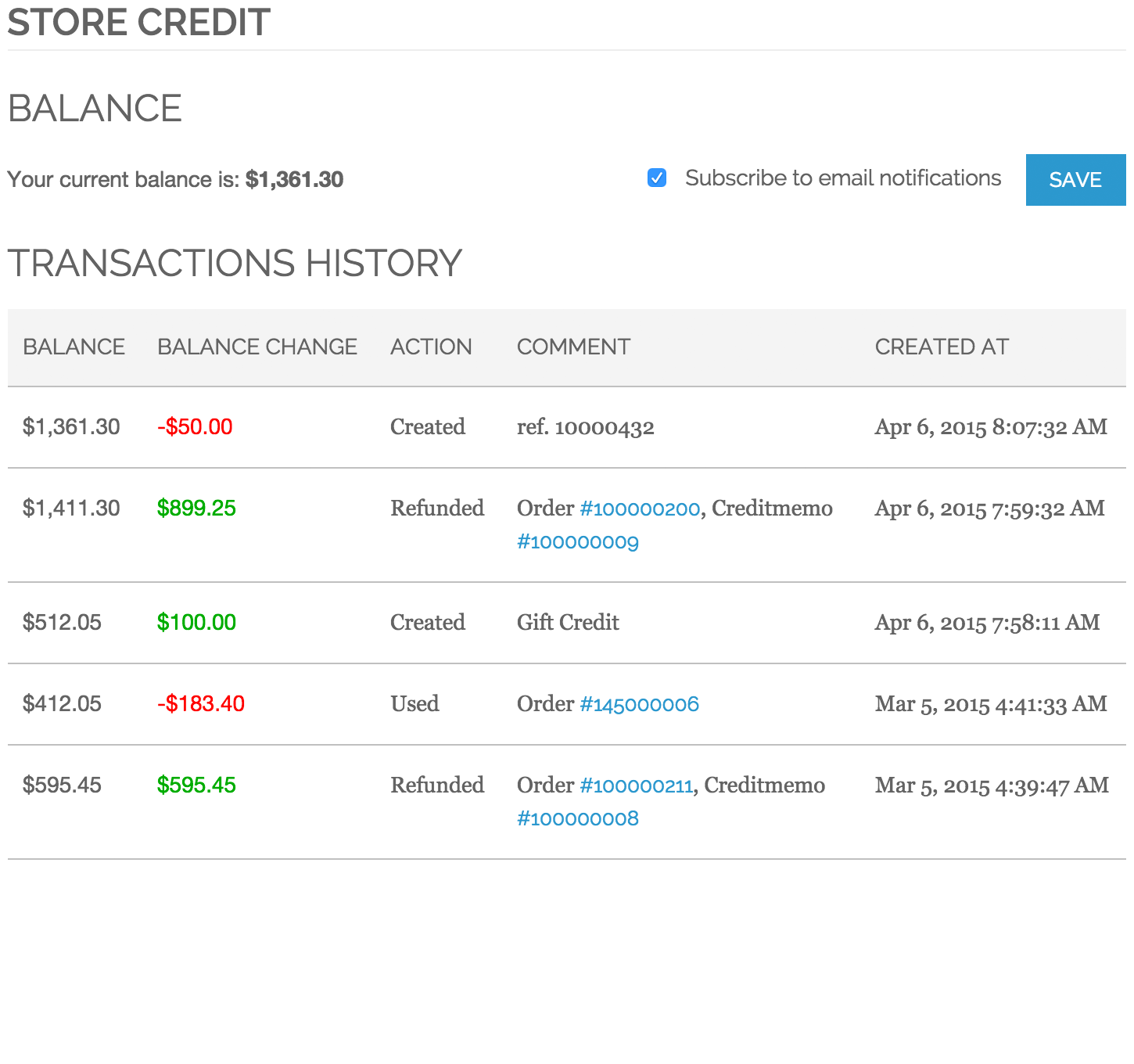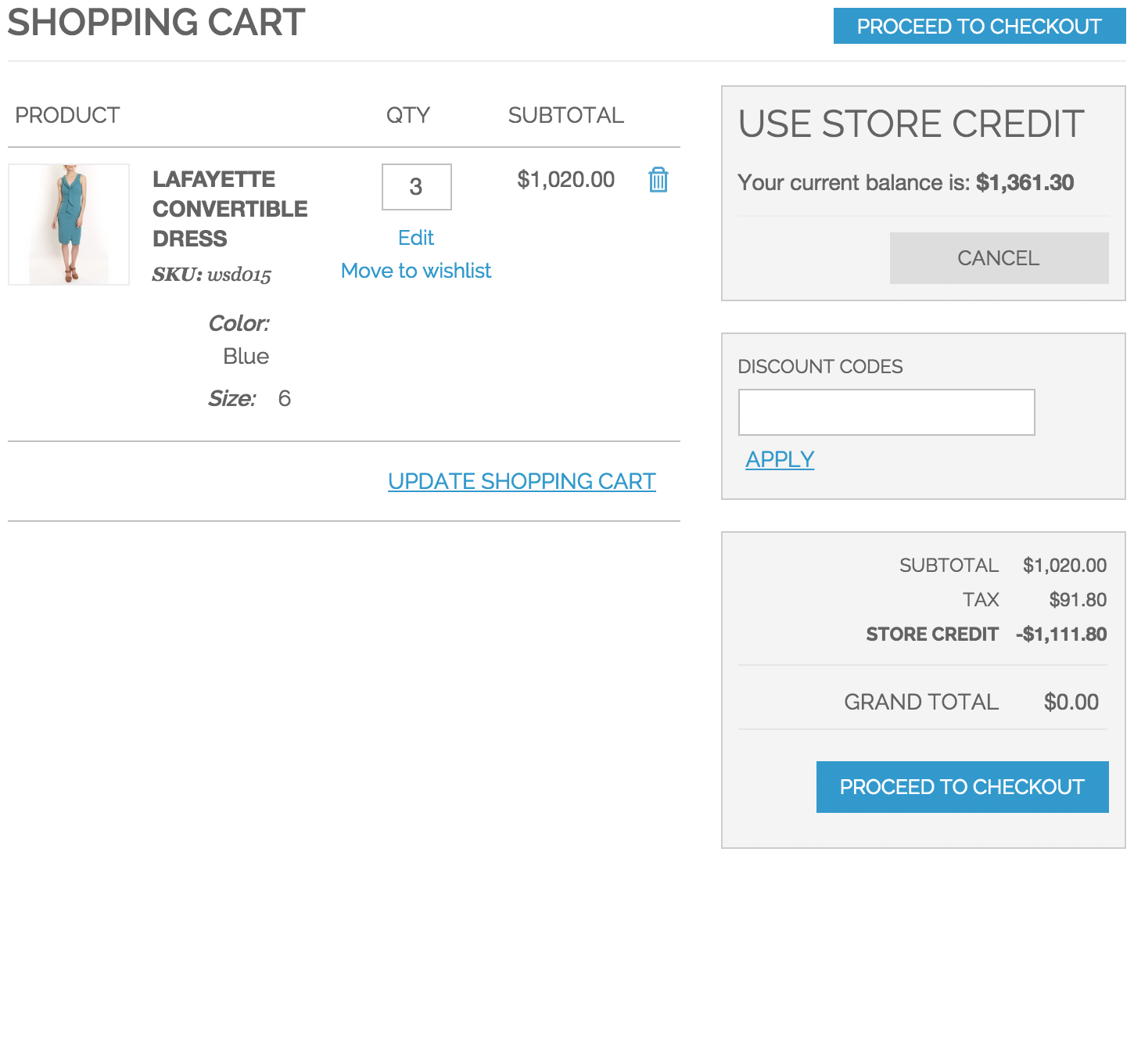 Using the extension, Store Credit & Refund, online stores can launch their own Store Credit program. This extension assists the store in solving a few very important tasks.
It is widely known that it is much harder to attract new customers than keep them. As a rule, a store undergoes losses if customers make a refund. Extension Store Credit & Refund allows you to convert returns into new purchases. You can deposit money into the customer's account in your store instead of returning it, and the customer will be able to use it for the future purchases.
Here everybody wins in the following way:
The customer is saving money as they do not need to issue different payments for each transaction.

The customer doesn't need to wait until his money will be deposited back into their account, they can instantly use these means for further purchases.

The store now has one satisfied customer, which will surely come back to make another purchase.

The store is saving money on different payments per transaction.

The store is saving employees time, which would be spent processing the refund operations.
It is also very convenient to use a module during the exchange of different types of products in the even that their prices do not coincide.
If product is substituted with a cheaper model, than the price difference is reflected on the customer's balance.
If a product is substituted with a more expensive model, then the customer deposits money to their account, and afterwards it can be used for an exchange.
It is also possible to simplify and speed up the return/exchange process of a product even more by means of integrating our RMA module here.
Extension Store Credit & Refund can be used to increase loyalty of your customers. You can deposit small sums in their account so that they can use these means for future purchases. In such a way, this extension can stimulate your sales.
Features for a customer It is possible to pay for any purchase using the balance, including the taxes and shipping fees.

It is possible to check the list of all the transactions and credit balance status in the customer's account.

The customer receives email notifications regarding the balance change.
Features for an administrator Possibility of adding transaction for the user.

Possibility of viewing balance/transactions in the user's card.

Possibility of turning on the notification of a balance change.

It is possible to use credit during creation of the order in the administrator panel.

It is possible to increase the credit during creation of the credit memo in the administrator panel.
See it in action!
Pick a quick tutorial to learn about various aspects of this extension
ottima estensione, fatta davvero bene..!

giuseppe

from Terlizzi, Italy

Considero questi sviluppatori dei professionisti, con questa estensione sono rimasto molto contento..!

Works perfect without breaking the website

RTC

from Auckland, New Zealand

We are based in New Zealand and purchased couple of extensions from these guys. So many great reasons to purchase any extensions from them.

1) Top notch customer service and technical support
2) Extensions work without breaking

We will buy more extensions from Mirasvit. 100% recommended.

True moneymaker

Gzim

from Vejen Municipality, Denmark

We extended our return policy to more days, but after 14 they could only get store credit, combined with the plugin RMA from them, it's a piece of take. What took us 10 minutes per order before, we spend 1/6 of the time now.



Great Extension

Yanev

from Far Rockaway, United States

Great extension. but wish there was a way to delete credits or modify amounts of credits issued.

Easy to understand credit extension

Joelle

from Shipley, United Kingdom

It works fine and my query about disabling emails (while I did an initial set up through customers with known credit) was quickly answered with an option added

Also, quite easy to customise on checkout to make it more visible and understandable to customers (withough showing if people have no credit)

The solidity of the extensions, flexible support and the "free access to Magento 2" offer - when others reissue their extensions at 3x costs of the magento1 one! - makes me all the more likely to pick mirasvit in priority in the future

Good

Bert

from Cipayung, Indonesia

Some issues with the tax calculation. But that was quickly fix by Mirasvit Team.

Good Stuff!

Milosz

from East Rutherford, United States

Nothing can beat Mirasvit - simply the best.

The whole refund process got much easier and simpler thanks to this extension!

Great Solution For Saving The Sale!

Josh

from St. Augustine, United States

We get a lot of returns in our industry.. Needed a fix for saving sales and better managing exchanges. This was a perfect fit. This allows us to have the leverage over clients by providing store credit instead of refund, keeping the money in our account is what it is all about:-)@!!!

This was the one thing...

...missing in Magento CE that kept it from being perfect - with the Store Credit Extension it really is. Thank you guys!

Simple to use

ethan

from Savannah, United States

great extension that covers a lot of scenarios. Had some compatibility issue with Rewards extension. Support team was able to resolve it quickly. The extension is very easy to use.

Great extension with excellent support

Alexander

from Kazincbarcika, Hungary

Great extension that fills a gap in Magento's CE functionality.
Compatibility
The Store Credit & Refund is compatible with:
| | |
| --- | --- |
| Magento Community Edition (CE) | 1.4.1 - 1.9.4 |
| Magento Enterprise Edition (EE) | 1.10 - 1.14.2 |
Refund Policy
All customers can request a refund during 30 days after purchase of our software, if customer think that our software is not suitable for any reason. To request refund, customer must remove all copies of our software from its store, servers, computers, email, etc and confirm by email such removal. After receiving a request we will proceed refund within 3 business days.
If request for refund is received after 30 days after purchase, it will be rejected. Cost of installation and customization services are not refundable.
Support and bug fixing
Mirasvit offers free 90 days support of all software sold on this site. Customers can report all bugs, which were found in our software. We can solve only the bugs directly related to or caused by our extension. Those bugs must be reproduced on fresh Magento installation without any 3rd party plugins. We will solve that bugs in order of our development plan.
We don't do any type of custom work and we have a right to reject a support request if the issue is store-specific (cannot be reproduced on the fresh Magento installation without any 3rd party plugins).
Mirasvit will not be liable to you for any damages (including any loss of profits/saving, or incidental or consequential) related to our support service caused to you, your information and your business.
Software updates
Mirasvit offers free lifetime updates if they areavaliable. Updates are limited to the Magento version branch (1.x.x or 2.x.x). Customer can download an update and install it by himself. If support period is expired, Mirasvit.com can't solve any possible problems with our software during or after updating. Mirasvit does not guarantee that it will release updates for any product.