Search Spelling Correction
You are currently looking at the extension for Magento 1,
to switch to Magento 2
click here
Search Spell-Correction will correct any misspelling, mistyping or misunderstanding while searching products in your online store.
Up to 20% of all product search queries are misspelled, causing your online shoppers to leave because of nil or weak product search results. Search Spell-Correction will correct any misspelling, mistyping or misunderstanding while searching products in your online store including the most vague product search terms.
Screenshots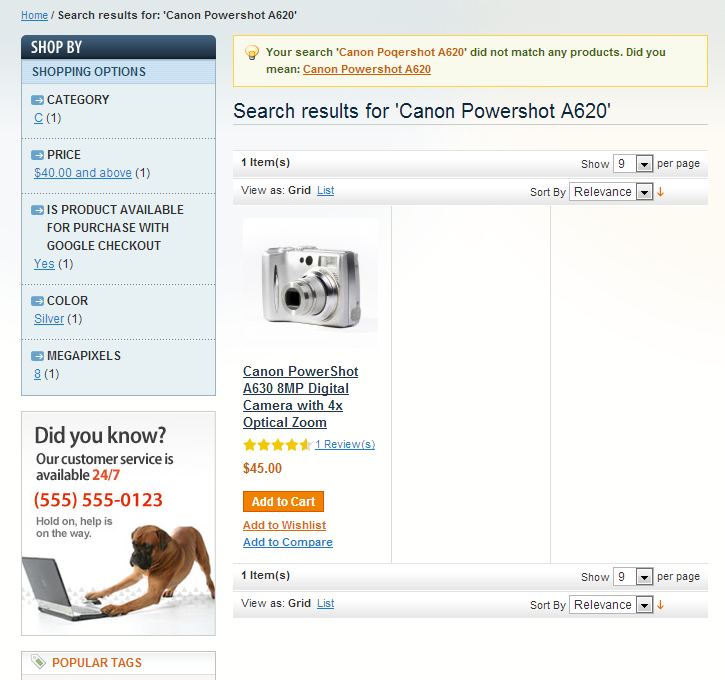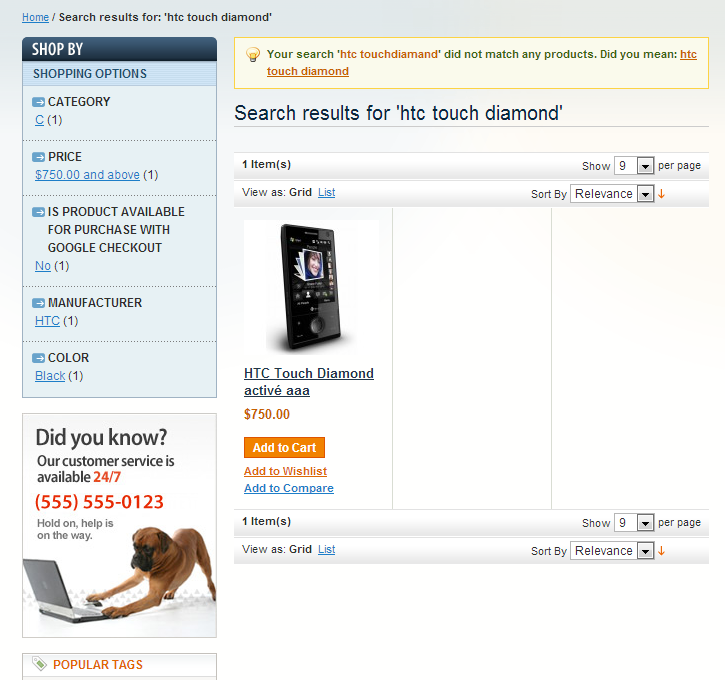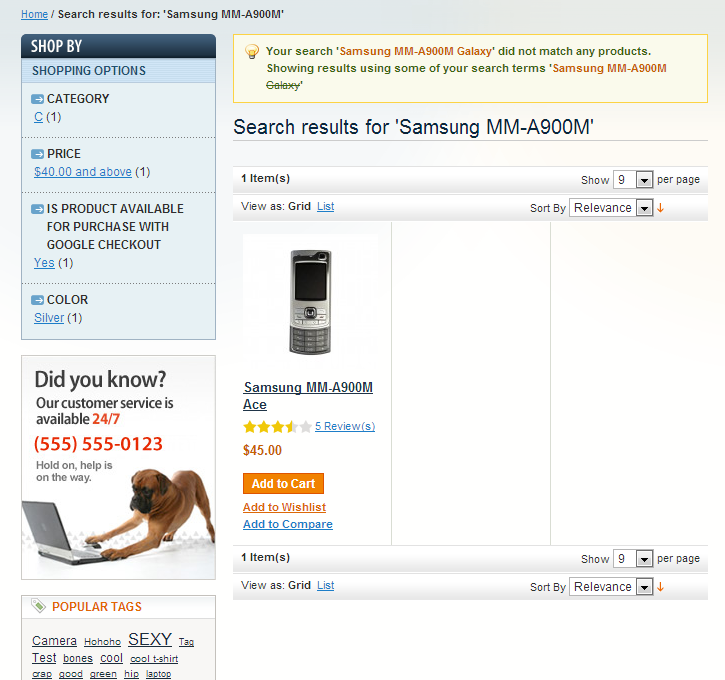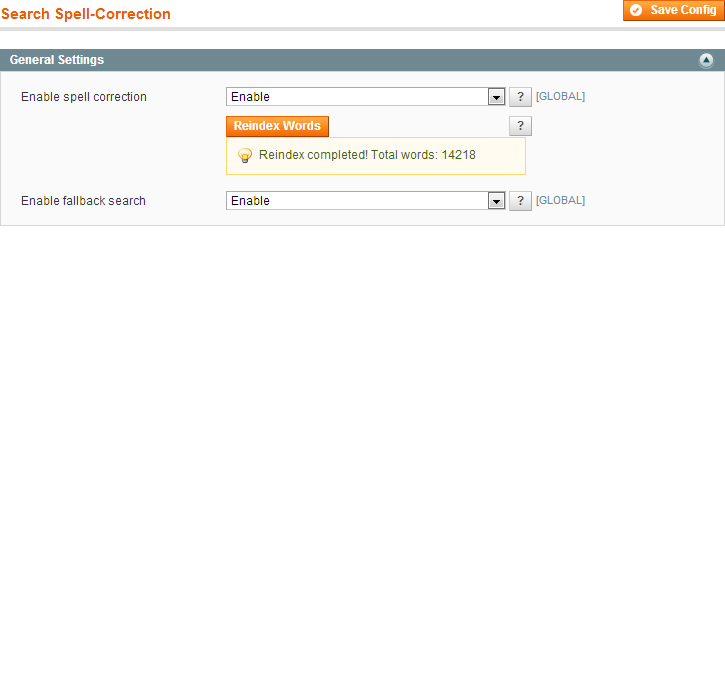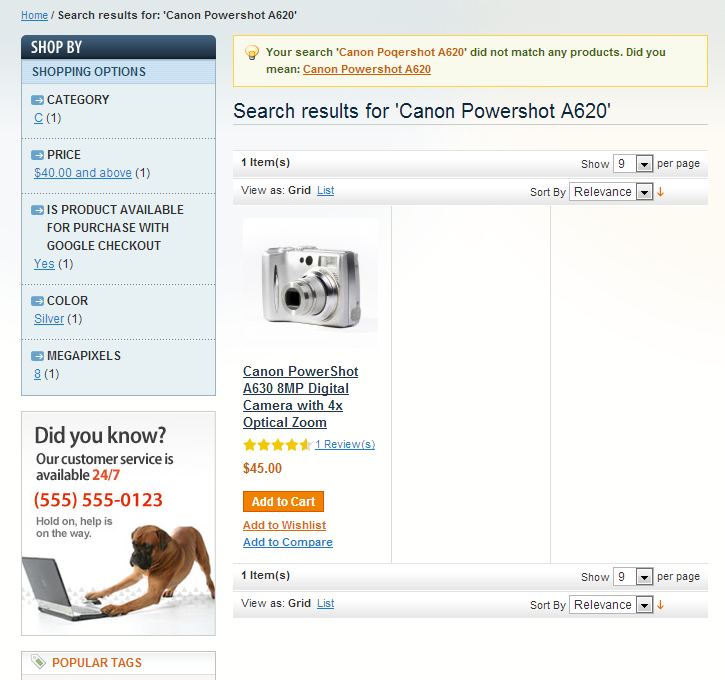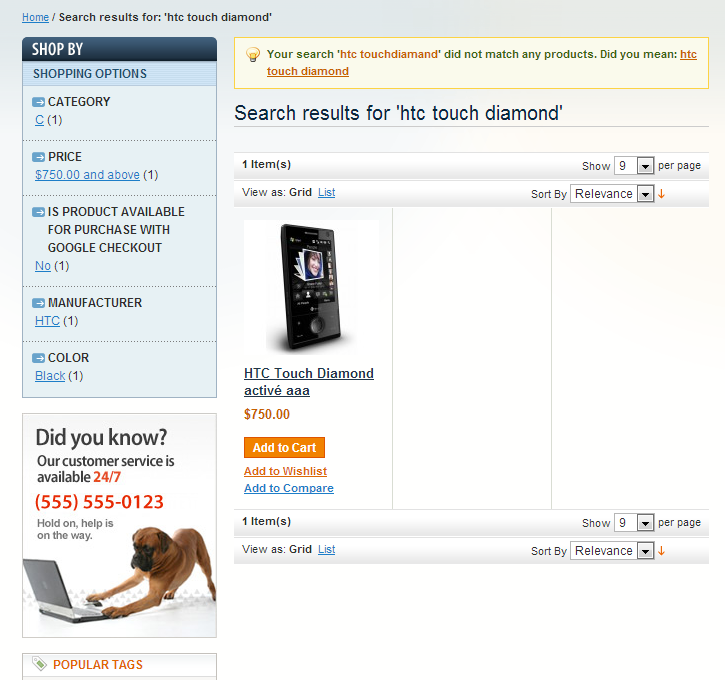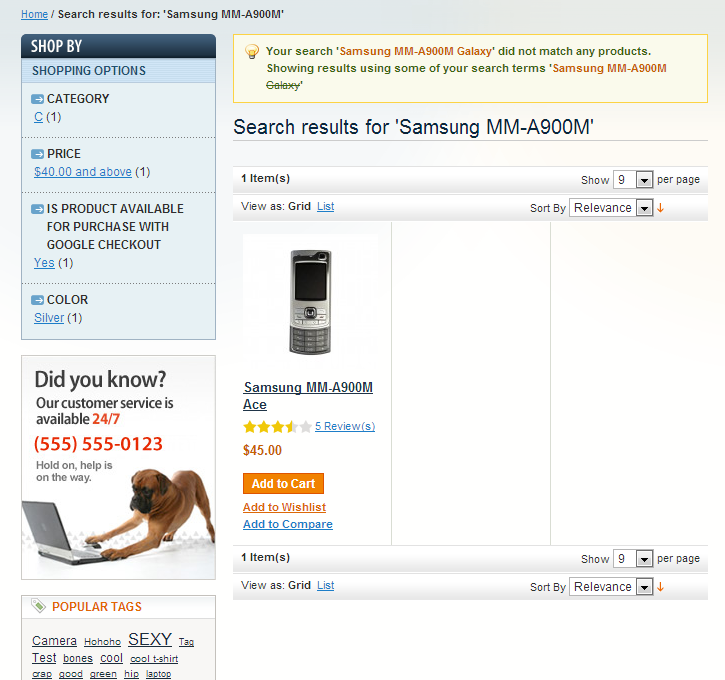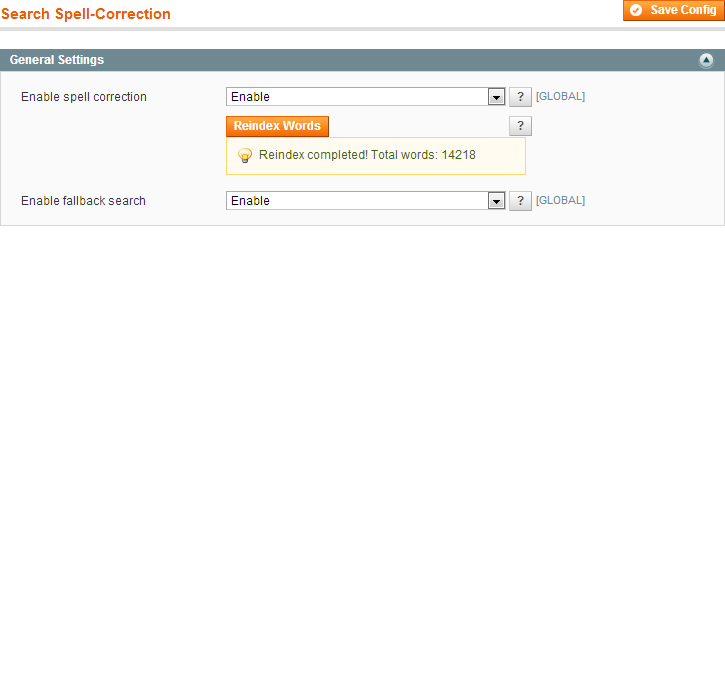 Online Stores that fail to correct product search misspellings, lose customers
While searching for a product in an online shop, customers frequently do not the know exact spelling of a product. Just a single missing character or an extraneous character transposed will produce nil or weak results. Therefore, as a standard Magento Search Module will not find the right product, prompting the shopper to leave your online store believing that you do not have what they are looking for.
Up to 20% of product search queries in online stores have misspellings. All those shoppers do not find what they are looking for. Our extension allows you to solve this problem and increase conversion of customers who are searching for a product up to 15%.
How does this extension work?
Supposedly a customer searches for a laptop, "Dell Inspiron". They type this search phrase into a search box of the online store. They make just a minor misspelling - "Dell Insperon". Standard Magento Search will produce nil search results, but our smart extension will suggest to the customer that probably they meant "Dell Inspiron". If a shopper agrees and clicks this query, they receive a list of search results with a list of "Dell Inspiron" laptops from the database of products of your online shop! The customer finds the product they need and buys it in your store!
At the moment all prominent online stores use similar functions. For example, Amazon does this in the following way.
Features

Spell Correction of search queries in your online store

Fallback search, if search returns empty result

Extension does not require additional software to be installed

Supports any languages

This extension analyzes content of the store and memorizes all existing words and phrases
Need even better Magento Search Results? Try our extension Sphinx Search Ultimate which combines the best achievements in the field of web search!
Useful extension for searching performance
Dimitris
Verified Buyer
Athens, Greece
This extension increased the search performance as anybody can type a wrong character upon searching.
Robert
Verified Buyer
Stabekk, Norway
Customers often misspell when searching. With this extension they will still find what the was really searching for. I was a bit sceptic about the accuracy when we installed the extension but i am really impressed. Recomended!
Robert_XC
Verified Buyer
United States
Great extension that does just what it say.
Also perfect customer support
Turgay
Verified Buyer
United States
mirasvit assurance should be absolutely clean code module is fully compatible www.teleplus.com.tr
XiShi.de
Verified Buyer
United States
Purchase and Installation was done within minutes! And the Search Spell-Correction is just what we wanted for our often misspelled products on www.xishi.de
Bernard_Dicor
Verified Buyer
United States
Congratulations. This extension makes Magento search better than the original version. We recommend a lot.
Reasons to choose Mirasvit
Client focusing and satisfaction
These are our primary. A major portion of our new clients come from referrals from our existing clients. Our professional team of developers, marketers and support staff have invested the best knowledge and experience in the field into our work, so you know you can come back to us again and again.
Remarkable support
One year free and high quality support. We go to great lengths to provide maximum satisfaction with every module you have purchased in our store. By helping you with installation, configuration, answering your every question, we do all our best to eliminate any possible problems.
Risk-free Investment
30-days money back guarantee. If you are not satisfied with our extension's performance for any reason, we provide a full refund.
Constant improvements and upgrades
We constantly add new features to all our modules, and are always interested in hearing your opinion and implementing your suggested features in our future developments.
Comprehensive Documentation
We provide an expanded user guide for every aspect of our extension, so you can find answers for all your burning questions.
Unencrypted source code of our products
You can customize extensions according to your needs and requirements.
Usability and Performance
The Module is easy to install and upgrade, just follow our step-by-step user guide.
Safe Magento updates
No core modifications. Just use the composer or copy the extension's files to the root directory of your store.