Sphinx Search Ultimate
You are currently looking at the extension for Magento 1,
to switch to Magento 2
click here
Sphinx Search Ultimate is a Magento extension that combines the most modern approaches to the product search for online stores. Here you'll find all you need in order to create an ideal product search in your online store.
Screenshots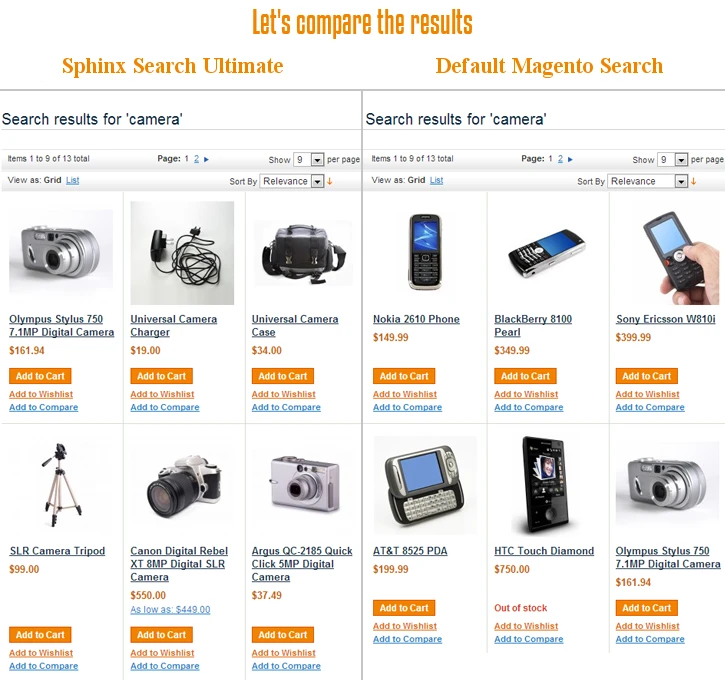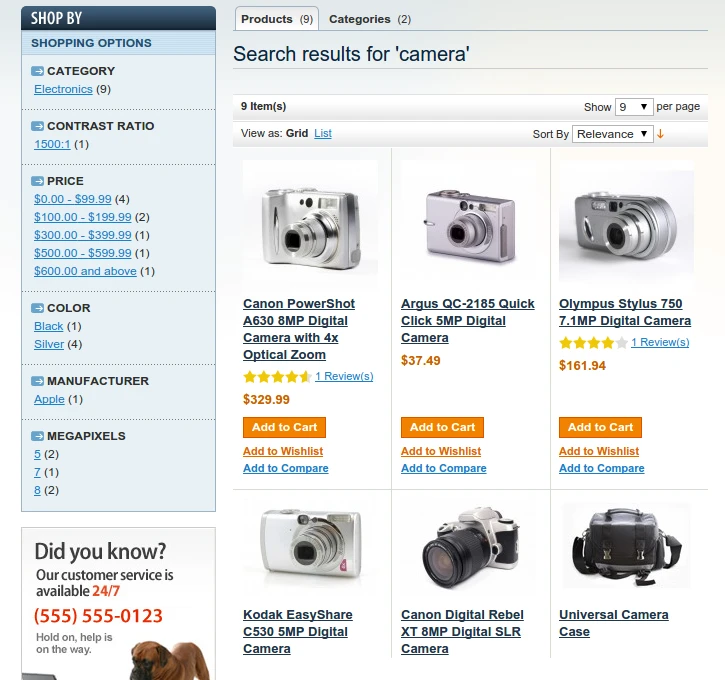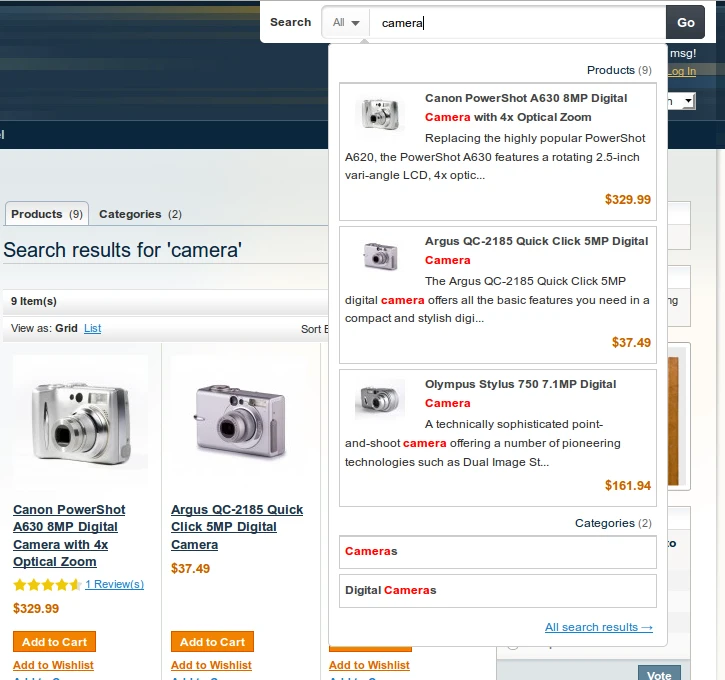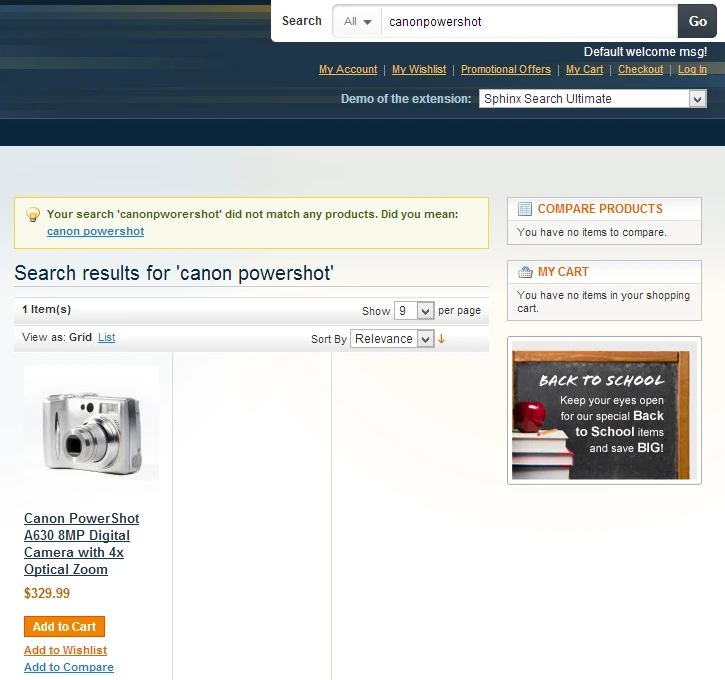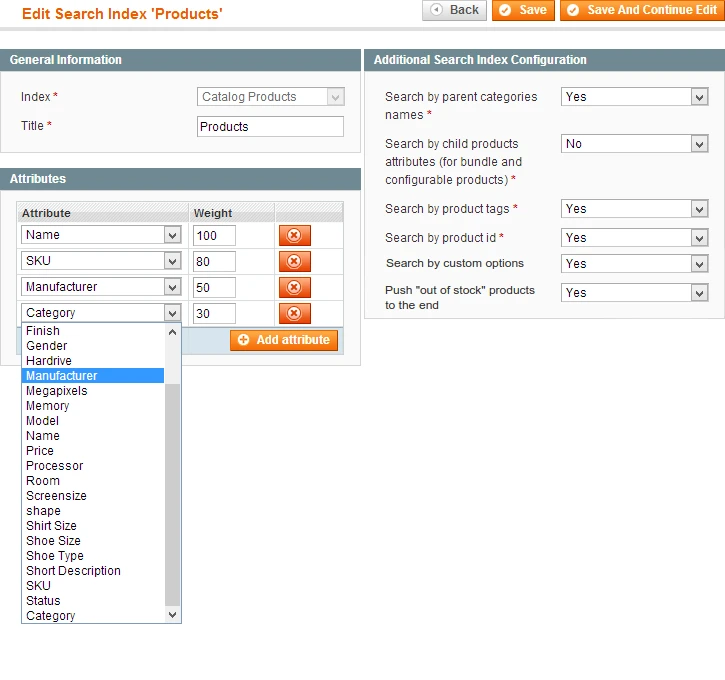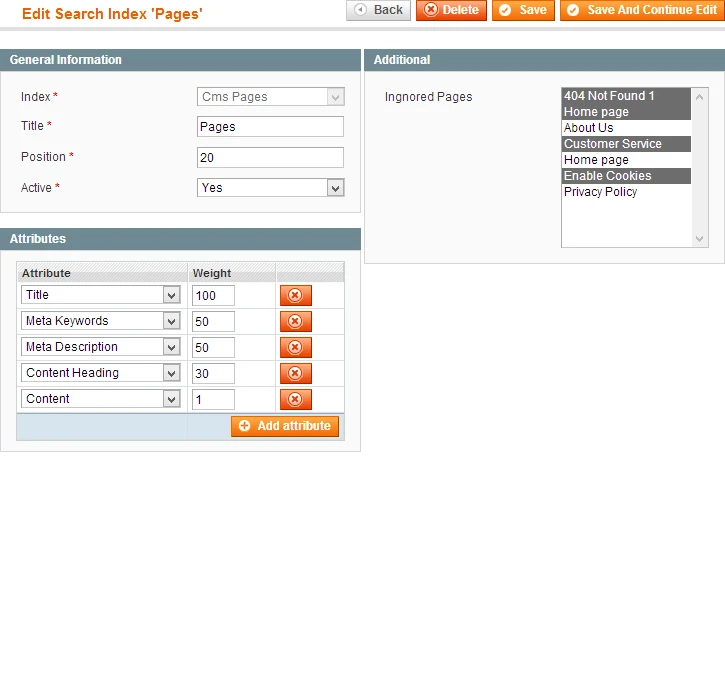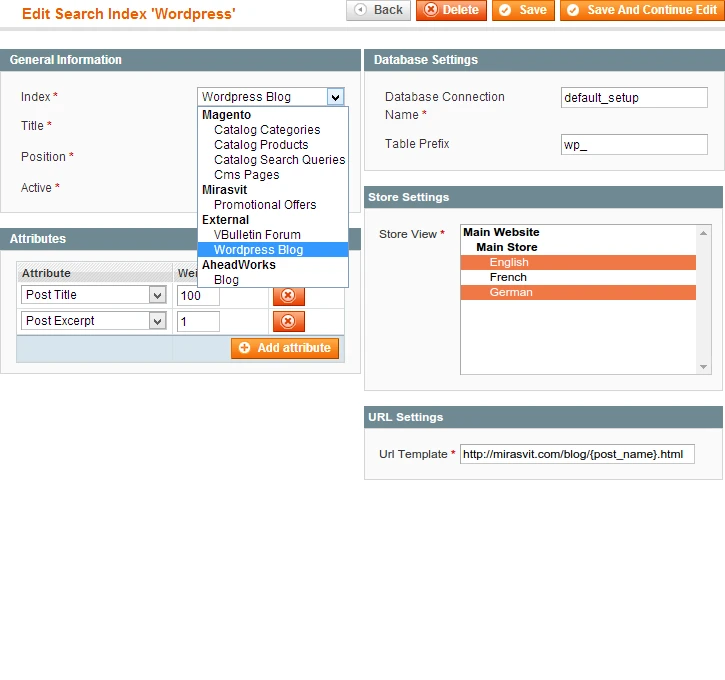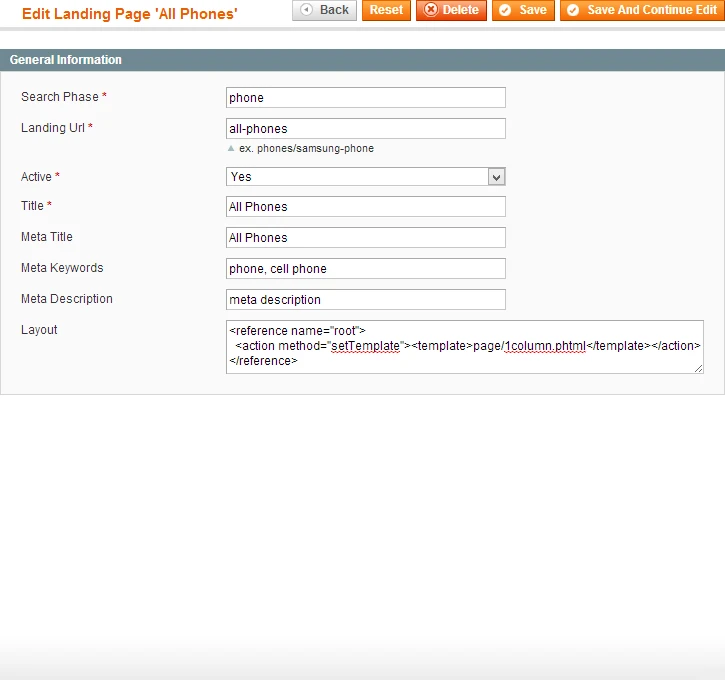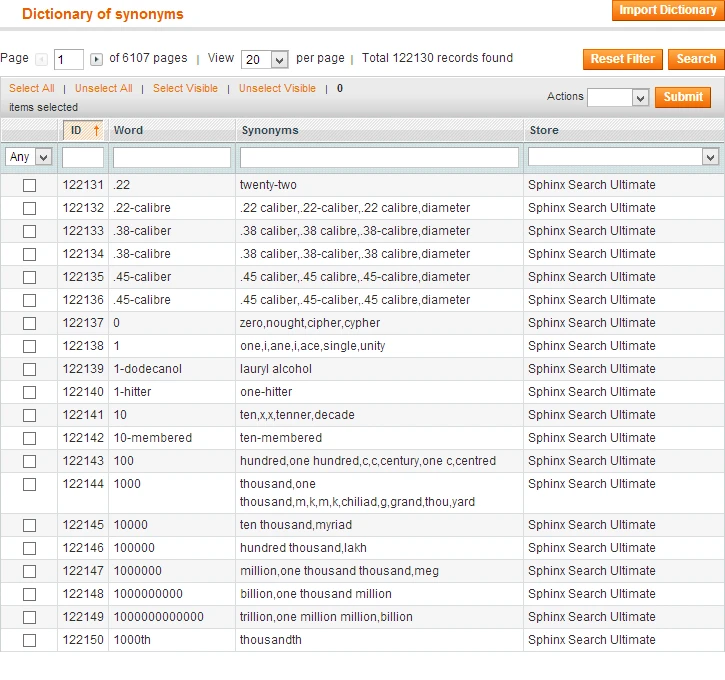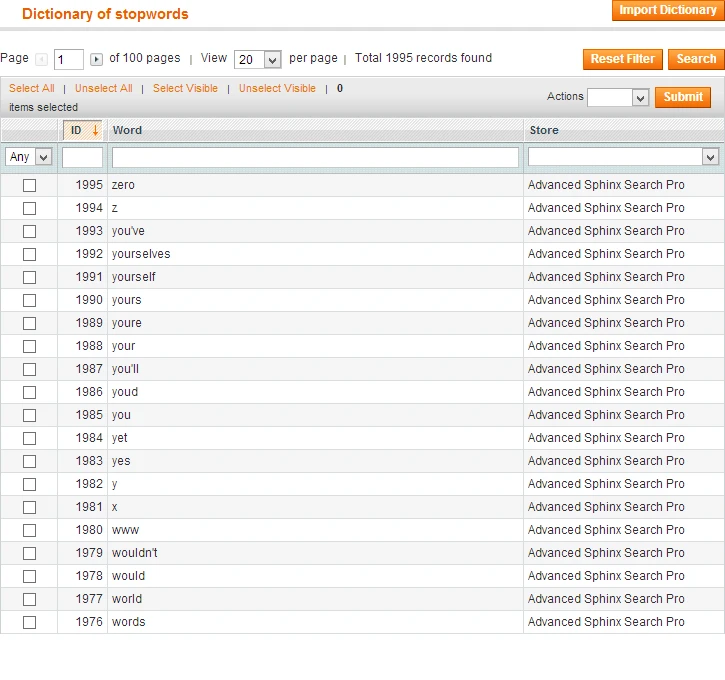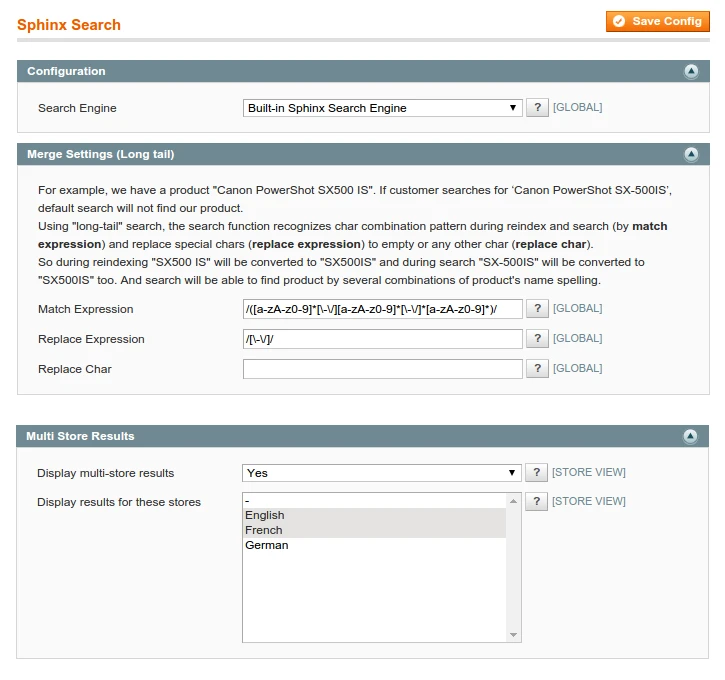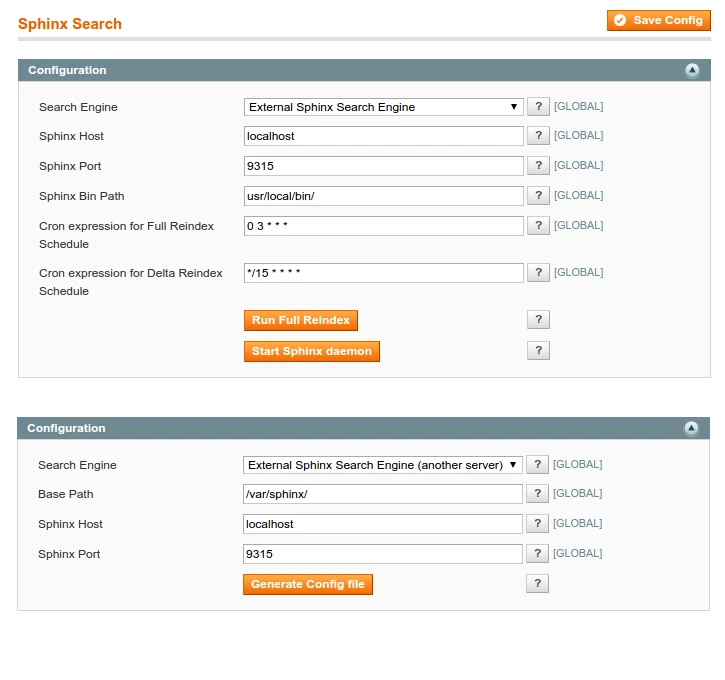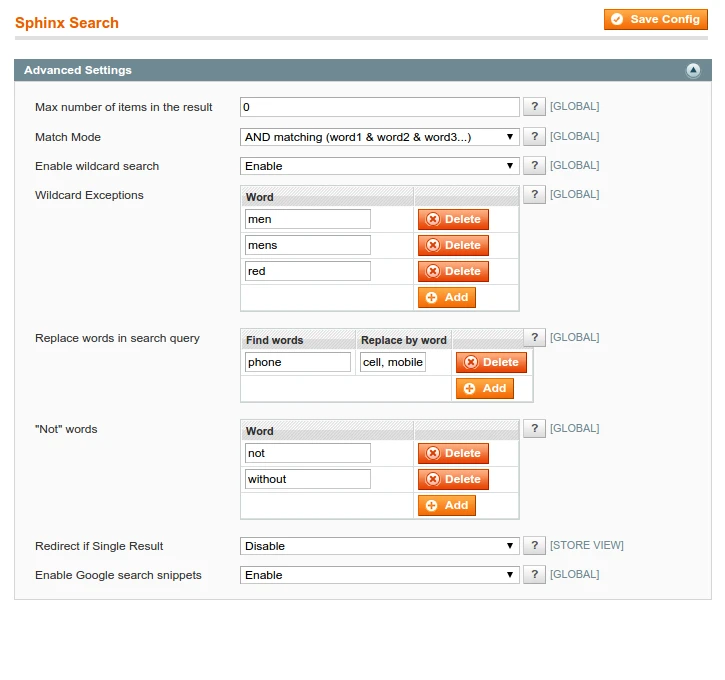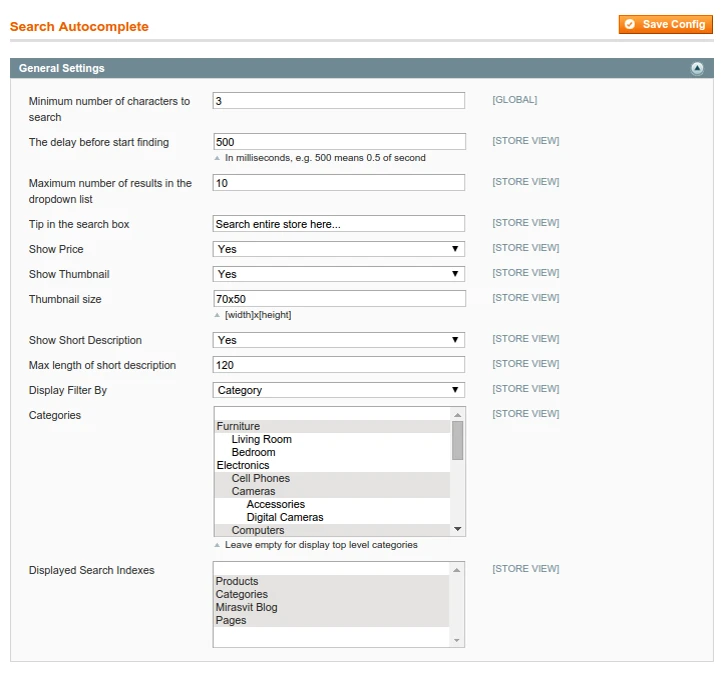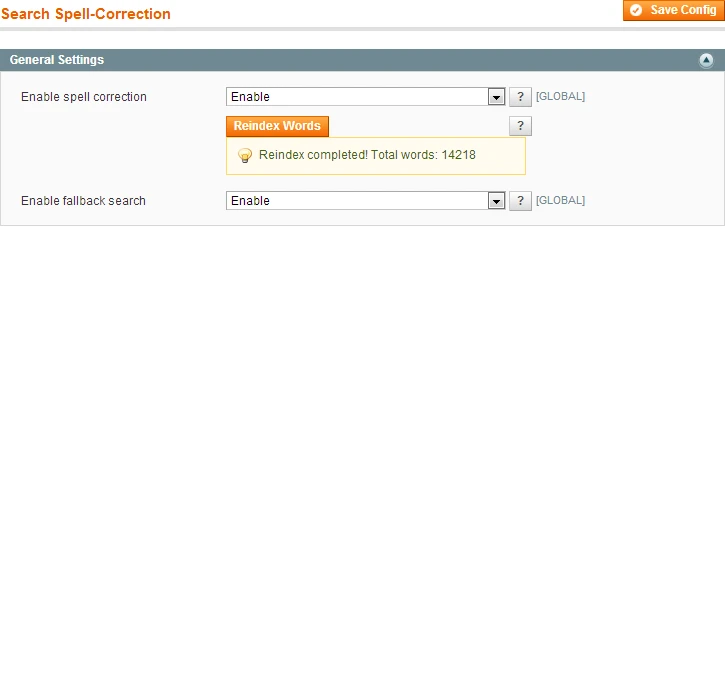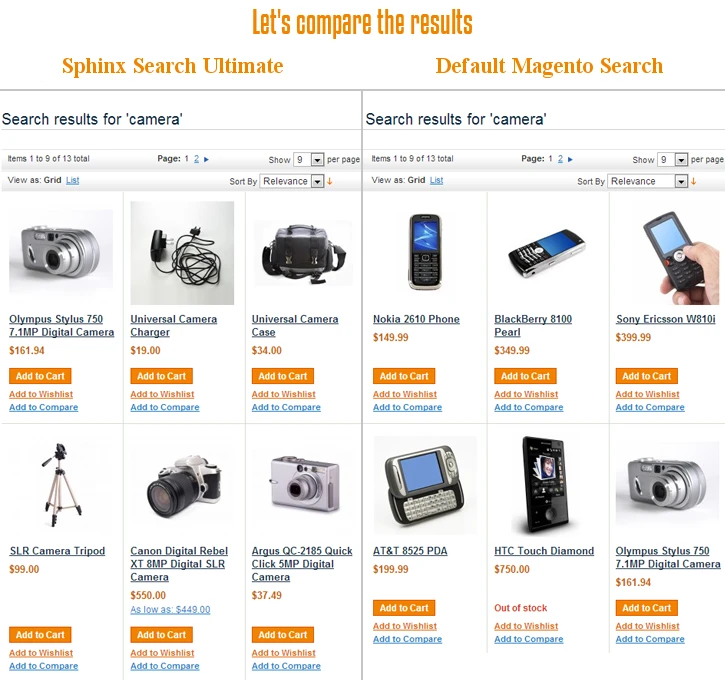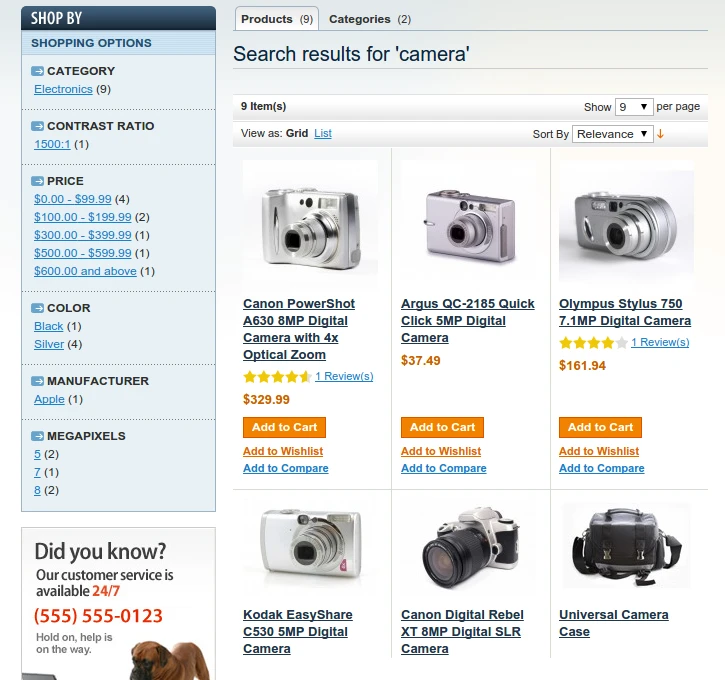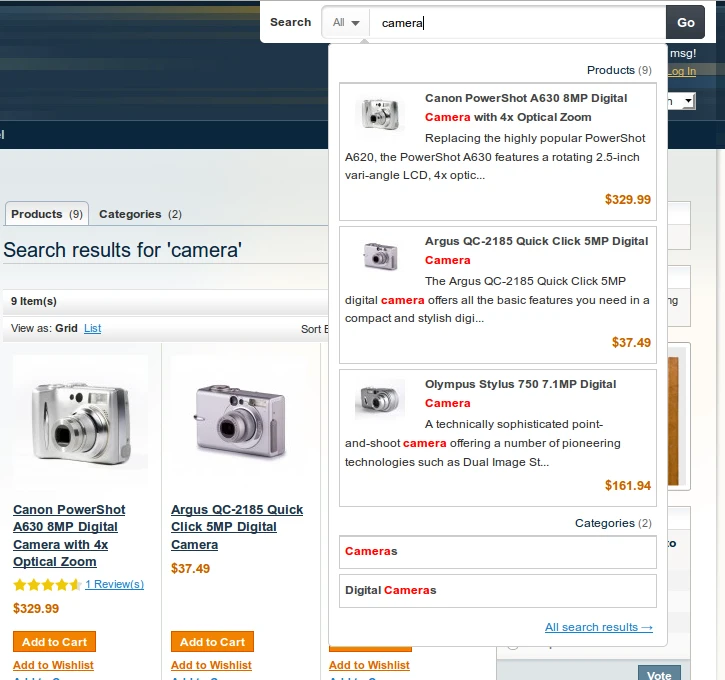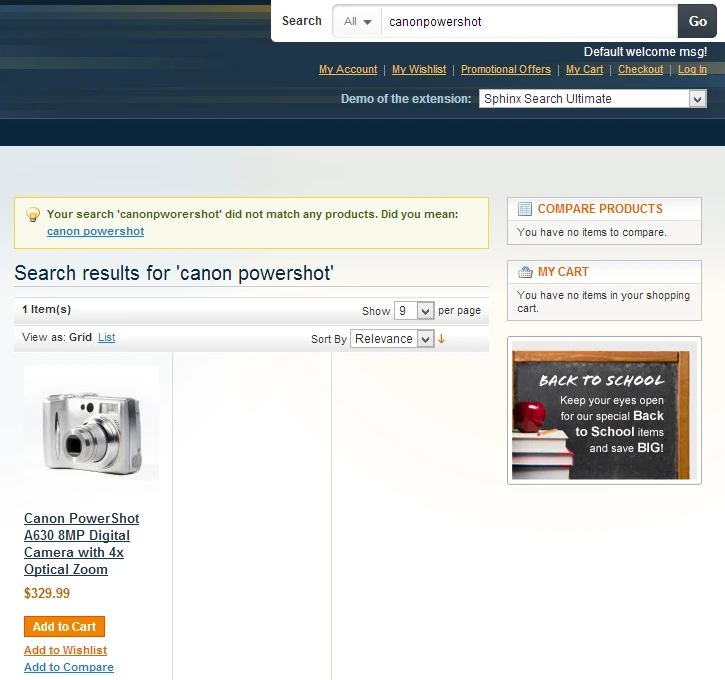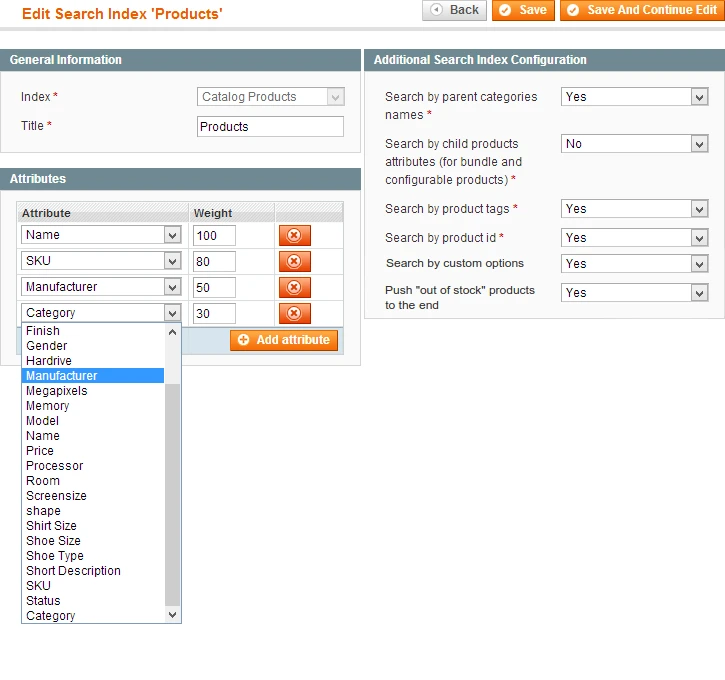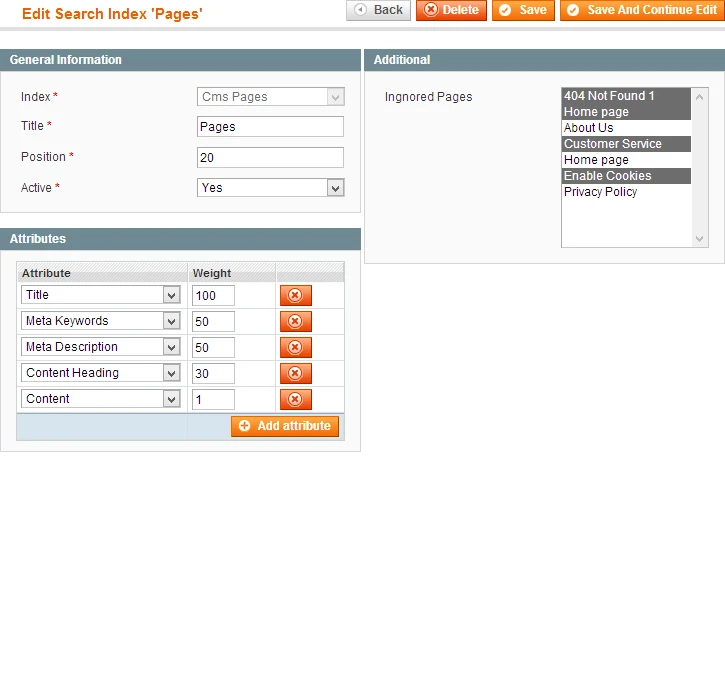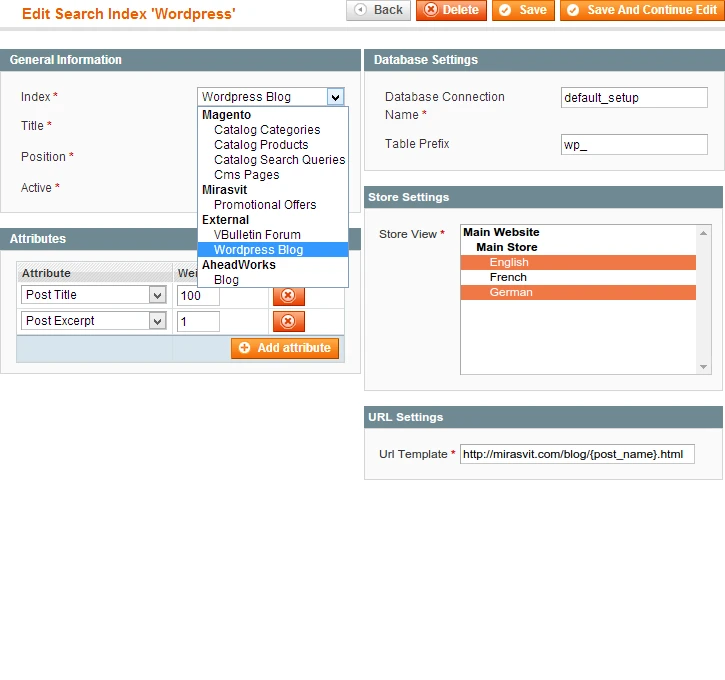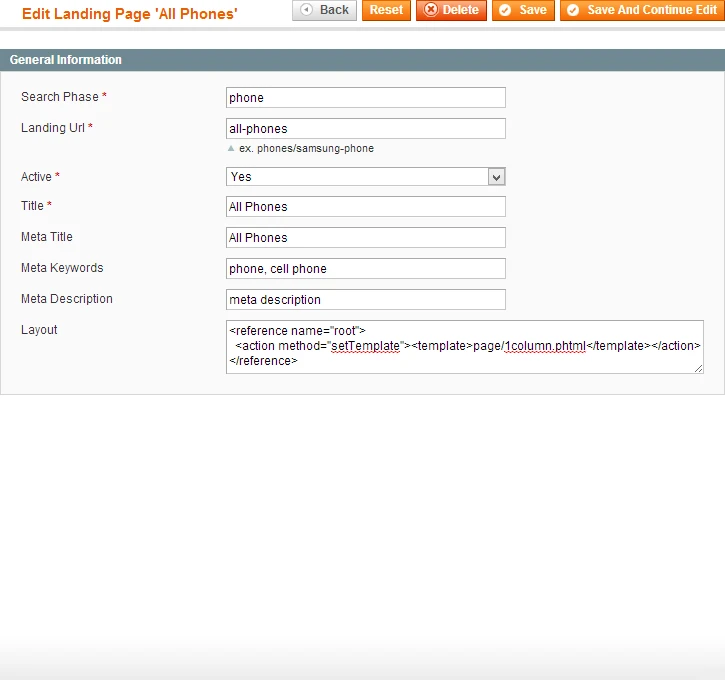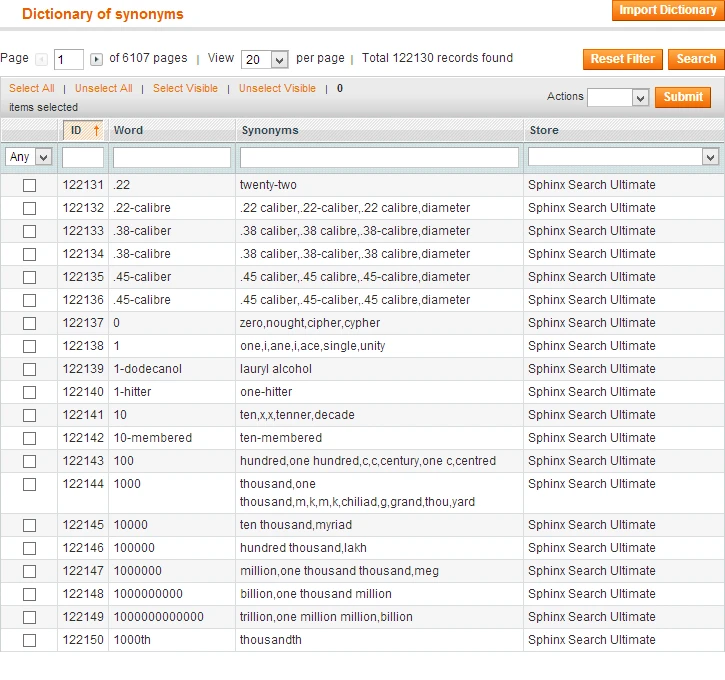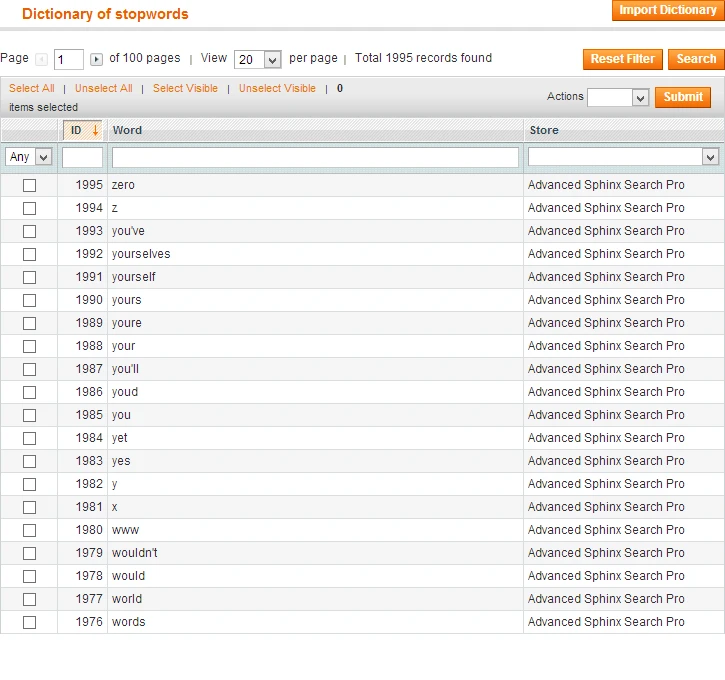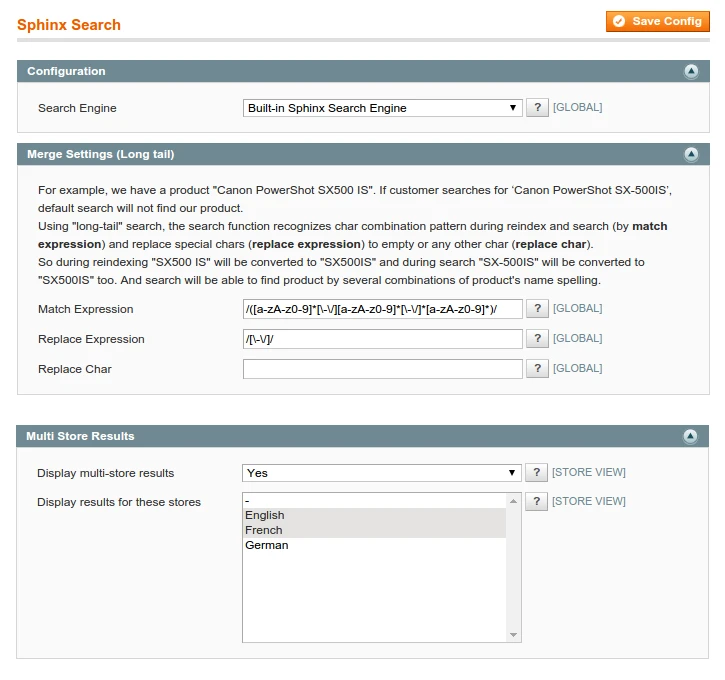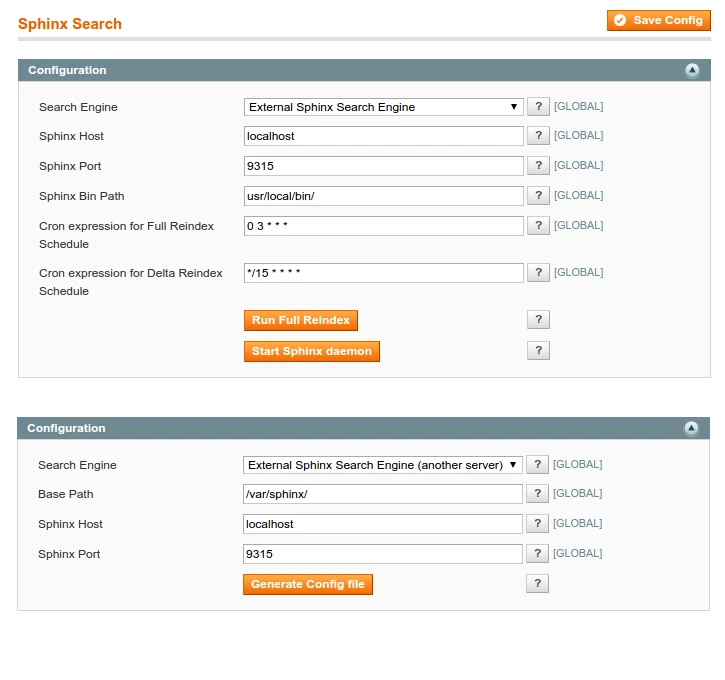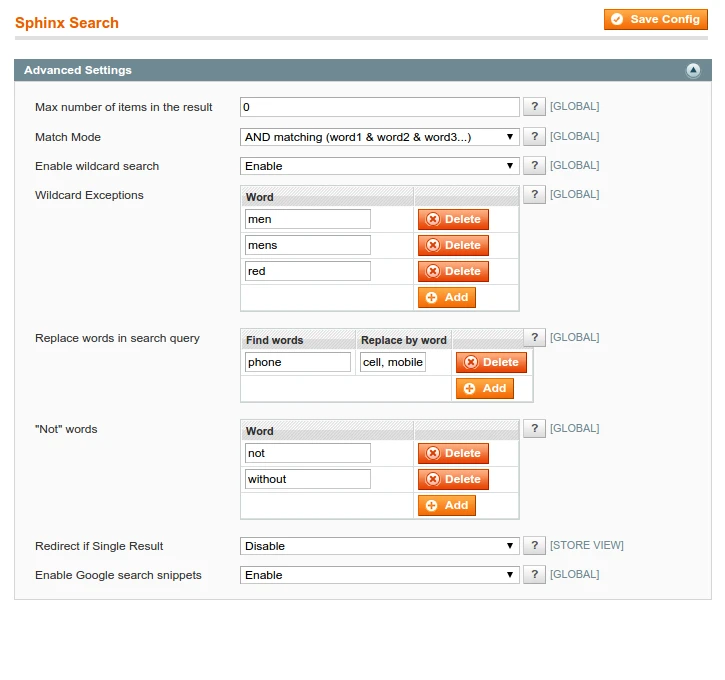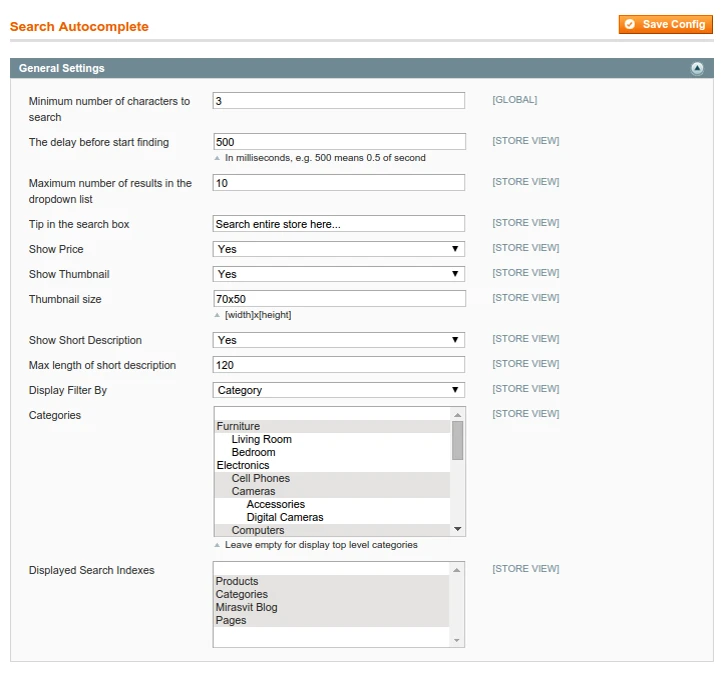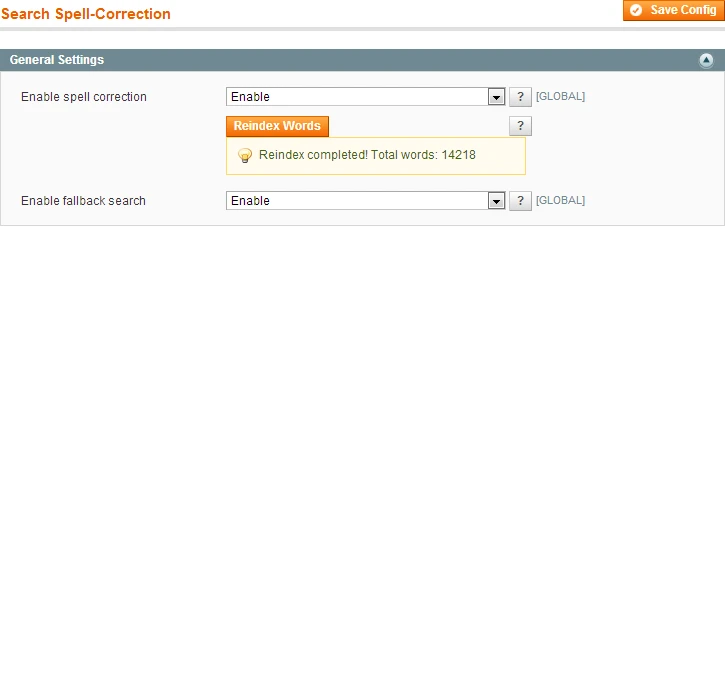 Sphinx Search Ultimate unites such products as Search Spell-Correction, Search AutoComplete & Suggestions and Advanced Sphinx Search Pro into a single operating mechanism of high-performance and convenient search for the Magento online store.
Often users do not know exactly how to spell the name of a particular product. Search tips help greatly to quickly find the right product. When a user types the first few letters of a search phrase, a tip phrase drops down and the user sees a list of search phrases or goods from a catalog that best match the products he wants to find.
In case a user made a mistake in writing a search query, we will not show nil results. We are trying to fix the problem and show them what they were looking for.
The search mechanism uses the advanced search technology Sphinx, which provides a highly relevant results in a fraction of a second. Sphinx is an open source search engine that significantly improves the relevance (quality) and the speed of searches. Therefore, your visitors find the products they are looking for. Using a Sphinx search engine increases conversion of visitors who are looking for something to customers by more than 50%.
Key features
Greatly improves search quality. Searches find the products that visitors are looking for
Supports stop words (dictionary contains 665 words)
Supports synonyms (dictionary contains 60730 words)
Search products by category names
Search products by tags
Search products by associated products skus

Search by multiple content types:

Catalog Products
Catalog Categories
Catalog Attribute
CMS Pages
Blog (AW Blog, Wordpress)
Simple Press Forum
News by CommerceLab
vBulletin Forum
Blackbird ContentManager

Correction of typing errors when searching in online store
Singular/Plural search
"Long Tail" search (searching products with hyphens/slashes etc)
Landing Pages (seo optimization for specific keywords)
Fallback search
Pushing "out of stock" products to the end
Ability to set search category (as in Amazon)
Uses AJAX, so the search doesn't reboot the entire webpage and the search is very fast
Support of responsive themes
Drop-down box appears with the image of products and price
Ability to configure a minimum number of characters to search, the delay in finding, a limited number of results in the dropdown list, the tip in the search box
High Indexing speed
High Searching speed of over 500 queries/sec against 1,000,000 skus

Stemmer with plurals and singular words support

Sphinx has built-ins for English, Russian and Czech languages.

Modules are available for French, Spanish, Portuguese, Italian, Romanian, German, Dutch, Swedish, Norwegian, Danish, Finnish, Hungarian
Sphinx Search Engine is used by the following companies:

One of the best extensions I've bought with Mirasvit. ;)
Also installed: Advanced SEO Suite
this is the best search fore magento
This extension will help your customers find what they want. Highly recommended
Also installed: Advanced SEO Suite, GDPR
Sphinx Search Ultimate - It actually works !
Empire
Verified Buyer
Harrogate, United Kingdom
We have tried various search extensions and this one is, by far, the best

Easy to setup and configure, and best of all, it actually works, unlike other extensions that seem to just produce broad search results

Very happy customer because our customers can now find what they are looking for!

Also installed: Advanced Product Feeds
greatly improves searches
Crashraider
Verified Buyer
It has been installing the extension and it has improved the searches in my online store dramatically. Find the right product even when you type the word with a typo. I recommend it 100%
Reasons to choose Mirasvit
Client focusing and satisfaction
These are our primary. A major portion of our new clients come from referrals from our existing clients. Our professional team of developers, marketers and support staff have invested the best knowledge and experience in the field into our work, so you know you can come back to us again and again.
Remarkable support
One year free and high quality support. We go to great lengths to provide maximum satisfaction with every module you have purchased in our store. By helping you with installation, configuration, answering your every question, we do all our best to eliminate any possible problems.
Risk-free Investment
30-days money back guarantee. If you are not satisfied with our extension performance for any reason, we provide a full refund.
Constant improvements and upgrades
We constantly add new features to all our modules, and are always interested in hearing your opinion and implementing your suggested features in our future developments.
Comprehensive Documentation
We provide an expanded user guide for every aspect of our extension, so you can find answers for all your burning questions.
Unencrypted source code of our products
You can customize extension according to your needs and requirements.
Usability and Performance
The Module is easy to install and upgrade, just follow our step-by-step user guide.
Safe Magento updates
No core modifications. Just use the composer or copy the extension files to the root directory of your store.