 This extension will add autocomplete functions with a number of features to your search field. Start typing and your products will show up directly.
Buy this extension now and upgrade to Magento 2 for Free later!
Extension Demos
Pick a quick tutorial to learn about various aspects of this extension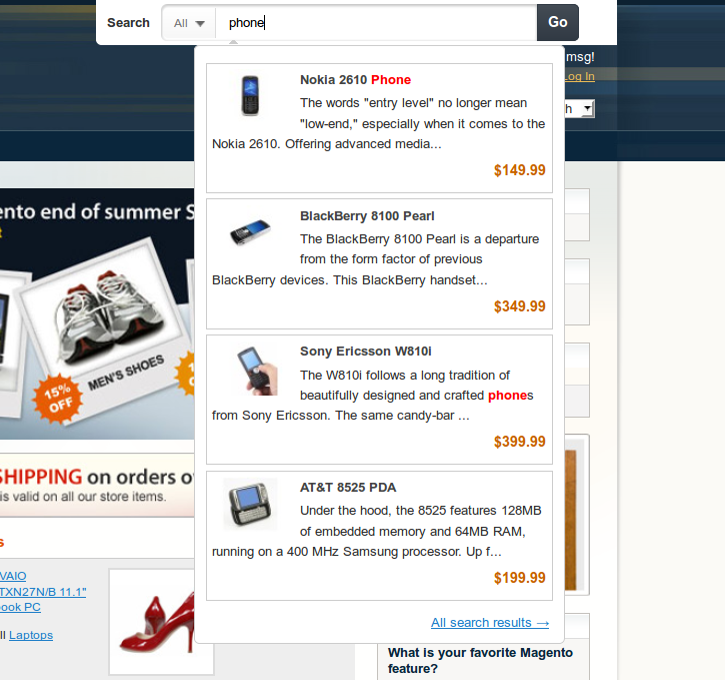 Often users don't know exactly how to spell the name of a particular product. That's why searching tips helps them greatly in order to enter the correct search phrase and eventually find what they are looking for.
To date, all of the leading online retailers in the world use search tips. This is when a user types the first few letters of a search phrase and a list of options that best fits their query drops down to a user.
On average, 15% of visitors use the product search in an online store. These are the visitors who know what they want and are looking to buy. These visitors bring about half of the orders to your shop. Therefore, the sales of an online store depend on whether a website search is able to quickly find a correct good. Integrated Magento Autocomplete Extension will easily solve this task.
Fast and convenient search
Ability to set the search category (as in Amazon)
Uses AJAX, so the search doesn't reload the entire webpage and the search is very fast

Drop-down box appears with the image of products, description and price

In configuration, you can show/hide any element, change the description length, image size etc

Ability to configure a minimum number of characters to search
The ability to configure the delay in finding
Ability to limit a number of results in the dropdown list
Ability to change the tip in the search box
Support of responsive themes
Integration with Sphinx Search Pro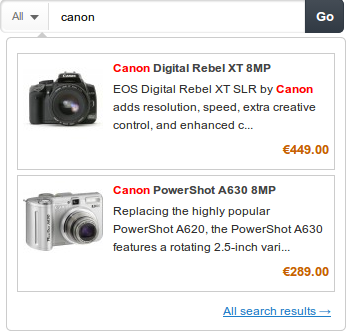 Need even better Magento Search Results? Try our extension Sphinx Search Ultimate which combined the best achievements in the field of web search!
See it in action!
Pick a quick tutorial to learn about various aspects of this extension
Very good ext.

Brijesh

from Ghaziabad, India

accurate search and fulfill needs

*****

perfect!!

Search the shop and get instant results

The extensions is great and add a lot of value to the magento store!

Very good Plugin

Jerry

from Gilbert, United States

I am happy with my purchase

Excellent App

Steven

from Walton on Thames, United Kingdom

Easy to integrate and great support when needed.

Great extension

Mihai

from Oradea, Romania

The extension works great and it's easy to use.

Good Good

turgay

from United States

This extension would definitely recommend this company even had some problems were almost solved thanks to www.teleplus.com.tr

awesome, but could be better

Konstantin

from United States

The speed of the searches are amazing once they are cached, wish there was some sort of cache warmer/crawler that would cache the search results based on previous entries.
Compatibility
The Search AutoComplete & Suggest Pro is compatible with:
| | |
| --- | --- |
| Magento Community Edition (CE) | 1.4.1 - 1.9.4 |
| Magento Enterprise Edition (EE) | 1.11 - 1.14.2 |
Refund Policy
All customers can request a refund during 30 days after purchase of our software, if customer think that our software is not suitable for any reason. To request refund, customer must remove all copies of our software from its store, servers, computers, email, etc and confirm by email such removal. After receiving a request we will proceed refund within 3 business days.
If request for refund is received after 30 days after purchase, it will be rejected. Cost of installation and customization services are not refundable.
Support and bug fixing
Mirasvit offers free 90 days support of all software sold on this site. Customers can report all bugs, which were found in our software. We can solve only the bugs directly related to or caused by our extension. Those bugs must be reproduced on fresh Magento installation without any 3rd party plugins. We will solve that bugs in order of our development plan.
We don't do any type of custom work and we have a right to reject a support request if the issue is store-specific (cannot be reproduced on the fresh Magento installation without any 3rd party plugins).
Mirasvit will not be liable to you for any damages (including any loss of profits/saving, or incidental or consequential) related to our support service caused to you, your information and your business.
Software updates
Mirasvit offers free lifetime updates if they areavaliable. Updates are limited to the Magento version branch (1.x.x or 2.x.x). Customer can download an update and install it by himself. If support period is expired, Mirasvit.com can't solve any possible problems with our software during or after updating. Mirasvit does not guarantee that it will release updates for any product.