GPT AI Assistant & Content Generator for Magento 2
Discover a revolution in content generation with our AI Assistant. This tool is seamlessly integrated with your Magento store, leveraging the power of the ChatGPT AI to generate content for your store.
Generate content for products and categories
Produce blog posts
Respond to customers' tickets
Automate mass content generation
Produce content in any language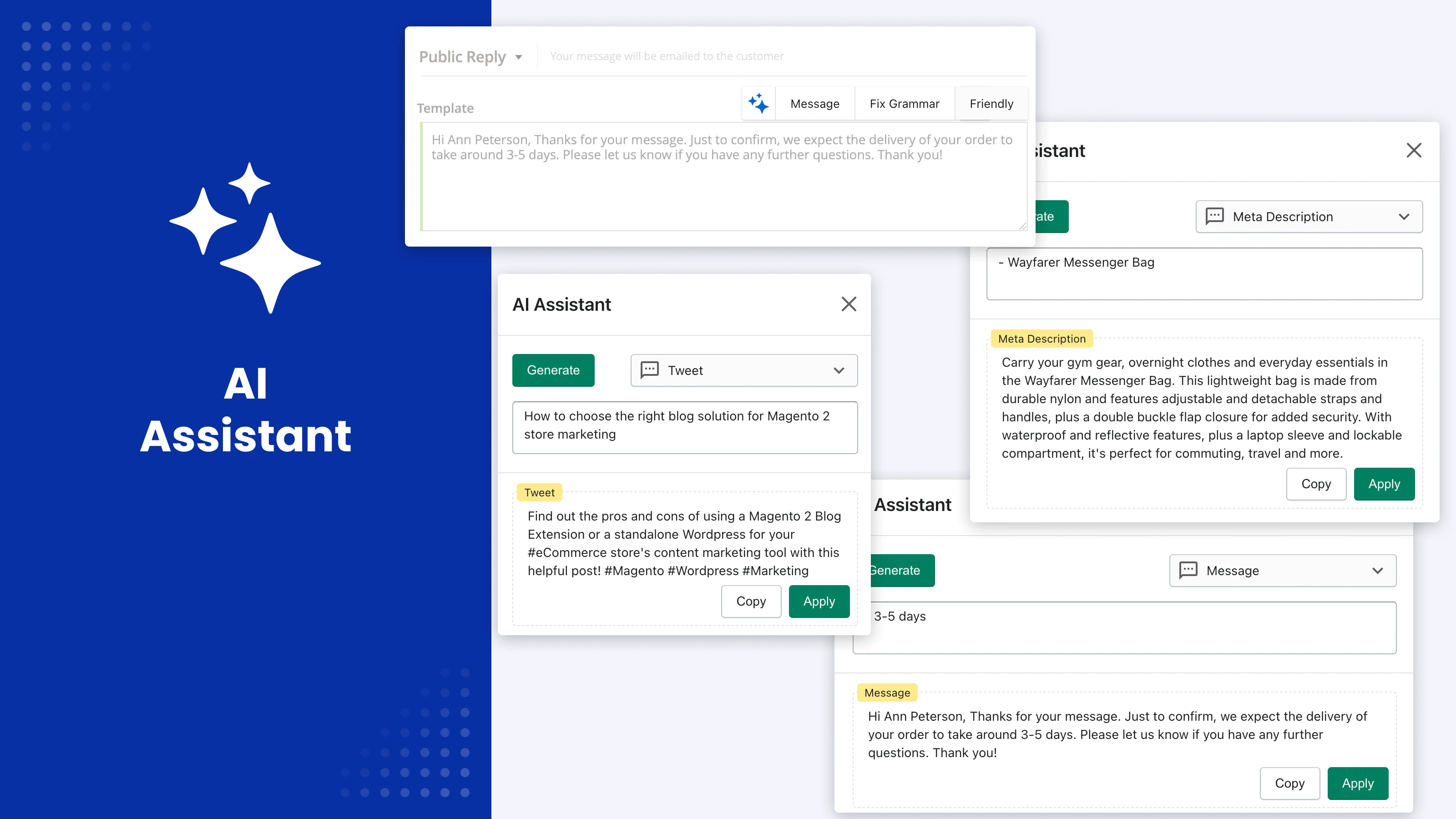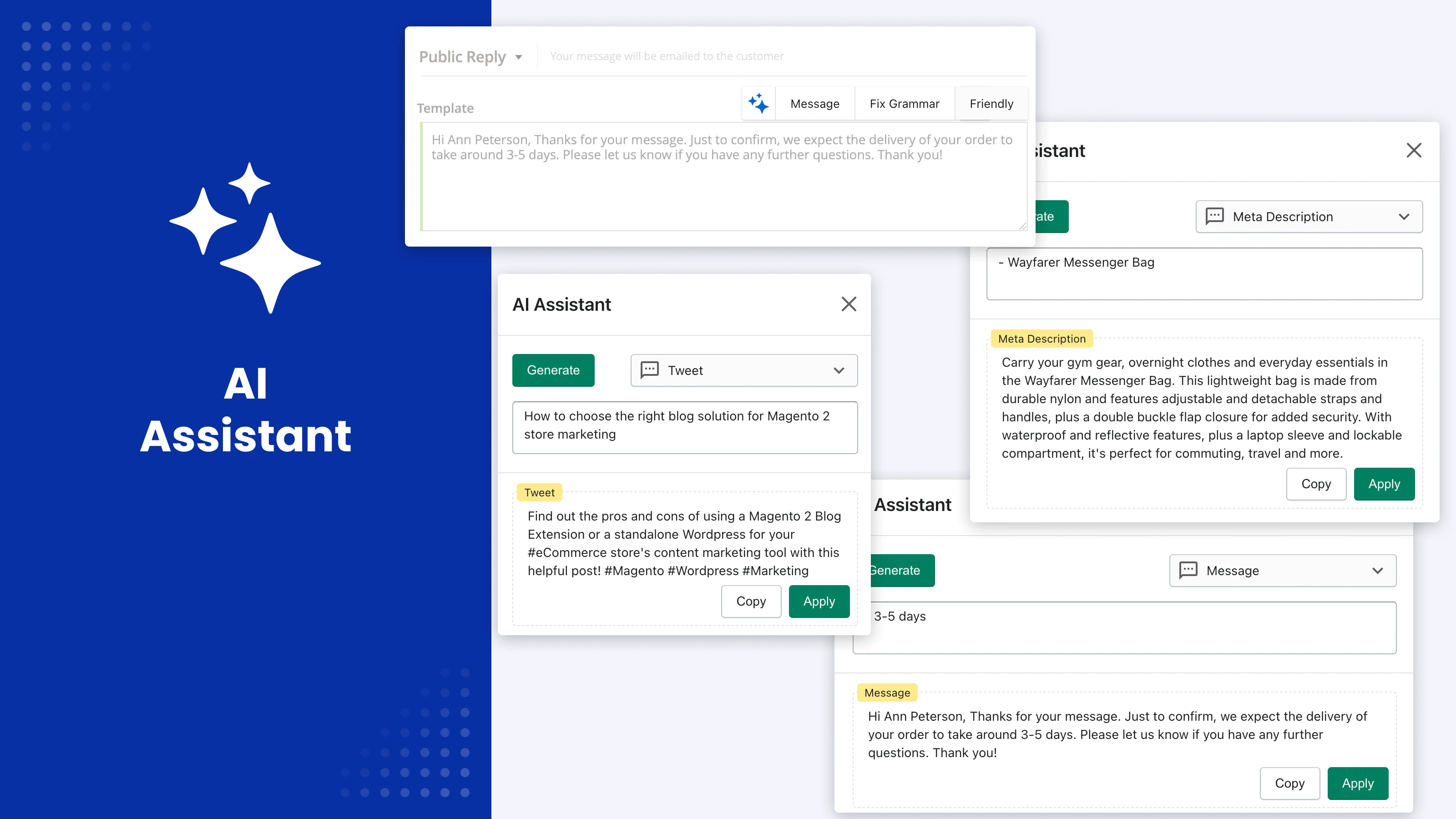 Problem
Creating unique, engaging content is a time-consuming and labor-intensive task. This becomes even more challenging when managing a vast assortment of products or serving a multilingual customer base.
Solution
Our module addresses the tedious task of content creation, offering an automated solution that effortlessly generates product descriptions, meta tags, blog posts, and more, customized to your specific requirements.
Why Choose Our GPT Content Generator?
Reduce content creation time by leveraging the power of ChatGPT
Boost your SEO performance through the automatic generation of meta tags and descriptions for your products or categories
Automate custom tasks such as text generation, translation, and email responses by creating customized prompts
Streamlined Content Generation
Generate product descriptions and meta tags
Our module can auto-generate short and detailed product descriptions, along with meta tags, based on a product's attributes. It offers customization options, allowing users to select the attributes to be used in text generation.
Additionally, it can generate text for product descriptions created via Page Builder, seamlessly integrating with your existing content management process.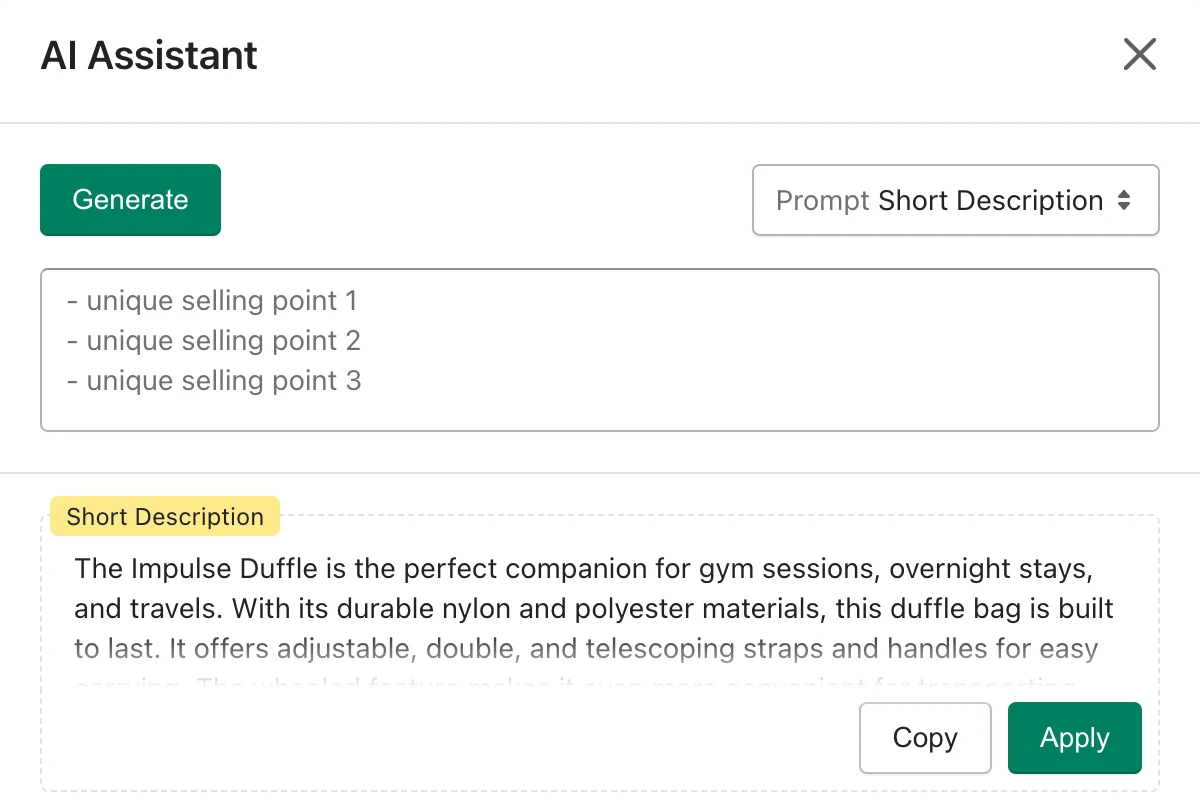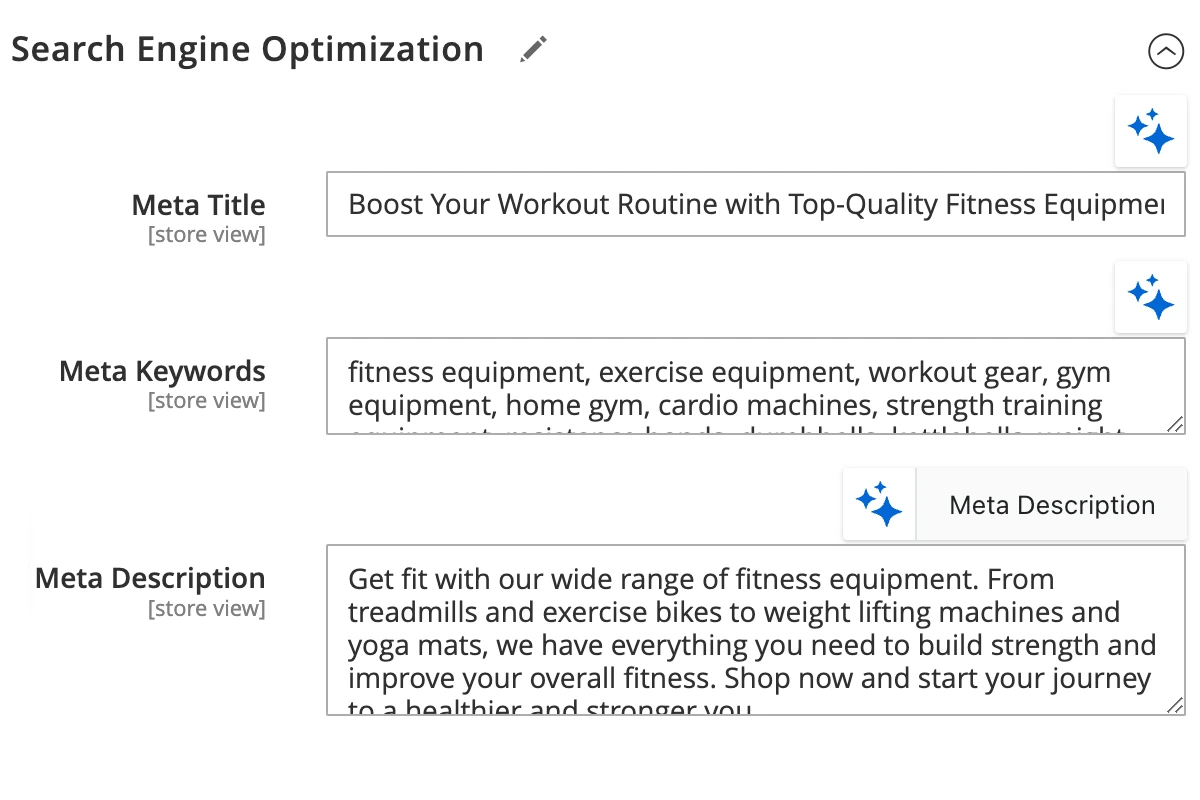 Generate category descriptions and meta tags
The ChatGPT Content Generator module automatically generates descriptions and meta tags for your categories, enhancing the SEO performance of your store by ensuring each category is well-represented and optimized for search engines.
Your category descriptions will be clear, concise, and effectively tailored to boost your online visibility.
Generate meta tags for CMS pages
Enhance the visibility of your CMS pages by generating well-structured, keyword-rich meta tags that boost SEO performance.
Generate Blog Posts Using Magento 2 ChatGPT Extension
Effortlessly produce compelling blog posts, enhancing the efficiency and engagement of your content strategy.
Generate ideas for new posts
Fix grammar, misspellings, and tone for posts
Generate appealing tweets and posts for social media
Our AI module supports Mirasvit Blog MX and 3rd party blog modules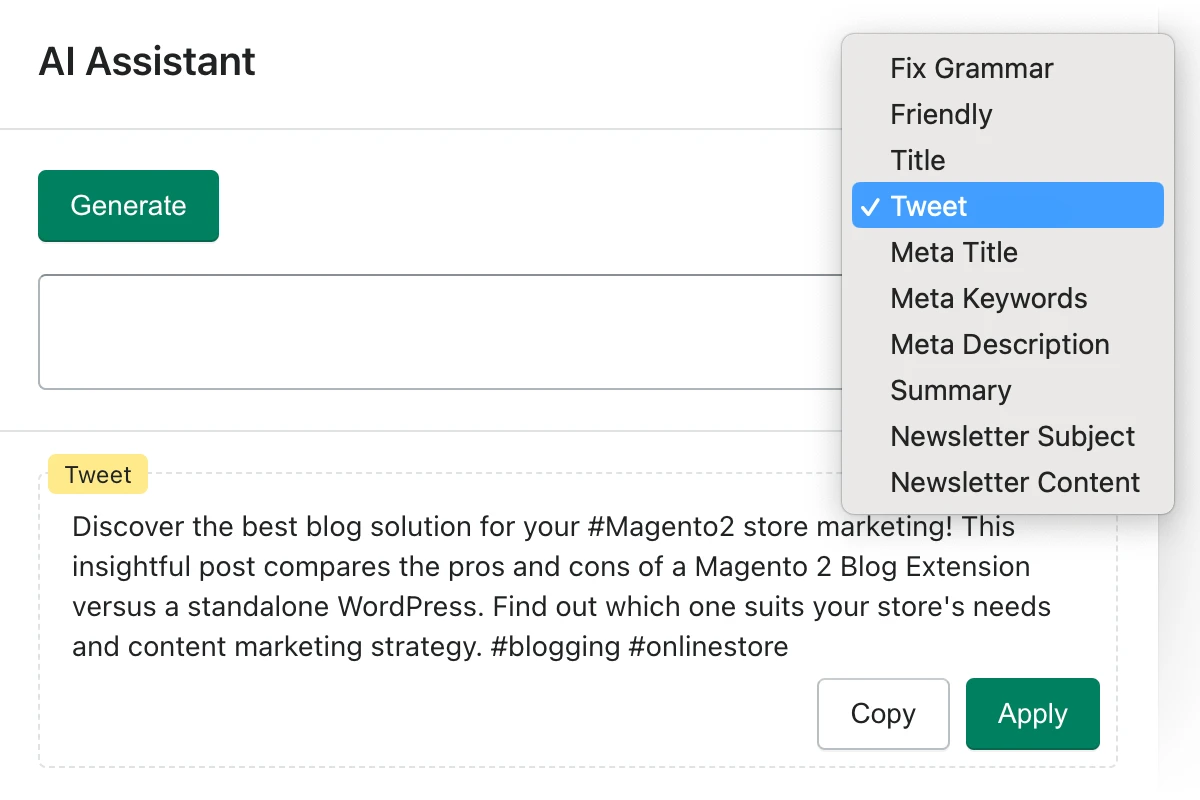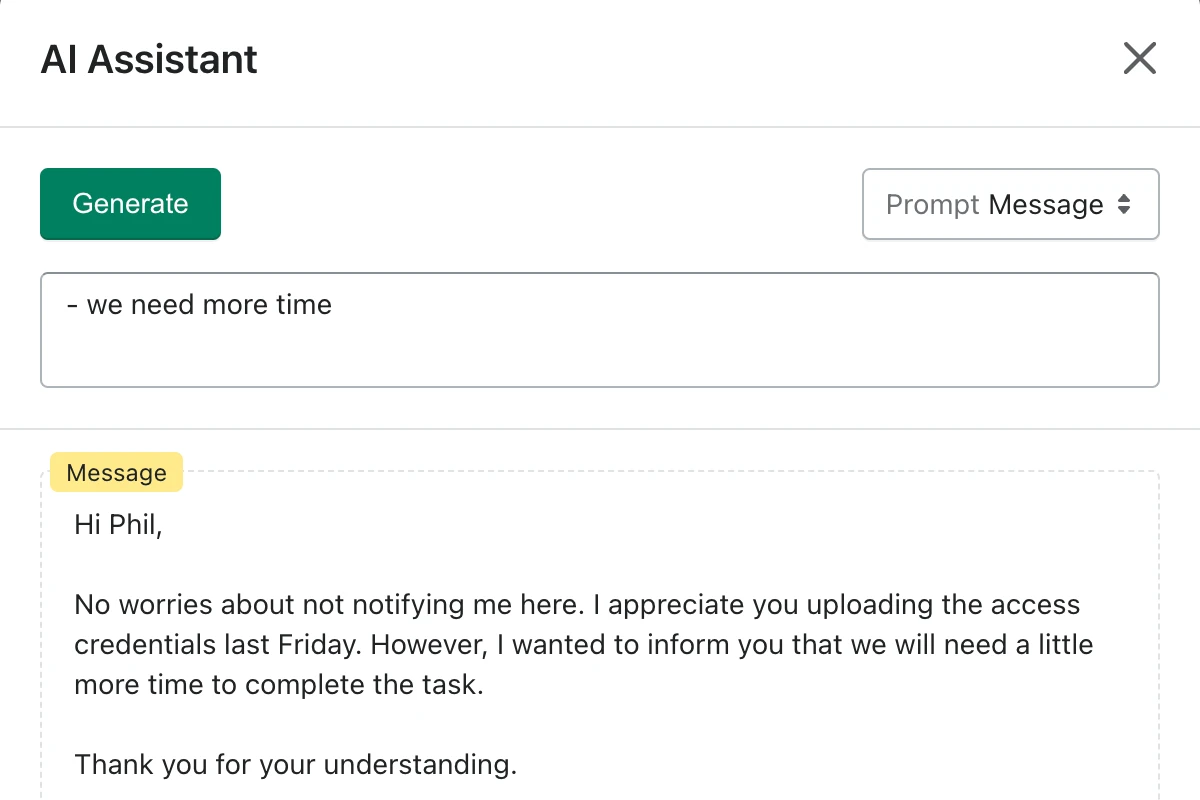 Generate answers to helpdesk tickets
Revolutionize your customer service with AI-powered responses. Our assistant can generate helpful responses to customer queries, saving your team time and improving customer satisfaction. It uses the ticket's previous history and built-in knowledge about your store to provide the most accurate answer to the customer's email.
Create a newsletter
Effortlessly craft email newsletters for your customers. Simply provide a list of key points and watch as the module transforms them into a professionally crafted email newsletter, enabling you to engage more effectively and keep your customers updated with ease.
Automate your own unique tasks
The module is highly customizable. You can use it to solve any routine or repetitive text-creation tasks in your store. Create new prompts and rules, or integrate them with other 3rd-party extensions to optimize your unique business processes.
Automation of Mass Content Generation with Magento AI
Our module can automatically generate content for your store using rules. You simply set up the data you wish to generate for each product and schedule when you want this done, and the process will occur automatically.
Improve SEO by automatically generating meta tags for all new products
Automatically generate descriptions for products and categories
Translate your products and categories into different languages
Generate Content in Any Language
Expand your international reach by generating content in any language supported by OpenAI, turning your store into a truly global marketplace.
Automatic Catalog Translations
By employing workflow rules and prompts, you have the capability to effortlessly translate products and categories within your store into multiple languages.
This process involves automatically translating the content from the base store view and then preserving it within a selected alternative store view. This mechanism streamlines the translation process and ensures that the translated content is accurately saved for the chosen store view.
Customize Prompts in Magento 2 ChatGPT According to Your Needs
Our module comes with 24 predefined prompts for most tasks like content generation, SEO, social media texts, etc. You can expand the module's possibilities by customizing our prompts or adding your own. You can add a text generation or transformation capability to any screen field in your Magento admin panel.
Also, the Magento 2 ChatGPT extension allows you to:
Fully customize the text of prompts.
Choose what attributes of products or categories you want to use for generation.
Choose parameters of API request to OpenAI. For example, you can set a high "temperature" to receive different text variations for the same request, allowing you to select the best one.
Choose what OpenAI model to use. Our extension supports GPT-3, GPT-3.5 (ChatGTP), GPT-4.
Automatically convert the result to HTML, if necessary.
See it in action!
Pick a quick tutorial to learn about various aspects of this extension
We loved the simplicity of generating AI content
This tool has significantly reduced the time and effort we spend on content creation.
Also installed: Advanced Product Feeds, Full Page Cache Warmer, Order Management, RMA, Elastic Search Ultimate, Automatic Related Products, Google Tag Manager and 8 more
Accurate and engaging AI-generated content
The Magento 2 AI Content Generator has helped me with improving my site's SEO and content strategy in so many ways. It's a must-have tool for any Magento 2 user. Highly recommended!
Also installed: Health & Performance Monitoring Suite, Full Page Cache Warmer, Reward Points, Follow Up Email, Advanced Reports, Help Desk MX, Advanced SEO Suite and 26 more
Certainly takes a load of work off me - excellent
While i found it quite hard to define the prompts after a lot of trial and error I managed to get the chatgpt to respond into the fields exactly what I wanted with little editing required.
I like that you can limit the information given to chatgpt by just telling it which attributes it is allowed to use.
I also like the way you can actually have multiple prompts for the same field. So If you already like the content rather than generate completely new conent you could have a second prompt that would simply refine/improve what you had before.
Also installed: Reward Points, Full Page Cache Warmer
Good but would love upgrade to GPT4
EV
Verified Buyer
Bergschenhoek, Netherlands
Usefull, well build and perfect fast updates as usual from Mirasvit.
Also installed: Follow Up Email, Advanced SEO Suite, Help Desk MX, Advanced Product Feeds, Elastic Search Ultimate, Reward Points, RMA and 12 more
I did extensive research before buying this extension. This one is the best: it can generate AI content for different fields, such as meta description and short description. More importantly, it can generate content more multiple products. This is very useful when you have more than 1K products!
Also installed: Reward Points
Manual & Support
Need more help?
Save time by starting your support request online and we'll connect you to an expert.
Contact Us Now
Changelog
Version
1.3.9
Oct 30, 2023
Fixed the issue with saving alt for product images per store (automation rules)
Version
1.3.8
Oct 27, 2023
Fixed the issue with the generated product image alt attribute not being saved (prompt)
Version
1.3.7
Oct 18, 2023
Ability to generate Products images' ALT attributes automatically (automation rules)
Added context for Mirasvit Knowledge Base Categories and Articles
Version
1.3.5
Sep 28, 2023
Fixed the conflict with Mirasvit_Kb (Categories)
Reasons to choose Mirasvit
Client focusing and satisfaction
These are our primary. A major portion of our new clients come from referrals from our existing clients. Our professional team of developers, marketers and support staff have invested the best knowledge and experience in the field into our work, so you know you can come back to us again and again.
Remarkable support
One year free and high quality support. We go to great lengths to provide maximum satisfaction with every module you have purchased in our store. By helping you with installation, configuration, answering your every question, we do all our best to eliminate any possible problems.
Risk-free Investment
30-days money back guarantee. If you are not satisfied with our Magento 2 ChatGPT Extension performance for any reason, we provide a full refund.
Constant improvements and upgrades
We constantly add new features to all our modules, and are always interested in hearing your opinion and implementing your suggested features in our future developments.
Comprehensive Documentation
We provide an expanded user guide for every aspect of our Magento AI extension, so you can find answers for all your burning questions.
Unencrypted source code of our products
You can customize Magento 2 AI according to your needs and requirements.
Usability and Performance
The Module is easy to install and upgrade, just follow our step-by-step user guide.
Ready for Magento Cloud
No core modifications. The ChatGPT for Magento has been tested in a Magento Cloud environment and is fully compatible with it.