GPT AI Assistant & Content Generator for Magento 2
AI Assistant integrates your Magento store with GPT3/ChatGPT, allowing you to leverage the latest AI technology advances in your business.
Quickly and easily generate content for your store
Speed up your customer support process
Apply the power of GPT3/ChatGPT for your own tasks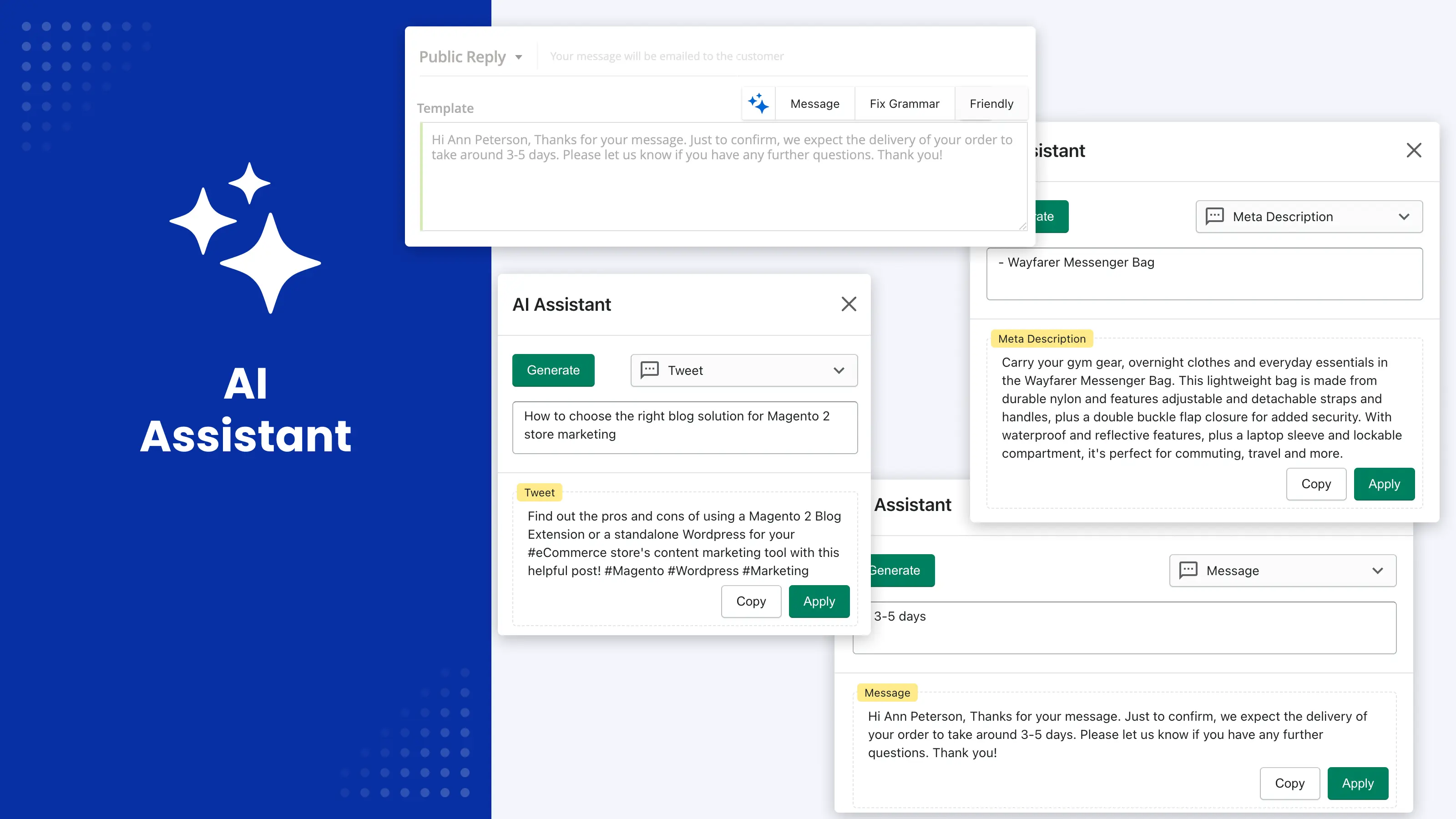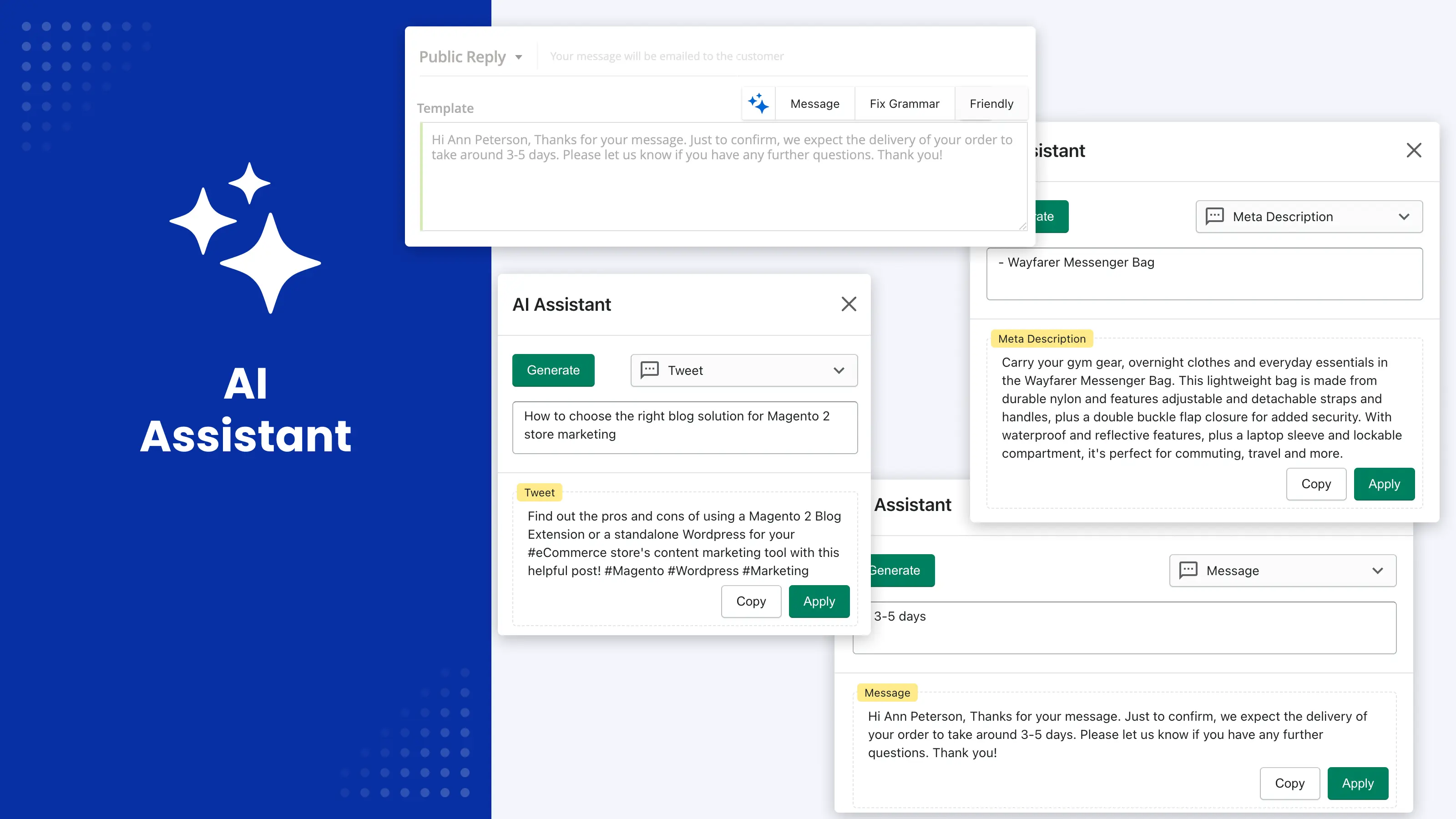 Use the power of AI in your business
AI Assistant is a powerful AI-powered extension for Magento 2 which integrate your store with GPT3/ChatGPT.
AI Assistant provides a comprehensive suite of features that allow you to improve efficiency in different areas of your business.
Customer Support
AI Assistant can improve the efficiency of your support team.
It is integrated with Help Desk MX and can generate responses to customer messages by using just a few guiding keywords or phrases, transform replies to more polite forms, or create drafts based on templates.
Catalog Management
Our extension can generate product short and long descriptions, rewrite existing product descriptions, and generate meta tags for products.
Moreover, you can add your own prompts to solve various tasks such as content translation, grammar correction, content expansion, summarizing for a short description, and more.
Blogging and Social Media
The module can generate ideas for new posts, it can also fix grammar, misspellings, and tone for blog posts.
Magento 2 GPT extension can generate nice tweets and posts for social media.
Email Newsletter
Effortlessly create email newsletters for your customers. Just give our module a list of key points and get a professionally written email newsletter.
Your own unique tasks
The module is highly customizable. You can create your own prompts for various unique tasks in your Magento store. Or just tune existing prompts for your specific requirements.
With AI Assistant, you can save time, money, and effort on content creation and optimization. It will help you get the most out of your store and ensure your customers have a seamless experience.
Get an AI Assistant today and take your store to the next level!
Compatibility
AI Assistant works with all Mirasvit modules out of the box and any third-party module with additional configuration.
See it in action!
Pick a quick tutorial to learn about various aspects of this extension
Good but would love upgrade to GPT4
EV
Verified Buyer
Bergschenhoek, Netherlands
Usefull, well build and perfect fast updates as usual from Mirasvit.
CW
Verified Buyer
United States
I did extensive research before buying this extension. This one is the best: it can generate AI content for different fields, such as meta description and short description. More importantly, it can generate content more multiple products. This is very useful when you have more than 1K products!
Great extension with lots of potential
Jerry
Verified Buyer
Walnut, United States
It's a great extension if you need tools to fill in the missing SEO content on your web site. It's a new extension and the Mirasvit is updating this and fixing and enhancing the functionality with great support and efficiency. Highly Recommend!
Faisal
Verified Buyer
Bahrain
This extension is really amazing. It helps ease the backend management and automation for us
Dan
Verified Buyer
United States
This extension keeps updating very fast and is useful for creating content.
MaxQDesigns
Verified Buyer
Melbourne, United States
Writing meta descriptions and descriptions can get a bit tedious, particularly if you have a lot of products to create or update. We purchased this for one of our sites and immediately started saving time and it's really easy to use.
Just click on the assistant and it generates content, you may need to tweak it a little but overall it as good to use right away. We're buying this for our other sites as we've got a lot of new products being added and this will save us a lot of time and this should help the products rank better.
Manual & Support
Need more help?
Save time by starting your support request online and we'll connect you to an expert.
Contact Us Now
Changelog
Version
1.1.10
May 31, 2023
Version
1.1.9
May 16, 2023
Fixed the issue with incorrect Assistant API URL (Magento < 2.4.4)
Version
1.1.8
Apr 27, 2023
Logging for automation rules
Issue with creating new CMS page
Cron issue
Version
1.1.7
Apr 25, 2023
Prevent executing multiple apply-rule commands for the same rule at the same time
Properly retrieve product data per storeview (multistore)
Version
1.1.6
Apr 21, 2023
Fixed the issue with analyzing partial select inside WYSIWYG editor
Reasons to choose Mirasvit
Client focusing and satisfaction
These are our primary. A major portion of our new clients come from referrals from our existing clients. Our professional team of developers, marketers and support staff have invested the best knowledge and experience in the field into our work, so you know you can come back to us again and again.
Remarkable support
One year free and high quality support. We go to great lengths to provide maximum satisfaction with every module you have purchased in our store. By helping you with installation, configuration, answering your every question, we do all our best to eliminate any possible problems.
Risk-free Investment
30-days money back guarantee. If you are not satisfied with our extension's performance for any reason, we provide a full refund.
Constant improvements and upgrades
We constantly add new features to all our modules, and are always interested in hearing your opinion and implementing your suggested features in our future developments.
Comprehensive Documentation
We provide an expanded user guide for every aspect of our extension, so you can find answers for all your burning questions.
Unencrypted source code of our products
You can customize extensions according to your needs and requirements.
Usability and Performance
The Module is easy to install and upgrade, just follow our step-by-step user guide.
Safe Magento updates
No core modifications. Just use the composer or copy the extension's files to the root directory of your store.