Inventory Planner for Magento 2
This extension automatically estimates when and how many products you need to restock, while also detecting the presence of overstocked goods. It's perfect for anyone looking to optimize their product supply.
You won't need to configure or calculate anything yourself. The extension is so smart, it'll make predictions by itself!
Optimize how you plan your stock
Schedule inventory replenishments with confidence
Identify overstocked products
Get to work immediately after installation
Gain insights quickly, no matter the product count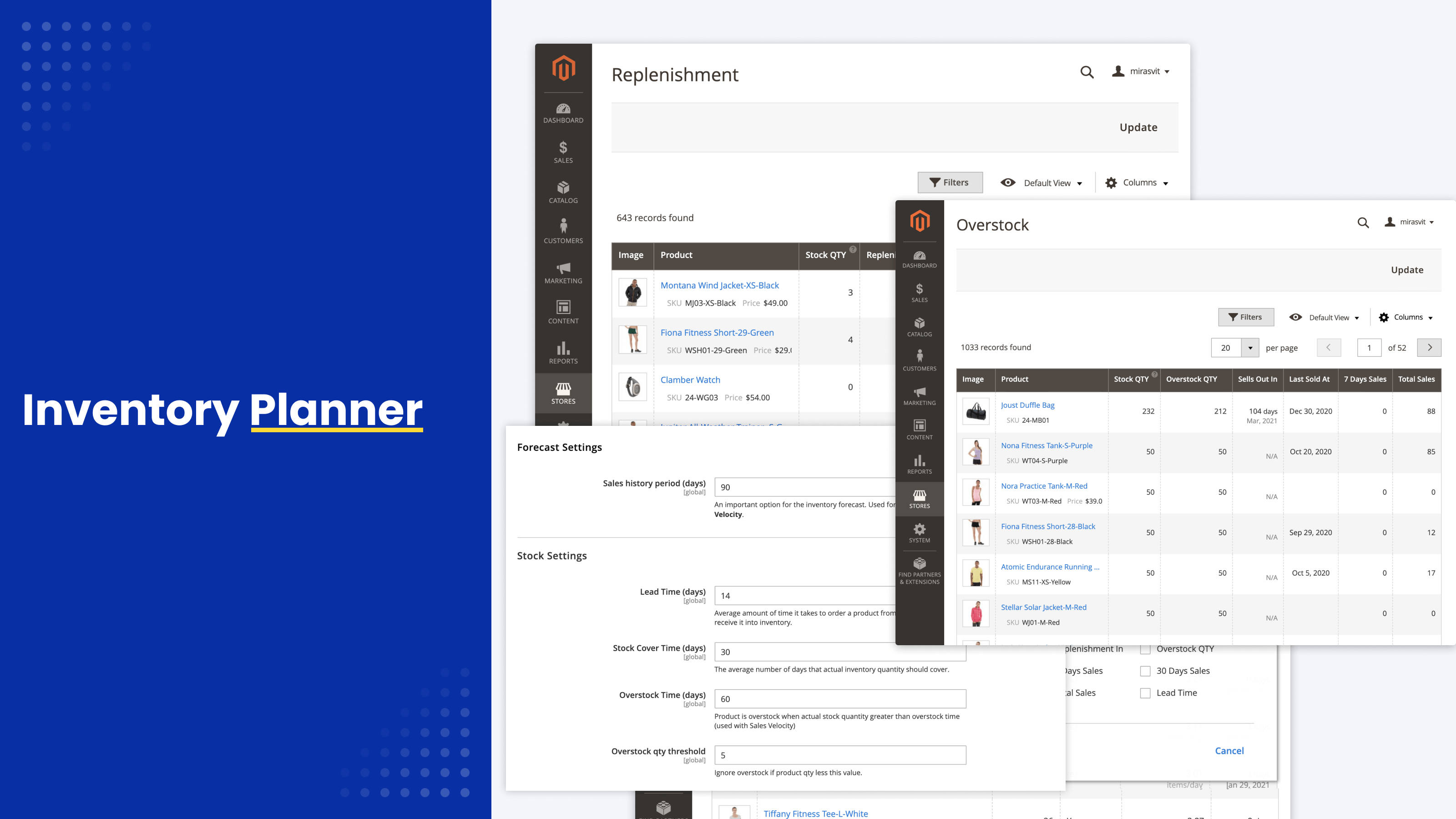 1/4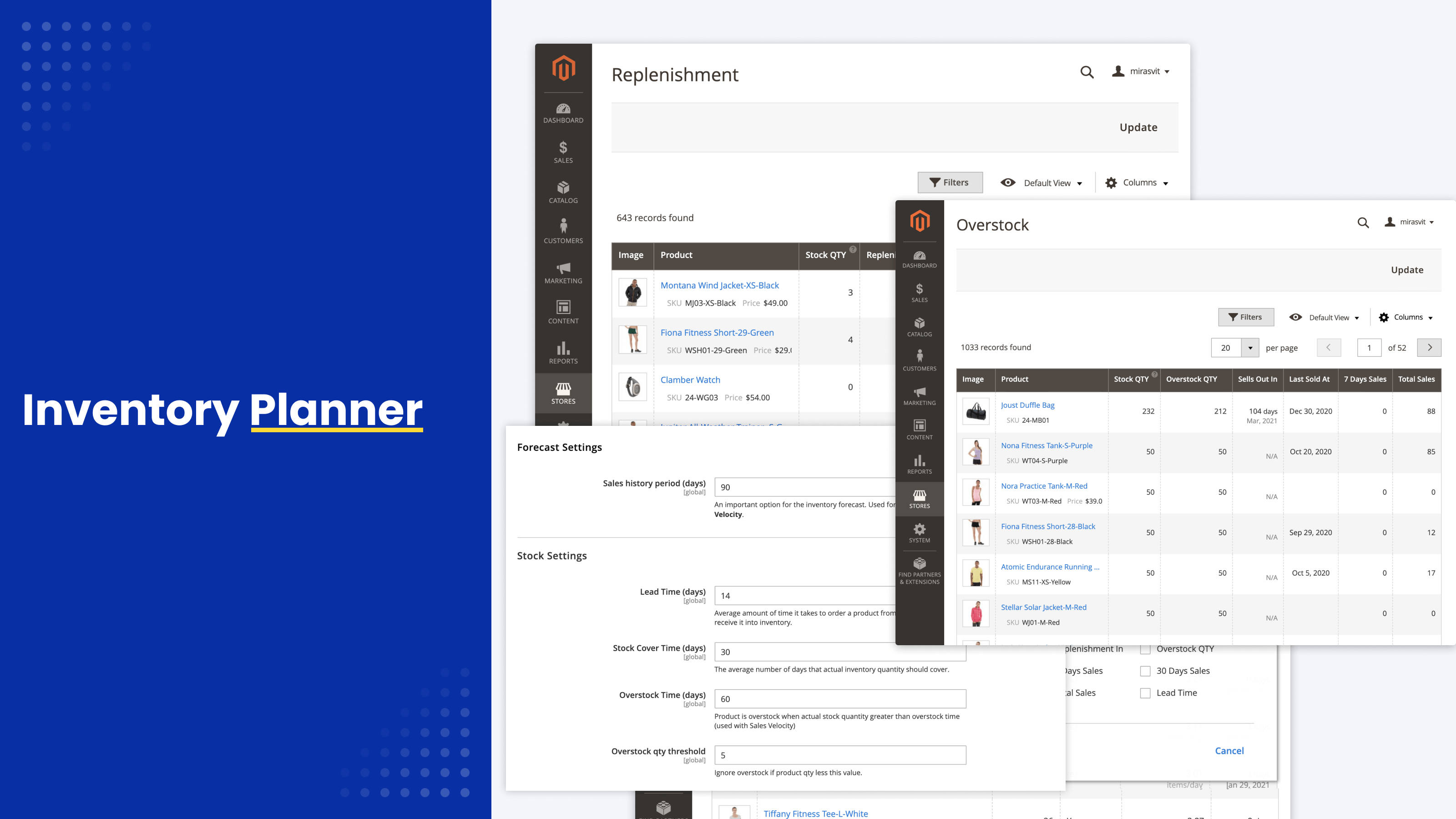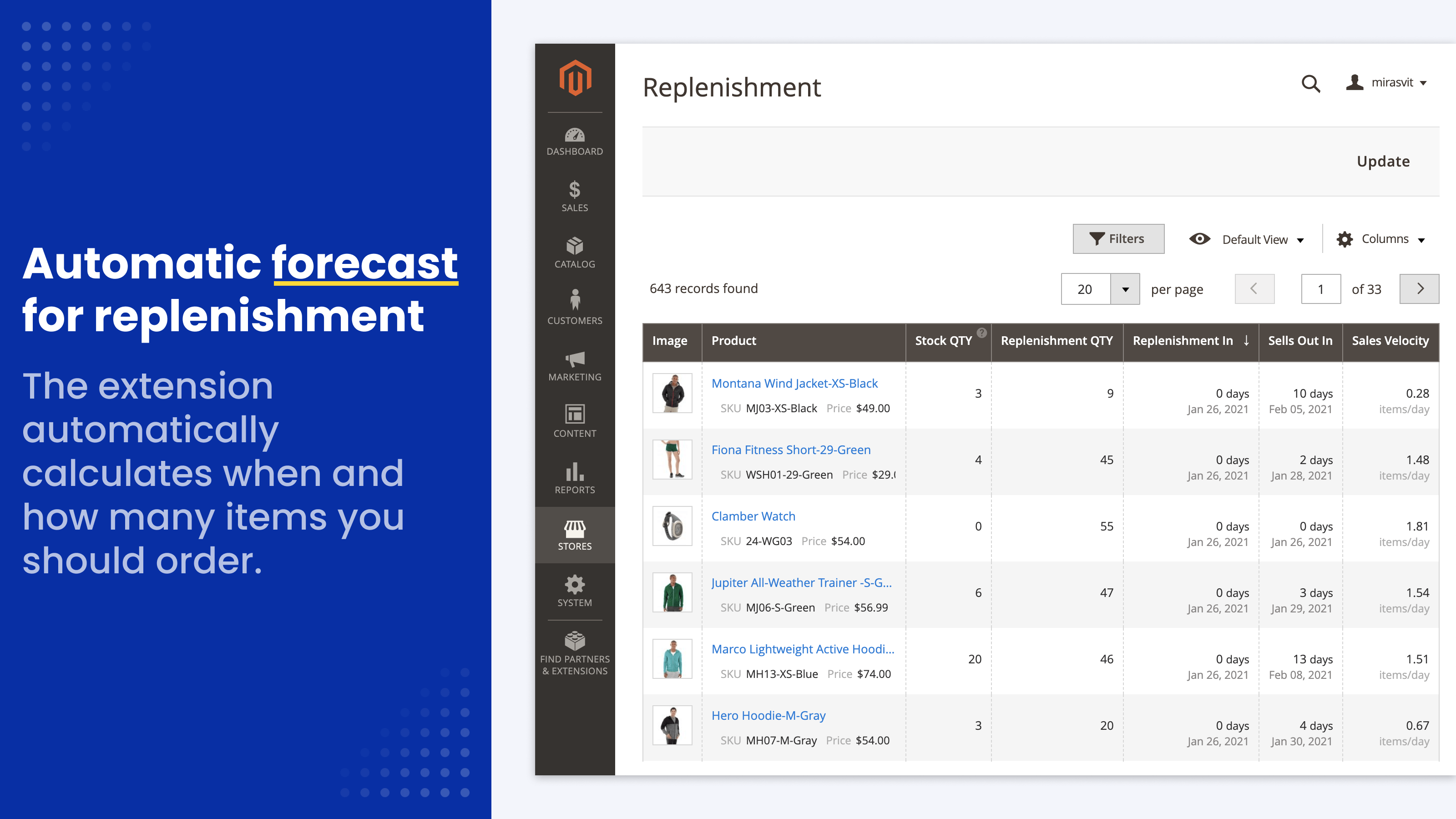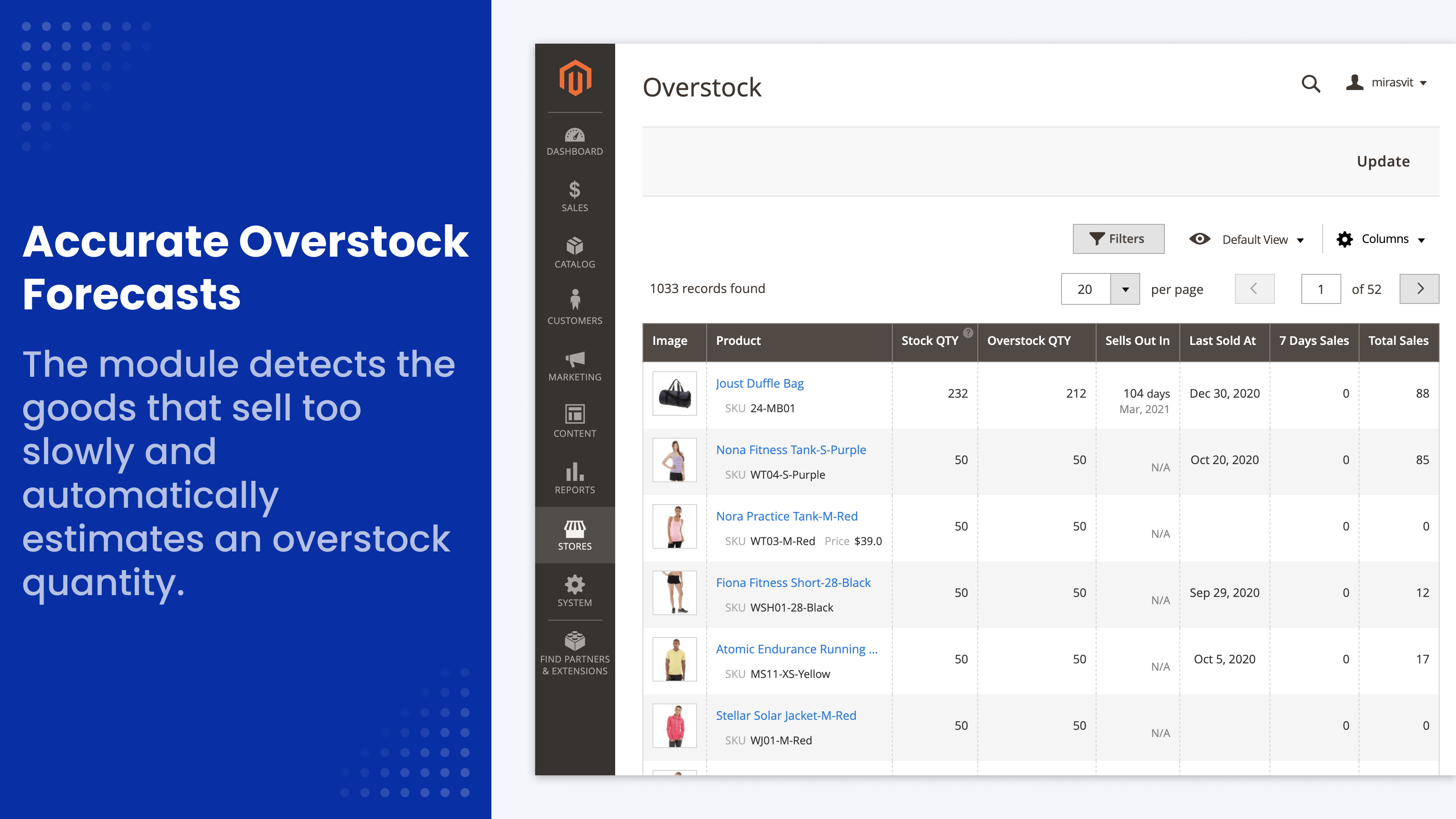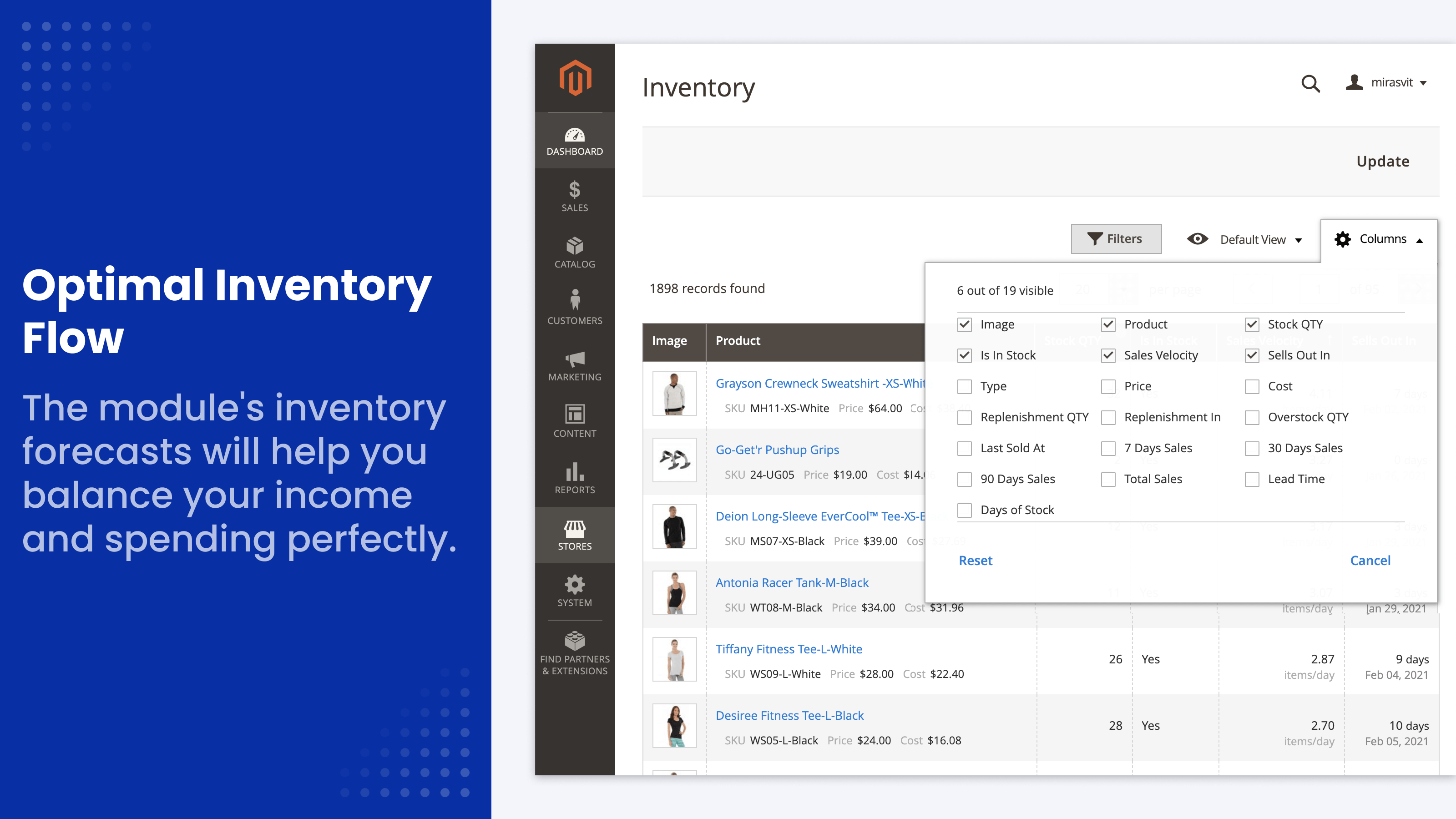 Feature Highlights
Business Value
Save money, save space, and save time!
Opportunity: You need to take extra care when planning your inventory supply. Purchasing just enough of a product so that you neither overstock nor sell out prematurely helps you maximize profits and leverage your warehouse space.
Problem: You can't plan out your inventory in Magento by default. You have to use either a dedicated spreadsheet or external platforms. Both of these options take too much time to set up and manage.
Solution: The Inventory Planner module automatically calculates inventory forecasts. With this extension, you'll always know which products, when, and how many you should replenish as well as which products currently have surplus items.
How It Works
The extension estimates the replenishment date and quantity for your products. The values are dependent on sales velocity, stock quantity, expected sold out date, expected reserve, and average replenishment time. It also estimates the overstock quantity for underselling products based on their sales velocity and stock quantity.
Not only is the Inventory Planner fully integrated with Magento but it also fetches all relevant data automatically. You won't need to configure anything on your own.
Incredible Efficiency
Optimal Inventory Flow
Elaborate Replenishment Plans
Accurate Overstock Forecasts
Saved Time
Maximize the efficiency of your stock
The module's inventory forecasts will help you achieve perfect balance between your income and spending. They'll also assist you in using your storage space as efficiently as possible.
Resupply just enough at just the right time
The extension automatically calculates when and how many items you should order: just prepare your invoices! You'll save money and prevent backorders at the same time.
Find what ties up your money
The module detects goods that sell too slowly and automatically estimates an overstock quantity. You'll know to promote these products heavier and order fewer of them in the future.
Free your team from remedial routines
Automatic inventory planning will save everyone in charge of inventory management an immesurable amount of time. You'll be able to put the resources you freed from remedial work to more strategically important tasks, like business development.
Valuable Insights
Make informed decisions
The module doesn't just give you recommendations on what to do. It also provides information that helps you eliminate any uncertainty regarding your supplies. You can use the Inventory Planner to review:
Stock quantity
Overstock quantity
Days until selling out
Sales velocity
Last sale date
Sales in the last 7/30/90 days
Total sales
Price
Cost
Stock status
Replenishment quantity
Replenishment date
Lead time
Days of stock
Excellent Usability
Automatic Configuration
Full Magento Integration
Real-time Updates
Excellent Performance
Start working right away
There's no need to add variables manually or reconfigure the module for your particular use case. Inventory Planner will make the forecasts on its own straight after the installation.
Plan and manage your inventory in a single place
With this extension, you won't need to use any external platforms. It only requires your Magento data, and it displays all the recommendations right in your backend.
Forget about data lag
The Inventory Planner updates its predictions right after the inventory data changes. You'll always receive the most up-to-date recommendations.
No need to wait
The module works quickly regardless of how many products you have in your store. Even a million SKUs won't be a problem!
Get the module and perfect your inventory flow!
See it in action!
Pick a quick tutorial to learn about various aspects of this extension
Excellent Product for Tracking Your Supply Chain
Dave
from Orting, United States
Unique and very useful module that helps us track our product life-cycle and supply chain needs. A must have in my book!
Manual & Support
Need more help?
Save time by starting your support request online and we'll connect you to an expert.
Contact Us Now
Reasons to choose Mirasvit
Client focusing and satisfaction
These are our primary. A major portion of our new clients come from referrals from our existing clients. Our professional team of developers, marketers and support staff have invested the best knowledge and experience in the field into our work, so you know you can come back to us again and again.
Remarkable support
90-days free and high quality support. We go to great lengths to provide maximum satisfaction with every module you have purchased in our store. By helping you with installation, configuration, answering your every question, we do all our best to eliminate any possible problems.
Risk-free Investment
30-days money back guarantee. If you are not satisfied with our extension's performance for any reason, we provide a full refund.
Constant improvements and upgrades
We provide you with lifetime free updates. We constantly add new features to all our modules, and are always interested in hearing your opinion and implementing your suggested features in our future developments.
Comprehensive Documentation
We provide an expanded user guide for every aspect of our extension, so you can find answers for all your burning questions.
Unencrypted source code of our products
You can customize extensions according to your needs and requirements.
Usability and Performance
The Module is easy to install and upgrade, just follow our step-by-step user guide.
Safe Magento updates
No core modifications. Just use the composer or copy the extension's files to the root directory of your store.