Feed is a file containing key information about all the products in your store. It uploads the information to the price comparison engines and the price comparison engines display your products in a lists of offers to purchase. How relevant your deal will be presented on the price comparison engines, will depend on how correctly the feed is created.
The Advanced Product Feeds extension has more than 20 configurations ready to create a product feed for all key price comparison engines. It will allow you to begin representing your products on price comparison engines very quickly.
The advanced feed manager supports various formats, has large-scale opportunities for filtering the uploaded products, and supports the creation of dynamic attributes and category mapping.
Generation of feeds occurs very quickly. At that, a generation process is divided into few smaller processes. Due to that generation of feeds, even 200000 products will be done without any problems.
Key features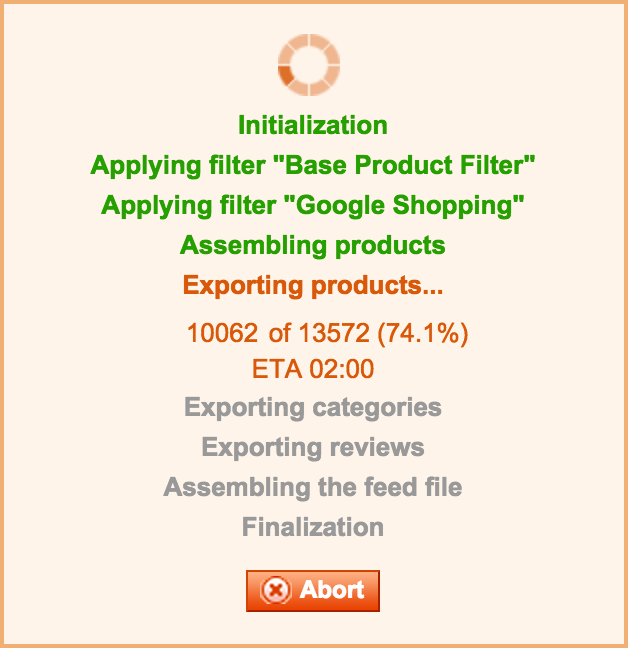 More than 20 ready configurations for all popular price comparison engines

Convenient and flexible mechanism for filtering products (filters based on attributes and performance filters)

Supporting formats: csv, txt, xml, zip

Email notifications

Comprehensive Analytics

Support multiple stores and multiple languages
Feed Management
Opportunity to create feeds for any price comparison engine

Opportunity to export different data and prices for each feed or store

Opportunity to access a feed file by a permanent link

Supports Google Analytics

Uses a campaign tracking code to tag the destination URL of each product. This way, traffic from a comparison engine will be reported in the "Traffic Sources > Campaigns" report

Email notifications

Ability to notify through email about generation status (success or fail), number of exported products and time of generation

Powerful filters

Ability to use case conditions and assign few filters to one feed. Filtering allowed by:

any attribute value
price
stock status / quantity
category
attribute set
product type
any attribute value of parent product

New

Comprehensive Analytics

Number of clicks, revenue, conversation rate per each magento data feed

Dynamic Attributes

Dynamic Attributes allows you to use your own conditions to define or change the exported value

Convenient interface for mapping the attributes, with an opportunity to indicate the type of displayed values

Category Mapping Must Have

Easy to use interface allows you to tie current category taxonomy with the taxonomy of any price comparison engine

Export only new products

Ability to export products that are not included in a previous feed

Performance filters

by number of clicks
by number of orders
by revenue
by conversation rate (%)
Managing generation and submission
Opportunity to automatically generate the feeds according to schedule

Opportunity to automatically upload the feeds according to schedule

Opportunity to send the feeds through FTP/SFTP

Opportunity to enable / disable the passive mode
Templates