Sales analytics is applied in order to determine, understand and predict sales trends. It helps to find the ways to improve sales. Good analytics is required for successful sales management.
The Advanced Reports extension provides tools of choice, which ensure timely conduct of versatile analysis of your sales.
The following reports are available:
Sales or so-called general magento sales report.

It allows to see the net sales, discounts, returns etc.

The use of such a tool will enable you to group data by days, weeks, months, years.

Also with magento report extension, you can compare the aforementioned data with similar period from the past.

Sales report by hour of day, which is hourly sales report.

You can detect the hours during of which personnel of your shop is overloaded at the maximum extent. This will allow you to plan the working hours as well as perform possible updates in your shop.

Sales report by day of week, which is weekly sales report.

Sales report by customer group, which is the sales report generated over different user groups.

Using such tool, you can determine the efficiency extent of your work with different user groups.
Sales report by country, which is the report that reflects sales volumes in different countries achieved during definite period of time.

Sales report by state, Sales report by city

Sales report by payment method allows you to define the popularity extent of different payment methods.

Sales report by coupon is the report, which allows you to gain knowledge regarding which coupons are the most favorable in terms of sales volume, and which ones should be elaborated in a better way.

New vs Returning customers is the report, which allows you to make a comparative analysis of new customers (first order) with returning customers (two or more orders) by sales.

Sales report by customer report shows the total sales, number of orders to each customer.

Sales report by category is a complete sales magento report by category tree.

Sales report by Geo-data New - unique report, which based on zip codes from shipping address.

Bestsellers provides information regarding the best-selling products, which can be sorted on amount of sold products, sales volume, discount etc.

Additionally you can group products by parent product (for configurable, grouped and bundled products)

Sales by product attributes (by manufacturer, brands, colours etc.) is the unique report of a kind, allows to derive grouped data on any attribute of a product of interest.

For instance, you can get information with regard to sales on each brand, category, colour or supplier.

Report allows to locate the most perspective types of the products in order to expand further their range.

Sales by product attribute set

Low stock report

Report by product reviews

Average Shipping Time report
Useful Features:
ability to compare data with previous periods.
ability to filter by store view.
ability to order and filter reports by any column.
ability to export reports to CSV, MS Excel.
ability to export charts to JPEG, PNG, GIF.
Advanced Dashboard
Apart from systematic analysis, it is very important to have all the key indices in hand. In such case, one will be always able to instantly access them and check how well set goals regarding the sales are being achieved.
The Advanced Reports module allows to place widgets with all the key metrics in the dashboard of your store. Versatile widgets will help you to trace your sales performance in a real-time mode.
The types of widgets are available as follows:
sales metrics (revenue, discounts, shipping, tax, number of orders etc.)

sales chart (number of orders, number of ordered products, revenue)

list of latest orders

list of latest search terms

list of popular search terms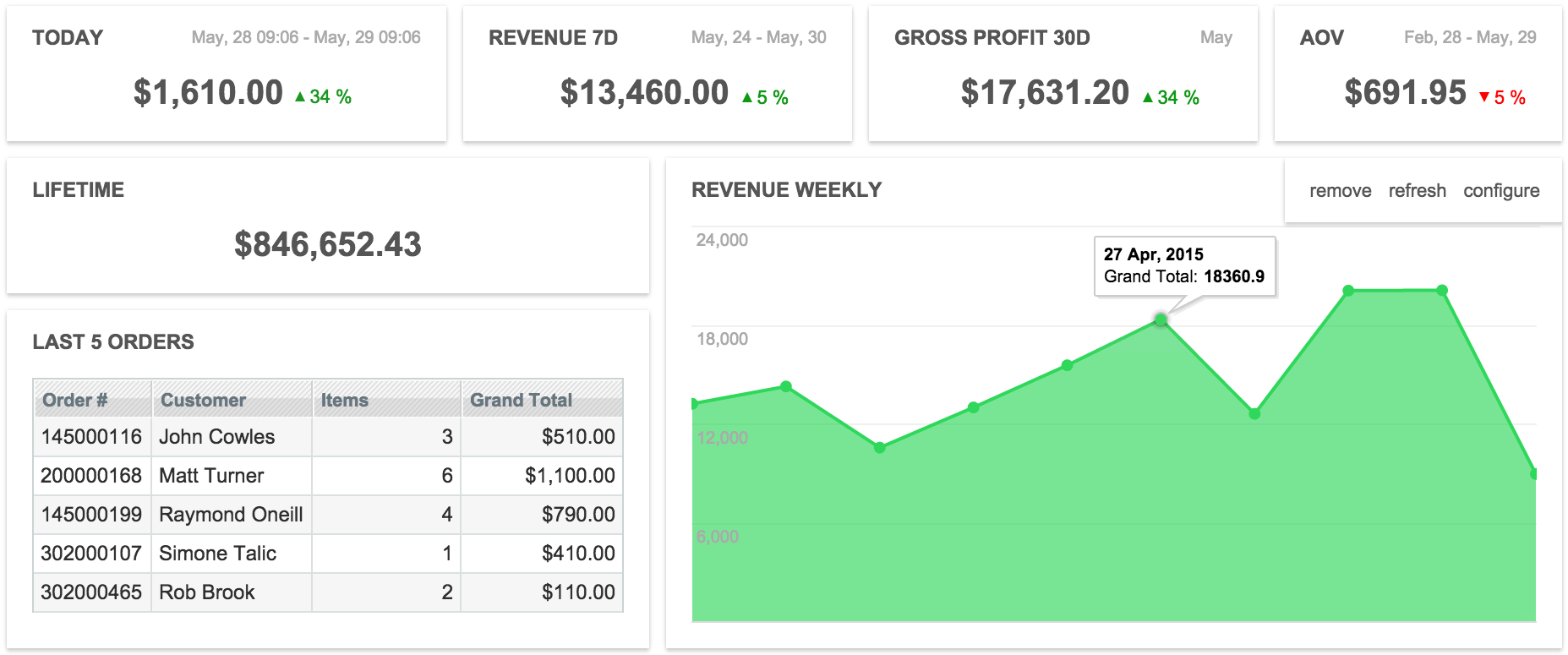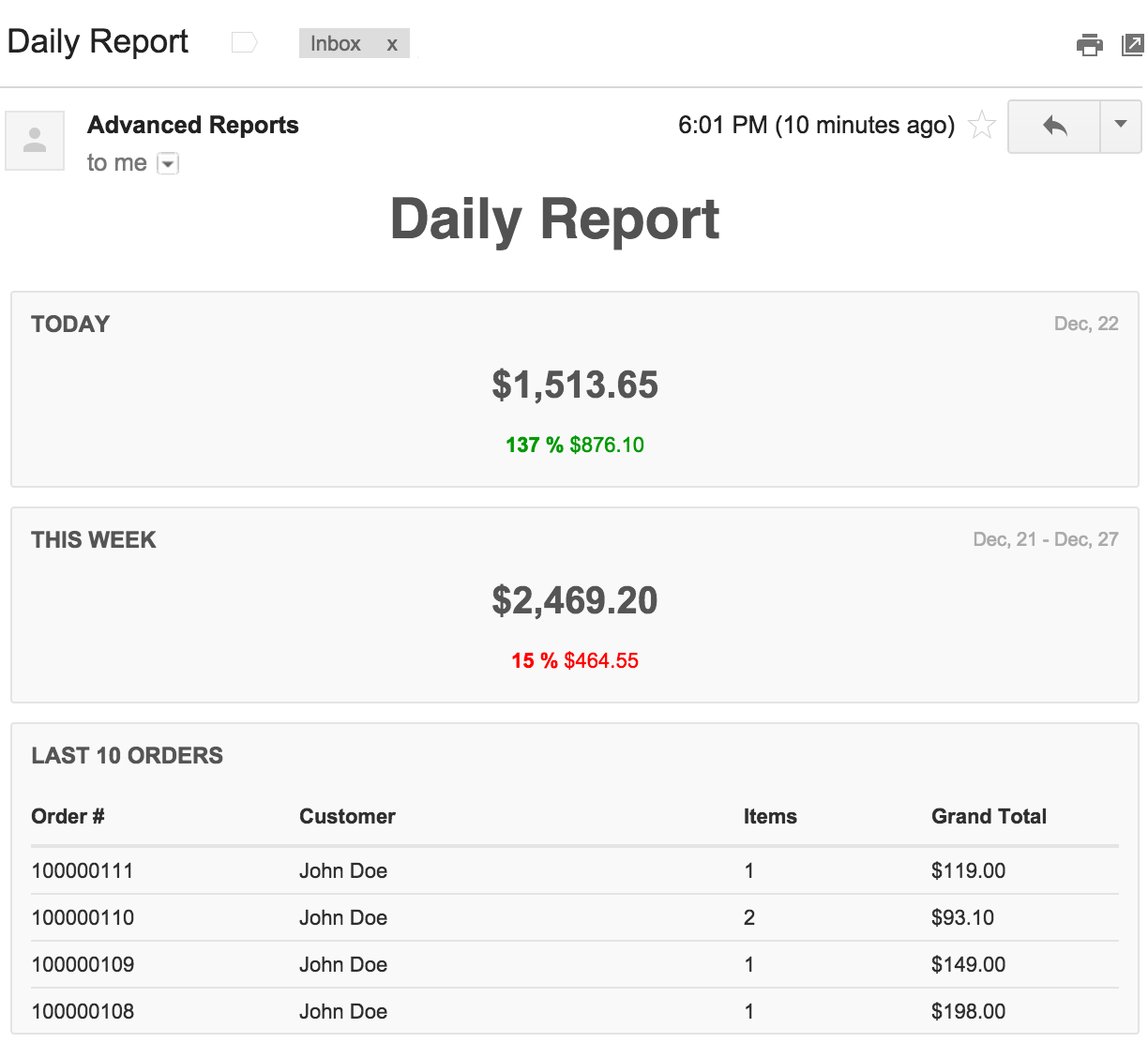 For each widget, you will be able to select period for the date choice such as today, last 24h, yesterday, current week, last 7 days, current month, last 30 days, current year, lifetime etc
You can move widgets and change their size in order to locate them in the best possible way.
Additionally you can send a reports via email by schedule.
The Advanced Reports will collect all the necessary sales data in the one place. You will be able to better understand your current results and find ways to improve performance of your sales and marketing.