Google Analytics
In Google Analytics you will need to add some extra code to activate eCommerce transaction tracking or sales funnel, so you'll need a developer. But even a developer won't be able to add canceled orders tracking. Here's why GA gives you a bit inaccurate data.
Nevertheless, Google introduced quite informative report a while ago: User Explorer.
"The User Explorer report lets you isolate and examine individual rather than aggregate user behavior. Individual user behavior is associated with either Client-ID or User-ID.
Understanding aggregate behavior is important when you're managing large efforts, for example, campaigns that target large geographic areas. Understanding individual behavior is important when you want to personalize the user experience, or when you need to gain insight into or troubleshoot a specific user experience: for example if you want to analyze the behavior of a user who has an unusually high average order value or see where a user ran into trouble with placing an order." (support.google.com)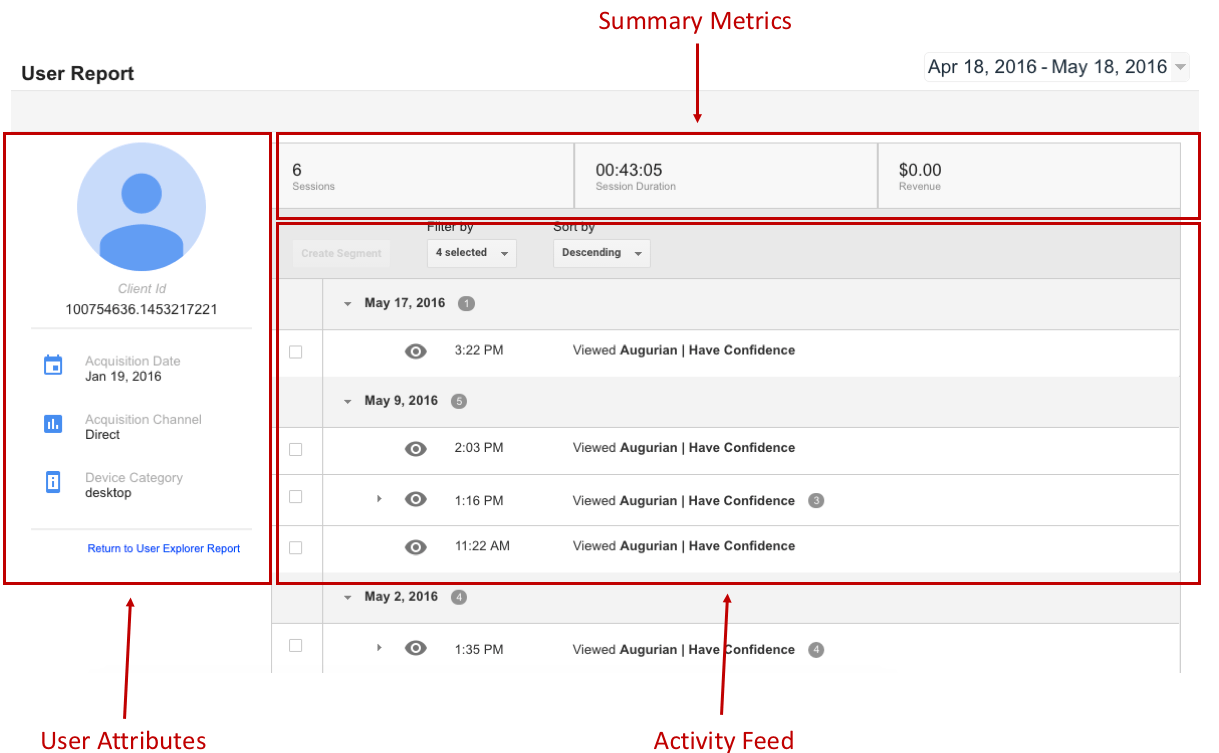 Kissmetrics
Kissmetrics suggests ready-made funnel feature and other quite interesting insights, like revenue reports, LTV (lifetime value), churn etc. But it costs from $120 per month and this package includes only very common reports, which you could get even from the free version of Google Analytics.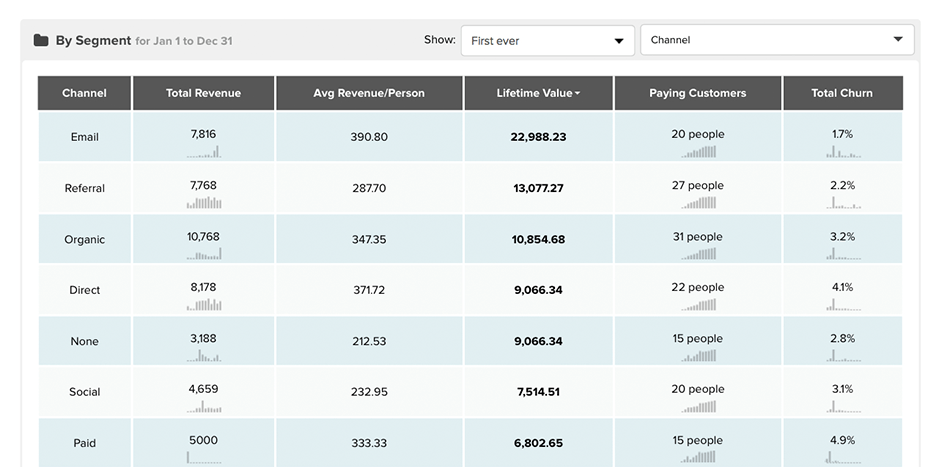 Piwik
Piwik is more like Google Analytics, but looks more simple and transparent (it's about free version). This analytics software has a lot of reports, but you should choose, download and install them yourself, as if it's a kind of construction kit.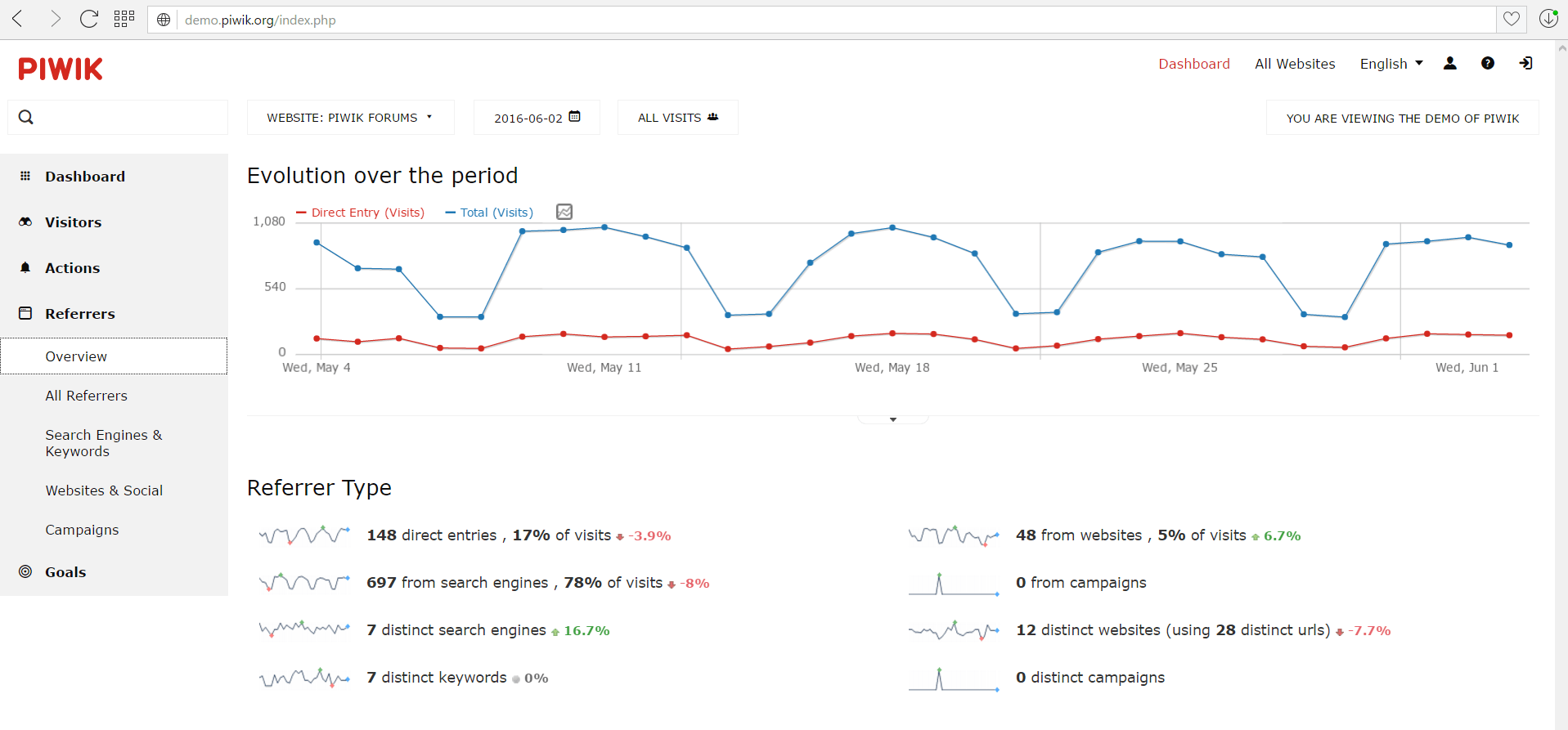 All of these analytical systems work with Magento stores data, but any of them will be a stand-alone solution, thus you'll need some additional efforts on integration with your shop and tweaking.
SOLUTION
Mirasvit suggests an open-source ready-made extension Advanced Reports for Magento 1 and Magento 2 eCommerce stores. It has must-have magento reports with the deepest and precisest insights. There's no need to use external solutions or integrate third-party software into your shop – Magento 2 Advanced Reports starts generating reports in just a few minutes after installation.
Magento Advanced Reports advantages:
No more inaccuracy – extension gets all the data directly from your store database and visualise them for you
No more recurring fees – you pay for the extension only once and enjoy it
All reports data can be exported to CSV or XML file for further operating
Here's a couple of insights you will get with Magento 2 Advanced Reports (17 ready-made reports):
Sales overview report
Sales by hour of day
Sales by day of week
Sales by coupon code
Sales by customer group
Sales by payment type
Sales by credit card type
Sales By Tax Rates
Sales by category
Sales by geo-data
Sales by customers
New vs. Returning customers, Registered vs. Unregistered customers
Bestsellers report / Product performance
Low Stock
Sales by attribute, Sales by attribute set
Sales By Shopping Cart Price Rules
Never Ordered Product
At A Glance
It's always important to picture the entire current store situation and react if something goes wrong. Magento Reports allow you to view all vital data right at the first screen of solution backend interface: Sales Overview Report is the most indicative one.
Just choose the dates you need to analyze in the same window and get the new report in a split moment. Also you may edit the indicators you need to view on the bar:
Number of orders
Total quantity ordered
Discount amount
Shipping amount
Tax amount
Total refunded
Subtotal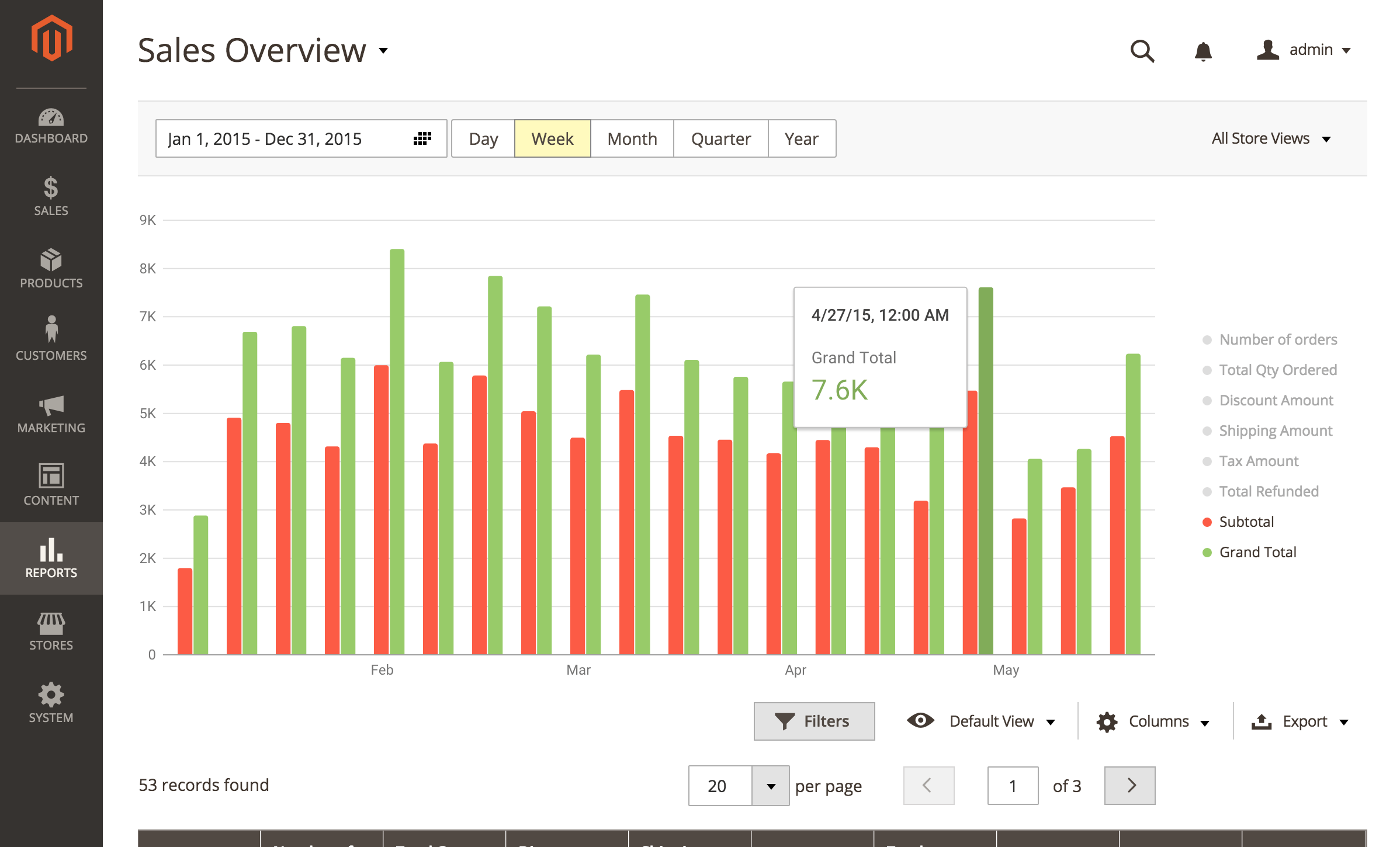 Flexibility: Customize On-The-Go!
Advanced Reports allow you customizing each report easily, since it's always important to get relevant and explicit data.
Here's a few possibilities with Advanced Reports:
Change the columns order;
View/hide columns;
Choose data to view on charts;
Use calendar to choose the date range;
Enable one of the date presets (like, Month, Day etc).
All these options are available within 1 click in every report!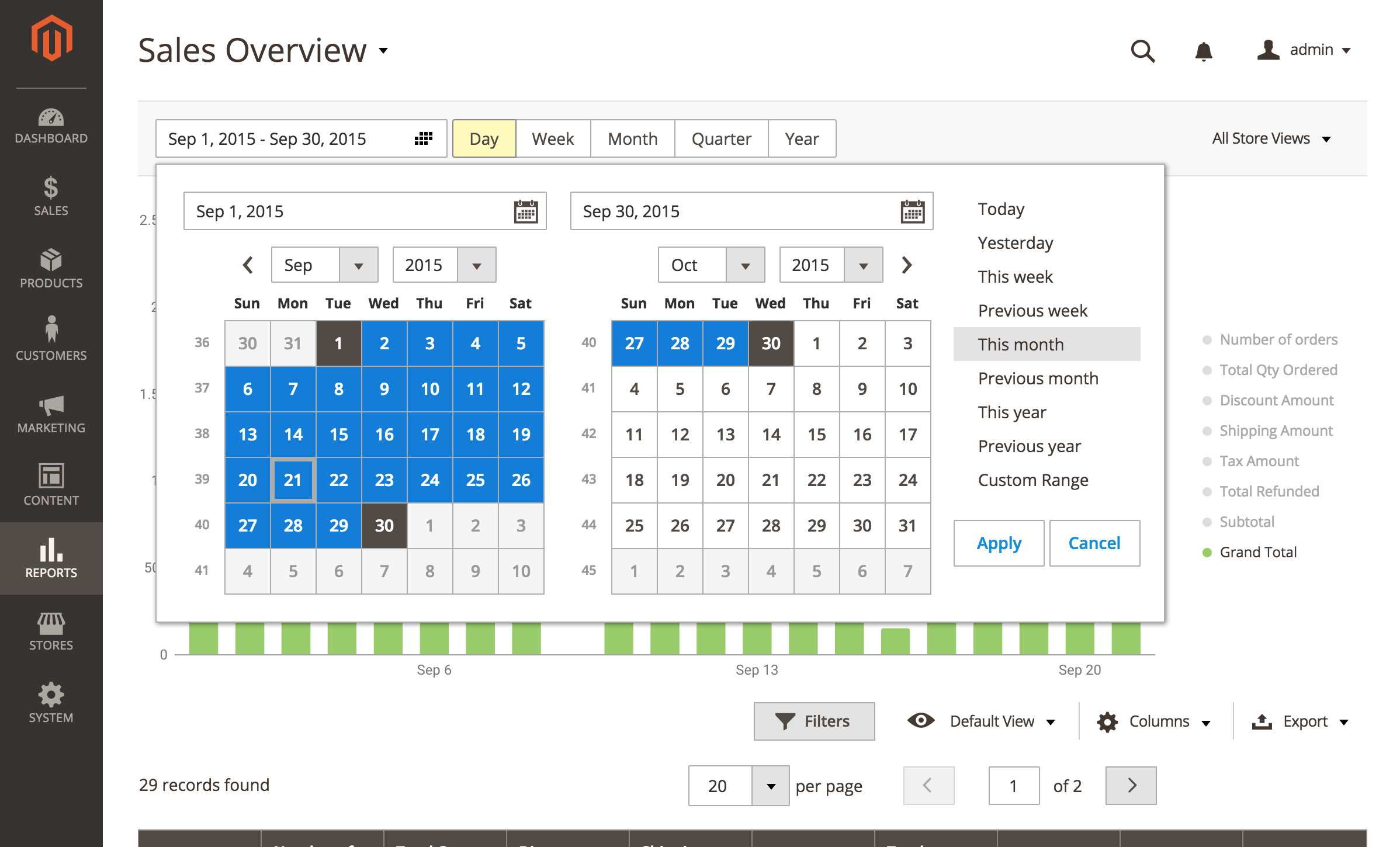 Reports Of Exceptional Importance
Some of extension reports can give you vital insights, for example, geography of your orders: how many orders and how big are totals from Germany and USA.
But the most important data from Sales by Geo-Data report is high-risk countries orders. If order number from your store high-risk countries grow, you'll be able to see it at once and investigate the situation (learn more about Fraud Detection)!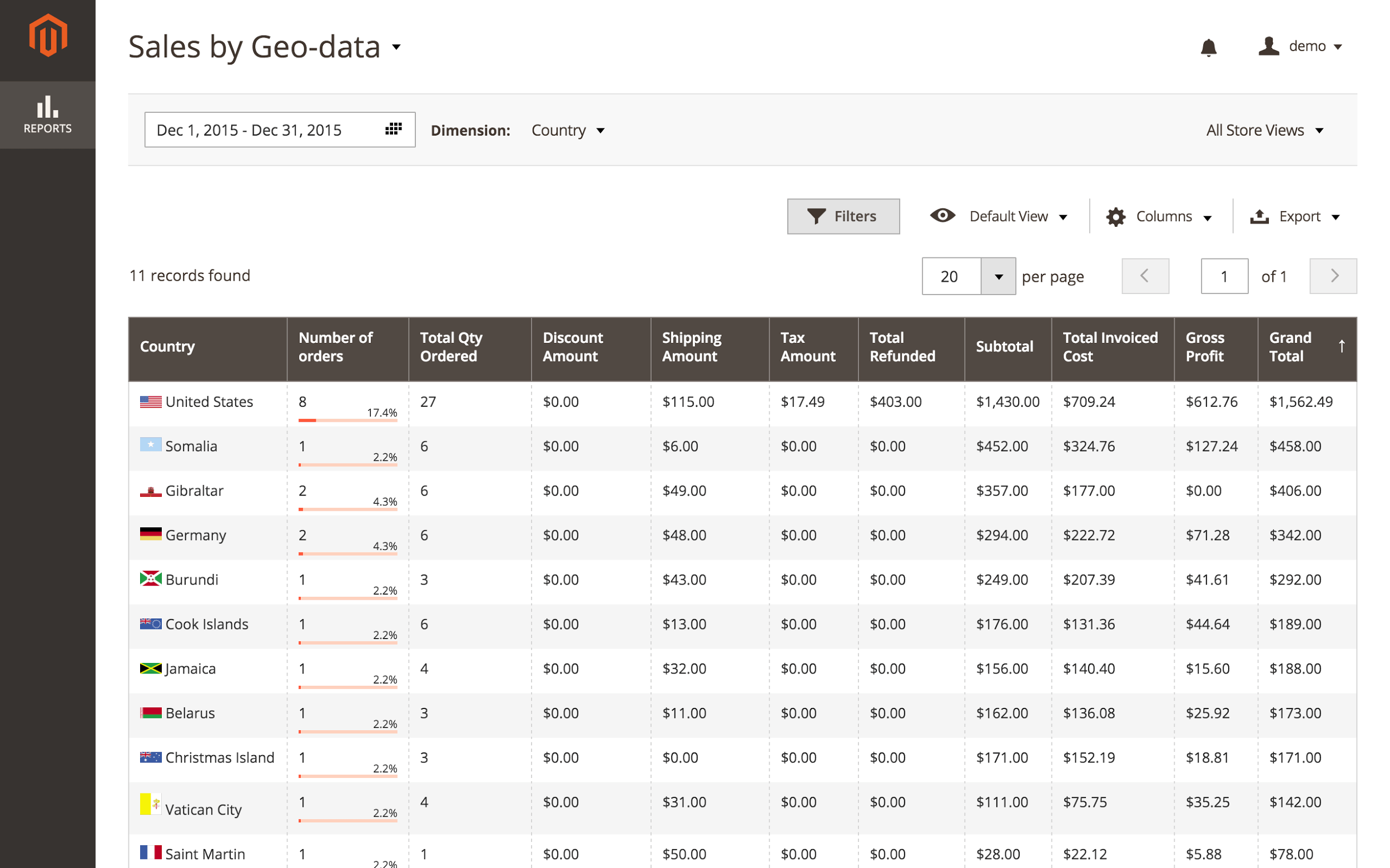 Have you ever wonder, how many green item you sold last year? Quite interesting insight, right? Sales By Attribute report gives you an answer on your question.
You can view this report regarding every attribute. The only important condition is some attributes should be assigned to your store items, otherwise you may see a chart with undefined values.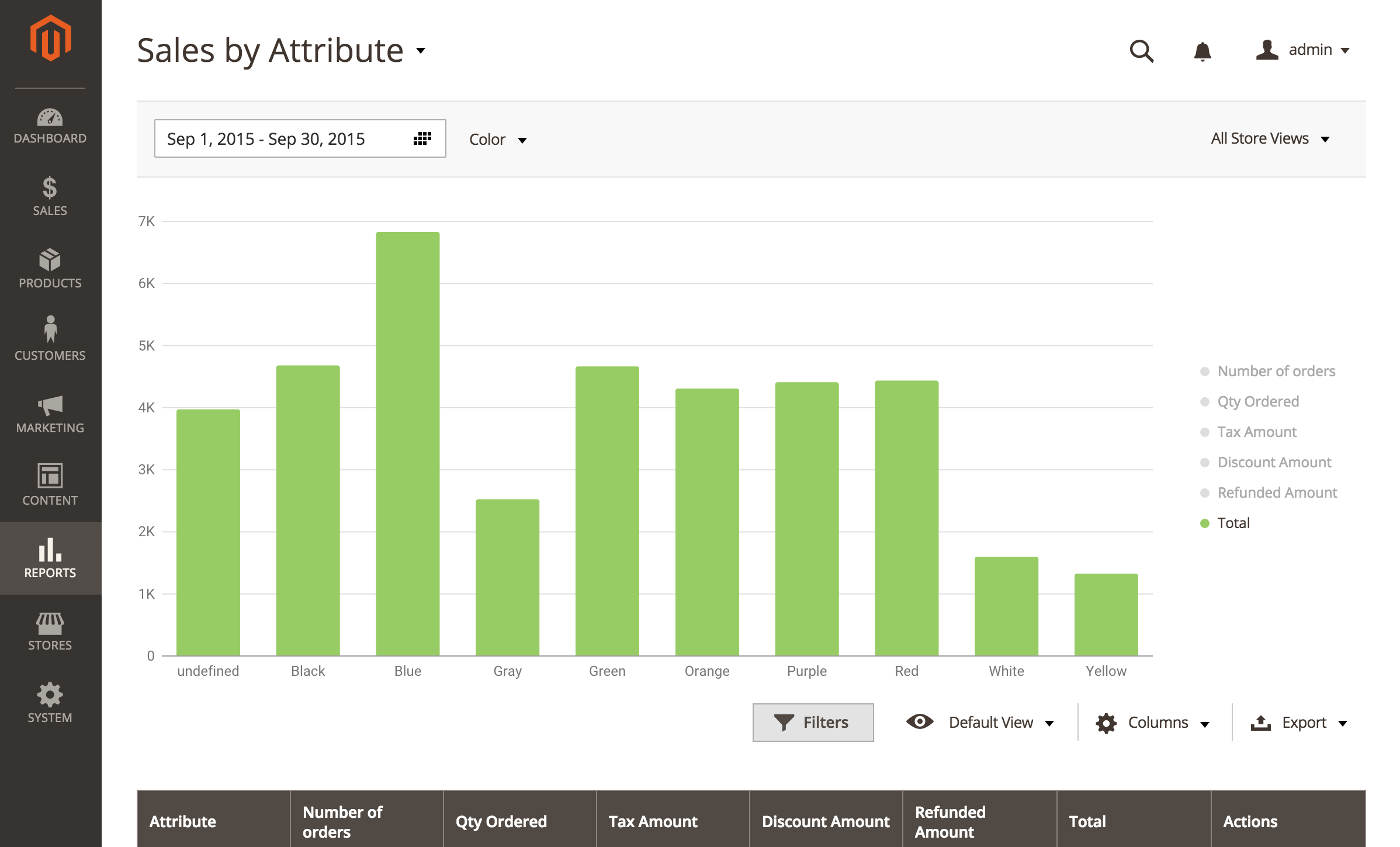 SUMMARY
As always, it's up to you which analytic software to use for your Magento store. There is a variety of the solution on the market. But the simplest one is installing Advanced Reports extension and get reports without inaccuracies.
Here's what you get with Advanced Reports solution from Mirasvit:
Precise reports data;
Clear and transparent visualisation of data;
Flexibility and ease of customizing reports;
Powerful filtering.
Moreover, if 12 ready-made reports is not enough for your store, Mirasvit developers team will gladly bring your ideas to life! Just let us know!