Fast Asynchronous Re-indexing
Fast Asynchronous Re-indexing allows you to speed up products saving in a catalog and reduce loads on the server.
Boost your online store administration performance with the Fast Asynchronous Re-indexing extension! This extension allows you to speed up administration work of your online store greatly and reduce peak loads on the server.
Buy this extension now and upgrade to Magento 2 for Free later!
Feature Highlights
Every time you save a product or a category, Magento produces data re-indexing in a database. Providing that the catalog is not too large, this process is imperceptible for a user. However, the more categories, products, and attributes of a product are created, the more time for re-indexing is needed. As a result, working with the administrative panel becomes uncomfortable being that you have a long wait long until the category or product will be saved after editing.

The graph below shows the increase of time for saving, depending on the growth of the size of the catalog.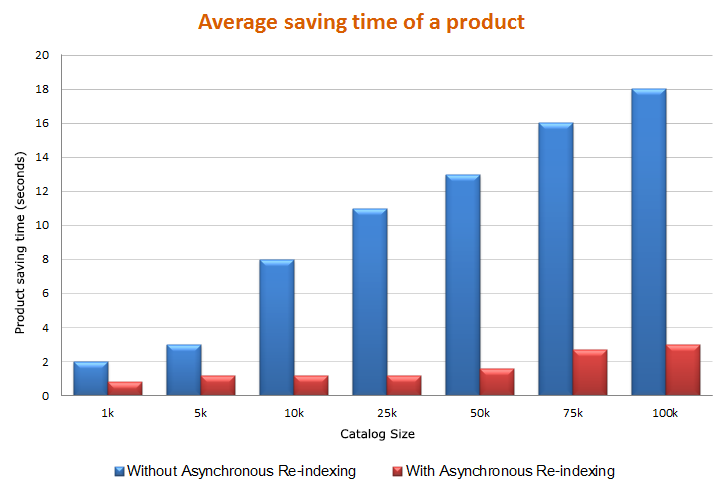 How does the extension work?
When the store manager adds a new product (category) or changes an existing product, the query to produce re-indexing of goods is stored in the table-queue. Products are quickly stored and the manager goes to editing the next item.

Parallel to this the cron process runs constantly addressing the table-queue. As soon as it notes the elements that are expected for re-indexing, it starts to index them.

You may have a very large catalog and a large number of managers simultaneously working with it, but they will not wait until re-indexing happens every time they save data. They will continue to work, and the cron process will perform data re-indexing in the background.
We found other products you might like!
Reasons to choose Mirasvit
Client focusing and satisfaction
It is our main goal. A big part of our new clients come from referrals from our existing clients. Our professional team of developers, marketers and support invest the best knowledge and experience, so you could come back to us again and again.
Remarkable support
90-days free and high quality support. We make an effort to satisfy you with work of every module you have purchased in our store. Helping you with installation, configuration, answering your every question, we do all our best to eliminate any possible problems.
Risk-free Investment
30-days money back guarantee. If you are not satisfied with work of our extension for any reason we provide a full refund.
Constant improvements and upgrades
We provide you lifetime free updates. We constantly add new features to all our modules. We are absolutely interested to hear your opinion and to implement your suggested features in our future developments.
Comprehensive Documentation
We provide an expanded user guide for every our extension, so you can find answers for all your burning questions.
Unencrypted source code of our products
You can customize extensions according to your needs and requirements.
Usability and Performance
Module is easy to install and easy to upgrade, just follow step by step our user guide.
Safe Magento updates
No core modifications. Just copy extension files to store root directory.