Admin Bookmarks for Magento 2
It is important to make your online store user-friendly. To make your administrative staff feel comfortable, your online store should be admin-friendly as well!
Operating an online store is a challenging job, but using our extension can make it easier.
This module adds a quick-link to the admin panel, and, of course, is flexible and customizable, too.
Operate quick-links with a single click
Each admin gets a bookmark
Sort, mark, color, and tag your quick-links any way you want
Easy to navigate, easy to get back quickly
Make your store's work smooth
In e-commerce, it can take a whole day to work through the Admin Panel of an Online Store.
Sometimes, the navigation and user interface can make the work process somewhat uncomfortable and time-consuming. Especially if one has to deal with the same customers, goods, orders, or CMS pages and or constantly get back to them.
Our aim is to make your job easier and more smoothly run, which is why we have created the Magento extension, which was made specifically to optimize time and energy (and save you a great deal of frustration).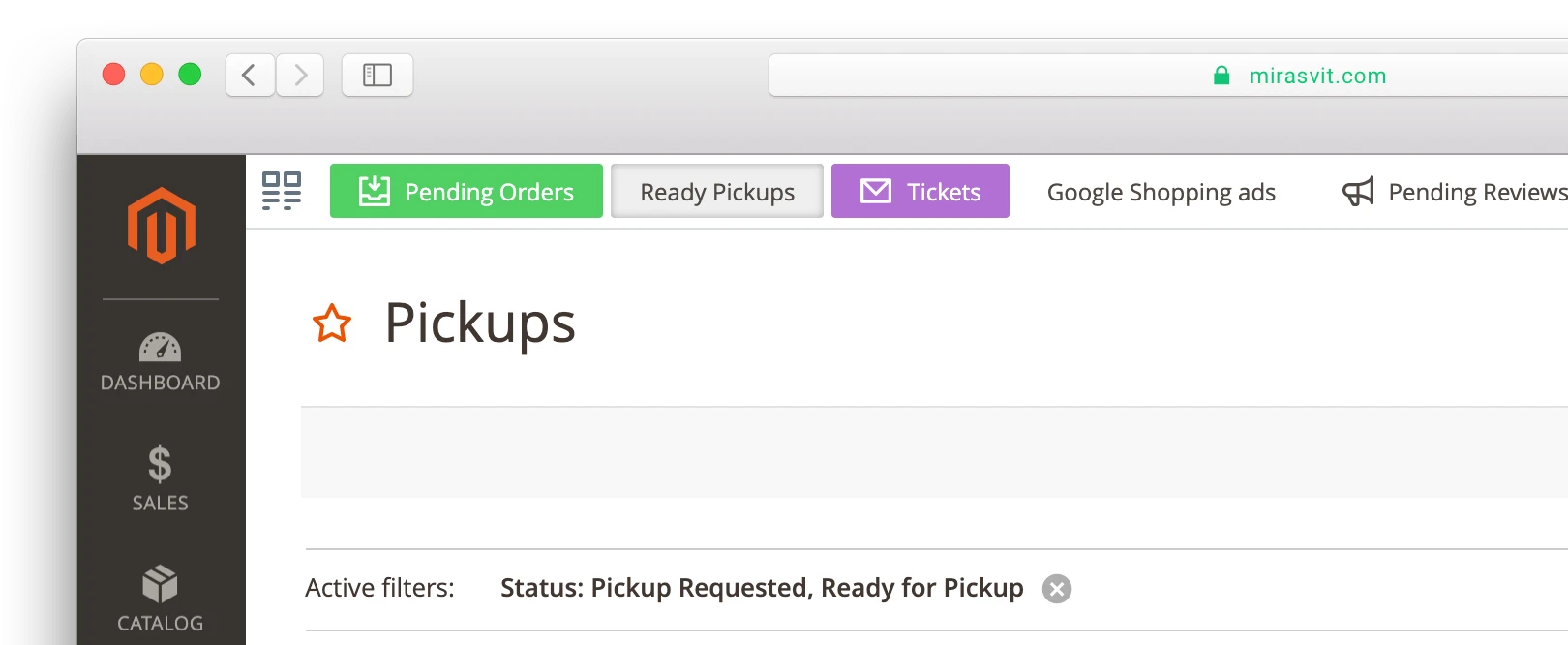 Magento backend with a human face
Yes, we know how frustrating it can be to lose an important link and have to search for it again like a needle in a haystack.
With this module, you can kiss that frustration goodbye!
Save any URL, with one-click - the page you need is often saved in a convenient place on the admin panel.
You can label it in whatever way best suits you. When you are done with the link, you can delete it as quickly and easily as when you added it.
What are the key features?
Each admin has one unique set of bookmarks, so there's no mixed messages, no confusion.
The module also allows you to add any URL to the admin's quick-links (go ahead, click on the small star!)
Sort your bookmarks easily with drag & drop.
With just a click, you can add, and with just one more, you can customize - in a bookmark submenu, you can change the bookmark's title, color, or icon (or get rid of it all if you're done with it).
At the upper right corner, right after the quick-links, there is a shortcut to the dropdown menu listing the new pages viewed.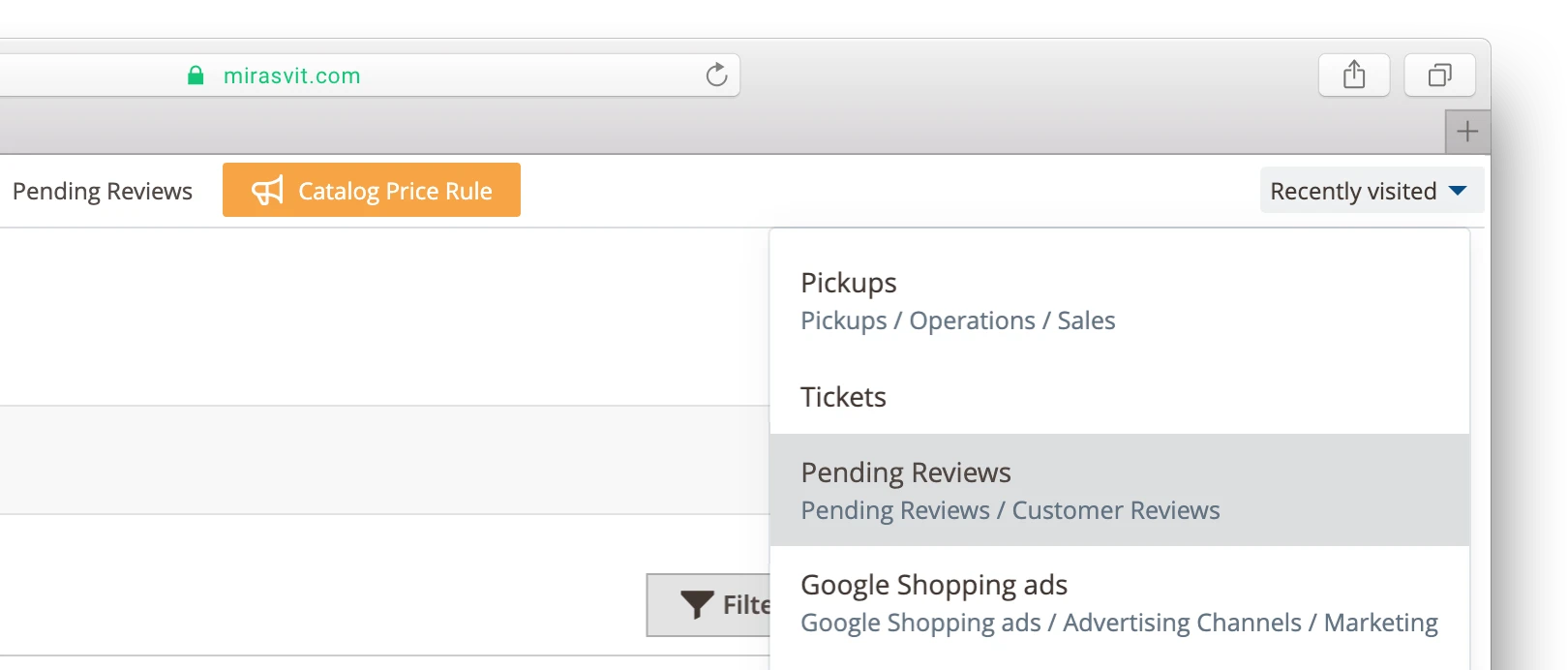 With this extension, you can save time, energy, and untold aggravation by getting rid of lots of unnecessary actions. Everything you need at hand is one click away, conveniently located at the bookmark bar of your admin interface. We understand the daily e-commerce routine all too well.
For instance, typically the admin menu at the backend of a Magento-powered online store includes dozens of links (one estimated number is at 50-100. However, it differs from case to case).
In any case, to reach any of these links, you usually have to dig into several submenus. Click, click, click - found yourself in the wrong store? Sorry — go back and start all over again! It really can drive you mad, can't it?
As a manager of an online store, you should be perfectly aware of how valuable human attention is and how hard it is to keep that attention for a set amount of time - we're talking about seconds, here, not minutes!
It concerns not just the customers (for whom we also have some amazing solutions, check out options) but yourself and your coworkers.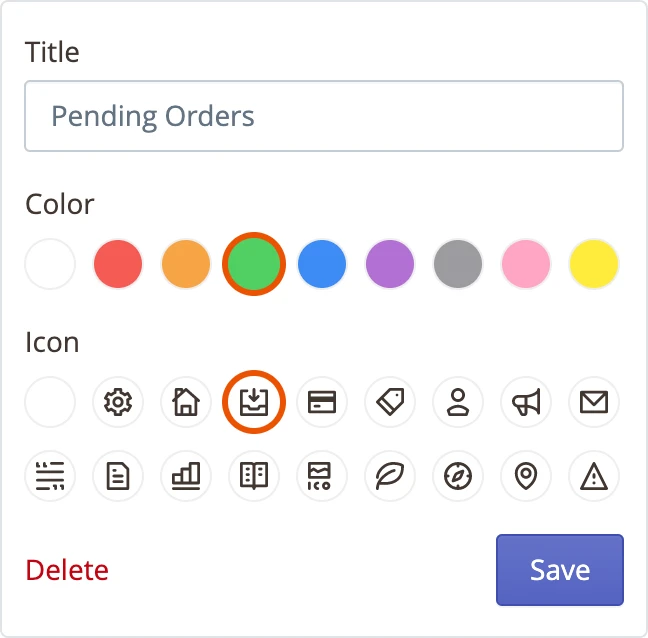 The Bookmarker module makes navigation in the Magento backend much easier than ever before.
This constant clicking on menus and searching for important links can interrupt your focus and greatly diminish your ability to pay attention.
You are getting distracted, perhaps anxious, and starting to feel exhausted. Wouldn't it be better to use your energy for something more creative and productive while keeping your spirits up?
Even if one link takes you 5-10 seconds to find, just imagine how much time it takes in a day in aggregate.
And as you're surely aware, online store managers in 95 percent of cases need just a couple of pages, such as customers, orders, returns, helpdesk, you name it!
But instead of focusing on the tasks that matter, they switch on and off by unnecessarily clicking, searching, and searching, and clicking.
Therefore, we suggest a solution that will make your work and the work of your colleagues more efficient and pleasant.
The Bookmarker module brings the navigation inside the Magento admin interface to the next level.
Each store manager gets a flexible and time-saving tool to pin the quick-links to the pages he or she needs. Easy drag&drop sorting makes the user experience even better. Everything is customized - some prefer speaking titles; others like color coding, while still others enjoy both options. The bookmarks needed will always be there wherever you put them - at a distance of one click.
What makes Bookmarker Extension a really cool thing?
It's easy to use
You can add any page of the Magento backend to your bookmarks.
It works the same as in your browser - just click on the star near the page title.
And voila! Your quick-link is created and ready for use at the best place you can find it.
Personal bookmarks for each user
No mix up, no mess.
Everyone gets a personal, and a separate set of bookmarks according to their tasks, needs, and preferences.
And of course, they can be fine-tuned.
It is conveniently customizable
The Bookmarker Extension's interface is a no-brainer.
Editing of a bookmark has never been easier. You can simply right-click the quick-link and customize the bookmark.
You can change the title, color, and icon.
It follows your order
Your set of bookmarks reflects your personal approach to the workflow.
Sort your quick-links whichever way you prefer, with a simple drag&drop.
Whether it is "urgent first," alphabetical, or time-related - you can organize your work space!
It helps you unload your brain
Focus on what matters, don't waste your energy on hundreds of unnecessary clicks.
Our module has a handy menu with a list of recent pages. So, nothing important will be lost because of a sudden interruption or accidental click.
Even if a recently closed page has not been bookmarked, you can access it quickly in the drop-down menu.
We want you to be happy
...and what makes you happier than a job well done?
Job satisfaction may be a challenging goal, but at least you can optimize the processes and get rid of speed bumps, even when it comes to mundane tasks in the Magento admin interface.
Instead of a slow and irritating action, the Bookmarker Extension is created with your time and energy in mind.
We want you to enjoy your work with Magento. Our tools are intelligently designed to be your invisible helpers. We know you like to aim high. And when this smart solution helps you move forward, we'll know that our goal has been achieved.
See it in action!
Pick a quick tutorial to learn about various aspects of this extension
The installation is simple, and it's very intuitive, so no explanation is needed. It works just as we imagine.
I used to struggle with headaches every time I had to log in as an administrator and find the menu. But after purchasing and using this module, my life has become much easier. I can click wherever I remember and the page appears instantly. It's incredibly convenient. Thank you.
Also installed: Help Desk MX, Advanced Product Feeds, Full Page Cache Warmer, Reward Points, Extended Shopping Cart Rules
Great extension and customer service
Pete
Verified Buyer
Villa Park, United States
Before this I was using another admin bookmark extension, but as our store grow, the other extension was never updated and becomes less and less useful. I started looking around and found this one. I like the fact that you can organize them into folders and color code them and rename them.

I had a few ideas in mind to make the extension better as I was used to it from the other one, such as saving state, and now ctrl+click. Alexander went ahead and updated and now for us, it's one of the most useful and efficient time saver when navigating the magento admin. Thank you so much!
Also installed: Follow Up Email, Customer Segmentation Suite, Full Page Cache Warmer, Reward Points, Advanced Reports, Help Desk MX, Knowledge Base and 15 more
Really amazing! Great convenience for managers!
I was tired of getting lost among the menus. Thank you Mirasvit!
Also installed: Health & Performance Monitoring Suite, Full Page Cache Warmer, Reward Points, Follow Up Email, Advanced Reports, Help Desk MX, Advanced SEO Suite and 26 more
Manual & Support
Need more help?
Save time by starting your support request online and we'll connect you to an expert.
Contact Us Now
Changelog
Version
1.1.2
Jul 26, 2023
Version
1.1.1
Jun 20, 2022
remove db_schema_whitelist.json
Version
1.1.0
May 23, 2022
migrate to declarative schema
Version
1.0.12
Apr 30, 2021
Version
1.0.11
Dec 7, 2020
Zend_Json to SerializeService
Reasons to choose Mirasvit
Client focusing and satisfaction
These are our primary. A major portion of our new clients come from referrals from our existing clients. Our professional team of developers, marketers and support staff have invested the best knowledge and experience in the field into our work, so you know you can come back to us again and again.
Remarkable support
One year free and high quality support. We go to great lengths to provide maximum satisfaction with every module you have purchased in our store. By helping you with installation, configuration, answering your every question, we do all our best to eliminate any possible problems.
Risk-free Investment
30-days money back guarantee. If you are not satisfied with our extension performance for any reason, we provide a full refund.
Constant improvements and upgrades
We constantly add new features to all our modules, and are always interested in hearing your opinion and implementing your suggested features in our future developments.
Comprehensive Documentation
We provide an expanded user guide for every aspect of our extension, so you can find answers for all your burning questions.
Unencrypted source code of our products
You can customize extension according to your needs and requirements.
Usability and Performance
The Module is easy to install and upgrade, just follow our step-by-step user guide. Additionally, the extension is ready to use with the Hyvä theme.
Ready for Magento Cloud
No core modifications. The extension has been tested in a Magento Cloud environment and is fully compatible with it.