Fraud Detector for Magento 2
Chargebacks and frauds are common issues any online store needs to be prepared to face. The Fraud Detector extension prevents fraud by calculating a fraud risk score for every order.
Our solution has a score-based algorithm to evaluate every order's risks on a scale of 1 to 100. The higher the score, the riskier the order is, and the more reason there is to cancel it.
Avoid time and money losses with a Fraud Detector solution!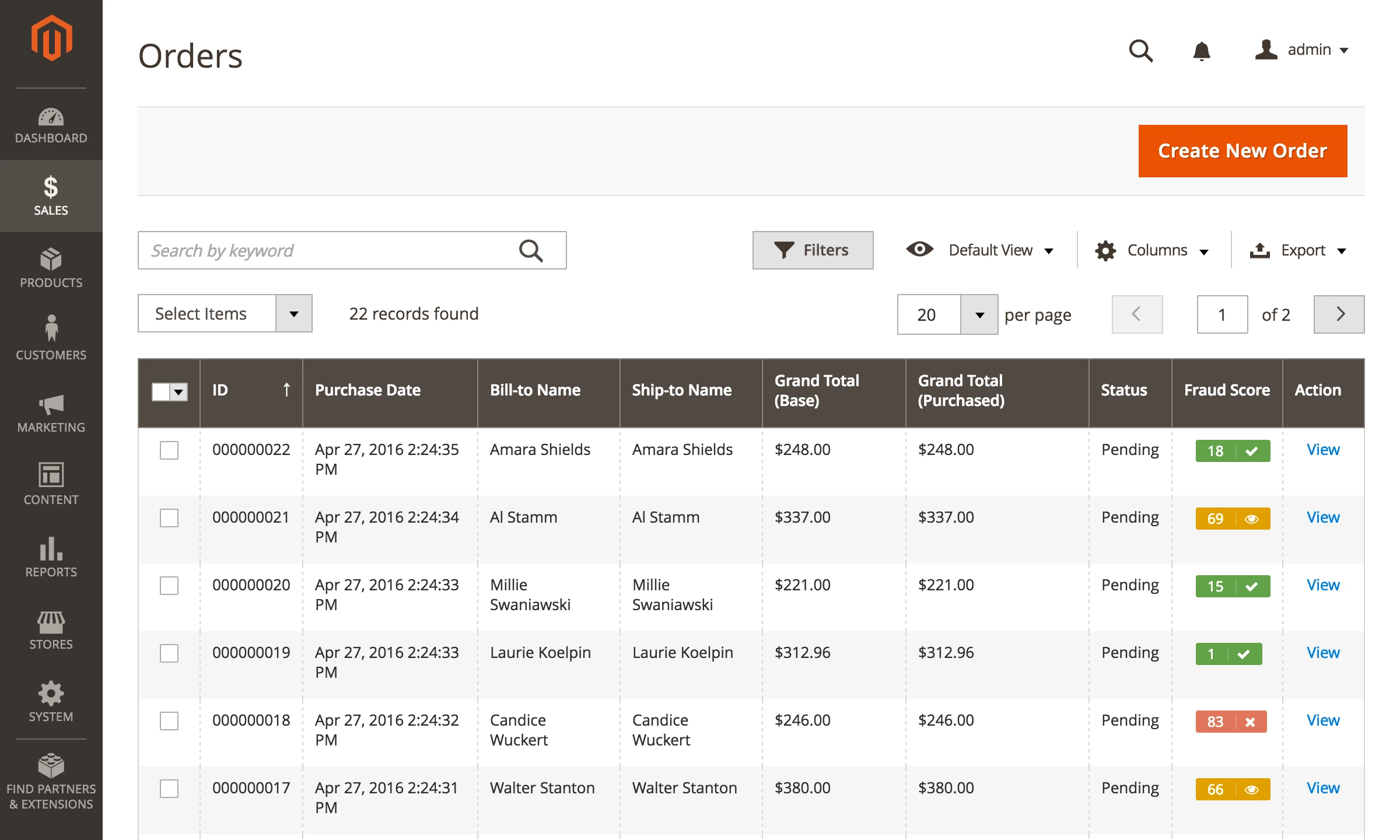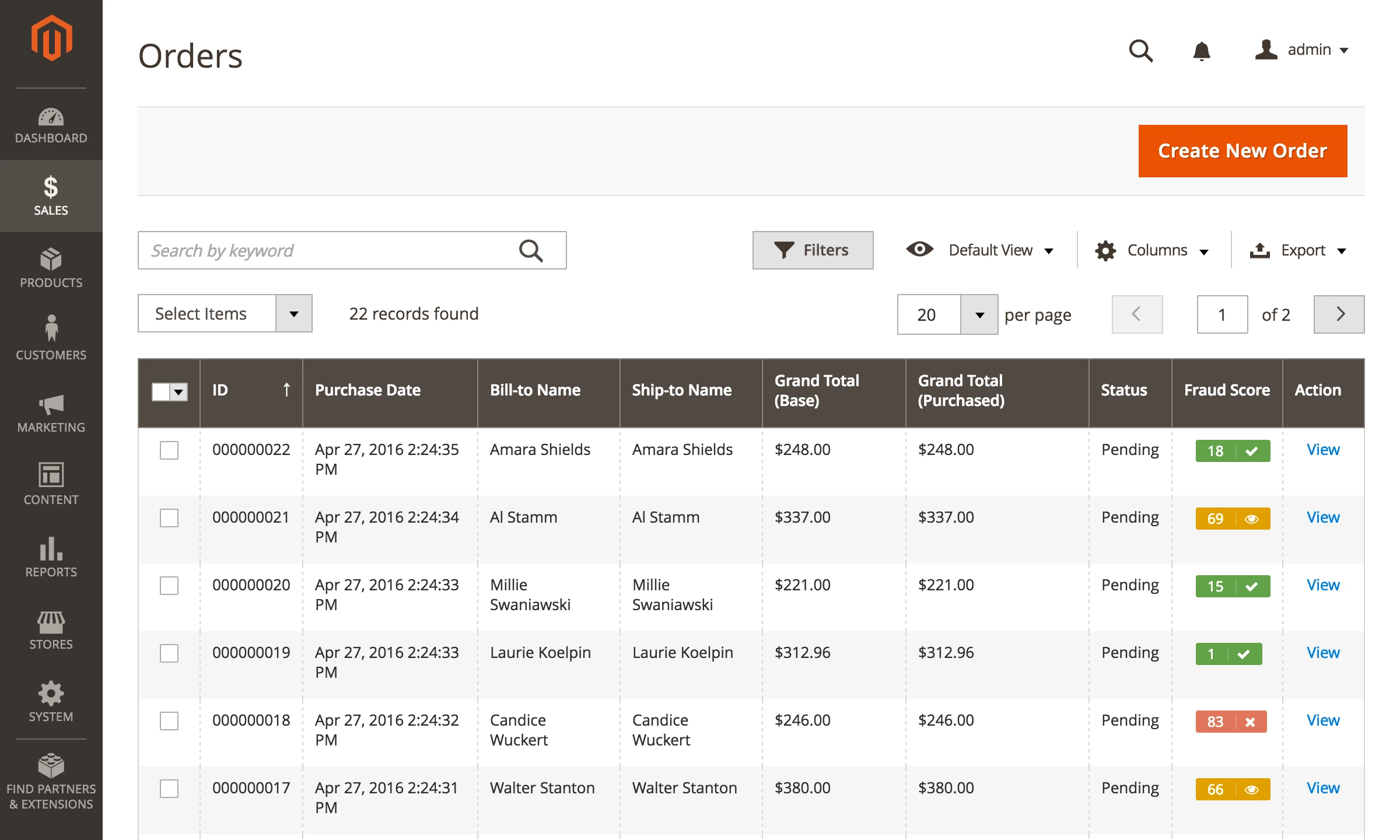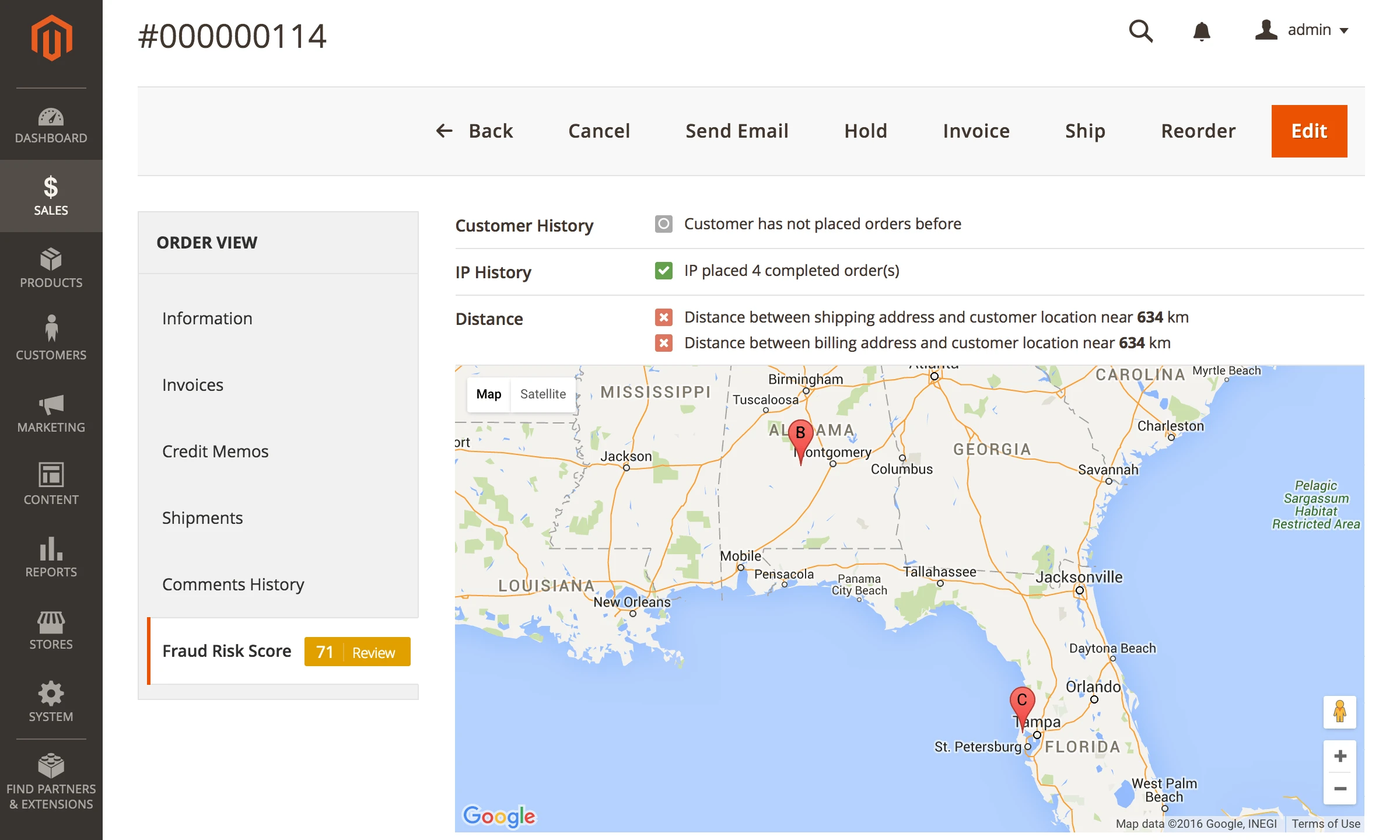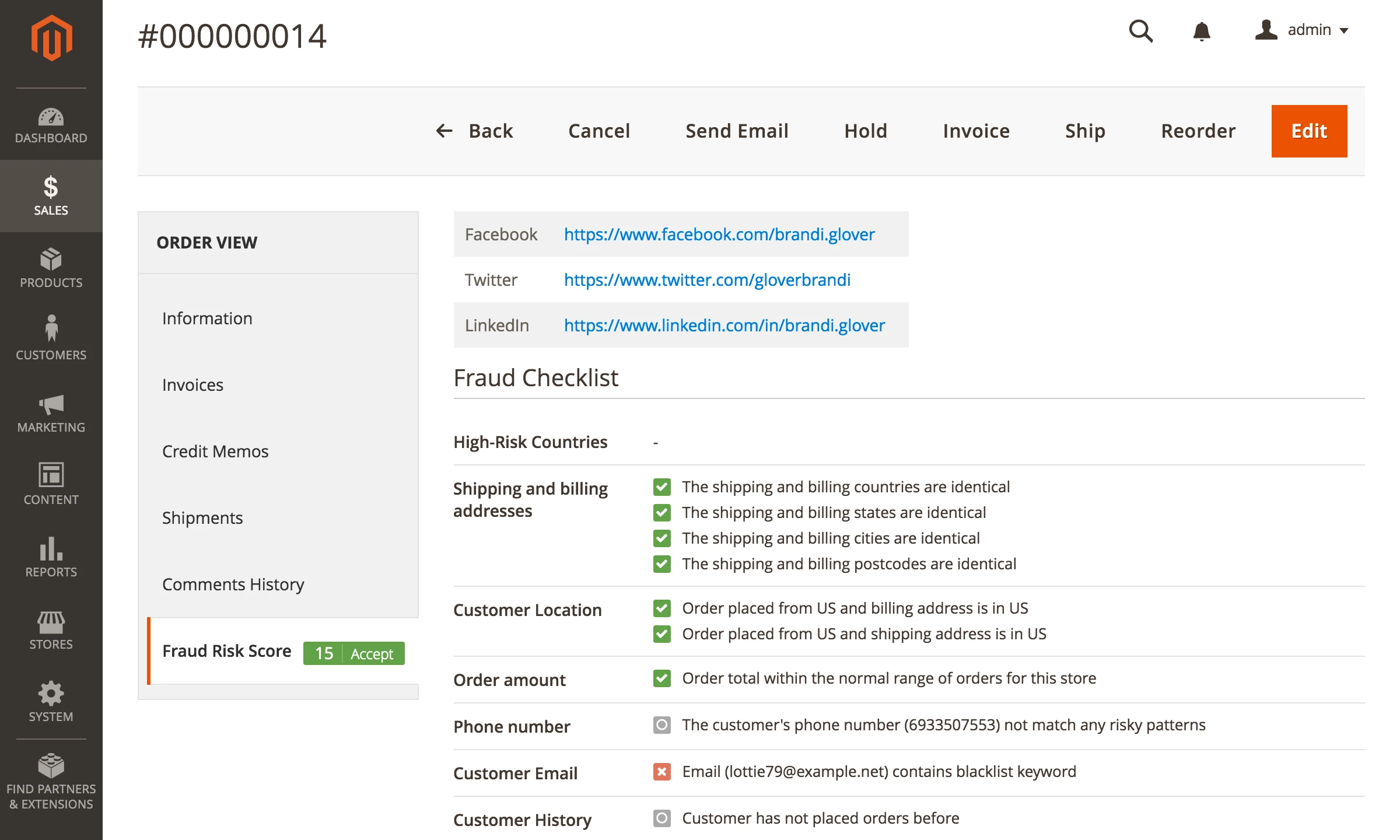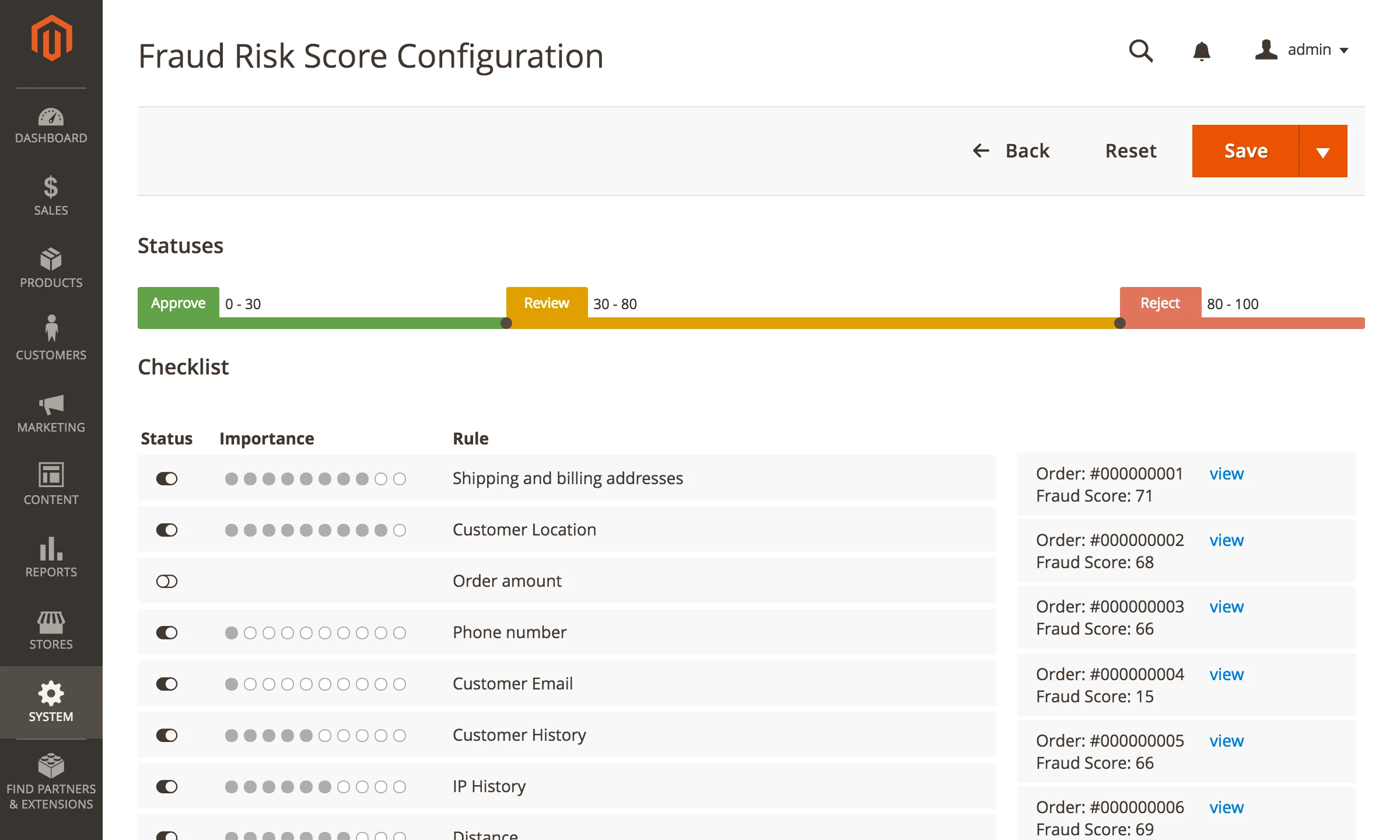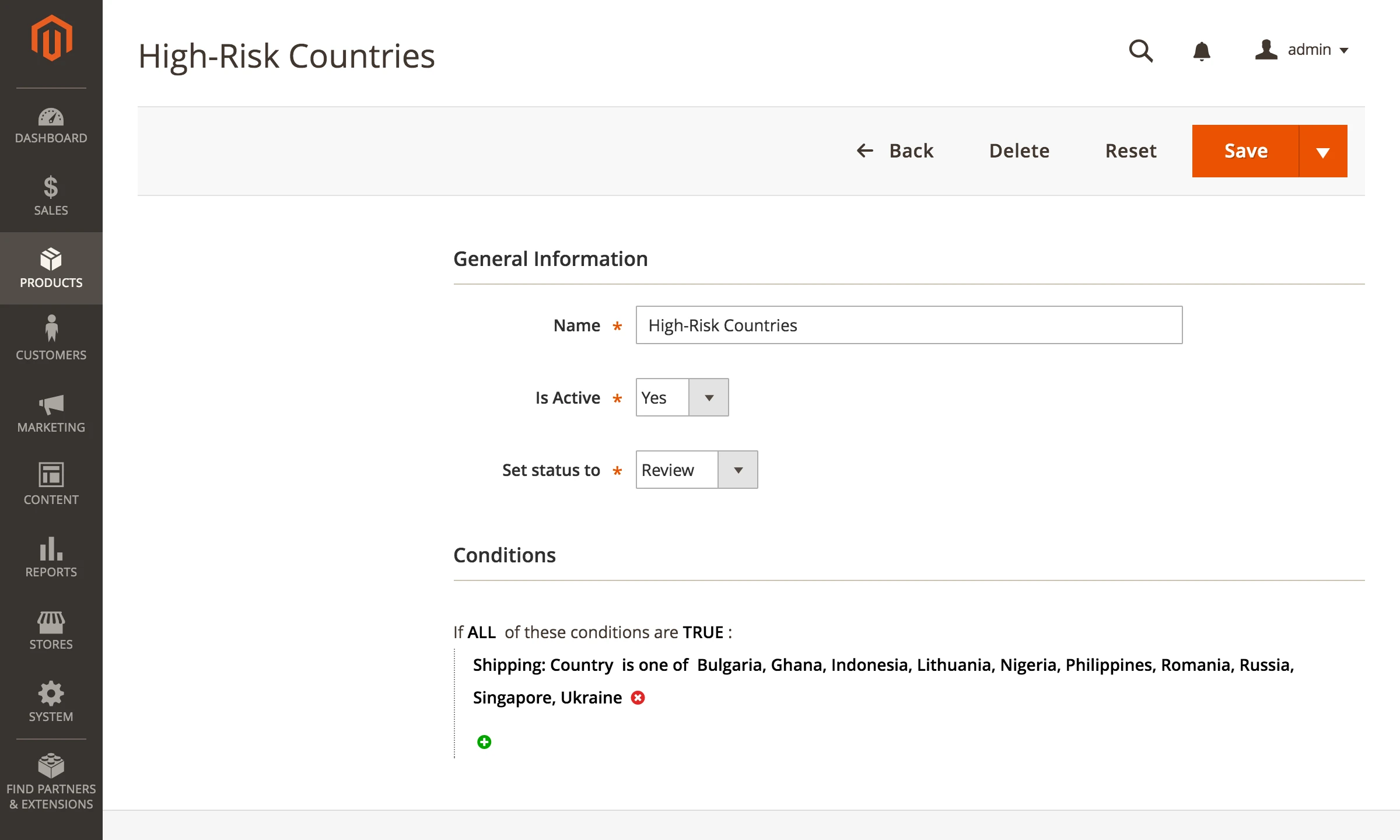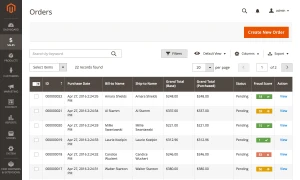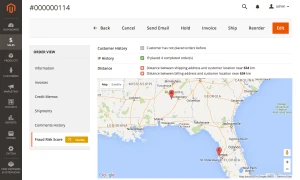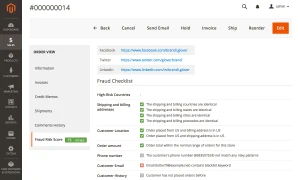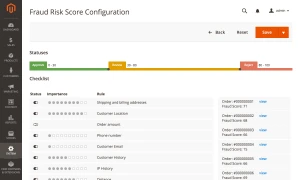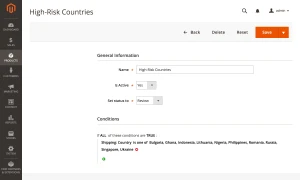 Fraud Detector: Easily Minimize Every Order Fraud Risk!
Store managers may reject both genuine transactions and suspicious ones - that's just an everyday workflow. You lose money canceling 'good' orders and time checking 'bad' ones.
Here are the most critical reasons why stores cancel a particular order:
Non-existing delivery address
Delivery and billing address differs
Non-deliverable postcode
Destination country is too far from the store
Every time your service team members manually evaluates all the factors above, literally, the notorious 'human factor' increases risks.
The Magento Fraud Prevention extension allows you to minimize the main risks and do away with the human factors by automating all activities of checking orders and informing managers about dangers.
Depending on the fraud score, the extension will select one of the following statuses: accepted, manual review, rejected. However, service and support team members will still be able to review each order's score and make the decision to cancel it or not.
Our solution is flexible, meaning that you can configure it according to your business model and goals.
Furthermore, you are free to add your fraud score calculation settings, depending on your business experience and knowledge of your store customers' specific aspects.
Fraud Detector - automate your store's orders' risk-checking!
8 Advantages You Get With Fraud Detector
Avoid canceling cleared orders.
No more suspicious transactions!
Use human factor pros: get fraud risk scores and decide whether or not to check it out manually.
Your online store-related configuration: add your settings to comply with your business model.
Automate a huge scope of work and save time!
View the physical map of your customers' destinated country and estimate the risks in a glance.
Get the deepest insight about your customers' by viewing their Facebook, Twitter, and LinkedIn profiles!
No recurring fees: one-time extension fee and no additional charges for transactions or monthly or yearly subscriptions.
---
Fraud Score at a Glance
The Fraud Detector extension has an intuitive and clear interface, allowing you to view every order risk score in a single glance.
You may see the Orders tab for the score estimates and decide on your further actions: Cancel, Hold, Unhold.
OR
View the fraud risk score to revise it manually if you believe this case is worth your attention, and the order was rejected unfairly.
Fraud Detector - be aware of every order status without any effort!
---
Flexible Fraud Risk Score Configuration
Magento Fraud Prevention allows you to tune the risk scores to match your store's business model and goals.
Our solution has the following out-of-box test set:
Distance between shipping and billing addresses
Customer's location
The total order should be within the normal range of orders for this store
Phone number looks real
Customer's email looks real
Customer's order history
IP history
Furthermore, you can configure each test's importance for the final fraud risk score!
---
Advanced Customer Profile
Magento 2 Fraud Prevention allows you to view advanced customer profiles. This feature is critical in case of manual revision of order risk status.
Explore the following key indicators for each customer:
Orders history
IP history
Google Map of the customer's shipping or billing addresses and customer's location.
Visualizing the distances lets you catch possible fraud risks in a single glance!
---
Easily Adjust Fraud Detector to Your Business Model
The Fraud Detector allows you to easily manage the most important risk indicators by allowing you to create your rules with conditions.
For example, one of the common risks of any online store is high-risk countries - countries situated far from your store or those who have a high shipping rate.
To cover this issue, you may create a rule and set the shipping countries to Review status (or any other, you may choose it) automatically.
You are free to add any other rules for Fraud Detector solutions to comply with your business model!
Save your team time by quickly identifying risky orders!
---
Check Even Customers' Social Accounts
Fraud Detector allows you to inspect high-risk orders, providing you with the deepest customer insights!
Our solution displays URLs of buyer social accounts:
Facebook
Twitter
LinkedIn
If your manager needs that deep a search, they've got it! Observing the social accounts of your customers gives you key information for making the final decision.
Magento 2 Fraud Detector - flexible management on an insight level!
Get fraud risk-free orders and save time and money with Fraud Detector!
See it in action!
Pick a quick tutorial to learn about various aspects of this extension
The extension is good and helpful. But the checkout success page takes the load for the processing. I face an issue with double charge capture with the stripe payment method.
In fact, I removed this extension within 10 days of extension installation.
A lot of money was spent on the customer's claim and identifying the issue.
I will be happy if mirasvit has a refund policy
Thanks.
Also installed: Elastic Search Ultimate, Order Management, Store Credit & Refund
Detecting a fraud is very important as creating an online shop
I am happy with this module because it helps to isolate fake orders from the true ones with objectively set parameters. the module allows automation to either proceed, send to the admin for review, or cancel orders. this module saves extra cost for manpower which also provides accuracy.
Also installed: Elastic Search Ultimate, Customer Segmentation Suite, Advanced Reports, Affiliate, Product Kits , Advanced SEO Suite, Inventory Planner and 7 more
it is a very powerful extension.
David
Verified Buyer
Los Angeles, United States
i like this extension very much, it helps us save much time.
Quite complete Anti-Fraud-Module
The module itself is working fine and we were able to detect quite a few fraud orders. Unfortunately not all of its features is usable because we didn't get to Google integration up and running and there is absolutely no documentation for this part. Even customer support was unable to help with this.
Also installed: Advanced SEO Suite, Follow Up Email, Store Credit & Refund, Reward Points, Affiliate, Google PageSpeed Optimizer, Advanced Product Feeds and 10 more
This tool is good, but I find the assessment not accurate enough
I think this is a good tool to have if you have another tool that handles payment fraud detection. It can be a good complementary tool to assess fraud risk, but should not be the ONLY tool you use for it.
Also installed: Advanced Reports, Event Watcher & Notification, Sphinx Search Ultimate, Full Page Cache Warmer, Automatic Related Products, Health & Performance Monitoring Suite, Follow Up Email and 16 more
Manual & Support
Need more help?
Save time by starting your support request online and we'll connect you to an expert.
Contact Us Now
Changelog
Version
1.2.9
Nov 24, 2023
Selecting the primary source of the client's IP address
Version
1.2.8
Nov 21, 2023
Ability to skip fraud check for an order placed from the backend
Version
1.2.7
Sep 26, 2023
Issue with missing block name in layout when editing Rule on Magento EE
Version
1.2.6
Aug 23, 2023
Show last orders on Fraud Risk Score Configuration page
Error while changing Fraud Risk Score Statuses via slider
Reasons to choose Mirasvit
Client focusing and satisfaction
These are our primary. A major portion of our new clients come from referrals from our existing clients. Our professional team of developers, marketers and support staff have invested the best knowledge and experience in the field into our work, so you know you can come back to us again and again.
Remarkable support
One year free and high quality support. We go to great lengths to provide maximum satisfaction with every module you have purchased in our store. By helping you with installation, configuration, answering your every question, we do all our best to eliminate any possible problems.
Risk-free Investment
30-days money back guarantee. If you are not satisfied with our extension performance for any reason, we provide a full refund.
Constant improvements and upgrades
We constantly add new features to all our modules, and are always interested in hearing your opinion and implementing your suggested features in our future developments.
Comprehensive Documentation
We provide an expanded user guide for every aspect of our extension, so you can find answers for all your burning questions.
Unencrypted source code of our products
You can customize extension according to your needs and requirements.
Usability and Performance
The Module is easy to install and upgrade, just follow our step-by-step user guide. Additionally, the extension is ready to use with the Hyvä theme.
Ready for Magento Cloud
No core modifications. The extension has been tested in a Magento Cloud environment and is fully compatible with it.