 Chargebacks and frauds are common issues for any online store. The Fraud Detection extension prevents fraud basing on a fraud risk score for every order.
Our solution has a score-based algorithm to evaluate order risks from 1 to 100. The higher the score, the riskier the order is and the more reasons to cancel it.
Avoid time and money losses with Fraud Detection solution!
Extension Demos
Pick a quick tutorial to learn about various aspects of this extension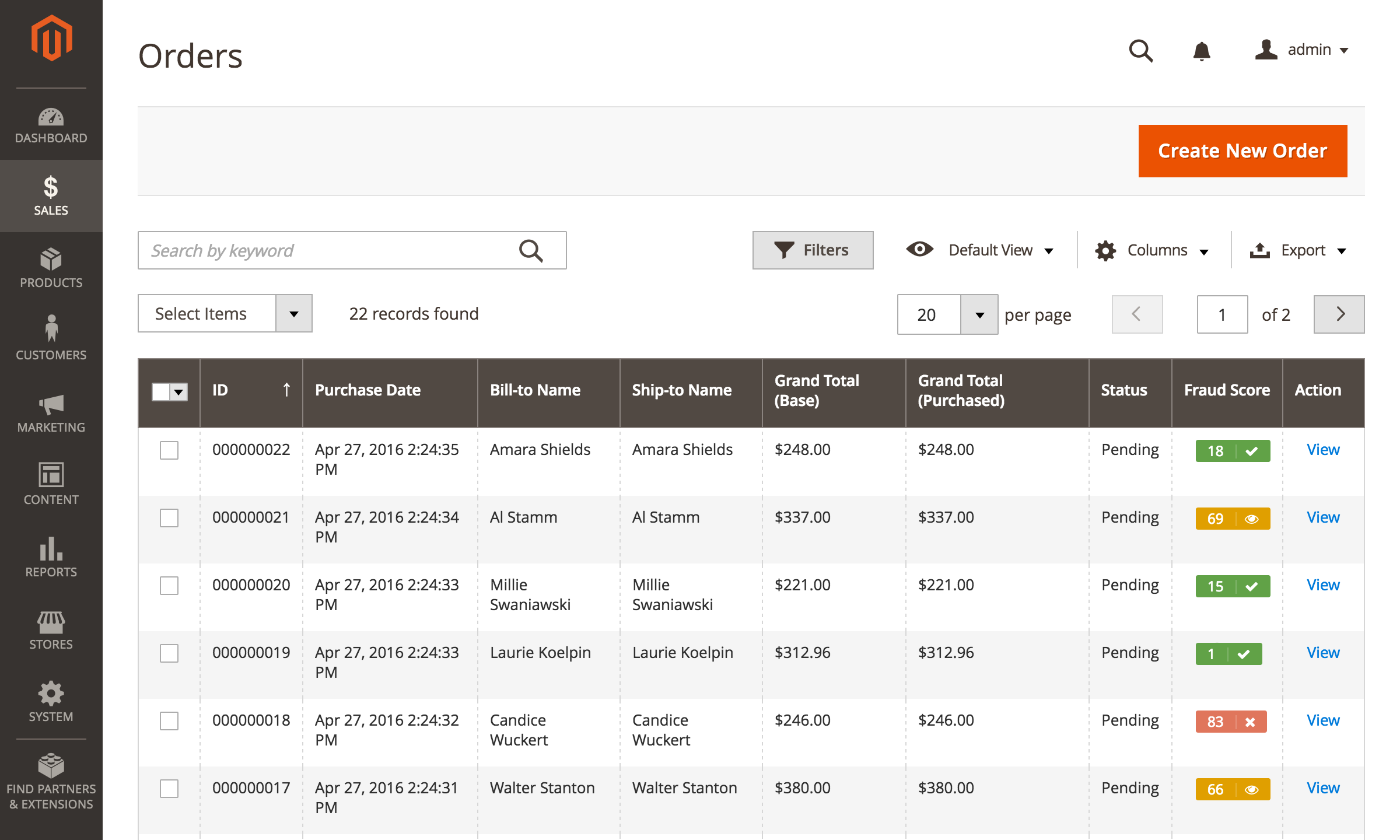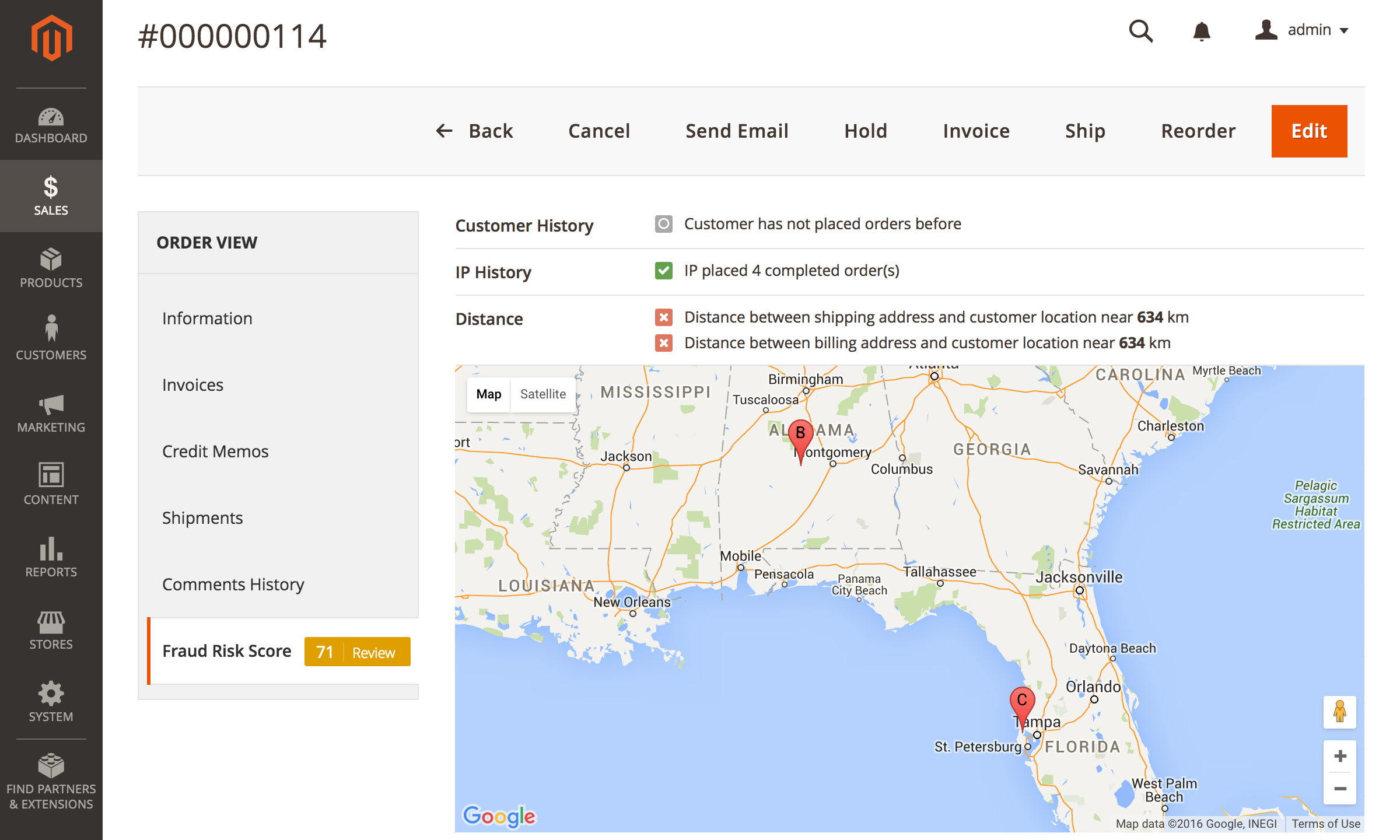 Fraud Detection: Easily Minimize Every Order Fraud Risk!
Store managers may reject both good clear transactions and suspicious ones - that's just an everyday workflow. You lose money canceling 'good' orders and time checking 'bad' ones.
Here are the most critical reasons stores use to cancel any order:
Non-existing delivery address
Delivery and billing address differ
Non-deliverable post code
Destination country is way too far from the store
Every time your service team member manually evaluates all those factors, literally. And the notorious 'human factor' increases risks all the time.
Fraud Detection solution allows you to minimize main risks and do away with the human factor by automating all checking activities and informing managers about dangers.
Depending on fraud score, the extension will select one of these statuses: accepted, manual review, rejected. However, service and support team members will still be able to review each order score and make the decision to cancel it or not.
Our solution is flexible, so you may configure it according to your business model and goals.
Furthermore, you are free to add your own settings of fraud score calculation depending on your business experience and knowledge of your store customers special aspects.
Fraud Detection - automate your store orders' risk-checking!
Feature Highlights
8 Advantages You Get With Fraud Detection
Avoid canceling clear orders.
No more suspicious transactions!
Use human factor pros: get fraud risk scores and decide whether to check it manually or not.
Your online store related configuration: add your own settings to comply with your business model.
Automate a huge scope of work and save time!
View the physical map of customers' destination country and estimate risks at a glance.
Get the deepest insight about your customers by viewing their Facebook, Twitter and LinkedIn profiles!
No recurring fees: one time extension fee and no additional charges for transactions or monthly/yearly subscriptions.
---
Fraud Score At A Glance
The Fraud Detection extension has an intuitive and clear interface allowing you to view every order risk score at a glance.
You may see the score estimates in Orders tab and make decisions on your further actions: Cancel, Hold, Unhold
OR
View the fraud risk score and revise it manually if you believe this case is worth your attention and the order was rejected unfairly.
Fraud Detection - be aware of every order status without any effort!
---
Flexible Fraud Risk Score Configuration
Fraud Detection allows you literally tune risk scores to match your store business model and goals.
Our solution has the following out-of-box test set:
Distance between Shipping and billing addresses
Customer Location
Order total within the normal range of orders for this store
Phone number looks real
Customer Email looks real
Customer Orders History
IP History
Furthermore, you may configure each test's importance for the final fraud risk score!
---
Advanced Customer Profile
Fraud Detection allows you to view advanced customer profiles. This feature is critical in case of a manual revision of order risk status.
Explore the following key indicators for each customer:
Orders history
IP history
Google Map of shipping/billing addresses and customer location.
Visualising the distances lets you catch possible fraud risks at a glance!
---
Easily Adjust Fraud Detection To Your Business Model
Fraud Detection allows you easily manage the most important risk indicators creating your own rules with conditions.
For example, one of the common risks for any online store is high-risk countries - the countries situated far from your store or with high shipping rates.
To cover this issue you may create a rule and set shipping countries to Review status (or any other, you may choose it) automatically.
You are free to add any other rules to Fraud Detection solutions to comply with your business model!
It is irreplaceable to save your team time and focus on risky orders!
---
Check Even Customers' Social Accounts
Fraud Detection allows you to inspect high-risk orders providing you with the deepest customer insights!
Our solution displays URLs of buyer social accounts:
Facebook
Twitter
LinkedIn
If your manager needs to get that deep, they've got it! Observing social accounts of customers may give key information for making the final decision.
Fraud Detection - flexible management on an insight level!
Get fraud risk free orders and save your time and money with Fraud Detection!
See it in action!
Pick a quick tutorial to learn about various aspects of this extension
Works perfect, great support

Really great extension for fraud prevention. Very good and easy to use. Thank you.

Useful

Tom

from Kenosha, United States

Very useful extension, this extension does things I normally check so helps me speed up the process. I saw this extension check social accounts but the accounts that show up aren't necessarily the correct ones. They should check against email addresses, at least you can do that with facebook. Good extension none the less

+Great start but needs more!

Henry

from Longwood, United States

This is right on track and many good ideas to spot fraud but nothing to flag bad customers, emails. address, phones so they don't get you again. As said Its a great start but only a 1/2 useful extension. If you want a big merchants help Mirisvit happy to help for free :)

Very good and easy to use.

Steve

from Ontario, United States

Very good and easy to use.
Compatibility
The Fraud Detection for Magento 2 is compatible with:
| | |
| --- | --- |
| Magento 2 Community Edition (CE) | 2.0.* - 2.3.* |
| Magento 2 Enterprise Edition (EE) | 2.0.* - 2.3.* |
| Magento 2 Cloud | + |
Have a question? Ask our support team
Need more help?
Save time by starting your support request online and we'll connect you to an expert.
Contact Us Now
Refund Policy
All customers can request a refund during 30 days after purchase of our software, if customer think that our software is not suitable for any reason. To request refund, customer must remove all copies of our software from its store, servers, computers, email, etc and confirm by email such removal. After receiving a request we will proceed refund within 3 business days.
If request for refund is received after 30 days after purchase, it will be rejected. Cost of installation and customization services are not refundable.
Support and bug fixing
Mirasvit offers free 90 days support of all software sold on this site. Customers can report all bugs, which were found in our software. We can solve only the bugs directly related to or caused by our extension. Those bugs must be reproduced on fresh Magento installation without any 3rd party plugins. We will solve that bugs in order of our development plan.
We don't do any type of custom work and we have a right to reject a support request if the issue is store-specific (cannot be reproduced on the fresh Magento installation without any 3rd party plugins).
Mirasvit will not be liable to you for any damages (including any loss of profits/saving, or incidental or consequential) related to our support service caused to you, your information and your business.
Software updates
Mirasvit offers free lifetime updates if they areavaliable. Updates are limited to the Magento version branch (1.x.x or 2.x.x). Customer can download an update and install it by himself. If support period is expired, Mirasvit.com can't solve any possible problems with our software during or after updating. Mirasvit does not guarantee that it will release updates for any product.