 Increase Average Order Value showing your customers an attractive proposition when they consider making a purchase. Sell more what you want to sell, displaying product kits on a product page or a cart.
boost the store revenue
use smart kits (based on rules)
apply fixed or percentage discount
display percentage or sum of discount
define a position for a product kits' block
Extension Demos
Pick a quick tutorial to learn about various aspects of this extension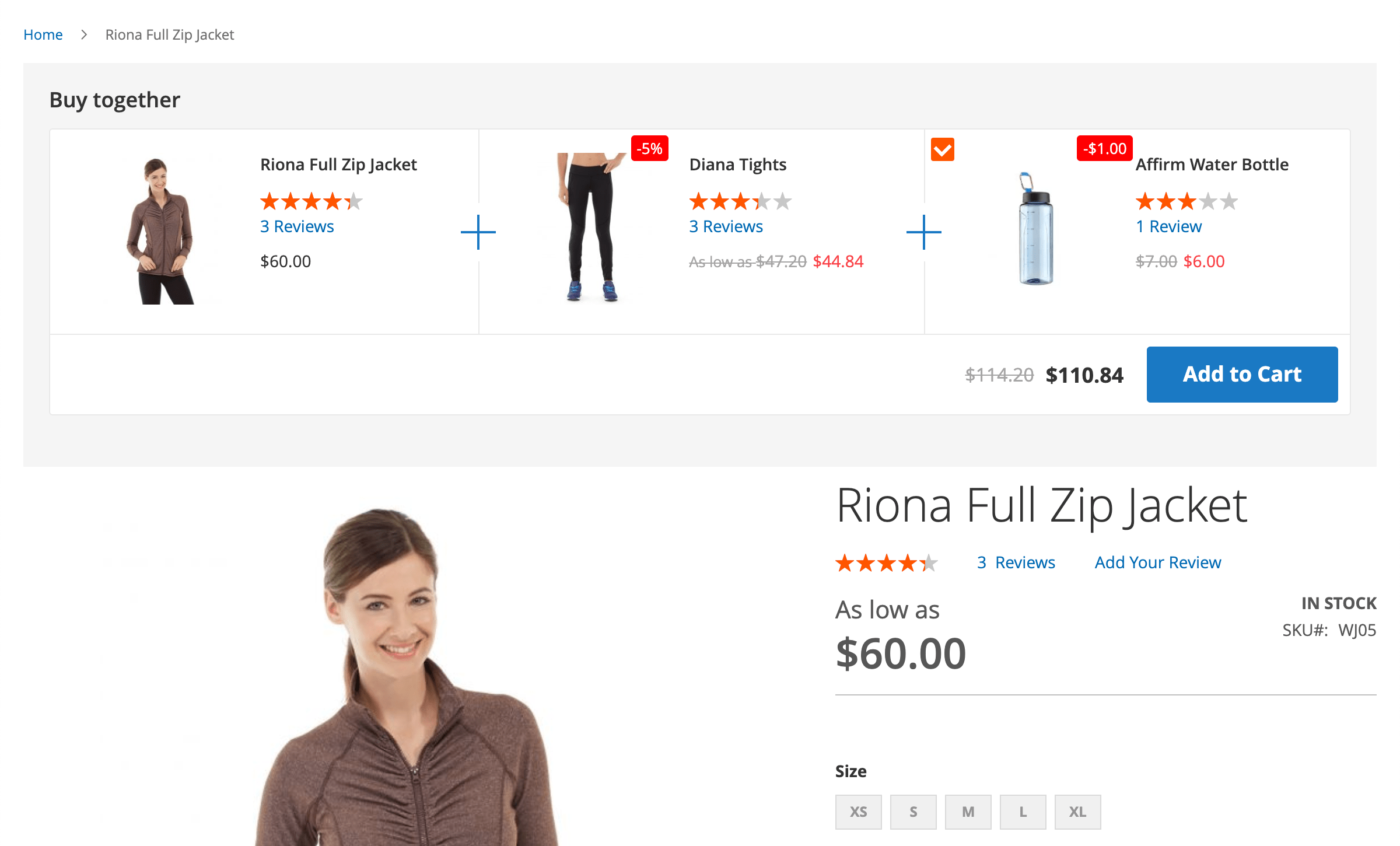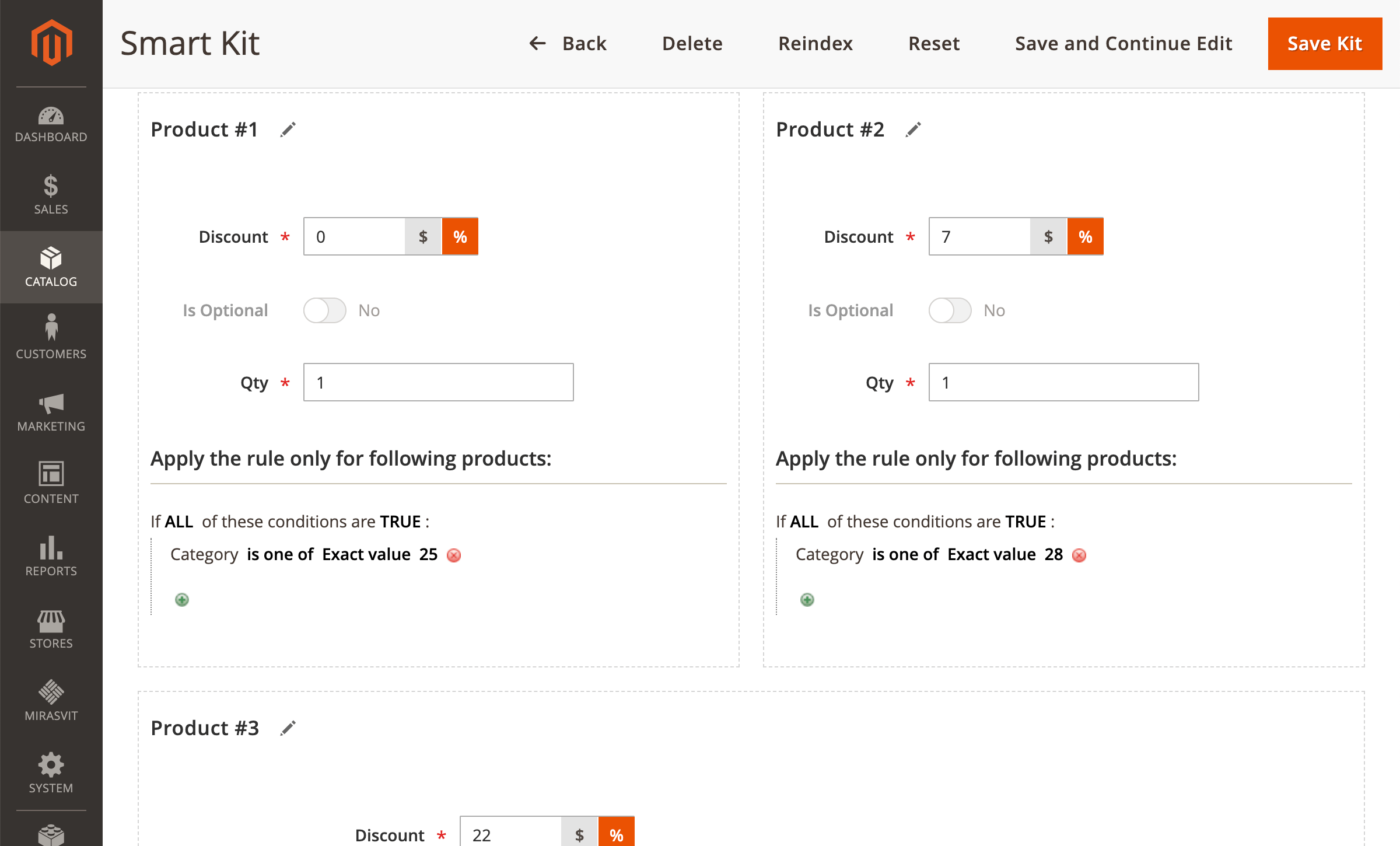 What does the Product Kits module do?
Usually, store visitors keep the main product(s) in focus and don't care about other goods or accessories. What if we propose them to buy something else? One more t-shirt, pants, a memory card for a photo camera, or a mouse for a notebook?
These proposals look attractive to the customer because they get an extra discount and a hint about the goods they probably need. This tool dramatically improves users' experience and increase AOV (average order value). Also, it's a powerful tool that helps the store owner sell precisely the goods that he/she wants to sell, i.e., overstock or outdated items.
Moreover, you can use this module to promote brand new goods or low-selling goods.
Features list
Smart kits (automatically generated based on rules)
Unlimited numbers of goods in a kit
Round the price of the kit (187.23 to 189.99)
Specify the minimum quantity of goods for a kit
Use a fixed/percentage discount for any item in the kit
Specify optional products as part of a kit
Display a percentage or sum savings when purchasing goods as part of a kit
Define the kit header and discount header for basket/order
Display multiple kits for the same product
Define the block position on the product page
Display the block on the cart page
Wrapping up
The Products Kits module is a powerful tool that helps you boost sales in your store and increase AOV (average order value). This module is a 'must-have' if you have many items in the catalog and/or looking for ways to increase sales.
See it in action!
Pick a quick tutorial to learn about various aspects of this extension
Compatibility
The Product Kits for Magento 2 is compatible with:
| | |
| --- | --- |
| Magento 2 Community Edition (CE) | 2.1.* - 2.3.* |
| Magento 2 Enterprise Edition (EE) | 2.1.* - 2.3.* |
| Magento 2 Cloud | + |
Have a question? Ask our support team
Need more help?
Save time by starting your support request online and we'll connect you to an expert.
Contact Us Now
Refund Policy
All customers can request a refund during 30 days after purchase of our software, if customer think that our software is not suitable for any reason. To request refund, customer must remove all copies of our software from its store, servers, computers, email, etc and confirm by email such removal. After receiving a request we will proceed refund within 3 business days.
If request for refund is received after 30 days after purchase, it will be rejected. Cost of installation and customization services are not refundable.
Support and bug fixing
Mirasvit offers free 90 days support of all software sold on this site. Customers can report all bugs, which were found in our software. We can solve only the bugs directly related to or caused by our extension. Those bugs must be reproduced on fresh Magento installation without any 3rd party plugins. We will solve that bugs in order of our development plan.
We don't do any type of custom work and we have a right to reject a support request if the issue is store-specific (cannot be reproduced on the fresh Magento installation without any 3rd party plugins).
Mirasvit will not be liable to you for any damages (including any loss of profits/saving, or incidental or consequential) related to our support service caused to you, your information and your business.
Software updates
Mirasvit offers free lifetime updates if they areavaliable. Updates are limited to the Magento version branch (1.x.x or 2.x.x). Customer can download an update and install it by himself. If support period is expired, Mirasvit.com can't solve any possible problems with our software during or after updating. Mirasvit does not guarantee that it will release updates for any product.