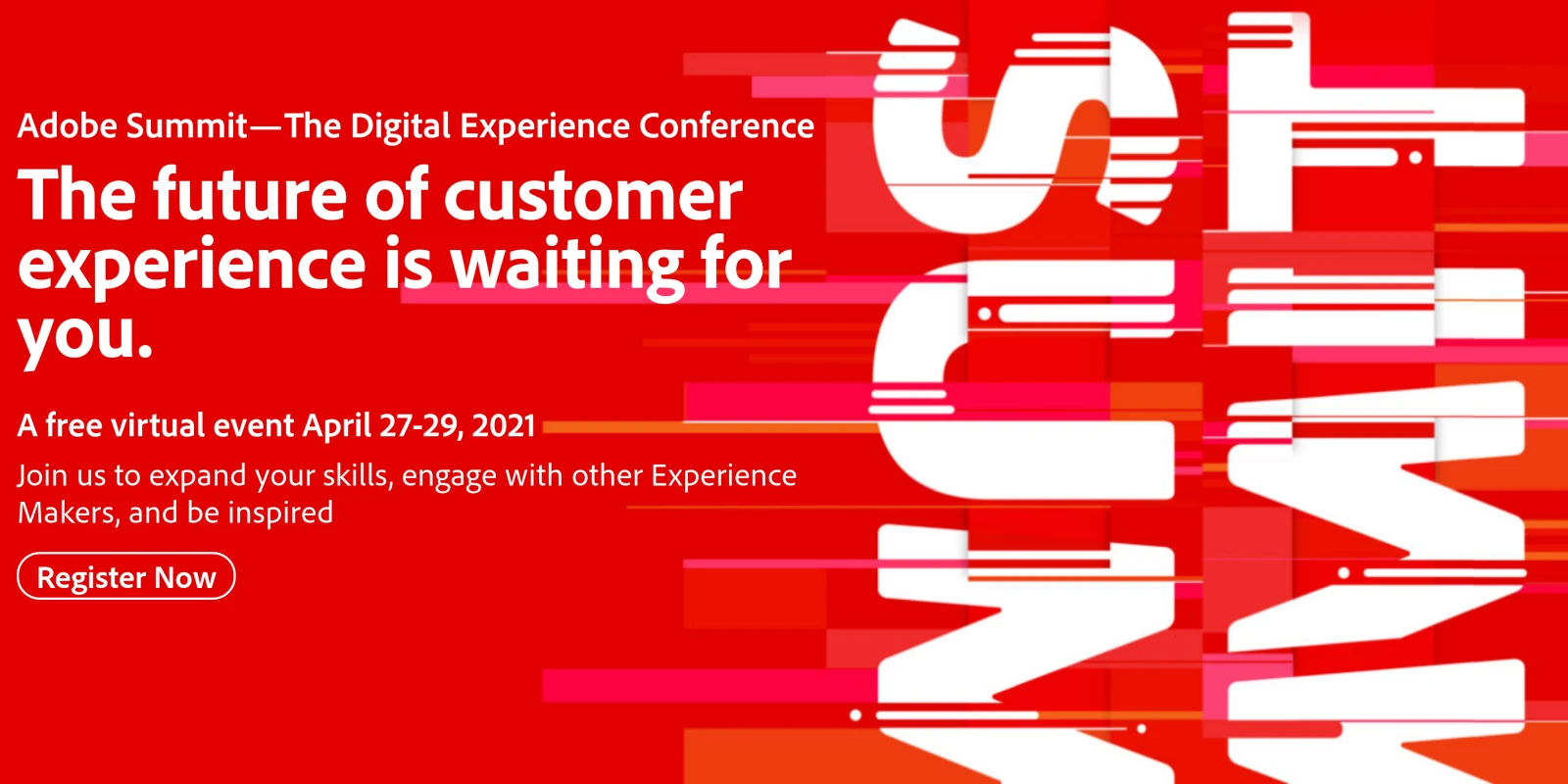 The annual Adobe Summit conference will again be held entirely virtually, and is completely free of charge. Without having to leave the comfort of your house or spend any money, you can get an insider's view on new stories and knowledge findings surrounding Adobe products. This includes the Magento product line.
This year's sessions and training workshops will cover a broad variety of topics, including case/use studies, thought leadership, tips & tricks. As usual, the summit will focus on customer experiences as the driver of business growth and customer loyalty.
The information provided at these virtual presentations is aimed at different types of businesses (B2B, B2C, SMB) and audiences (general, beginner, intermediate, advanced)
Here are five reasons why you should join in on the various sessions at the Adobe Summit 2021:
1. It's a great place to learn how to manage your Magento Store
This year at the Adobe Summit, there will be two workshops regarding Magento Commerce. More specifically, there will be one workshop especially dedicated to Magento – the second one will be a general workshop for any Adobe product presented at this summit.
If you've just launched your Magento Store, this summit gives you 2 hours of free training with Magento basics. During this workshop, you'll get acquainted with the key features of Magento. You'll learn the basics of building your product catalog, how to manage content, and how to run promotions.
The workshop will be conducted by Adobe Learning Services expert instructors, who will teach you how to use the key features of Magento.
The technical level of the workshop is beginner, and it is aimed at business analysts, campaign managers, creative leaders, digital marketers, IT executives, marketing executives, mobile marketers, channel marketers, commerce executives, content marketers, and project managers.
You can also visit a second workshop which will tell you all about the best practices for optimizing digital adoption. During the course of the two hour session, members of the Adobe Professional Services Strategy Team will show a Data-Driven Operating Model (DDOM) approach and demonstrate how to identify the model which suits your business best.
2. Learn how Magento evolves and what to expect from it in the future
As the world around us is constantly changing, so does Magento evolve to best fulfill the needs of its consumers. At the Adobe Summit 2021, you can learn from its creators about future innovations of this platform.
This year, Adobe experts will go into the possibilities of extending Magento Commerce with Adobe I/O, Magento roadmap, Live Search, and Project Firefly.
Nishant Varandani, Technical Architect, and Ketan Purohit, Solution Architect, will explain to viewers how Magento Commerce has been moving toward microservices architecture. They will also explain the latest extensibility developments and how the new architecture will make the upgrading process run more smoothly.
At this keynote you'll learn how Magento will be integrated with Adobe I/O. The Developers will hear about the extending opportunities of the out-of-the-box Magento Commerce using Adobe I/O. And finally, attendees will get information on how extensions and integration will work in the future.
Christian Hedge, Director of Product Management, Magento, will uncover the evolution roadmap of Magento Commerce and other Adobe products. He'll explain all about the Live Search with Adobe Sensei, B2B improvemetns and GraphQL.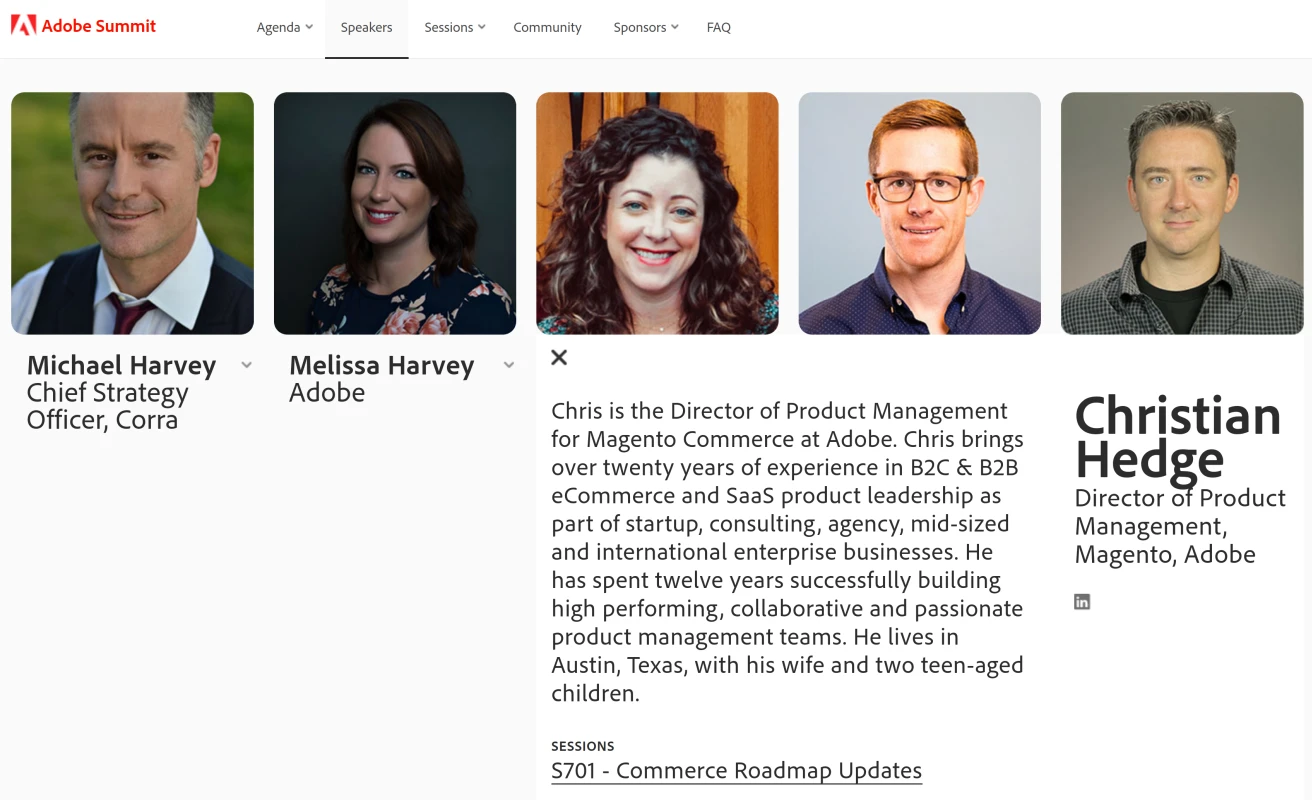 Sherrie Rohde, Developer Relations, and Jonathan Roeder, Director of Developer Experience, will discuss the efforts Adobe has been making to create a more intuitive and convenient developer experience.
They will then go on to tell about Project Firefly - a framework for third-party cloud native apps, while pointing out that Project Firefly has joined forces with Adobe Experience Manager, and Magento.
3. Get insights on why trust, empathy and emotions are important for your store
Over the last year, digital channels have skyrocketed as shoppers prefer to make purchases online. Brands seek ways to create impactful, human connections with customers and trust, empathy, emotions become vital for this.
The Adobe Summit 2021 will present you with three stories of brands that proved that it is possible to build human connections with customers online and gain their loyalty.
Fine jewelry brand Catbird will share strategies on how it managed to rebuild the experience of its offline shops in the online world via the personalization of the online shopping experience.
Personalization helped Catbird retain customers with new experiences that lead to revenue growth beyond the stated expectations.
Peter Holten Mühlmann, founder and CEO of Trustpilot, will discuss how consumer trust becomes the central force pushing growth. He'll explain why customer reviews are important for creating consumer confidence, and why they should be utilized as a conversion channel. With Mühlmann's keynote, you'll gain hints on how to leverage the consumer reviews to obtain trust and customers.
At the same time, it's key to remember that not only acquiring new customers is important for the merchants. Building a loyal customer base is particularly relevant, which can be done by tapping into customers' emotions, according to Stephanie Bannos, Solution Area Lead for Customer Experience at Rightpoint Consulting.
Reaching customers on an emotional level with emotionally-moving loyalty programs helps bring repeat sales to customer referrals. Bannos will explain how to achieve emotional loyalty with affinity, attachment, trust, and advocacy. You'll get tips on how to use the Adobe products for building an emotional loyalty with customers.
4. Know how to better fit in at times of online commerce domination
As of late, commerce has been leaning in the direction of digital channels, and companies are turning to the digital sphere as the dominant way of driving growth. Adobe experts will explain ways how to better fit in.
Join Jason Woosley, VP of Commerce & Developer Experience at Adobe, and learn how your company can become more agile and bring in new customers with Adobe Commerce Cloud powered by Magento.
Jennifer Small, Senior Solutions Consultant at Adobe, will explain how to quickly and efficiently bring new international markets online.
Marion Frejisen, Strategic Business Advisor at Adobe, will talk about the rising popularity of marketplaces, which provide ways to make more transactions online.
Frejisen will explain why there is such high demand for marketplaces. He'll give examples of marketplace types and will address arguments around whether your company should implement each, and which type to chose.
5. Get examples of best practices from top brands
The customer experience has become a new competition field for businesses and often a superb experience from the company's viewpoint is the opposite in the eyes of customers, according to Bain.
Close the gap between customer expectations and what your business delivers by considering successful examples and best practices from top brands across multiple industries.
Sue Beckett, VP of digital marketing and e-commerce at Lovesac, and Chris Guerra, co-CEO at Blue Acorn, will discuss how they were able to make buying premium products without physically touching them a more convenient process.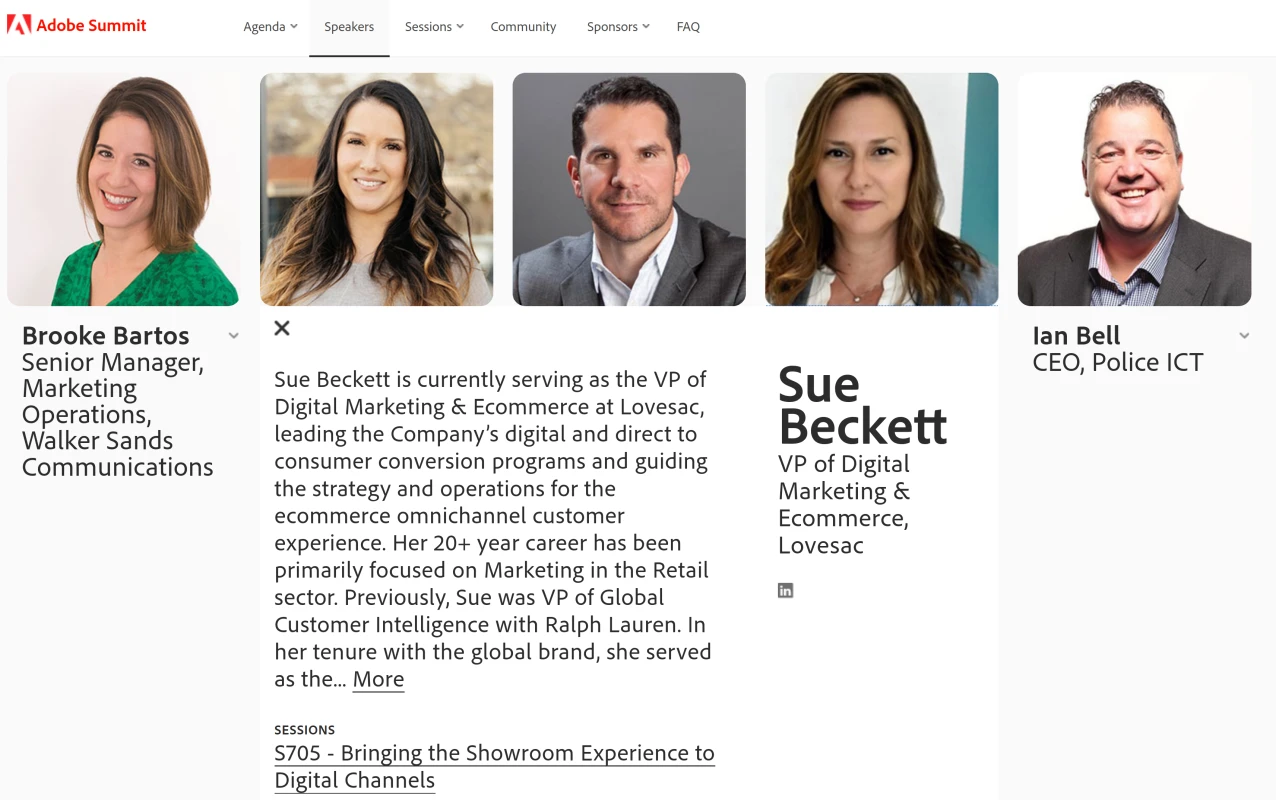 Janet Dade, Director of Society and Administrative Technology, American Chemical Society, and Rakesh Prasad, VP, Digital Business, Innover Inc, will explain how a nonprofit organization can transform and accelerate the acquisition of new members.
Brightcove CMO Jennifer Griffin Smith will demonstrate how brands can use video to build greater bonds with customers. She will explore the rise of virtual events ant what to expect in the future.
Haris Hadziselimovic, Director Marketing IT, Dell Technologies will show how his company managed to quickly adapt to the new digital environment with agility, scale, and security with Adobe products.
Chandan Agrawa, CEO & President of the venture of Hindalco Industries Limited, will explain how a top-5 aluminium major vendor was able to utilize Direct to Consumer E-commerce. Hindalco created the Eternia brand to diversify into D2C and now sells aluminium windows directly to consumers.
When and where to register for Adobe Summit
The virtual conference will be held during April 27-29, 2021. Become a participant by registering at summit.adobe.com. Use an existing Adobe ID, Enterprise ID, Federated ID, or create a new free account.
Viewers will be provided with links to watch speakers and participate in workshops.
The classes will be conducted live and nearly all will also be available on-demand. You can register for as many sessions as you wish.
Summary
Whatever your area of interest — from data to analytics, content to commerce, personalization to marketing automation — the Adobe Summit 2021 gives you an exclusive opportunity to learn from top brands.
This free virtual event will help you learn how to make every interaction valuable — with experiences that are connected, personal, relevant, and meet rising expectations.
Register for the event and advance your skills and career.