The ecommerce world puts great emphasis on free shipping as a significant force that drives purchasing decisions:
58% of online buyers admitted to buying products to qualify for an incentive;
83% said they'd be fine with waiting for a couple of days more if delivery is free;
68% stated that they consider free returns shipping is highly motivating factor for completing their purchase.
Global Study of Online Shoppers by Comscore
According to an analysis run by E-tailing, free shipping with no conditions is a TOP-1 criteria for checkout (73% respondents have marked it as 'critical'). In another study 93% of respondents indicated that free shipping on orders would incentivize them to purchase more products.
Research conducted by Statistica states that unexpected costs are the top reason for shopping cart abandonment, which is a very important takeaway for all vendors: always let customers know the full cost of their purchase at the beginning.
Image 1. Why do online shoppers abandon shopping cart by Statistica
Since the giants of ecommerce like Amazon provide a free shipping option, it seems customers have come to expect it as a must-have perk for any trusted store. The most pressing question for those considering switching to free shipping is how to avoid losing money on the delivery services.
Absorbing expenses caused by free shipping
I would like to place here a quote by Bala Ganesh, UPS:
Free shipping is not actually free--somebody is paying for it.
In general, there are 3 fundamental solutions available for compensating expenses that are connected to free shipping:
Visitor-customer conversion improvement provides newly generated revenue to compensate for expenses. You are paying for it by reducing the revenue from the sheer number of customers.
Prices are increased such that they include the cost of delivery. Customers are paying the difference, just not in name.
Average Order Value is increased to cover free shipping expenses. You are paying for it from the revenue generated from the increased number of items in the shopping cart or the cost of items bought by incentivising customers to meet the free shipping criteria.
To determine which option you should follow, the first thing you need to do is start running split tests. The Key Performance Indicators (KPIs) that you need to analyze:
Average Order Value (AOV) – the average amount of money customers spend per order;
Net Margin/Order, % – indicates the gross profit you get from orders;
Conversion Rate, % – indicates the percent of visitors that become customers;
Profit Growth, % – basis for making your final decision.
The formula for Profit Growth estimation:
Profit Growth= (1+AOV B/AOV A)*(1+Net Margin/Order B/Net Margin/Order A) (1+Conversion B/Conversion A)
Once you are clear on what we'll be estimating, I suggest running tests in the following flow:
Charging for Shipping / Free shipping without any other changes
This test will indicate the potential of the shift to free shipping method. According to the experience of various companies:
The free shipping option has been added to NuFACE increased their orders by nearly 90%;
2 Big Feet company increased the number of orders by 50%.
Most likely, the changes will be reflected in your Conversion increase and Net Margin/Order decrease. Even if the test shows that Profit Growth is positive, I suggest continuing to try other shipping methods, as they may exceed your expectations and provide you with an even more profitable framework.
Should you decide that you are confident in the free shipping method without extra charges, here is how you set it in Magento 2:
go to backend;
select Stores -> Configuration -> SALES -> Shipping Methods;
enable free shipping and set up the details;
save the configuration.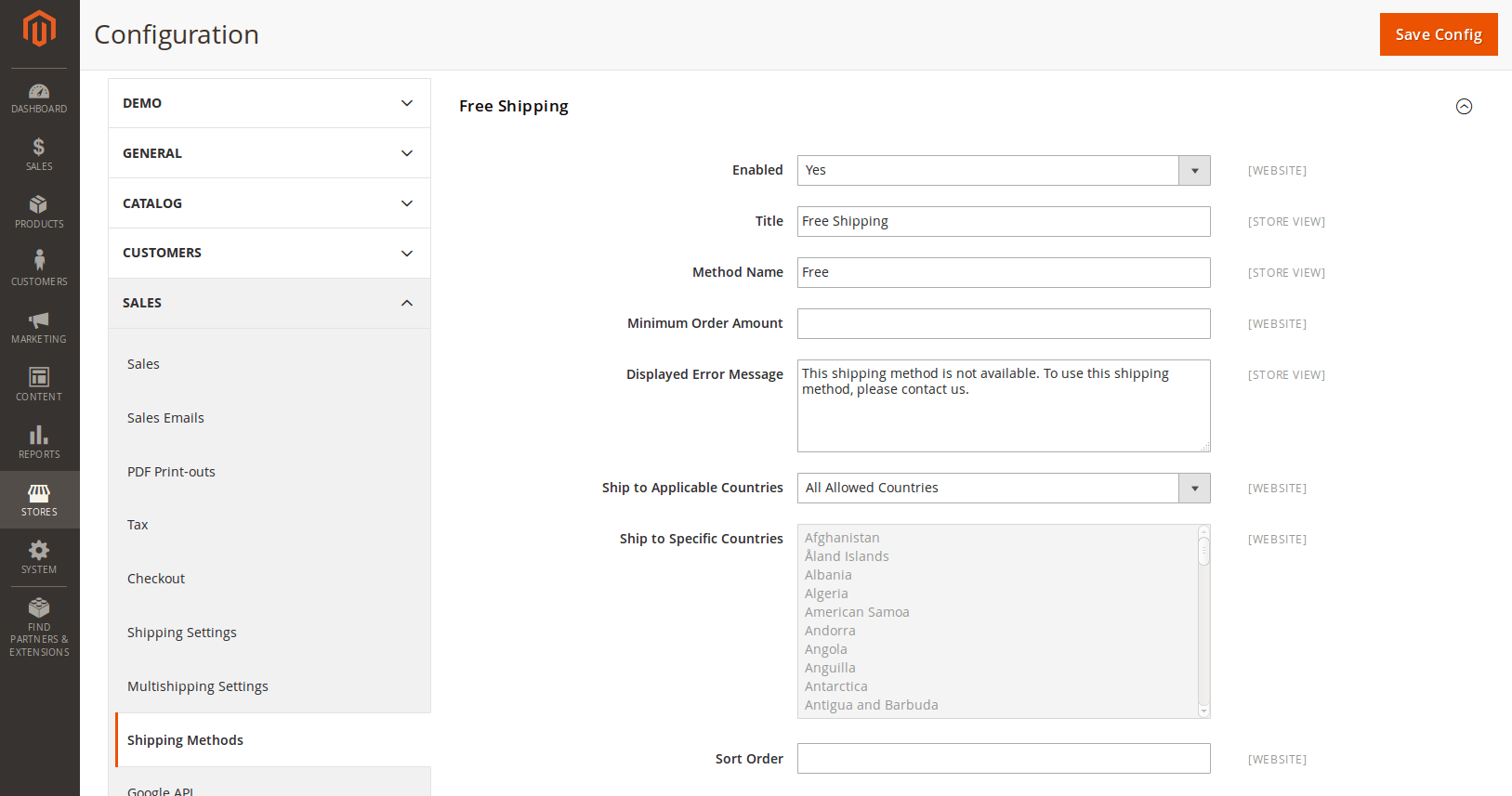 Image 2. Setting up the free shipping method in Magento 2
Higher Product Prices
Compensating expenses may sound almost too simple, but it actually works. Just don't try to make money by hiking up prices, as compensation has only to cover your real expenses for delivery. Otherwise, your store will be abandoned in favor of competitors with lower prices – yes, prices are still calling the shots as the most determining aspect for the majority of industries' sales. In case you decide to select this option, make sure you have done the calculations that demonstrate its profitability.
Free Shipping Thresholds
The idea behind this approach is in setting a limit, or "threshold" of the order value that will allow for the free shipping option. As you have likely already guessed, this approach aims to increase Average Order Value.
To estimate the amount you need to set up as a threshold, take a look at the Average Order Value that you have already checked. You have to incentivise customers reasonably, but the amount of the threshold is dependent on the particular industry. Here are a few tips from Mirasvit to consider:
the max threshold should be equal to 50% of your current Average Order Value;
the more costly the goods are, the lower threshold should be;
Try to make the threshold reasonable – look up complementary products. For example, you are selling pizzas, and the current Average Order Value reflects the price of an average large pizza. Try to leave a threshold in such a way that buying beverages will meet the requirements of free shipping;
always run tests!
You can set this feature in Magento 2 in just a few clicks:
go to backend;
select Stores -> Configuration -> SALES -> Shipping Methods;
set minimum offer amount;
save the configuration.
Image 3. Configuring free shipping with thresholds in Magento 2
When FREE is not an option
If the free shipping variant is not an option for your store, you have three options for setting up prices.
Flat rate shipping.
Table rate shipping.
Dimensional weight shipping
Flat Rate Shipping
This is the simplest method among the three, and can be set up in just a few clicks. The store owners who use it value the ease of setting it up, and the transparency it brings towards rates for the customers. This method sets up a fixed payment for customers per product or per order.
To set up this option, go to Stores -> Configuration -> SALES -> Shipping Methods -> Flat Rate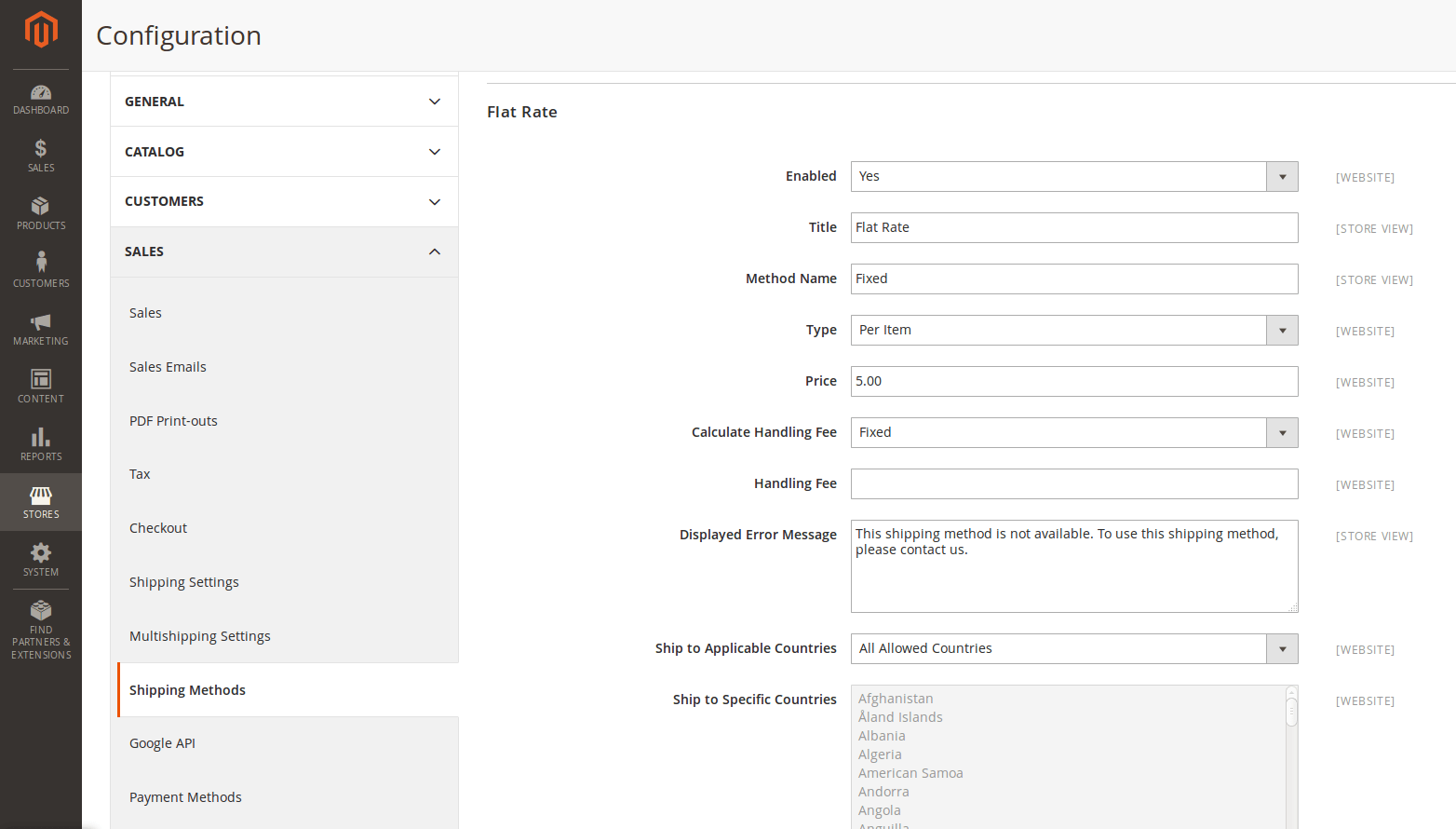 Image 4. Flat rate setup in Magento 2
Table Rate Shipping
Unlike Flat Rate, this option lets you have a balance between revenue and costs. If your business model is based on a fixed income from every purchase, this method is what you need. Clearly, shop owners have different expenses for different shipping criteria – some customers are miles away from your warehouse, some products are so heavy that you have to order a truck instead of courier – for stores with multiple types of products, expenses for transportation may vary greatly. Table Rate Shipping option in Magento 2 automates the calculation of shipping based on multiple parameters that you have set.
To set up this method, go to Stores -> Configuration -> SALES -> Shipping Methods -> Table Rates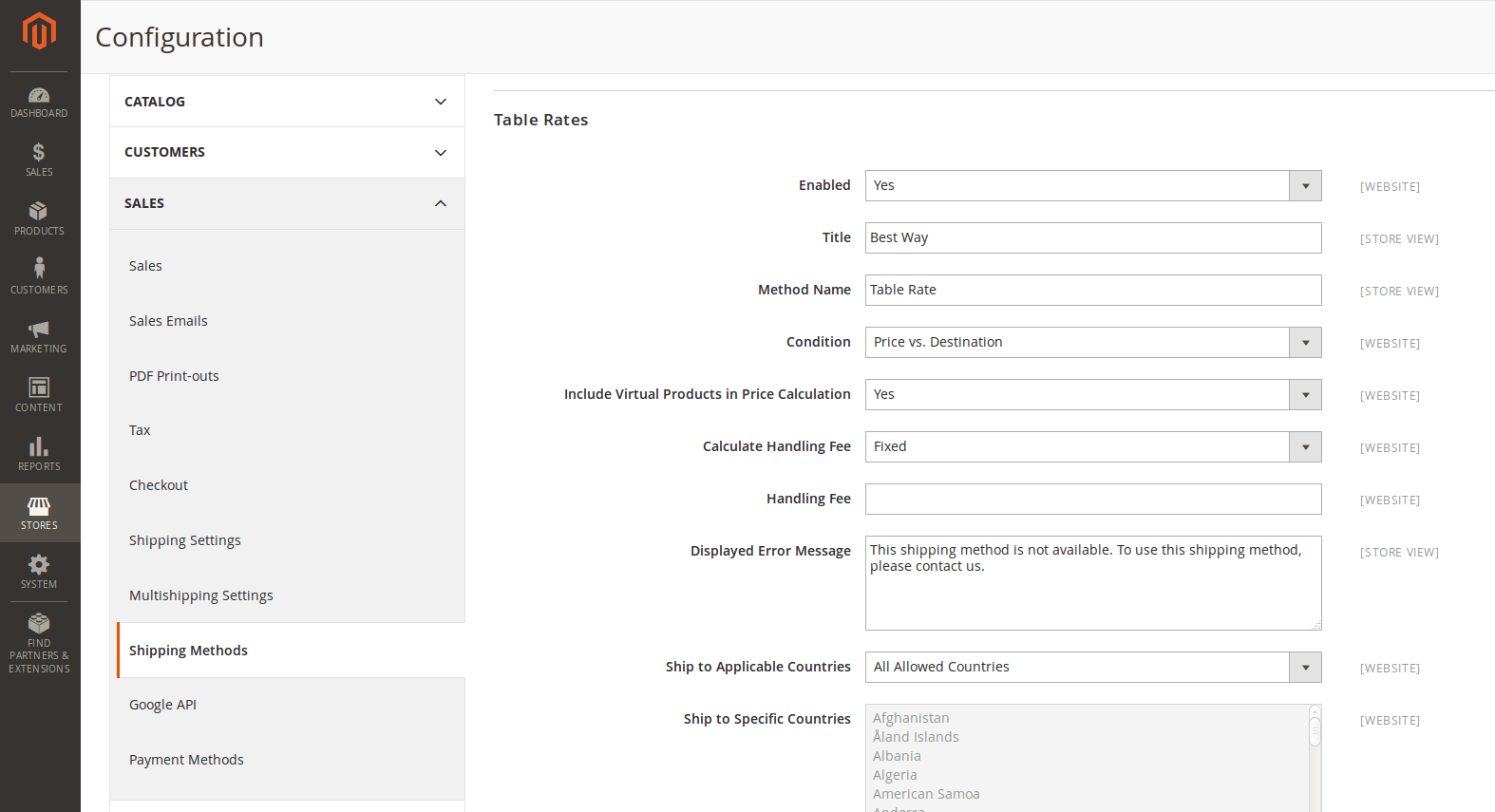 Image 5. Table Rates shipping method in Magento 2
While setting this up, you can select one of three calculation options available:
Price vs Destination;
# of Items vs Destination;
Weight vs Destination.
After you have determined your options, it's time to configure the rates. In the same menu, click Export to download the file for configuration. After you are done with changing the rates in the file, click on Import and upload it. Do not forget to test table rates after uploading.
Dimensional Weight
No matter what's inside, you are paying for the space it takes. This option has become popular recently, since such industry giants like DHL, FedEx, UPS and USPS use it. Magento 2 has them as integrated options, and all you have to do is to enter Stores -> Configuration -> SALES -> Shipping Methods -> and pick the one you like.
Summary
The free shipping option is definitely trendy right now. Still, you have to take the time to determine the balance between revenue gross and costs for transportation.
Each time you have doubts about your shipping method choice, use the following formula for estimating the Profit Growth which is crucial for making a decision: Profit Growth= (1+AOV B/AOV A)*(1+Net Margin/Order B/Net Margin/Order A) (1+Conversion B/Conversion A).
Whatever option you choose, you can execute it in Magento 2 with ease.