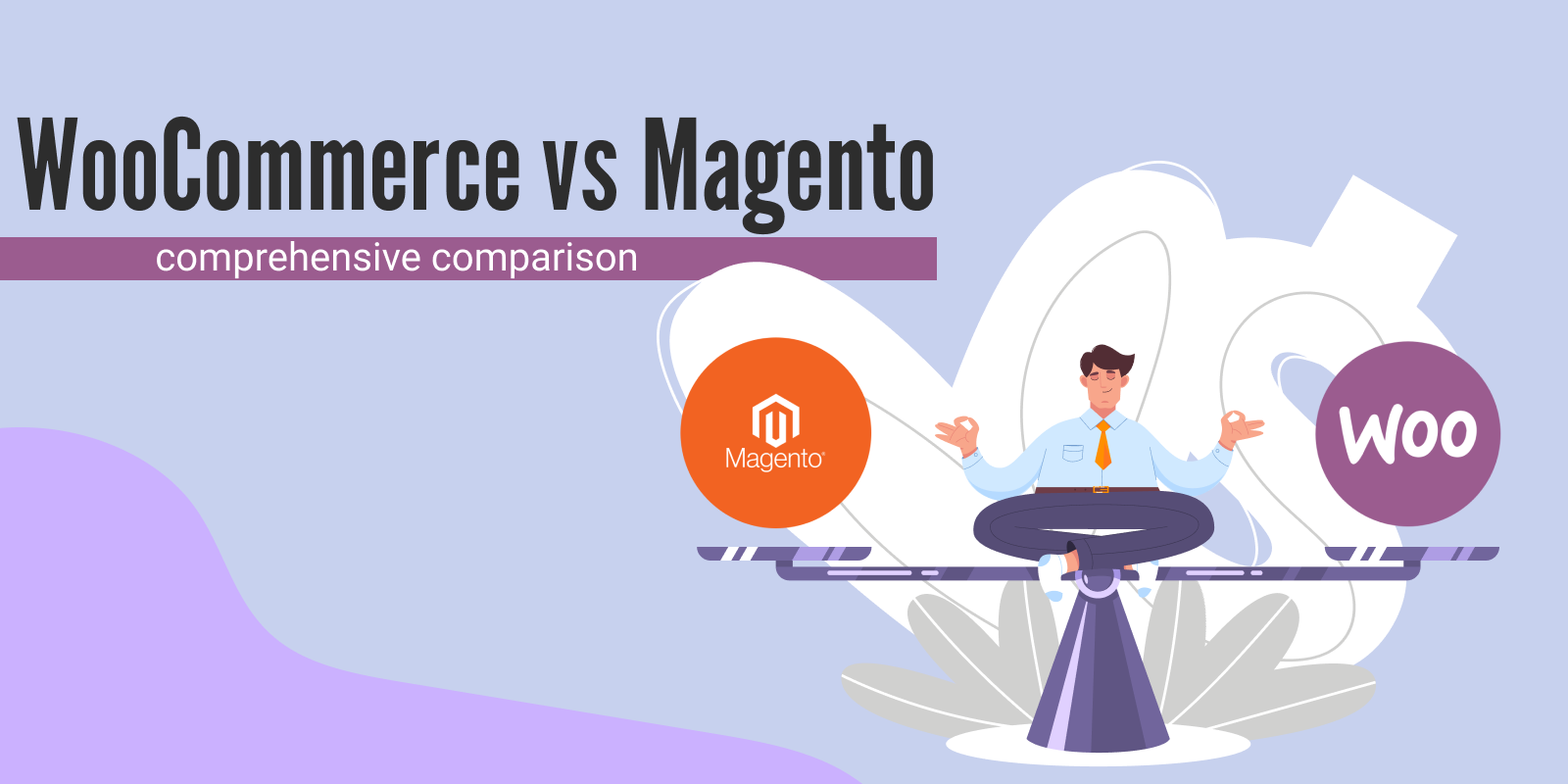 WooCommerce versus Magento is a popular topic for discussion in the world of ecommerce. These two software platforms have been acquiring in ubiquity on the grounds that developers of every one of them continually invest extraordinary energy into fostering their software product to serve clients.
Between these two monster online selling platforms, it is difficult to choose which one to give the champ title. Each of these two has its own various positive qualities and shortcomings. This notwithstanding, a merchant can consider functionality of these platforms to track down the most reasonable one for their future online store.
This article takes you through a far reaching comparison of WooCommerce versus Magento to highlight their best features and showcase drawbacks, thus helping merchants to track down which one is better for future internet shops.
On the off chance an online store is already launched and attracts customers, moving to a Magento store could be valuable decision. Knowledge of relocation details from, for example, WooCommerce to Magento will assist in migration and will save a great deal of time when constructing another store without any preparation.
WooCommerce and Magento overview
Magento has continually procured a high standing through this point. It emerged on the 31st of August, 2007 and has delivered numerous adaptations and version refreshes.
As indicated by Builtwith, the Magento platform is used by 740,334 sites that are its clients. Magento is utilized by 196,676 live sites, and historically Magento was utilized by 543,658 websites.
Created for fostering a viable business, Magento accompanies a wide scope of solid focuses on tasks that arise for merchants. These incorporate built-in functionalities, customization capacity, and consistent incorporation of extensions made by third-party developers.
Here is a chart of how Magento popularity grew in time, according to Builtwith: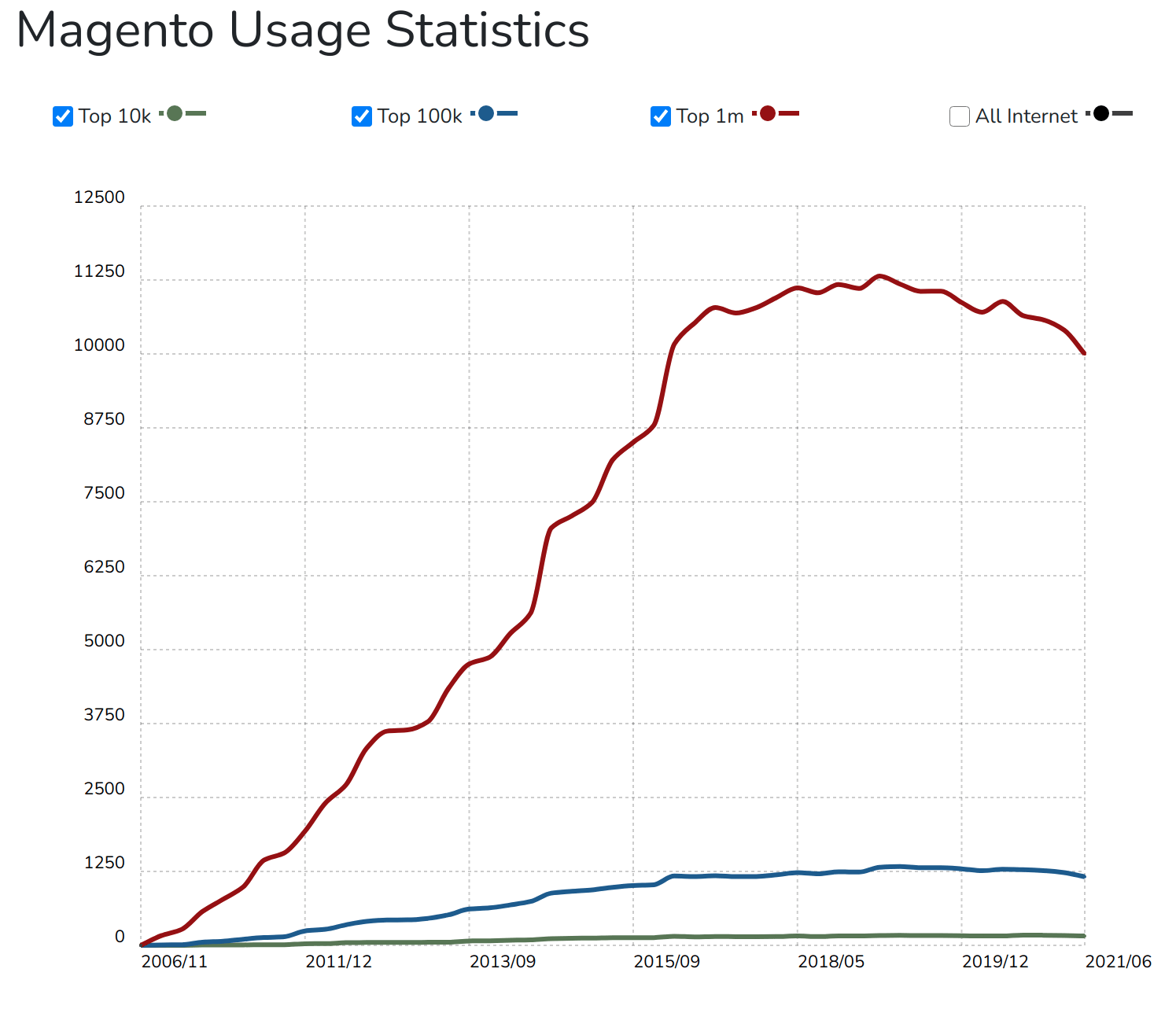 WooCommerce is an amazing module fused in the publishing platform WordPress. The latter is an open-source programming framework developed to reduce the complexity of making excellent sites and online journals.
Dispatched in 2011, WooCommerce has been constantly gaining ground. As of now, WooCommerce is facilitating more than 4.7 million sites across the world.
Regarding the sites utilizing Web based business platforms, WooCommerce represents the most elevated extent of circulation with 26% while Magento positions third with 8%. By and large, these two solutions are among the top well known sites globally.
Almost 5,406,925 sites are WooCommerce Checkout Clients, and there is 3,219,079 live sites utilizing WooCommerce Checkout. Extra 2,187,846 websites that utilized WooCommerce Checkout generally.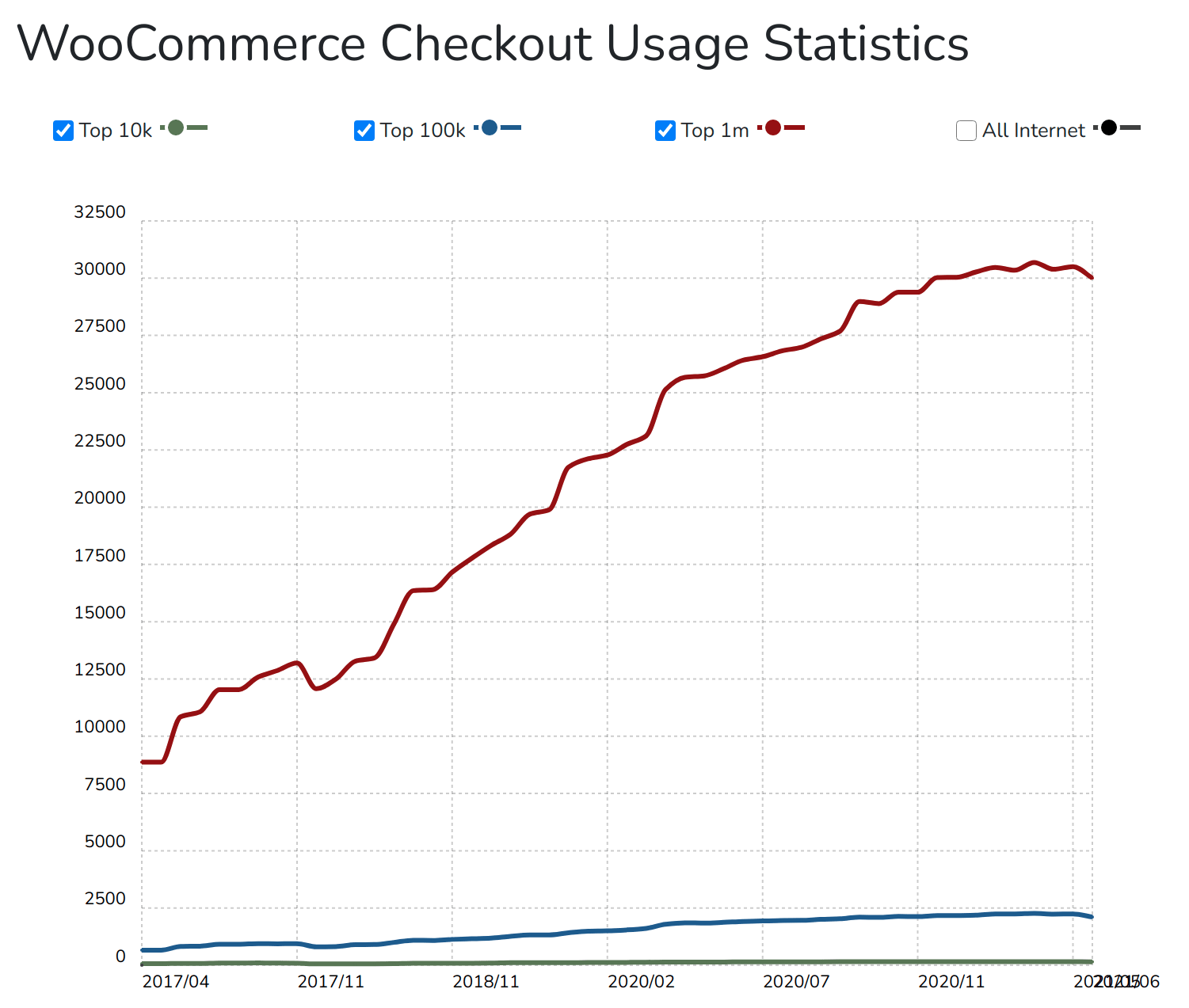 Despite the fact that Magento and WooCommerce platforms both expect to provide a unique business climate, there are huge variations between them. Let's now dive deep into the nitty gritty correlations between WooCommerce and Magento including their work speed, additional modules, security, convenience, promoting, and financial value.
WooCommerce versus Magento in terms of performance
With regards to the presentation of any online website, its stacking time and accessibility are vital. These parameters will represent the deciding moment for business to live and prosper or to decline and shut down. Languid page loading, and the "can't reach" page status will give a horrendous encounter to clients.
The more extended time period it takes for the store to stack all its resources and display them to the shopper, the higher the probability of clients to pass on the site and move to different places for shopping. Consequently, it will extensively add on to the normal page loading time for the site and adversely affect the site's positioning in search engine ranking.
Performance results in Magento
WooCommerce and Magento are two arrangements that need to stand up to issues with page stacking time in some way or another. As per an investigation of online business site execution time, the stacking speed of these two software solutions doesn't satisfy hopes as their other significant provisions, as was found by Quanta.
The speed and accessibility estimation has been researched for the store backend, which means the time a content management system takes to produce the HTML code and send it back to the internet surfing program (browser). This procedure for time estimation has been applied to each page available in the online store site, from the landing page to the checkout and shopping cart.
Researchers found that Magento offers genuinely steady page stacking time with a normal accessibility rate is up to 99.71% notwithstanding the high traffic that was evaluated as 3000 guests each day. In any case, the speed isn't as high as expected.
The results showed that the pages that take part in creating a shopping channel stacked in at 665 milliseconds by and large, which is past the under 500 milliseconds objective, set by Google. Magento's average online load time of 568 milliseconds is sufficiently quick to hold customers until the finish of the shopping.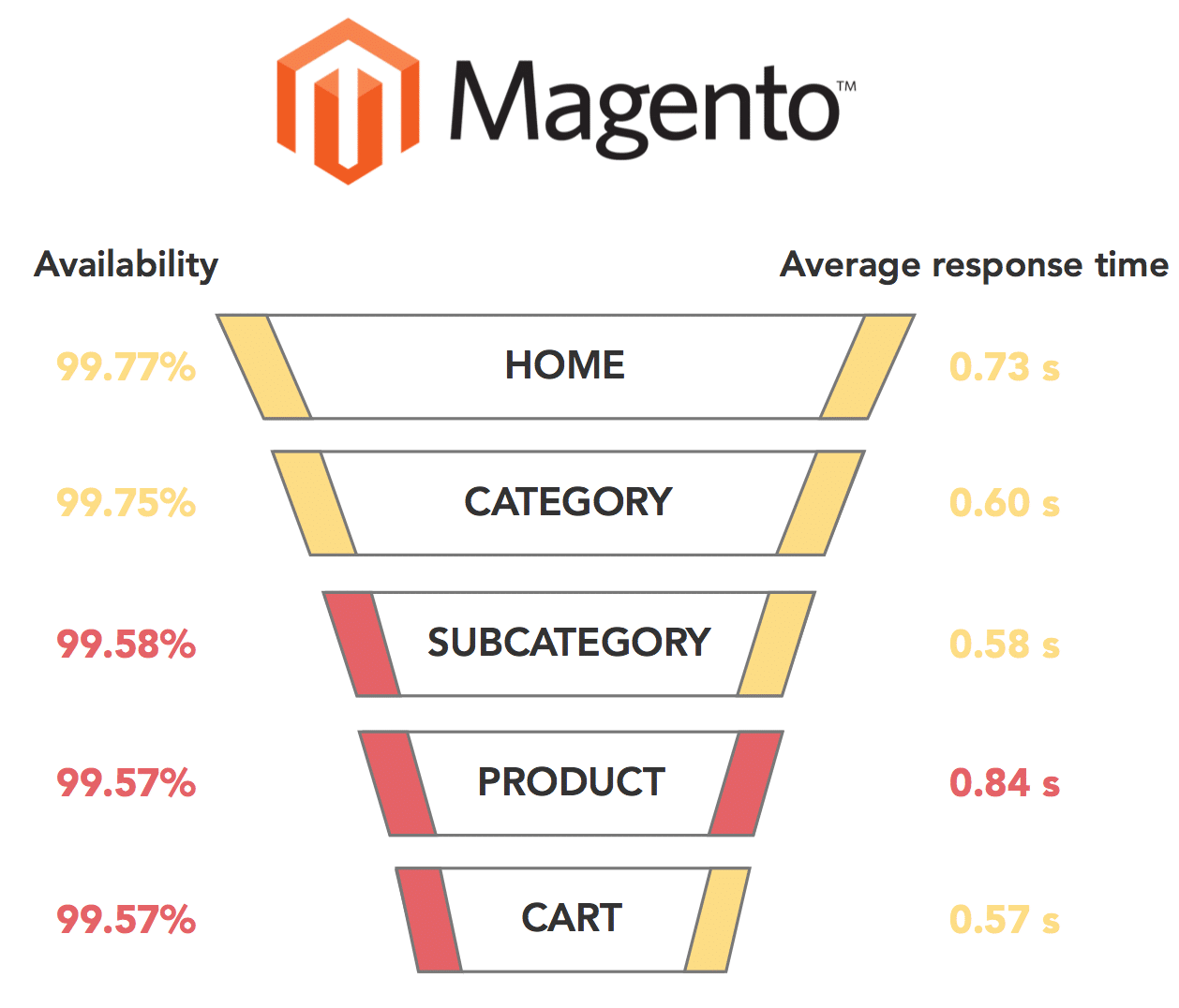 Magento's designers consistently hope to further reduce Magento execution time and they utilize reserving page content and static resources on the working server to speed up reaction times in Magento 2.0 and newer versions. Hence, the page loading time has been improving significantly.
Performance results in WooCommerce
Despite the fact that WooCommerce additionally has pretty high accessibility like Magento, its reaction time is in reality pretty slow. The normal page load duration of all online pages is 776 milliseconds. The shopping cart page is particularly slow and requires 1.32 seconds to load.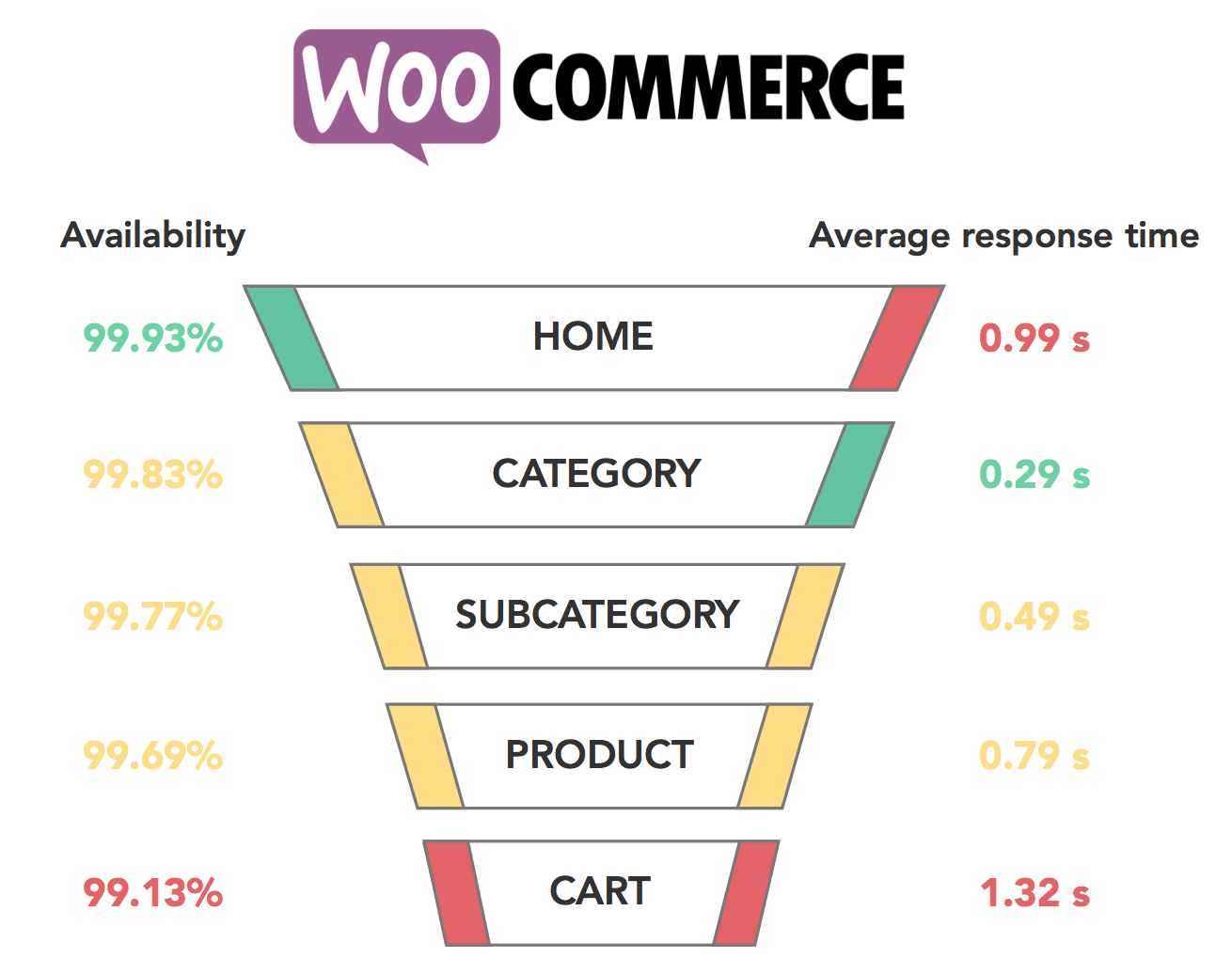 Generally, in WooCommerce versus Magento, the chance of getting what you need is somewhat fulfilling in both. Concerning the page stacking time, Magento has a superior performance results in correlation with WooCommerce. Thus, clients will see it more charming when perusing Magento stores.
Plugins in Magento and WooCommerce
Modules and plugins are software pieces that are coordinated into stores to upgrade and expand the functional activity of online business. WooCommerce and Magento are both platforms that are famously notable for an enormous number of additional plugins that can upgrade the usefulness and the visual design of the site.
WooCommerce Plugins
Since WooCommerce runs on top of WordPress, this platform can propose an admittance in excess of 55,000 free WordPress modules and visual design styles. A merchant can tweak their internet business store as far as item types, store administration, advertising, financial installments, item delivery, upgrade, and customer membership. In addition, it is not difficult to incorporate them into WooCommerce online shops.
Magento Extensions
Similarly to WooCommerce, Magento comes with an immense assortment of paid and free to use extensions that were developed by dozens of third-party programmers. Magento has an energetic base of designers, companies, and consultants.
As of now, Magento Marketplace center has almost 6000 modules for different purposes like bookkeeping and money, showcasing and advertising, enhancing sales, installment and security, content and its customization, online site enhancement, analytics, and client service.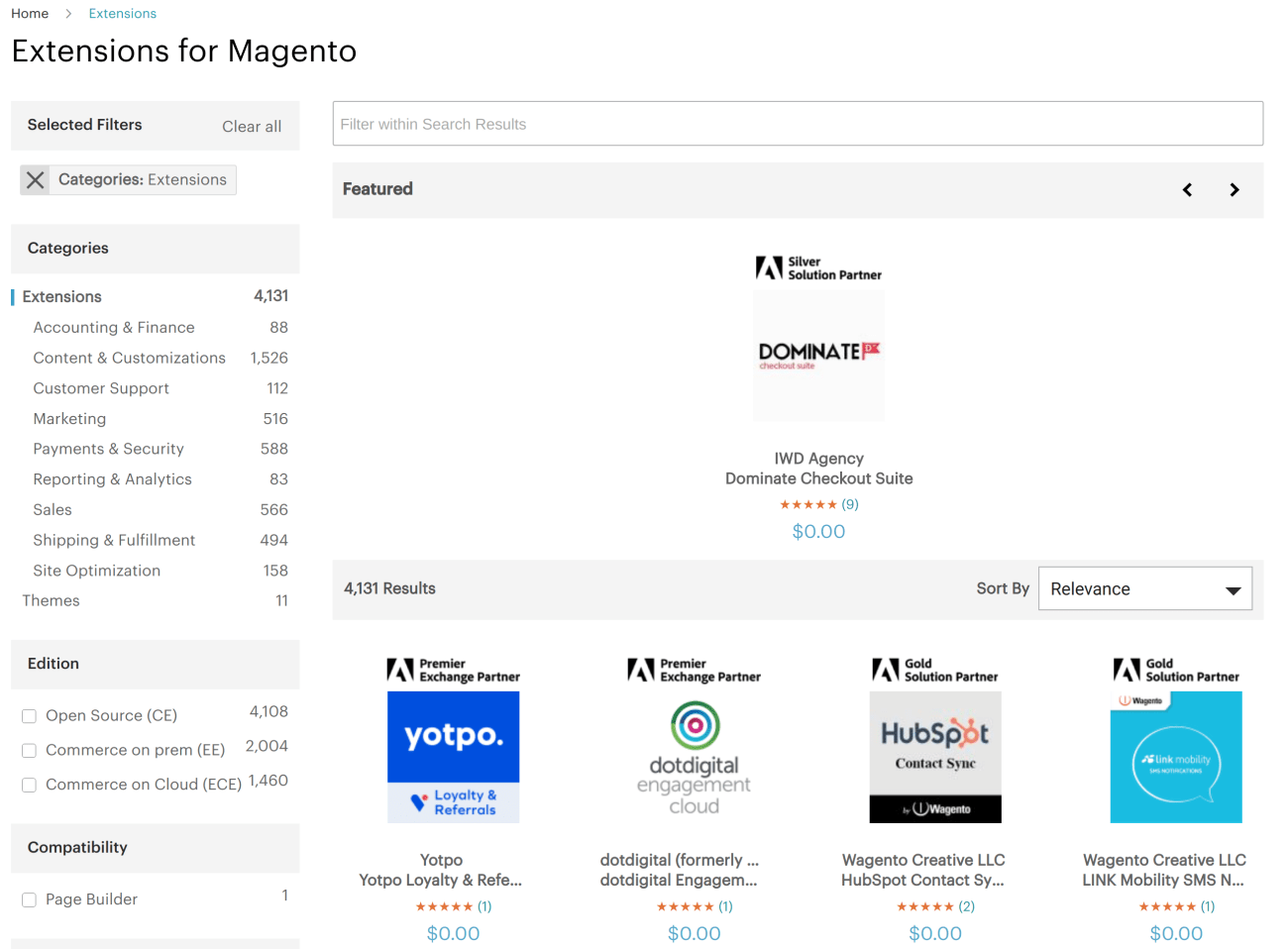 Both WooCommerce and Magento have to propose a large group of extensions to support online business. Among those thousand propositions, a merchant should ensure that they introduce in their store those that they need most. Search for plugins that assist with saving a store's resources and doen't influence its loading time.
Comparing WooCommerce and Magento ease of use
WooCommerce
WooCommerce is designated for amateurs and clients with no internet business experience, so WooCommerce engineers consistently attempt to make it as novice-amicable and workable for their clients. Practically all clients utilizing WooCommerce have expressed that this site is fairly simple to utilize, particularly when they cooperate with WooCommerce's frontend functionality.
WooCommerce gives full provisions on the request subtleties in the dashboard, client subtleties, and everything other necessary for ecommerce. WooCommerce is the most effortless and expert Wordpress module to use it as a base for an online business site.
This online platform is exceptionally adaptable within the Wordpress dashboard. A merchant can undoubtedly customize thir site with wide choice of visual designs, that allow to not only change the visual shades of the store, but also add various capacities to the shop.
WooCommerce likewise permits adding a limitless number of items for sale and shoppers accounts in the store. To make it simpler for clients, WooCommerce accompanies an arrangement wizard that will walk them through the underlying of arrangement process like making pages, setup financial installments, pick up the cash, set delivery alternatives and configure taxes. This software offers a lot of help to do nearly anything.
The uplifting news for new companies in ecommerce sector is that the most recent adaptation of WooCommerce 4.0 gives a special experience that helps with launching totally new online stores. Getting ready for action from a new store starting from scratch without having any involvement with online business stores will turn out to be a lot simpler with this WooCommerce version.
Magento
Conversely, Magento is customized to be supported by experts in web development. This platform is also primarily aimed at medium and enormous online shops.
Magento expects its clients to have all basic essential specialized information to utilize in the process of software deployment and everyday usage. Thus, novice clients may find Magento to be troublesome. At the point when there exists a need to make some Magento changes, professional software engineers typically are engaged.
The Magento store set-up interaction can be muddled for new clients regardless of whether there are various books and instructions for this process. Most of such guidelines are composed for designers and not for end clients that own the store.
After the establishment of Magento environment on a server, a merchant actually needs to invest energy in order to discover approaches to set up extensions and alternative visual design layouts since those basic task are not completed easily.
It is no question that WooCommerce is substantially more well-inclined to support end users than Magento. Notwithstanding, Magento functions admirably with organizations of enormous scope. It is prudent that clients ought to pick the software platform depending on their store scale and software knowledge.
Security of Magento and WooCommerce
With regards to site security, saving the online shop from possible bad situations is the aim a merchant should be focused on. This means developing procedures and measures to secure internet business' site and its client data from the abuse of cyberattacks.
The dangers of poor cybersecurity may destroy a site's valuation in the eyes of its clients and deter shoppers from returning in the future. Conversely, if the online site is thoroughly protected, it will hold its reputation that may have taken a long time to build. It will also help to retain customers.
WooCommerce security
WooCommerce may be considered as rather secure software just as there are no stamped security problems in WordPress. The center of this framework has gone far towards advancement, so it's very protected. The issues might happen just when external plugins are used in the store.
Magento security
In the mean time, Magento itself has the usefulness to ensure its stores are exceptionally well protected. Magento offers online merchants more security options with committed security patches delivered on occasion.
Also, many implicit safety efforts are open to assist with securing Magento environment. In particular, these actions could upgrade the password administering process, work on the cross-site attacks and clickjacking, embrace more adaptable framework possession and consents.
To sum up, Magento and WooCommerce satisfy the security guideline. Nonetheless, the two of them could be additionally defenseless when attacked from within. For this situation, Magento is by all accounts safer with its certified security plugins.
Marketing & SEO of WooCommerce and Magento
Without promoting, organizations can not expect to get attention from their expected clients, increase the number of deals and develop brand image. For online organizations, search engine optimization and content is the essential advertising procedure. Accordingly, while thinking about a platform to construct online store, a merchant ought to likewise take a gander at how it can work with search engine optimization and online journals.
WooCommerce SEO & Marketing
As a module dependent on WordPress, WooCommerce acquires all imaginative blog composing capacities, consequently supporting content showcasing efforts of the web business. As such, there is no compelling reason to fuse the additional functionality to compose online journals in order to showcase the articles and thoughts to visitors. Besides, by using shortcodes, a merchant can embed any additional components to blog and landing pages without any problem.
Magento SEO & Marketing
Magento is outfitted with an amazing search engine optimization toolset, which is incorporated into the center part of the platform. It would assist with advancing search engine index rankings for a store. Also, Magento creates a Marketing menu for overseeing client created advancements, correspondences, SEO, and content. In any case, a merchant should consider that blogging isn't accessible in Magento by default and there is a necessity to utilize a custom third-party blogging module.
With regards to WooCommerce and Magento promoting options, merchants can carry their items to the shoppers successfully with the fundamental advertising highlights of both platforms.
Pricing of WooCommerce and Magento
Cost is one of the most compelling elements in making decisions. It is required to assess all expenses that a successful functional site may require. These expenses may past the initial breaking point and introductory venture.
Magento pricing
There are three accessible releases of Magento: Magento Community (free of charge, incorporates fundamental capacities), Magento Enterprise (a top notch paid version of Magento that furnishes with rich, extra elements to serve business of enormous scope and complexity), and Magento Enterprise Cloud (essentially equivalent to the previous one however located in the cloud).
Magento Community edition requires money for third-party extensions and hosting services. Magento Enterprise costs $22,000 for medium-sized store and up to $125,000 for an enormous chain store, as indicated by Onilab.
Magento Enterprise Cloud is managed in the Cloud and its cost is from $40,000 to $190,000 and depends on the store size.
WooCommerce pricing
WooCommerce is a free platform. Domain name and hosting costs are excluded. The total cost can not be calculated because it varies on the number of ordered paid features. In general, WooCommerce is more affordable.
Summary
WooCommerce and Magento both are genuinely advantageous internet business software platforms. Picking a definitive answer for a future online store won't ever be simple since no single software piece will perfectly fit the requirements of each client.
A merchant could easily track down the most appropriate one which claims the most crucial elements for their store by investigating different parts of every platform.
While WooCommerce is easy to use and offers minimal expenses, Magento, at a steeper price tag, furnishes merchants with high security and superior loading time. While WooCommerce is more productive for small stores, Magento works better with massive conglomerate organizations.