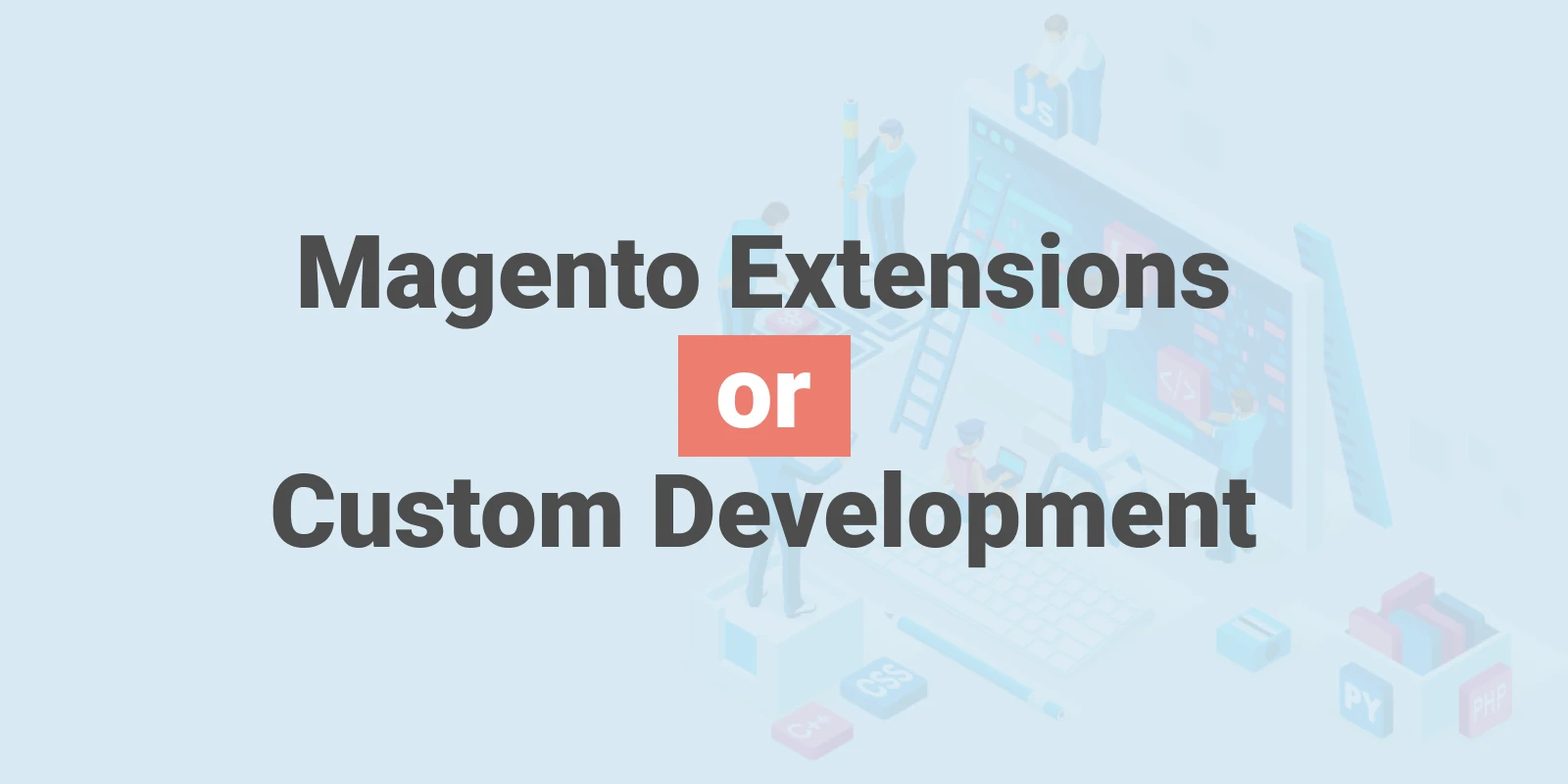 Your online store is the first impression a customer gets of your brand. The better the service, the better the chances are you'll get repeat purchases. This is why choosing the right way to improve the functionality of your online Magento store is paramount.
In this article, we will discuss:
How to enhance and add functionality to your online store.
The pros and cons of adding extensions to your online store.
The pros and cons of using custom development.
The pros and cons of customizing extensions.
Let's get going!
How to enhance and add functionality to your online store.
According to this survey, 12% of all eCommerce websites are built with Magento. This platform comes with a lot of opportunities and features for online businesses. But in the increasingly competitive eCommerce market, merchants have to update and improve the functionality of online stores in order to attract and serve more customers. Such functionality is necessary to improve marketing, sales, provide advanced customer support, etc.
The three main ways to improve the functionality of a Magento online store are:
Adding Magento extensions
Magento 2 custom module development
Customization of Magento extensions
Extensions are small software modules that help add custom functionalities to a basic Magento store. They are already developed and are oftentimes plug and play so you can get started using the new functions right away. And, as always, Mirasvit is here to support you when you need it.
Magento extensions can add new powerful features and functionality to your Magento store in a matter of minutes. You can purchase them from the Magento marketplace or third-party providers. It's a really quick, efficient, and affordable way to speed up the development process and enhance your store.
Custom development is the process of developing software specifically for a particular client. In contrast to extensions, custom Magento 2 module development helps to ensure particular preferences and requirements are met.
Magento Extensions for an Online Store
To spice up your store in short order, Magento extensions are a great tool. Compared to other platforms, Magento comes with more than 5000 extensions, which can really make your store stand apart from the crowd.
Before adding the extension, consider the features you need for your store. If this aspect has already been solved by developers, the most reasonable path forward is by using extensions.
Choose from reputable suppliers who provide these types of extensions. If you find a wide range of extensions, you can be sure that this is a frequent feature, and you can choose among several vendors. Such a competitive environment creates the necessity for developing better extensions. As there are many vendors who provide Magento extensions, the number of features you can add to your store is vast.
Pros of Using Magento Extensions
The cost is lower than with custom development. The usual price of Magento extensions ranges from 50 to 500 dollars, so this is the best value compared to custom development.
It does not require time for developing the extension.
All extensions come with manuals where the functionality is explained. The manuals are handy for training staff to use the new functionalities.
Extensions are more thoroughly optimized compared to custom development. Since they have frequently been through several iterations already, you can avoid a lot of the bug troubleshooting that often accompanies custom development.
What's more, when you buy an extension, the extension providers usually give lifetime free upgrades of the extension.
These factors make Magento extensions the top choice of a lot of merchants.
Cons of Using Magento Extensions
An extension may fall short of meeting all your requirements.
Be careful not to use too many extensions for one online store, as it can slow down your website.
Sometimes your problem is unique or not in high enough demand. In these cases, ready-made extensions may not be available for the functionality you are looking for.
Custom Magento Development
If your business requires a unique software solution, then your best option is to use custom Magento extension development. All nuances of your business will be taken into account. It is an individualized approach to add new features to your online store and meet your peculiar business objectives.
Pros of using custom development
Adapts perfectly to the company's needs. You only have the necessary functionality for your store. Less code, less bloat, faster website.
You can adapt and improve this software if new functionality is necessary for your store.
Cons of using custom development
Custom software development is often more expensive compared to buying extensions.
Additional financing is needed to maintain the customization service or to adapt it when new versions of Magento are released.
The management of a custom-developed online store is more involved as it requires the ongoing participation of a software team.
More time is needed to get it done. The period of development depends on the complexity of the solution. The custom developed software also requires a period of testing and quality assurance for store managers and developers.
Customizing Magento Extensions
Need something unique for your store, but don't want to spend a ton of money and time? Customizing an existing extension may just fit the bill. With this approach, developers use an already developed Magento extension and customize it to suit the needs of your store. This is a good approach for enhancing your store's productivity when there is an existing extension that already meets some or most of your criteria.
Pros of using customization of Magento extensions
In many cases, this is a reasonable solution as it will take less time and money than writing the whole extension from scratch. This can bring cost savings, efficiency, and productivity to your business.
Cons of using customization of Magento extensions
The biggest drawback of this approach is that you will need to once again customize new versions of the extension at a later time, as it is not in the developers' interest to maintain your unique changes without additional costs.
Final Thoughts
In general, we can conclude that the best way for you to optimize your online store depends on such factors such as Time-Cost-Benefit. Consider the needs, goals, and strategies of your online store and choose between Magento extensions, custom development or the customization of Magento extensions, or in some cases, a combination of all three approaches.
Choose the best way to increase your online store's efficiency, create an engaging shopping experience for your customers, and let your eCommerce business flourish.