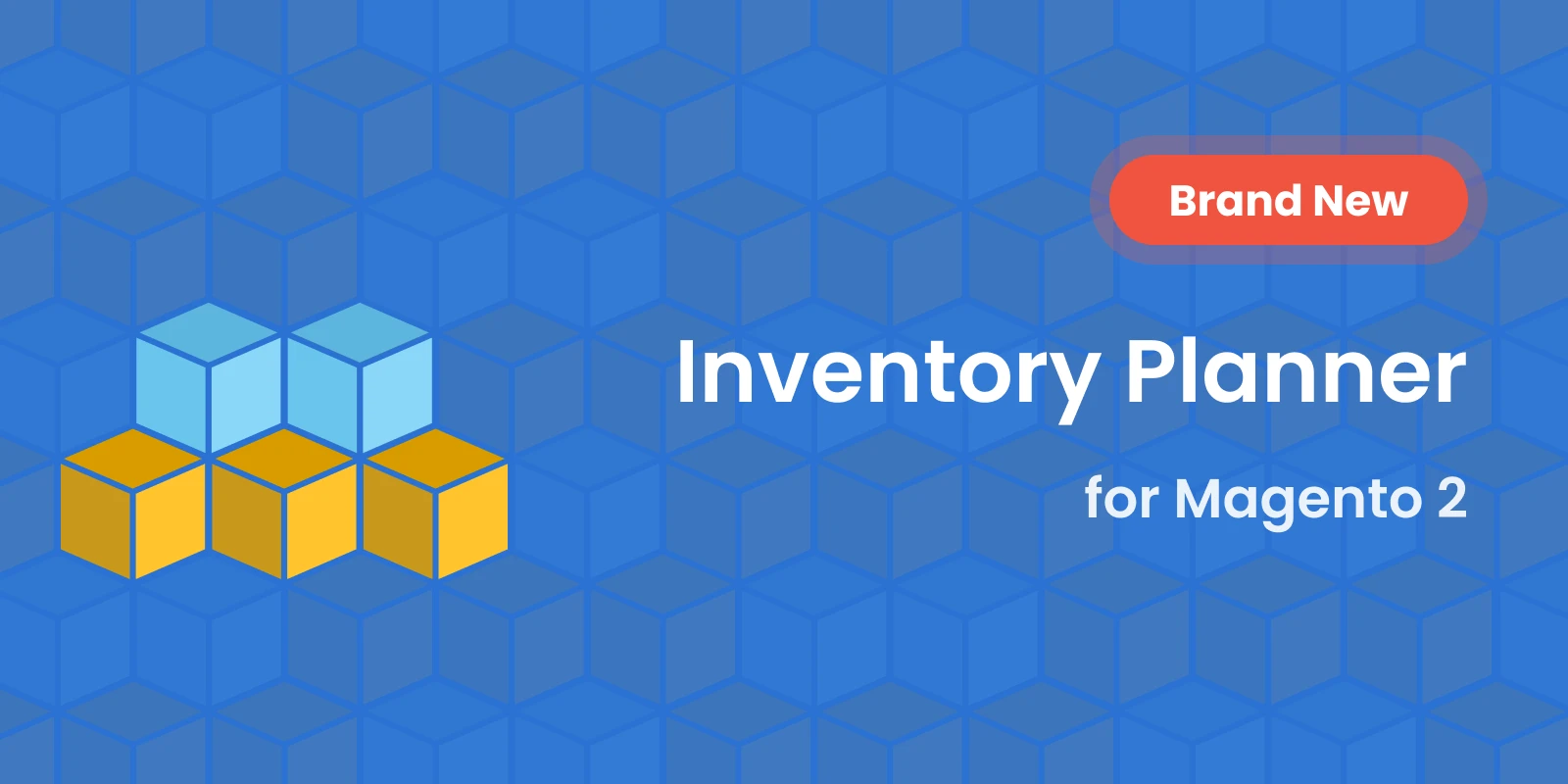 We've developed a new Inventory Planner extension that helps keep track of your stock flow. With this extension, you will always know when it's time to replenish your stock – it presents you with a forecast of stock depletion.
This extension starts working right after installation requiring no initial configuration, though you can still change its default settings for your particular use case. This article elaborates on the extension in detail:
Business value of the module
Have you ever noticed how a place where you buy your favorite sweets manages to never quite run out of stock? That is because the shop always orders a resupply of candies before they go out of stock.
Inventory replenishment is one of the most important tasks for a shop since without it, the shop will have no items for sale. Almost 72% of stock-outs occur due to bad in-store replenishing practices. In such shops there is inaccurate demand forecasting, and resupply is ordered too little or too late.
Reducing stock-outs and overstocks can decrease overall inventory costs by 10%. As of January 2021 in the USA alone, retailers are keeping approximately $1.19 in inventory for every $1 in sales.
One answer to the majority of stock-outs is close monitoring of sales, which can reduce the stock-out rate by 22% and increase sales up to 2%.
The problem is that almost 43% of small businesses in the USA alone don't track inventory, or do so using a manual system. And that is one of the reasons why 34% of businesses have shipped an order late because they inadvertently sold a product that was not in stock.
The Inventory Planner module takes the burden of stock monitoring from store managers and accurately tracks the selling rate of items. This allows you to bridge the gap between the demand and available in stock, and optimize the overall inventory costs.
The module also estimates when a particular item should be resupplied, giving store managers time to replenish stock in advance.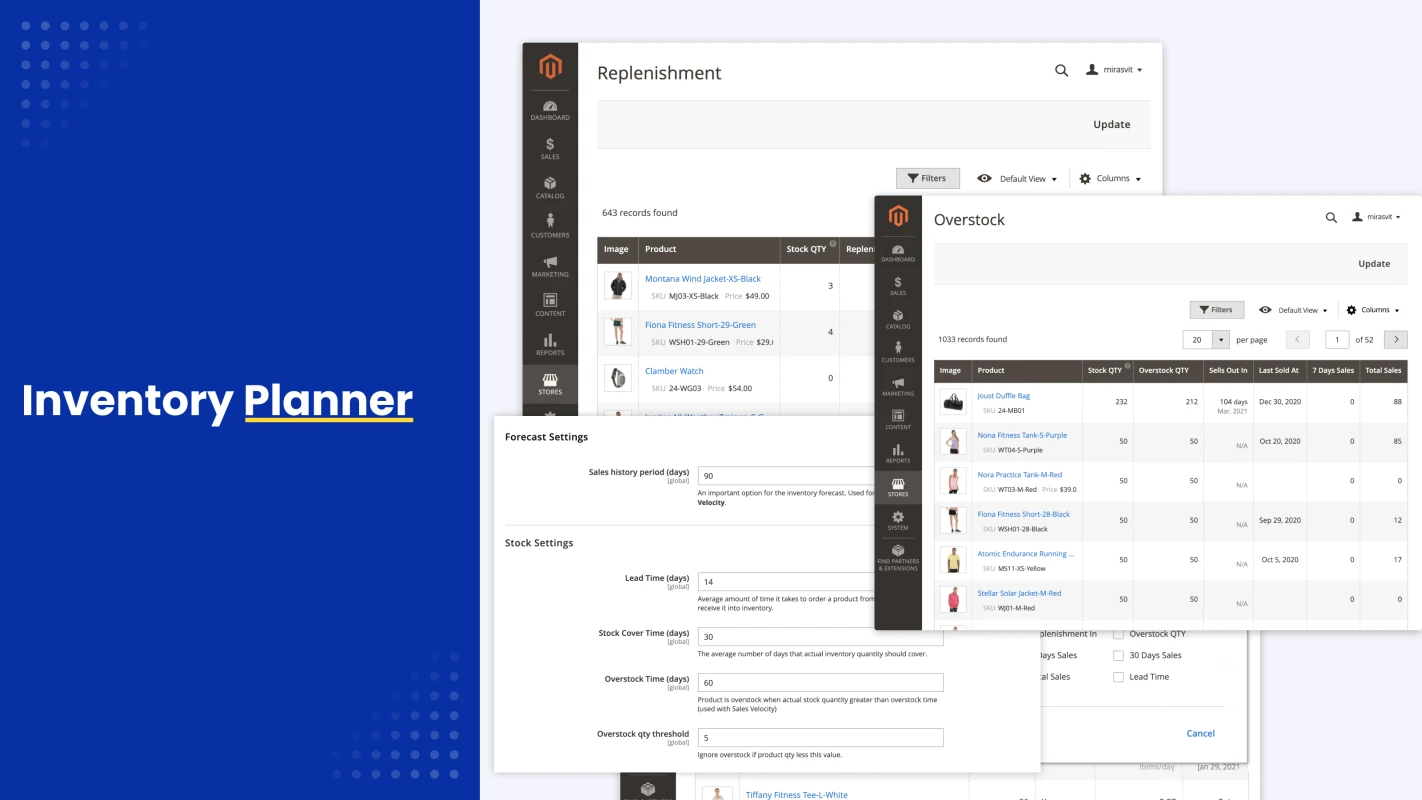 Module benefits
By automating the management of product stock, you can obtain a number of benefits:
Always the right inventory amount
When having too few items in your stock, you can lose clients to competitors. At the same time, having too many items in stock costs additional money. An effective stock managing tool will help to achieve a balance point of demand and stock reserve.
Cost and time savings
Manual inventory tracking can require a fair amount of time and is prone to error. This extension helps make this process efficient and significantly reduces the required time investments.
Better organization
The Inventory Planner module lets you know which items are most popular, and which have poor sales. Using this data, you can determine how to arrange inventory efficiently.
Automated predictions
This module can free up more time for store staff by helping them estimate the required stock replenishment. Based on sales data, it builds forecasts on when and how many of each product needs to be ordered from the supplier.
What problems the module solves
The Inventory Planner module helps to solve three important tasks for every store:
tracking current stock numbers for inventory

predicting the replenishment date and amount

tracking inventory overstock
Tracking inventory
Inventories can be a significant investment of time and effort for any store. Businesses have to manage their stock effectively to avoid ineffective investment of financial resources.
Stocking up on the inventory means not only finances for acquiring items, but also finances for the taxes relating to buying those items. Also storing items requires additional costs such as utilities, insurance, security, rent for storage space, etc.
To optimize the financial cost of your inventory stock, don't order the replenishment too early and in greater quantities than is required. By tracking stock numbers with the Inventory Planner module, you can place a replenishment order only when it is required and in quantities that are sufficient.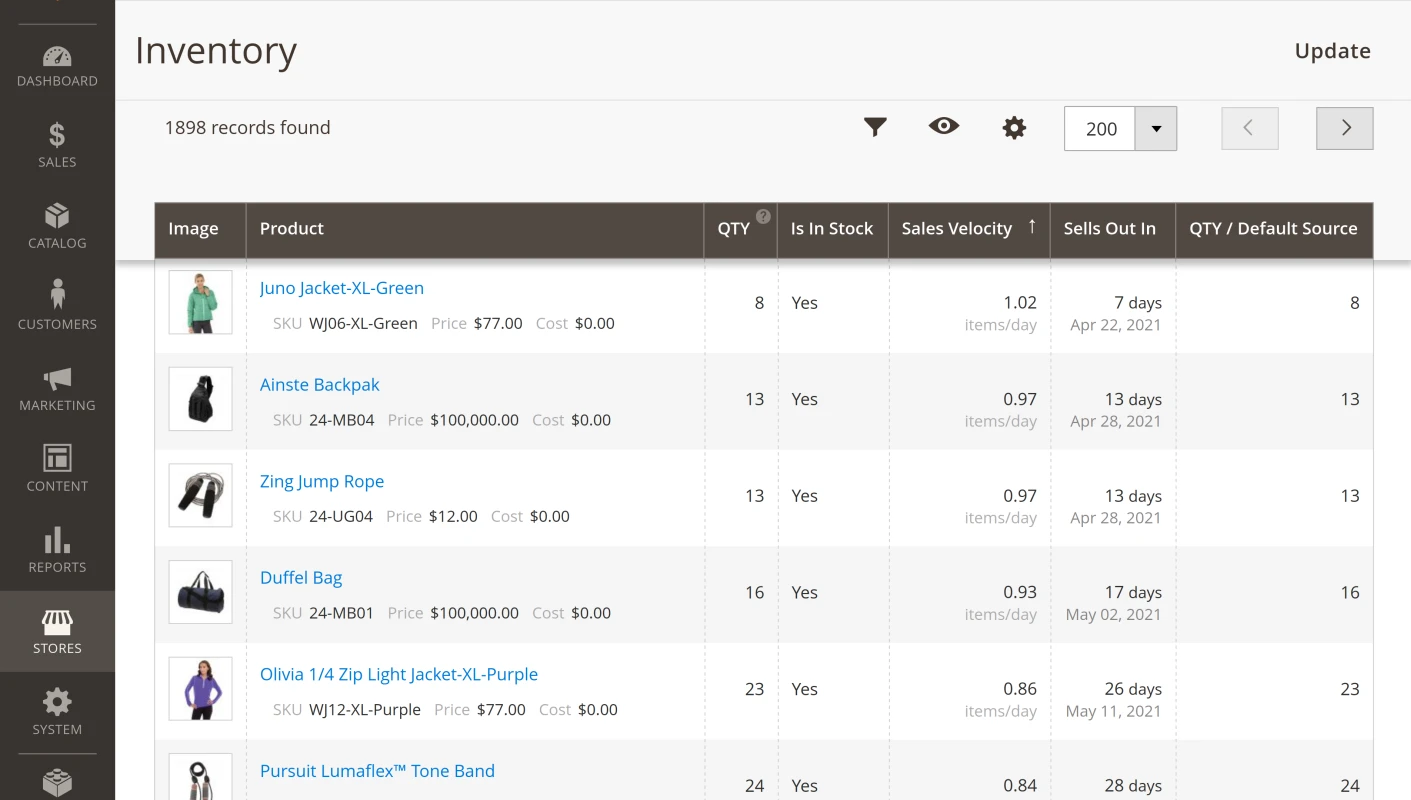 Track the current stock numbers on the Inventory page and get the necessary information in a glance. The default grid configuration displays the information if the product is in stock, and how many of it is left. You can also see the exact number of product stock on each of your warehouse or storage facilities.
Additionally you can display per each product such information as:
the date the item was last sold
7 days sales
30 Days Sales
90 Days Sales
Total Sales
The inventory page is also capable of displaying the sales velocity and predicting when the available stock will be depleted. For the latter, it uses such parameters as Lead Time and Days of Stock (on the module settings page, it is called Stock Cover Time).
Replenishment prediction
Our module not only estimates when your store will need stock replenishment, but also proposes the quantity of each product for replenishment.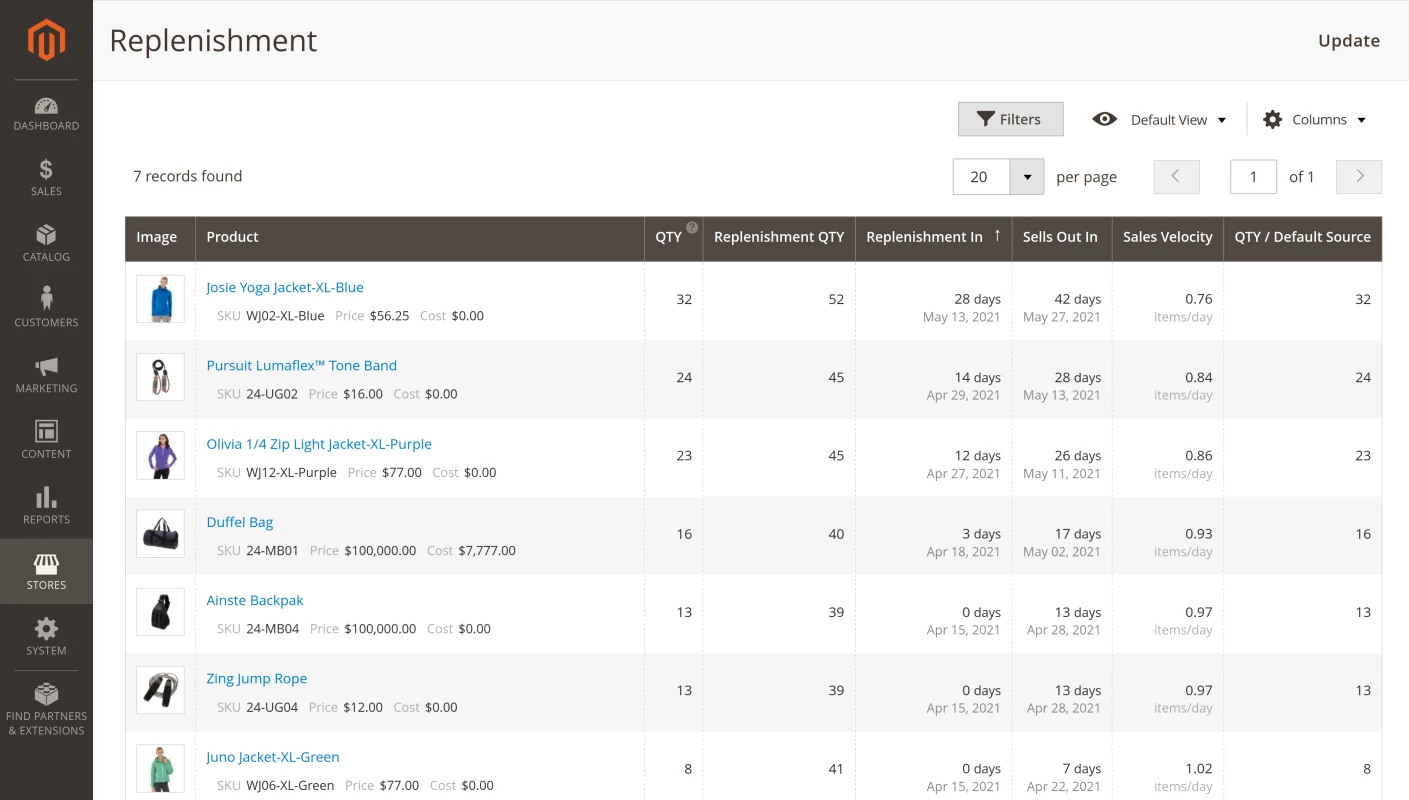 The products in the replenishment grid are put in automatically when the Inventory Planner extension forecasts that the stock will soon be depleted based on the Sales Velocity.
On this page, you can see the predictions regarding the date when the product needs to be ordered from the supplier considering the time for delivery from the supplier. This page also shows propositions on the product quantity to order.
Overstock tracking
Lots of extra inventory means that you can lose money on expenses for warehouse rent, security, taxes, etc. Extra inventory could also mean that you may need to sell it with a steep discount in the future.
With our module, you can detect goods that sell too slowly and get an automatic estimation of the overstock quantity.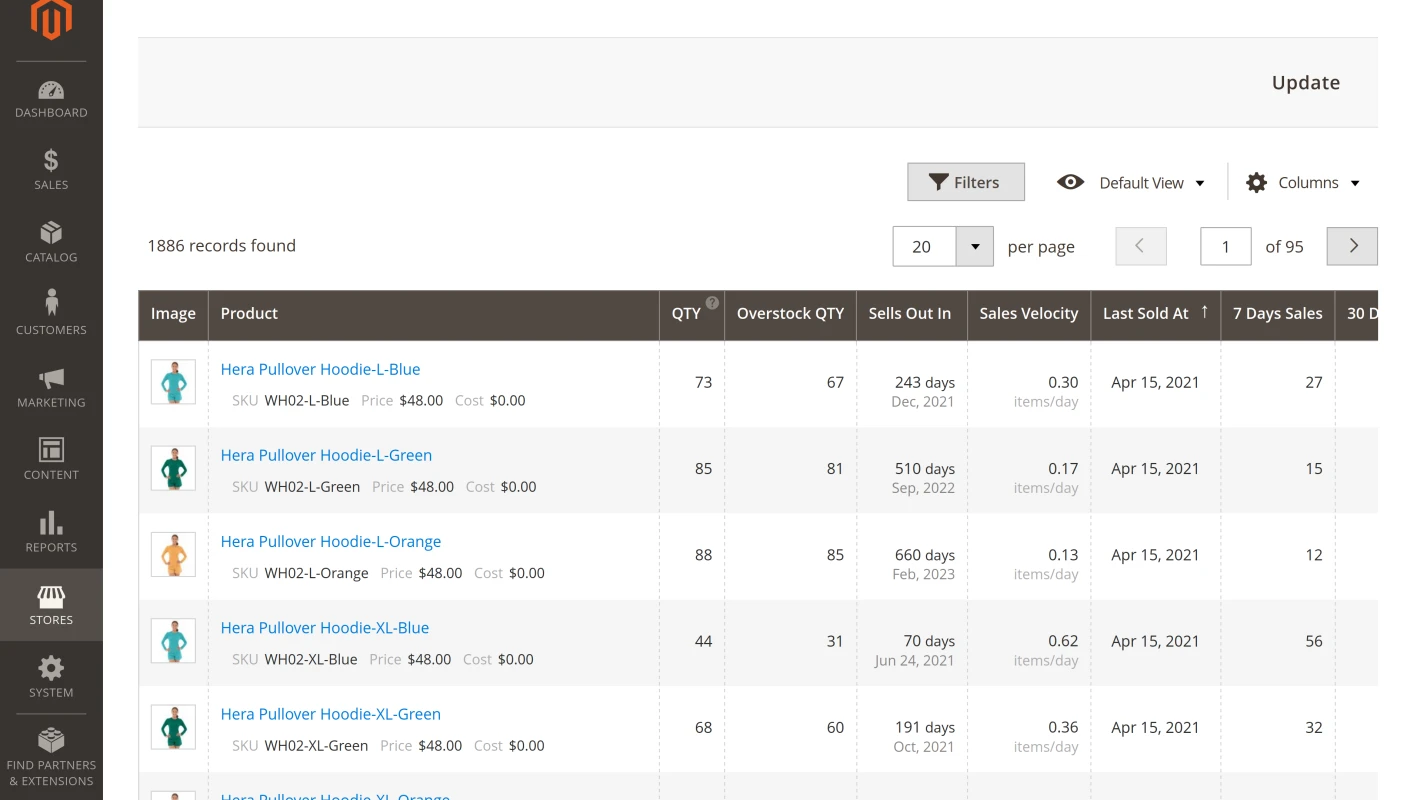 The information on this page can help you to optimize your inventory flow by highlighting what products require increased promotion efforts because they are overstocked. Also, in the future you will know that you can safely lower the replenishment quantity for such products.
Summary
Inventory management is akin to doing laundry. Neither are enjoyable activities but doing it consistently and thoroughly is critical.
The inventory flow is a constant process, and your store should accurately balance close to perfect inventory levels, avoiding overstock and out-of-stock of products.
The Inventory Planner module takes the burden of stock monitoring from store managers and accurately tracks sales and stock availability. It doesn't require any previous set up and starts helping you manage the inventory right after installation.
This tool helps not only to track the number of products in stock, but also makes predictions on when and what quantity of products to order from the supplier so you can order the right amount of inventory.
With the Inventory Planner extension, you can increase your profits by making the label "out of stock" disappear and by reducing overstock.