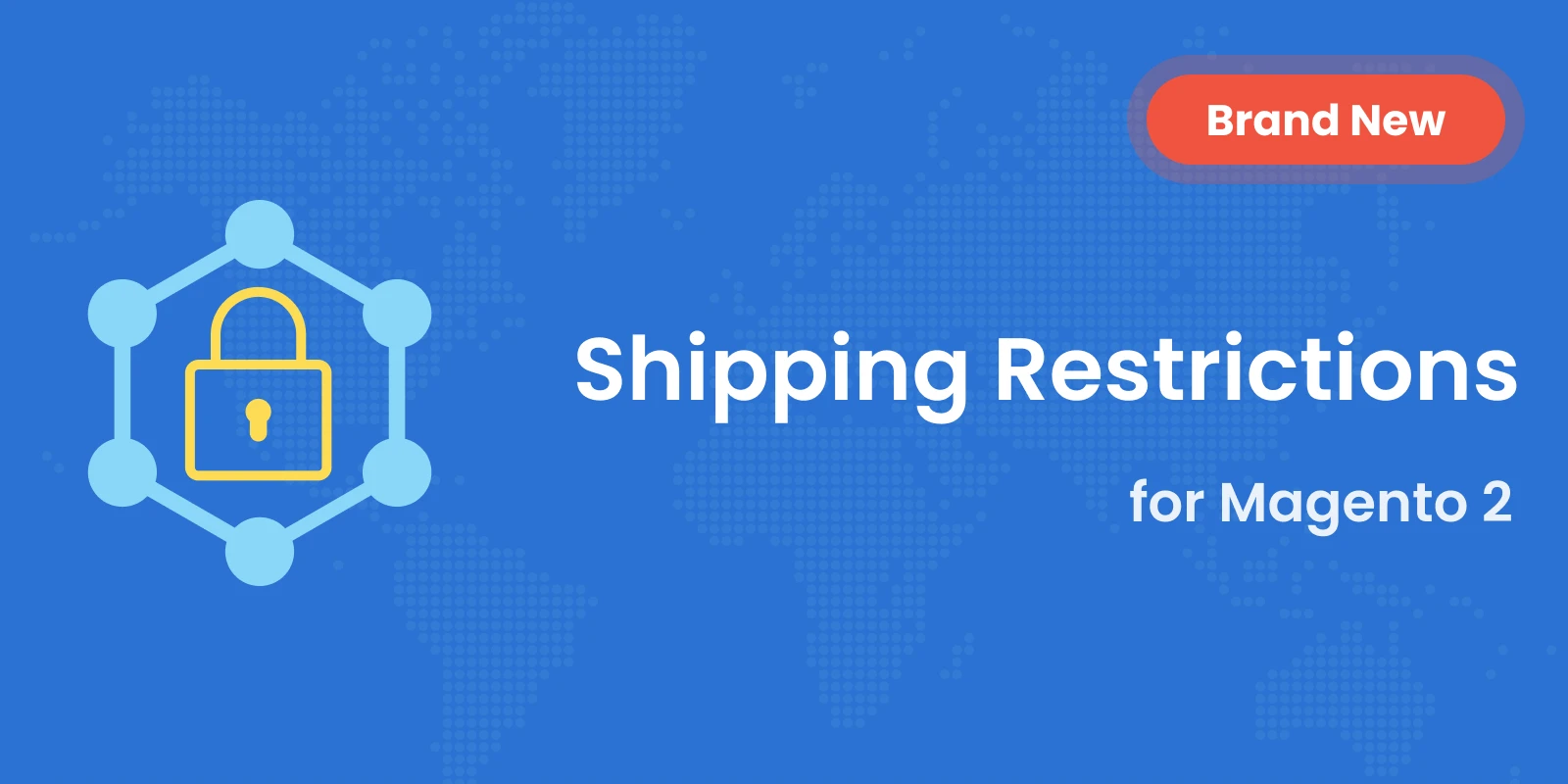 We have launched a new extension Shipping Restrictions, which lets you create a well-developed shipping policy that suits your business requirements, local and international regulations, and customers.
The flexibility of this extension allows your Magento 2 store to customize the availability of any shipping carrier and its delivery methods. Gain optimal shipping methods for your store and your customers. This article elaborates on the extension in detail:
Business value of the module
A diversified catalog in the store is great for revenue but can add hassle when shipping orders since some items are more difficult to ship than others. Fragile, short-life and high value products may require different delivery methods that are best suited for the safe and quick delivery of that particular item.
Products may have shipping restrictions due to legal limitations on exporting or importing, which may also exclude services of certain shipping carriers and their delivery methods.
Default Magento supports a number of shipping carriers and their shipping methods but it doesn't provide flexibility in applying the available shipping methods. A store owner only has the option of blocking a specific delivery method for the whole catalog.
Our module gives you the flexibility to configure a well-developed shipping policy that considers order and cart attributes, stores and customer groups, and much more.
What problems the module solves
Excluding in-store delivery, any other online purchase requires shipping. However, default Magento offers limited flexibility in configuration options of delivery methods for purchases. With default Magento shipping capabilities, a store can get into a situation when order shipping is sub-optimal or unavailable.
The Shipping Restrictions extension offers a flexible tool for setting available shipping methods based on your requirements with various conditions. You can adjust existing shipping methods so that customers experience the best available delivery options.
Optimal shipping for customers
Shipping carriers have a strict shipping policy that describes items in detail and how they can be shipped. This policy is based on the attributes of the shipped item or related legislation.
The Shipping Restrictions extension makes it possible to adjust shipping methods for customers' orders based on their location, order and cart attributes.
For example, UPS prohibits the shipping of watches that cost more than $500 USD. You can exclude this carrier for that subset of products, leaving it available for other items in the store catalog.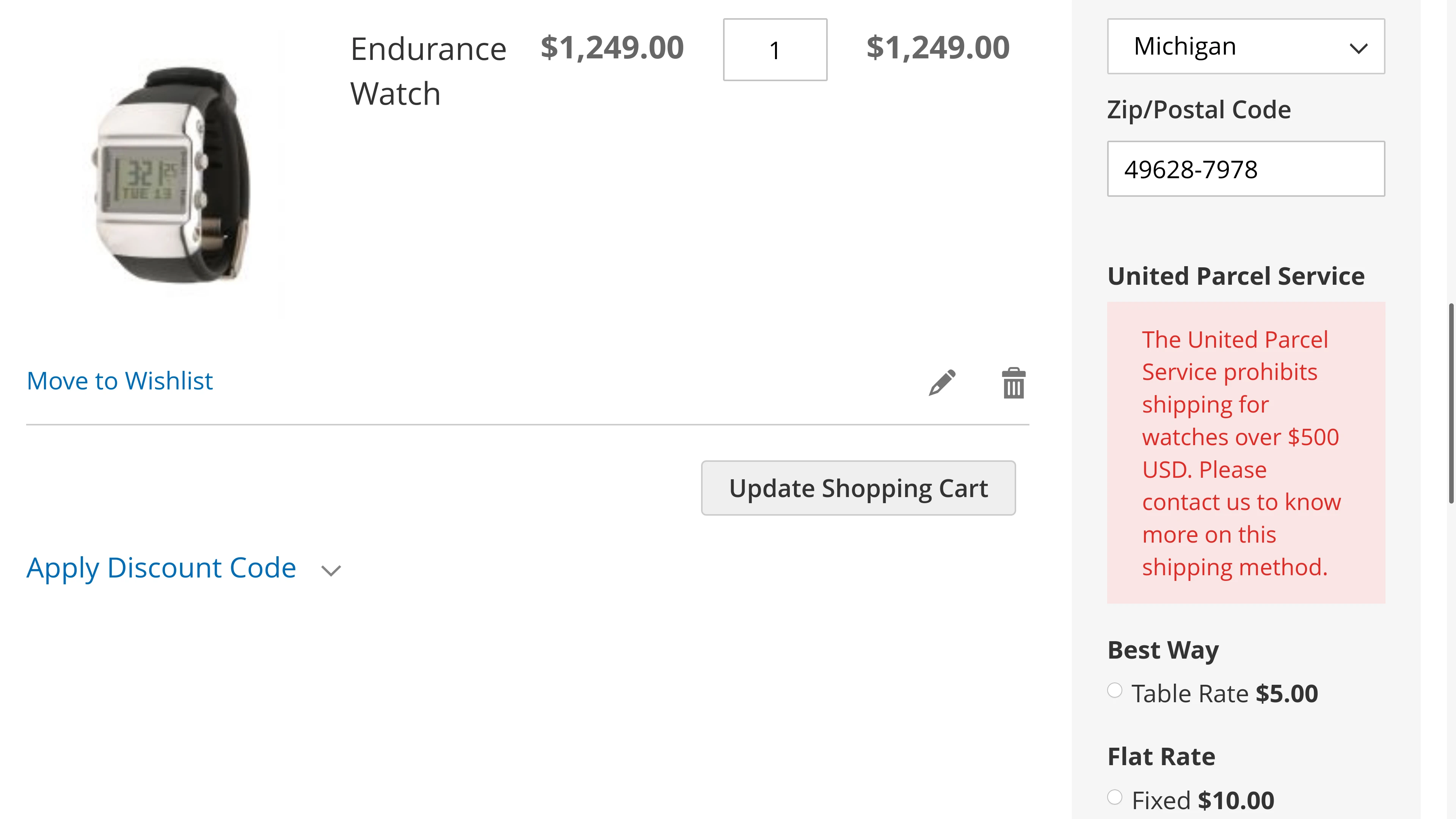 With our extension, you can make visitors more interested in buying from you by providing them with a clear and transparent shipping policy. Inform them on the reasons for the unavailability of a particular delivery method.
Optimize shipping to distant customers
Shipping a parcel to an isolated or remote location is a little more complicated than in dense residential areas. These areas can include islands, ski resorts, suburbs, small or far away towns.
When a customer lives in a region that is far from major shipping hubs or is rarely served by shipping carriers, they may have limited shipping offerings. For example, there may be no same-day delivery available.
Some items can't be shipped to remote locations due to size and weight limitations. And some shipping carriers also limit deliveries to distant locations by price. For example, USPS will not ship an order with its Global Express Guaranteed shipping method to the islands of French Polynesia if the shipment value is above $2499 USD.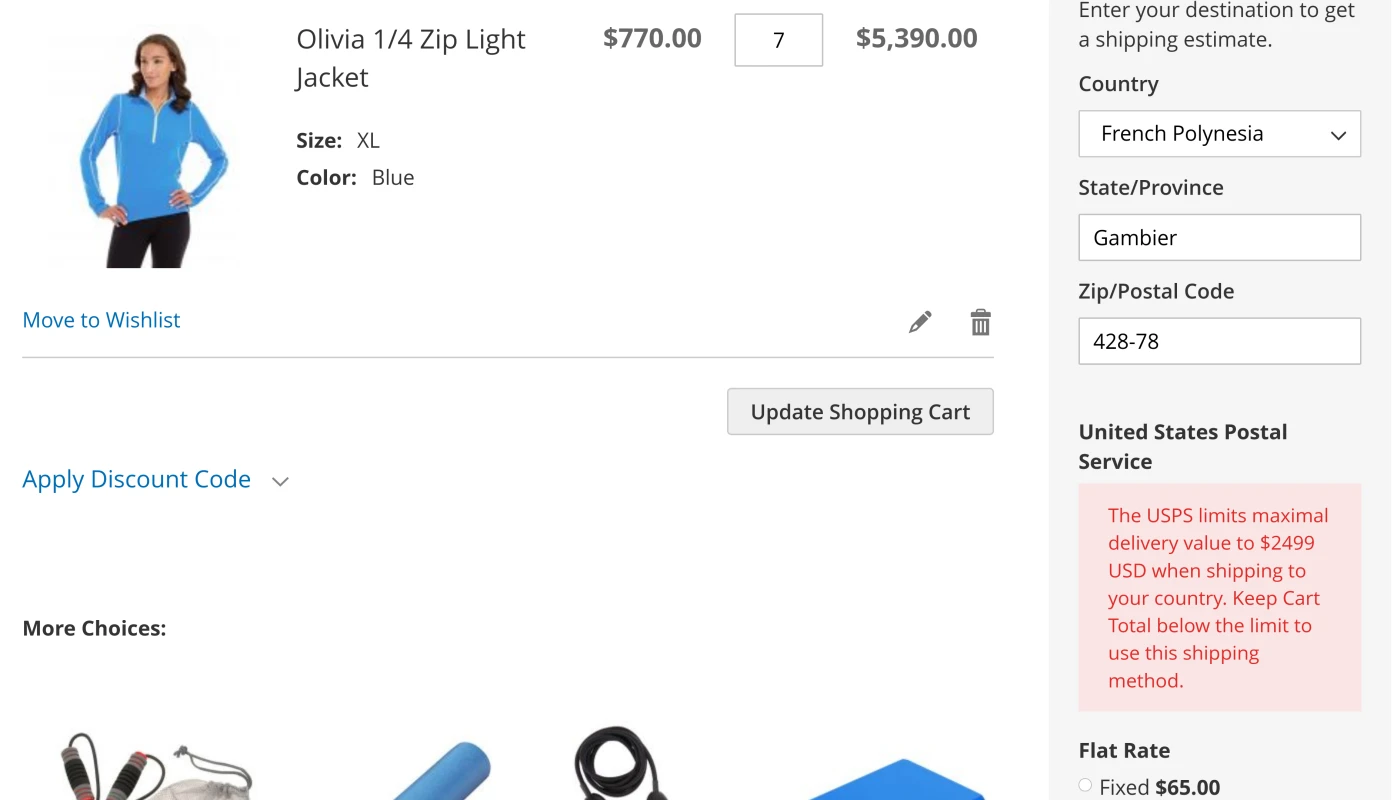 In both cases you will be covered with our module. You can limit shipping methods based on cart subtotal, order weight, shipping postcode, region and country. Offer your most distant customers the best available delivery methods for their orders.
Control date and time for delivery methods
For some products, a particular delivery method can be suitable today, but may become ineligible tomorrow. For example, DHL requires that perishables (flowers, plants, foodstuffs, etc.) be packaged for only up to 48 hours, while Friday and Saturday shipments must be packed for up to 72 hours.
With our module you can restrict the availability of the specific delivery method to the exact day of the week and time of the day.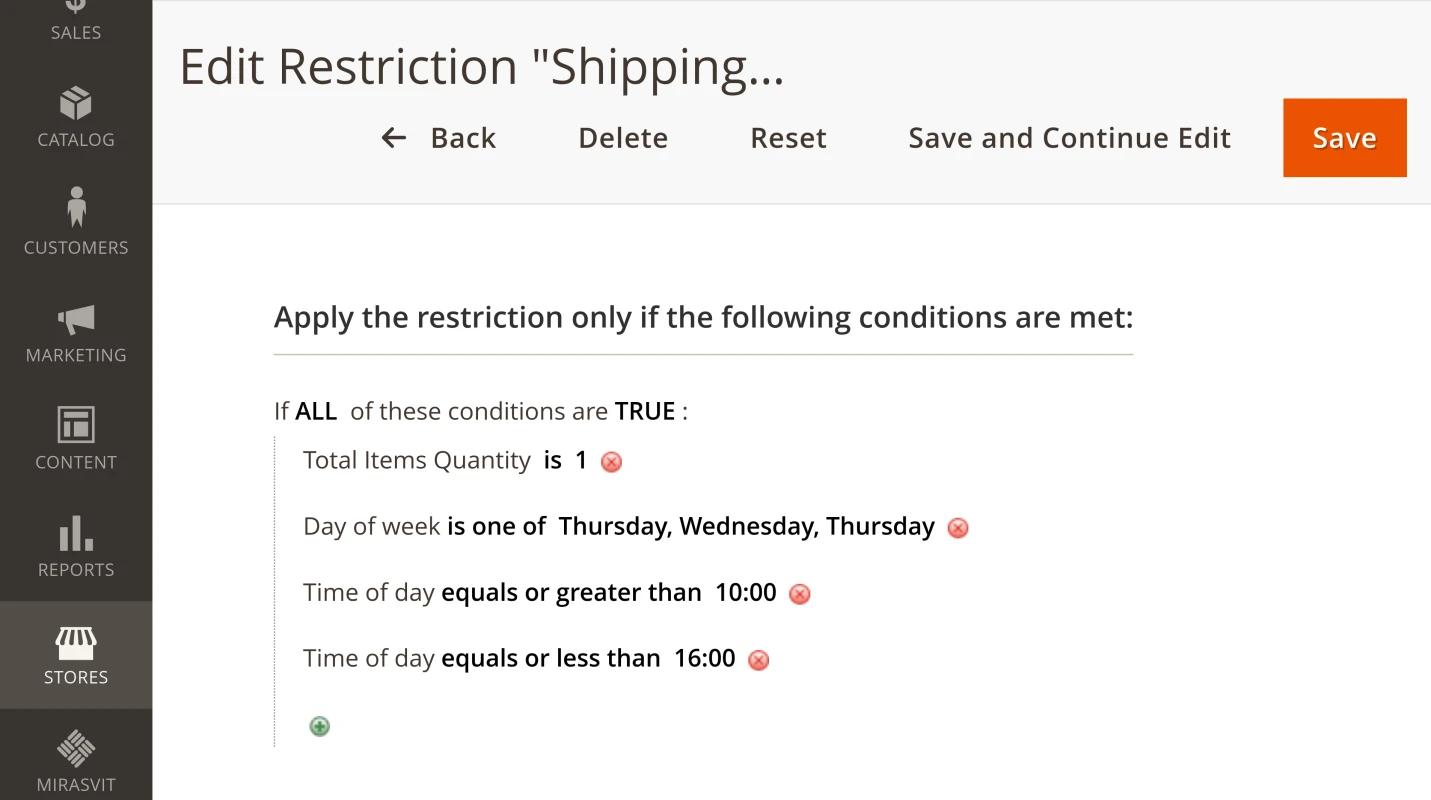 You also get the ability to choose how and when to apply shipping restrictions for providing the best shopping experience.
Comply with legal regulations
Countries and regions may have their own requirements regarding deliveries. With our extension, you can configure shipping methods that comply with legal requirements. Shipping to foreign countries is subject to those foreign countries' prohibitions and restrictions.
For example, shops in the United States cannot send to any country a list of items, including aerosols, nail polish, and perfumes (containing alcohol).
Our module allows you to use product attributes as conditions for shipping restriction rules. A shop can specify the product attributes in details so that only the restricted items are blocked for shipping outside USA.
Easily manage multiple shipping locations
Shipping to multiple regions with identical shipping limitations can require you to create a unique rule for each such region, which can be a hassle. This module has the option Shipping Area, that streamlines the creation of shipping rules.
Make your shipping process more flexible and effective with Shipping Areas. Group countries, regions, states, cities, zip/postal codes of different areas as one condition to use in shipping rules.
Group a number of geographical shipping zones as one. Include or exclude certain local regions.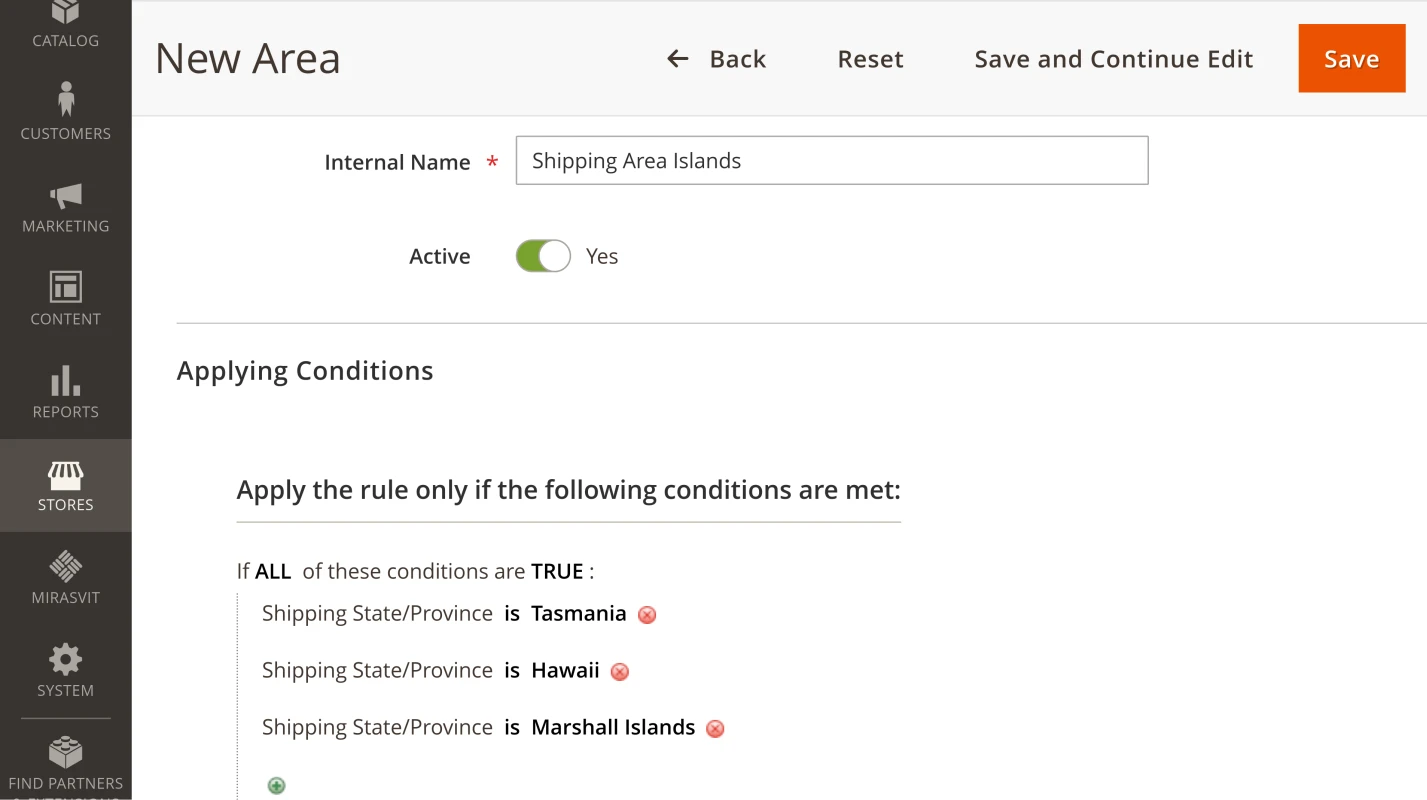 Using the module's key features
This module gives you the flexibility to set restrictions on delivery methods that suit your customers and your business requirements in the best possible way. It is very simple to use, as we will see in examples using its key features below:
Shipping restriction rules
You can create restriction rules on delivery methods in a very flexible way, specifying parameters and conditions related to each rule. You can create an unlimited number of rules.
All parameters of each restriction rule are divided into three sections: General Information, Applying Conditions, and Store and Customer.
General information
This section allows you to specify parameters of the shipping restriction rule as it applies to the shipping methods. You can activate the rule for one shipping method or for several methods at once.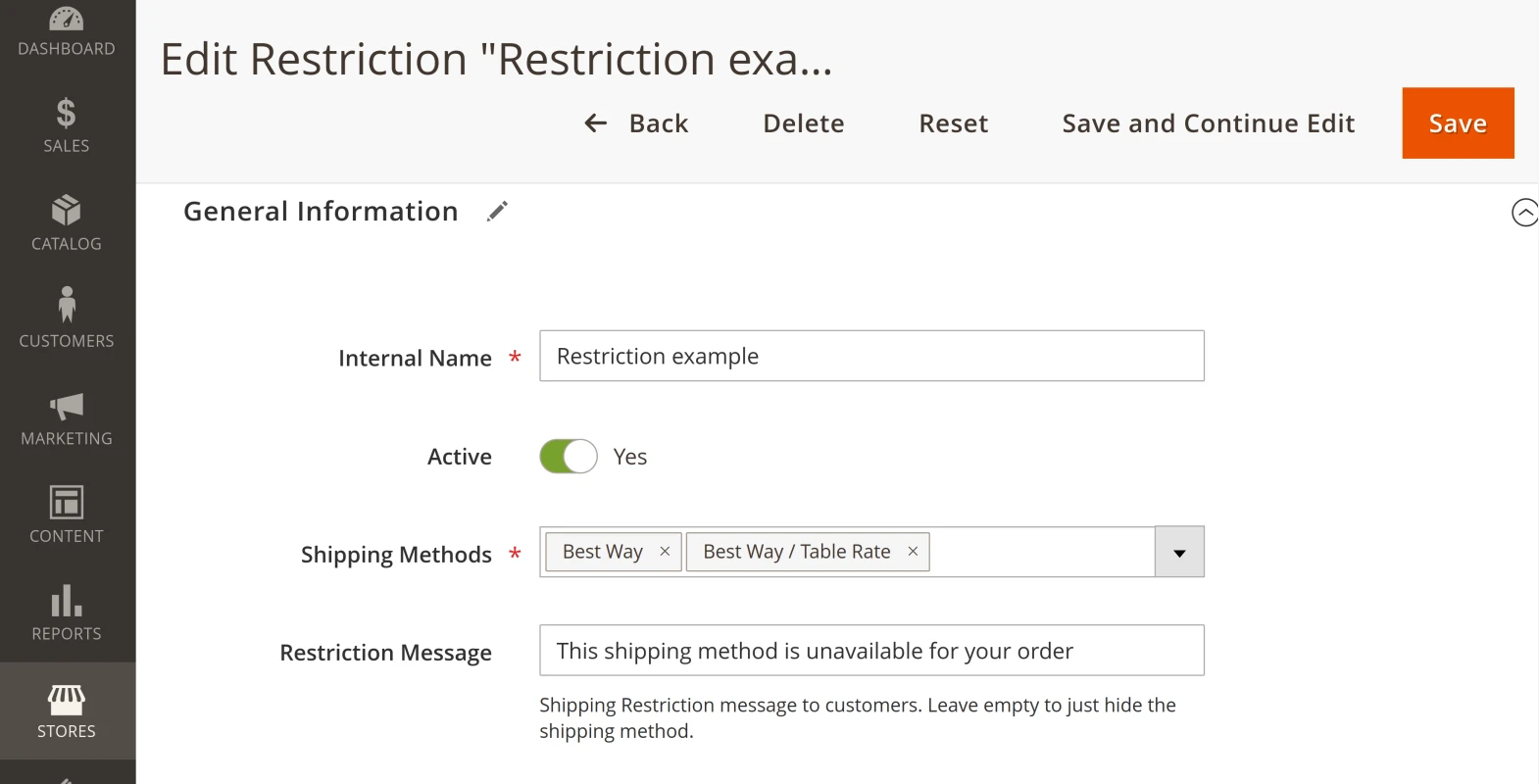 In here, you can deactivate the previously-created restriction rule if necessary.
Applying Conditions
You have great flexibility in creating restriction rules using various conditions. Use product attribute combinations so that the rule will be applied when an item is found in the cart and it matches your requirements.
For example, you can create a rule that blocks a free shipping method when a customer orders a specified quantity of items of a particular size, color, contains specific elements, etc.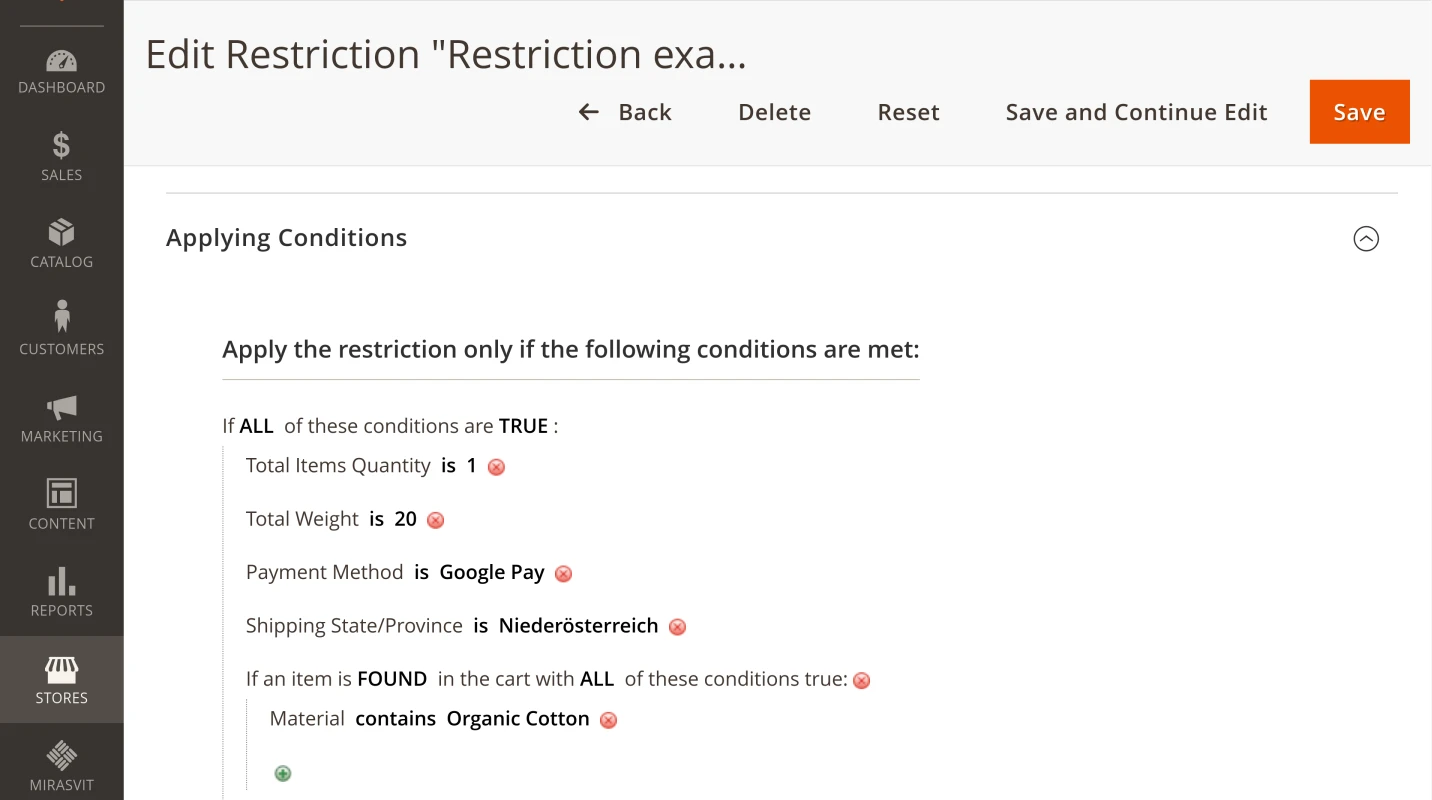 Restrict shipping methods based on ordered products or cart attributes. Attributes like subtotal, total items quantity, payment method, and others are available at your disposal.
Additionally, you can use extra conditions like day of the week or time. A Shipping Area can also be used as an extra condition.
You can combine the conditions in any order you need to achieve desired business results.
Store and Customers
You only need to create shipping rules once, and use them at any time. Our module allows you to set the scope of view for rules. The rules can be set to apply for certain stores and customer groups.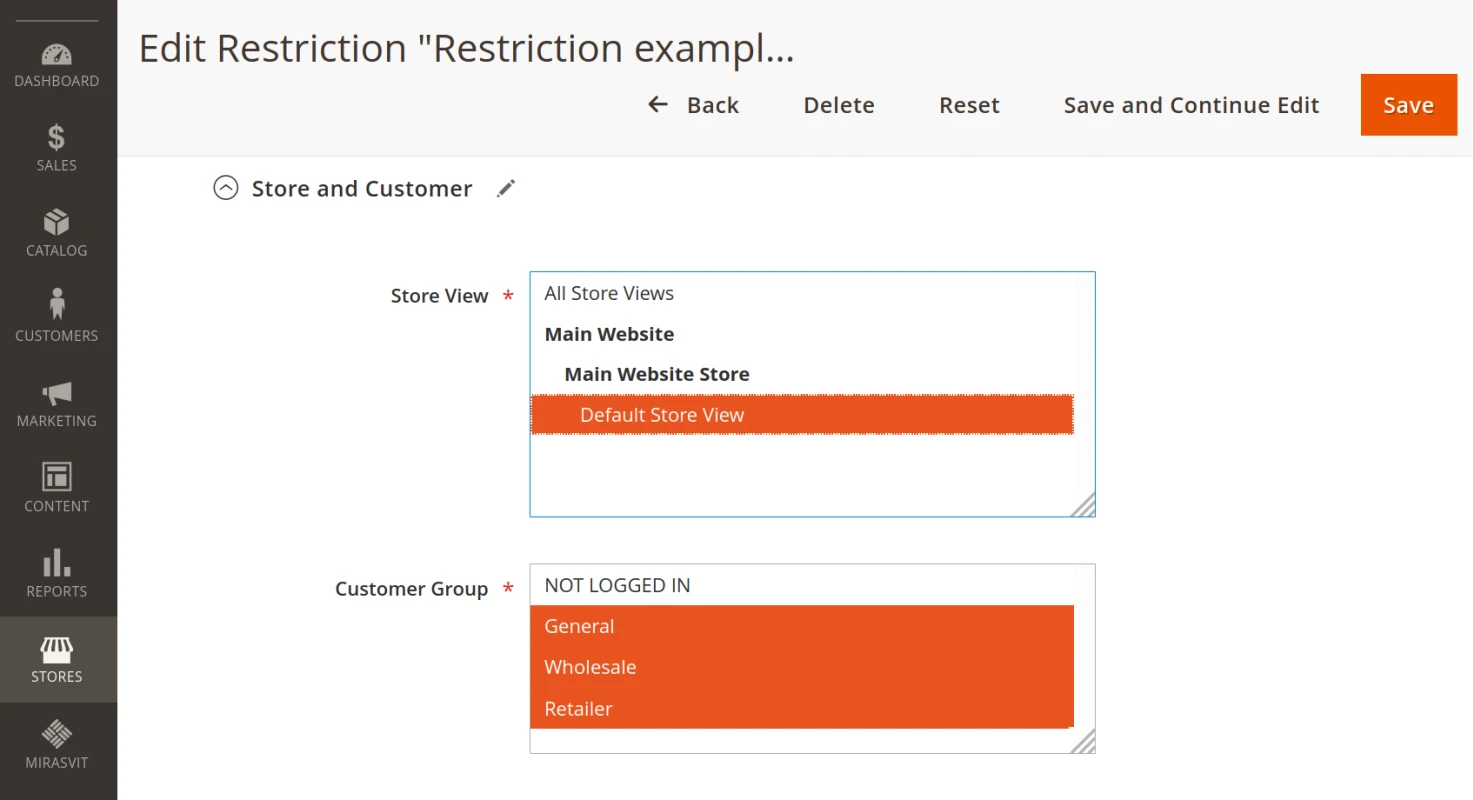 Use rules for the store view to change the shipping rates for customers from different store views. Create shipping rules for different groups of your customers.
Shipping Area
Deliveries to different locations that have identical shipping rules can be grouped into one shipping area. Spend less time creating shipping rules, just select a shipping area as an extra condition to specify all regions the rule applies to.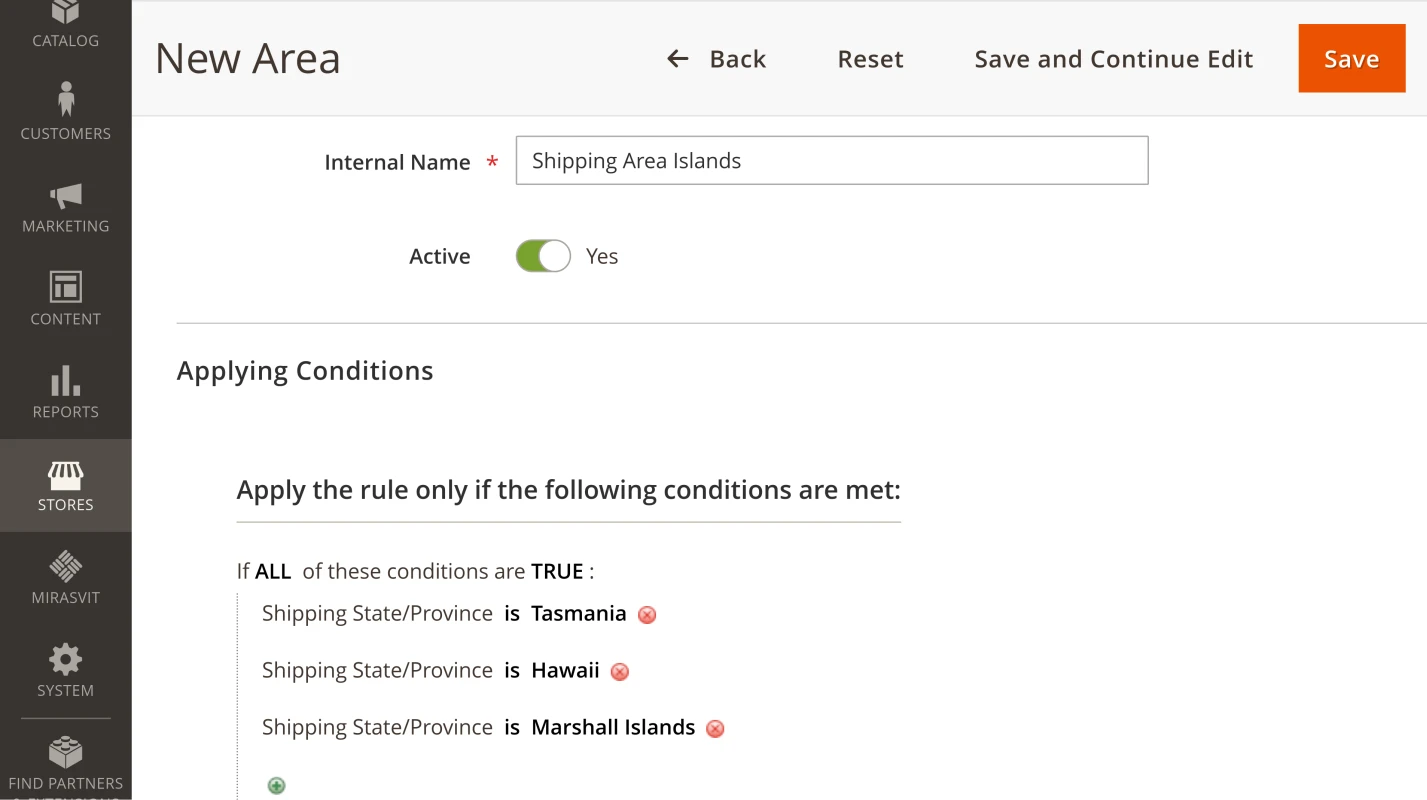 Group geographical shipping zones, include or exclude certain local regions. Make each shipping area more detailed by defining countries, states, regions, cities, zip codes, etc.
Summary
Any order in an e-shop, except when it is delivered in-store, must be shipped to its customers. Depending on the particular order, date and time, the customer's location and other parameters, a different delivery method can be required.
With this extension, a Magento store can obtain a flexible way to provide the best shipping methods for orders that takes into account the peculiarities of the particular purchase.
The Shipping Restrictions module is a powerful tool to adjust available shipping methods for orders based on the parameters of customer's shopping cart and shipping address.
The flexibility of this tool allows you to override default limitations in a number of ways and provide customers with cost-effective and reliable shipping.
With the Shipping Restrictions extension, you can use the full power of shipping carriers, applying their delivery methods in such ways that it most benefits your shoppers and boosts your revenue.