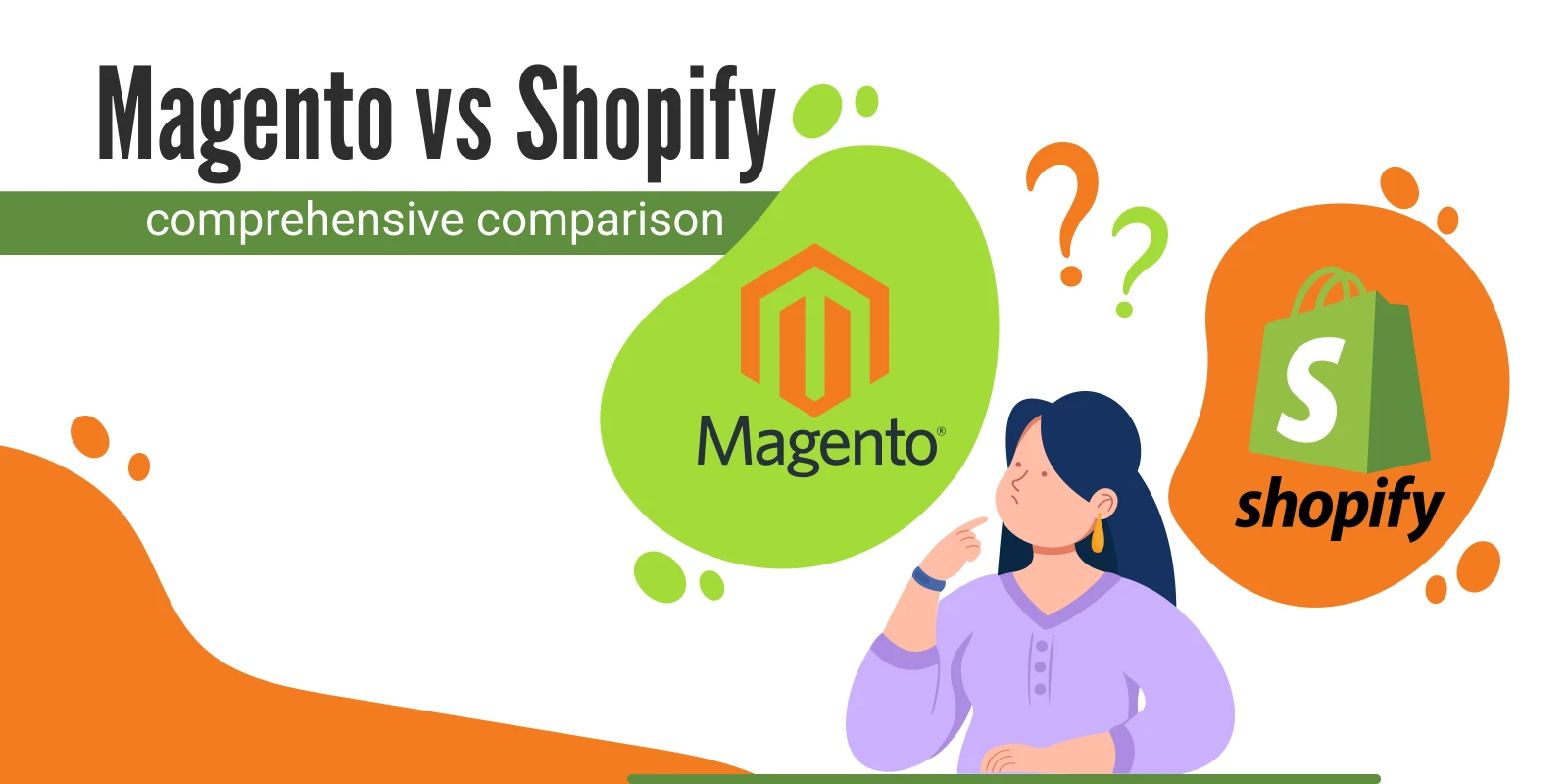 By 2040 up to 95% of all shopping deals expected to be online, and the eCommerce platform of your store may be a pivoting point for your success. In case you are just launching an online business, or looking for an option to migrate to, you will definitely encounter a Magento vs Shopify discussion.
The choice of eCommerce platform determines the amount of efforts and knowledge you need to invest into your business endeavor. Magento and Shopify are widely popular eCommerce platforms, and each of them has its benefits and drawbacks.
This article highlights the differences between both software pieces to help you make an optimal choice for your store.
What is Magento
Magento is a software platform developed for internet business. It is based on open source and is build on PHP, Symphony, Laminas, and other frameworks, which gives online shippers extended adaptability and control.
Merchants have everything they need to modify the shopping process and visual looks of the store frontend to enhance the usefulness of their web-based store and stand out from competitors.
Despite today Magento is developed by Adobe, this platform came into existence in 2007, and it was a creation of a Varien company.

The software was initially planned as a sub-system for another popular ecommerce platform osCommerce, however the latter could not handle all the Magento functionality, so it was repurposed as an individual platform.
Magento 2.0 was launched in 2015, and it was shipped alongside Magento 1. However, the support for Magento 1 has ended in 2020 and currently the Magento 2.xx is developed by Adobe, which bought this platform in 2018.
What is Shopify
Shopify is a platform for online business which provides readily available service by offering cloud hosting as a part of the service. Merchants get access to their shop right after creating a Shopify account.
Depending on the selected subscription plan a shop owner gets different functionality, and services. A core Shopify functionality available on any subscription plan is storefront, marketing, payment, and shipping processing tools.
Shopify itself started as an online store Snowdevil, which sold snowboards.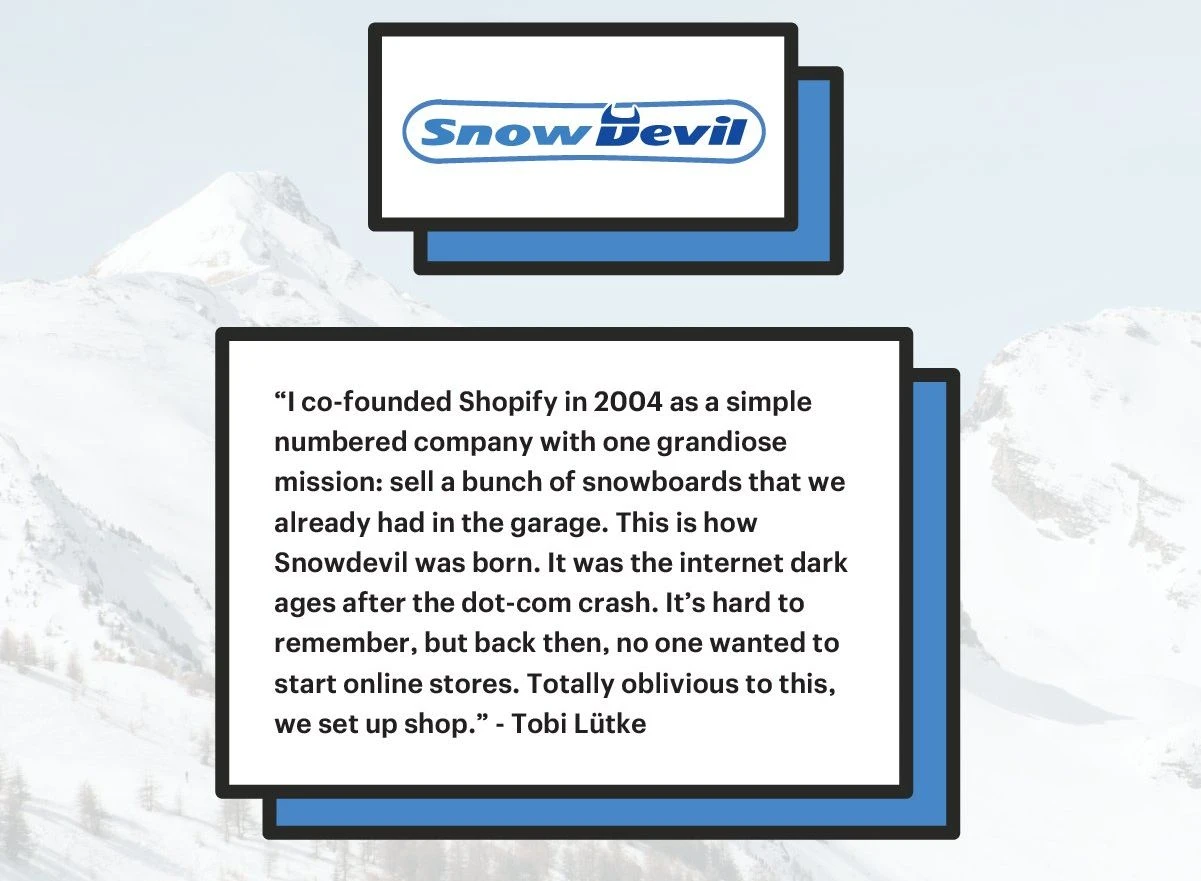 One selling season has shown to the Snowdevil owners that the real value is the software of the shop, and not snowboards. Over next several months the online shop was transformed into the platform for online shops.
The Shopify technology stack is locked, and it uses proprietary tools, for example, template language named Liquid. This leaves merchants with limited capabilities on monitoring, managing and optimizing the loading speed of their stores when compared to Magento.
Additionally, Shopify provides fewer options on customization, for example the checkout process cannot be modified, unlike in Magento.
Magento and Shopify in numbers
Nowadays, Shopify and Magento both are in the top-10 platforms for eCommerce. Magento is mainly used by lower number of sites, but those are high-traffic web-sites. Shopify is more popular with sites that have less traffic, as indicated by W3Techs.
This diagram shows the market position of Magento and Shopify in terms of popularity and traffic compared to the most popular content management systems: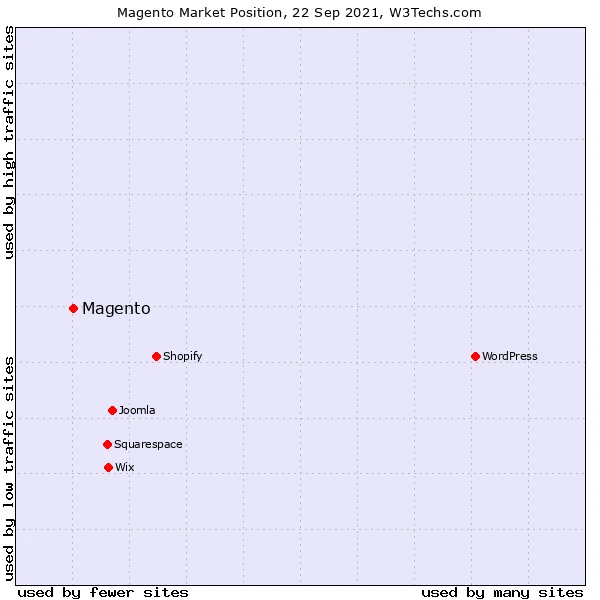 The Shopify report on Second-Quarter 2021 Financial Results shows that this platform is used by over 1.7 million businesses in more than 175 countries in the world.
Magento powers more than 315,000 sites globally, with representation across a variety of industry verticals, including healthcare, beauty, home, fashion and apparel, electronics, sports, media, and more.
BuiltWith indicates that as of now Magento powers 206,162 currently live websites and 537,582 sites used this software technology previously: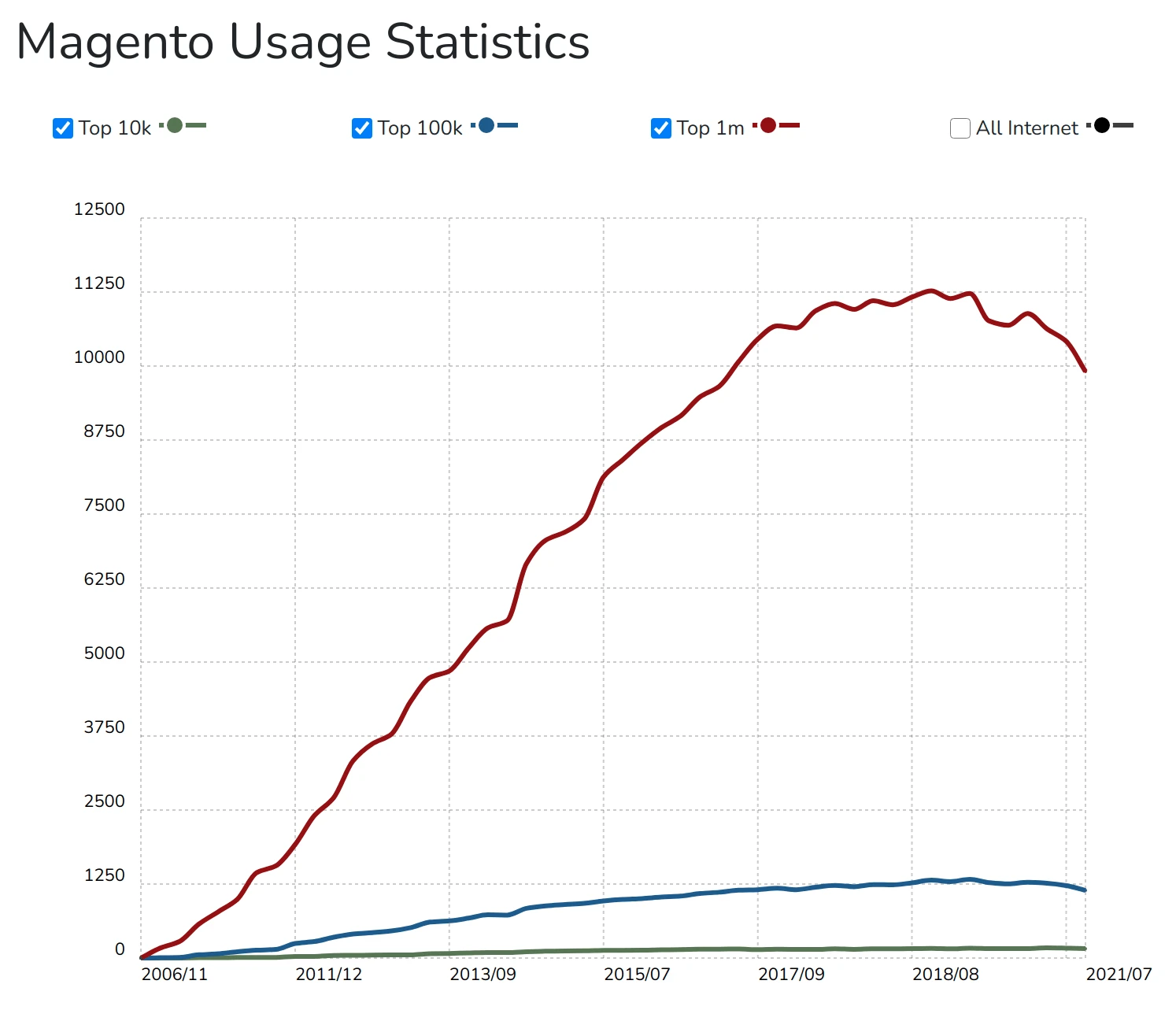 That is general statistics for all Magento versions. Magento 2 specifically is used by 102,723 currently live websites.
Regarding Shopify usage statistics this service reports 3,489,406 currently live websites and an additional 1,396,992 that used it previously: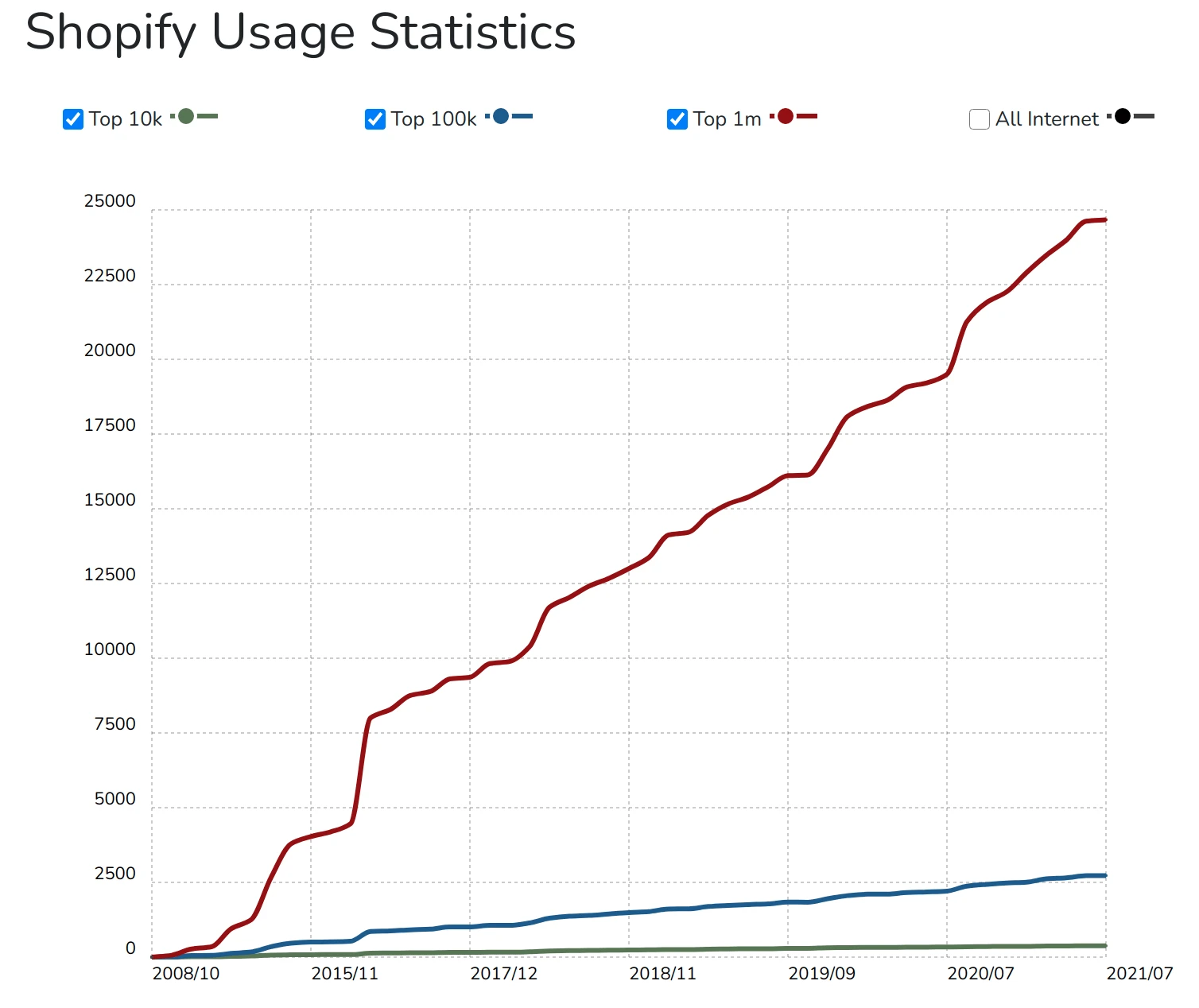 Magento sits on the 9th place in the top-10 list of content management systems, according to Envisage Digital. Magento-based stores conduct transactions on more than $155 billion per year.
Most of the Magento-based businesses operate in United States, United Kingdom, Germany, Netherlands, Brazil. The United States makes up 11% of all Magento stores.
Shopify takes a firm third place in eCommerce market share, as indicated by Statista.
Merchants in the United States are main users of Shopify, accounting to almost 60% of all Shopify Plus stores. The UK and Canada take 10% an 9% percent respectively. Shopify is also popular in Australia, France, India, Denmark, Spain, Hong Kong, Finland.
Pricing
There are, notwithstanding, some tremendous contrasts between Magento and Shopify in terms of pricing that you should be very much aware of prior to make a choice of one of them.
Magento pricing
Magento is distributed as a standalone software piece that a merchant should deploy by himself. Adobe provides several editions of Magento: Magento Open Source and Adobe Commerce.
Magento Open Source
The Magento Open Source (former Magento Community) is available without any fees. It provides all basic functionality a store may need at its launch, and additional functionality that may be required can be added with third-party plugins.
Despite the Magento Open Source can be downloaded and used freely, a running store will require some financial funds. Mandatory expenses include hosting (you may count on $49/month) to deploy your Magento installation and domain name (from $2.99 to $2600.99 in first year) for your store.
You may also want your store to stand out visually, so add design themes ($0 – $200) to the list of expenses. Additionally, you may need to enrich the store functionality by installing extensions.
Some of these extensions are available for free, but generally be prepared to buy them. The price of the Magento extension mostly varies in the range of $50 – $500, however some may cost several thousand dollars.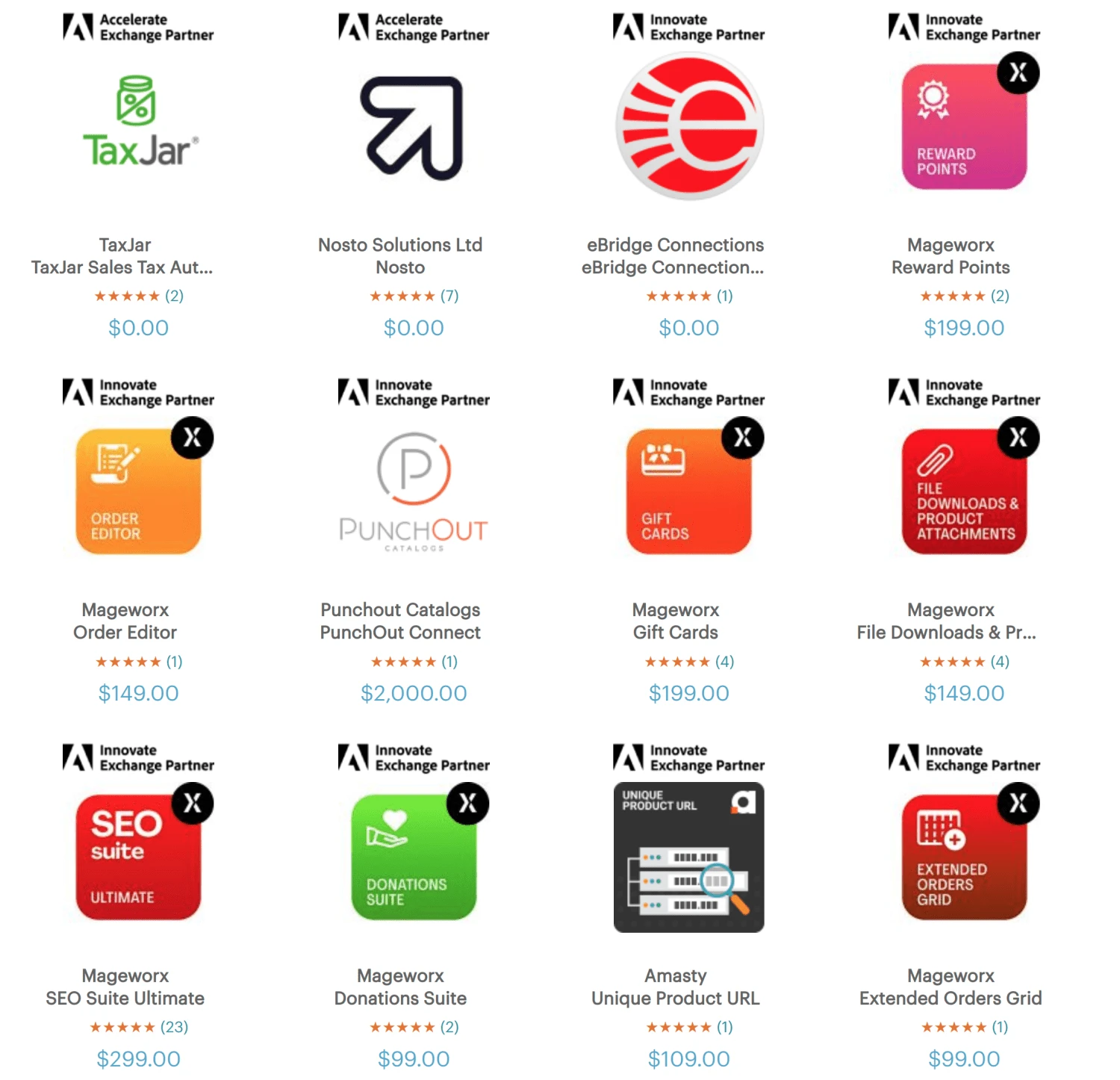 Adobe Commerce
The Adobe Commerce (former Magento Enterprise) is a paid Magento edition, and it provides extended functionality from the start. For example, enhanced in-store search functionality named Live Search, and Product Recommendations are not available in Magento Open Source by default.
Onilab indicates that the Adobe Commerce price is determined based on the annual Gross Sales Revenue (GSR) of the store. The minimal fee is $22,000 for stores with $0-$1,000,000 GSR. Payments can reach up to $125,000 for stores with $25,000,000-$50,000,000 GSR.
With Adobe Commerce you have the option to use Adobe Cloud hosting, in which case the price of this Adobe Commerce Cloud version will be $40,000-$190,000.
Shopify pricing
Shopify is available in the form of Software as a Service (SaaS), which basically means that a shop owner regularly pays a subscription fee. This is vastly different from Magento Open Source finance model.
Any merchant may start his store by registering on Shopify, and evaluate this SaaS eCommerce platform up to 14 days for free. Trial is available without connecting your credit card to the account.
After trial expires a store owner will have to choose one of available subscription plans.
Currently, there is Shopify Lite, Basic Shopify, Shopify, Advanced Shopify, Shopify Plus subscription plans. The Shopify Lite is aimed at blogs on popular CMS platforms, like Wordpress, that want to sell products. Shopify Plus plan is aimed at large enterprises.
Depending on the plan store gets a specific set of features. For example, Basic Shopify supports up to 2 admin accounts and 4 inventory locations. The Advanced Shopify offers up to 15 admin accounts and 8 inventory locations.
The price range on Shopify subscription varies from $9/month to $2,000/month, and for higher volume businesses this figure may rise.
Required knowledge level
The level of required knowledge to use Shopify and Magento significantly differs. The former is much simpler to use.
Required knowledge for Shopify
Since Shopify is a SaaS, it removes a lot of technical troubles that merchants may experience. This makes Shopify an incredible tool for entrepreneurs with no deep tech knowledge due to the basic user interface.
Additionally, this platform is better suitable for merchants who doesn't have the funds to recruit an IT professional.
Required knowledge for Magento
With Magento, the expectation to learn and adapt is really steep contrasted with Shopify. A merchant will need to understand specific software terms and use coding to construct the web-based store he needs.
Despite Adobe Commerce Cloud may seem as a SaaS at a first glance, in fact it isn't. A merchant is still responsible for handling store maintenance and updates.
Themes for frontend design
A visually alluring site is a powerful way to engage shoppers into buying - 48% name the design as the top factor for business credibility.
Having an attractive store frontend is also a way to stand out from competitors.
A task of changing the store appearance is usually fulfilled with the help of themes. These can be prebuilt themes and self-made themes.
Official Shopify and Magento theme marketplaces offer limited number of themes. Many more design templates may be found on third-party websites. Try exploring such resources as Theme Forest and Monster.
Magento themes
Freshly installed Magento gives two design templates: Luma and Blank. The latter is an empty theme and serves as a base for custom theme creation.
Alternatively, a store owner may download a prebuilt theme. Official Magento Marketplace offers 11 design themes for Magento stores.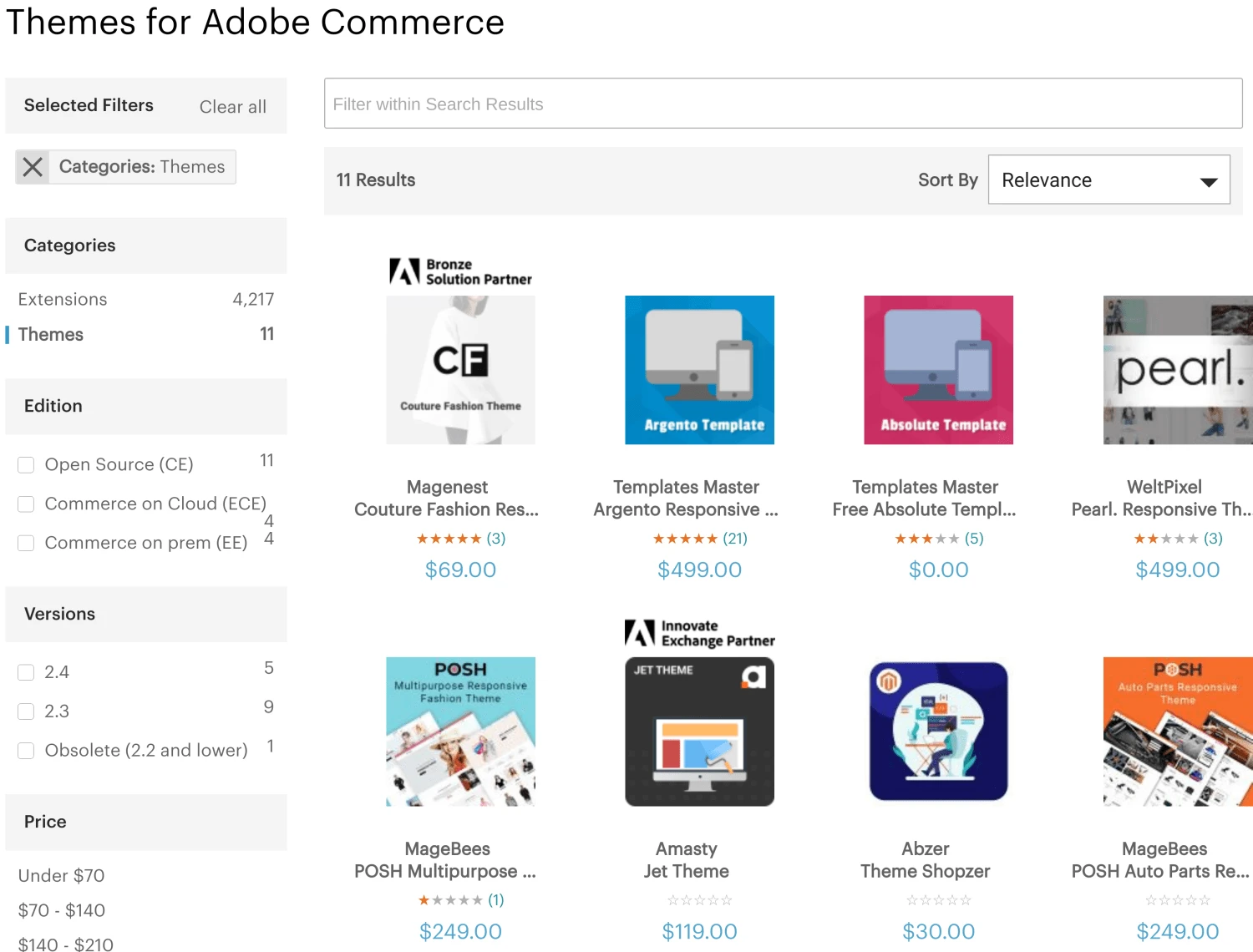 Magento does not provide built-in tools for theme editing and customization. However, the design template can be modified using external code editors.
Shopify themes
Shopify offers a catalog of readily available themes, which proposes more than 80 themes for downloading.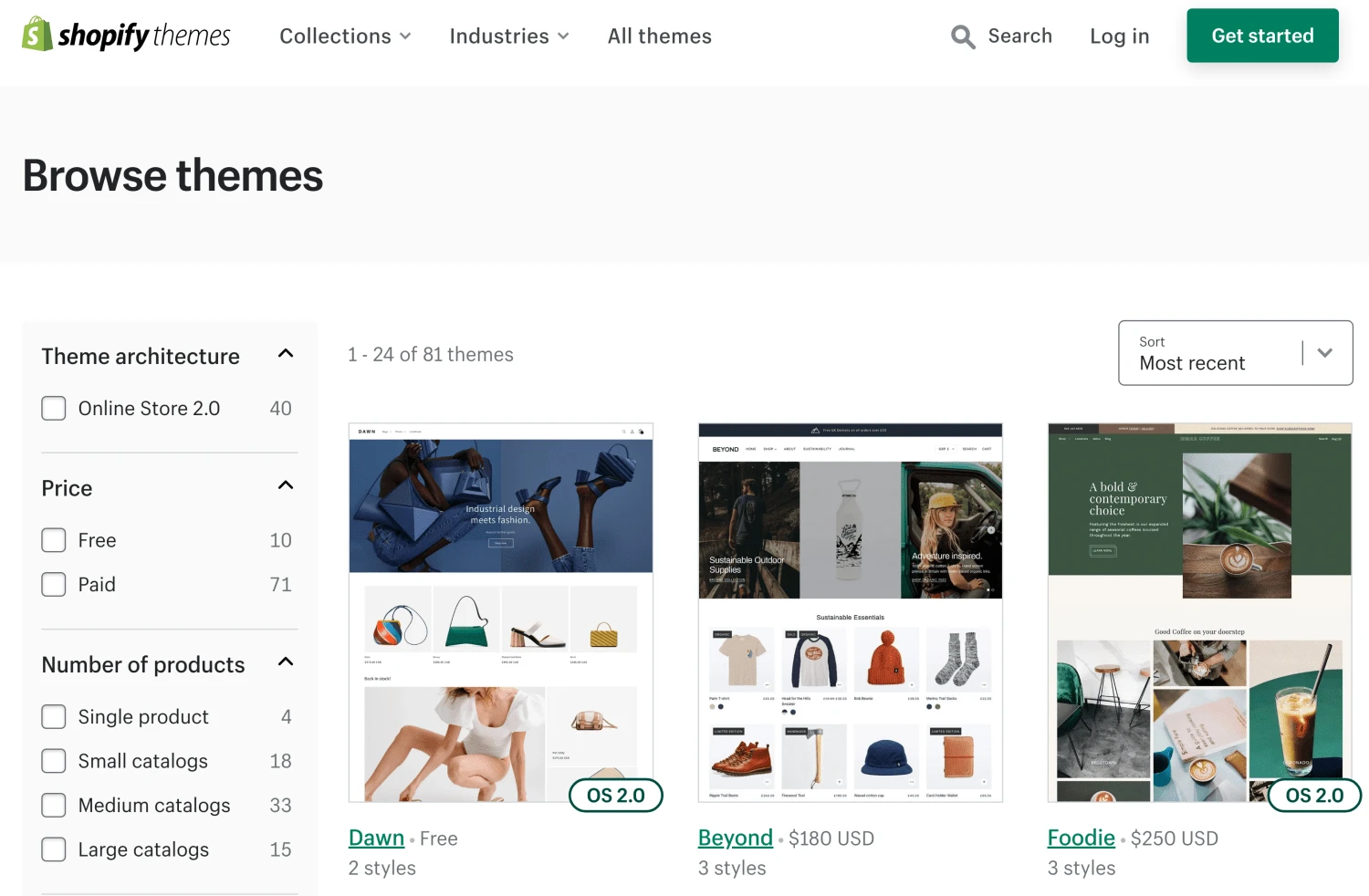 Additionally, store owners may edit the theme files using built-in tools, such as Shopify theme templating language Liquid, HTML, CSS, JavaScript, JSON. However many modifications can be done via visual editor: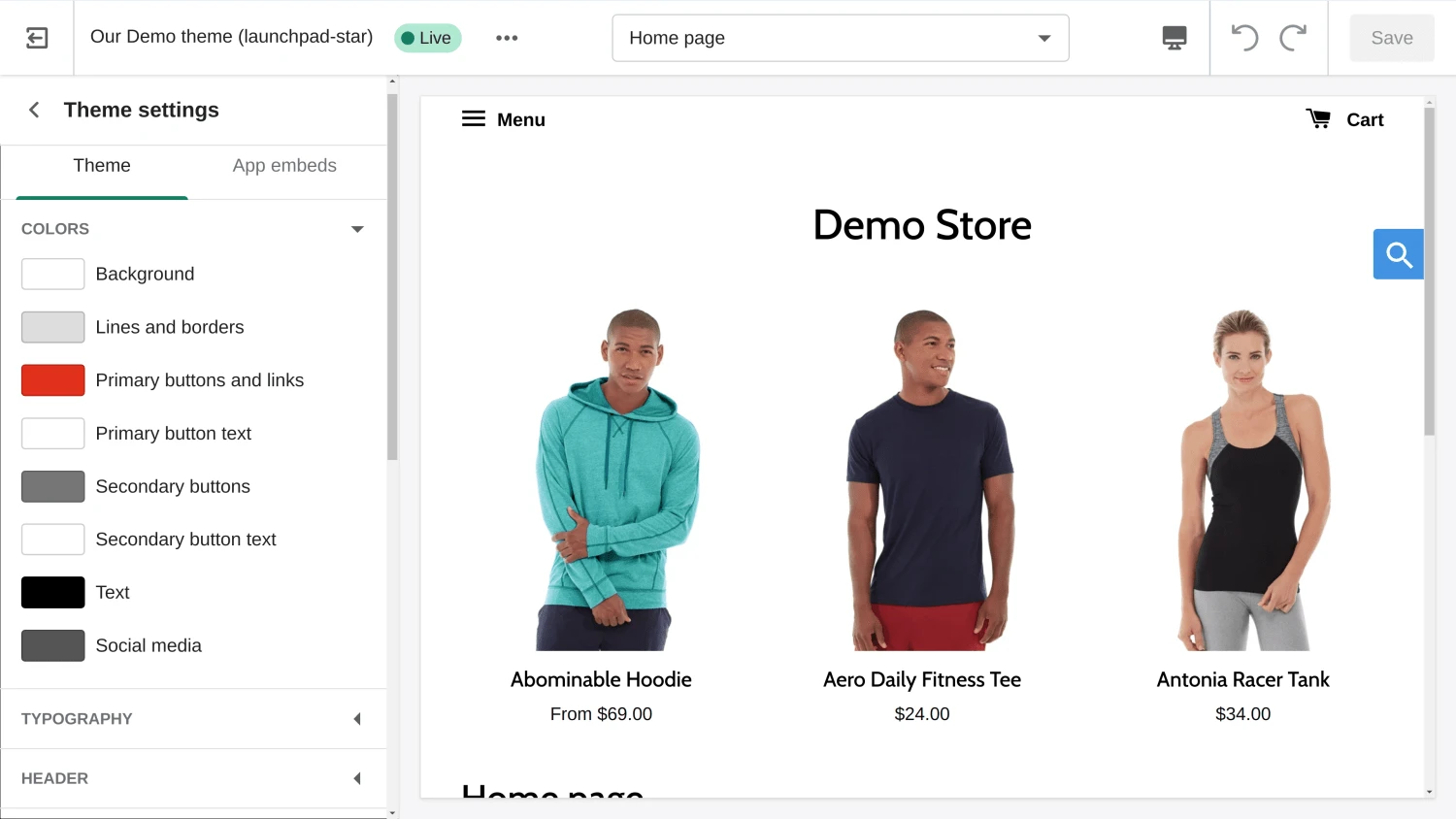 A significant advantage of Shopify themes is that they are mobile-optimized. This is an important property, since the estimated share of mobile commerce is 72.9%.
Functional flexibility (extensions)
In addition to visual design modification with themes both Shopify and Magento support changing of the store functionality. This is done by using apps in Shopify and extensions in Magento.
Despite the difference in naming, these are software pieces that allow adding functions to the store or alter workflow processes. Magento and Shopify allow different level of functional modification.
Magento extensions
Official Magento Marketplace offers more than 4000 extensions, and majority of them are compatible with free Magento Open Source edition.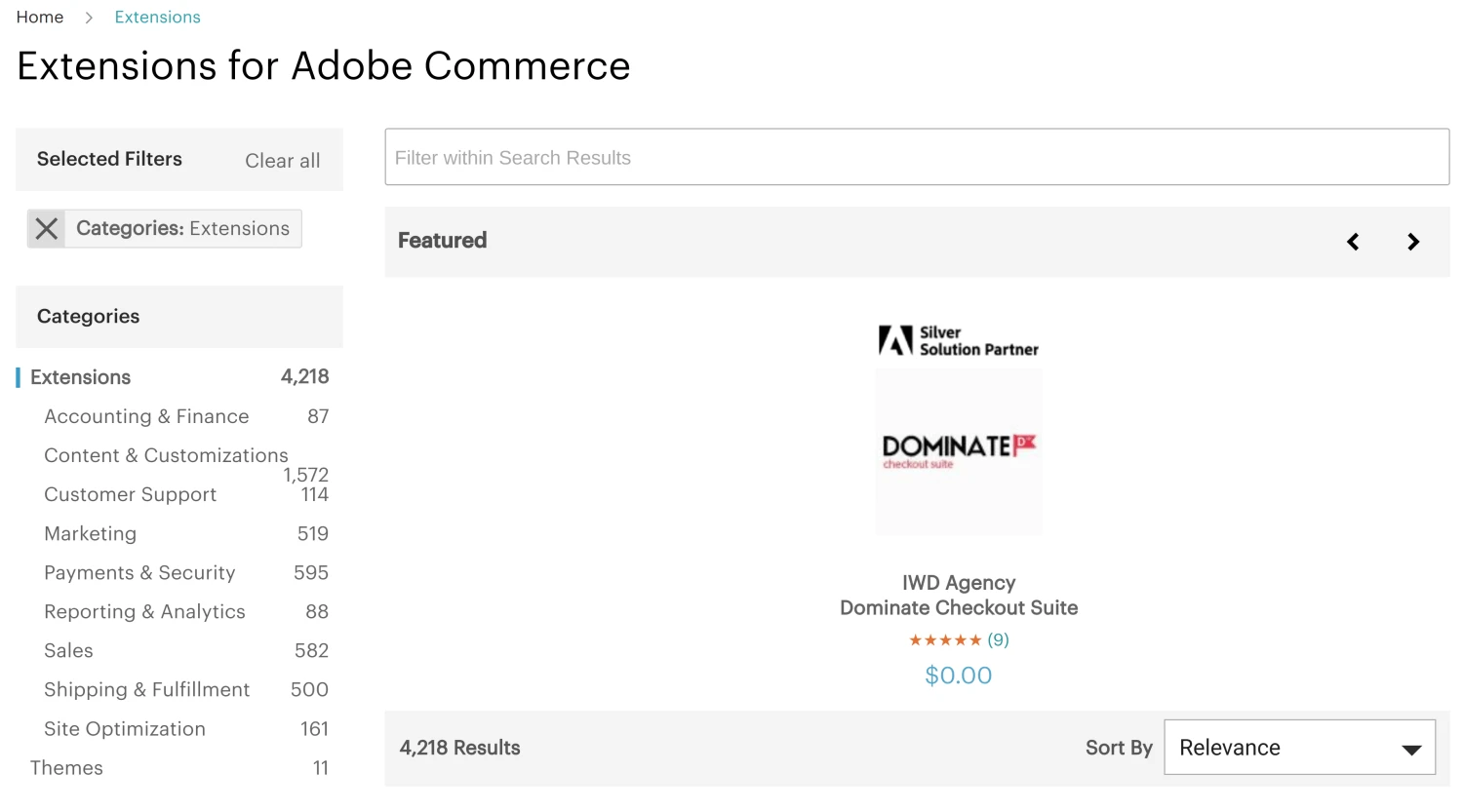 However, the total number of available Magento extensions may be significantly greater, since developers offer them through their individual stores.
Magento extensions are installed via command line interface (CLI), so some technical knowledge is required. Check out the amount of work and knowledge required to install or update an extension in Magento.
Magento supports high level of customization, making it possible to change almost any process or workflow in your store with extensions. For example, you can modify the checkout process to tailor it specifically to your needs even on free Magento Open Source.
Shopify apps
Shopify app market offers almost two thousand apps more that Magento Marketplace.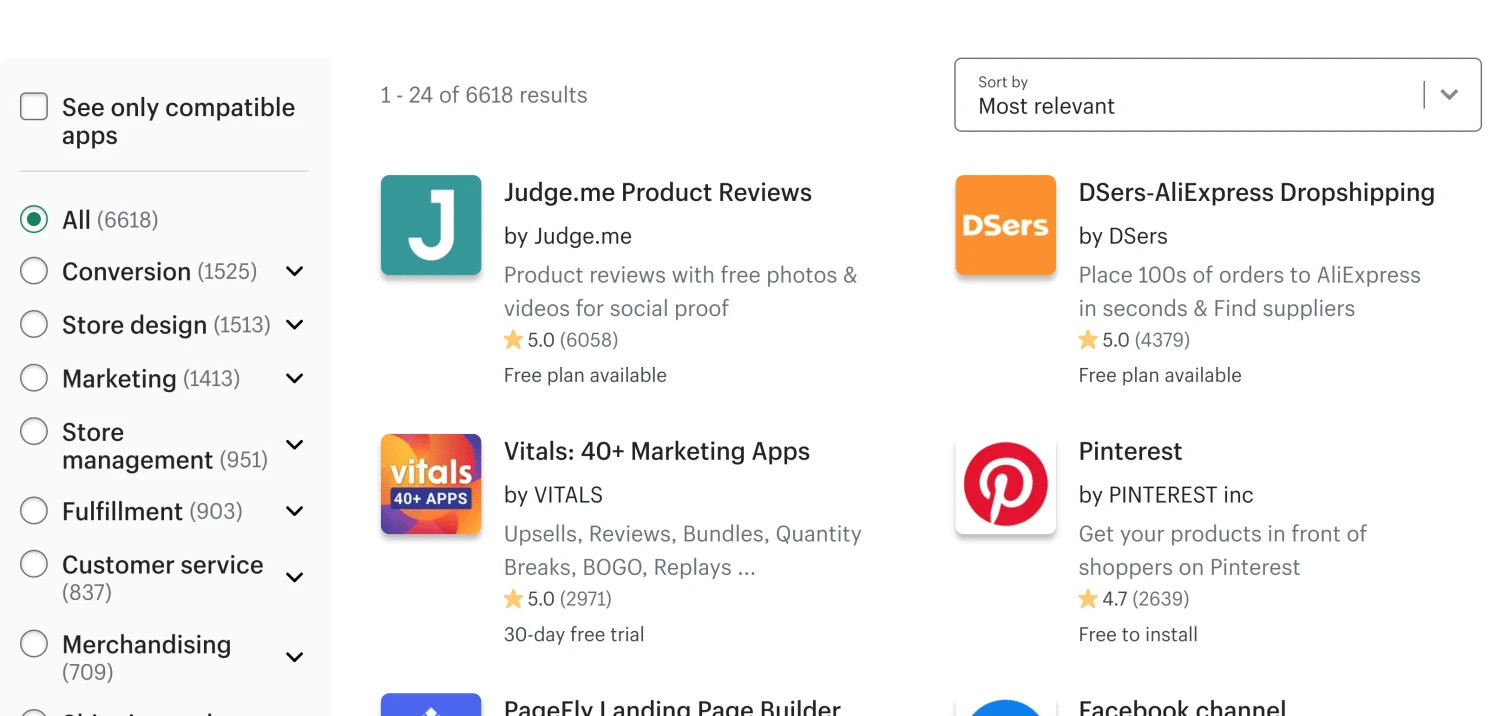 Shopify permits a store owner to handily alter the basic elements of the store with its simple to-utilize interface. For example, merchants may edit the style of the checkout page, its language, tipping options and using apps it's possible to show cross-sell and upsell products to customers at a checkout.
However, significant modifications and automations may only be allowed on the top Shopify plan. For example, checkout script customization and bot protection is supported on Shopify Plus plan.
SEO adaptability
Search engine optimization is fundamental for any online business since 68 Percent of online shoppers use Google to search product before buying it.
SEO in Magento
Full control over the store that Magento gives to the owner allows to extend their SEO by altering all related data. There are some built-in SEO tools, for example, customized URLs and meta data.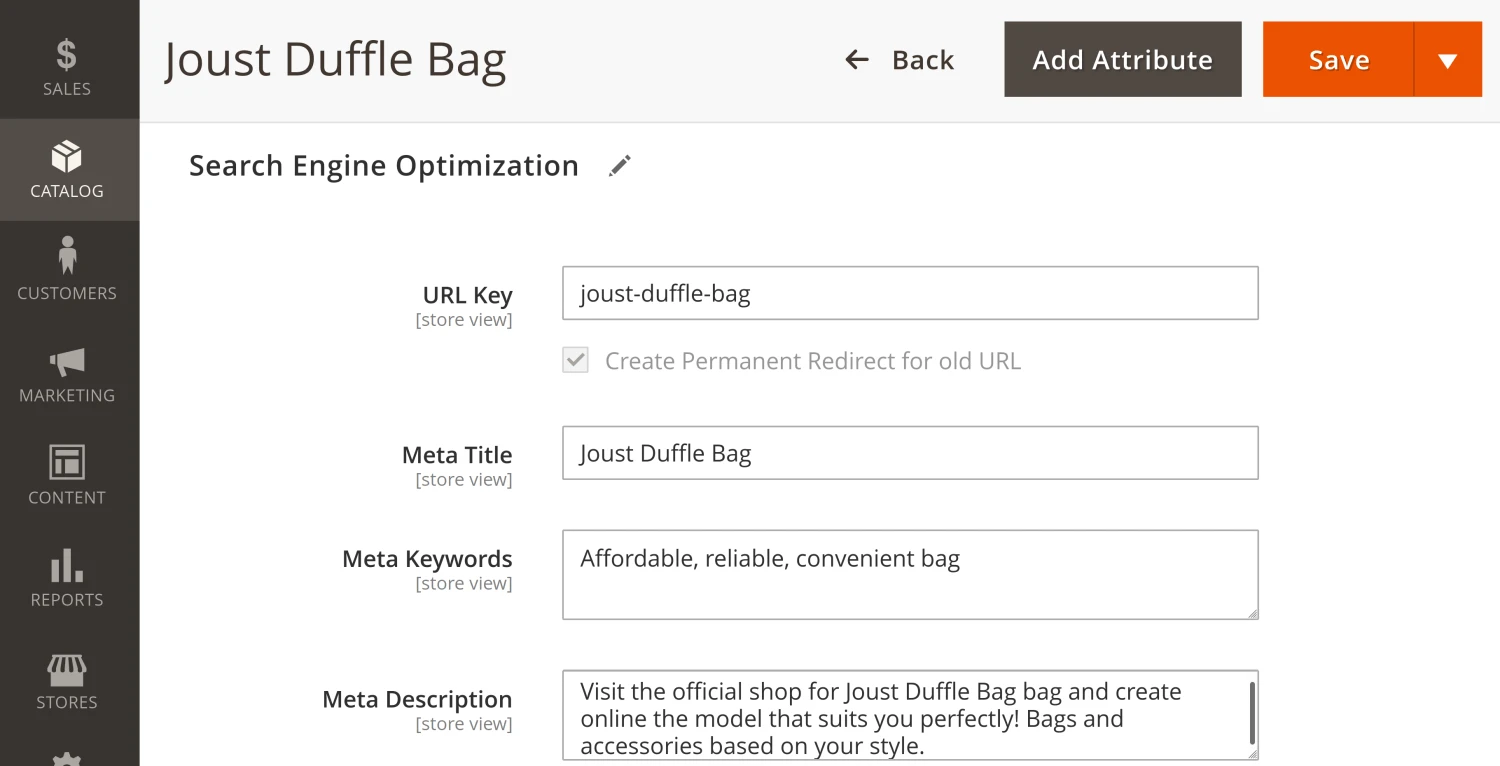 Merchants may also freely amend meta page titles, meta descriptions, modify layouts to better suit the task of search engine ranking enhancement. All of this requires knowledge in SEO and programming or using an extension, like Advanced SEO Suite.
SEO in Shopify
With default Shopify it may be hard to do even basic SEO task like editing robots.txt file. This requires modification of theme template file robots.txt.liquid and officially that is an unsupported customization.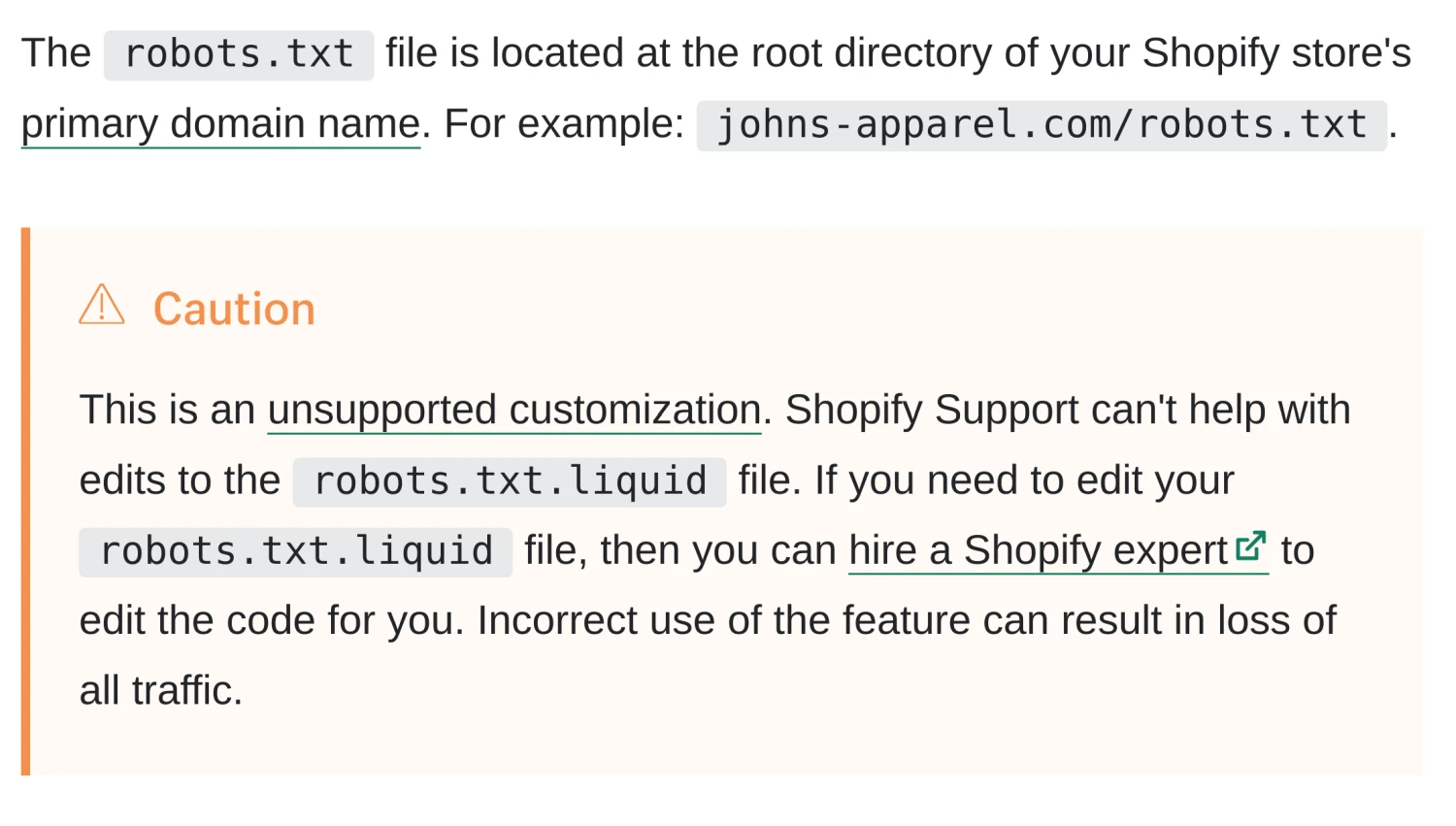 SEO needs in Shopify are basically covered by third-party apps, which can offer an interface to alter meta tags, website structure, keywords, hide pages search engines.
Shopify does not offer merchants a functionality to modify the URL structure, create pages on the root, improve the page loading speed and other vital SEO parameters.
Payment processing
Any online store accepts and processes payments for orders. Both Shopify and Magento provide connection to more than a hundred of payment processors.
The significant issue with Shopify, which Magento doesn't have, are charges on each transaction. Contingent upon the subscription plan, merchant will pay 1-2% in addition to standard credit card fees.
A partial solution to this may be Shopify's own payment processor Shopify Payments, which imposes zero fees on transactions aside from the regular processing fees. However, some businesses are prohibited from using Shopify Payments.
Page loading speed
Page loading speed is estimated as the time that a CMS takes to create the HTML code and send it back to the user's browser, as indicated by Quanta.
Magento is genuinely steady with a normal accessibility rate up to 99.71% in spite of the great traffic (3000 guests each day). Loading time of ordinary page is 665 milliseconds, and shopping cart page takes 568 milliseconds to load.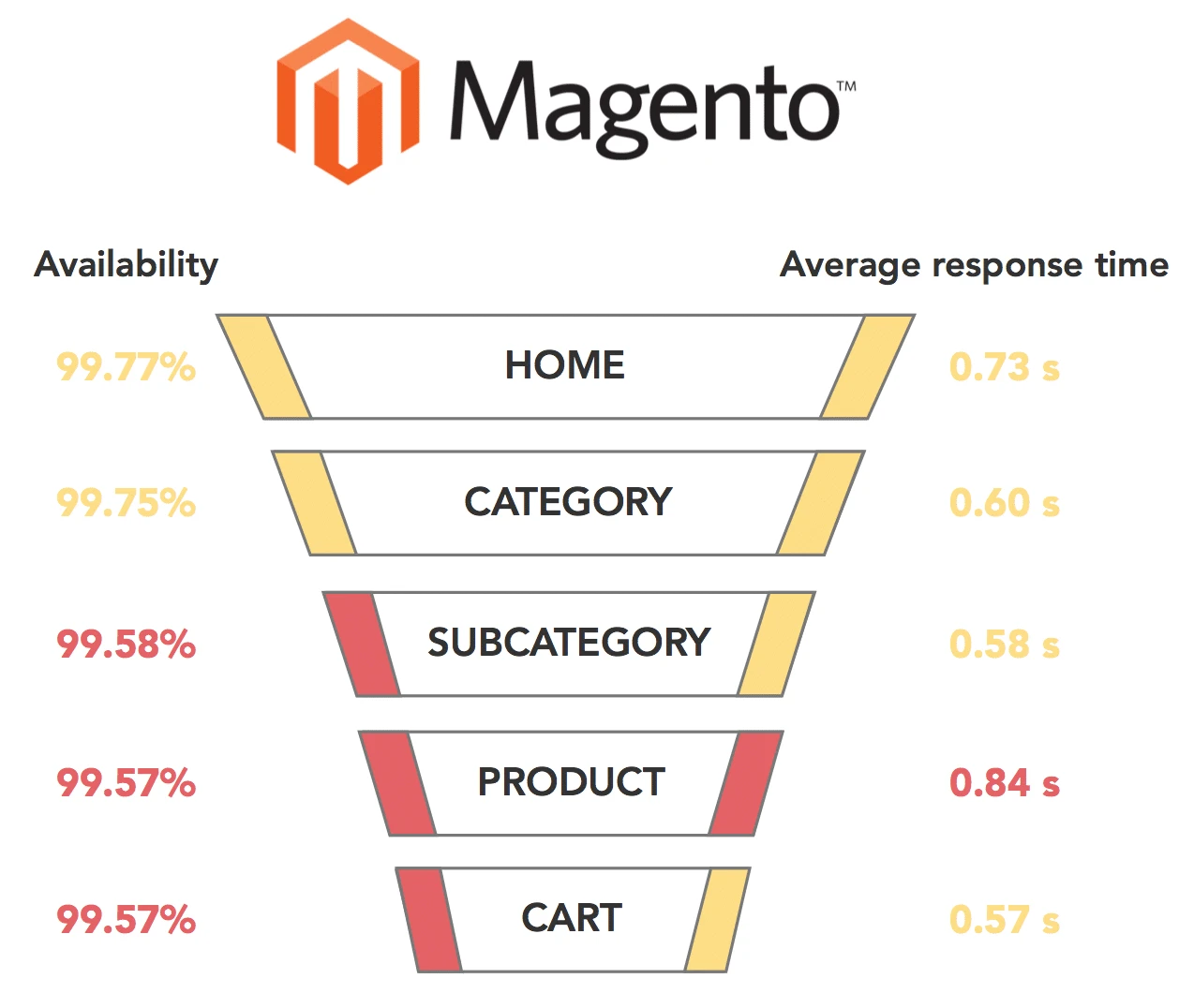 Shopify is much more performant, demonstrating page loading time of 309 milliseconds.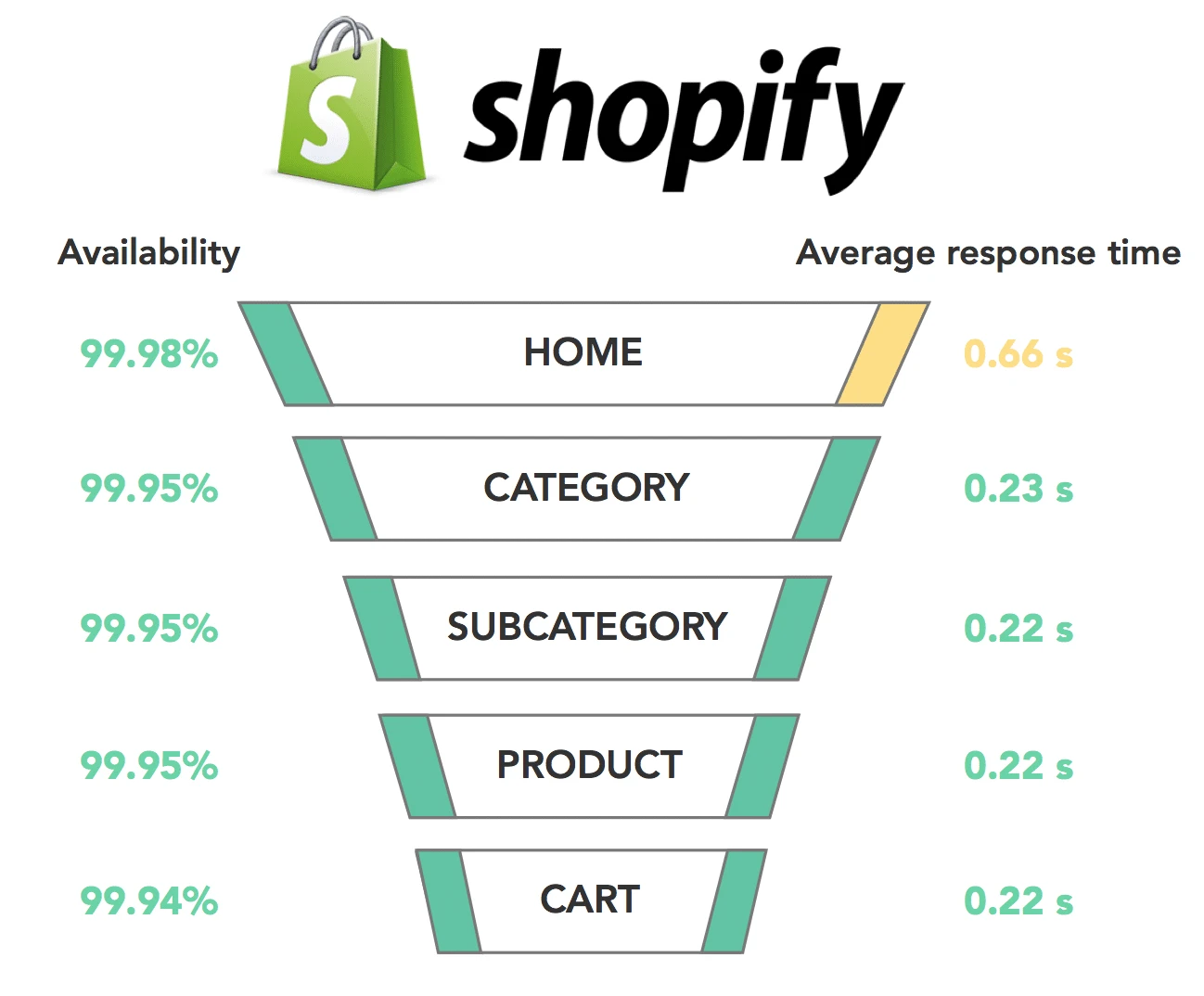 Both Magento and Shopify can demonstrate fast page loading time. But, when the store gets bigger its loading speed may decrease. In Magento store owner can hire IT professionals to deal with this. A Shopify merchant will simply have to hope that Shopify will fix the problem.
Support availability
Your online store will definitely encounter problems, and it is critical to get a solution for them.
Shopify support
A Shopify merchant can count on help available 24/7 via phone, email, and live chat. Additionally, store owners may seek advices on community forums, official help center, API documentation, numerous online third-party tutorials.
Magento Support
Users of Magento Open Source edition have no support whatsoever. The official support service is provided to Adobe Commerce users.
Magento store owners may seek solutions on official Magento DevDocs pages, community forums, third-party tutorials, etc.
Summary
Shopify and Magento both are really invaluable web business platforms. Making a conclusive choice for a future internet store will not at any point be easy since no single software platform will impeccably fit the prerequisites of every customer.
In brief, it can be fair to say that Shopify is better option for small and medium retail. Magento would better suite medium and large enterprises.
A merchant could analyze Magento and Shopify peculiarities, and he will undoubtedly find the most fitting one which guarantees the fulfilling of his needs.