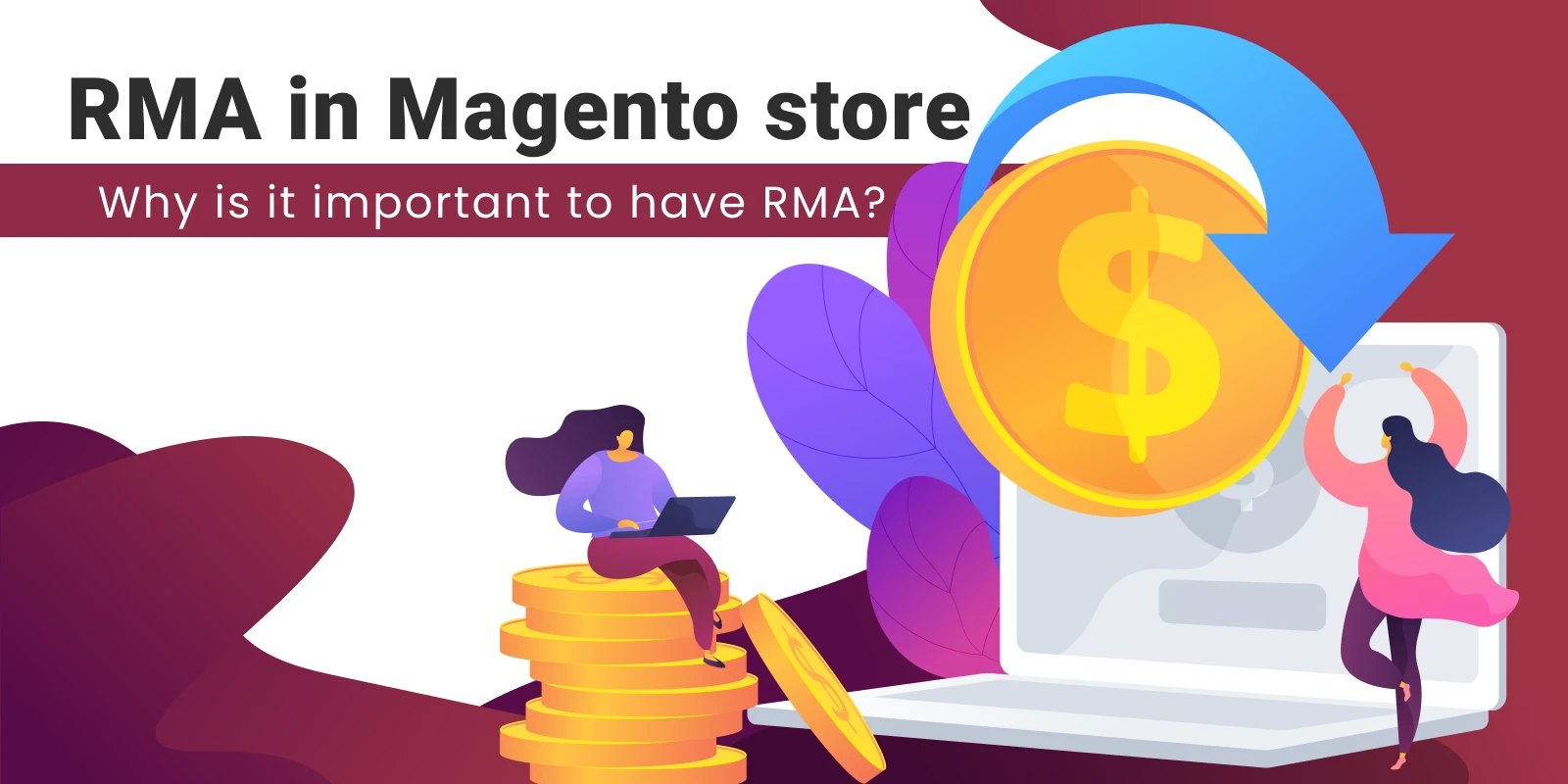 There may be a thing for online stores which may be considered not so important, but it has a significant influence on sales. It is a return policy of your store - almost 83% of shoppers read it before making a purchase.
72% of consumers say they will spend more with merchants that will make returns easier. 89% of repeat customers who report a good return experience are likely to buy again.
Magento has the capabilities to assist store owners in crafting a return process that works best for the store and its customers, using a Return Merchandise Authorization (RMA) functionality.
Dive in the article below to get full information on what RMA is and why you need it in your Magento 2 store.
What is Return Merchandise Authorization
Return Merchandise Authorization (RMA) is a part of a postsale service the store provides to its customers as a part of its return policy. This is usually the first step in the situation where a shopper expresses a desire to return the purchased product back to the store.
For a store, the RMA goal is to prevent improper product returns and gather information about returns. A customer gets a tool to receive his money back or other forms of compensation for the products he sent back to the store.
RMA exists to make the return interaction consistent for the purchaser, practical for the merchant, and fast from a monetary standpoint.
The RMA process solves several major difficulties with product returns:
Data gathering from the client
The store gets a specific workflow to collect the information about the reasons why the customer wants to make a return. With the RMA functionality, a store can provide a customer with tools to give a detailed answer.
The data accumulated through an RMA can be used to address the return with the greatest benefit.
Evaluating the state of the returned purchase
The store may require to know the condition of the item, the customer wants to return before a refund can be made. RMA provides the necessary tools to add any additional details that may be required and greatly simplifies the process.
For example, a demand to upload a photo of the product's packaging can protect from deceitful returns. A client guarantees that the item has not yet been opened and used, but store managers receive the item with damaged packaging and a clear proof of wear and tear.
Fast way to satisfy customers
Using RMA allows to greatly shorten the time it takes for a customer to get his money back by refunding in-store credits rather than actual money.
This saves transaction fees for the store and allows the customer to get his funds back almost instantly. Additionally, the customer will buy from you again to spend credits received.
Why having an RMA is important
A typical product return rate in online business is 19.06%. Incorporating RMA framework into this process benefits both eCommerce and their clients.
Store owners get a source of information for improving the store frontend, and customers get the assurance that they can get a post-sale service in case of problems that may occur during the purchase.
When customers don't get a simple return process they are more likely to keep the product they don't like. In fact, 90% of customers have kept a product they actually wanted to return. Customers may want to skip returns on various reasons: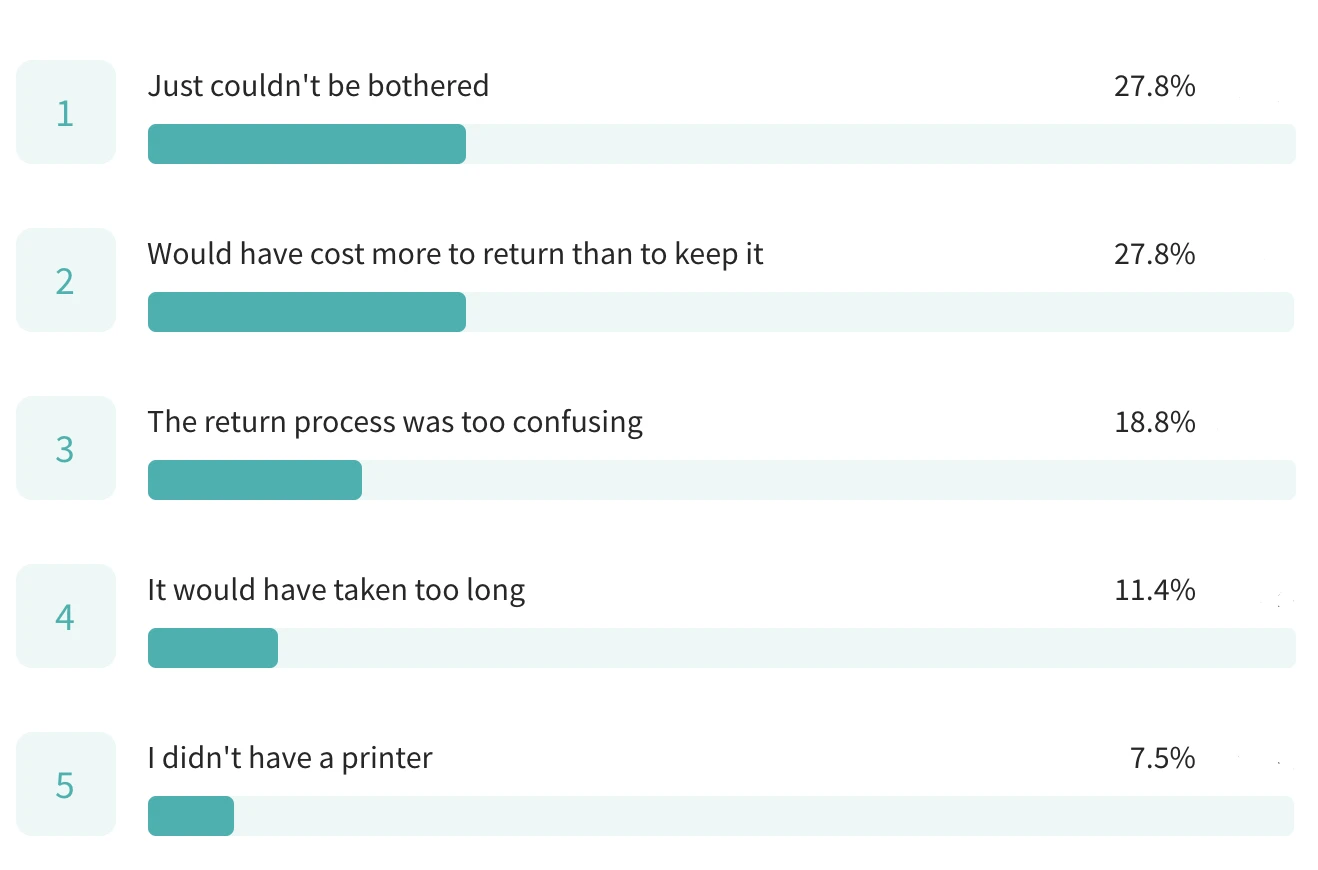 While it may seem as a good thing since you don't have to refund or exchange the purchase, actually it is bad for your business.
Customers buy more
While returns or exchanges are not often a convenient process, having an RMA to improve it can help you really boost sales.
Ability to make a simple product return leads to an increased likelihood that the customer will buy from you again. Actually, clients who don't make returns demonstrate the lowest rate of recurrent purchases, as this table based on hundreds of thousands of orders from over 500 brands shows:
| Customer | 1st order | 2nd order | % Repeat order |
| --- | --- | --- | --- |
| No return | 34,949,129 | 12,066,011 | 34.52% |
| Refund | 1,036,352 | 421,563 | 40.68% |
| Exchange | 1,098,873 | 507,794 | 46.21% |
Clients who used RMA to exchange purchased products had a 33.80% higher repeat purchase rate than people who never returned a thing.
When a customer gets the "right" product they will have a better experience with that product and your brand. When they use a product they like, they're more likely to come back.
Source of data for store improvement
Tracking all returns in your store in one place can be a source of valuable data for improving the returns process.
If you often see the RMA reasons for crashed products you may want to make packaging more robust. In the case of defective products, you may want to change the supplier.
On the off chance you wipe out these sorts of issues, you'll see a reduction in the number of reasonable exchanges for items that had those problems, and you will lower your costs.
What steps RMA workflow has
The RMA process may have some variations specific for a certain store, however, it consists of several basic steps.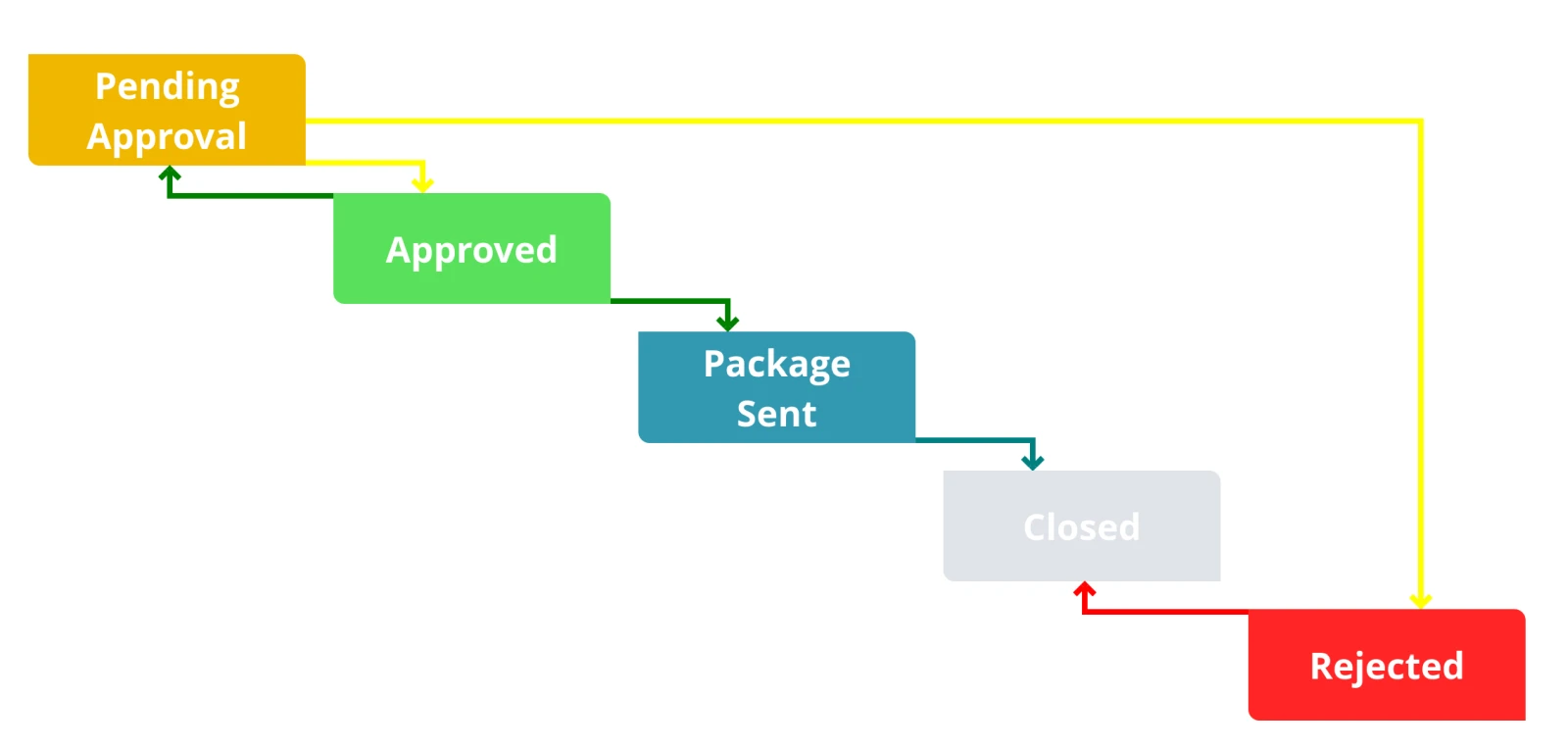 First of all, your store should establish its own exchange policy and fees for this service. Having such a set of rules allows you to use the RMA framework to decide whether a customer's request is appropriate for return or exchange.
Contingent upon the functionality of the RMA extension used, more advanced rules can be applied to various types of items or client requests on a case-by-case basis to ensure a great, customized RMA experience.
Step 1. The RMA process begins with a customer initiating the return. RMA extension provides the store with the framework that allows customers to request returns through a special form on the store's frontend.
Using this dedicating RMA form customers can fill in and submit the RMA request without having to contact the store staff. Depending on the store's return policy this form may allow purchasers to specify a reason for return, and provide any other details needed to manually or automatically review the request.
At the stage of initiating the RMA request, customers should also be able to provide information about the type of compensation they wish to receive. The list of available options also depends on the store's return policy. Typically, it includes a refund, repair, exchanges.
Step 2. After the client submits a request form, it will be sent to the store manager for approval or denial. If the RMA request meets your store's specific return criteria, a manager will issue an RMA.
At this point, the customer is usually sent an RMA tracking number along with instructions on how to send the discussed merchandise back to the store. The RMA number is connected to the order that the customer wants to return in whole or in part.
Step 3. When a customer has shipped the package to your store, and it has been successfully received by the store manager, the store manager confirms that the returned item is exactly as described by the customer. An RMA resolution is then issued, or other follow-up action may be taken.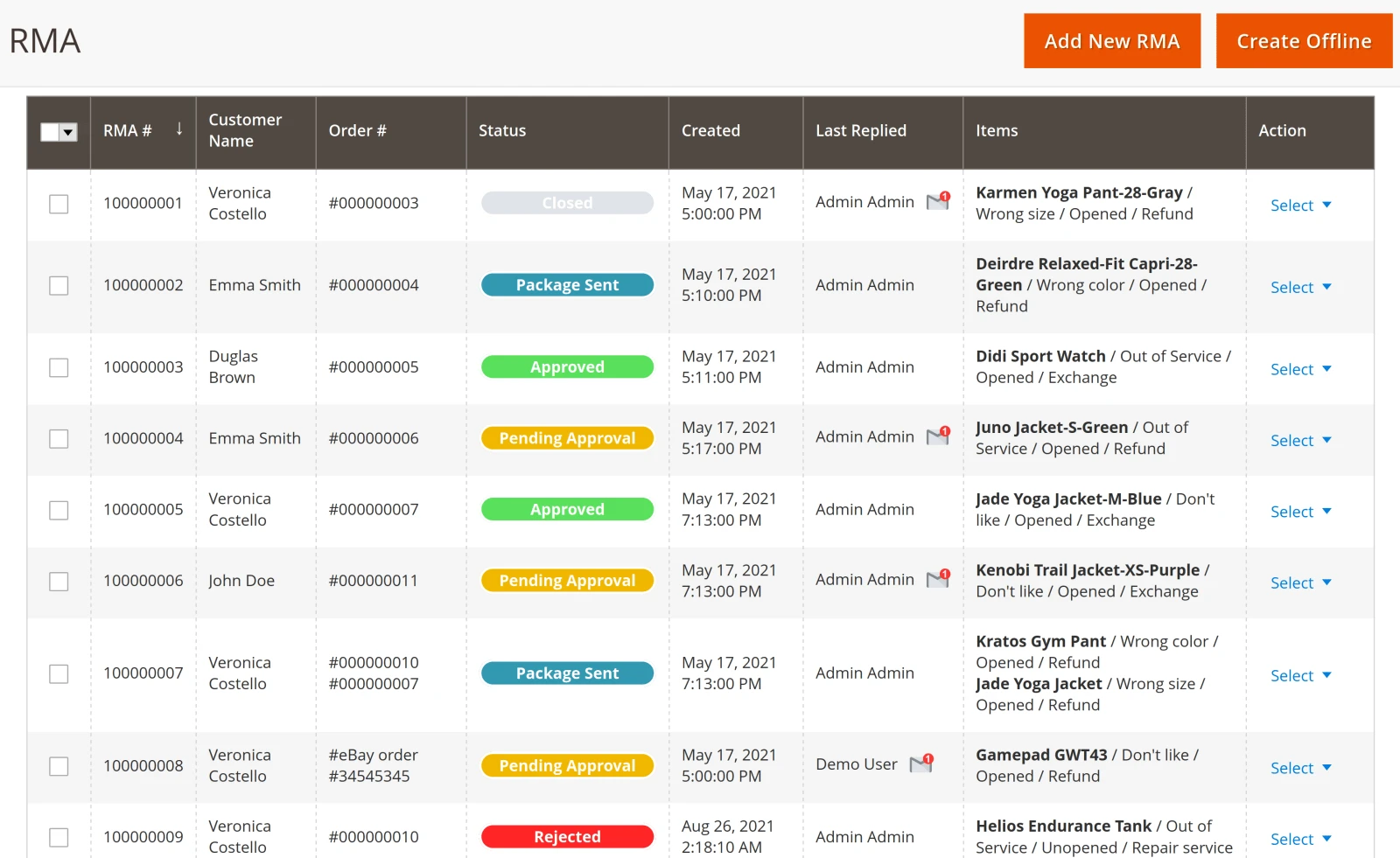 What is required to set up RMA in Magento
The RMA configuration process is vastly different for stores on Adobe Commerce and those on a Magento Open Source. However, in both cases RMA is not available for virtual and downloadable products since there is nothing to ship back to the store.
Adobe Commerce edition offers a built-in RMA functionality. Stores on this version of Magento can simply configure RMA from the backend in the Sales section.
Magento Open Source does not offer built-in RMA functionality. In order to embed RMA in the store, it is required to use a third-party extension. Such modules basically provide the same functionality as the RMA in Adobe Commerce, giving you the freedom to choose any of the available extensions.
Depending on the specific RMA extension you choose, you may get additional RMA-related functions, such as automation of certain steps in RMA workflow, canned responses for quick communication, etc. All these functions are available, for example in RMA for Magento 2 module.
RMAs may be issued manually or — depending on your ecommerce system — you can set return criteria that automatically approve or reject RMA requests. For example, Workflow Rules in RMA for Magento 2 extension allows to automatically set approved status if the product condition is unopened.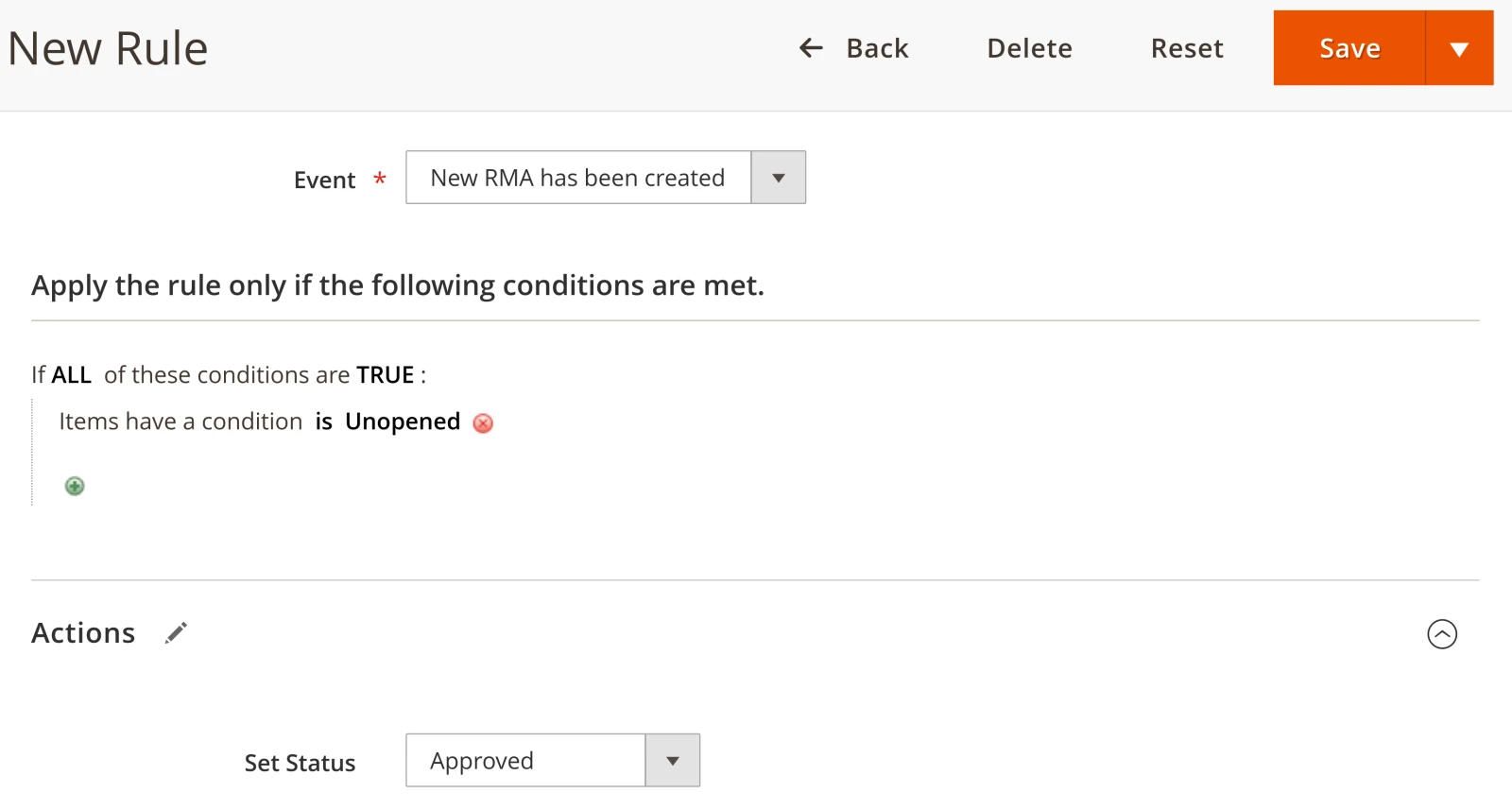 Automated steps of the RMA process will unload the store staff and make the customer more satisfied by reducing the time required for RMA requests.
RMA reasons
An RMA reason characterizes why the client needs to return a purchased thing back to the store. By highlighting detailed explanations behind RMAs you can simplify the process for customers and store managers.
This information will then be utilized to review your business channels, transporting provider, and various other steps of purchase delivery. For example, an apparel store can provide reasons such as wrong size, wrong color, and underlying reasons like damaged product or incorrect order.
RMA statuses
RMA statuses are used to arrange RMA requests by their current stage and to allow store managers and customers to easily track them. Mirasvit RMA extension additionally highlights statuses with color to make it easier to distinguish RMAs.
Typically, a basic list of statuses is enough since statuses like Approved, Pending Approval, Rejected, Package Sent, Closed can cover all steps of the RMA process in your store.
With this extension you can also add any additional statuses you may require. For example, it could be "Waiting for information from the client", "Pending return of goods", "Item received - pending outcome", and others.
RMA resolutions
The result of the return request customer wants to achieve is declared in the RMA resolution field. Typically this is a refund, in-store credit or exchange. However, you are free to add resolutions that are unique to your products, such as repairs, adding individual elements, donation, recycling, etc.
RMA best practices
RMA helps to construct incredibly firm relations with customers and assist with producing returning customers later on. Here are some best practices to get the most out of Return Merchandise Authorization and keep your business running in a smooth way.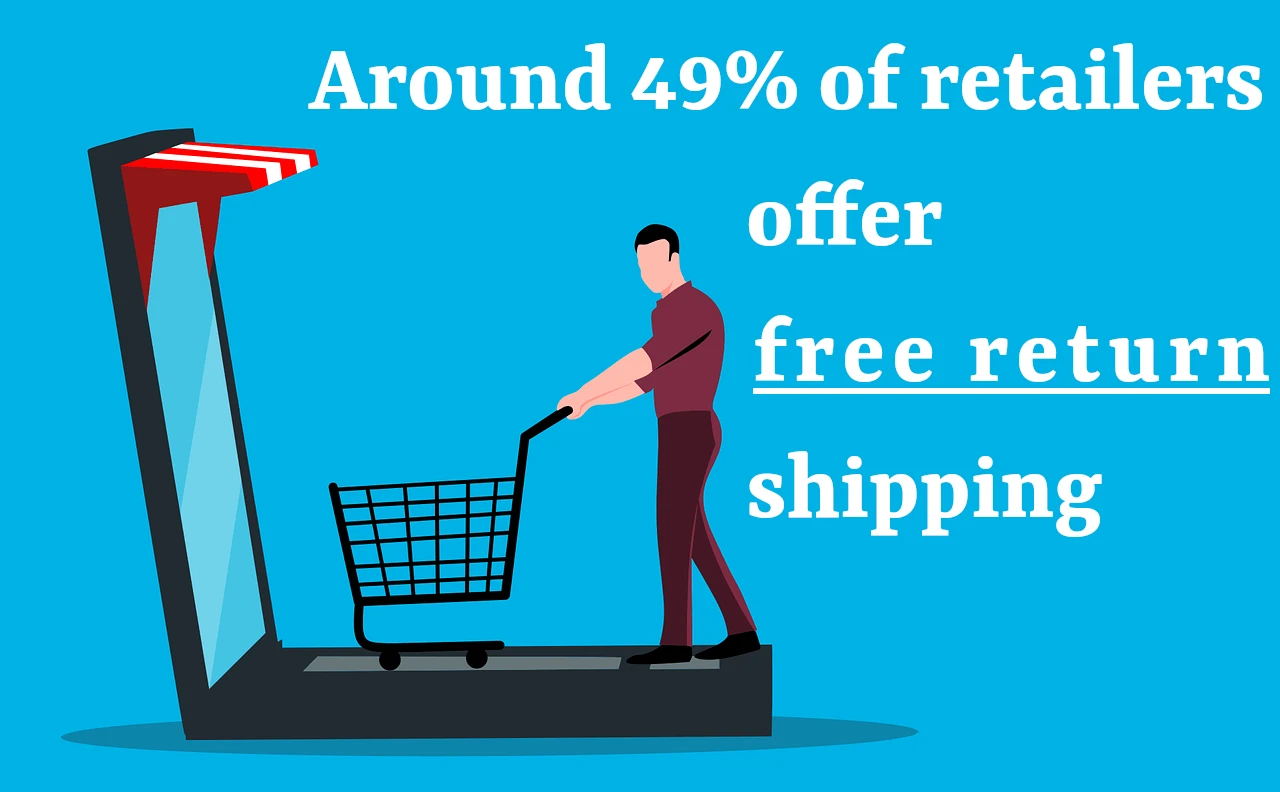 Support offline RMAs
In the event that a client can make a purchase utilizing an offline channel, it's a good idea to handle their RMA requests as well. A client-oriented online business ought to permit the customer to start a simple return regardless of how he made a purchase. This component can be exceptionally advantageous for the clients and will assist organizations with keeping a positive reputation in the eyes of shoppers.
Let your customers to pick exchanges
Many clients may choose an exchange resolution, and it is reasonable for an eCommerce business to furnish them with exchange options to choose from. These recommended items for exchange may have similar attributes as those purchased but from a different brand. By permitting the client to pick a reasonable exchange option, you can improve the entire RMA cycle.
Permit printing labels
Typically a customer receives a return label along with his purchase. However, this label can be lost or destroyed. To overcome such situations simply provide your customers with an option to download a return slip from your store and print it out.
Connect returns to purchases
To easily follow future purchases and returns, it is a good practice to create new returns in connection with initial orders. Choose an RMA solution that provides this functionality.
Simplify RMA monitoring
Make sure returns are easy to monitor by store managers and customers. The RMA solution you want to implement should provide a convenient interface to log and track the returns, and communication on it.
Summary
The RMA module in your store inconceivably improves the returns process by furnishing you with a direct and fast interface to communicate with your clients. At the same time, it enables you to acknowledge or dismiss the return requests depending on the rules you set.
The Advantages of having an RMA in your store are genuinely straightforward. It will allow your business to devote more resources to sales rather than return management. It will also make your customers more joyful by speeding up the return interaction. In addition, an RMA availability ought to urge buyers to go through more cash.
Having the RMA extension configured in your store, allows you to handle item returns just like clients objections, and at last, stay away from costly returns. RMA even makes it simpler for Magento 2 merchants to apologize, or, in fact, resolve problems directly with clients by offering any type of compensation that works best for the customer and the store.