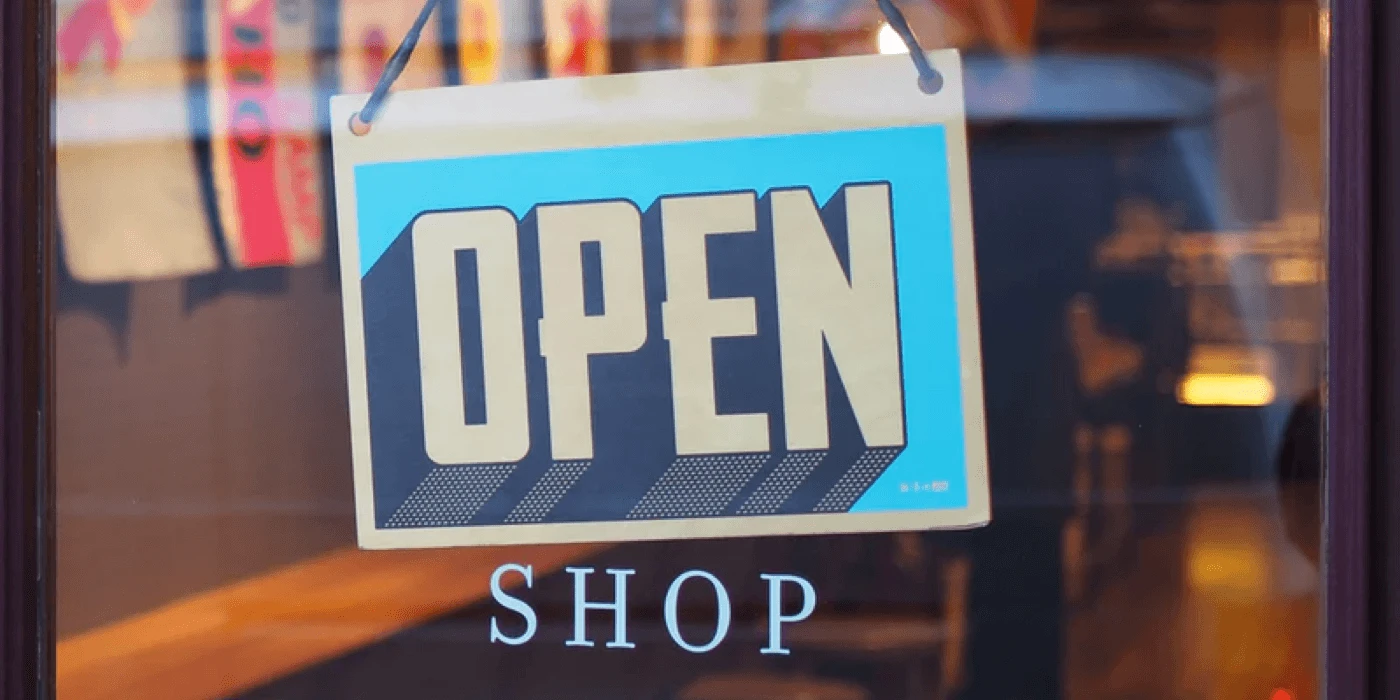 Here are four significant facts that will persuade you to establish an affiliate program in your Magento shop:
U.S. affiliate marketing as an industry spends about $5B. This amount of money is twice the economy of Belize (according to amnavigator.com).
More than 80% of brands utilize affiliate marketing potential.
38% of marketers call affiliate marketing one of the top means of acquisition.
In most affiliate programs, 10% of affiliates generate 90% of affiliate revenue.
What do potential affiliates expect from an affiliate program they're considering joining? How can you run an effective and revenue-driving program?
Look at the checklist of a successful affiliate program:
Ecommerce Store Reputation – High
Every affiliate needs to know who he or she is dealing with. The store's reputation must be high in order to acquire more affiliates and engage them with a program. The more potential affiliates know about the online retailer, the higher the chances are for success.
Cost To Join – FREE
Signing up and participating in an affiliate program must be free! No commission! Retailers who try to charge some fees for joining usually end up with nothing.
Commissions Earning Rules – Transparent And Clear
It would be ideal if any potential affiliate could view commissions paid and evaluate his or her opportunities with your store program. The more transparent your store is, the more affiliates you will get.
Payment Terms And Conditions – Plain
Most affiliate programs issue payments once a month or after an affiliate earns a given minimum amount (typically, $50-100). In any case, potential participants should be informed of these terms and conditions BEFORE they join.
Statistics And Reports – Real-Time 24/7/365
Every eCommerce affiliate program should provide its participants with vital statistics. They should be able to view a bunch of data in real-time, but the most useful statistics are the following: impressions, clicks, CTR, sales.
Visualize the dynamic of these data sets over time and add valuable reports to your program. There are additional preferences, like whether an affiliate can track his or her affiliates, how much time they remain in the system, whether this is one or two-tier program (two-tier is less attractive), etc.
SOLUTION for Magento 2 Store
Our aim has been to develop the best eCommerce affiliate program on the market. To cope with this challenging task, our engineers studied best practices for affiliate eCommerce sites and combined them with our experience in eCommerce affiliate marketing.
Mirasvit's Magento 2 Affiliate program extension is a quite flexible and advanced solution that is able to provide your store with the ideal affiliate program.
Our solution for an affiliate program Magento 2 has the most in-demand features for customers and store managers. View them below:
Clear Program Types & Commissions
Mirasvit has created a plain dashboard, where every participant can view the settings of the eCommerce affiliate program:
Types of available eCommerce partnership programs
Commissions paid
Minimum balance for withdrawals
This information is vital and easy to access at a glance!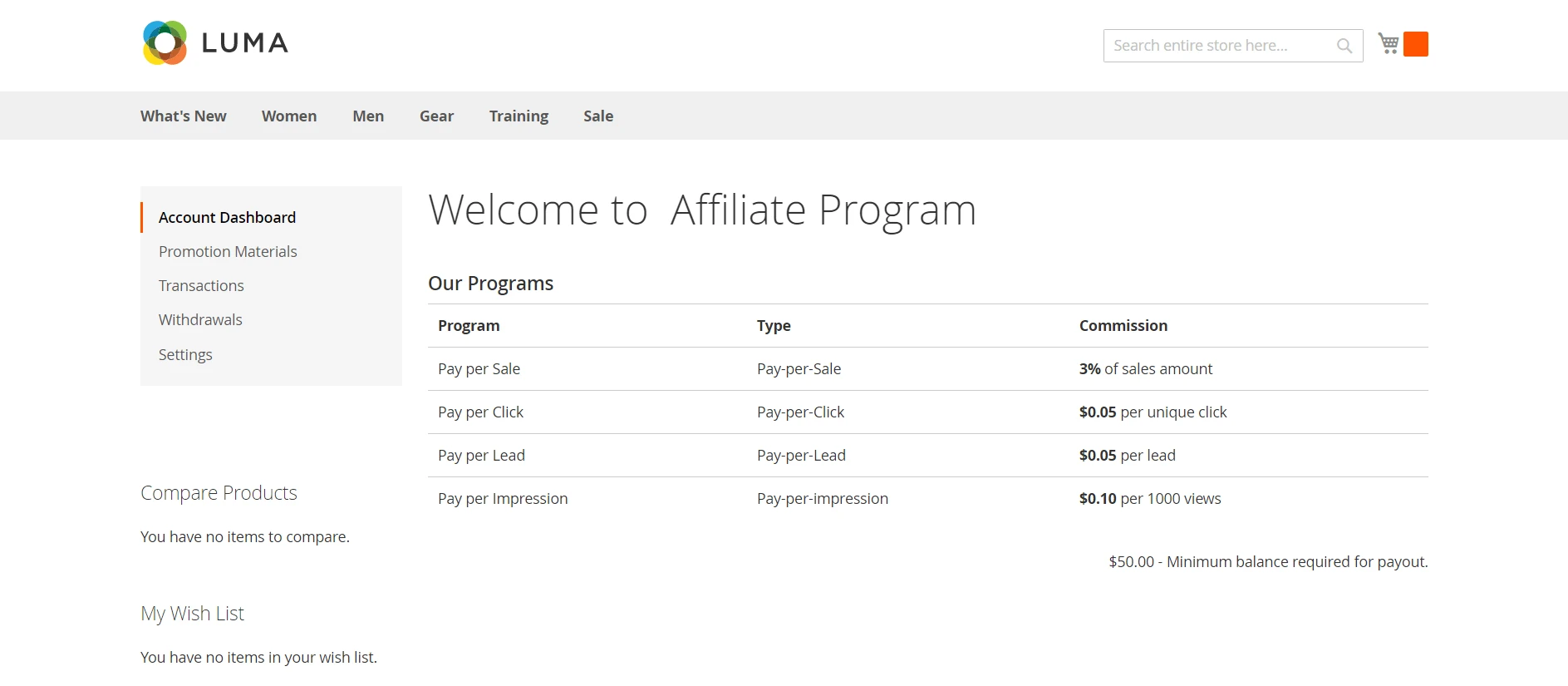 Transparent Transactions History
It's crucial to view all transactions in real-time. Affiliate extension allows for tracking the following information:
Transaction date
Transaction revenue amount
Balance after any transaction
Transaction details (commission for the specific order or withdrawal)
Current account balance
All the data appears in 'as-it-happens' mode.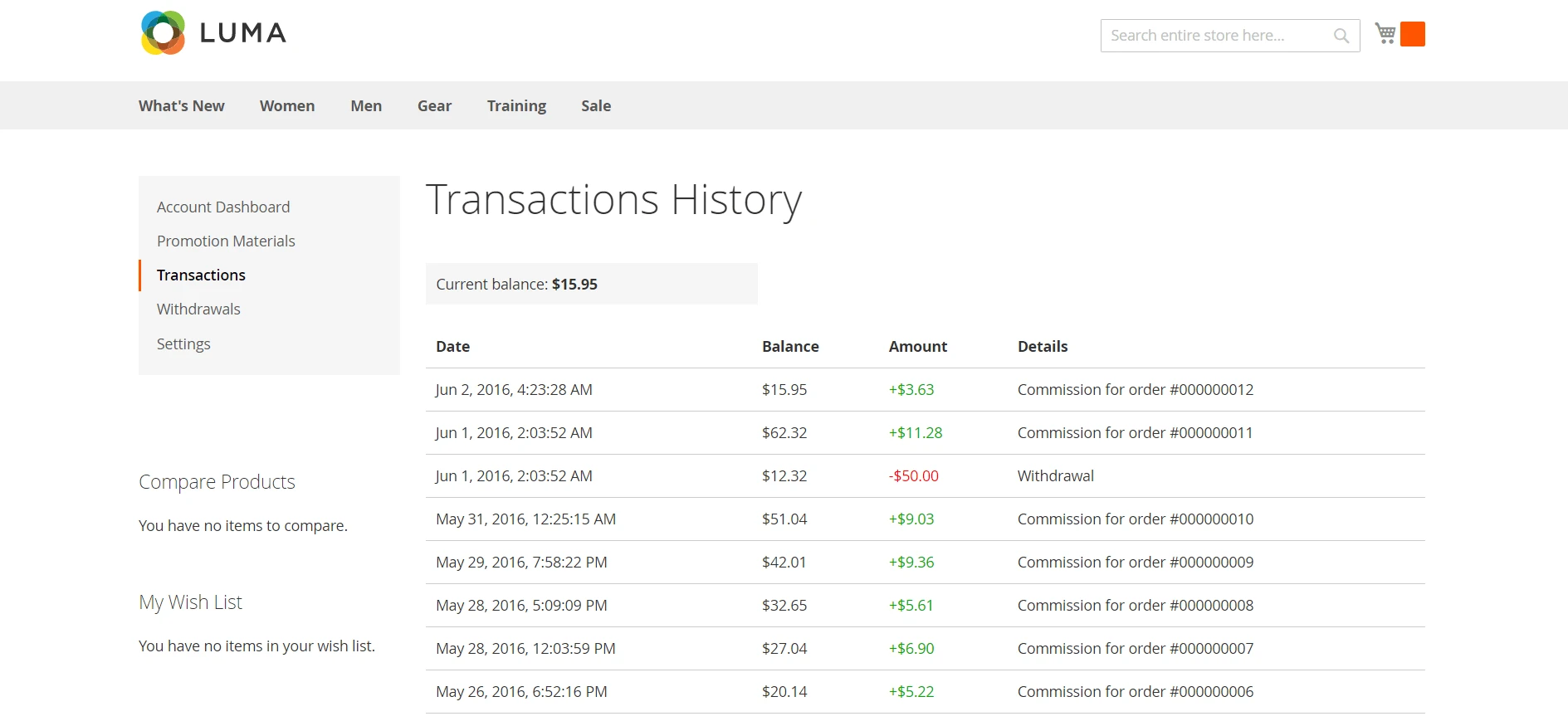 Simple Affiliate Settings
No complicated setups or settings! Setting up Magento 2's affiliate program takes only a few minutes. All your affiliate needs to do is just provide you with the following simple information to start:
Referring affiliate eCommerce store
Payment method (PayPal or Stripe)
Email for payments (optional).
Also, there's the option of subscribing to email notification. If an affiliate accepts the rules, he or she gets emails about transactions, balance changing, withdrawals, and other information messages.

Copy & Paste: Easy Promotion Products Implementation
The only way of applying your store promotion products on an affiliate website is just Copy & Paste! Yes, it's really that simple!
Whatever the chosen promo product, an affiliate just needs to COPY the code of the banner or hyperlink address and PASTE it in the appropriate place on his or her website.
These are the following ways to copy-paste for any affiliate:
An affiliate link
A referral widget
Banners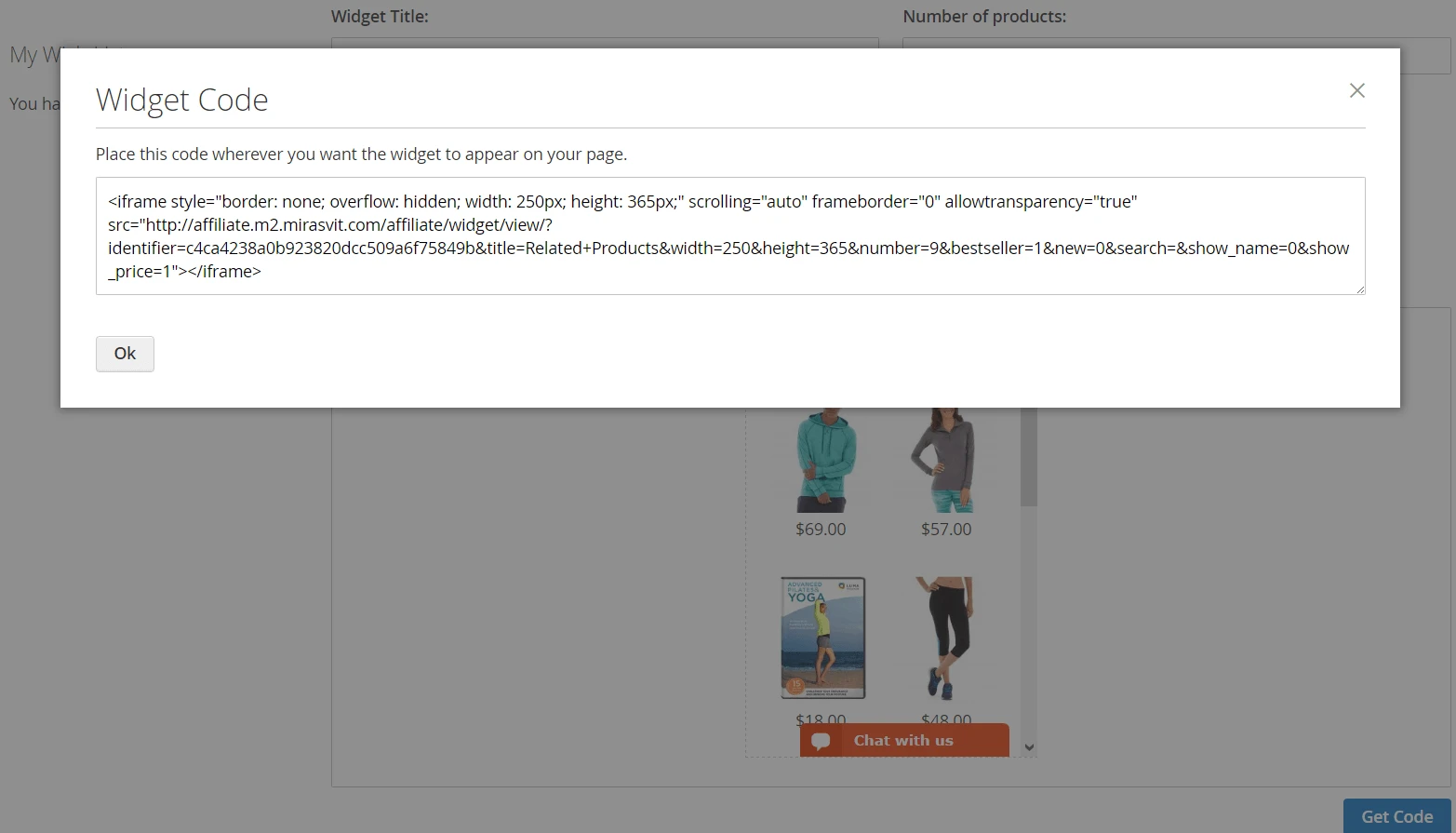 The Long And The Short Of It Right On The Backend Dashboard
Affiliate marketing for the eCommerce backend dashboard allows your store managers to view the most crucial information at a glance:
Active affiliates number (for the last 7 days)
Total affiliates number (letting you compare the new affiliates number for the last 7 days with the previous period)
Visits
Revenue
Commissions
The most active and valuable affiliates (TOP-5)
Latest activity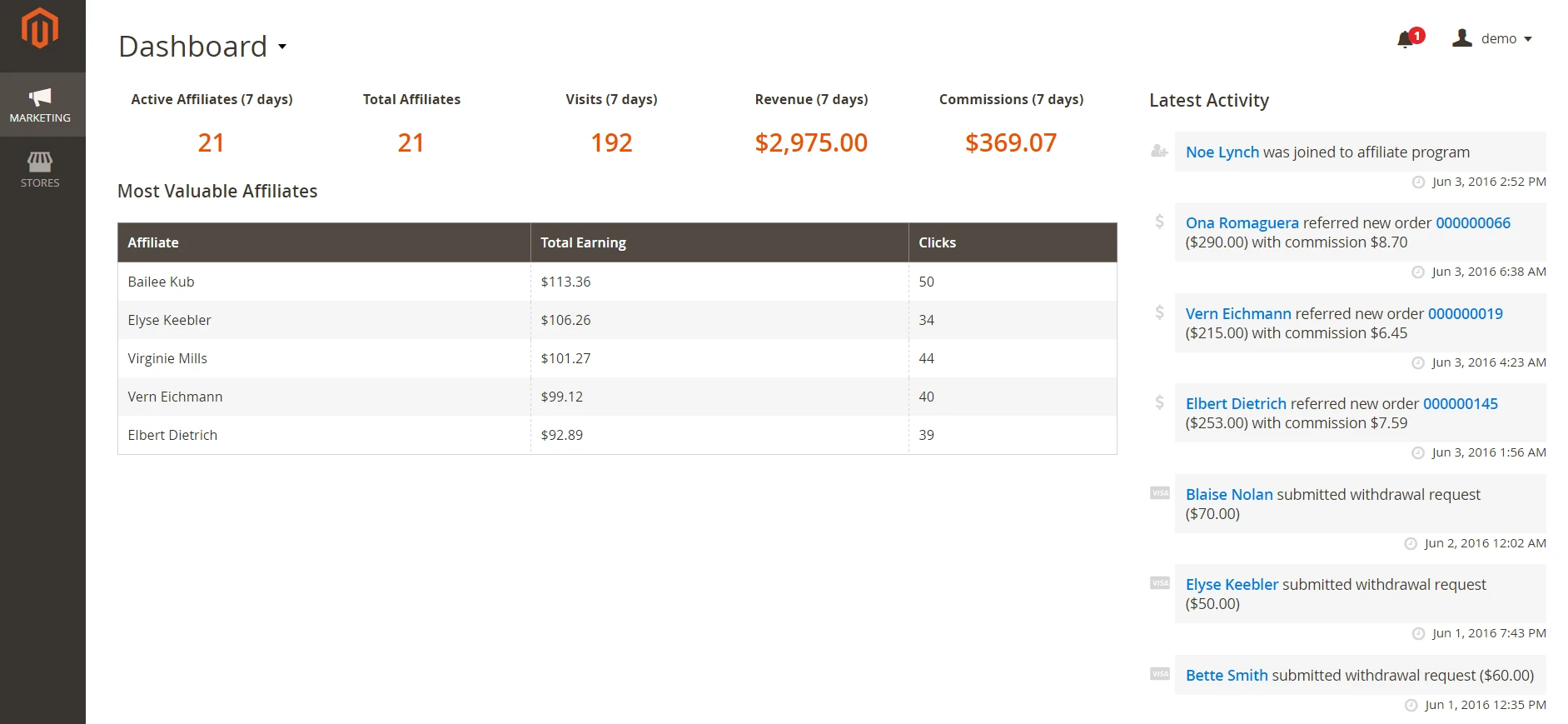 Create Affiliate Programs Fast And Easy
The Affiliate solution allows you to create different program types fast and easy. Simply follow this step-by-step guide:
Define the general information (program name, type, store view, etc.).
Select a commission type (percent of order amount or fixed amount) and set the commission amount.
Enjoy!

Variety Of Opportunities With Promo Products
An affiliate solution provides you with the ability to add promotional stuff easily. You are free to upload an unlimited number of:
Image banners
Text banners
Moreover, you can see the KPI's of each banner right in the same line of the grid:
Clicks number
Impressions number
These short reports allow you to analyze the performance of each creative at a glance and let only the most effective ones remain active.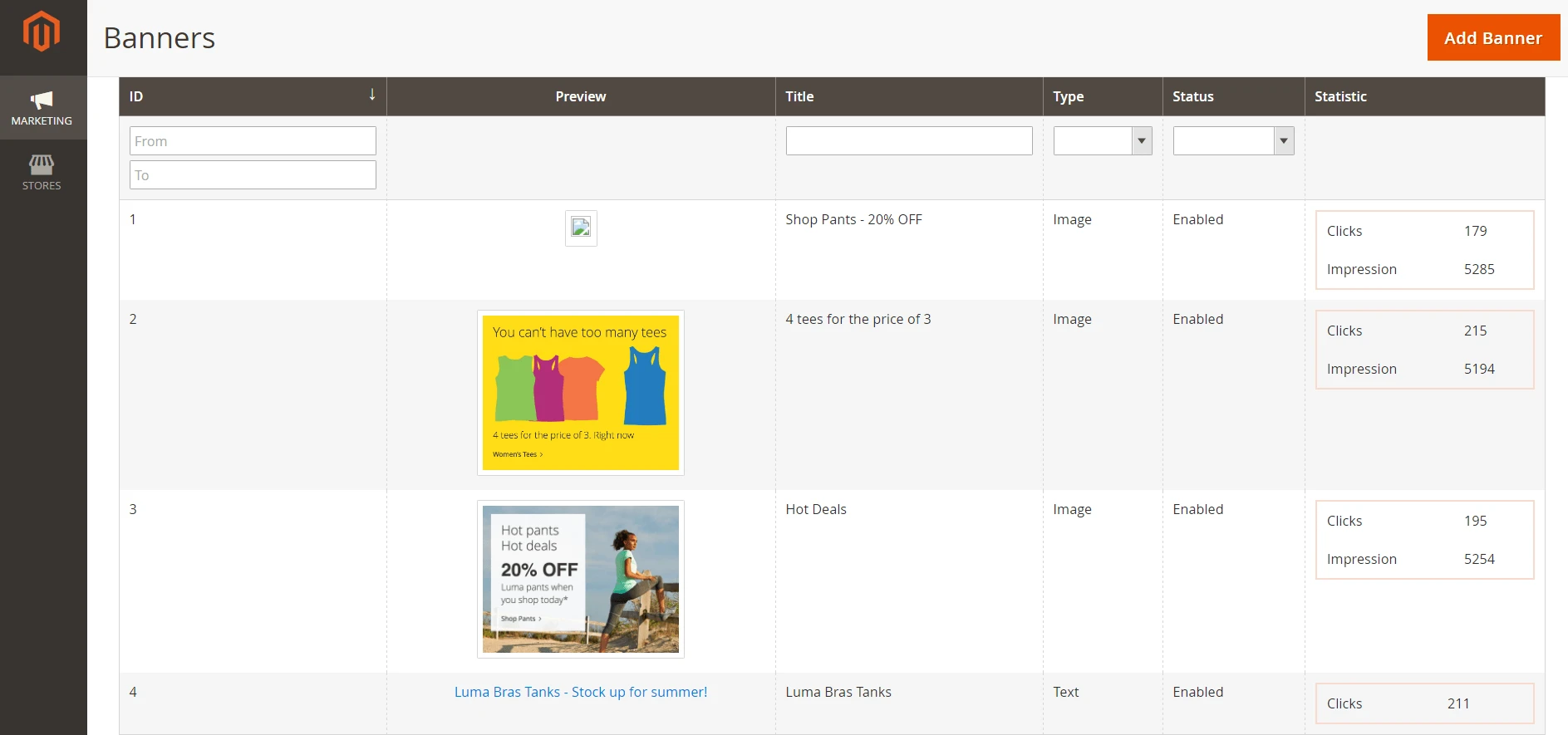 SUMMARY
Creating a practical and attractive affiliate program for the Magento store is quite a delicate process. You should take into account a wide variety of influences, including:
Comprehensible program type
Attractive commissions
Free participation
Available reports, etc.
Still, the only thing that matters is that you listen to your potential affiliates, be flexible, and meet their needs!
Mirasvit Affiliate will help you successfully launch your first program complying with the highest affiliates standards!