Fact #2. The average documented online shopping cart abandonment rate is 68.63% (according to Baymard Institute E-Commerce Checkout Usability study). And that's a huge number! It means, about 69% of customers want to buy something, but they don't finish their checkout process due to some reasons. Even IBM had cart abandonment rate 68,95% while their Cyber Monday in 2015 and 72,81% while Black Friday 2015!

Image 1. Passage from U.S. Retail Cyber Monday IBM report 2015.
What I am trying to say with these facts is you are not alone with this issue and most likely your store situation is much more better than the others. Moreover, it's quite real to change how the things go. And we accept this challenge!
As you probably know, cart abandonment rate can influence your conversion and a lot. The more customers leave their carts, the less orders and revenue you get. Can you amend this issue? Of course, you can!
One of the most powerful tools to avoid cart abandonment increase and drive more sales is Email marketing strategy implementing. And I give you 99%, that the first easy step of email marketing is using Follow Up emails for your online store customers.
To tell a long story in short, Follow Up Emails (AKA trigger emails) are sent to shop visitors in certain cases, for instance:
Cart abandonment;
Order cancel;
Review request;
Signing up;
Not visiting store for some period of time;
Product recommendations etc.
Realizing the extent of raised issue, Mirasvit released the solution for your store Email marketing: Follow Up Email extension can help you with addressing TOP 5 main challenges related to driving more sales to your store:
Challenge #1. Decrease Cart Abandonment Rate
Let's say, it's a cutoff point for growing your store Conversion. Decreasing cart abandonment rate allows you significantly increase Conversion rate.
Follow Up Email extension has ready-made solution for this case: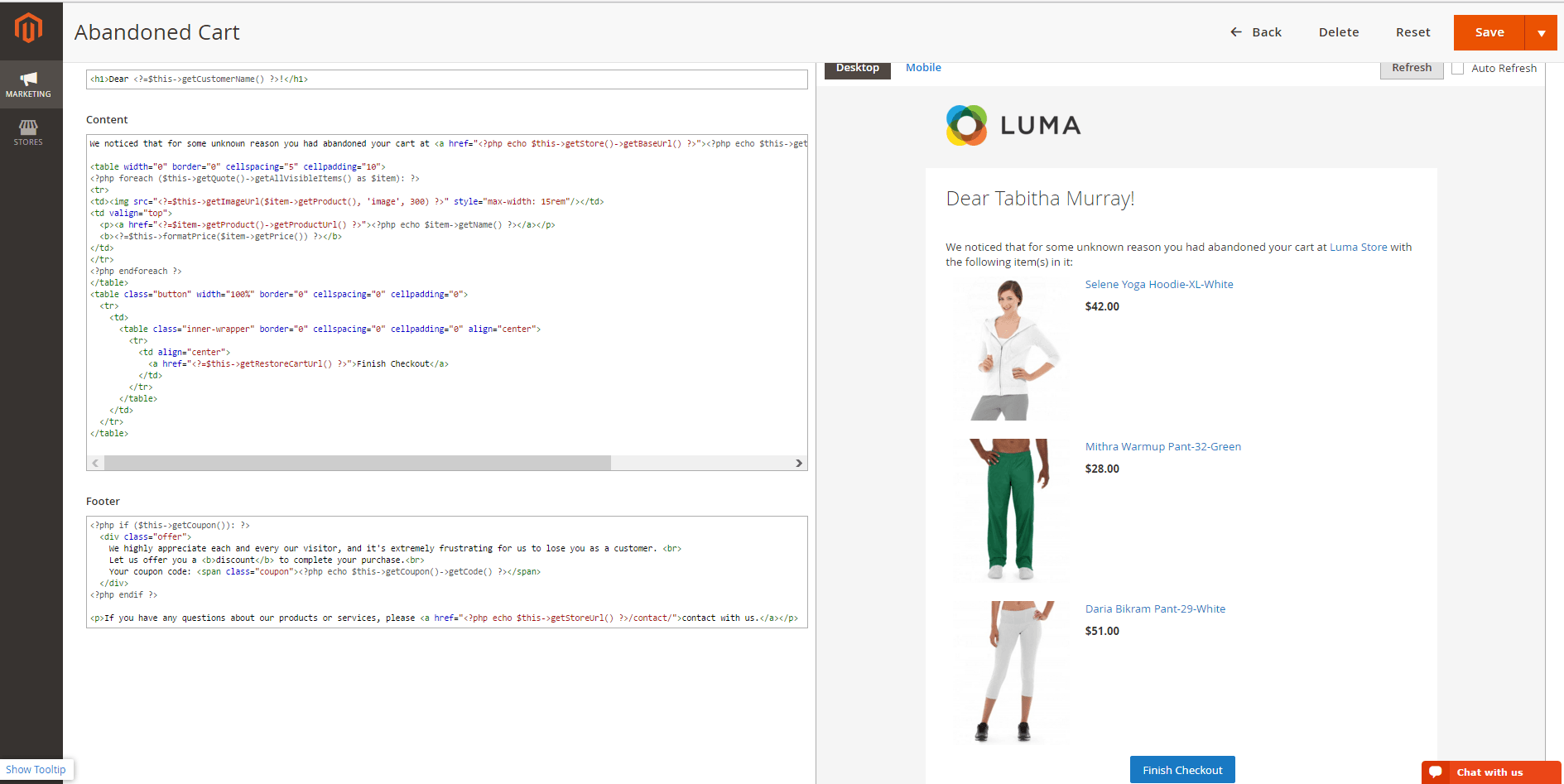 Image 2. Follow Up Email template for Abandonment Cart trigger.
Fully customizable, but ready to use within a couple of seconds, follow up email can win your customer back and give him or her an additional reason to complete the order.
The additional driver for every "cart abandoner" could be the following:
Cross-sell recommendations;
Personal discount coupon code;
Suggestion to add some items to reach certain total amount and get the discount etc.
Here is an impressive business case for you (Kissmetrics team kindly shared their customer experience):
To re-engage shoppers and reduce Abandoned Cart Rate Pick Design applied the series of email remarketing messages. As a result, they recovered 12% of all abandoned carts!
The first remarketing message was planned to be sent after an hour and a half after buyer left the cart. The letter pitch was not salesly, but only reminding: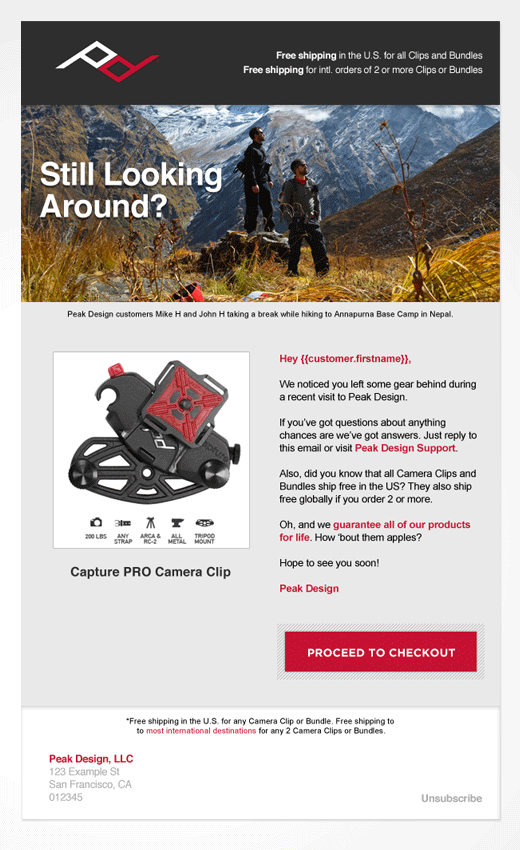 Image 2.1. The first message in the Abandoned Cart chain (Source: kissmetrics.com)
The second message offered a discount and supposed to be sent 30 hours later: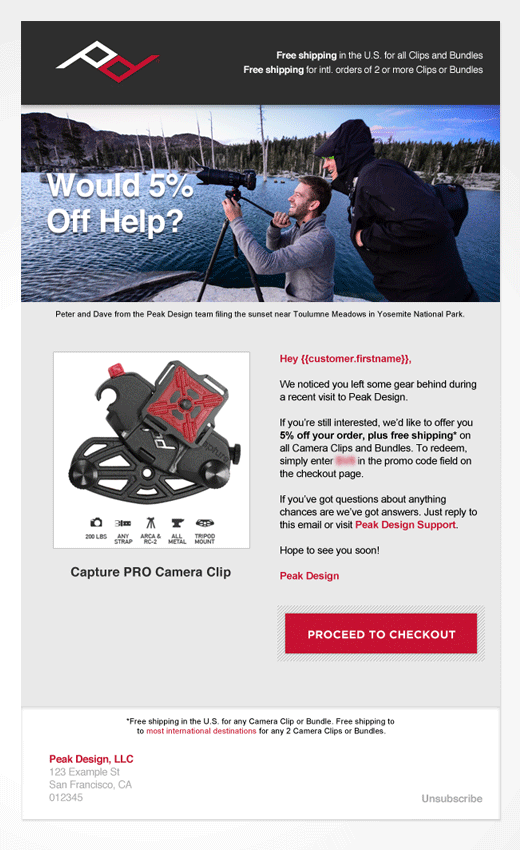 Image 2.2. The second chain message from Peak Design to their Cart Abandoners (Source: kissmetrics.com)
So, which results did Peak Design get in 30 days of their experiment? They've returned 12% of buyers (all of them completed their checkout)!
"In addition to a 12% recovery rate, Peak Design gets a 66% open rate for the first email and 59% for the second. The click-through rate (CTR) for the first one is 14% and 18% for the second. They also recover 59% of the revenue from their first email and 41% from the second."
As for the company revenue recovered from the follow up emails monthly, Peak Design applied the following formula: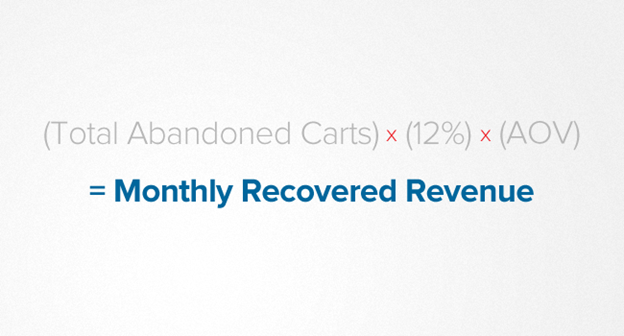 Image 2.3. Monthly Recovered Revenue Formula (Source: kissmetrics.com)
AOV = Average Order Value
Now you can handle cart abandonment rate and recover revenue and you've got a tool for it!
Challenge #2. Win Back the Long Term Non-Visitors/Non-Buyers
There are plenty of buyers who didn't visit your store for a long time or visit, but don't buy anything. Every shop has this class of customers: they buy once and then become a no-show. But they still are a great deal of your potential buyers and you may increase store Conversion Rate due to them.
Follow Up Email extension has a solution for this issue either – win non-buyers using our trigger template: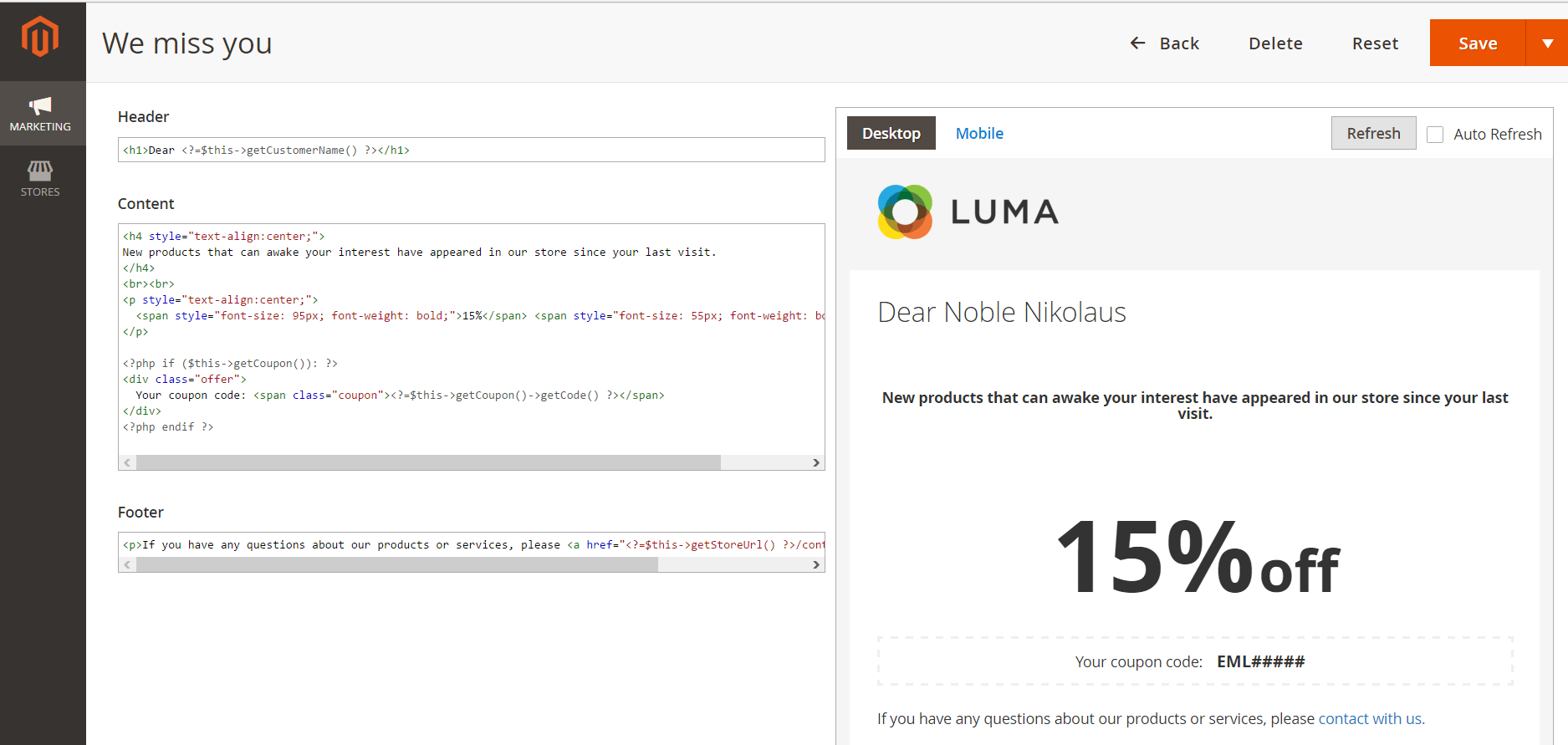 Suggest your customers a discount (like you may see on the Image 3 sample message), for example, or direct them to some section with special offers / Sale / Personal Recommendations etc. Do not limit your imagination and you win your customers back for sure!
Here's a great case of a tailored approach to identify and win back churning customers (Custora shared their experience while helping Nasty Gal – a huge international clothes&shoes retailer): 11% of revenue growth was reached due to this approach!
"We enabled Nasty Gal to layer on different promotional offerings as part of the winback campaign, based on different customer lifetime value (CLV) segments: For example, churning customers with a high CLV would receive an email with a discount offer, while those with a low CLV would receive a "we miss you" email with no promotional offers.
The results: 10.7% lift in revenue, 17% lift in activation rate, 8x ROI"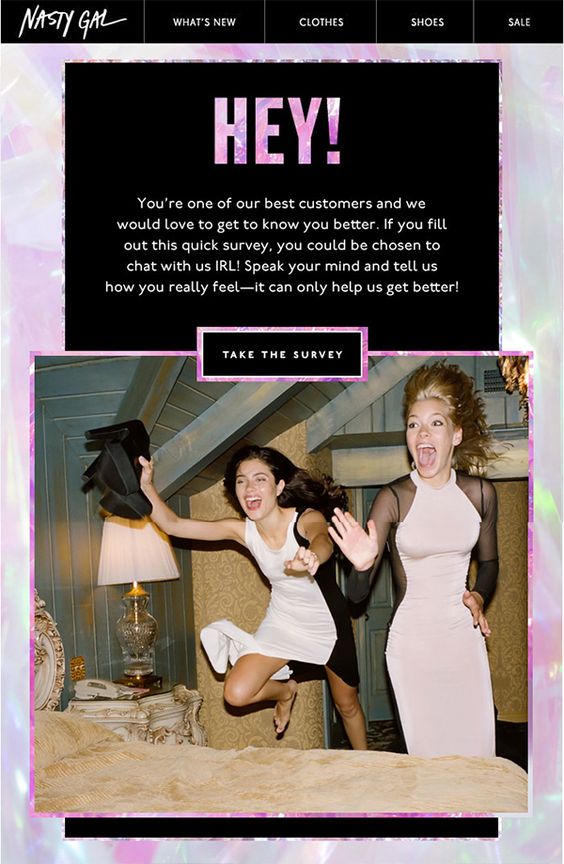 Image 3.1. Nasty Gal winback email for customers with a high CLV (pinterest.com)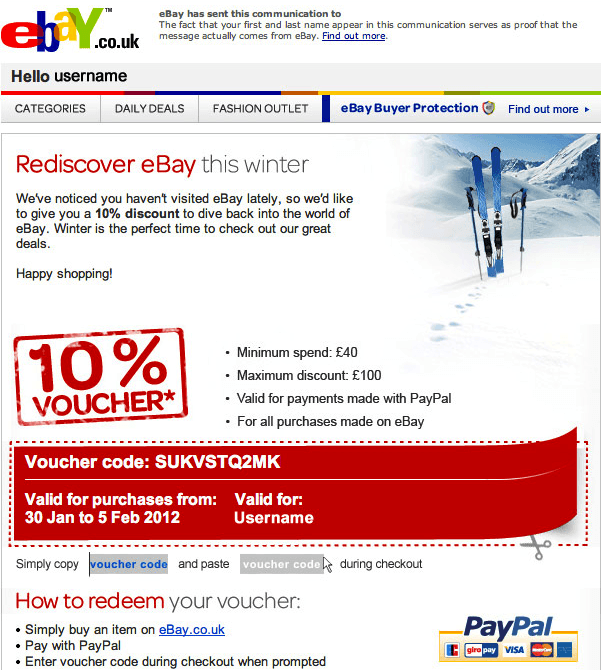 Image 3.2. Ebay also sends We Miss You Reminders! (econsultancy.com)
Challenge #3. Reduce Canceled Orders Number
Orders cancel is quite a frustrating occurrence for every online store owner. The possible reasons for cancelling orders may differ depending on buyer's gender, monthly income, even his/her current mood or weather outside! Sometimes customer withdraw an order without any reason. Or he/she found better offer from some of your competitors. Or maybe your store shipping terms and conditions don't meet buyers expectations.
Whatever the reason could be, according to the study by LoyaltyOne and Verde Group with Professor of Marketing and Psychology, Dr. Deborah Small, at the Wharton School of the University of Pennsylvania, 50% of U.S. consumers polled experienced a problem while their last shopping. And 81% of those customers decided NOT to contact to the retailer about their issue. Among these silent shoppers, 32% reported they would not recommend this store to their friends and relatives anymore.
In such a sad situation everybody loses: customer wastes the time, you and your store lose money and returning shopper!
So, how can you manage customer retention? When client acquisition cost is constantly rising, you should be proactive in their retaining. There are several known retention strategies and one of them (and maybe the easiest and fastest to implement) is interacting with customers via follow up emails.
Try to create the email chain with the following messages, for instance (all texts are just a rough sample! Do not copy-paste them As-Is):
Message 1 (send it immediately after customer canceled an order):
Dear Customer,

You've just cancelled your order #XXX. I believe you did it unintendedly or accidentally. If you wish, you could restore your order immediately in your Store Account or consult me to resolve all possible issues.

Would be glad to hear from you!

 

Best wishes, John Doe,

Best Store Assistant.
Message 2 (send it in 24 hours after the first message, in case a customer didn't re-order yet):
Dear Customer,

Recently you've cancelled an order in our store. I would like to offer you a personal coupon code:

COUPON_CODE

It's 10% off your next order for any total amount! Apply your personal discount up to April, 31, 2016*.

*Coupon can not be applied to sale items.

 

You may also like the following items:

/Place there up to 3 images with the links to your store products based on his/her previous orders or wish list items – Recommendation section/

 

Best wishes, John Doe,

Best Store Assistant.
Just keep short and clear – let your customer get all values at a glance! Your buyer will appreciate your efforts and personal attention and a great portion of them will most likely re-order products in your store, increasing your Conversion.
Follow Up Email extension will guide you through such messages creation fast and easy.
Ask a customer for feedback
Another good strategy for win-back follow up emails is simply asking the customer what made him or her cancel an order. This would be the live feedback from the real buyer, who had not the best experience in your store. And such information could help you to improve customer experience and maybe support quality (depending on issues from the feedback). Keep listening and you'll increase your store Conversion rate just by following real customers comments!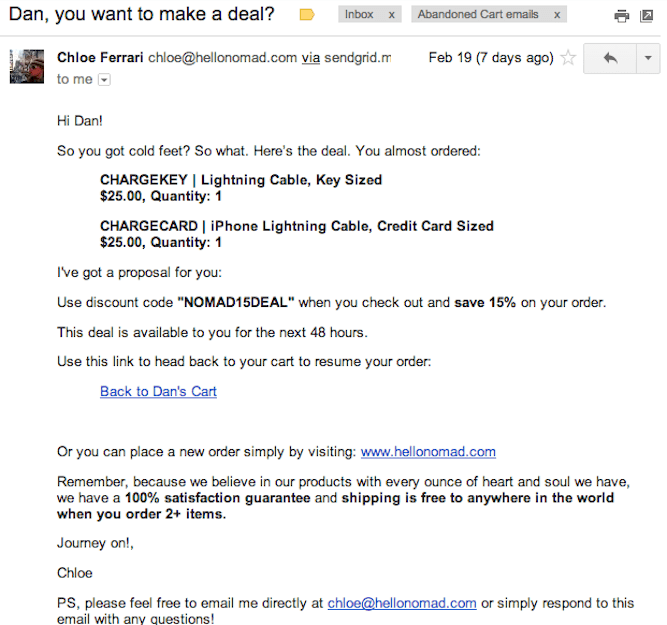 Image 4. Example win-back email from hellonomad.com (by shopify.com)
Challenge #4. Ask a Customer For a Review
You've already heard the presence of reviews (regardless positive or negative) is extremely important for every online store. More reviews from real buyers – more further sales from newcomers and returning visitors!
Here's some stats on the reviews:
"According to Reevoo stats, 50 or more reviews per product can mean a 4.6% increase in conversion rates.
63% of customers are more likely to make a purchase from a site which has user reviews. (iPerceptions, 2011).
Site visitors who interact with both reviews and customer questions and answers are 105% more likely to purchase while visiting, and spend 11% more than visitors who don't interact with UGC. (Bazaarvoice, Conversation Index, Q2 2011).
Consumer reviews are significantly more trusted (nearly 12 times more) than descriptions that come from manufacturers, according to a survey of US internet users by online video review site EXPO. (eMarketer, February 2010).
According to Reevoo, reviews produce an average 18% uplift in sales."
(by econsultancy.com)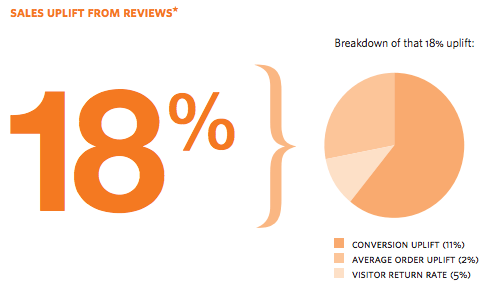 Image 4. Sales Uplift from reviews (by econsultancy.com)
One of the simplest ways to drive more reviews is creating a follow up email (sent after completing an order) and ask a customer for the review for products he/she just bought out of your shop.
Follow Up Email extension for Magento 2 store has a ready-made template message for this purposes: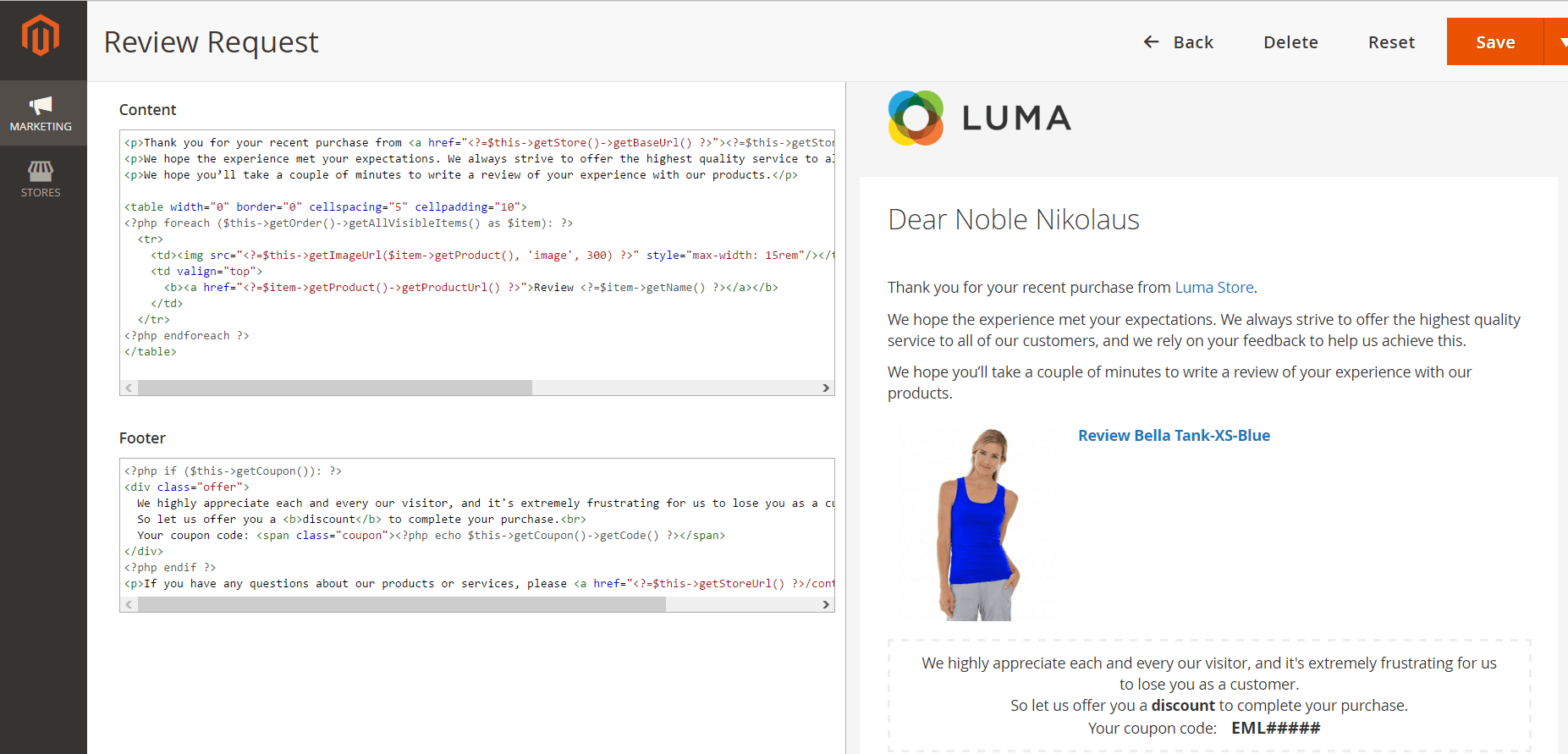 Image 4.1. Review Request Sample Message Template from Follow Up Email backend
Here's live case of review email success from the huge UK retailer ARGOS:
"Argos implemented Ratings & Reviews at argos.co.uk, and then ran a successful email-based reviews promotion that added 90,000 reviews to their site within two weeks. Results:
Reviewed products convert 10% higher.
Consumers happy to write reviews, rate products highly"
(by bazaarvoice.com)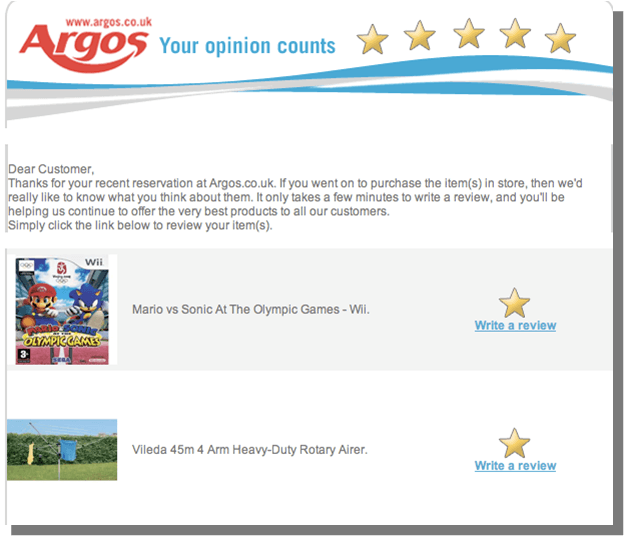 Image 4.2. Argos asks a customer for a review (by bazaarvoice.com)
Challenge #5. Engage New Customers to Store Loyalty Program
Most Magento 2 stores have Loyalty program implemented in order to drive more returning visitors and increase Conversion. And it's a matter of time and some efforts to engage customers in using it. The most logical way to boost your store Loyalty program is engaging newly registered buyers right after their sign up to your Store Account.
Follow Up Email extension allows you to create a special messages to inform every newcomer about the values of your shop loyalty program and their further privileges. If you've already got Reward Points + Referral Program extension installed in your online store, then it's quite easy to relate these two extensions and direct new customers from your welcoming follow up message right to the page with the terms and conditions of Loyalty program in their Store Account.
Here's a case from Sony Electronics about launching their new reward loyalty program:
"Sony Electronics wanted to drive acquisitions for the Sony Rewards loyalty program for Sony's credit card, and leveraged internal data to accomplish this.
In order to reach influencers and those most likely to be influenced, Sony also added customer interaction data to drive a 300% increase in overall conversion for the Sony Rewards loyalty program."
(by MarketingSherpa)
Quick Summary
Being Magento store owner, it's quite hard not to fall in Conversion Rate rush. But Follow Up Email extension is the cutoff point for every shop. Why? Here's 6 main pros of this solution:
Easy to implement.
Clear and transparent to use.
Has ready-made solutions for standard Conversion growing cases (abandoned cart reminder, Customer Not Logged In For X Days, Review Request, Post-Purchase Cross-Sell, etc.)
Flexible to meet every store business goals.
Powerful and customizable email chain templates.
Has advanced reports to analyze every email chain productivity.
I guess, now you've got enough reasons to start from Follow Up Email solution and try out all its Conversion growing features.