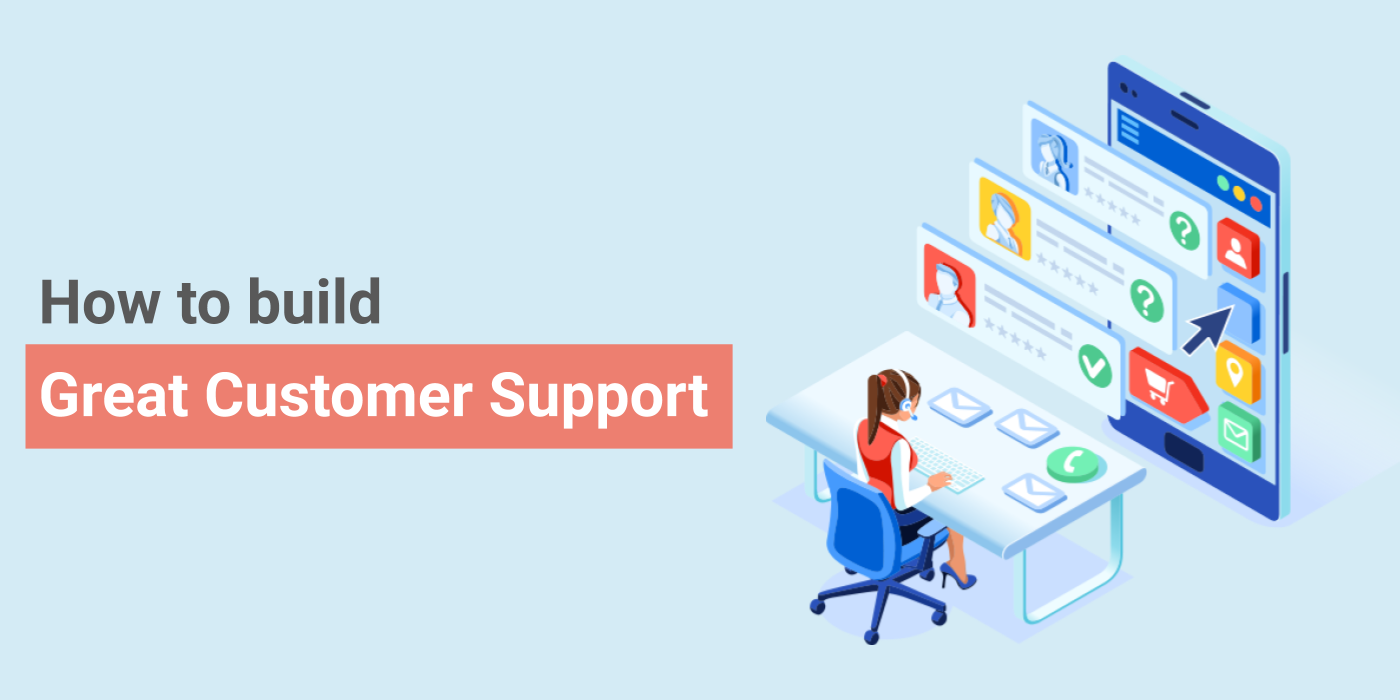 When a customer purchases in your online store, he expects to receive a certain service level in your store and gets answers to the inquiries. Investing time and resources for increasing customer support influence the sales rates and reputation of your company.
In this article, you'll learn:
Why customer support is important
What tools of customer support there are
How to onboard and motivate customer support agents
Why is customer support important?
When ordering goods in your Magento store customers always have a number of issues to clarify before making the order in your store or after it. They may concern the goods, the order, or the details about return or exchange.
When the customers are satisfied with the service, they come back to your store and shop with you again and again.
If the customer is dissatisfied with the service, he won't continue buying anything in your store and shares his negative emotions with other customers on social networks. Negative comments can ruin a positive reputation of your store.
What tools of customer support are there?
Knowledge base
The speed with which the customers want to find answers to their questions is a part of their customer experience in your online store. The information about the products, services, orders, etc. is structured in the knowledge-based system, and it is a really helpful addition to your store.
A survey of customer service interaction shows that 91% of customers opt to find the answers by themselves and would use an online knowledge base if it were available tailored to their needs. 55% of customers liked the brand that offers easy access to information and support.
There are three widely used ways to present knowledge base articles in the online stores: Wiki, SaaS solutions, or knowledge base extensions. Using those solutions, you can group your store's information according to the topics, tags, or categories such as shipping and delivery, returns and replacements, security and privacy, etc.
Including detailed and profound descriptions into your knowledge base helps the customer find answers to FAQs and reduces the workload on your helpdesk team.
When your support agent communicates with the customer, he can send the link to certain information in the knowledge base, and the client gets a more detailed explanation of the issue.
The knowledge base can be edited and enlarged with additional information to provide up-to-date information about your services and respond to your customers effectively.
Online Chat
Online chat is an effective way to answer your customers' questions in a real-time way. If the customer hasn't found the answers to the questions in the knowledge base, he can use chat to ask additional questions.
As chat creates opportunities for quick responses and helps to clarify the questions of your customers quickly, it increases customer satisfaction and retention. If a chat agent can't answer the question, on behalf of the customer, he can create a helpdesk ticket for further processing.
Example

Zendesk Chat (formerly Zopium) is a popular online chat SaaS service. You install a JS script in your store and receive a fully functioning tool for online support.
Contact Form
To improve communication and make your site reachable to your customers, make use of the contact form. It helps collect information, analyze it, and improve business decisions.
Example

Form Builder extension enables creating single-page and multi-page forms of various complexity in a visual editor. It contains a wide selection of form elements, has dynamic fields to create detailed and more personalized surveys, and is well-performed for desktop and mobile versions.
Helpdesk
There is one more tool that you can use to provide a successful interaction with your customers in the store - helpdesk. This system allows you to process a large number of customer requests at a time so that you won't leave any unanswered requests.
Helpdesk is also an effective way to measure the KPIs of your support team.
There are two main ways to use helpdesk with your Magento store: SaaS or extension for Magento store.
If you choose to use the SaaS helpdesk, you just need to register on the site and enter your email. The weak point of Saas is its low integration with Magento store.
Alternatively, using Magento extensions, you can integrate all functions just in one place: emails, offline chat messages, and helpdesk inquiries.
Example

Using Helpdesk extension, a customer can contact the support team in several ways: by email to the support service, using the contact form on the site, offline chat, or personal account.

The extension has full integration with Magento, and the tickets received from different channels can be automatically assigned to the support department. It also provides opportunities for conducting customer surveys, evaluating customer satisfaction levels, and offering high-quality reports on various indicators.
Comparison of SaaS solutions VS Magento extensions
| | | |
| --- | --- | --- |
| | SaaS Solutions (Zendesk, Freshdesk, Helpscout, etc) | Magento Extensions (Mirasvit, Aheadworks, etc) |
| Pricing | Recurring payments. Price varies by plans and the number of agents. | One-time payment. You receive all features. No limits for the number of agents. |
| Usability | The interface is more user-friendly. But it's a separate system and not integrated with Magento admin panel | You log in to the Magento admin panel and get access to the helpdesk. You can set up different permissions for different agents. |
| Features | You have more features in expensive plans. And a very limited set of features in the cheap plans. | You receive access to all available features. |
| Security | Your data is stored on third-party servers. | Your data is stored in your Magento database. Only you have access to your data. |
RMA (Return merchandise authorization)
Cases of returning or exchanging of the goods happen in all online stores, and these processes need regulation. Organize them well and make the work of your team easier and more effective.
The customer has the right to return, exchange, or choose other options about the purchases. RMA extensions serve the needs of this type of service and enable the customers to create the return/exchange request from their accounts.
Example

Using RMA extension, a customer can return the whole order or only one item of it, explain the reason for the exchange/refund, attach necessary images of the goods. After that, the online store manager approves or declines it, so the customer gets quick resolutions, and the communications process improves.
Summary
Using all customer support tools mentioned above, you can improve the quality of customer service in your store, prevent the cases of losing orders or leaving the inquiries unanswered.
Moreover, it gives the support team a clear view of the average time for answering the questions, the number of returned orders, and distributes the workload appropriately.
How to onboard and motivate your customer support agents?
Personnel
When the customer applied to the support and got answers to the questions, the chances that he would buy the product on the site increased greatly. Otherwise, when he is dissatisfied with the quality of the service, he will surely refuse to purchase even if the quality of the product may be very high.
So the members of the support team should realize how greatly they influence the final result of the online store. A good support agent is an ambassador of your brand, and his work highly influences your sales rates.
As a rule, a new employee can start a career in your company from working in a support team. It is important to hire the right people for your customer support team, as they will represent your business and address customers' needs and questions daily. So when hiring a person, keep in mind and test the candidates for the following qualities.
The key personality qualities for support agents are:
Empathy and good communication skills. When the customers apply to your online store, they expect that their feelings, concerns, and frustrations will be heard, and issues will be resolved. Understanding and managing customers' current emotional state is a crucial moment in building effective communication with them.
Positiveness and supportiveness. Customer support agents are expected to leave a good impression of your brand, and support agents need to be respectful and optimistic in their communication with the customers.
Time management skills. Good support workers should manage their time well, plan it wisely, and keep to the limits of time they can dedicate to each customer.
Active listening and attention to detail. Active listening means understanding the customer's issues and offering help to deal with it. Attention to detail enables giving mindful feedback to inquiries.
Follow these three steps after hiring a new support agent:
Step #1. Let your new agent study the knowledge base, information on Wiki, and product range of the online store and learn from the experience of other members of your support team.
Step #2. The next period starts with assigning the tickets to him, giving time for finding answers, gaining more experience from the other agents, and responding to inquiries about the products and the orders' details.
Step #3. Start assigning more tickets with various inquiries of the customers.
If your online store sells a wide range of goods, it's reasonable to get specialized agents to certain fields of product ranges.
SLA (Service-level agreement)
SLA aims to list the expectations of service and metrics by which service is measured.
To be sure that your customer support is really good, consider creating SLA, which outlines the specific amount of time for resolving and responding to incoming inquiries from customers.
There are different SLAs for chats and helpdesk. For chats, it is expected that the customer gets an immediate answer, and support agents should provide very quick responses to submitted questions. In the helpdesk, the customer creates a ticket, and there is a longer period for resolving it.
SLAs should be crafted, and the criteria that are monitored should be explained to the support team. Regarding an online store, it can be service availability, response time, accuracy, etc. When you measure the effectiveness of the support team, be sure they meet the deadlines and keep customers happy with the support quality.
How to inspire and motivate your support agents?
There is a strong interrelation between the culture you create in your company and how your employees will treat the customers. To reach higher customer satisfaction, start with the motivation of your agents.
Keep in mind the following aspects:
praise and provide good feedback for their work,
show appreciation of their results by bonuses, career growth, etc.,
set clear and achievable goals,
encourage development, knowledge sharing, and arrange training sessions.
Those agents who answer a lot of tickets, keep to the time limits and reach a high satisfaction rate, surely should get bonuses for their work.
Final thoughts
If you can manage your customers' inquiries well, you will improve your services, maximize your online sales, and increase your business efficiency. Only a well-organized support system can provide great customer satisfaction.